Mathew's Stardom 5 Star GP Red Stars Results & Review: Day 8
The final Stardom Red Stars before the Final! Does anyone break the ties at the top?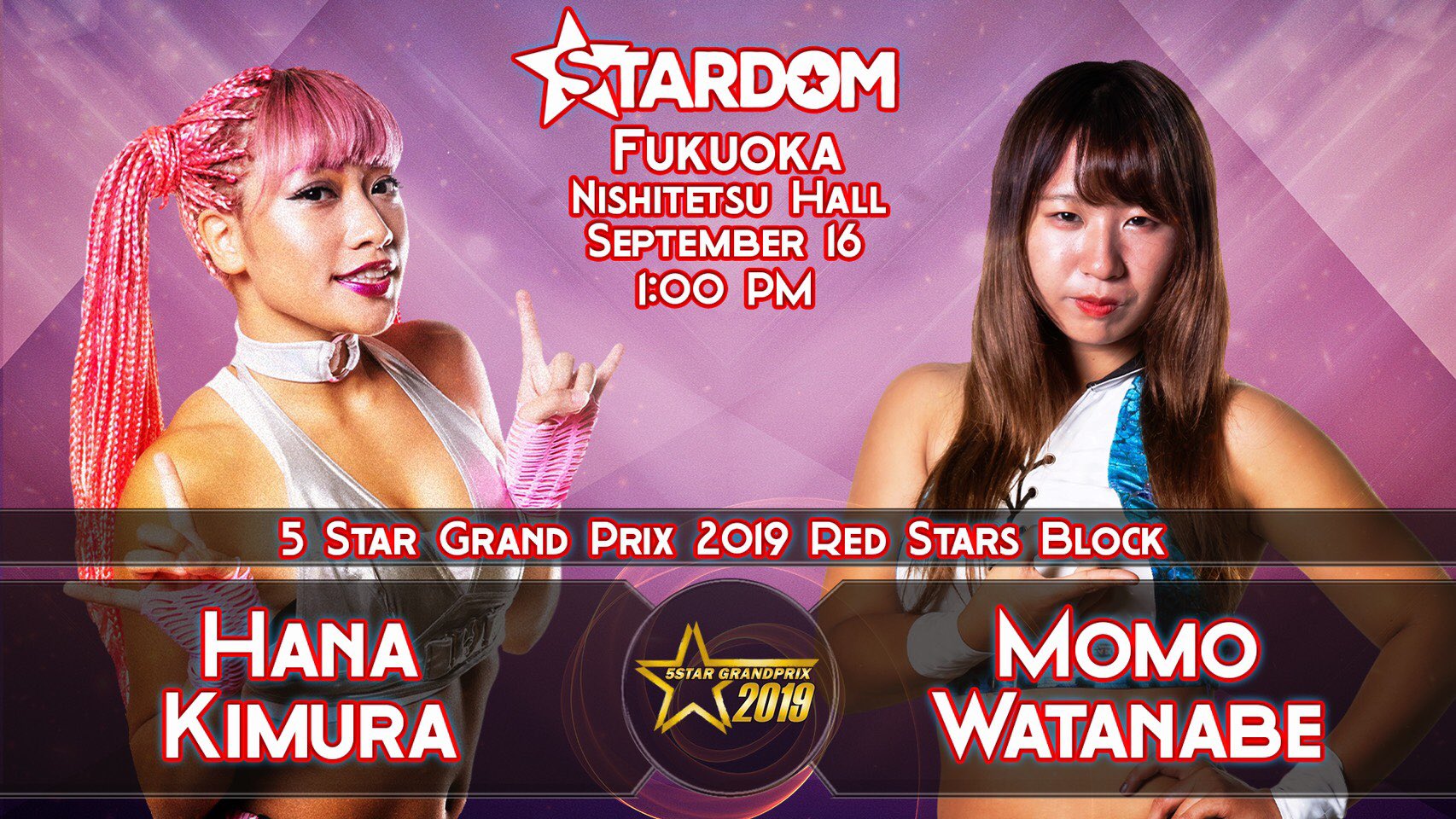 The final Stardom Red Stars before the Final! Does anyone break the ties at the top?
Welcome back to our 5 Star Grand Prix and this is the last day before the final show on September 22nd, so this one is more for people to catch up for those that didn't have seven matches yet while one will be having their final match on this show.
We'll be covering one day for this article as they did have an afternoon and evening show on this one, so we'll do the final day and round on the next one. Right now we have a five-way tie, two people that can catch-up, and two that are already eliminated.
Let's see how it will look before the final day as we…dive right in.
Star Rating System:
0 Stars: Dave Meltzer
1 Star: Vince Russo
2 Stars: Tony Schiavone
3 Stars: Eric Bischoff
4 Stars: Bruce Prichard
5 Stars: Jim Cornette
9/16/2019 Afternoon Show
5 Star Grand Prix Red Stars Block Match
Tam Nakano vs. Avary
Review: We have our first match of the show and article as Tam Nakano will take on Avary. Tam is one of the five people that are in the lead with eight points and if she was to win here, she'll be on top of the other four. Avary is already out but has two matches for the day, so she could play spoiler and just ruin her chances of moving up. Will Tam get ten points or does Avary delay her a little longer?
Avary would go for the test of strength and after what she did the last time, Tam doesn't wanna trust her gross hands and would just kick her leg down. Avary would lick her hands this time to slap Tam's back and quickly applied the Cattle Mutilation as she was looking to get the quick submission victory but Tam would have her foot on the rope to break the hold. Not sure why Avary likes to lick her hands in the matches since I don't know what her gimmick is but I guess it works for her and the weird facial expressions she likes to make. The match is average enough to get by but it was mostly Avary taking control while Tam had little to no offense this time around, which is weird despite going toe-to-toe with people better than her. Avary would do her taunt to signal her finisher as Tam caught her to hit a Spinning Back Kick which Avary sold wonderfully and Tam covered for a two count. Tam charged right at Avary but she would hit a kick to the chest and then a Backstabber along with a DDT to get the victory while Tam gets no points.
Rating: Tony Schiavone and three quarters
🔹動画配信サービスhttps://t.co/lZc15hAPwd

▪️5★STAR GP2019
2019年9月16日(土)西鉄ホール 昼
◆レッドスターズ公式リーグ戦 中野たむ vs エバリー

リーグ戦も終盤戦を迎え今大会を健闘したたむがエバリーと対峙。徐々に頭角を現したエバリーはいかに!? pic.twitter.com/O2kBv5yOri

— スターダム/STARDOM (@wwr_stardom) September 19, 2019
5 Star Grand Prix Red Stars Block Match
Saki Kashima vs. Natsu Sumire
Review: For our next match, we have Saki Kashima taking on Natsu Sumire. Saki is in a tricky spot with three matches left and the only way she could somehow move on is if she doesn't lose any more matches starting now. Sumire is another one that is eliminated but she wanted to defeat Saki in a battle of the Revival to see who would use it to win the match. Will Saki stay in the game or will she be another one gone?
As the two circled the ring, Saki crouched down and Sumire would do the same as they locked up a bit for some reason and would then start running across the ropes. This goes on for a while until Sumire would stop since she was out of breath and takes a sip of water. She looked like she was going to spit it at her but she psyched her out and swallowed it before they ran the ropes again but this time, Saki stopped to watch her until she eventually tripped her. This match was mostly for entertainment purposes rather than actual wrestling, which is fine since that's what Sumire is best known for and Saki did rather well here to keep up with her in that regard.
Saki would accidentally kick Sumire into the referee as they were in the corner and Saki charged at them, but Sumire tripped Saki to make her land on him as the two sat down. Sumire would then go charging in as Saki tripped Sumire to make her land in the referee's crotch and does the Revival, but the referee was unable to count in time. Sumire would hit an Atomic Drop and does the Revival as she gets the victory, eliminating Saki in the process!
Rating: Tony Schiavone and a half
5 Star Grand Prix Red Stars Block Match
Hana Kimura vs. Momo Watanabe
Review: It's now time for our main event of the afternoon show as we have Hana Kimura taking on Momo Watanabe. Despite Hana losing to Mayu at the previous show, she still has one more chance to stay alive and for that to happen, she would need to defeat Momo here or she'll be eliminated. Since Tam failed to get two more points, Momo now has a chance to climb to the lead if she were to win here and eliminate someone in the process. Will Momo stay on top or does Hana join the ranks?
So, for the first minute or so, these two would just kick the daylights out of each other while screaming like it was a fight for the last motor scooter at Walmart. This was a very solid match but my one complaint is with Hana and how she was screeching a lot louder than usual whenever Momo hit her and it's never been this loud before, even eleven-year-olds with a temper tantrum don't yell that loud. Her match with Mayu was still better but she was still able to carry herself in the match relatively well and Momo needed to start fighting her if she would be a threat to her in the future since they're both captains of their respective units.
Momo would have Hana to the outside and hits a sloppy Somato on her to try and get a countout but Hana was still able to get in before the count and meets Momo with another Somato but better than the last one as Hana kicked out. Momo hits the Package Driver and would apply the Crossface Chickenwing, dragging her to the middle of the ring and it looks like Hana is flatlining but she was able to stay alive when she grabbed her hair, making the referee break them up. Momo would hit another Somato off the second rope for a two count and went to the other turnbuckle as she goes for a dive but Hana kicked her down to the mat and would apply the Hydrangea and she had it locked in but Momo was able to get her foot onto the rope. Momo would hit the Tequila Sunrise and Hana kicked out just by a hair and she would go for the Peach Sunrise as Hana fought out of it and hits the Package Piledriver and gets the victory over Momo!
Rating: Eric Bischoff and a half
🔹動画配信サービス「スターダム・ワールド」

▪️5★STAR GP2019
2019年9月16日(土)西鉄ホール 昼
◆レッドスターズ公式リーグ戦 渡辺桃 vs 木村花

待ちに待った対決が福岡で大熱戦!花の新兵器が飛び出して勝負が決まった!?

会員登録はhttps://t.co/lZc15hAPwd pic.twitter.com/s5vFzuNwpR

— スターダム/STARDOM (@wwr_stardom) September 20, 2019
9/16/2019 Evening Show
5 Star Grand Prix Red Stars Block Match
AZM vs. Avary
Review: Our first match for this show as we have AZM taking on Avary. This will be AZM's final match of the tournament as she already fought seven people and this will be her eight. If AZM can get a win here, she'll be in first but if she loses here, she'll be eliminated. Avary already delayed Tam from moving up and she can now try and eliminate AZM this time around. Will this be the end of AZM's chances?
AZM kicked Avary once she had her hands up for the test of strength and she would use her quickness to try and get what she needs to be done but Avary stopped her dead in her tracks here. Avary would then apply the Cattle Mutilation to try and get her to tap but was able to get to the ropes to break the hold. Avary had another solid performance and did much better this time around working with AZM who has always been a solid talent and has gotten better from this tournament. Avary would hit a beautiful Blockbuster after jumping over the ropes and AZM kicked out of that one. AZM was really on the assault with some stiff kicks and tops it off with a Brainbuster to take her down. AZM goes to the top rope to hit the first Double Stomp and instead of covering her, she goes up to try again but Avary moved out of the way and charged at her with a beautiful knee strike. AZM starts getting desperate with the quick pinfalls to try and put her away but Avary hits the Backstabber and a Hammerlock DDT to put her away, leaving AZM eliminated. AZM, you had a tremendous run in the tournament and hope to see big plans for you soon as you looked like a star during the whole thing.
Rating; Eric Bischoff
5 Star Grand Prix Red Stars Block Match
Saki Kashima vs. Hazuki
Review: Our final match for the day is up next as Hazuki goes one on one with Saki Kashima. Saki recently got eliminated earlier when she lost to Sumire but she could now try to play spoiler for this match. With AZM being eliminated, and both Momo and Tam failing to win their matches, Hazuki now has a chance to get ten points if she wins here. Will Hazuki be the one to reach the top of does Saki crush it to make sure nobody moved up at all?
This had the feeling of a high speed match and I am perfectly okay with that since that is where these two excel. Wish I saw more of this Saki during the tournament because her performances have either been solid or just sloppy and it's a shame since I do like her, and think she's talented. Hazuki is a great fit for everyone and was able to be so quick and so smooth at the same time that you can't help but be impressed with her ability. Not a whole lot happened when it came to any big moves and it didn't need it since they were throwing kicks and wanted to try and get the fast pin on one another. Saki went for the Revival but Hazuki reversed it but wait, Saki rolled around with it to have the Revival still locked in as she gets the pinfall victory. Nobody was able to get ten points to reach first.
Rating: Eric Bischoff
🔹動画配信サービス「スターダム・ワールド」

▪️5★STAR GP2019
2019年9月16日(土)西鉄ホール 夜
◆レッドスターズ公式リーグ戦
葉月 vs 鹿島沙希

優勝圏外となっ鹿島は葉月を相手に一発逆転の起死回生!さて勝者はどちらだ!?

会員登録はhttps://t.co/lZc15hAPwd pic.twitter.com/Dgmsg6dVww

— スターダム/STARDOM (@wwr_stardom) September 20, 2019
Overall: It was, unfortunately, a weak night with both of these shows but still not the worst show they produced. We had two more eliminations and a five-way tie with somebody else in the mix this time around. Gonna be interesting to see where they take it, especially with Utami Hayashishita and Jungle Kyona both injured from the other block. Let's see how things go.
Favorite Match: Momo Watanabe vs. Hana Kimura
Least Favorite Match: Saki Kashima vs. Natsu Sumire
Score: 6.5/10
Red Stars Standing:
Momo Watanabe (4-3) (8 Points)
Tam Nakano (4-3) (8 Points)
Mayu Iwatani (4-3) (8 Points)
Hazuki: (4-3) (8 Points)
Hana Kimura (4-3) (8 Points)
AZM (4-4) (8 Points) (Eliminated)
Avary (3-4) (6 Points) (Eliminated)
Saki Kashima: (3-4) (6 Points) (Eliminated)
Natsu Sumire (2-5) (2 Points) (Eliminated)