Maxwell Jacob Friedman: The Most Entertaining Heel in the Pro Wrestling Business Today
Tom Clack brings you your true next big thing, and his name is Maxwell Jacob Friedman. Or MJF. It's wrestling, you pick!
Tom Clack brings you your true next big thing, and his name is Maxwell Jacob Friedman. Or MJF. It's wrestling, you pick!
Maxwell Jacob Friedman is one of the hottest young stars working in the professional wrestling business today. He's young, he's talented, he's solid in the ring and he's a captivating character. But most importantly, he cuts great promos.
No one can draw heat like MJF. If the microphone was a pipe-bomb in the hands of CM Punk, then it's a nuclear warhead in the hands of MJF. Friedman is that good at blistering his opponents and anyone else that he comes into contact with. It's obvious that MJF is the most entertaining heel in the industry today.
It was perhaps only a matter of time until he reached this spot, though many fans never saw it coming. MJF's first big break in the business was in CZW, but his first real taste of the spotlight came in MLW. Friedman continues to work in MLW, where he shines as a member of The Dynasty. However, his work in Court Bauer's company is just a precursor of things to come. 
MJF is a featured star for AEW, Tony Khan's new venture into the wrestling business. The company has gained serious ground over the past several months and its new television program will debut on the TNT Network on Wednesday, October 2. AEW is delivering a few familiar faces, along with some fresh talents, to a worldwide audience and MJF is an important part of that presentation.
There's no doubt that the 23-year old star has found his groove in the industry and he's only just getting started. But his work in AEW is already being hailed by many critics as some of the best in the company and that's especially true of his character work. Friedman indeed makes it look easy, both in the ring and on the stick.
The truth is that while AEW has some talented performers between the ropes, many of them are unknown to the mainstream audience. The only way for anyone on the roster to standout is by being loud and impactful. This is who Maxwell Jacob Friedman is and right now, no one in AEW can compare to him.
MJF is arrogant. He's cocky and he's completely self=absorbed. He's the kind of guy that fans want to punch in the face and that's just fine with him. In fact, he's actually encouraged any and all personal attacks via social media. MJF doesn't care who hates him, only that their hate for him is all-encompassing. He usually gets exactly that and much more.
Of course many fans understand that he is just playing a character, so they typically play along with him. They respect his work and they have fun with him every time he speaks. But even as he's an entertaining part of the program, the fact is he's so infuriating that fans can't help but to hate everything about him.
This is the key to his progression in AEW. He's not the son of a legendary Hall of Famer. He didn't have a championship run in New Japan and he's not a former WWE main event Superstar. He's a promising young talent and while that's a good thing, it's just not enough. He needs to leave a lasting impression every time he's on camera and that's precisely what he does. If no one in the AEW audience remembers anything about the event they just watched, they will certainly remember MJF. 
But perhaps the best thing about Friedman is the fact that he is so extraordinarily obvious. It's clear that he's up to something as the confidant of Cody Rhodes. MJF appears to be a babyface with Rhodes, especially when he claims that Cody is his best friend. MJF says he would never do anything to betray Rhodes' trust. 
But he says those things while hurling insults and raging at anyone that comes within 10 feet of him. MJF could have taken the fight to Shawn Spears, the man who laid out Cody with a steel chair at Fyter Fest. Friedman had plenty of negative things to say about Spears, all of which reinforced the notion that MJF and Cody are indeed close friends. But instead, MJF kept his distance and did the same when Cody faced Shawn at All Out.
However if anyone questions his loyalty, MJF immediately fires back. It's obvious that his character is acting out of his own best interest and at the end of the day, no one is more important in his life than himself. But even as he delivers his promos with a straight face, fans can see what MJF is really all about.
He's a classic heel in that regard, as everyone seems to be in on the routine but him. MJF has resurrected the throwback antagonist for the modern era and no one is doing it better than he is. Baron Corbin is indeed despised in WWE. Jay White is a true villain in New Japan. Matt Taven is the most despicable heel in Ring of Honor right now. But MJF would destroy every one of them on the mic and fans know it.
Maxwell Jacob Friedman has barely scratched the surface of what he can do in the business. With the right booking against the right opponents, there's every reason to believe that MJF will become a main event powerhouse in All Elite Wrestling and beyond. The fans are going on that journey with him, even though he hates every one of them for it.
King: Dominik Mysterio Needs To Do This At WrestleMania
Chris King is here with what WWE should do with Dominik Mysterio at WrestleMania in his long-awaited match against his father Rey Mysterio Jr.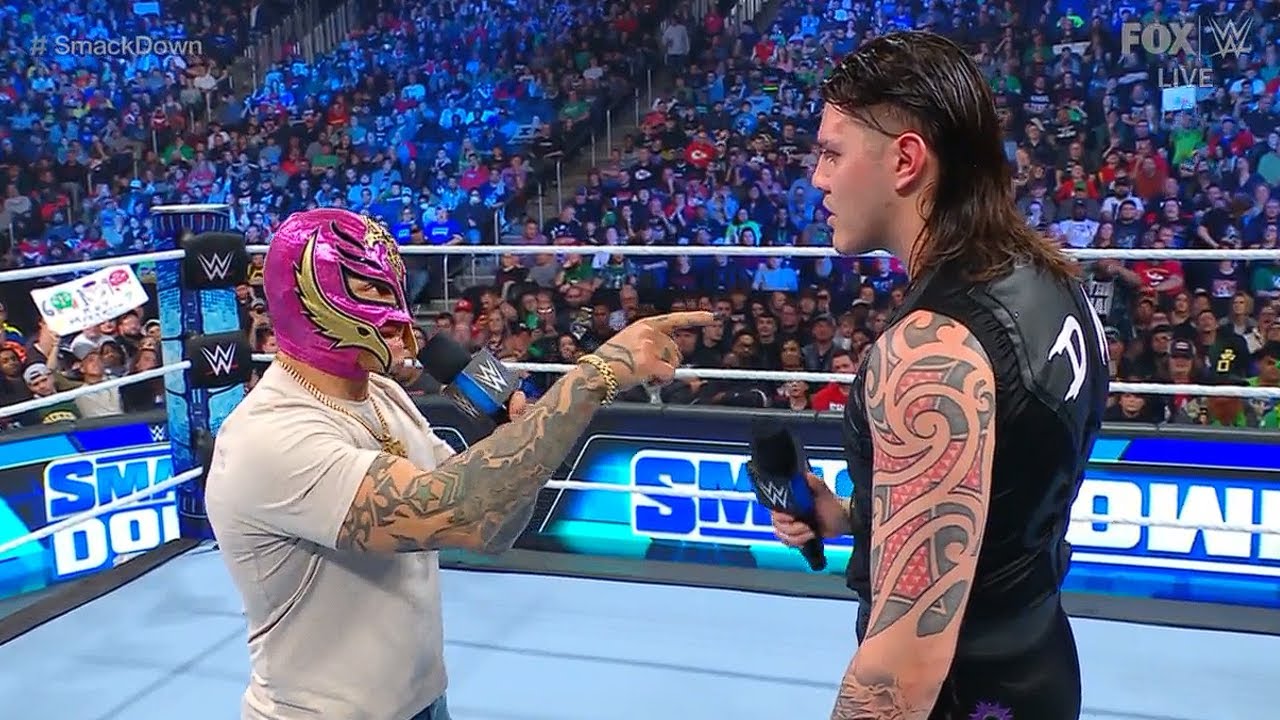 Chris King is here with what WWE should do with Dominik Mysterio at WrestleMania in his long-awaited match against his father Rey Mysterio Jr. 
On this week's episode of Friday Night SmackDown, Rey Mysterio finally snapped and beat some sense into his disrespectful punk-ass kid Dominik. The member of the Judgement Day came out to push his father again for a match on the Grandest Stage of Them All, this time with his mother and sister at ringside. The ungrateful punk told his mom to "Shut Up," as a father even I wanted to jump through the screen and whoop his ass.
Back in October of last year, Mysterio made the emotional decision to possibly quit the company but, instead, Triple H persuaded the Lucha libre superstar to move over to SmackDown to avoid his son. This came after Dominik shockingly turned on his father at Clash at the Castle. Mysterio did everything he could to refuse his despicable son's challenge for Mania but, a man can only be pushed so far. Mysterio will be inducted into the 2023 WWE Hall of Fame and I expect Dominik to embarrass his father during his speech to further this personal feud.
Yes, the WWE Universe hates Dominik and wants to see him get the ever-loving crap kicked out of him but, this feud is missing a special ingredient to capitalize on the biggest heat possible. Throughout this feud, Dominik has made mention of the legendary Eddie Guerrero on several occasions going back to the "iconic" 2005 feud.
I know WWE might not want to go this route but, Dominik MUST come out to Eddie Guerrero's theme at Mania. The disrespectful punk needs to come out in a lowrider to garner nuclear heat. It doesn't matter if The Judgement Day comes out and causes interference for Dominik to get the win, all that matters is that both superstars get the biggest payoff of this nearly year-long feud. Just imagine the Roman Reigns heat after he defeated The Undertaker and multiply that by ten. Dominik portrays the perfect heel and he truly is the missing ingredient that The Judgement Day needed to grow and evolve into a top faction.
King's WrestleMania Rewind: Eddie Guerrero vs. Rey Mysterio (WrestleMania 21)
In the next WrestleMania Rewind, Chris King takes us back to WWE WrestleMania 21, and Rey Mysterio vs Eddie Guerrero in a battle of tag team champions!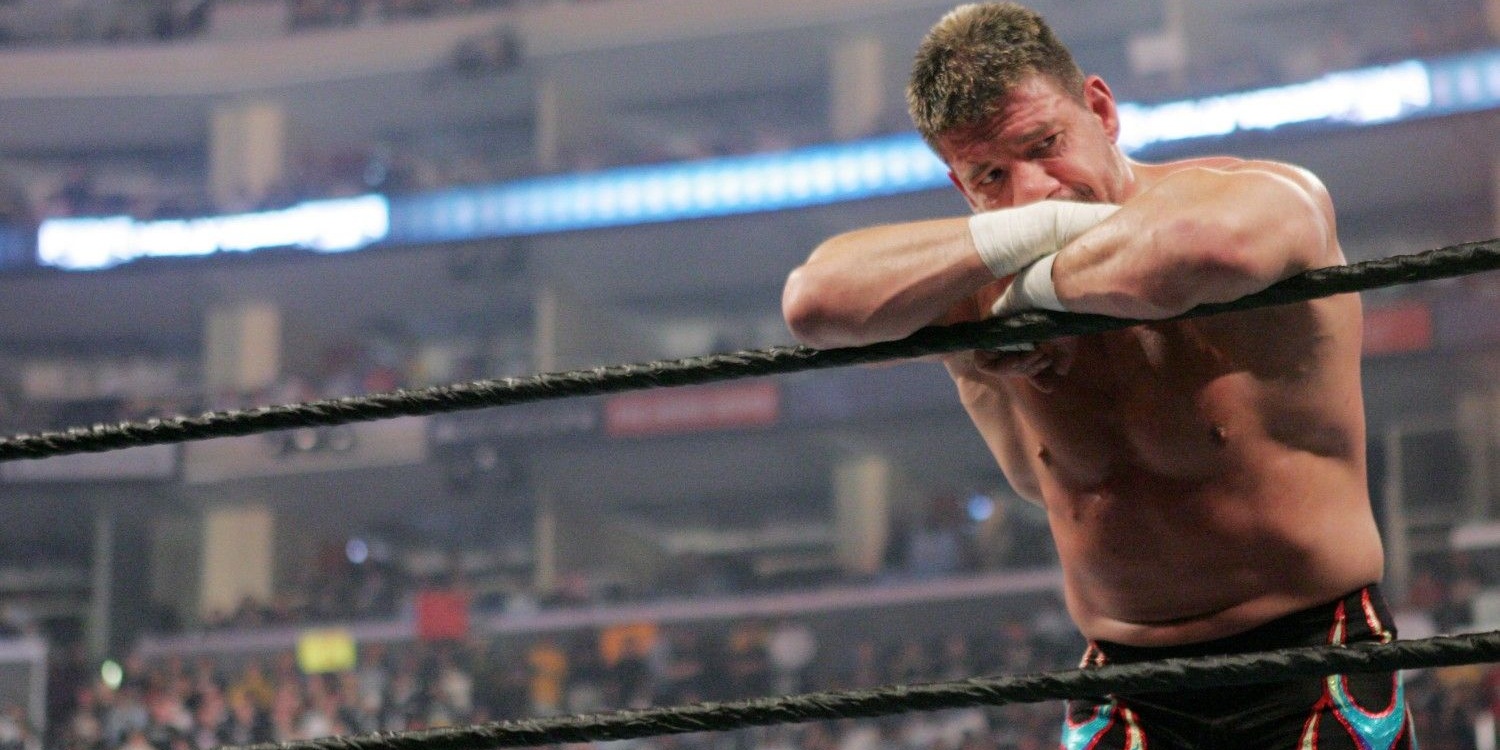 In the next WrestleMania Rewind, Chris King takes us back to WWE WrestleMania 21, and Rey Mysterio vs Eddie Guerrero in a battle of tag team champions!
Chris King is back with his third edition of WrestleMania Rewind. This week he's bringing us back to some 'Latino Heat.' We're rolling back to WrestleMania 21 where Eddie Guerrero faced longtime friend and rival Rey Mysterio.
This would be Guerrero's last Mania match caused by his unfortunate death. Over on SmackDown, Mysterio and Guerrero would become the tag team champions at No Way Out where they defeated MNM.
Chavo Guerrero would get into the head of Latino Heat by making him believe Mysterio was trying one-up his tag team partner. Chavo went as far as to tell his uncle to stop using the Guerrero name.
Guerrero would finally give in to his nephew's manipulation and went on to challenge Mysterio to a one-on-one match at WrestleMania 21. I For the first time in history, both tag team champions would face each other. Guerrero vs. Mysterio was the first match on the stacked card. Both partners threw everything at each other including the kitchen sink in a battle of one-up-manship.  In an incredible high-octane match that saw both superstars delivering counter for counter, Mysterio pulled off the win with a surprise pin roll up.
A few months later, what once was a friendly battle turned into a nasty fight involving the custody of Mysterio's real-life son Dominik Mysterio. After several torturous weeks, both former tag team champions would face off in a ladder match with the custody of Dominick on the line. I forgot how amazing this rivalry was and it's definitely worth a watch. Sadly, we would lose Latino Heat in November of 2005. There will never be another Eddie Guerrero. Viva La Raza!