Steve Cook: A Flair Divided
Steve Cook weighs in on the current state of pro wrestling icon Ric Flair, and it obviously weighed heavily on Cook himself…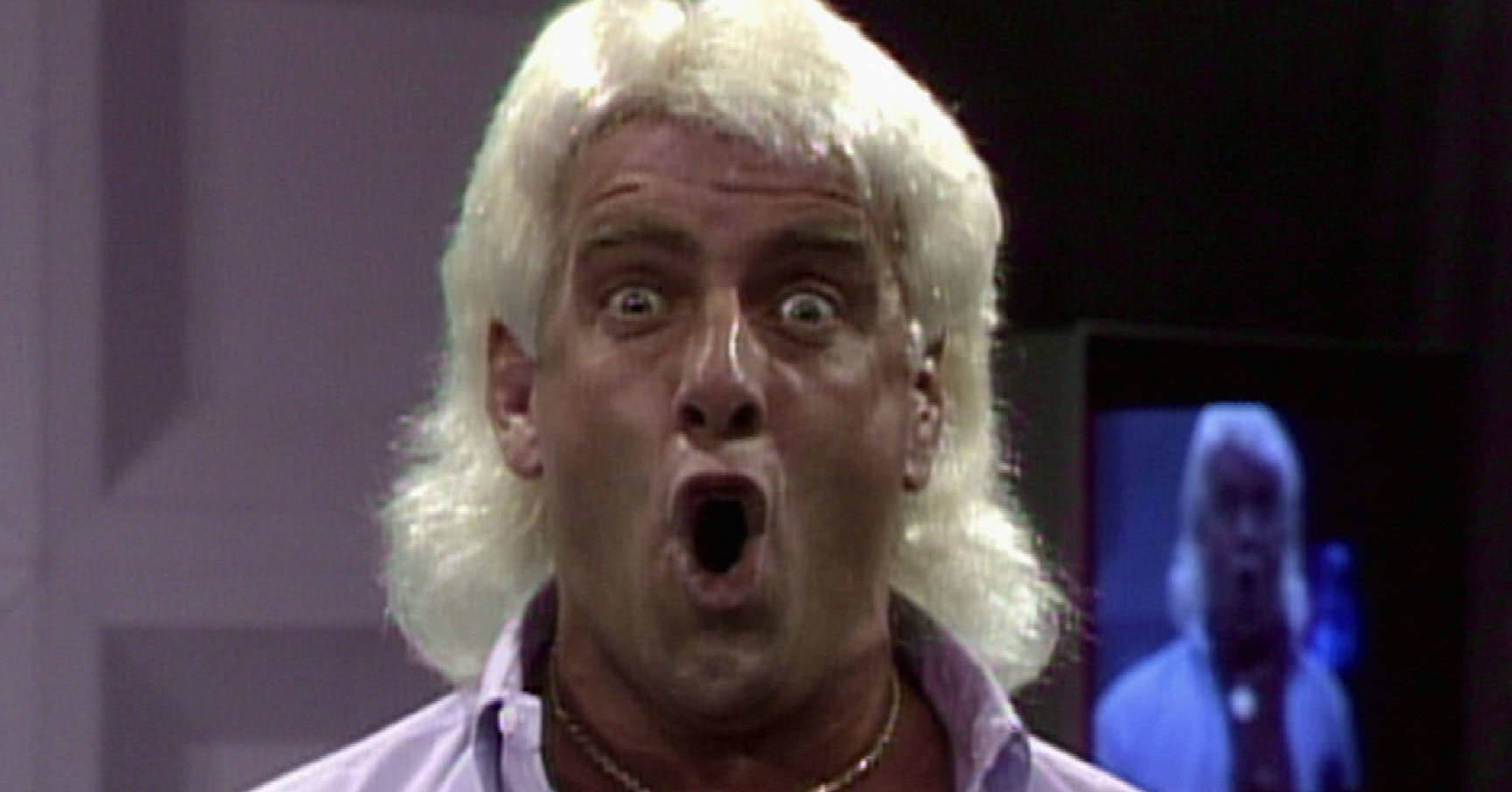 Steve Cook weighs in on the current state of pro wrestling icon Ric Flair, and it obviously weighed heavily on Cook himself…
Before we begin, I want to make sure that people don't get things twisted.
Ric Flair is one of my favorite wrestlers of all time. I can't imagine the wrestling business over the past five decades without his presence. When the Nature Boy finally takes his final steps on God's green earth, it's going to be a bitter pill to swallow. Ric Flair was part of the reason people my age became wrestling fans, and we'll always be grateful for that.
But let's be honest: the last few years haven't been the best stretch for Ric or his fans. The last couple of months have been pretty tough, in fact. First, we found out that Ric was trying to file a trademark on "The Man", which Becky Lynch has been using as a nickname for almost a year. Dude must need the money pretty bad if he's trying to cash in off of his daughter's friend.
Give me two claps and a Ric Flair on GameDay ✨ pic.twitter.com/EkrY1AOFac

— College GameDay (@CollegeGameDay) September 21, 2019
For one thing, Flair's just standing here & wooing. A couple of weeks ago, they brought in Undertaker & the dude was dropping all kinds of insight about the Texas Longhorns like he was some kind of analyst or something. That was cool. Ric surrounded by UGA cheerleaders would have worked better 30 years ago. We've been seeing a lot of awkward WWE/sports crossovers lately thanks to the SmackDown/FOX relationship, and this definitely rates up there with Rey Mysterio randomly sitting in the crowd in Minnesota during the Raiders vs. Vikings game.
(Seriously, how did the Viking Raiders not get that booking? Would it have made too much sense?)
Here's the thing that got me. We got Ric Flair down in Athens, GA representing for the Bulldogs with his red robe. I mean, it makes sense on a certain level. Even if Ric drinks like a Catholic, I doubt he's a practicing Catholic and therefore obligated to root for the Notre Dame Fighting Irish, who the Bulldogs were playing against this past Saturday night. I don't want to speculate too much on Ric's religious beliefs, but whether dude is a Christian, Muslim or Buddhist is irrelevant to the point.
It's all good. You do you, as I always say.
The Georgia Bulldogs are certainly one of college football's top teams these days, and have quite the tradition as a powerhouse. We're talking about a school where Pop Warner coached football. From Herschel Walker to Bill Goldberg to A.J. Green, UGA has produced a ton of top talent.
As a program that goes back to nearly the beginning of college football, Georgia has its fair share of traditional rivals. UGA fans can correct me if I'm wrong, but the one that gets the most attention nationally is its rivalry with the Florida Gators. Every year, Gator & Dawg fans get together for the World's Largest Cocktail Party and the annual Florida/Georgia football game in the neutral site of Jacksonville. Fun times are had by all…especially by fans of the winning team.
See, Floridians & Georgians can share a little bit of the bubbly, but they can't share a college football team. If you're a fan of one, you can't be a fan of the other. Since college football has 130 teams in the Bowl Subdivision and countless more in the Championship Subdivision, Division II, Division III and whatever's below that, it's fine for Florida & Georgia fans to root for other schools on occasion.
Just not a rival team.
Can you imagine an Auburn fan pulling for Alabama? All the conference alleigance in the world isn't going to make a Michigan fan root for Ohio State in the College Football Playoff, or Texas fans bust out a "BOOMER!" for Oklahoma. Sure, sometimes you end up rooting for teams in your fellow conference, but certain lines have to be drawn. Every school's fans has at least one team that they can't root for under any circumstance.
Though it should be said that in some cases it's not universal. Living in Kentucky, I know plenty of UK fans, and their most hated traditional rival is either Louisville or Tennessee depending on who you ask. One's a border state in the same conference, the other is the big city that has different demographics from the rest of the Commonwealth. The UK/U of L rivalry seems more intense to me, but I'm a U of L guy so of course it does.
The bottom line: You don't root for your hated rival. I don't make the rules, they were set down generations before any of us were here.
OK, so you're probably wondering why the hell I've been going on about this for a few paragraphs. Maybe you don't remember the 90s as well as I do. Ric Flair was a huge star in WCW, and the Florida Gators were among the top powers in college football. Head Ball Coach Steve Spurrier had his Fun 'n' Gun offense humming along in Gainesville, leading the Gators to four consecutive SEC championships and a national championship in 1996. Florida was riding high, and everybody was on board the bandwagon…including a certain Nature Boy!
Flair attended the Sugar Bowl in New Orleans when Florida beat Florida State to win the 1996 national championship. He was walking back to the team hotel with several of the Gators' coaches after the game. The coaches were still in their Florida coaches' gear, and it was a madhouse among the fans outside the Superdome.

Jim Collins, now on Duke's football staff, still laughs when he thinks about the wild scene and Flair being in his element.

"Here's Ric Flair and his bleach-blond hair, and everybody recognizes him," said Collins, who has remained close with Flair. "They're all yelling, 'Go Gators,' but just as many of them are yelling Ric's customary, 'Wooooo!'"

At the official team gathering with coaches, their families and Florida administrators later that evening, the "Nature Boy" was the hit of the party. As everybody took turns toasting one another and the season, Flair jumps up on a chair and brings the house down with his own variation of a phrase that has personified him.

"Diamonds are forever … and so are the Florida Gators," Flair chortled, followed by an emphatic "Woooo!"
Flair would name-drop the Gators from time to time during his WCW interviews, leading everybody to believe that he was a diehard Gator fan. As it turned out, Flair was more of a Steve Spurrier fan. Ric is a fan of people who are fans of his, which makes sense on a certain level. After Spurrier left Florida & had a stint in the NFL, he went to South Carolina, which was close enough for Ric to jump on the bandwagon again. All good things come to an end though, including Spurrier's coaching career.
Steve Spurrier, you're a legend & the greatest offensive mind in football! Enjoy your seat at the Mt. Rushmore of collegiate coaches @SC_HBC

— Ric Flair® (@RicFlairNatrBoy) October 13, 2015
Flair's next team of choice? Michigan! Jim Harbaugh is a big fan, and Flair told this story about a recruiting trip to Michigan back in the day where he met Dan Dierforf. To be honest, I don't think this lasted too long once Ric saw that Harbaugh couldn't beat Ohio State.
Oh, and one other thing happened…Ric got married and gained some step-children in the process! One's going to Georgia & one's going to Auburn, so now he's trying to represent for both of them.
I'm Coming Your Way Alabama Comic Con! Don't Be Afraid To Live The Legend! WOOOOO! pic.twitter.com/WkMNq4nH4Y

— Ric Flair® (@RicFlairNatrBoy) July 10, 2019
Florida…South Carolina…Georgia…Auburn…Ric's had as many favorite SEC teams as he's had wives.
I gotta admit that I came into this all hot & bothered as a man that believes in loyalty to favorite sports teams. You're reading words from a guy that's sat through three crappy decades of Cincinnati Bengals football & three mostly blah decades of Cincinnati Reds baseball, and went to a college where most of the basketball team's best days aren't in the NCAA record book anymore. I am loyal to beyond a fault, so when I see guys out here repping different teams each week based on who's giving them dap, it grinds my gears.
But now that I know it's a step-kid thing these days, I'm cool. Ric might wanna watch out on that "House Divided" phrase though. Somebody's probably got a trademark on it.