Steve Cook's Top 5: Wrestling Impressionists
Steve Cook takes a look at a true art within professional wrestling: the impressionists. Here are his Top 5 Wrestling Impressionists!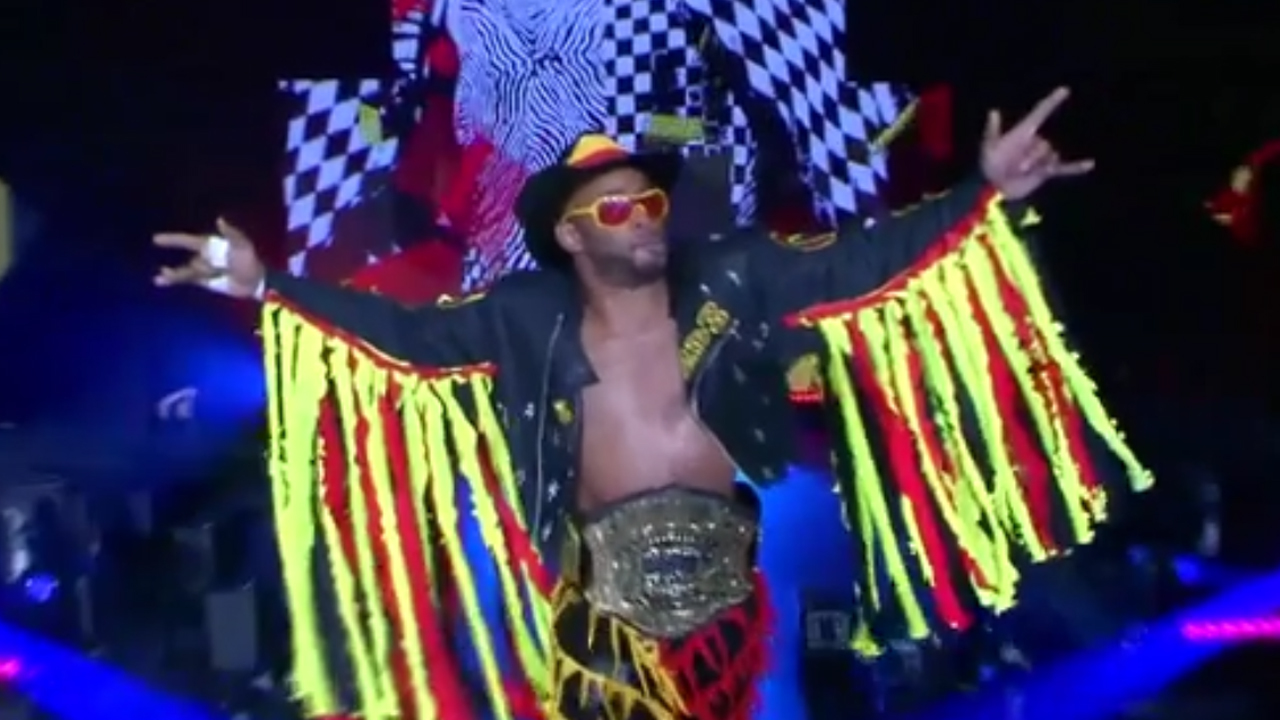 Steve Cook takes a look at a true art within professional wrestling: the impressionists. Here are his Top 5 Wrestling Impressionists!
I don't watch a lot of Ring of Honor these days. The show is on late night in my market, and I'm a guy that has to wake up stupid early for a shoot job. And let's be honest, ROH interest is lower than it's ever been among the audience I'm writing for, so there's no real reason to pay attention.
My real life BFF still does. We used to go to ROH shows in Dayton back in the day, and since he's a night owl he's more likely to keep up with their exploits than I am. He mentioned to me in the course of a texting conversation that Lanny Poffo had been on commentary for an ROH show, and my reaction was "Was Jay Lethal working the Black Machismo gimmick?".
He wasn't.
Which completely blew my mind. What would be the point of having Lanny there if Jay's not impersonating the Macho Man? Lanny seconded Jay at All In, and it made sense because Jay was playing the gimmick & Lanny put it over.
Impressions are fun! Today, we look at the five best wrestling impressionists.
5. Big Show
Paul Wight is a funny guy. His Saturday Night Live appearance in the lead up to WrestleMania showed people this comedic side that wasn't previously exploited by wrestling promoters. After WM, Show turned face and started impersonating other wrestlers to get love from the fans. His Showster character was probably the best, but Big Showbowski had its moments.
4. Damien Mizdow
I always thought the psychology behind Miz having a stunt double was a bit flawed. The whole point of a stunt double is to keep the star from doing dangerous things. Mizdow should have been wrestling Miz's matches for him so the A-Lister could avoid physical abuse from his fellow WWE Superstars. Instead, Mizdow was on the outside taking phantom bumps while Miz got beat up in the ring. It wasn't very logical.
However, it was hilarious. And it got over better than anything else Sandow ever did. So I have to give him credit here, the gimmick worked and nearly made him a star until WWE got in the way.
3. NWO Sting
It was a shocking thing to see Sting attacking Lex Luger in a parking lot alongside the New World Order. The man himself would deny it, and claim that it had to be an impostor, but we saw it with our own two eyes on Monday Nitro. We heard Sting talking to Ted DiBiase, then we saw Sting, Hollywood Hogan, Scott Hall & the Giant lay a beating on Luger. It had to be him, right?
It wasn't. But the raindrops on the camera, the darkness outside & the audio of Sting talking sure made it seem like it was. We found out later that Sting was telling the truth, and the NWO had hired a man to impersonate Sting & pull the wool over the eyes of WCW. Luger's refusal to believe Sting after Sting had trusted Luger for so many years was the key factor that sent Sting into the rafters for months & re-invented his character.
2. Jason Sensation
One week, D-Generation X decided they needed to do a skit parodying their rivals, the Nation of Domination. As hilarious as Road Dogg was as B-Lo, and as good as Triple H was as The Crock, the character that stole the show was not a man that actually was in D-Generation X. It was a man that delivered a perfect impression of Owen Hart. A way too perfect impression, in fact.
That's why Owen beat the crap out of the kid the week after. He knew the kid had him down. That thin-skinned nugget couldn't handle somebody having him down so perfectly. Unfortunately for Jason, Jerry Lawler had a soft spot for Owen and was more than willing to lead the lamb to the slaughter.
1. Jay Lethal
As talented as Lethal is in the ring, those talents pale in comparison to his ability to impersonate two of the greatest wrestlers of all time. His Randy Savage impersonation led to TNA giving him the gimmick of "Black Machismo" for a period of time, and he still uses it occasionally even though he's moved on from the company. His Ric Flair impersonation led to him feuding with the man himself on television and giving us one of the best segments of any wrestling show of all time, as you can see above this paragraph.
I still don't know why TNA didn't build the company around Lethal right after that moment. What else do you need from a top star?