Tiffany's AEW All Out Takes: Here We Go!
Tiffany has some bonus Takes for AEW as she gives her side of ALL OUT! What did Tiffany think? Do you agree?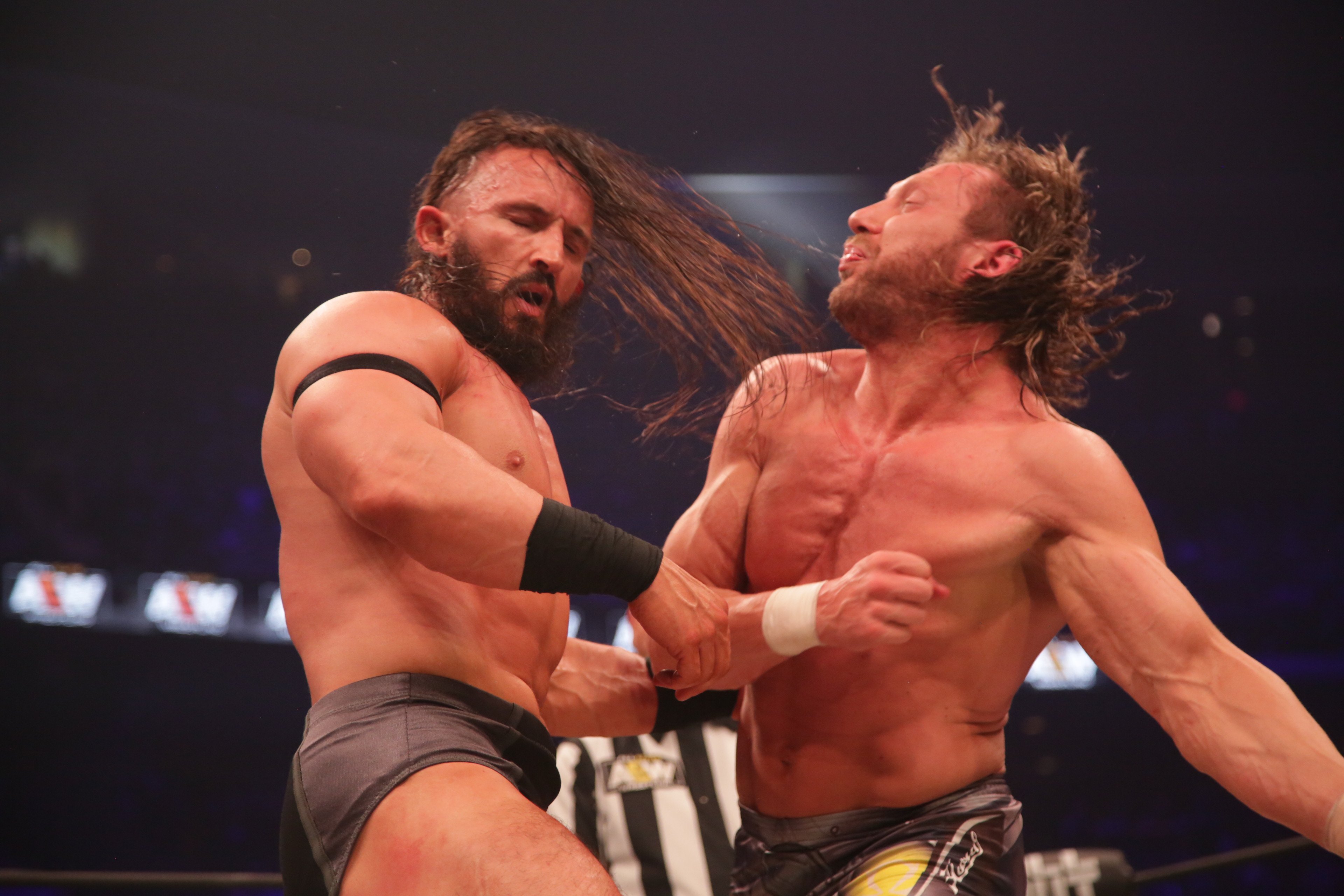 Tiffany has some bonus Takes for AEW as she gives her side of ALL OUT! What did Tiffany think? Do you agree?
I actually swore I wasn't going to do this. AEW was going to be something for me to enjoy without writing about it until October when I would be covering it for The Chairshot. However, the writing bug bit me and here we are, so let's light this candle.
Women's Casino Battle Royal – Winner is #1 Contender for AEW Women's Championship
I didn't watch All In or Double or Nothing, so I had no idea what went on in a Casino Battle Royal and when I heard the rules, I thought it sounded WAY too complicated: Every woman drew a playing card and whichever suit she pulled was her group. The match started with the first suit group and once all of them were eliminated but one, the next suit came out until everyone had been in. One lady had drawn the Joker Card, which meant she entered last and the last woman standing was the winner.
The execution of this match, was really cool and it looks like AEW has a solid Women's Division on their hands. The biggest shock was that neither Brandi Rhodes or Awesome Kong were the winners, which is what I thought would happen. The big surprises were ODB of TNA fame being entered and Mercedes Martinez, who had a star making run in the 2018 Mae Young Classic. I'm a little bummed that Dr. Brit Baker didn't win since she seemed poised to, but Nyla Rose winning and being the first AEW Women's Champion would definitely get a lot of people's attention.
Private Party vs – Angelico and Jack Evans  Winner Gets Buy In AEW Tag Team Championship Tournament
Private Party reminds me of Street Profits, oddly enough. It's a very similar gimmick. Angelico and Evans look like generic white guys in ugly gear (I'm NOT a big fan of Day Glow). I have to say that, after the Women's match, this match didn't start off great on the Angelico/Evans front, but they seemed to get their heads together and actually put on a really great match with Private Party.  I should point out that one of the Day Glows' shoulder was up at the three, right in front of the ref, but the end wasn't a question, Private Party got a buy in the Tag Tournament. I'm also pleased that AEW is already building feuds for October by having Angelico and Evans turn and attack Private Party.
Best Friends vs Dark Order
I really don't get the Dark Order. They dress like extras from a leather club, which is fine if that knocks your rocks, but it looks weird in wrestling. The match was okay, but it was definitely the clunker of the night. No one really cared about the Dark Order and the Best Friends losing just hurt the crowd.
Escalara de Muerte for the AAA Tag Team Championship – Young Bucks vs Lucha Brothers
This was the one match I really didn't feel much for going in. I'm not familiar with the Young Bucks or Lucha Brothers, so I didn't have any skin in this match.
I missed part of this match due to having to pick my mother up from work, but what I saw was pretty amazing. I'm not a Bucks fan for the most part, but they really impressed me. The match was a ladder match, though I'm not sure why they needed to add the 'de muerte' part, ladder matches are scary enough. Lucha Brothers were great. Lucha Brothers retaining wasn't a surprise, the big surprise was the debut of the Latin-American Exchange, aka, LAX, who cost Young Bucks the win. Great match, with some hella scary spots.
Kenny Omega vs PAC
This is the match that I went from super psyched about to totally bummed out. This match was SUPPOSED to be Omega vs Jon Moxley, but due to Moxley having to pull out due a re-occurrence of the MRSA that nearly killed him last year and needing surgery to, hopefully, end the problem once and for all, the match was changed to PAC vs Omega.
I have to say that, after his comments after Mox had to pull out of the match, I was definitely pulling for PAC in this match. The match was really good, Pac is still very impressive, despite not being on PPV for two years after leaving WWE. I'm not sure I like the 'Bastard' gimmick, but whatever, at least he's honest.
The match was REALLY good. PAC and Omega just tore the place down, which makes it hard for the rest of the matches, but since PAC was a last minute addition, I'm guessing they didn't want to waste time. I still wish it was Mox vs Omega. I was actually surprised that PAC won due to a match stoppage. I do like the irony of Omega mocking Moxley for having to pull out and then losing a match to the ref stopping it for Omega's safety.
Cody Rhodes vs Shawn Spears (w/Tully Blanchard)
This was another big match that I was excited for. I've never really been a fan of Cody or Shawn Spears but that unprotected headshot got my attention, as did the inclusion of Tully Blanchard, who was a long-time foe of Dusty Rhodes back in the 80s. Spears' entrance was odd. It was like he was trying to be the Undertaker, only in bright blue and it wasn't working. Blanchard didn't get a big pop, but that was understandable since he's been out of the wrestling mainstream since he left WWF in the late 80s after failing a drug test.
Cody took Spears' weird entrance and gave us his own, Star Trek themed, including Diamond Dallas Page. Ultimately, MJF would be chosen to back Cody, which is disappointing since I would've loved to have seen DDP vs Tully Blanchard.
The match was really good, but I'm not totally into AEW rehashing a 30 year old storyline, however, Arn Anderson turning his back on Tully Blanchard was the wildest thing I'd ever seen. I seriously jumped out of my seat. Everyone, including me, was expecting MJF to turn on Cody or cost him the match, and I'm glad I was wrong. That was great. Spears looked like a legit badass and the use of Anderson and Blanchard was good.
Riho vs Hikaru Shida – Winner Faces Nyla Rose on October 2
This match of Joshi wrestlers was definitely the match I was looking forward to after Mox vs Omega. I'm not totally familiar with Joshi, but what I've been seeing has really impressed me.
The match ended up being really good, Shida and Riho were amazing together and made a great statement about the state of Women's Wrestling and AEW's Women's Division. I'm not surprised that Riho won and considering that Riho has PINNED Rose in the past, it makes their clash in October very interesting. I should note, however that Riho got the pin in a Triple Threat match, so it'll be interesting to see if she'll have that success one on one.
Cracker Barrel Clash – Joey Janela vs Jimmy Havok vs Darby Allin
I have no idea what a Cracker Barrel Clash is, but since Cracker Barrel is sponsoring a match for this, I guess they had to include the name somewhere. I find it funny that Janela and Allin made sure to take Havok out before fighting. Also, duct tape.
This match was just fucking insane, but it was very good. Jimmy Havok got the win but there was some wild shit going on like that damn coffin drop of Allin's and a skateboard with thumbtacks on it. Craziest part was it was still a really good match.
Luchasaurus, Jungle Boy, and Marko Stunt vs SoCal Uncensored
Lively Christopher Daniels is the weirdest thing, I remember the solemn Fallen Angel from TNA. I'm still not quite sure how a Luchasaurus survived the end of the dinosaurs or how he met Jungle Boy and didn't eat him for dinner unless Luchasauruses are plant eaters. Marko Stunt looks like some random kid they picked up at a meet and greet.
All that said, this was a really good match. Luchasaurus is incredibly agile for a critter his size. Daniels did a hell of a job of selling for Jurassic Express and making them look like viable threats instead of a dumb kid act. I'm not surprised SoCal won this, but I'm impressed with how good they made Jurassic Express look and and how Daniels made sure Stunt and Jungle Boy were okay afterwards. Also, good sportsmanship is always nice to see.
AEW World Heavyweight Championship Match – Hangman Adam Page vs Chris Jericho
It's time to decide who will be The Man of AEW heading into TV: The legendary and incomparable Chris Jericho or the young upstart, Adam 'Hangman' Page. Page got my vote for riding in half naked on a horse, but Jericho's nature defying six pack paunch is something to behold. Also, this main event is being officiated by a woman, which I LOVED. This is the first time a female has officiated a World Heavyweight Championship match. Best part is: No one's making it into a big deal and she was treated with the same respect as any of the male refs.
This match was really good, but it was clear that Jericho, though still performing at a high level, is not quite as good as he was ten years ago. Page's selling was fantastic. Jericho bleeding wigged me out a little, not going to lie, but it wasn't the bloodbath that happened at Fyter Fest or Double or Nothing, it felt more natural. That said, the match wasn't all it could've been, but it also went on pretty late and the crowd was tired. However, Chris Jericho is the inaugural AEW World Champion and the emotion he showed makes it hard to be mad, even though I expected it.
Final Thoughts: I LOVED this show. I know a lot of people are going to say that it wasn't as good as TakeOver: Cardiff, but I STRONGLY disagree. I watched both shows and I loved All Out. TakeOver didn't feel like anything special, it was a three hour long NXT UK episode, just like what I watch on Wednesday afternoons. Nothing was all that surprising and the main event went on way too long. I was surprised by how much All Out excited me. There were a lot of good or great matches and even the results that weren't surprising, had surprising elements in it: Arn Anderson seeming to turn on Blanchard, LAX debuting, Nyla Rose winning the Casino Royal, Chris Jericho, with everything he's accomplished, being emotional over winning the AEW World Championship.
Were there questionable spots? Yeah, there were. Omega losing, even if it was by ref stoppage was odd. Page losing clean was odd. Arn Anderson turning on Tully Blanchard and helping the son of the man they spent the better part of a decade feuding with was WEIRD, but the weird spots leave the door open for storytelling down the road and builds for October when AEW is on TNT.
The one BAD match was Dark Order vs Best Friends. I have no idea what that was about, or who the hell Orange Cassidy is. I'm also not happy at the Rhodes bringing a clearly spooked Pharoh out. However, I was super excited and intrigued by most of the finishes and am really excited by what will be in store for AEW on October 2.
That's it for Tiffany's Surprise All In Takes! Tune in Monday for RAW!