Tiffany's NXT UK TakeOver Cardiff Takes: Tearing It Down In Cardiff
Tiffany Takes a moment to check out WWE NXT Takeover: Cardiff. And now she has takes for YOU! Read 'em and enjoy 'em.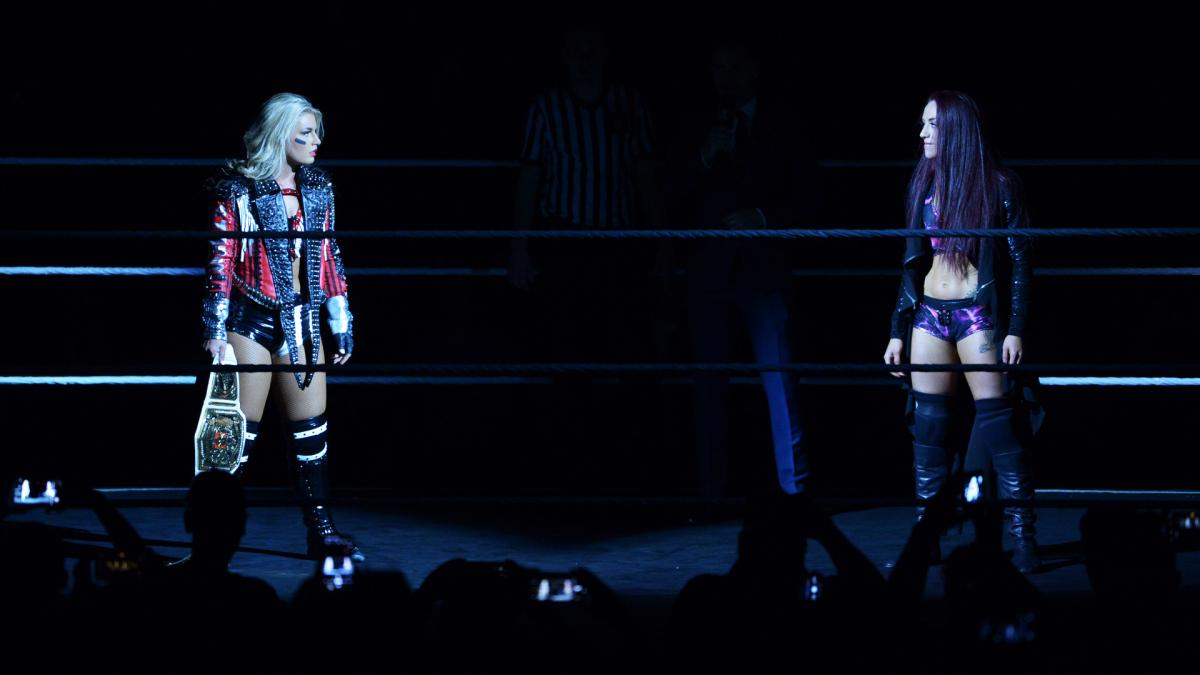 Tiffany Takes a moment to check out WWE NXT Takeover: Cardiff. And now she has takes for YOU! Read 'em and enjoy 'em.
NXT UK is taking the mayhem to Cardiff, Wales! With all the championships on the line, who will be the last men and women standing?
UK Championship – Walter vs Tyler Bate
I didn't have high expectations for this match going in. NXT UK seems pretty high on WALTER, so I wasn't expecting him to lose. The match was okay, but I was definitely getting bored with it. The end wasn't even a surprise, I think we all pretty much knew WALTER was going to retain, but did we really need a long match to get it done? That story could've been told in half the time, instead it dragged on until I didn't care who won as long as the match ended.
NXT UK Women's Championship – Toni Storm vs Kay Lee Ray
This was the match I was most excited for. Even though NXT UK too a little too long to put an actual issue into this feud outside of KLR feeling overlooked, the whole broken friendship storyline was really interesting.
The match was everything I was hoping it would be and more: Great storytelling and great wrestling. I don't know how much of the storytelling was kayfabe or legit, but it was great to watch either way. I'm a little surprised that Storm lost, but I think this is going to be a long-term feud.
NXT UK Tag Team Championship – Grizzled Young Veterans vs Gallus vs Mark Andrews and Flash Morgan Webster
I was still a little puzzled by this match, but that's what video packages are for: To refresh your memory when you watch five wrestling shows a week. This match was AMAZING! Welsh Airmen were the CLEAR fan favorites but everyone gave it everything they had. Welsh Airmen got the win in their home country, but I can't say I'm confident that the run will last past a rematch.
Last Man Standing Match – Joe Coffey vs Dave Mastiff
Dave Mastiff has been undefeated in singles competition since NXT UK's debut and it keeps feeling like he should be in line for a title shot. There's something to be said about breaking the ring ropes two minutes into the match. Using a cricket bat was so quintessentially British, I actually laughed. Also, Joe Coffey thinking he's Superman and can punch through a steel chair was funny and cringey. I'm a little disappointed that Mastiff's undefeated streak has ended and he's never gotten close to a title shot. I still hope he'll get one, but I doubt it at this point.
Travis Banks vs Noam Dar
I don't know why, but Noam Dar reminded me of a child playing out his wrestling entrance in this match. That aside, I really enjoyed this match. I was a little afraid it was going to be all flashy moves and not wrestling, but that was not the case. These guys worked really well together and put on a solid match that had the flash but still plenty of the mat wrestling. I was a little surprised Dar won, I would've thought they'd go with Banks on this, but we'll see how it works long term. It feels like Banks' star has slipped since he lost to WALTER.
Ilja Dragunov vs Cesaro
I'm going to be honest, I wasn't thrilled that this got added at the last minute. I know card is subject to change, but it felt way too random. The match was really good, but I still wish we'd gotten more story building than Cesaro just showing wanting to fight. I'm a little surprised Cesaro won, but it leaves the door open for a bigger feud.
Final Thoughts: I'm going to be honest, this was an okay TakeOver. I know a lot of people are touting it as better than AEW's All Out, but in my opinion, this was basically an overly long episode of NXT UK. It had great matches, but I can't say any of them were MILES ahead of what I've been watching every Wednesday afternoon for the last year. The main event went on way too long for my liking for nothing to change. Not impressed.
That's it for Tiffany's TakeOver Takes. Tune in Monday for RAW Takes.