Tiffany's RAW Takes: The Monkey Wrenches are Flying!
Tiffany is back with her Takes on WWE Raw…the quarter-finals for King of the Ring are upon us! Which two will be heading to the semis? And what happened with Bayley and Becky?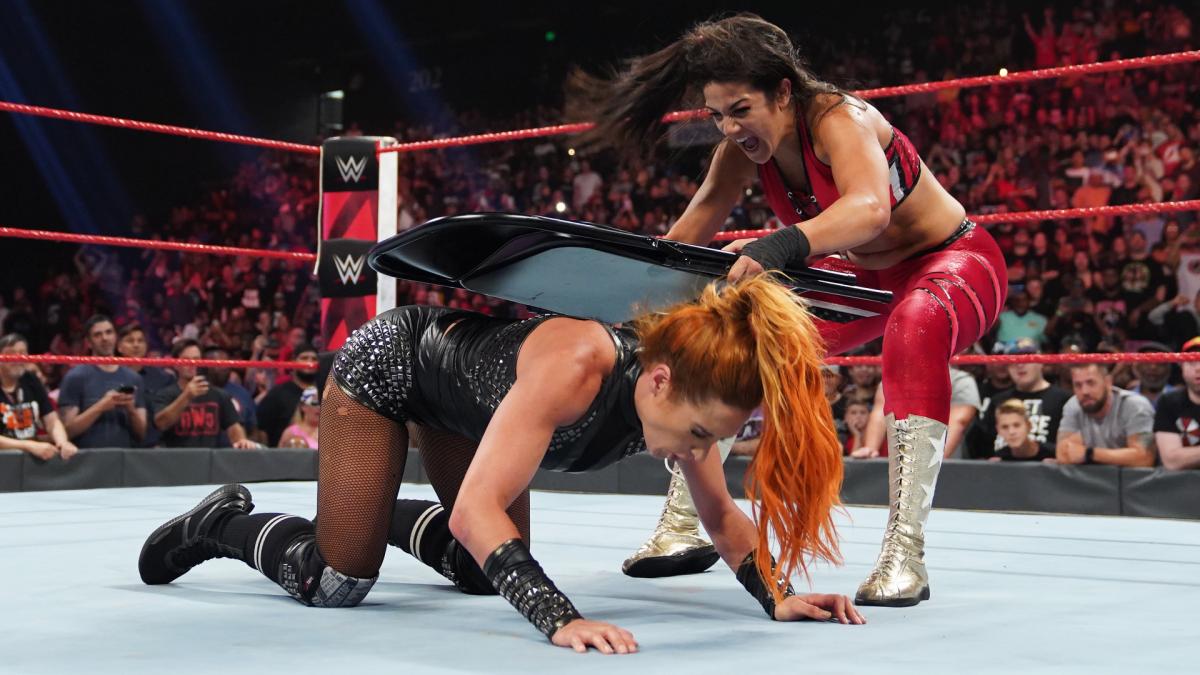 Tiffany is back with her Takes on WWE Raw…the quarter-finals for King of the Ring are upon us! Which two will be heading to the semis? And what happened with Bayley and Becky?
It was an eventful edition of WWE Raw. Here are Tiffany's Takes!
King of the Ring
If there's one thing WWE LOVES to do, it's throw monkey-wrenches into things. Baron Corbin advanced to the King of the Ring semi-finals after beating Cedric Alexander in a fabulous quarter-final match. I was disappointed, no question about Alexander not advancing to the semi-finals, but he showed what a star he was. The only question seemed to be: Who would Corbin face? Ricochet or Samoa Joe? Funny question that.
Samoa Joe vs Ricochet was FABULOUS! They worked so well together that I didn't want to see it end, but I don't think anyone predicted a screwy double pin that looked like it had eliminated both men, much to Corbin's delight, but nope. Try a Triple Threat match with the winner advancing to the finals. That's a fun monkey wrench for the King of the Ring match. We'll see who survives that one next week.
Women's Division
Isn't Natalya supposed to be injured and didn't Lacey Evans prove that she's not ready to be a major player on RAW? Honestly, that match was just ugh. Nattie was great, as always, but watching Evans wrestle is still awkward and her Woman's Right still looks terrible, especially when she clearly wiffs it. That match made my head hurt.
It was made officially official tonight: Becky Lynch will defend her RAW Women's against Sasha Banks and the promos were everything I could've hoped for. These two had such a great feud in NXT that got cut short by them getting called up to the main roster, I've got SUPER high hopes for this being the big long-term feud Becky, Sasha, and the RAW Women's Division has been missing.
We got a SWERVE tonight! It sounded like Sasha and Bayley relationship was done and dusted after Bayley said Sasha took her ball and went home after WrestleMania, but the Boss-Hug Connection fooled us all when Bayley TURNED HEEL. Even Alexa Bliss and Nikki Cross were shocked, and they were supposed to be the heels in this Championship Showcase for the Women's Division. I've been saying that teaming with Sasha was the best thing that could've happened to Bayley in terms of developing her character and I think a heel Boss-Hug Connection could be the best thing for the Women's Division as a whole. There's still the question of what this means for Bayley's match with Charlotte Flair, but I guess we'll have to see on SmackDown.
Universal and Tag Team Championships
Well, it wouldn't be a contract signing without mayhem and shenanigans. I like that there is this BIG question about whether or not Rollins and Strowman because, let's face it, these two have never been friends. I loved that the feud with the OC hasn't been set to the side, even though Rollins and Strowman are facing Robert Roode and Dolph Ziggler, which is still weird.  I'm still not convinced Strowman will beat Rollins at Clash of the Champions, I think they're going to keep the title on Rollins and put him with Styles again. I also loved AJ's rant. Heel or not, he voiced the frustration of a lot of WWE fans.
The match between the OC and Burning Monsters (I have to call them SOMETHING) was really good. I love that Rollins and Strowman are trying to work together, despite themselves. The beatdown felt pretty inevitable, but it was fun to watch five guys trying to take down Braun Strowman.
Ziggler and Roode vs Major Bros was okay, but it seemed more like WWE is wanting to establish Whining Gloriously as a legit team to justify them getting the title shot, which is like trying to close the barn door after the horse gets out. I'm just not quite buying them as a team and I wonder if they're setting up a Roode/Ziggler feud off of this.
That's it for Tiffany's RAW Takes! Tune in tomorrow for SmackDown and 205 coverage!