Tiffany's SmackDown Takes: Goodbye, USA Network
WWE Smackdown Live is headed for FOX as WWE Smackdown (still live), and Tiffany has Takes for the final edition on USA Network!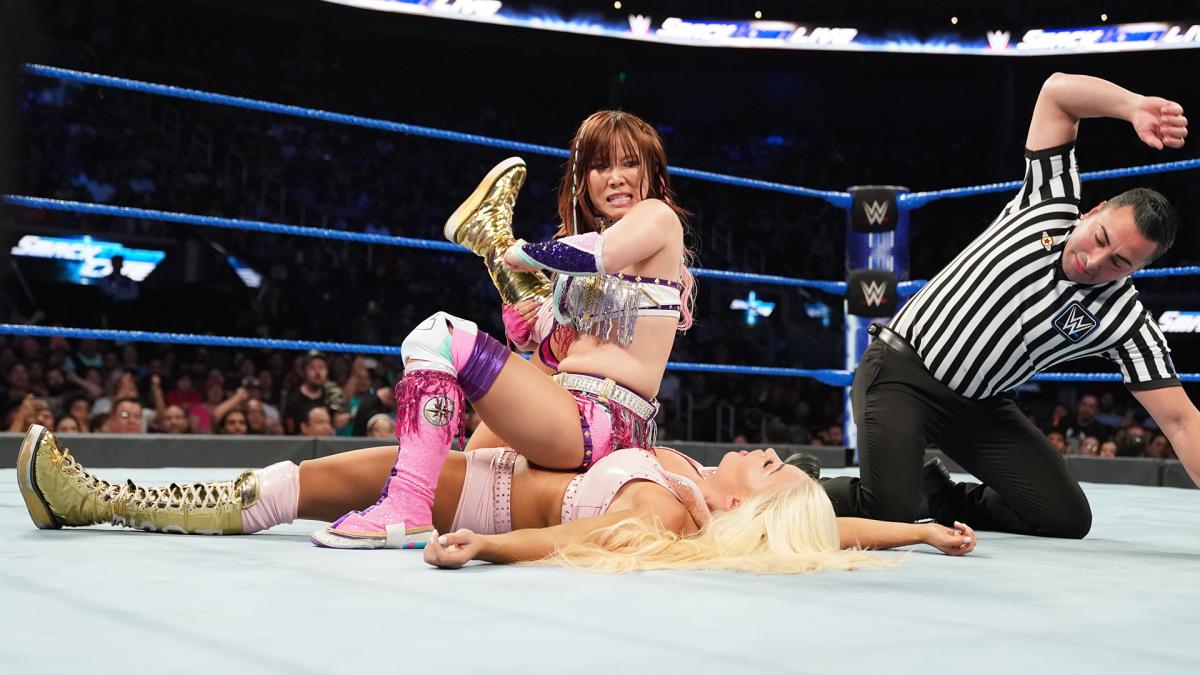 WWE Smackdown Live is headed for FOX as WWE Smackdown (still live), and Tiffany has Takes for the final edition on USA Network!
It is the final Smackdown before the big move to FOX, so how will the Superstars of SmackDown say goodbye to the USA Network?
Kevin Owen vs Shane McMahon
So, last week, Kevin Owens served Shane McMahon with a $25 MILLION dollar lawsuit over Shane's unfair dismissal of him during the King of the Ring tournament, with one of their careers being on the line depending on how the lawsuit was decided. This week, Shane asked Owens to meet him in the ring to arbitrate the situation.
I've said before that the big thing I like about Owens vs Shane over Austin vs McMahon is that Owens vs Shane is much more realistic. I will not bore us all, including myself with all the legal yapping, my mother was a paralegal for 20 years and trust me, mediation is boring. However, I am stoked about Owens vs Shane ladder match. That promises a lot of drama, I'm going to assume that will either happen next week on the big Fox Premiere or at Hell in a Cell.
Women's Division
I love Carmella and I'm so happy that she's the 24/7 Champion, but I'm not thrilled about her being inserted in the Four Horsewomen feud.
This match was REALLY good. If I had to guess, I would guess that if Bayley retains her championship, she and Carmella will be feuding. I'm not happy that Charlotte just LET Carmella get tapped out and didn't even TRY to help her like a tag partner is SUPPOSED to do, however, I'm really happy Becky showed up so that this stays a Horsewomen feud.
Kabuki Warriors are back and they made reasonably quick work of Mandy Rose and Sonya Deville. I honestly can't stand Mandy, but Sonya's really improving. However, it looks like Kabuki Warriors are back to their winning ways, and proved that looks are not a great substitute for talent and class. Take notes, Mandy.
Loved that Sasha/Becky moment! Loved them ratcheting up the tension before Hell in a Cell. My only fear is that they'll hype it so much, the match won't be able to live up to the hype without both women getting REALLY hurt.
Roman Reigns Mystery
I was under the impression that Daniel Bryan and Roman Reigns were going to air their grievances with each other, but Bryan decided to get his ass kicked by Erick Rowan instead.
Bryan vs Rowan was good, but I had my heart set on Bryan vs Reigns. At least the Big Dog came out to try and save Bryan from getting more seriously hurt than he already was. Not that Bryan was grateful, the little troll.
I still don't QUITE buy that Rowan and Luke Harper are working on their own, I'm more inclined to think either Bryan IS behind it or it's someone else. Someone like the Fiend, who is supposedly on FOX's wish list of superstars for Friday Night Smackdown.
Ali vs Shinsuke Nakamura
When is Ali going to get his damn Intercontinental Championship match? If Cedric Alexander got a US title shot for beating AJ Styles ONCE, and Miz got a shot for no reason when we all knew he was going to lose, why does Ali have to keep facing Nakamura and losing to get a shot he already earned?! He never got the one-on-one WWE Championship match he earned and now he can't get the IC Title match he earned either! Come on, WWE, quit jerking us around and put the IC Title on Ali!
That's it for Tiffany's SmackDown Takes! Tune in later this week for All Elite Wrestling coverage.