Andrew's Impact Bound for Glory Ratings & Analysis: 10/20/2019
Impact Bound for Glory has had some great attention and hype. A little bit of the new versus the old. Do we get a show worth remembering?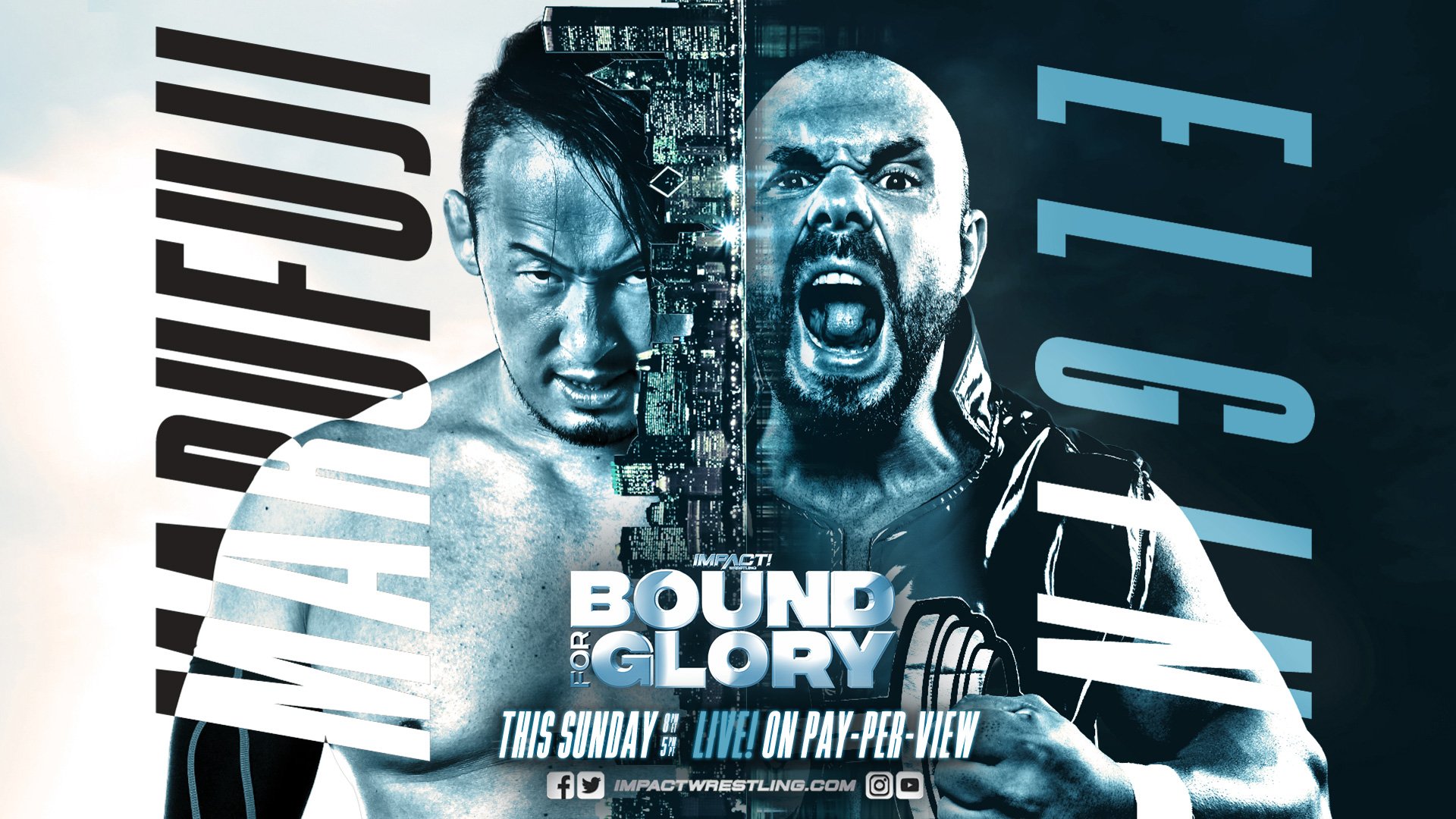 Impact Bound for Glory has had some great attention and hype. A little bit of the new versus the old. Do we get a show worth remembering?
Some of the bigger stories are Sami Callihan tormenting Brian Cage and Melissa Santos, all for a shot at the title. Michael Elgin calling out Naomichi Marufuji and Tenille trying to start things off on the right foot in a new company.
Also for anyone wondering, apparently the 6 man tag match with The Rascalz vs Dr. Wagner Jr, Aerostar and Taurus, got pushed to being the main event of the first AXS TV episode.
Now, on to the show.
Ratings:
Call Your Shot 20 Man Gauntlet: Eddie Edwards wins via Boston Knee Party @30:00 – ***
Knockouts Championship: Tenille Dashwood vs Taya Valkyrie (c): Taya retains via Road to Valhalla @11:50 – ***
Triple Threat Tag Team Championships: RVD & Rhino vs The North (Ethan Page & Josh Alexander) (c) vs Willie Mack & Rich Swann: The North retains via Argentine/Spinebuster Combo @14:20 – *** 1/4
Michael Elgin vs Naomichi Marufuji: Elgin wins via Burning Hammer @18:05 – **** 1/4
5 Way X Division Ladder Match: Daga vs Tessa Blanchard vs Acey Romero vs Ace Austin vs Jake Crist (c): Ace Austin wins @17:40 – *** 3/4 – TITLE CHANGE!!
Moose w/Frank Trigg vs Ken Shamrock: Moose wins via Spear @10:35 – * 1/2
Impact World Championship NoDQ Match: Brian Cage (c) vs Sami Callihan: Cage retains via Drill Claw @16:50 – ****
Analysis:
Call Your Shot 20 Man Gauntlet- After failing to win the Battle Royal on IMPACT!, Eddie had the odious distinction of being the first person in. Now FITE decided to have a tiny heart attack, but we had a few interesting surprises like, Swoggle, Joey Ryan and Kylie Rae. Sabu proved why he needs to not be brought back for televised programming and Tommy Dreamer checks the box for another Rumble style match. This was a great story for Eddie since he over came a lot of the pressure being put against him. He still has to deal with Ace Austin, but if Ace wins the X Division title tonight, then we see where his Called Shot will be going. Pretty fun all in all, plus I'm just happy to see Kylie.
Knockouts Championship: Tenille Dashwood vs Taya Valkyrie (c) – Taya was in control during a good portion of this match. Every time Tenille tried to put some offense together, Taya had a counter or she'd powder out. John E. Bravo proved himself useful a few different times, once by pulling Taya away from the apron, and another by pulling her under the rope after Tenille hit The Spotlight. Even though Tenille fought back a little after she had the finish stolen because of Bravo's interference, she gets caught with a knee and Taya hits Road to Valhalla to retain. There was one weird/botch spot when it came to the Package Piledriver on the apron, but thankfully it was a botch because it looked half-assed, not ugly or dangerous.
Triple Threat Tag Team Championships: RVD & Rhino vs The North (Ethan Page & Josh Alexander) (c) vs Willie Mack & Rich Swann – So it looks like the two face teams have patched up any ill will from Friday, and seem to agree to a concentrated effort against The North. Mack started things off and the match got interesting, let's say. RVD got in and hit Rolling Thunder, Mack hit his Kip Up/Moonsault combo, and the crowd kept chanting for the Gore. Things get interesting when Josh Alexander cuts off RVD so he can't hit the 5 Star Frog Splash, and directly across, Willie Mack hits the 6 Star Frog Splash. RVD sits on the top rope and seems to think things over before hitting his Diving Savat Kick and doing some classic RVD stuff.
Towards the end of the match we get a bunch of dives, Ethan Page Press Slams Rich Swann from the top rope into the ring and we look for the finisher spam portion of the match. The twist here, is that when Rhino is loading up for the Gore, RVD just hits him with a Superkick. He also Superkicks Rich and just walks off while The North retain their titles. So the RVD heel turn was definitely unexpected. Pretty decent match, save for the head scratching finish.
Michael Elgin vs Naomichi Marufuji – This was definitely a possible show stealer. Elgin put this match together very similarly to his matches against Okada, even coming out in a jacket that looked very very much like Okada's Rainmaker jacket. Marufuji pulled out all the classics, KO-OH, Springboard Curb Stomp, Shiranui, his corner combination, he could just never get the finishing blow. He referenced the Tiger Driver a few times, but Elgin fought it off. Elgin was pushed pretty hard, and Marufuji also managed to kick out of the Buckle Bomb/Elgin Bomb combo, which I've only seen Daisuke Sekimoto do a few weeks ago in Big Japan.
Was it perhaps a little longer than it had to be, sure. But it was an King's Road style match where you saw the story unfold in the match, and Marufuji gave it a damn good try. Great match.
5 Way X Division Ladder Match: Daga vs Tessa Blanchard vs Acey Romero vs Ace Austin vs Jake Crist (c) – We all know what to expect in X Division matches, and this delivered. Daga and Tessa didn't work together that much, and it was a great free for all. Daga hit a Slingshot Canadian Destroyer from the apron into a ladder, Tessa knocked Acey off the ladder into a table that exploded and the ladder promptly followed over the top rope. Dave Crist and Madman Fulton interfered to hold Tessa back, but she fought back and got passed both of them. She knock Jake Crist off the ladder and through a table, but Ace Austin jumps onto the ladder with his Gambit stick, hits Tessa and steals the title. Now we know where Eddie is going to cash in his Call Your Shot championship shot.
Moose w/Frank Trigg vs Ken Shamrock – Shamrock comes out looking better than I think I've ever seen him. Shamrock even pulled off a no touch top rope dive, Frakensteiner and Springshot Plancha. Moose and Trigg however, pulled off any and every heel tactic possible. Trigg grabbed the leg, took off turnbuckle pads, referee bumps, low blows, just generally everything to turn this into a mugging and not a match. The match plodded and things just never really flowed once all the heel stuff started. It just felt cheap and dirty. Shamrock looked great, but it was an awful match.
Impact World Championship NoDQ Match: Brian Cage (c) vs Sami Callihan – This was exactly what old blood feuds used to be. No introductions, just both men going after one another. Callihan tried to go right after Cage, and that was the wrong idea. Cage had him early, even showed everyone that his Wolverine claws were sharp when he drug them across Sami's forehead and drew blood. Chairs, stairs, nearby tables and even the guardrail were utilized as weapons throughout the match. After hitting the Piledriver through the guardrail, Sami did look like he had the match in the bag. That is, until he emptied the bag and showed a few dozen thumbtacks.
Piledriver onto the thumbtacks woke up the machine and he kicked out at 1, and fired right up. Sami had this look on his face that he realized he screwed up and a Powerbomb and Drill Claw onto the tacks, proved that feeling correct. Cage stands tall after both him and his wife were attacked at different points in the story. Plus, Cage looks to be back at 100%.
Overall Score: 7/10
Not a bad show honestly, but a few things did fall flat between presentation and how the crowd received it. Sadly the Shamrock match was the low point just because of the ridiculous measures Moose had to go to. Yes, he's the arrogant heel who can't back it up without help, but understanding his motivation doesn't make for an entertaining match.
Ace Austin winning the X Division title falls into place perfectly for Eddie Edwards to try and close the loop on this story of everything and everyone being against him. Cage coming out strong, staying strong and putting on a solid main event bodes well for Impact going into this new era.
Sure, Tessa losing seemed to take the air out of the fans a little, but the match was still great and fell into her story well. Could also be a way to get her out of intergender situations in case AXS TV doesn't really want that. It may not have been the best PPV of the year, but it was still an enjoyable show.
Now, let's just hope Kylie Rae signs with Impact Wrestling.
Andrew's Impact Wrestling Hard to Kill Results & Match Ratings: 1.16.21
Three title matches, the return of Decay, Barbed Wire Massacre and a main event with Kenny Omega. Impact Wrestling's Hard to Kill definitely sounds like it's got a little bit of everything. Check out how it went!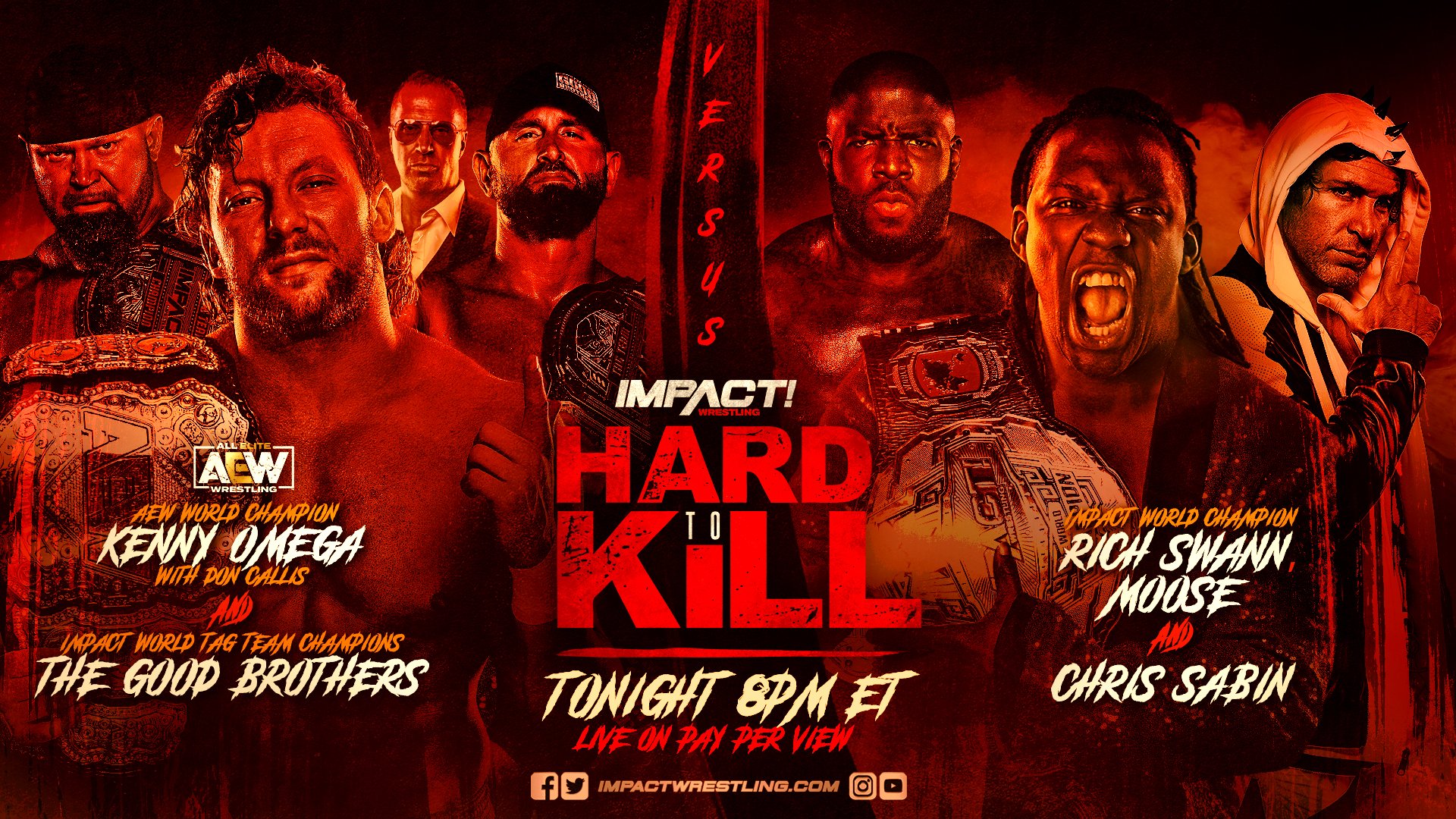 So the news that made many people cry a few days ago, was that Alex Shelley would be out of the main event. He went out of his way to film a response/promo/apology so fans knew it was something non-pandemic related, so that was an effort that wasn't necessary, though appreciated.
Aside from losing it's "Dream Match" luster, we get Moose as a replacement, which could really work for the cold calculated persona he's taken on after his EC3 encounter. We also get to crown Knockouts Tag Team champions for the first time in seven and a half years. Let's also not forget, this could end up being Taya's swan song from Impact, so we should expect a good match but no Wera Loca victory.
Let's see if we get any surprises!
Ratings:
Decay (Rosemary & Crazzy Steve) vs Tenille Dashwood & Kaleb: Steve wins via King Kill 33 @8:55 – * ½
Old School Rules Match: Violent by Design (Joe Doering, Eric Young & Deaner) vs Tommy Dreamer, Rhino & Cousin Jake: EY wins via Piledriver @9:55 – ** ½
Knockouts Tag Team Title Finals: Fire & Flava (Kiera Hogan & Tasha Steelz) vs Nevaeh & Havok: Kiera wins via Face the Music @8:40 – *** – TITLE CHANGE!!
Ace Austin w/Madman Fulton vs Matt Cardona: Cardona wins via DQ @2:30 – N/A
X Division Championship: Manik (c) vs Rohit Raju vs Chris Bey: Manik retains via Ole Cradle @13:50 – *** ½
Knockouts Championship: Deonna Purrazzo (c) w/Kimber Lee & Susan vs Taya Valkyrie w/ Decay: Deonna retains via Venus de Milo @11:40 – *** ¼
Ethan Page vs The Karate Man: Karate Man WINS…Fatality – 200 Stars
Barbed Wire Massacre: Sami Callihan vs Eddie Edwards: Eddie wins via Diehard Flowsion @18:50 – *** ¾
Moose, Rich Swann &Chris Sabin vs Kenny Omega, Karl Anderson & Doc Gallows: Kenny Omega wins via One Winged Angel @20:30 – ****
Results:
During the last few moments of the Countdown, Madison Rayne officially retired from wrestling and from Impact Wrestling. Not sure how long she'll stay a house wife, but good for her. She did great to actually prove to people she was a decent wrestler since her run during the WOH tournament, she was a fun commentator, so good for her.
Decay (Rosemary & Crazzy Steve) vs Tenille Dashwood & Kaleb
The weird thing about this match was the dynamic between who was involved and what went on.  Crazzy Steve showed a very high work rate in this match, with his strikes and moves looking fantastic. But Rosemary got exposed a bit on still being less than 100% with the knee and generally sloppy on a lot of spots.
Kaleb and Tenille definitely tried to add comedy and their quirky personalities, but the fact that we saw a lot of sloppiness, Steve working his ass off and just comedy spots or gimmick spots too often; this was a giant mess of a match. It also didn't help that D'lo and Striker are still getting used to each other, so the announcing was distractingly bad.
It can only get better from here!
Old School Rules Match: Violent by Design (Joe Doering, Eric Young & Deaner) vs Tommy Dreamer, Rhino & Cousin Jake
This starts the same way every Tommy Dreamer match starts, with a brawl and weapon use.  This wasn't a terrible match, but it's really not anything worth going deeply in to. EY did the flair corner to top rope spot, which ended with Dreamer hitting him with a cookie sheet. We had a Tower spot in the corner, with Joe Powerbombing a Suplex, and it landed right into Dreamer's face.
Doering got to look like a beast when the entire team took the chairs to him, and he still fought back, ending up in control. Dreamer introduced tacks, then we saw the Signature/Finisher spam which ends with EY breaking up the pinfall and hitting Cousin Jake with the Piledriver.
Again, decent enough, but nothing really special.
Knockouts Tag Team Title Finals: Fire & Flava (Kiera Hogan & Tasha Steelz) vs Nevaeh & Havok
Oh, Brian Hebner is back for this match. Slightly surprising.
Kiera and Tasha try to start fast, but the bigger women over power the smaller team and throw them around a little bit. Havok beats up on both of them, Neavaeh comes in to keep up the momentum, but eventually Tasha and Kiera start making a comeback. We see Fire and Flava go for a lot of quick spots, fast tags and trying to spin around the larger women, but they just get taken for a ride more often than not.
It's not until Kiera hits a High Round Kick, followed by Tasha with the Springboard Neckbreaker actually takes Havok off her feet. Nevaeh tries to make a save and get things back on track, but Tasha picks her leg, Havok gets wiped out after a great Super Kick from Kiera, Tasha and Kiera use some tandem attacks on Nevaeh, then Tasha slows down Havok as Kiera hits Face the Music and we have new Knockouts Tag Team Champions!
Ace Austin comes out to declare himself into the X Division Triple Threat to make it a 4 way! D'Amore comes out, says he can have a match, just not the title match. Matt Cardona comes out.
Ace Austin w/Madman Fulton vs Matt Cardona
Ace tries to go at Cardona before the ring jacket is off, but Cardona absorbs some offense and then fires back a bit. Fulton gets in the way quite often during this match, so the finish is a little telegraphed. But right as Cardona starts building momentum; Fulton slides in to cause the DQ.
Decent enough way to protect Ace and give Cardona quick win.
X Division Championship: Manik (c) vs Rohit Raju vs Chris Bey
Rohit went after Manik to try and prove his point that it's TJP. Bey seemed dead set on finding a way to win, and as we expected in an X Division match; there were a lot of spots, but they all made sense. Rohit does manage to take off the mask, but TJP painted his face under the mask, so it still throws off Rohit. TJP strings together a few moves, goes for the Mamba Splash, but gets caught by Bey with a Cutter. Bey then hits a Double Art of Finesse, but his brief moment of not knowing who to pin, caused the pinfall breakup.
Rohit almost won the title back after his call back to hitting his Tiger Knee after a Mamba Splash but Bey kicked out. Haymakers get thrown, Rohit hits the Dragon Stomp on Bey, and looks to finish things, but TJP slides in for the style of Cradle he's used a bit lately, and retains his title after a fun, hard fought match.
Knockouts Championship: Deonna Purrazzo (c) w/Kimber Lee & Susan vs Taya Valkyrie w/ Decay
Early on all of the seconds get kicked out, with the beauty of the situation being that Susan pulls out her phone and says she's filming the whole thing. So Susan, really may be a middle aged transformation of Su Yung. Susan might as well be named Karen.
EVERYBODY has been ejected from ringside.

(and Susan is recording everything) #HardToKill pic.twitter.com/9Bh5HwusLy

— IMPACT (@IMPACTWRESTLING) January 17, 2021
As we focus on the actual match, Deonna starts slowly picking apart Taya. Going after her left arm, then her left knee and just trying to apply submission and weaken different limbs. Taya was able to push back and have her own submission attempt moment. Taya went for an STF, but the submission game isn't her wheelhouse.
Deonna was able to pick her apart, counter a pinfall attempt and keep Taya grounded long enough to work in some holds. The normal Fujiwara didn't get her submit, so Venus de Milo followed up and Taya verbally submitted.
Ethan Page vs The Karate Man
Since this is cinematic or at least green screen, I won't rate this as a real match. But it was amazingly entertaining. Dragon Ball Z references, Karate Kid, and Mortal Kombat references, it was just amazing.
GET HIM A BODY BAG! #HardToKill @The_KarateMan @OfficialEGO pic.twitter.com/lcBAX90Sj6

— IMPACT (@IMPACTWRESTLING) January 17, 2021
Barbed Wire Massacre: Sami Callihan vs Eddie Edwards
Interesting pacing to get across the familiarity, twisted respect and love for punishment between these two. We saw Barbed Wire Tables, Chairs, Baseball Bats, Kendo Sticks and even an…N64 Controller!
Sami took a ton of punishment, but the story was basically playing with Eddie's emotions to bait him into bad dives, and openings for Sami to move out of the way, or sneak in a barbed wire shot. Eddie hit a Blue Thunder Bomb on a barbed wire chair, Sami hit an Avalanche Piledriver through a barbed wire table, but none of this was enough. If anything, the Piledriver just pissed Eddie off.
Going for the callback that started it all, Sami tries to hit a Barbed Wire Chair into Eddie's face with a Barbed Wire Bat, but Eddie hits a low blow to get a moment. Sami tries to bring himself up with a chair, Eddie hits the Boston Knee Party, then the Diehard Flowsion for the win!
Eddie hasn't hit that Flowsion in a long time. I did appreciate Sami paying homage to Cactus Jack and Striker acknowledging Jun Akiyama and Mitsuharu Misawa on commentary though.
Moose, Rich Swann &Chris Sabin vs Kenny Omega, Karl Anderson & Doc Gallows
The early onset is interesting. Karl Anderson and Chris Sabin start off and there's some solid technical counter wrestling, and it's fast paced action. Moose and Gallows come in to do a big boy showdown which worked fairly well, where Swann and Omega had a brief lockup before the Brothers come in to start heeling it up.
We get a lot of Japanese tag stylings, from the triple team that Team Impact pulls off, to the way the Club breaks up any type of momentum with their own train attacks into the corner. Moose looked amazing in this match. He went toe to toe with everyone, pulled off great moves like a Standing Moonsault, leaped to the top rope for a Spanish Fly and was a really good teammate, regardless of his issues with Rich Swann. Hell Swann and Moose even hit a Doomsday Device variant together. Small aside, I did like seeing Chris Sabin pull off Cradle Shock, which just doesn't happen often enough anymore.
Omega almost has the match one on Rich, but the only one able to break it up was Moose, and he did so. Omega went into V-Trigger spamming mode to wipe out Moose, rock Rich and then a One Winged Angel won the match for the Bullet Club former members.
Overall Score: 6.75/10
Well this started off pretty bad, but at least it built upwards. The main even had a lot of fun wrinkles which increased the storytelling, psychology and overall enjoyment of the show. Hell even when Callis nearly jumped into the ring to break up a pin on Kenny was a good little nugget.
As I said in the weekly coverage, this is probably Taya's final match, or at least one of the last, especially since they logically moved Rosemary back to Decay with Crazzy Steve. Eddie and Sami had a hell of blood feud and it was nearly cathartic. Let's also not overlook the fact that Tasha and Kiera actually won the Knockouts Tag titles. I almost thought they wouldn't win just because they are so charismatic and attractive without the titles, where Havok and Nevaeh don't exactly have electric personalities. But I'm ecstatic that Kiera finally has a title in Impact!
With the pretty awful start for the wrestling and the commentary, which put the show behind the eight ball; but it did recover fairly well. Not nearly as good as Genesis, but it managed to keep the stories rolling and end on an interesting note. A pretty good show after all was said and done.
Andrew's Impact Wrestling Results & Match Ratings: 1.12.21
The Go Home to Hard to Kill! After The Good Brothers made an appearance on Dynamite; do we see any new AEW talent invade Impact before the PPV?
Coming off a Genesis event that ended with some nice matches and story wrinkles, we come into the Go Home for Hard to Kill! The Impact PPV that will feature Kenny Omega in the main event.
We will probably see something looking like a end to the feud between Eddie Edwards and Sami Callihan, Cody Deaner gets to work out more of his new persona and we might finally see Joe Doering murder someone! Deonna Purrazzo has her hardest challenge to date with Taya Valkyrie, which could be one of Taya's last matches in Impact if contract questions are to be believed. Rohit Raju and Chris Bey will try to get one step closer to unmasking and unseating the current X Division champion Manik.
Let's also not forget we get the finals for the Knockouts Tag Titles at Hard to Kill! Inactive for 7 1/2 years, we'll get a new champion since ODB and Eric Young! Take a look at the redesigned titles, then lets get to the show!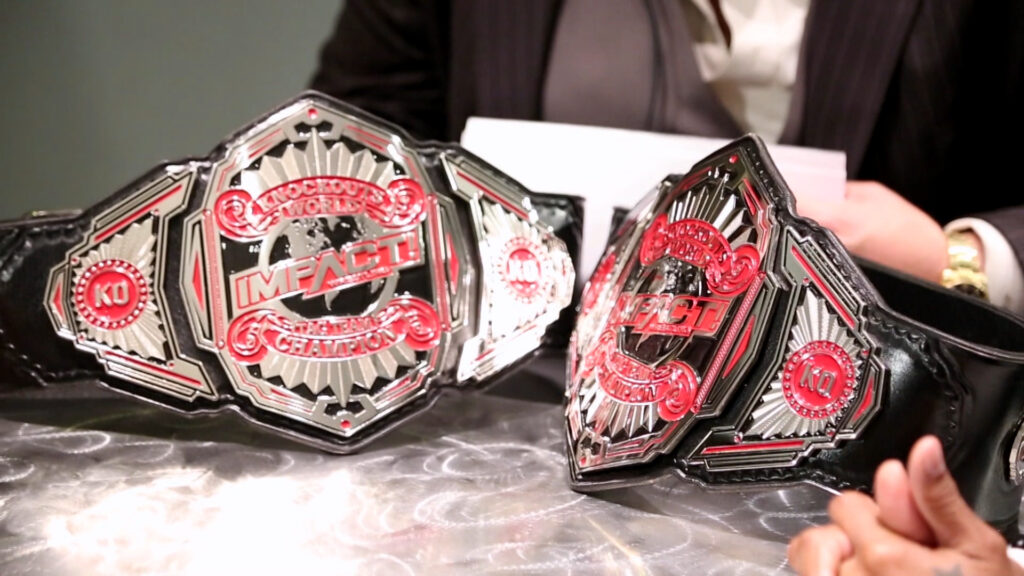 Ratings:
Taya Valkyrie w/Rosemary vs Kimber Lee w/Deonna Purrazzo: Kimber wins via Double Leg Cradle – ** ¾
Rohit Raju & Chris Bey vs Manik & Suicide: Bey wins via Art of Finesse – *** ¼
Deaner w/Eric Young & Joe Doering vs Tommy Dreamer w/Rhino & Cousin Jake: Deaner wins via DQ – *
Tenille Dashwood w/Kaleb vs Rosemary: Rosemary wins via Spear – ***
Moose vs Matthew Palmer: Moose wins via Referee Stoppage – *
Rich Swann vs Karl Anderson: Rich wins via School Boy – *** ½
Results:
Taya Valkyrie w/Rosemary vs Kimber Lee w/Deonna Purrazzo
Kimber comes out with instructions and goes right after Taya. Kimber is one of the few Knockouts that Taya isn't significantly taller or stronger than. Taya kept fighting from the back foot, but Kimber showed some really good aggression and the ability to keep the pressure believable.
Taya started turning things around after she got the knees up to counter a Swanton, but Deonna had a few tricks up her. Taya has Kimber seeing shadows, and Deonna puts her hand on the ropes. Rosemary tries to back Deonna back up the ramp, but before she can do any real damage we see…Susan?!
Susan has Deonna hold her glasses, and she cold cocks Rosemary and they start the beatdown. They hold Rosemary to watch the ring, Taya gets distracted with what's going on outside, so Kimber grabs her, trips her up and sits down into a cradle.
If the cradle wasn't a little awkward/sloppy then this would've rated higher. Honestly not terrible in-ring and story stuff.
.@KennyOmegamanX and The Good Brothers want momentum heading into #HardToKill on Saturday.#IMPACTonAXSTV @The_BigLG @MachineGunKA @TheDonCallis pic.twitter.com/PWyw4BiOSt

— IMPACT (@IMPACTWRESTLING) January 13, 2021
God I hate these stupid paid ads. Tony Khan is not tolerable to listen to, not even from a smarmy heel perspective; he's just an annoying human. Schiavone of course makes this palatable, but Khan is more cringe than uWu voice.
Rohit Raju & Chris Bey vs Manik & Suicide
The heels take it to TJPs two masked personas! Early on it takes the masked marvels a little bit of time to recover, but when they do we see a lot of signature poses and maneuvers. Pump kicks, lead to planchas and springboards and we just get a lot of good fun from Manik and Suicide while Bey and Rohit keep things grounded, aggressive and story driven.
Rohit is hell bent on taking off Manik's mask and that does cost him at different points. Suicide goes for Suicide Solution, but Bey hits the Art of Finesse for the pinfall! Manik avoids the pinfall, but his opponents technically pick up momentum.
Deaner w/Eric Young & Joe Doering vs Tommy Dreamer w/Rhino & Cousin Jake
Well Cody Deaner went full WWE and done lost his first name! It's not a name I would pick, but I guess Cody was already taken by someone else.
While not a bad match to add more interaction between the participants of the 6 man at Hard to Kill, it was really not anything to talk about. Rhino and Doering got caught interfering and thrown out, but then after a few moves Deaner and Jake have a moment. Jake tries to reason with him, Deaner smacks him so Jake takes him out.
Disqualification happens and we get a brawl eventually between all six when Rhino and Doering return.
Tenille Dashwood w/Kaleb vs Rosemary
Tenille applied her usual level of quirky humor to this match. She tried to offer friendship in the beginning, but got sucked in to a little bit of a rag doll from Rosemary. Which continued for a little bit until Kaleb got involved and Hairsprayed Rosemary early in the match.
That gave Tenille a near fall, but the match kept rolling along. Solid action mixed in with Kaleb's own bumbling because he would've been more useful if he put his phone down. When it looks like Rosemary is about to win, Kaleb hits the apron, but Crazzy Steve appears behind him to even the odds. Kaleb manages to sneak the hairspray in to Tenille as Steve runs him off. Tenille is shaking the hairspray but Rosemary sees her, tilts her head and Tenille gets sheepish. Rosemary turns the hairspray on Tenille.
So hairspray plus a Spear equals Rosemary wins. We get a nice little tease to maybe an official Decay reunion. I guess only time will tell.
With The Motor City Machine Guns, @KennyOmegamanX and @The_BigLG all banned from ringside, @GottaGetSwann gets @MachineGunKA man to man tonight. #IMPACTonAXSTV pic.twitter.com/gKTxdGO1c4

— IMPACT (@IMPACTWRESTLING) January 13, 2021
Moose vs Matthew Palmer
This was a match for Moose to prove his sadistic side and take advantage of a weaker challenger that got one over him last week. Palmer gets occasional flurries, but it's not believable. Commentary bills him as out of his depth and he's just an example.
Since the match was intended to make Moose seem vicious and just murder the poor enhancement talent, it did its job. But at no point was the finish in doubt.
Rich Swann vs Karl Anderson
The entire time Kenny's been in the picture, they've put a lot of spotlight on some of Karl's singles accolades in Japan. So it should come as no surprise that Karl actually came in with a plan and dominated for a good portion. Karl focused on the shoulder and it worked really well for him.
Rich was selling and getting caught by Shotgun kicks and a bunch of other moves, but at least proving to be resilient. Rich manages to catch Karl as Karl starts looking to finish things. A few nice strikes, the over the shoulder back kick and finally Swann's got something. Karl does stabilize and look for the Gun Stun, but Rich ducks the Gun Stun with a School Boy Rollup and that's the match!
After the match we get a dressing room brawl between all six heading towards Hard to Kill.
THEY'RE NOT WAITING UNTIL #HardToKill!

A CHAOTIC brawl ensued between @KennyOmegamanX, The Good Brothers, @GottaGetSwann and The Motor City Machine Guns as IMPACT went off the air. #IMPACTonAXSTV @SuperChrisSabin @fakekinkade @MachineGunKA @The_BigLG pic.twitter.com/56r4FcC9CC

— IMPACT (@IMPACTWRESTLING) January 13, 2021
Overall Score: 6.25/10
So this was a mixed bag of either predictable matches or solid to good matches. But the segments between were filler video packages recapping stories, and the fact that we got an old TNA or current AEW finish to the episode of a brawl…just because, it's a played out ending. With that, the episode felt like it was decent, but nothing really special, even though it was a Go Home. To be fair, Hard to Kill probably had all the needed hype off of the card itself, so I'm not sure what more they could've done, but something more clever than a dressing room attack to send us home would've been cool.
Again, this doesn't really take away from Hard to Kill, an the announcement of Eddie Edwards vs Sami Callihan being a Barbwire Massacre match is…okay? I mean the last one Impact did was between oVe and LAX; and honestly, it wasn't that great. I have a little more faith in Eddie and Sami, but death matches are usually all sizzle and no steak in the States. So it doesn't add anything to Hard to Kill for me, but who knows, maybe it peaked some CZW fans attention somewhere.
Hard to Kill should be a good PPV and here's to hoping that there's no awkwardness because it'll be live (they tend to have audio issues or something technical happens) and please no stupidity with AEW talent. If any more show up, I hope it's logical and actually kind of cool.