Chairshot Power Rankings (10/2/19)
Greg DeMarco presents the 10/3/19 edition of The Chairshot Power Rankings! In the midst of wrestling's biggest week ever, is headed upward?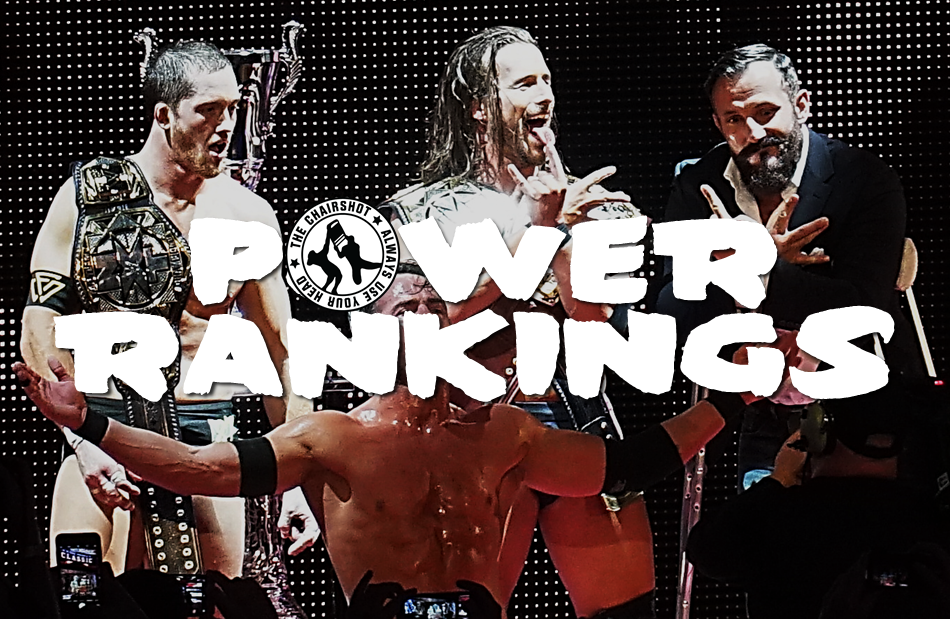 Greg DeMarco presents the 10/3/19 edition of The Chairshot Power Rankings! In the midst of wrestling's biggest week ever, is headed upward?
Each week, I bring you my Power Rankings in Top 5 form. What can you measure with a "Power Ranking?" The answer is simple: power. Power here is defined as momentum, who got the big wins, and who is on an upward trajectory after this week. Each week is different, and the landscape of professional wrestling (and sports entertainment) can change in an instant. Thus, the weekly rankings will change with it.
Last week's rankings:
Jay White
Matt Riddle
Bray Wyatt/The Fiend
Bandido
Carmella
Why? Take a look at last week's Chairshot Power Rankings to find out!
---
Greg DeMarco's Power Rankings: week of 9/26/19 – 10/2/19
1. Adam Cole
October 2 was the night NXT tried to add a match to my list of greatest matches I've ever seen. I need to watch it again to truly make that determination, but Adam Cole vs. Matt Riddle was one of Adam Cole's two best matches of the year (his other one being the one-fall match with Johnny Gargano at NXT Takeover XXV). On this night, Adam Cole on one of the best individual performances I have ever seen–from offensive delivery to making an opponent look like a million bucks to winning the match clean–Adam Cole did it all in this match.
If he wasn't already there, this match put Adam Cole on a plane reserved for the very best in the world. It was not a one man show, as he defeated Matt Riddle, who hasn't suffered many clean losses in his career. What happened after the match further drove Cole's stock up, as Finn Balor picked Cole as the man he'd stand across from to declare that he was back in NXT. Much like Shinsuke Nakamura picking Finn Balor for his statement, Balor picked Cole.
Next up: Nothing is announced, but Adam Cole seems to be on a collision course with the former Universal, Intercontinental, and NXT Champion, Finn Balor.
2. Rush
Ring Of Honor has had a rough 2019, starting with the announcement of All Elite Wrestling with three of ROH's biggest stars serving as the front-men and Executive Vice Presidents. The year went up and down for the company, but one thing shines bright: the ROH World Championship.
This past Friday night, September 27, fans filed into Sam's Town Live in Las Vegas to witness Rush get his shot at then-ROH World Champion Matt Taven. Rush would emerge victorious, remaining undefeated in ROH competition, and now he's the top dog. If anyone can turn ROH's fortunes around, it's Rush.
Next up: Rush was ruled out of Death Before Dishonor Fallout the following day, but ROH is holding a tournament to name his Final Battle challenger.
3. PAC
It should be no surprise that PAC travels many many miles to perform for AEW, and he has yet to do so to lose. After this ALL OUT win against Kenny Omega, PAC picked up a win against the golden boy of All Elite Wrestling…"Hangman" Adam Page.
Next up: Nothing announced, but I expect to see a lot of PAC in these early episodes of AEW Dynamite.
4. Hana Kimura
While the finals took place on September 22, the full event wasn't released to view until September 26. The event I am referring to is Stardom's 5★Star GP, and Kimura is the 2019 champion after defeating Konami in the finals (her second match of the night).
Next up: Kimura continues to lead Tokyo Cyber Squad, arguably the top stable in Stardom.
5. Shayna Baszler
The Queen of Spades entered–and left–the NXT Arena at Full Sail as the reigning, defending, undisputed NXT Women's Champion! She did so against a game Candice LeRae, who gave her best performance to date in this match. It wasn't enough, as Baszler's path of destruction continues until we find an opponent dominant enough to challenge Shayna.
Next up: Rhea Ripley has confronted Shayna Baszler, and that issue seems to be far from over.
---
Who would you put in your Power Rankings? Sound off on Twitter @ChairshotGreg using the hashtag #UseYourHead!