Wrestling and baseball fan Steve Cook crosses the streams once again, with his look at Top 5 Baseball & Wrestling Crossovers!
I have to admit that I was shocked I hadn't done this previously.
We're talking about two of the loves of my life. Baseball was my very first favorite sport as a young boy. Wrestling came along soon afterward, and I've loved both of these sports ever since. And if I'm being honest, I love them more that I love the beloved football or the basketball, or even the hockey that provides me with the one team I have that's won something recently.
Wrestling doesn't intersect with baseball as often as it does with other sports. But I've found five occasions where it did.
5. Abe "Knuckleball" Schwartz
Baseball was having all sorts of problems in 1994. The players went on strike in August, the owners weren't able to come to an agreement with them, and the World Series was cancelled for the first time in 90 years. The WWF always liked using real-life events in their storylines, and debuted a character called Abe "Knuckleball" Schwartz, an evil baseball player that was on strike. He sounded like he rooted for the Brooklyn Dodgers back in the day.
Remember when talking about money and extolling the virtues of "good businessmen" was supposed to indicate that somebody was a heel?
4. Larry Young
Ol' Abe wasn't the only person out of work & looking for something to do thanks to baseball labor issues. The players came back in April 1995, but by that point the umpires were locked out due to a dispute with owners over pay. Umpiring has never been the highest-paying profession, and guys were selling their houses just to survive.
Veteran umpire Larry Young decided that if Major League Baseball wasn't going to use him, he could take his officiating skills to another sport. He was the referee during the Undertaker/King Kong Bundy match at WrestleMania XI. WM paydays weren't what they are now back then, but Young wasn't complaining about the extra paycheck. He returned to MLB once the lockout ended and became an umpire supervisor after retiring in 2007.
3. Dale Torborg
Dale's father Jeff was known for his major league career with the Dodgers & Angels, then moved onto managing the Indians, White Sox, Mets, Expos & Marlins. Dale attempted to follow in his father's footsteps, but when his career came to an end in the minor leagues he made the transition to wrestling. A meeting with Hulk Hogan & Randy Savage set him on a path to training with noted technical wrestlers Jim Neidhart & Warlord, and eventually to WCW where he would become the KISS Demon.
Tony Schiavone was more excited about KISS than anything else that happened in the last few years of WCW. Shockingly, the Demon was a flop & Torborg left pro wrestling afterwards to become a strength coach in baseball. He's spent the last fifteen years with the Chicago White Sox in that role. He did re-appear in wrestling a handful of times in 2005-07 alongside White Sox catcher A.J. Pierzynski for some TNA appearances, even wrestling a match or two.
2. Sting's baseball bat
We've seen countless pro wrestlers utilize baseball's tool to score runs with as a weapon to create destruction. Nobody in the sport did it better than the Man Called Sting. When Sting remained silent from September 1996 until December 1997, his black bat did all the communication necessary. Whether Sting was pointing it at people or using it as a weapon, the bat became Sting's tool to get his point across.
I don't know if Steve Borden ever played baseball as a kid, but he sure became proficient with the bat during the last two decades of his wrestling career.
1. Randy Poffo, Minor League Baseball Player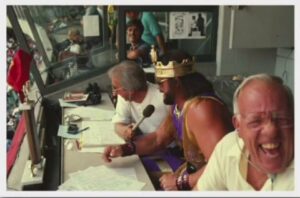 A lot of the greatest wrestlers of all time spent their childhood years on the football field. The Macho Man spent his on the baseball diamond. Randy Poffo followed his baseball dreams to the A level of minor league baseball, spending four seasons in the farm systems of the St. Louis Cardinals & Cincinnati Reds. He started wrestling during the winter before his 1974 season with the Reds' A-affiliate in Tampa, and after his season there he rightly decided that pro wrestling was the right path for him. 1974 wouldn't mark the end of his involvement with baseball…
Sept. 21, 1989: Randy "Macho Man" Savage shows up in the Cincinnati Reds broadcast booth. Marty Brennaman puts him on the air. Players start flexing & saluting Savage mid-game.

Unamused, Reds owner Marge Schott had Savage thrown out of the booth. pic.twitter.com/vKuuwTOBp7

— Denny Burkholder (@DennyBurkholder) August 17, 2018
I can't say I'm surprised that Marge Schott had no clue that the Macho Man used to be a player in the Reds farm system. I'm of the generation that watched the Reds on TV more than listened to them on the radio, but I remember listening to 700 WLW during rain delays for the Banana Phone, where Marty Brennaman would take calls from listeners to kill time. I remember hearing Randy from Sarasota call in a time or two, and I really don't know whether that was Randy himself or somebody doing an impression, but it was really cool to hear either way.
Baseball & pro wrestling. My two favorite things!