Cook's Top 5: Contract Signings
With the contract signing being a big part of wrestling, Steve Cook explores the Top 5!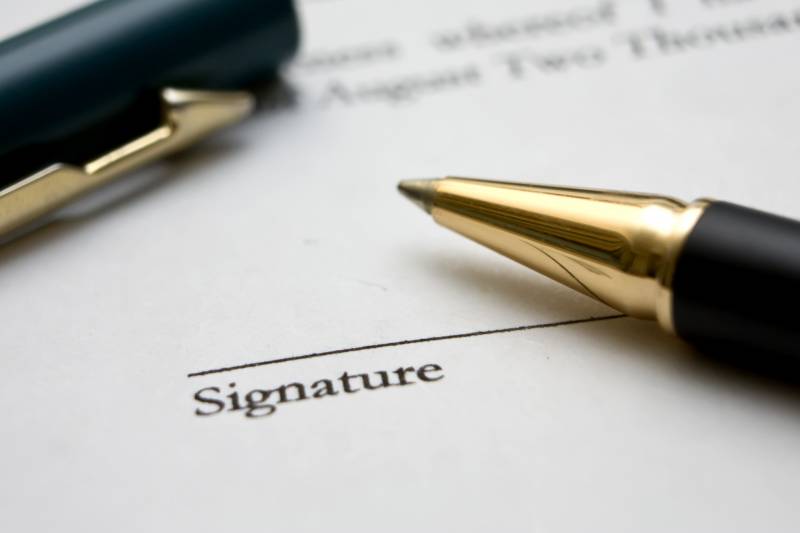 With the contract signing being a big part of wrestling, Steve Cook explores the Top 5!
All Elite Wrestling's very first public contract signing is taking place this week on Dynamite. Le Champion Chris Jericho & American Nightmare Cody will put their names on the likely non-dotted line to meet at the Full Gear event in Baltimore. I've been pretty pro-AEW & very pro-anything involving Jericho and/or Cody lately, but here's the thing:
I hate contract signings.
I could go the rest of my life without seeing another one pretty easily. WWE's really done the gimmick to death over the years, as it seems like they have one every couple of months for matches of all levels of importance. It's one thing to have it for a PPV World Championship match. It's another to drag it out for an Intercontinental Championship match or tag team match or something.
They're all very predictable too. You know it's going to involve a number of sick burns and somebody's going to get beat up.
I need to try & get over this irrational hatred. WWE's going to have another one in a couple of weeks anyway. So let's jump in the time machine and look back at the Top 5 Contract Signings to remind ourselves why wrestling promotions hold them incessantly.
5. Bret Hart & Yokozuna sign to meet at WrestleMania IX
Mean Gene Okerlund was on point as the host here. He implored both men for decorum and ran the show. President Jack Tunney was out there and Okerlund seemed more like an authority figure to me. Except when he stumbled over the ropes while getting out of the ring.
The Hitman's assertion he would be 100% for the match took a hit when Yokozuna attacked him. Bret impressed us all by eventually standing up after taking the Banzai Drop. That hadn't been done up until that point.
4. Hollywood Hogan exposes Rowdy Roddy Piper prior to Starrcade '96
The New World Order engaged in more than its fair share of beatdowns during its existence, but this was definitely one that stood out from the pack. Hogan & Piper's Starrcade match was so big that the contract signing had to be on PPV as well, as World War 3 played host to it. Piper had changed a little bit since the last time he had wrestled, and Hogan & the NWO showed us how.
People were going to find out about the hip anyway, so it made sense to include it as part of the storyline. Hogan attacking it & spray painting Piper's leg made him that much more despicable & made you want to see the Rowdy Scot take his head off.
3. Vince McMahon signs the contract for the End of an Era match with Steve Austin's blood
There weren't many more bitter feuds than the one between Stone Cold Steve Austin & his boss, Vince McMahon. It propelled the WWF to the the top of the Monday Night War and to bigger business than it had ever seen. But all good things have to come to an end, and Austin vs. McMahon had to end or else one of them was going to end up killing the other. So Austin's match with the Undertaker was to have three stipulations:
-First Blood
-If Austin wins, Vince never appears on television again
-If Undertaker wins, Austin never gets another title shot
So, of course we needed a contract signing to make sure everybody agreed. And of course, there needed to be blood involved in the signing.
Vince liked doing this so much that he did a variation of it with Hulk Hogan prior to WrestleMania XIX. Shame he didn't think to do it before WrestleMania 23.
2. Batista signs the World Championship Match contract for WrestleMania 21
When Batista won the 2005 Royal Rumble, he received the opportunity to face the top champion of his choosing: SmackDown's WWE Champion JBL, or Raw's World Champion Triple H. Evolution was still running strong with H, Batista & Ric Flair at this point, but Triple H was a bit afraid that the big man wanted his title. He first tried to convince Batista not to enter the Rumble, but that was a non-starter. Then, Hunter devised a plan to have Batista nearly hit by a white limo with horns on it that resembled one that JBL would ride around in. It almost worked, until Batista overheard H & Flair talking about how well the plan worked in the locker room. Womp womp.
Batista switching the thumbs up to the thumbs down was one of those amazing moments you love to see as a wrestling fan. Finally, the Animal was going to snap on his mentor. It's easy to see why people thought he was going to be the #1 guy in WWE through the rest of the 2000s.
1. Hulk Hogan finally gives Andre the Giant a title shot at WrestleMania III
It's extremely rare to see one of these televised contract signings end without fists being thrown, but that's exactly what happened at the Hogan/Andre contract signing prior to WrestleMania III. Hogan's crucifix had already been torn off, so Andre didn't need to engage in any more physicality. The Hulkster was beside himself with rage. Bobby Heenan was in classic Bobby Heenan form.
It didn't need violence. The way Andre brushed Hogan off did more to convince people that the Giant was going to win the title in the Silverdome than anything else he could have done. Hogan's behavior told a better story of his mindset going in than an attack on Andre would have. Maybe it could have used a better set, but other than that it was perfect.
King's WrestleMania Rewind: Charlotte Flair vs. Asuka from WrestleMania 34
Chris king is back with one of the most underrated matches in WrestleMania history–Charlotte Flair vs. Asuka!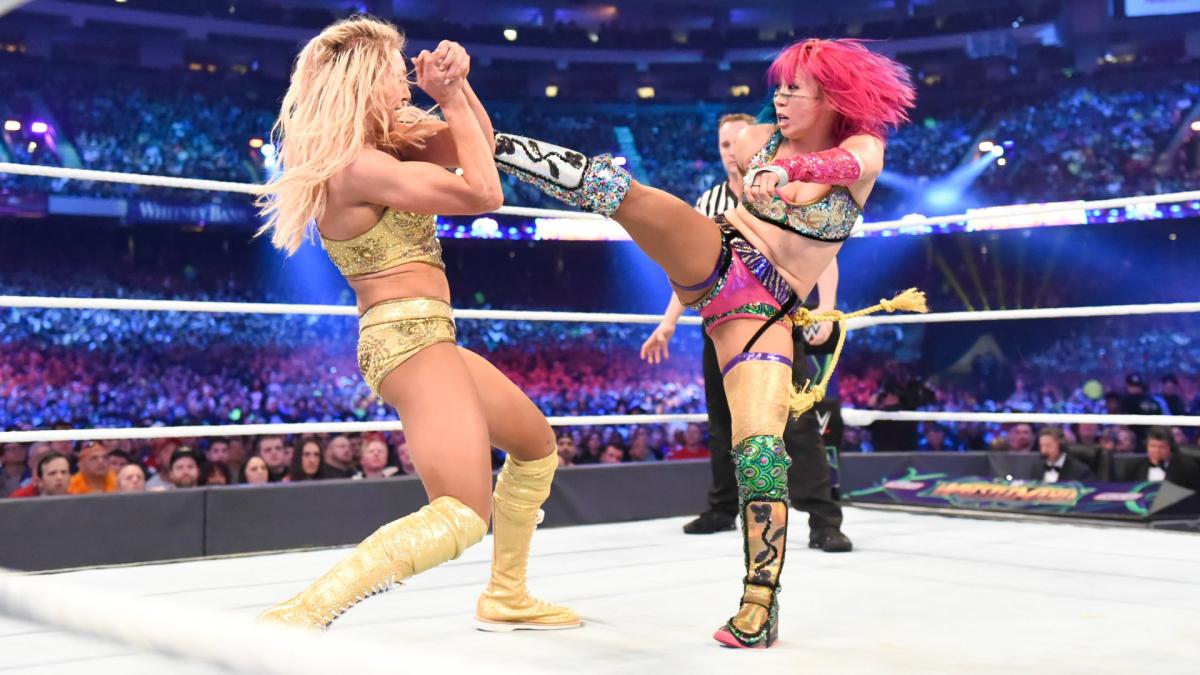 Chris king is back with one of the most underrated matches in WrestleMania history–Charlotte Flair vs. Asuka!
We look back at Charlotte Flair vs. Asuka at WWE WrestleMania 34. 'The Empress of Tomorrow' put her unprecedented and historic undefeated streak of 914 days on the line against 'The Queen's' SmackDown Women's Championship.
For years, this was considered a dream match while Asuka dominated the roster in NXT, while Flair won numerous championships on the main roster on both Raw and SmackDown. The Empress made her long-awaited debut on the September 11th episode of Raw and began to tear through the competition.
Asuka outlasted all twenty-nine other women in the historic first-ever Women's Royal Rumble match to challenge for the title of her choosing. At Fastlane, she made her choice.
The WWE Universe was so excited for this match myself included. Both superstars delivered a fantastic performance on the Grandest Stage of Them All executing counter after counter. Asuka showed off some nasty-looking kicks to her opponent, and Flair hit a thunderous Spanish Fly off the top rope. Flair was seconds away from defeat at the hands of The Empress but she locked in Figure Eight and Asuka was forced to tap out.
I can't even begin to explain how shocked I was at this outcome, as nearly everyone expected The Empress to continue her undefeated streak and walk away with the women's title. This controversial decision was the downfall of Asuka's momentum. She would ultimately win the SmackDown Women's Championship at the 2018 TLC pay-per-view in the triple-threat ladder match.
Fast forward to this year when Asuka has recently returned with her Japanese-inspired persona Kana. Kana is dangerous and ruthless and is heading into a championship with Bianca Belair at WrestleMania 39. The Empress has regained all her momentum and is highly favored to walk away with the Raw Women's Championship. Let's hope that Asuka and Belair can tear the house down and deliver an A+ grade match both women are fully capable of.
King: Dominik Mysterio Needs To Do This At WrestleMania
Chris King is here with what WWE should do with Dominik Mysterio at WrestleMania in his long-awaited match against his father Rey Mysterio Jr.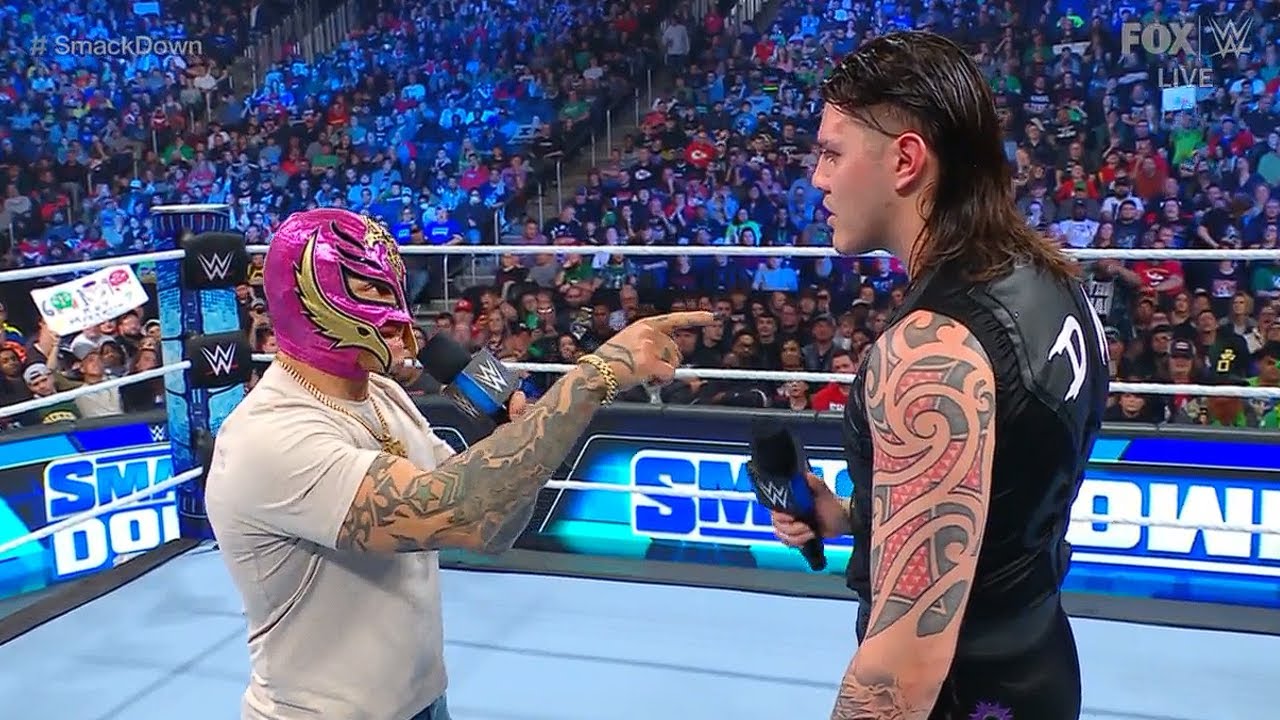 Chris King is here with what WWE should do with Dominik Mysterio at WrestleMania in his long-awaited match against his father Rey Mysterio Jr. 
On this week's episode of Friday Night SmackDown, Rey Mysterio finally snapped and beat some sense into his disrespectful punk-ass kid Dominik. The member of the Judgement Day came out to push his father again for a match on the Grandest Stage of Them All, this time with his mother and sister at ringside. The ungrateful punk told his mom to "Shut Up," as a father even I wanted to jump through the screen and whoop his ass.
Back in October of last year, Mysterio made the emotional decision to possibly quit the company but, instead, Triple H persuaded the Lucha libre superstar to move over to SmackDown to avoid his son. This came after Dominik shockingly turned on his father at Clash at the Castle. Mysterio did everything he could to refuse his despicable son's challenge for Mania but, a man can only be pushed so far. Mysterio will be inducted into the 2023 WWE Hall of Fame and I expect Dominik to embarrass his father during his speech to further this personal feud.
Yes, the WWE Universe hates Dominik and wants to see him get the ever-loving crap kicked out of him but, this feud is missing a special ingredient to capitalize on the biggest heat possible. Throughout this feud, Dominik has made mention of the legendary Eddie Guerrero on several occasions going back to the "iconic" 2005 feud.
I know WWE might not want to go this route but, Dominik MUST come out to Eddie Guerrero's theme at Mania. The disrespectful punk needs to come out in a lowrider to garner nuclear heat. It doesn't matter if The Judgement Day comes out and causes interference for Dominik to get the win, all that matters is that both superstars get the biggest payoff of this nearly year-long feud. Just imagine the Roman Reigns heat after he defeated The Undertaker and multiply that by ten. Dominik portrays the perfect heel and he truly is the missing ingredient that The Judgement Day needed to grow and evolve into a top faction.