DeMarco: 5 Days Later, And I Love The Hell In A Cell Finish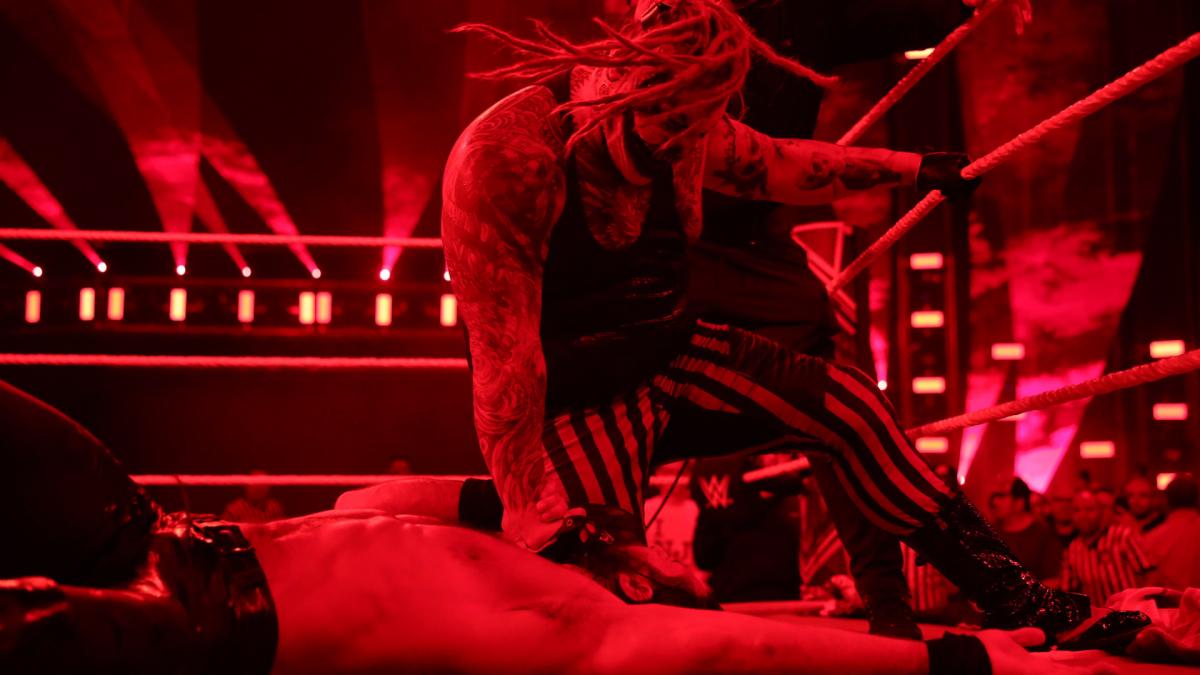 Greg DeMarco does a 180 degree turn, falling in love with the Hell In A Cell finish that saw Bray Wyatt's The Fiend and Seth Rollins end with no winner.
We all saw it, and if we didn't, by now we all know about it. Last Sunday, WWE presented Hell In A Cell, and Bray Wyatt's The Fiend challenged Seth Rollins for Raw's WWE Universal Championship. The referee threw the match out when Rollins blasted The Fiend with a sledgehammer, later citing Wyatt's safety as the reason for his decision.
When the decision was first rendered, I was far from happy with the outcome. I even tweeted about it, saying people have every right to be pissed. I encouraged it. I even said they owed me–the WWE apologist–an apology.
Yeah, I was wrong. The finish was perfect, and 100% bad ass. Here's why…
Rod Zapata's Logic Is, Well…Logical
In the statement linked above, Rod Zapata claimed he made the call to protect the competitors, namely Bray Wyatt. His statement is a really interesting one, too.
"With Bray motionless, and Seth clearly doing whatever it was going to take to win that match … I had to think of the competitor's safety and at that moment, I did what I thought was best."
Note that he doesn't refer to Bray Wyatt as "The Fiend," but as Bray Wyatt. This is a key element, because it shows how Zapata made his decision–based on human emotion towards human beings. He was worried for the well-being of Bray Wyatt, a WWE wrestler for nearly a decade now, who he has known for most or all of that time (if not longer). He warned Seth Rollins, even calling him "Colby" during the exchange (another amazing little thing that goes a long way), and then immediately called for the bell after the sledgehammer shot.
Now is a great time to talk about 1998's Hell In A Cell match between The Undertaker and Mankind, when Mankind took two bumps that should have ended the match, but the match wasn't called. Let me remind you: this was 21 years ago. TWENTY ONE. We've changed. We've evolved. Player safety is a bigger concern in sports. Everyone is more concerned with the day-to-day well-being of professional wrestlers/sports entertainers. Fans are calling for more time of, and a rotating cast to help their favorites live a better life. Calling a Hell In A Cell match for concern for someone's health makes perfect sense in 2019, in the same manner that not calling a Hell In A Cell match for the same reason makes perfect sense in 1998. Comparing the two is as silly as comparing Raw's ratings from the two years (but y'all still do that, so…).
It Actually Helped Everyone
I know you don't like this heading, but it's true. It really does help everyone.
Bray Wyatt's The Fiend – Rod Zapata made the (storyline) mistake of treating The Fiend like a mortal human being. He called the match because if anyone else was under all that rubble, a sledgehammer shot could have ended their career, or worse. He called the match, and The Fiend was immediately tended to by paramedics, even placed on the board to be loaded onto the stretcher, and into the ambulance. But that didn't happen, didn't it?
The Fiend attacking Seth Rollins after being tended to solidifies that he's almost supernatural, stronger than a mortal man, perfectly fine after taking that beating. It's going to take more than a normal "move set" to beat him, and as talented as Seth Rollins may be, all that talent can't beat a man who is seemingly impervious to pain.
Plus, The Fiend didn't lose the match. Instead, he was a horror movie character, which fits the persona to a tee.
Seth Rollins – It might not seem like it at first, but this really helps Rollins. He's a babyface in WWE, which is really hard to maintain with anyone other than kids and fangirls. Seth is one of the best wrestlers in the world, and his normal actions were powerless against The Fiend. He needed to do more to win, and he was willing to do just that. His willingness to "embrace the hate" and fight like a man who was desperate and afraid further humanizes him. Placed in the same position, it's fight or flight for most of us. Many of us would run, and would be eaten alive because we were trapped. The rest of us? We'd win, kill, or die trying. That's exactly what Seth was willing to do.
The Finish Didn't Tarnish Hell In A Cell
There have been 42 Hell In A Cell matches in WWE, and 3 of them have ended without a decision:
Mankind vs. Kane in 1998
Roman Reigns vs. Braun Strowman in 2018
Seth Rollins vs. The Fiend in 2019
Guess what? The first two listed never came up when anyone was previewing this year's PPV. And one of them happened two months after the Hell In A Cell match everyone always wants to reference when saying there must be a definitive winner. Quite the convenient omission, eh?
In modern day WWE, no style of match is above the life of a performer, and as I referenced above that factored into Rod Zapata's storyline decision. And it was the launching pad for what's to come at Survivor Series.
Would You Change Anything, Greg?
I most certainly would change one thing, and one thing only. And it's the one thing that probably caused me to react in the manner I did: match order.
Match order matters, and has for a long time. Look at WrestleMania 34: had Charlotte Flair beat Asuka in the main event, and not Brock Lesnar over Roman Reigns, the event is met with better reception. Same with putting Ronda Rousey's debut in the show closing spot, although you get the same complaints about part-timers in the main event. Fast forward to this year's WrestleMania 35, and you had a clunky finish to a "historic" main event, one that probably is better served a match or two further down the card, with Kofi Kingston's crowning achievement over Daniel Bryan being a more satisfying way to end the night.
Same with Hell In a Cell. Put The Fiend vs. Seth Rollins on 3rd or 4th, and close the show with Becky Lynch vs. Sasha Banks in the Cell, and the show has a stronger reaction overall. The mind is a crazy thing, and how a show ends greatly impacts the overall impression most (not all) viewers are left with.
But in the end, I really like what they did, what it did to both performers, and where it can lead. Survivor Series has to top it, and Hell In A Cell wasn't the "feud-ender" many wanted it to be (it often isn't), it was another step in the story (it often is).
PS – I don't hate the red lighting, either.
How do you feel 5 days later? Tweet me @ChairshotGreg and let me know!
King's WrestleMania Rewind: Charlotte Flair vs. Asuka from WrestleMania 34
Chris king is back with one of the most underrated matches in WrestleMania history–Charlotte Flair vs. Asuka!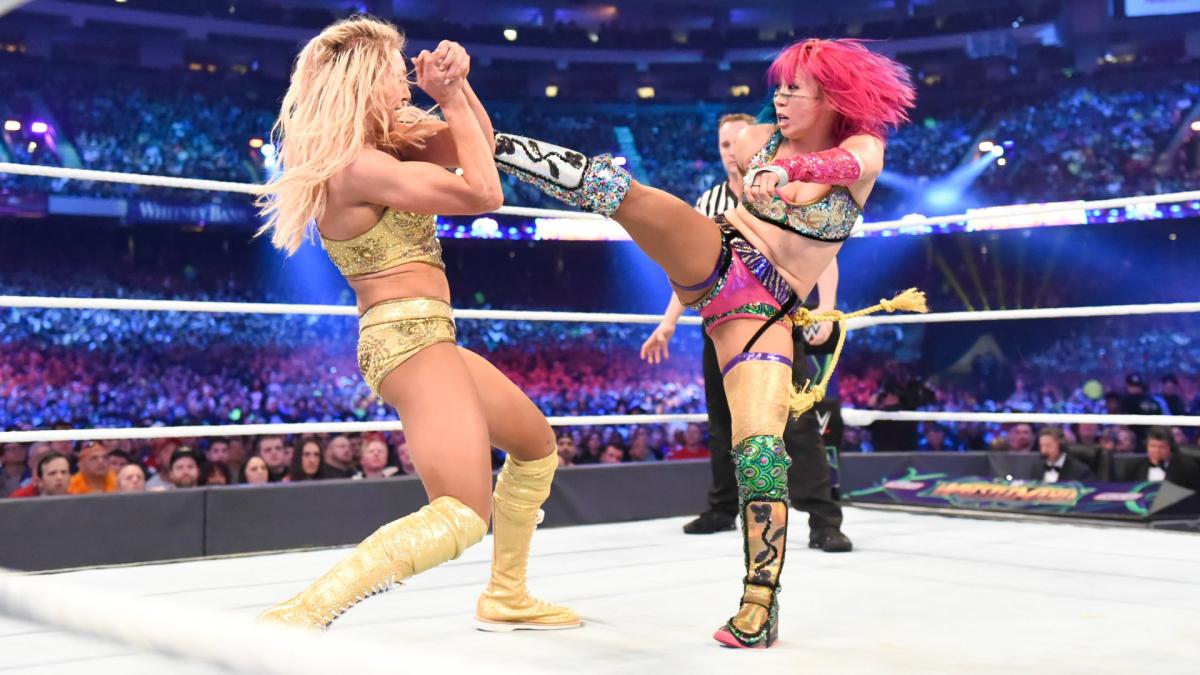 Chris king is back with one of the most underrated matches in WrestleMania history–Charlotte Flair vs. Asuka!
We look back at Charlotte Flair vs. Asuka at WWE WrestleMania 34. 'The Empress of Tomorrow' put her unprecedented and historic undefeated streak of 914 days on the line against 'The Queen's' SmackDown Women's Championship.
For years, this was considered a dream match while Asuka dominated the roster in NXT, while Flair won numerous championships on the main roster on both Raw and SmackDown. The Empress made her long-awaited debut on the September 11th episode of Raw and began to tear through the competition.
Asuka outlasted all twenty-nine other women in the historic first-ever Women's Royal Rumble match to challenge for the title of her choosing. At Fastlane, she made her choice.
The WWE Universe was so excited for this match myself included. Both superstars delivered a fantastic performance on the Grandest Stage of Them All executing counter after counter. Asuka showed off some nasty-looking kicks to her opponent, and Flair hit a thunderous Spanish Fly off the top rope. Flair was seconds away from defeat at the hands of The Empress but she locked in Figure Eight and Asuka was forced to tap out.
I can't even begin to explain how shocked I was at this outcome, as nearly everyone expected The Empress to continue her undefeated streak and walk away with the women's title. This controversial decision was the downfall of Asuka's momentum. She would ultimately win the SmackDown Women's Championship at the 2018 TLC pay-per-view in the triple-threat ladder match.
Fast forward to this year when Asuka has recently returned with her Japanese-inspired persona Kana. Kana is dangerous and ruthless and is heading into a championship with Bianca Belair at WrestleMania 39. The Empress has regained all her momentum and is highly favored to walk away with the Raw Women's Championship. Let's hope that Asuka and Belair can tear the house down and deliver an A+ grade match both women are fully capable of.
King: Dominik Mysterio Needs To Do This At WrestleMania
Chris King is here with what WWE should do with Dominik Mysterio at WrestleMania in his long-awaited match against his father Rey Mysterio Jr.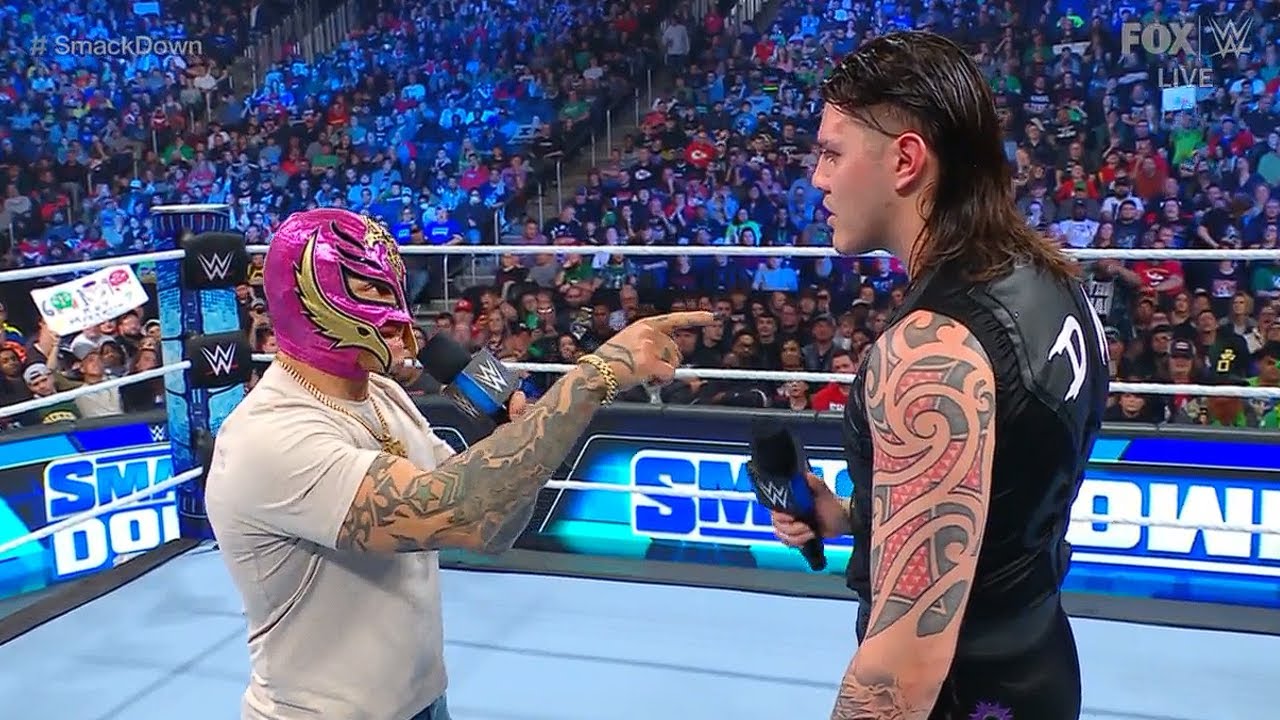 Chris King is here with what WWE should do with Dominik Mysterio at WrestleMania in his long-awaited match against his father Rey Mysterio Jr. 
On this week's episode of Friday Night SmackDown, Rey Mysterio finally snapped and beat some sense into his disrespectful punk-ass kid Dominik. The member of the Judgement Day came out to push his father again for a match on the Grandest Stage of Them All, this time with his mother and sister at ringside. The ungrateful punk told his mom to "Shut Up," as a father even I wanted to jump through the screen and whoop his ass.
Back in October of last year, Mysterio made the emotional decision to possibly quit the company but, instead, Triple H persuaded the Lucha libre superstar to move over to SmackDown to avoid his son. This came after Dominik shockingly turned on his father at Clash at the Castle. Mysterio did everything he could to refuse his despicable son's challenge for Mania but, a man can only be pushed so far. Mysterio will be inducted into the 2023 WWE Hall of Fame and I expect Dominik to embarrass his father during his speech to further this personal feud.
Yes, the WWE Universe hates Dominik and wants to see him get the ever-loving crap kicked out of him but, this feud is missing a special ingredient to capitalize on the biggest heat possible. Throughout this feud, Dominik has made mention of the legendary Eddie Guerrero on several occasions going back to the "iconic" 2005 feud.
I know WWE might not want to go this route but, Dominik MUST come out to Eddie Guerrero's theme at Mania. The disrespectful punk needs to come out in a lowrider to garner nuclear heat. It doesn't matter if The Judgement Day comes out and causes interference for Dominik to get the win, all that matters is that both superstars get the biggest payoff of this nearly year-long feud. Just imagine the Roman Reigns heat after he defeated The Undertaker and multiply that by ten. Dominik portrays the perfect heel and he truly is the missing ingredient that The Judgement Day needed to grow and evolve into a top faction.