DeMarco's NWA Power Results & Review (10/8/19)
NWA Power made it's broadcast debut on Tuesday (at 6:05 PM no less!), and there was a lot for Greg DeMarco to like. Read on to see why!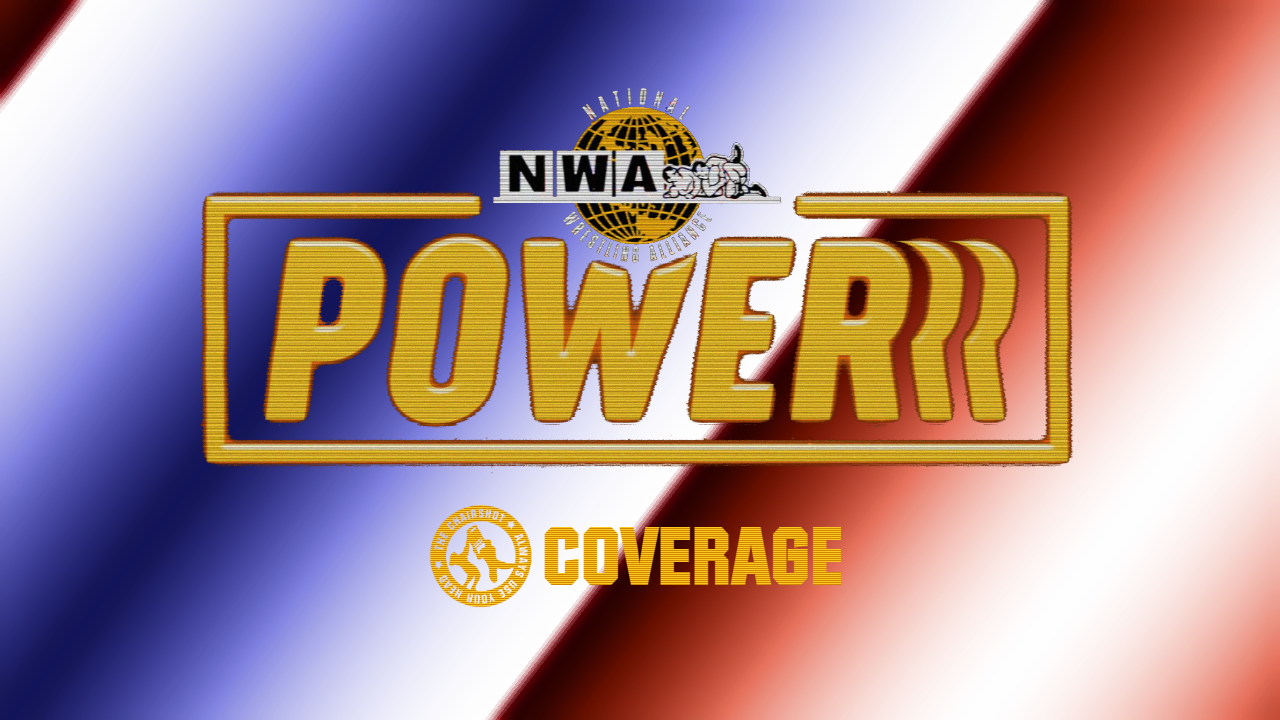 NWA Power made it's broadcast debut on Tuesday (at 6:05 PM no less!), and there was a lot for Greg DeMarco to like. Read on to see why!
Like many of you, I tuned into the first edition of NWA Power on Tuesday October 8. Did I enjoy it? I damn sure did! Check out this review and see why.
Nick Aldis Interview
It makes total sense to open things with NWA Worlds Heavyweight Champion Nick Aldis, a man who has been touting the return of the NWA almost as much as Billy Corgan and Dave Lagana. He has a history with Tim Storm, so it makes sense to revisit that feud for the first ever main event.
The Dawsons beat Sal Rinauro & Billy Buck
Rinauro (who I'd assumed had retired) & Buck were here to be carpenters for The Dawsons, and they were just that. Buck fell victim to the Squisher Powerslam, and The Dawsons immediately strike me as a serviceable tag team for the company. Will we get National Tag Team Champions? I hope we do, because tag team wrestling needs chances to shine and I was always a big fan of the mid-card tag titles.
Post-match promo by The Dawsons was paint-by-numbers, but that's the feel the NWA is going for. The commercial for the Universal Wrestling College? Amazing. It's a real thing, too. I know the commercial screams parody, but it's real.
Eli Drake Interview
I'm a bigger fan of the post-match interview, but I didn't mind this. Joe Galli did a great job setting Drake up, but Eli doesn't need much help.
Eli Drake beat Caleb Konley
This match was the perfect example of the crowd the NWA draws. Eli does the basics very well, and the crowd was popping for everything. Konley put up a good fight, and for a TV match we got a good one here. Eli Drake picks up the win, but he had to work for it. Konley is also established as being above "jobber" status here, being a more formidable opponent than Sal Rinuaro & Billy Buck before him.
Following a promo for Tim Storm vs. Nick Aldis, Jocephus came out to demand a piece of Storm (who us already spoken for tonight). They went to commercial, but when they came back Jocephus is still demanding Tim Storm. He eventually gets the other Storm, James. As you can imagine, it breaks down into a fight.
Side note – James Storm's dig at Jocephus going back to his desk job seemed appropriate, as Jocephus has really cleaned up since the last time I saw him,
NWA World Tag Team Champions The Wildcards (Tom Latimer & Royce Isaacs) beat Danny White & Mims
It was smart for Joe Galli & Jim Cornette to focus so much of this match on the story of The Wildcards, as many watching will have no idea why these two are even a team. More probably know about Isaacs teaming with Jorel Nelson as The One Percenters, and of course people will remember Latimer as Bram. You can imagine Mims and White didn't provide much opposition for the champs here, and White fell victim a Pop-Up Powerbomb/Full Nelson German Suplex combo.
Post match promo saw The Wildcards get cut off by Eddie Kingston, who proceeded to disrespect the champs after telling them he wasn't going to disrespect them. Homicide joined the scene before it came to blows. That was interrupted by James Storm and Jocephus battling out from the locker-room area. They'd fight some more, and an impromptu match was made.
NWA National Heavyweight Champion James Storm beat Jocephus
Jocephus would charge at Storm, eat a superkick, and be done. This was all about establishing Storm, and it did it's job.
The Aldis and Storm hype videos continued and I honestly fast-forwarded through them. Tim Storm did show why he was the NWA Worlds Heavyweight Champion, absolutely crushing his promo before the match and putting over the importance of the championship.
NWA Worlds Heavyweight Championship: Nick Aldis (c) w/Kamille beat Tim Storm
I didn't love the minimal ring introductions for this match, it made it feel…fake. I know that wasn't the goal, and it's a small nit-picky thing given the atmosphere. The crowd popping for the bell ringing was a great touch–a happy accident. If Storm were to win, he'd be the oldest champion at 53, breaking his own record.
Storm is an extremely lovable character for the NWA, even if he can't challenge for the championship in the future. There's a lot you can still do with him. There was little doubt Nick Aldis was retaining here, but that's not a bad thing for the first episode.
The post-match promo was effective in putting Storm over as a great champion and competitor. I'm not totally sure if that was supposed to get sympathy for Kamille–but she comes across as someone you want to hate.
Overall
This came off as a well thought out, well planned first edition of NWA Power. If you watched this episode, you know exactly what this show is all about. It's old school, with the short squashes and ringside interviews. It still presents modern-day in-ring performances, but with an old-school spin. The only drawback I see is that it almost comes off as a parody of the old school studio set-up, but you really have to grasp at straws to get that.
Side note: I was really impressed with Joe Galli and Jim Cornette. I didn't expect much, but you can tell Galli was prepared and Cornette was excited to be in this element. They make a really good team that will only get better.