King: Brock Is At It Again, And So Are Lana & Rusev
Chris King shares his insight on Monday night's Raw Premiere while breaking down two topics that completely stood out among the rest: Brock Lesnar, and Lana & Rusev.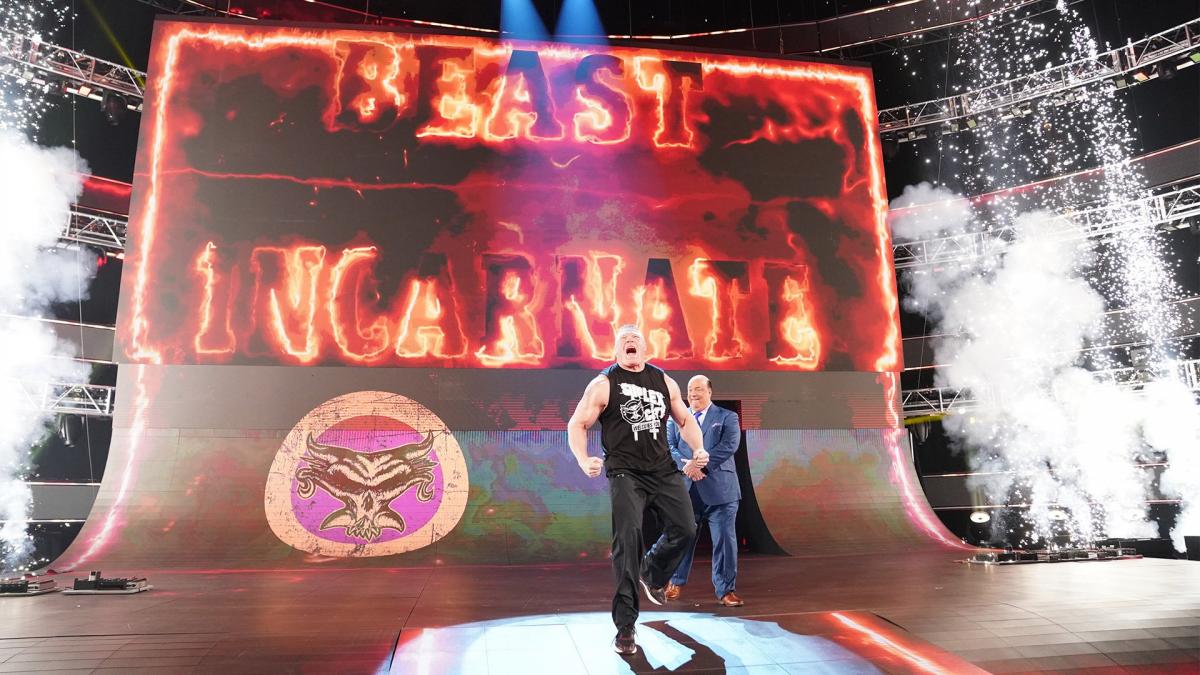 Chris King shares his insight on Monday night's Raw Premiere while breaking down two topics that completely stood out among the rest: Brock Lesnar, and Lana & Rusev.
The historic show opened with a brand-new logo and feel to the flagship show of WWE. The intro video marched to a different beat as Skillet's Legendary blared meshed perfectly with the new and improved video. For the first time in what seemed like forever the show opened up with Freaking pyro and it was awesome! Not to say that for the time prior Raw hasn't felt special but, when the explosions hit throughout the arena it made the moment feel like a big deal.
Fuck Yeah I LOVE This PYRO!!! #RAW #WWE ☺👊👌👍👏👏👏👏😉😍😘 pic.twitter.com/UXurrkJ8IO

— Cenation – WWE Guy (@CenationMarian) October 1, 2019
A fresh new commentary team welcomed us to Tampa, FL consisting of 205 Live's Vic Joseph, Dio Madden, and WWE Hall of Famer Jerry "The King" Lawler. These three weren't the absolute best but it sure beats having arguments during high-profile matches that Corey Graves orchestrated almost weekly. I never thought in a million years I would say this but when Sasha Banks came out I somewhat missed Michael Cole's "It's Boss Time" saying.
The Beast Incarnate Is Torn
While it's not a shock that The Beast Incarnate Brock Lesnar interrupted Rey Mysterio sharing a feel-good moment with his son Dominic, what was surprising was watching Lesnar appear to be at war within himself. After Mysterio was eviscerated with three THUNDEROUS F5's,
The Beast turned his attention to Dominic in the WWE Universe. He tossed him over the barricade like a sack of potatoes then flung him in the ring to deliver a massive German Suplex. The former Universal Champion was enraged yet also in complete bewilderment at the carnage he just caused.
Of course, the remorse was short-lived as Lesnar returned to deliver another painful message to the WWE Champion Kofi Kingston ahead of their WWE Championship match on Friday's debut episode on FOX. It's been more than fifteen years since we've seen The Beast Incarnate showed any amount of remorse towards any opponent.
In 2012, Lesnar was defending his WWE Championship against The Big Show at Survivor Series when his advocate Paul Heyman turned on him which allowed Big Show to win the title. This promoted The Beast Incarnate to turn face for the first time in his career. Lesnar has not had the best 2019 after losing the Universal Championship back-to-back to The Beastslayer Seth Rollins.
Everything feels like Lesnar is about to make history once again on Friday by ending Kofi's Cinderella story and becoming the WWE Champion for the first time in over a decade.
Let Rusev Be Rusev
This point doesn't just go back weeks ago when The Bulgarian Brute made his return in the Maria & Mike Kanellis Pregnancy drama, it goes way further than that. In 2015 following Rusev's heartbreaking loss John Cena at WrestleMania 31, which also happened to The Bulgarian Brute's first-ever loss on the main roster.
Rusev received his rematch at Extreme Rules in a Russian Chain Match where he suffered another loss. His manager and real-life girlfriend Lana garnered a positive response from the WWE Universe which made Rusev irate so he banished her from ringside. Lana then made another match on her client's behalf at Payback where The Bulgarian Brute suffered his third straight loss killing all of his momentum. The two then split up on-screen.
Shortly after, Lana began an on-screen relationship with Dolph Ziggler and Rusev had a new manager Summer Rae. During this time Rusev was attempting to reconcile their relationship but to no avail.
This was by far one of the most ridiculous storylines I've seen in a long time. On October 11, 2015, TMZ revealed that Rusev and Lana were officially engaged so the next night on Raw WWE squashed the entire storyline.
Fast forward to the 2016 Extreme Rules pay-per-view, where Rusev became a two-time United States Champion by defeating Kalisto via The Accolade. The Bulgarian Brute would successfully retain his championship over the next few months defeating Titus O'Neill at the Money in the Bank pay-per-view and Zack Ryder at the Battleground pay-per-view. Afterward, Rusev and Lana would both be drafted back to Monday Night Raw via the 2016 WWE Draft.
On August 1, 2016, episode of Raw, Rusev would defend his United States Title against Mark Henry in a Clash of Titans hard-hitting match. The monstrous Henry refused to let his country down at the hands of the Bulgarian. Henry got some good shots into the US champ and even powered out of The Accolade. After it was all said and done though, The American finally had no choice but to accept defeat at the hands of Rusev.
In a post-match promo, The Bulgarian Brute trashed the United States of America and its Olympic Games. The Big Dog Roman Reigns had heard enough and marched down to the ring to confront the US champion. Rusev utilized some stiff right hands and then avoided a Superman Punch. Reigns then met him with a THUNDEROUS Superman Punch off the steel steps.
The following week Reigns interrupted Rusev and his new bride Lana's Wedding Ceremony. Reigns just pushing the United States Champions' buttons with his verbal shots at The Bulgarian Brute's manhood stating " I expected more from you Rusev, just like Lana expected more from you on your wedding night!" Later that night, Rusev and Lana ran into the General Manager Mick Foley who informed them that Rusev would defend his United States Championship against Reigns at SummerSlam.
At SummerSlam, the match never officially started as the two powerhouses engaged in a brawl at ringside. A month later, Rusev would cost his rival a number-one contenders match for the Universal Championship. The Bulgarian Brute would put his championship on the line at the Clash of Champions pay-per-view where he lost. Rusev would invoke his rematch at the Hell in a Cell pay-per-view but the two never really gelled in the ring with barely any in-ring chemistry.
If that wasn't awful enough The Bulgarian Brute was once again dragged into a distasteful storyline this time with WWE's loudmouth Enzo Amore. If you thought the Dolph Ziggler storyline was horrendous you ain't seen nothing yet. The storyline consisted of Enzo getting locked out of the men's locker room and running into Lana presumably naked.
On December 5, 2016, episode of Raw, Rusev and his wife set a trap for Enzo with Lana flirting and inviting him to her hotel room alone. Right, when Enzo was about to make his move Rusev jumps him and beats the holy hell out of him inside the room.
Fast forward to 2018, where Rusev found a tag team partner in the unlikeliest of people Aiden English. English was a drama actor and with the voice of an opera singer. The two were dubbed Rusev Day after nailing their partnership out of the park. English began Introducing The Bulgarian Brute to the ring in song form that the WWE Universe latched onto so tightly. The two while being booked as heels were cheered as one of the top acts on SmackDown Live.
After there was some dissension between Lana, Rusev, and English, Rusev began working back as a singles competitor after their run as a tag team. On a number of occasions, English would inadvertently cause his friend to lose matches. After weeks of frustrations, Rusev cut ties with English.
On September 18, 2018, episode of SmackDown Live, their animosity grew exponentially as English bashed his friend with a microphone and revealed video footage dubbed "One night in Milwaukee" which heavily hinted that English and Lana had an affair as she said, "I want you."
On the October 9, 2016, episode of SmackDown Live, the rest of the footage would be shown as there was never really an affair English did try to make an advance on Lana but she denied immediately. The two former friends and tag team partners then competed in a match where Rusev won ending the ridiculous story.
Now we finally get to the main point of my topic when on September 16, 2019, episode of Raw, The Bulgarian Brute returned as part of another ridiculous storyline over the Mike & Maria Kanellis pregnancy drama. He then obliterated Mike Kanellis in a squash match. On last night's episode of Raw, Rusev came to the aid of the Universal Champion Seth Rollins after he was attacked by Randy Orton and King Corbin.
Moments later Sarah Schrieber ran into The Bulgarian Brute and asked where is Lana which he had no intentions of discussing his home life. What he did disclose was challenging Rollins for his Universal Title later that night. So here I thought wow okay so Rusev is finally moving up the ladder in his career, this will be a great match.
The match gets underway and Rusev and Rollins were going at it, delivering a hard-hitting affair. Rollins was looking to be in trouble when Rusev blasted the champ with a thunderous Matchka Kick to the head. What followed next was downright horrible and humiliating to not only Rusev and Lana's marriage but to the WWE itself.
Bobby Lashley's music blared through the arena making his return and then he pointed to someone else. Lana's music hit and Lashley offered his hand, then the two proceeded to have a hardcore makeout scene on live TV. THANK GOD The Fiend made his presence felt by viciously attacking his opponent this Sunday but there was absolutely no way that WWE could have salvaged the ending at that point.
HOW MANY INFIDELITY STORYLINES IS LANA AND RUSEV GONNA DO #RAW pic.twitter.com/EKFgVRUN4q

— A.🦋 (@Sashasmurf) October 1, 2019
My argument is this: Why can't WWE allow Rusev to be the ass-kicking juggernaut that he initially started his career as? Why did they have to kill all his momentum years ago, and last but certainly not least why does WWE feel the need to include some relationship soap opera drama with every single storyline he's involved in?
It makes as much sense as Mike and Maria Kanellis resigning with WWE only for Mike to be belittled and humiliated consistently on TV. Not only did they kill his chance at becoming one of the top babyfaces on SmackDown Live but they've also ruined his character to the point that nobody is even excited for his return. There I'm sorry guys my rant is over but I had to go back and point out how ridiculous WWE has been booking him ever since losing the United States Championship.
King: Top 5 Championship Matches in WWE Royal Rumble History
Chris King looks at the best championship matches that have taken place at a WWE Royal Rumble event!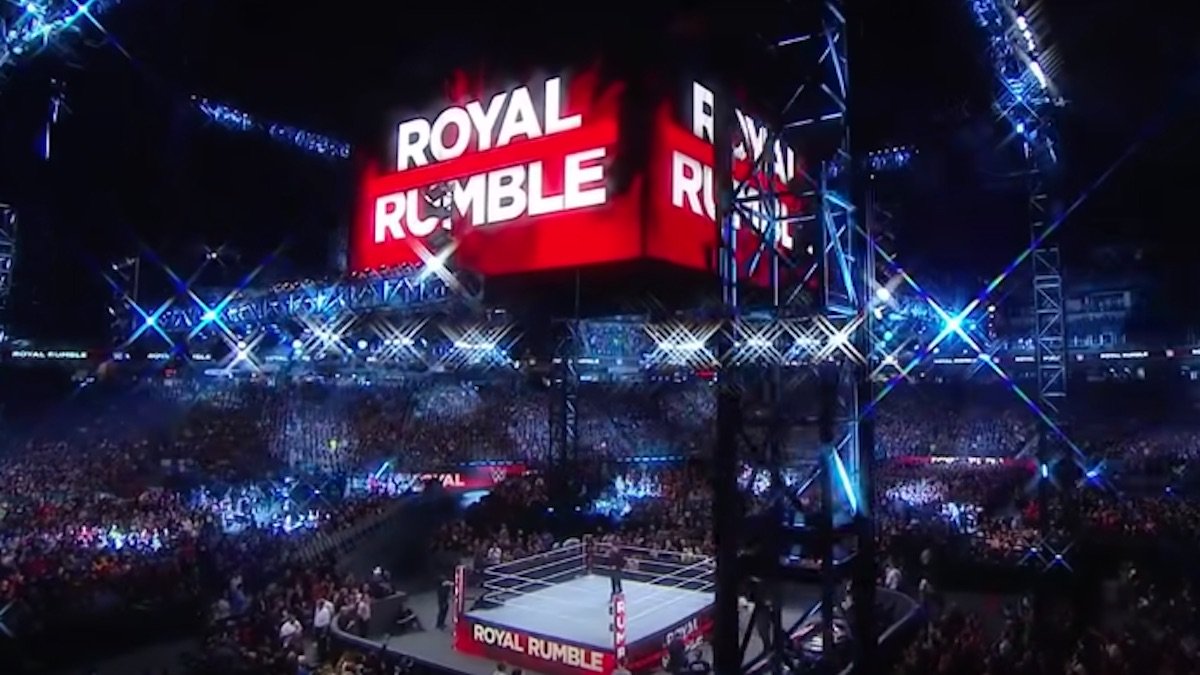 Chris King looks at the best championship matches that have taken place at a WWE Royal Rumble event!
I have gone back in time to reflect over Royal Rumble's over the last decade. From 2012 to 2022 the WWE Universe bared witness to some amazing matches including AJ Styles defending his WWE Championship against Kevin Owens & Sami Zayn, The Rock defeating CM Punk and ending his historic championship reign, and even the 'Beast Incarnate' Brock Lesnar successfully defending his WWE World Heavyweight Championship against John Cena & Mr. Money in the Bank Seth Rollins in a classic triple-threat match.
Here are the top five championship matches at the Royal Rumble over the last decade.
Honorable mentions:
Brock Lesnar VS. Finn Balor (Universal Championship): Royal Rumble 2019
Brock Lesnar VS. Kane VS. Braun Strowman (Universal Championship): Royal Rumble 2017
Randy Orton VS. John Cena WWE World Heavyweight Championship (Royal Rumble 2014)
Daniel Bryan VS. AJ Styles (WWE Championship): Royal Rumble 2019
Top 5 Royal Rumble Championship Matches 
5. Kevin Owens vs. Roman Reigns (Universal Championship): Royal Rumble 2017
In August of 2016, the WWE Universe was shocked when Triple H turned on his former protege Seth Rollins and essentially handed the Universal Championship to Kevin Owens in a crazy fatal-four-way match. Over the next few months, Owens and Chris Jericho would become best friends and true enemies of Rollins and former Shield-mate Roman Reigns. After Reigns was screwed out of the title at Roadblock they would deliver a Shield bomb through the announce table to Owens.
Reigns and Owens would battle again at the Royal Rumble this time, Jericho would be locked inside of a shark cage to prevent interference. Both superstars delivered an impressive performance and threw out everything to defeat one another. Reigns was minutes away from winning the Universal Championship until Braun Strowman obliterated him, which allowed Owens the conniving champion to keep his title.
4. CM Punk vs. The Rock (WWE Championship): Royal Rumble 2013
The self-proclaimed 'Best in the World' CM Punk was on a complete tear going through the roster successfully holding the title for a historic 434 days. At Raw 1000, The Rock came back and challenged whoever was the champion at the time to a WWE Championship match at Royal Rumble. Later in the night, Punk would turn heel attacking 'The People's Champion' and aligning himself with Paul Heyman shortly afterwards.
The Shield would work as mercenaries for Punk to retain his title since the 2012 Survivor Series where they debuted. Vince McMahon informed Punk that if The Shield got involved in the championship match he would be stripped of the title. After twenty minutes of back and forth action between champion and challenger, the lights went out and The Shield interfered yet again. McMahon came out to strip Punk of his championship but, The Rock had other plans and the match was restarted. The People's Champion would deliver the People's Elbow to end the historic reign of Punk.
3.  Roman Reigns vs. Seth Rollins (Universal Championship): Royal Rumble 2022
'The Head of the Table' Roman Reigns had conquered all of his challengers on Friday Night SmackDown, so a handpicked wild card was chosen from Monday Night Raw to challenge for the Universal Championship. Enter Seth 'Freakin' Rollins. The two former Shield-mates had faced each other in the past but, this time felt different. Reigns was the arrogant and cocky heel while Rollins portrayed more of a tweener character. Rollins mocked the champion's historic title reign and infuriated Reigns the go-home episode of SmackDown.
The Universal Championship match was the first match to open the show to a white-hot crowd. Reigns made his long grand entrance waiting for his challenger until a familiar theme erupted throughout the WWE Universe. Rollins not only mocked The Shield's old entrance through the crowd but, was also decked in full Shield attire which pissed off the champion.
I feel like it's impossible for these two superstars to have a bad match. They have incredible chemistry whether as partners or rivals. Reigns locked in his challenger with the Guillotine Choke but Rollins made it to the ropes. The Tribal Chief was relentless and would not break the hold so Rollins won by disqualification.
2. AJ Styles vs. John Cena (WWE Championship): Royal Rumble 2017
Let me start of by saying this was a very difficult choice to make because I went back and forth on making this number one. 'The Phenomenal' AJ Styles shocked the world in 2016 not only for turning heel on John Cena but, beating him at Money in the Bank via shenanigans and SummerSlam completely clean in the middle of the ring. Styles went on to have an incredible run as WWE Champion over on SmackDown Live.
Cena went off and did his own thing after a devastating loss to his rival but, came back returned in time to challenge for the title to not only become a sixteen-time champion but to tie the illustrious record held by Ric Flair. Both superstars used every maneuver in their arsenal to win the match, but it came down to the final sequence to understand where Cena's passion lies. Mr. Never Give Up hit the Attitude Adjustment and deadlifted Styles to deliver another thunderous AA to become the sixteen-time WWE Champion. What a freaking match!
1. Brock Lesnar vs. Seth Rollins vs. John Cena (WWE World Heavyweight Championship): Royal Rumble 2015
Even though the match before was tieing the legendary Ric Flair's championship record, I still can say with full confidence that this triple threat match is one of the best matches in Royal Rumble history. Brock Lesnar had an impressive 2014 starting off with ending The Undertaker's undefeated streak at WrestleMania, and then obliterating John Cena at SummerSlam to win the WWE World Heavyweight Championship.
At Night of Champions Cena was minutes away from winning the title and defeating 'The Beast Incarnate' until the arrogant Mr. Money in the Bank Seth Rollins caused a disqualification. Leading up to the Royal Rumble, Cena and Rollins would face off in a tables match at the TLC pay-per-view, while Lesnar vanished. A huge triple threat match was set for the 2015 Royal Rumble pitting all three superstars against each other. Rollins who was still holding the briefcase bragged about if he didn't win the title with Plan A, he would just cash-in and become the champion with Plan B.
From the moment the bell rang, the action began between Cena and Lesnar. Rollins played the manipulative cocky heel picking his moments to strike. Rollins and Cena took out The Beast on the outside to make it one-on-one. Lesnar was stretchered out of the match but miraculously came back and displayed his freakish strength taking anyone who moved to Suplex City. Rollins hit the champion twice with his briefcase and set up for the Curb Stomp. Lesnar bounced up and delivered a thunderous F5 to retain in a fantastic match.
I love this match so much because it was the first time that I believed Lesnar can deliver a great match and good story when he wants to. We've experienced this in his matches against AJ Styles, Daniel Bryan, and even Finn Balor. The Beast is a very smart performer and knows how to sell for his opponents to make them look like a megastar.
There you have it, those are my top five championship matches at Royal Rumble. Let me know what you think!
Greg DeMarco's Top 5: WWE WrestleMania 39 Opponents For Roman Reigns Not Named The Rock
The Road to The Royal Rumble is here, which means we will soon have an opponent for The Tribal Chief! Greg DeMarco explores potential candidates…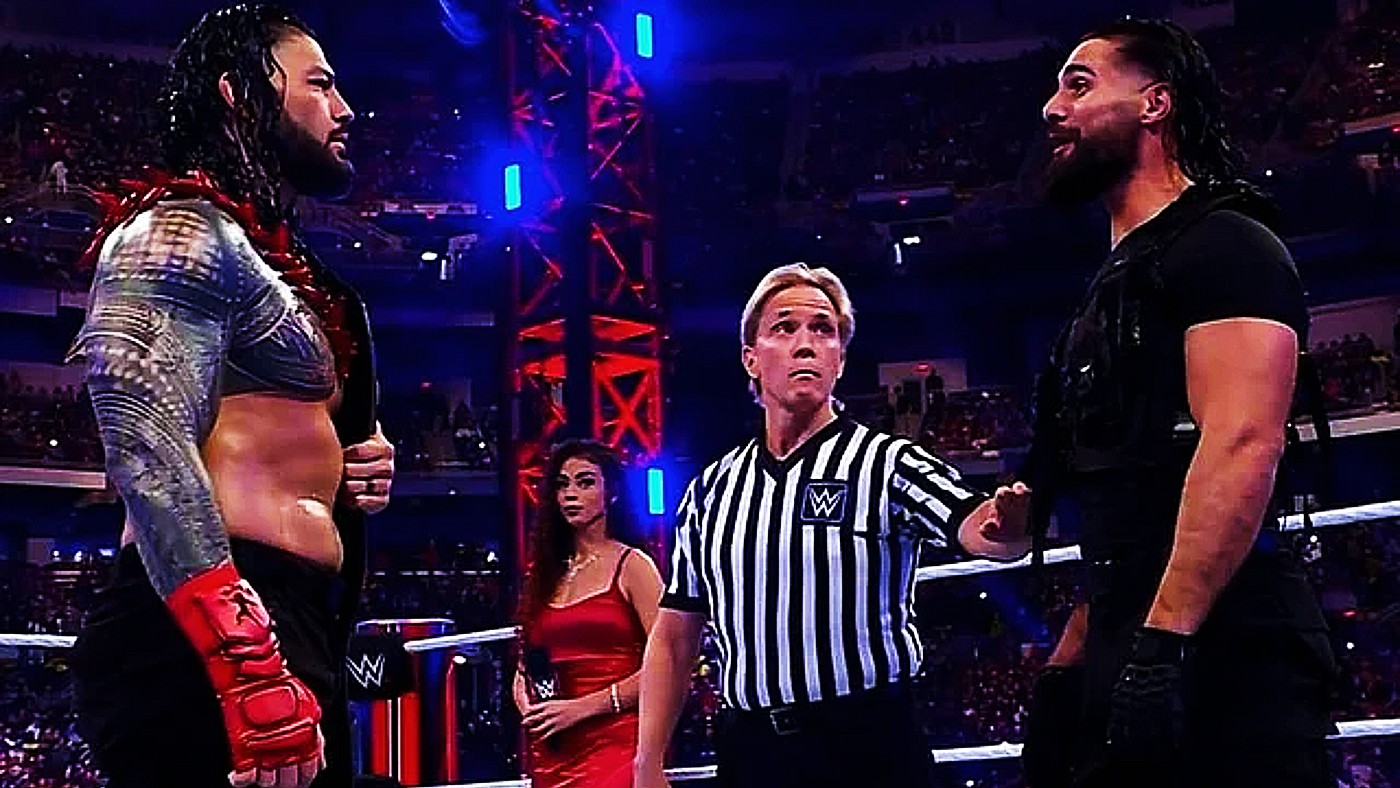 The Road to The Royal Rumble is here, which means we will soon have an opponent for The Tribal Chief! Greg DeMarco explores potential candidates…
Daddy's back with something for you that is meant to be fun–and a distraction from the news surrounding Vince McMahon's (likely terrible) return to WWE. Being a fan is meant to be fun, and one of the most fun things we get to do is look ahead to WrestleMania.
The main question, for this article at least, is who will be Roman Reigns' opponent at The Granddaddy Of 'Em All? Now everyone wants it to be The Rock, so we will explore the alternatives to that match.
In order to do that, I am making the following assumptions, even if some might not be true in the end:
Roman Reigns only wrestles one match, the final match on Night 2.
Roman Reigns is defending both the WWE and the Universal Championships in that match.
Roman Reigns–and this is just purely me–is not losing.
Honorable Mentions
I did have a few ideas who simply didn't make the list. Check 'em out:
Drew McIntyre – Simply put: Why? Why would we put Drew McIntyre against Roman Reigns in a football stadium when we just saw him against Reigns in a football futbol stadium last fall?
Kevin Owens – Similarly, why would we do this right after we do it at the Royal Rumble?
Karrion Kross – Ok, now I'm just trolling you. He ain't the guy, brother–not with this gimmick.
Ricochet – Personally, as an underdog babyface against Roman Reigns, I love Ricochet winning the Royal Rumble and challenging The Tribal Chief. But we have a better underdog on the list already.
With that all out of the way, it's time to have some fun. I give you…
My Top 5 WWE WrestleMania 39 Opponents For Roman Reigns Not Named The Rock
5. Sami Zayn
The bloom is off the rose for Sami Zayn, at least in the eyes of The Tribal Chief. The eventual turn is one of the most telegraphed things in recent memory, and in this instance that is perfectly fine. Sami Zayn is insanely over, and him fighting the uphill battle with The Bloodline would get him Daniel-Bryan-Danielson-at-WrestleMania-30 levels of heat along the way.
People love Sami Zayn. His awkward charm and seemingly unlimited charisma won over the audience so well that his storyline with The Bloodline had to get extended multiple times over. However, it's obviously coming to an end.
The obvious match is Kevin Owens & Sami Zayn against The Usos, but you could also slot Kevin against Solo Sikoa if Sami were to indeed get the nod.
4. Bron Breakker
You probably think I'm crazy, and I totally get it. Bron Breakker comes from NXT and goes right to the WrestleMania main event?
If you want to create a new star in Bron Breakker, this is how you do it. (At least, it's one way you can do it.) Look at Roman Reigns himself–part of the story of his WrestleMania 31 challenge of Brock Lesnar was that he was growing into the role. JBL told the story on commentary, and the match was all about Roman ascending to the level of Brock.
Of course it was all the perfect set-up for Seth Rollins to give us the greatest Money In The Bank cash-in in WWE history, but in the process Roman proved that he belongs.
So make this year's Royal Rumble the ultimate opportunity–the most shocking winner since Rey Mysterio, the NXT Champion Bron Breakker.
3. Seth (Freakin') Rollins
Seth Rollins seems to be in a never ending program with Austin Theory, and it's time to move on. Seth is an automatic main eventer in WWE at this point. He's a made man, probably the next biggest star (on the men's side) in WWE after Roman Reigns.
And he also has a very specific distinction that no one else has: a singles victory over Roman Reigns since he made his huge return in 2020. Yes, it was by disqualification, but he has proven his abilities to get inside the head of the Tribal Chief.
And Seth Rollins is going to have a match at WrestleMania, and 50,000+ in Sofi Stadium are going to be singing his song. Might as well be in the match that closes WrestleMania Night 2.
2. Sheamus
This is purely a match on my playlist–but this is MY list. And to me, Sheamus makes perfect sense.
In fact, I thought the feud between The Bloodline and The Brawling Brutes would lead to Sheamus challenging Roman Reigns at the Royal Rumble. And had Sami Zayn's involvement in The Bloodline not taken off the way it did, we still may have.
Sheamus is more popular now than ever, and at 44 years of age he is doing some of his best work. Sheamus winning his second Royal Rumble and challenging Roman Reigns would be the Lifetime Achievement Award he deserves.
But it's more than that! The match? It would deliver in a big way. History? There's plenty between Sheamus and Roman, going back to when Sheamus cashed in Money In The Bank on Reigns, and when Reigns eventually beat The Celtic Warrior to win one of his world championships. The fans? They would be solidly behind Sheamus, and would go nuts for every near fall. Don't sleep on Sheamus as your WrestleMania 39 main event opponent for Roman Reigns.
1. "Stone Cold" Steve Austin
Full credit for this idea belongs to PC Tunney and Dave Ungar, as shared in the Chairshot Radio Twitter DM thread. And it's steal-worthy indeed.
Three major legendary names are rumored for WrestleMania 39: The Rock, John Cena, and Steve Austin. All three make sense for a multitude of reasons. But The Rock will be launching a football league (which might be a reason to do this–the publicity), and is still in insane demand in Hollywood. Cena seems to be free at the present time, and we've seen the videos of Austin working out.
Remember, I am assuming Roman Reigns is going to win. If that's the case, then this WrestleMania is but another moment in Reigns' legacy. Why not add Steve Austin to his list of victories?
It would sell. ✅
The fans would buy it. ✅
Austin proved he can go. ✅
This type of match is what WrestleMania is all about. If it's not The Rock, it should be "Stone Cold" Steve Austin.
And there you have it, my list of–
Wait a minute Greg, what about Cody Rhodes?!?!
Man, I thought I could slip this one past the goalie!
Cody Rhodes is a great question. But you have to look at my assumptions above. I am assuming Roman only wrestles one match, defends both championships, and–most importantly–doesn't lose. Given those assumptions, you want Cody Rhodes as far away from this match as possible.
If we do split the titles, then Cody needs to be the guy to walk away with the WWE Championship. He does that either over Seth Rollins, or in a triple threat on Night 1 against Reigns and Rollins–but Rollins still eats the fall.
But under my conditions, losing at WrestleMania doesn't do anything for Cody.
---
What do you think? Let me know on social media!
Hit me up:
Until next time, remember: enjoying wrestling is a choice…make the right choice!