King: Monday Night Raw Is On Fire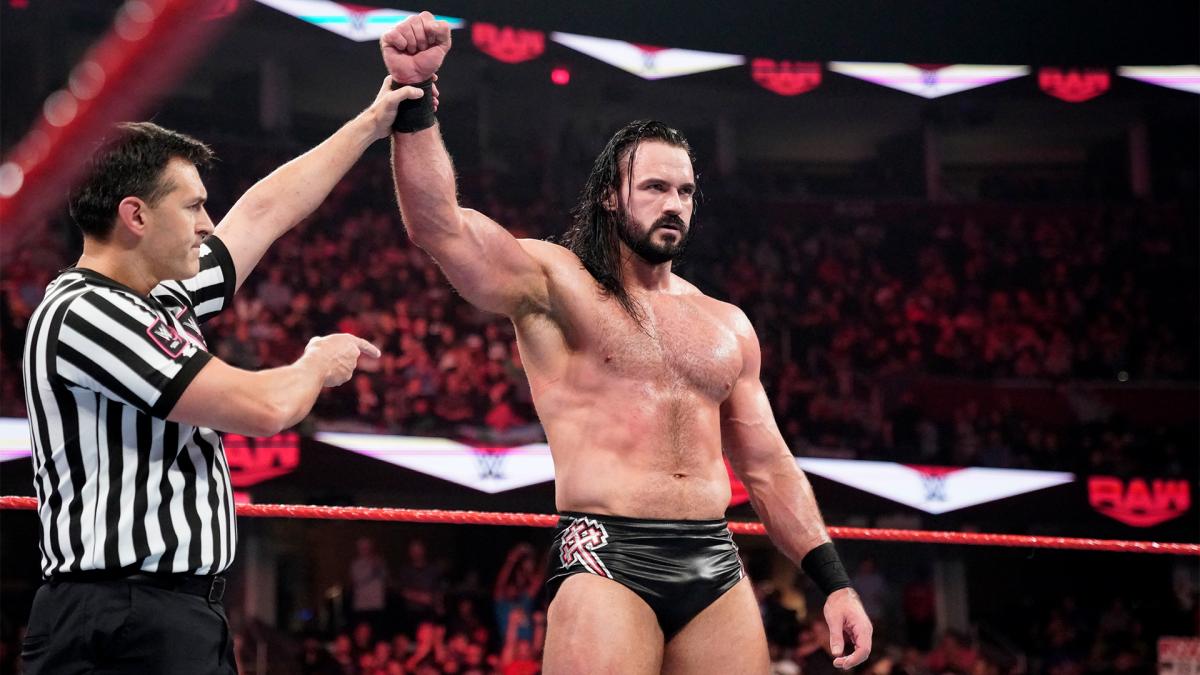 Chris King shares with you the hot topics from this week's episode of Raw while stepping up to Friday Night SmackDown. 
First things first, this was a great episode in my opinion. From start to finish WWE gave us some intriguing matches including The Street Profits' main roster debut in the main event against The O.C., and 205 Live's Humberto Carrillo going one-on-one with the Universal Champion Seth Rollins.
The Scottish Terminator Returns With A Vengeance
The final pick for Team Flair was none and other than "The Scottish Psychopath" Drew McIntyre. McIntrye has been absent since the Extreme Rules pay-per-view where he and Shane McMahon lost to The Undertaker and Roman Reigns. Moments later, McIntrye and Ricochet competed in a pay-per-view-worthy match and we got it for free.
There were so many near-falls that had the WWE Universe on the edge of their seats. "The Scottish Psychopath" picked up a major win that gives Team Flair a huge amount of momentum heading into Crown Jewel.
Last year McIntyre was on fire beating the holy hell out of The Shield until he faced Roman Reigns at this year's WrestleMania. After his loss to "The Big Dog," McIntrye was treading water. Here's to hoping he becomes the sole survivor of Team Flair and finally starts his climb back to the top.
Rebuilding Of Aleister Black
One of the newest addition to the Raw roster, "The Dutch Destroyer" Aleister Black picked up another victory. For months now, Black has been drowning on SmackDown Live delivering menacing promos but without opponents to back up his threats. Now he can regain the aura and mystic that will make into a potential huge star on Raw going forward.
Lucha Libre Superstars Stealing The Show
On this week's episode of Raw, we witnessed two amazing matches one being Andrade vs. Sin Cara and the other the Universal Champion Seth Rollins vs. Humberto Carrillo. Yeah, you read that correctly, the amazing high-flyer from 205 Live battled the heavyweight champion and gave him a run for his money.
Andrade and Sin Cara are no strangers to each other, both Lucha Libre superstars have had a long history even before coming to WWE. Last year the two rivals faced each in a five-star classic at the Extreme Rules pay-per-view which saw Andrade pick up the win. They also competed in several hard-hitting matches on SmackDown Live.
On this week's Raw both Sin Cara and Andrade brought everything to the table, double knees in the corner, moonsaults to the outside, and even Andrade's arrogant trios of suplexes. You can't count out Andrade's business manager Zelina Vega who landed her headscissors takedown to Sin Cara and "El Idolo" executed the hammerlock DDT for another decisive victory.
¡@AndradeCienWWE ganó!

STATEMENT victory for Andrade on #RAW… pic.twitter.com/ip2ehU1zLI

— WWE (@WWE) October 22, 2019
This next match was made official after 205 Live's Humberto Carrillo talked about Seth Rollins playing with fire and how he didn't want to be "that type of champion." The Universal Champion didn't take those words too kindly claiming he had no choice but to burn the Firefly Funhouse to the ground and challenged the Lucha Libre superstar right now.
The match started with Carrillo going for a surprise roll-up followed by two deep armdrag takedowns before Rollins takes control. The Universal Champion portrayed a much edgier and arrogant character trash-talking the young up-and-comer.
Carillo answered back delivering his stunning running and float over arm drag off the ropes followed by a beautiful Moonsault.
OUT TO IMPRESS.#RAW @Humberto_wwe pic.twitter.com/YzxoBBollN

— WWE Universe (@WWEUniverse) October 22, 2019
After a quick flurry from Carillo, Rollins ended the Lucha Libre superstar's night with a Superkick and a Stomp. After the match, the Universal Champion and Carrillo shook hands in a show of respect.
It's main event time as the always-electric former NXT Tag Team Champions The Street Profits making their signature entrance through the WWE Universe for their six-man tag team match against The O.C. But who did they find as a partner?
Montez Ford starts the match against Karl Anderson delivering jaw-dropping dropkicks. Angelo Dawkins and big Luke Gallows are in now and Dawkins blasts one of the hardest strikers in WWE in the corner. AJ Styles distracts Ford which allows The O.C, to use the numbers game against The Street Profits.
Gallows and Anderson take control isolating Ford from making the tag to Dawkins pounding him into the mat. Ford finally makes it to Dawkins who comes out of the gate firing on all cylinders bulldozing through anything that moves. Ford goes up top to deliver a splash but Styles knocks him off the top-rope. Finally, after the official sees him, Styles is ejected as The Street Profits's partner arrived!
The #StreetProfits brought the BACKUP with @FightOwensFight! What a night for @MontezFordWWE & @AngeloDawkins on #RAW! pic.twitter.com/AfWSVEOlSP

— WWE (@WWE) October 22, 2019
Back in the ring, Dawkins executed his signature sit-down powerbomb and Ford flies through the air to deliver his jaw-dropping Frog Splash to secure the victory in their first match on the main roster in the main event!
Wow, just wow! Ladies and Gentlemen Friday Night SmackDown may have won the WWE draft but Raw is stepping up their game to go toe-to-toe providing exciting matches that the WWE Universe loves. If you haven't watched Raw go watch it.