King: The Evolution Of 205 Live
Chris King shares with you how far the amazing Cruiserweights of 205 Live have come since their inception in 2016.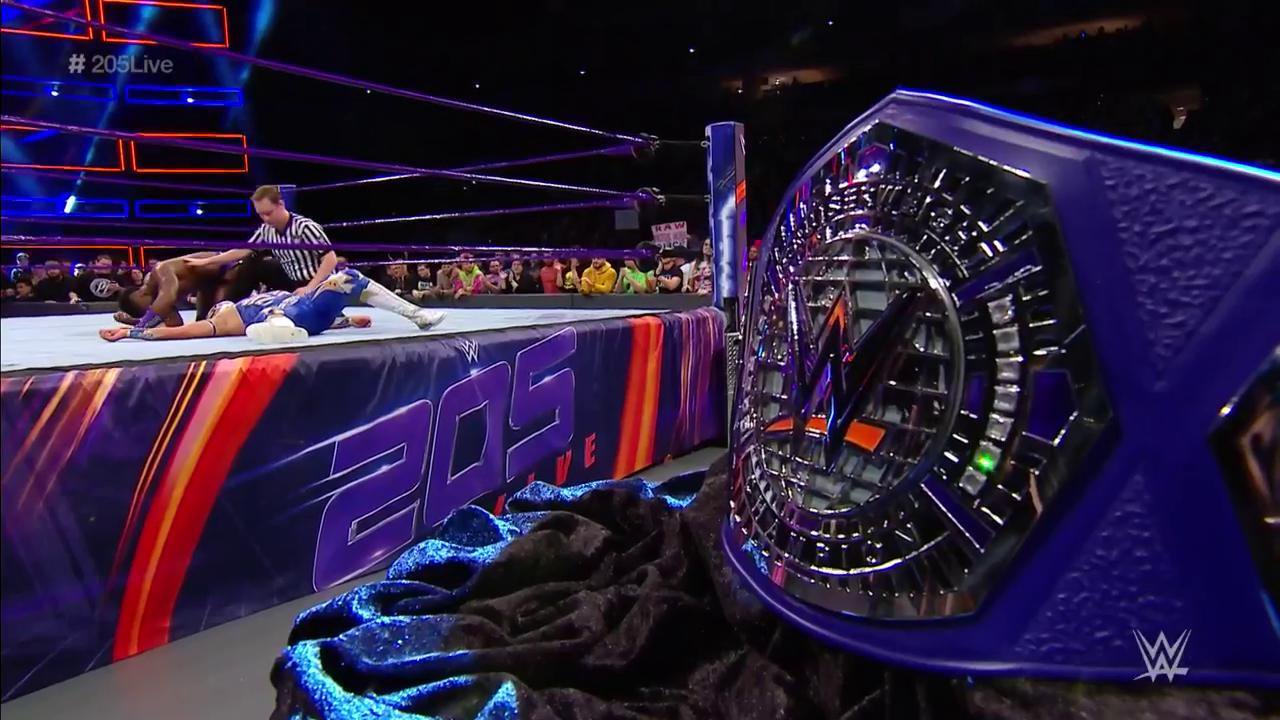 Chris King shares with you how far the amazing Cruiserweights of 205 Live have come since their inception in 2016.
I can't believe it's only been three years since we were all watching the incredible Cruiserweight Classic Tournament where Cruiserweights from all over the world put their bodies on the line to become the inaugural WWE Cruiserweight Champion. I remember holding my breath watching these insanely-gifted athletes blow my mind with their dazzling high-flying maneuvers.
In the finals, TJ Perkins defeated Gran Metalik after thirty minutes of high-octane action to become the inaugural WWE Cruiserweight Champion. Stemming from the success of the Cruiserweight Classic, a handful of Cruiserweights were signed by WWE such as Brian Kendrick, Rich Swann, Gran Metalik, Cedric Alexander, Lince Dorado, and Noam Dar were drafted to Raw. Each week the high-flyers were wowing the WWE Universe with their high-octane action in six-man tag team matches.
205 Live Has Arrived
GET READY, @WWEUniverse! Six Cruiserweights ARE COMING TO #RAW! https://t.co/1qLwAlzRrF pic.twitter.com/JrGAHj2RBZ

— WWE (@WWE) September 19, 2016
Unfortunately, what appeared to be their greatest achievement of the Cruiserweights quickly turned into the downfall later on for the roster. Shortly after beginning to gain some momentum rumors spread that WWE was planning to water down the Cruiserweight style limiting the number of flips and high spots. Despite the restrictions, the WWE Universe got their first taste of a real feud for the Cruiserweight division, as Kendrick became the number-one contender to face his long-time friend Perkins at the Clash of Champions pay-per-view. This was also before the division was relegated to the pre-show as they are today.
What began as a friendly competition between two friends quickly disintegrated into pure jealousy and contempt as Kendrick revealed his true colors by viciously attacking his so-called friend following his loss. At the next month's Hell in a Cell pay-per-view, Kendrick would win the Cruiserweight Title after feigning a knee injury and blasting Perkins with a headbutt followed by locking in the Captain's Hook.
On November 26, 2016, the amazing Cruiserweights would find a new home on 205 Live which aired after SmackDown Live all-the-while they would still be competing in Raw as well.
The King of the Cruiserweights Saves 205 Live
"He's definitely put the @WWE #Cruiserweight Division on NOTICE!" – @AustinAries #205Live #WWERoadblock pic.twitter.com/83oCHvte9k

— WWE (@WWE) December 19, 2016
A month later at the Roadblock End of the Line pay-per-view, the Cruiserweight division would be given the spark it so desperately needed as Neville made his long-awaited return to WWE turning heel on the Champion Rich Swann sending shockwaves throughout the WWE Universe. For several consecutive weeks, this new disgruntled and vindictive Neville obliterated the 205 Live division ahead of his title shot at the 2017 Royal Rumble pay-per-view.
On the January 16, 2017 episode of 205 Live ahead of Swann's match with Tony Nese the self-proclaimed King of the Cruiserweights viciously attacked him from behind. He then picked up a mic and verbally eviscerated the entire Cruiserweight division. To add the exclamation point Neville eradicated Swann to become the new Cruiserweight Champion at the Royal Rumble.
During this time the WWE Universe was introduced to a man known as A-Double Austin Aries who made his main roster debut as a commentator while recouping from an eye injury. Neville continued berating the entire division week after week until someone finally stood up to him. During an in-ring interview, The King of the Cruiserweights would find his next victim in the form of the interviewer himself A-Double.
At WrestleMania 33 Neville and Aries went to war in an incredible match perfectly mixed with technical wrestling and high-octane action. With The King of the Cruiserweights reeling he dug down low and poked his challenger's eye and hit the Red Arrow to keep his Cruiserweight Championship. A few weeks later at the Payback pay-per-view, Neville and Aries did battle once again adding another chapter in their bitter rivalry. This time The King of the Cruiserweights won by nefarious means while he was trapped in The Last Chancery pulling the official on top to get disqualified.
A-Double would get his final chance at dethroning the King at the Extreme Rules pay-per-view, except this time the stakes would be raised in a Submission Match pitting The Last Chancery versus Neville's Rings of Saturn.
The King of the Cruiserweights prevailed at the pay-per-view but, at several points of the match, Aries could have easily walked out a champion as he had Neville tapping-out to The Last Chancery on the outside so it didn't count. After the king disposed of A-Double, he would find his next challenge in the high-flying sensation Akira Tozawa.
Neville would retain his championship against Tozawa at the Great Balls of Fire pay-per-view. On the Go-Home-Raw for SummerSlam Tozawa was shock the WWE Universe by defeating Neville winning the Cruiserweight Championship. He would lose it mere days later at SummerSlam, a decision that is still a head-scratcher. I'm going to mention this once because I'm convinced this ridiculous decision led to Neville's departure from WWE. Enzo Amore happened and was the one to dethrone Neville. Shortly after, Amore was released by WWE and we needed a new WWE Cruiserweight Champion.
We Need A New Champion
In January 2018, 205 Live moved back under the guidance of the creator of the Cruiserweight Classic and the first order of business was to add a general manager Drake Maverick. One of the main downfalls of 205 Live and the Cruiserweight division as a whole is no character development. Wrestling can only go so far there must be a great story told between the ropes and to do that you need to build strong characters for the WWE Universe to invest in.
Maverick quickly announced that there would be a HUGE Cruiserweight Championship Tournament where the finals would take place on the WrestleMania 34 kick-off show. For the next few months, the WWE Universe was dazzled with what brought the amazing Cruiserweights to WWE in the first place, fantastic high-octane action and a plethora of flips and high spots. At WrestleMania 34 Mustafa Ali went one-on-one with Cedric Alexander in the Cruiserweight Championship Tournament Finals in a five-star classic for the coveted prize. Both amazing performers gave everything they had to become the Cruiserweight Champion but a missed O54 Splash from Ali allowed Alexander to capitalize and hit the Lumbar Check to claim the title.
A #LumbarCheck hands @CedricAlexander the top prize of @WWE205Live! #WrestleMania pic.twitter.com/NqIsXOgsDP

— WWE (@WWEIndia) April 8, 2018
The Age of Alexander Is Upon Us
During the tournament a new face arrived on 205 Live, WWE'S Best Kept Secret Buddy Murphy who made to the second round but was eliminated by Ali. On the March 27, 2018, episode of 205 Live, Murphy defeated Tozawa, Kalisto, and Perkins to become the number-one contender for whoever won the Cruiserweight Championship at WrestleMania 34.
On the Post-Mania episode of 205 Live, Murphy interrupted Alexander's championship celebration and dropped him with Murphy's Law and made his intentions crystal clear. At the Greatest Royal Rumble, Alexander successfully defended his title against Kalisto in a great back-and-forth match. On the May 29, 2018, episode of 205 Live, Murphy finally got his one-on-one match for the Cruiserweight Championship.
Alexander was proudly defending his title in his hometown of North Carolina in front of his family and friends, while Murphy was ready to bulldoze through him and walk away with the biggest win of his career to date. Both competitors delivered an A+ terrific thriller of a match with dozens of near-falls that left the WWE Universe holding their breath. Murphy gave the Cruiserweight champion the fight of his life but not enough to secure the championship.
On the July 24, 2018, episode of 205 Live, Drew Gulak won a stellar fatal-four-way to become the number-one contender to challenge Alexander at SummerSlam. Gulak has been portraying a more aggressive character thanks to the GM Maverick's criticism over his loudmouth megaphone antics about the "No Fly Zone." A week later, Alexander would battle one of Gulak's allies Kendrick in the main event. Due to outside interference, Alexander got the quick win, afterwards, Gulak, Jack Gallagher, and Kendrick delivered a three-on-one assault leaving the champion unconscious.
At the SummerSlam pay-per-view, Gulak gave the Cruiserweight champion a hell of a fight methodically dissecting his body limb by limb furthering his more serious demeanor. Alexander mounted a comeback with his repertoire of dropkicks and high-octane offense and stacked his challenger up for his Lumbar Check for the victory.
Over the next few weeks, a relentless Gulak brutally attacked the champion including interfering in scheduled matches. On the September 11, 2018, episode of 205 Live, Gulak earned another title shot for next week's episode after a tag team match with Gallagher on his side. The two competitors faced off in an outstanding SummerSlam Rematch where Gulak came so close several times to become the champion by locking in his dangerous Gu-Lock submission but, Alexander was willing to put his body through unimaginable anguish to keep his title in his grips.
The Best Kept Secret Is Here
On August 29, 2018, WWE announced via Twitter that The Best Kept Secret would receive another chance at the Cruiserweight Championship in his hometown of Melbourne, Australia at WWE Super Show-Down. I'm sorry folks words can't describe how fantastic this match was I've watched it at least two times. Both Alexander and Murphy finally gave the Cruiserweight division the spotlight they were seeking at WrestleMania 34.
The WWE Universe was fully invested in watching their hometown hero battle for the Cruiserweight Title. He received the loudest pop of the night, As soon as the bell rang Murphy nailed Alexander with a stiff shot and got a long near-fall, in-ring chemistry doesn't even do these two justice as both champion and challenger created magic in front of 70,000 fans. It didn't matter how much of a comeback Alexander mounted the end result was academic with Murphy hitting Murphy's Law for the HUGE victory for the hometown boy giving Alexander his first loss in 2018.
This match was insanely good https://t.co/UyE0W8ACAW

— Mariah May (@MariahMayx) October 6, 2018
Over the next month, a resilient Ali ascended his way to the top of the Cruiserweight division and earned himself a title shot at the Survivor Series pay-per-view by defeating Murphy's right-hand man Nese. Ali and Murphy are no strangers to each other having fought in a chaotic no disqualification match that's been dubbed as one of the best matches in 205 Live history.
The gutsy challenger gave the champion a decent fight with several aerial attacks and high-octane offense but, the champion fought back valiantly brutalizing Ali all over the ringside area. Murphy had evil intentions in mind as he took apart the announce table, Ali countered and executed a stunning Spanish Fly sending both competitors crashing to the floor! Murphy blocked an O54 attempt and landed a nasty-looking Powerbomb for a near-fall. Ali bounced back with a Springboard into the knees, Murphy hit his finisher to secure his Cruiserweight Championship.
After weeks of Alexander mentally handling his first few losses on 205 Live, he decisively battled back to the top of the division. Handing Lio Rush his first loss since his arrival, followed by pinning the Cruiserweight Champion Murphy in a tag team match to finally gain his rematch for SSD at the TLC pay-per-view. At TLC the amazing Alexander and Murphy tore the house down and stole the whole show even before the event officially began. There are only a certain amount of competitors that are incapable of having a bad match.
You CANNOT stop the UNSTOPPABLE! @WWE_Murphy defeats @CedricAlexander to retain the #Cruiserweight Championship! #WWETLC #205Live pic.twitter.com/HfkIwmHPep

— WWE (@WWE) December 16, 2018
Alexander flew into a stiff knee strike reminiscent to their previous encounter in Melbourne. Alexander valiantly fought back mounting a comeback and hitting a Michinoku Driver for a long near-fall. Murphy answered back with a thunderous sit-down powerbomb for a two-count, Alexander went back on offense and hit the Lumbar Check but Murphy got his foot under the rope. Alexander went up top one too many times and got dropped from the turnbuckles, Murphy immediately pounced and hit Murphy's Law for the three-count.
Murphy's next title defense was not of one man but three where Hideo Itami, Tozawa, and Kalisto all attempted to strip The Australian of his Cruiserweight Title at the 2019 Royal Rumble pay-per-view. This match was not up to the level of Murphy's previous one-on-one encounters with Ali and Alexander but, it was still a fun opener. Each competitor got their opportunity to shine in this fast-paced high-octane match that 205 Live is terrific at delivering. Murphy prevailed convincingly by dropping Itami with Murphy's Law to retain his championship.
On the February 5th episode of 205 Live, Tozawa earned himself a big win to challenge Murphy for the Cruiserweight Championship at the Elimination Chamber pay-per-view. Tozawa opened the contest with the hopes of being the first-ever two-time Cruiserweight Champion in history.
He came out of the gate firing on all cylinders until a suicide dive was countered by Murphy into a nasty-looking Suplex on the outside. From there the confident champion took the fight utilizing his strength to maul his opponent. Tozawa hit his Senton Splash landing on the champion's back for a near-fall. Tozawa went back to the playbook and pulled out his Octopus submission but, Murphy retaliated back with his finisher to retain his championship.
On the February 19th episode of 205 Live, GM Drake Maverick announced the return of the Cruiserweight Championship Tournament to determine Murphy's next challenger for WrestleMania 35. On the March 19th episode of 205 Live, Alexander and Nese clashed in the finals to meet The Best Kept Secret at the Grandest Stage of Them All. After a hard-fought battle, The Premier Athlete punched his ticket to WrestleMania. Moments later Alexander celebrated Nese's victory followed by his long-time friend and training partner Murphy. Murphy held his friend's hand before cleaning his clock with a vicious boot to the face. The Cruiserweight Champion hoisted his title up to close the show.
.@WWE_Murphy "celebrates" as @TonyNese wins the right to go to #WrestleMania! #205Live pic.twitter.com/fzOMyBGiHi

— WWE (@WWE) March 20, 2019
Five days before their WrestleMania match, Nese and Murphy came to blows in a backstage brawl that ensued and carried on to the stage. WWE officials came out to break things up but to no avail. Nese slammed his former friend's skull into the Tron and hit a THUNDEROUS Running Nese! At WrestleMania, Nese and Murphy both brought their athleticism and strength to the squared circle in a battle over the coveted Cruiserweight Championship. The action started fast-paced with Nese prevailing through the storm and hitting a stunning moonsault for a two-count. The champion fought back and drilled his challenger with a massive superkick and facebuster for a two-count of his own. Nese countered Murphy's Law with an inverted spike rana.
The Premier Athlete quickened the pace again as the action spilled outside executing his twisted senton splash to Murphy. The champion mounted a comeback and successfully executed his finisher but his former friend got his foot on the rope. The overconfident champ mocked Nese's Running Nese in the corner and got blasted with a Superkick. Nese finished him off with a Running Nese and the biggest victory of his career to date winning his first Cruiserweight Championship.
205 Live Is Now Premier 
On the Post-Mania episode of 205 Live, the new Cruiserweight Champion Nese and the former champ engaged in a wild and crazy WrestleMania rematch that gave these amazing Cruiserweights the allotted time warranted to finish telling their story inside the ring. This was an A+ battle that not only solidified why the WWE Universe needs to tune in to watch 205 Live but, it also was the perfect manner for Nese one of the first Cruiserweights since the inception to prove that his win at WrestleMania was not a fluke.
On the April 23rd episode of 205 Live, Nese found his next challenger The Persian Lion Ariya Daivari defeated Oney Lorcan to become the new number-one contender, moments the champion and the challenger had an intense staredown ahead of their clash at the Money in the Bank pay-per-view. After weeks of mind games between Nese and Daivari, on the May 14th episode The Persian Lion viciously attacked the Cruiserweight Champion just days ahead of their championship match.
At Money in the Bank Daiviri arrived in style driving an extravagant car. The Persian Lion came right out of the gate as vicious and aggressive as ever pummeling The Premier Athlete. Daivari continued the methodical dissection as the action carried back into the ring. The Cruiserweight Champion bounced back and mounted a comeback and executed a jaw-dropping 450 splash to earn a long two-count. The challenger came back and blasted the champ with a nasty-looking lariat. Nese fought back and drilled him with the Running Nese and the victory.
On the June 4th episode, the state of 205 Live would never be the same again as Drew Gulak made his return by viciously attacking Noam Dar ahead of a match with Akira Tozawa. The GM Maverick sanctioned the new match as two long-time rivals went to war. Tozawa stood no chance against a relentless and vindictive Gulak.
What's gotten into @DrewGulak?!? #205Live @NoamDar pic.twitter.com/dSQXq1e6Zx

— 205 Live (@WWE205Live) June 5, 2019
One week later both Tozawa and Gulak pinned each other in a chaotic fatal-four-way match to determine the number-one contender. On June 18th WWE announced that both Tozawa and Gulak would face Nese for the Cruiserweight Championship at the Stomping Grounds pay-per-view.
At Stomping Grounds, all three competitors came out of the gate firing on all cylinders that was until the sadistic and vindictive Gulak began to pick apart his opponents. While most of the action was methodical dissection, the champion still fought valiantly to keep his title. Tozawa inadvertently blasted Nese with a dropkick and Gulak took advantage hitting his Cyclone Neckbreaker for the pin and new Cruiserweight Champion.
.@DrewGulak lays down the law.

➡️ https://t.co/NsQTgz3q4X pic.twitter.com/qPZq5qNTV6

— TDE Wrestling (@tde_wrestling) August 28, 2019
A New And Improved 205 Live
At the Extreme Rules pay-per-view, Nese received his one-on-one rematch with his former friend and ally Gulak. Nese brought a good fight to the champion but he was no match for this new and improved Gulak. After picking apart The Premier Athlete, Gulak hit his finisher for a convincing win to retain his Cruiserweight Championship. At the SummerSlam pay-per-view, Gulak's newest challenger would come in the form of The Fury of 205 Live Oney Lorcan. Gulak immediately blasted Lorcan with a dropkick which left the field right open for Gulak to capitalize.
The challenger picked up the pace after hitting a nasty-looking neckbreaker and a series of hard knife edge chops to Gulak. The clever champion locked in the Gu-Lock and almost secured the victory. Gulak attempted the submission again but it was countered into a near-fall. Lorcan came back with his blockbuster and slaps to Gulak but, the champion used a throat punch to stop his comeback and hit the Cyclone Crash for the pin to retain his championship.
He is the LAW in the #Cruiserweight division.@DrewGulak is STILL your @WWE Cruiserweight Champion at #SummerSlam Kickoff! pic.twitter.com/yCgBVbGEVf

— WWE (@WWE) August 11, 2019
On September 10th Triple H spoke with Newsweek clarifying what his vision for 205 Live might look like:
"You'll start to see 205 begin to," Triple H revealed. "I think it always existed as an island onto itself, a little bit, and it's become lost in this limbo. You'll begin to see it move more towards the NXT banner and the talent there. We have a lot of talent. For them to begin to compete either open against anyone or in the Cruiserweight division, but have that title sit under the NXT brand is more meaningful. It creates more opportunities for more people. As for RAW and SmackDown, it's an open division for them. When you're on both shows, everybody is competing against everybody."
At the Clash of Champions pay-per-view, Gulak put his Cruiserweight Championship on the line against both Humberto Carrillo and Lince Dorado in an outstanding triple-threat-match. Both high-flyers showcased their talents while the champion was more concerned about dishing out pain and punishment to his opponents to keep his title in his grips. The methodical and clever Gulak picked his moment to strike after a failed Shooting Star Press and Aztec Press. Gulak tossed the Lucha Libre outside the ring and used a modified roll-up to continue his dominant title reign.
On September 18th on the debut episode of NXT Live, a HUGE number-one contender match took place where the returning Man of the Hour Lio Rush defeated Oney Lorcan to become the number-one contender for the Cruiserweight Championship. This Wednesday on the first-ever two-hour episode of NXT, an overconfident Gulak puts his title on the line against Rush. This will mark the first-time-ever the Cruiserweight Title will be defended on NXT let alone in front of millions of the WWE Universe watching on the USA Network.
Beginning this Friday, Oct. 4, The Most Exciting Hour on Television is moving to Friday nights. #205live https://t.co/Fl349RKwOK

— WWE (@WWE) September 30, 2019
I think it's pretty fair to say that the Cruiserweight division has reached new leaps and bounds since arriving back in 2016. We've all witnessed a plethora of fantastic moments that will stand the test of time. While these amazingly gifted athletes have relegated to the pre-show for several years, there's a great chance they will be competing on TakeOvers and will finally be given the recognition they truly deserve. 205 Live is staying alive and well under the leadership and guidance of The King of Kings HHH!!
AJ's Thoughts: Five Potential Returns
With Trips in charge and already starting to bring back some people that didn't work in Vince's picture, AJ got an idea. Who else could we see on the horizon radar?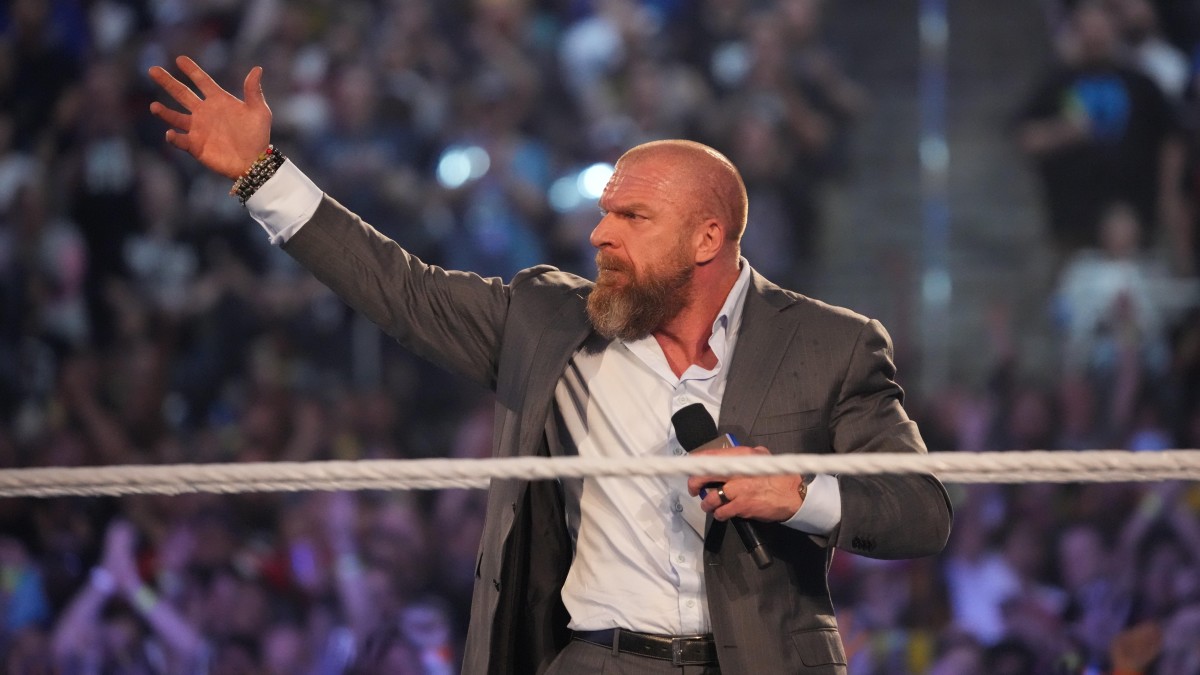 With Trips in charge and already starting to bring back some people that didn't work in Vince's picture, AJ got an idea. Who else could we see on the horizon radar?
With everything going on with WWE, the one thing we have all been hyped about are all of these returns. Dakota Kai made her return at SummerSlam alongside Io and Bayley and now on last SmackDown, Karrion Kross and Scarlett made their returns in a big way against Drew McIntyre and showed the Hourglass to The Bloodline.
With all of that, there have been things in the pipeline saying Triple H's foot isn't off the pedal so these are 5 returns from either NXT, main roster or even Try-Outs that I would love to see happen with the new regime.
1. Johnny Gargano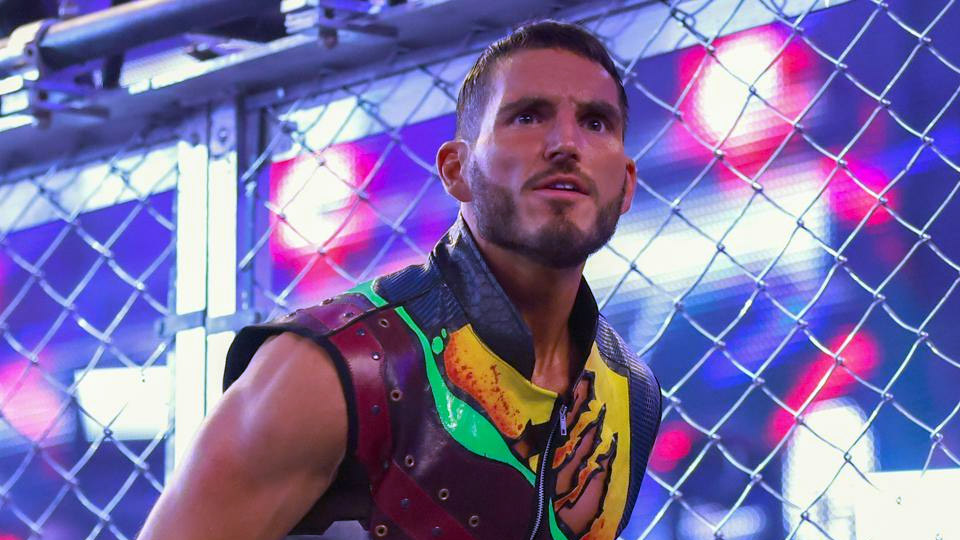 Now this is a name that people have been saying, "Maybe Impact or MLW" but, what about a return? Gargano didn't renew his contract, most likely to be with his family which is a valid and amazing reason, will never disrespect that. If he were to return, there would be a handful of great reasons. Maybe a singles run with the Intercontinental or United States but with Ciampa getting limelight in the main roster from RAW, what if we get a tag team reunion?
WWE is hurting for Tag Teams and what better than to scare off The Bloodline, loosen  the stranglehold of championships with some Do It Yourself action. DIY reunion could be amazing, especially with newer faces showing up to get championship aspirations like Kross and Ciampa. Want to break the hierarchy? Do It Yourself.
2. James Storm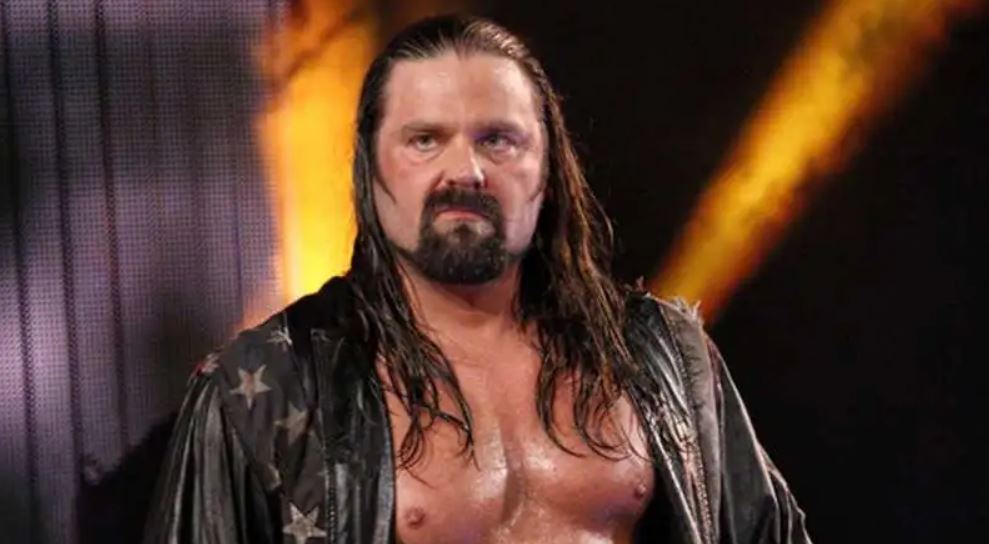 This one is a little bit weird and off. On one hand, who doesn't love the Tennessee Cowboy, Jimmy James Storm? On the other, he is 45 and getting some nagging injuries as of late. So why would I say Triple H should bring James Storm back and give him something for the main roster? One of the things I said for Gargano, we have a lack of something and The Usos might need to watch two things in the rearview.
Watch your Money and your Alcohol.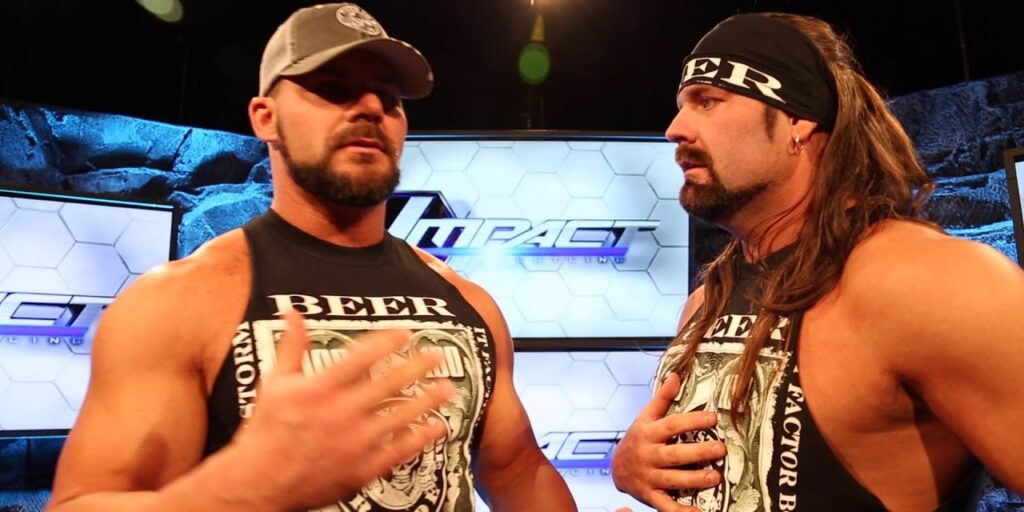 Beer Money showing up in WWE would be amazing in my personal opinion. The Bloodline jump Roode, someone in a hoodie or jacket comes up and jumps them to even the fight and as soon as one Uso remained in the ring, the figure goes down and the old stomping goes off and we hear "BEER…" and Roode looks around and gets hyped up and shouts, "…MONEY!"
3. Big Cass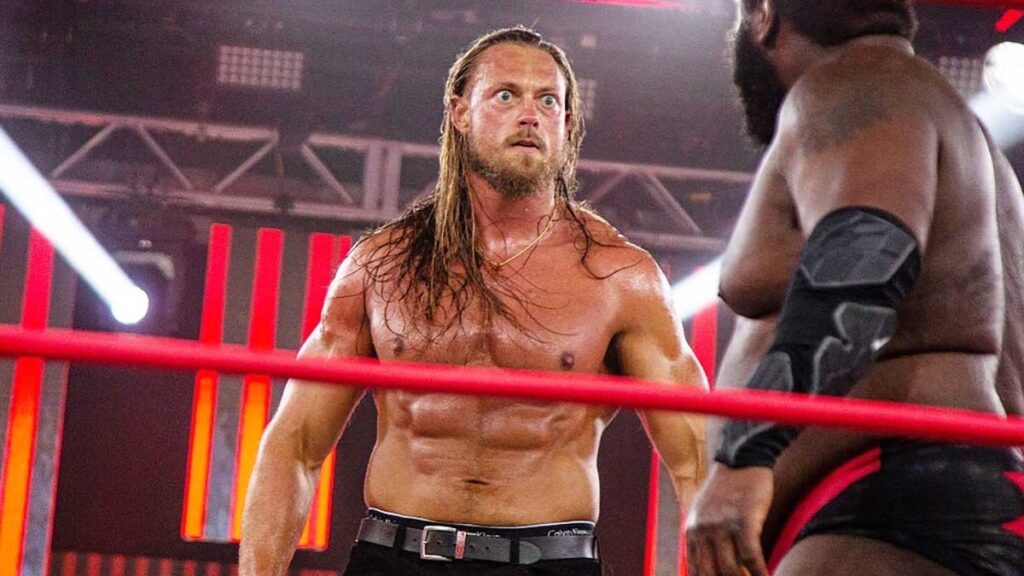 Since his departure from WWE, he has done something I have said since they split him off from Enzo. Take him through the Kevin Nash School of How To Big Man. ROH and Impact are great examples that he actually cleaned up and worked on what he has to do to be good in the ring. He can work the microphone, he can work the ring so we got a new big boy to take on the WWE once again.
Now I could have said Enzo and Cass to rejoin but, I'm sure the antics of Enzo will get Cass in deep water along with the fact that I already made two tag team predictions, we don't need another. Cass brings a lot to the table and was kind of unproven in WWE because he was just the big enforcer to the more charismatic Enzo. Give this man about six months in the ring and you have your next MASSIVE problem in the IC or US Championship scene or even more.
4. Bronson Reed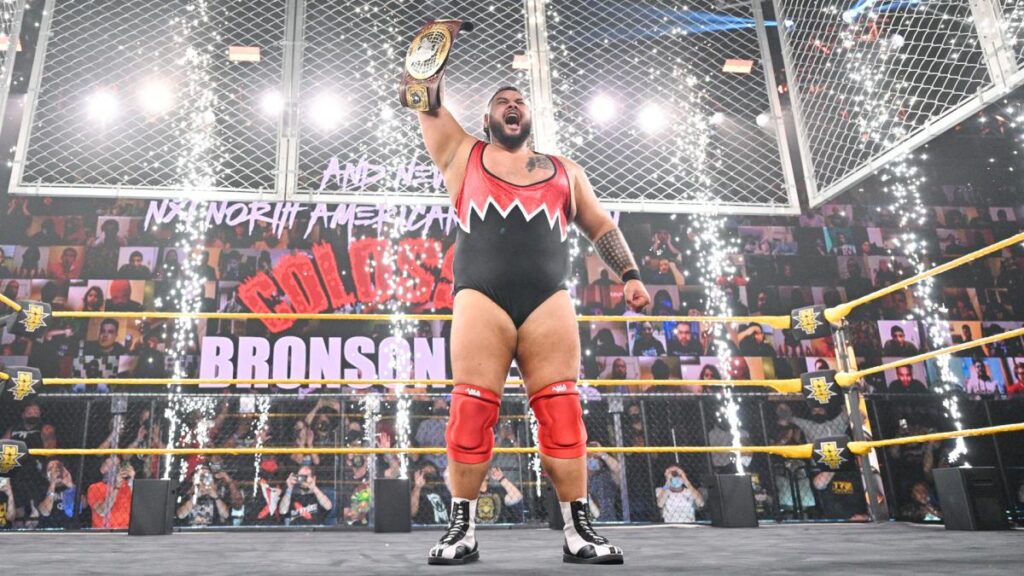 The big man from down under is a former NXT North American Champion. He looked to have a good push going with that championship but he got release. If you wonder where he went… he actually made a pit stop in Impact Wrestling as JONAH with the most fire theme song in recent history I swear… I will link the theme song and Trips… please. Get rights to this theme song. I will be a bigger Bronson Reed fan.
Bronson to me is the weird man in all of this but, I think with Triple H involved, he could get something going for him with a good singles champion run or a big threat to go through like a gatekeeper of sorts. Big boy with a great amount of athleticism? Can't really hate on that considering the last time we saw athletic bigger people were Keith Lee and… what was that one guy? Sherman Tank with a Ferrari Engine…?
5. Bray Wyatt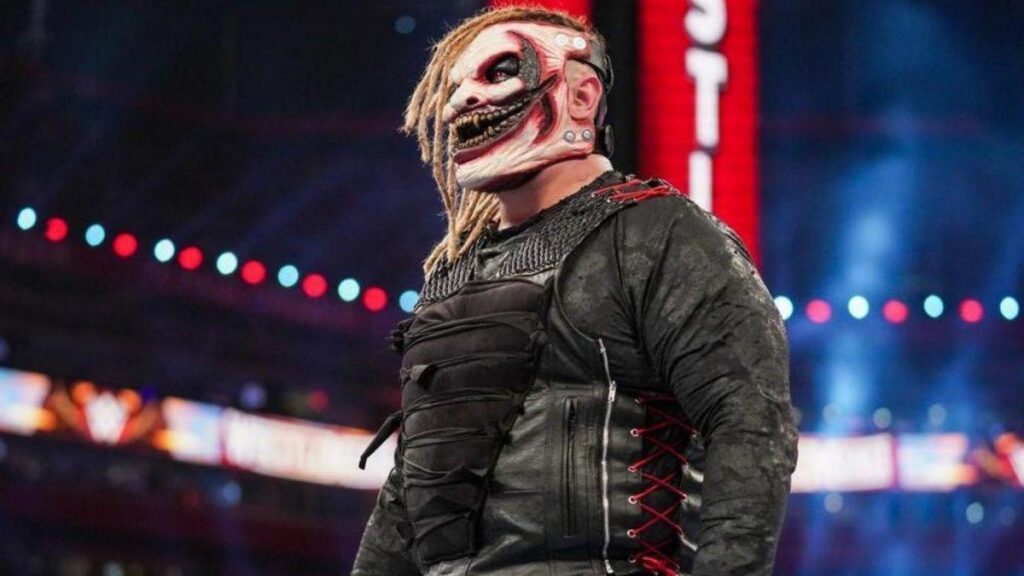 And the last one is the obvious one in all of this. Yes… we have Judgment Day as the somewhat supernatural dark group but we know the true successor of the supernatural and that is "The Eater of Worlds", "The Fiend" Bray Wyatt. This time around, I don't think we will get the Jekyl and Hyde, Mister Rogers gimmick. I believe this time around we get full darkness and mayhem. We get the darkness and the theory of reverting back to your prime.
To make a refresher… Miz went back to being the cocky narcissist after fighting The Fiend. Finn turned back to the Prince and much more. With guys like Edge returning, maybe we see the return of the Heel Ultimate Opportunist, maybe a Fiend fight with AJ Styles to get the TN-AJ perhaps. Possibilities are endless and with a great mind like Wyatt for character and execution, I think Hunter will pick up the phone and Let Him In.
– There are clearly others that I could say, or maybe even didn't think about, but hey, that's the Chairshot way of Always Using Your Head. Those are just five returns that could happen and hopefully you read this before RAW or SmackDown and who knows if I get any of these right, maybe I missed an obvious one or maybe we get a giant signing that nobody thought possible. Let me and all of Chairshot know!
King's Greatest Hits Of Jeff Hardy
As he battles his demons, Chris King looks at some more positive moments in Jeff Hardy's career!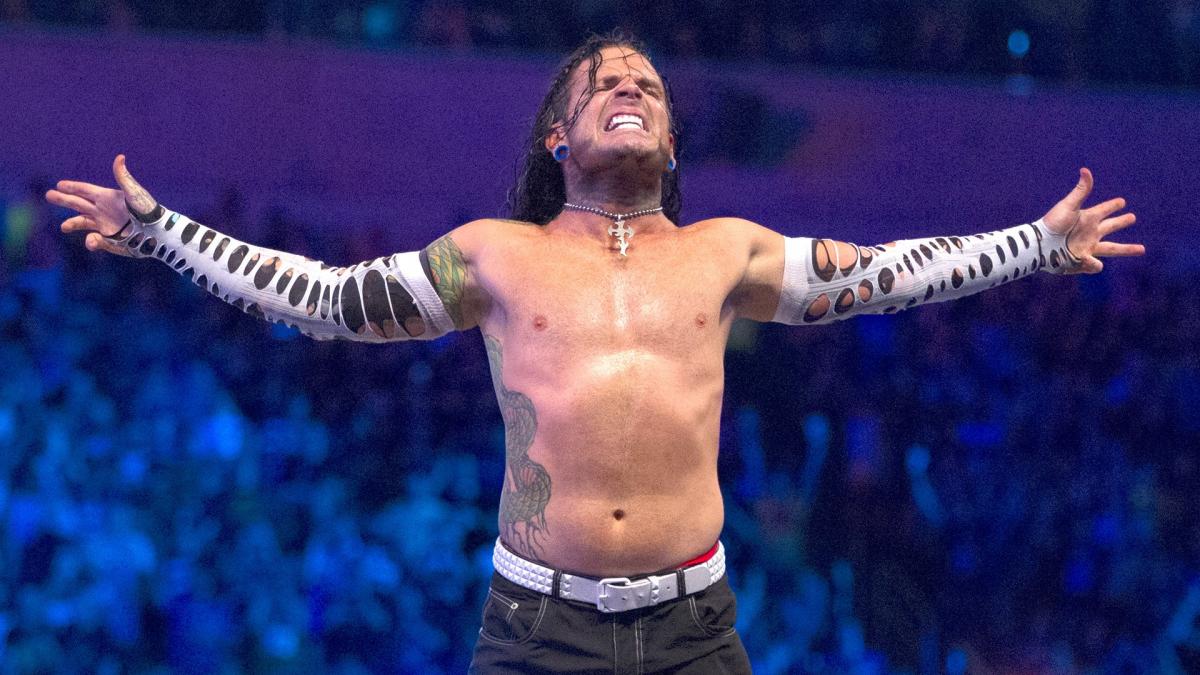 I'm sure by now you've heard the disturbing news that former WWE superstar and recent AEW signee Jeff Hardy, was arrested again for multiple charges including a DUI.  Hardy has had a hard and tragic road of recovery throughout the years in multiple wrestling promotions.
Not too long ago, Hardy walked out on WWE after they were rumored to have offered the former world champion to go to treatment for his substance abuse issues. Hardy refused and said that he was better but, as we saw the demons are still lurking and got the best of him again.
I have seen some nasty comments and even some distasteful memes about the AEW superstar and felt compelled to go against the grain. Instead of kicking a man when he's down, I'm going to put together a greatest hits for the "Charismatic Enigma."
Jeff Hardy & The TLC Match
Everyone can say that Shawn Michaels and Razor Ramon helped innovate the iconic ladder match and you are right, but Jeff Hardy and his death-defying stunts changed the concept of the match forever. The Hardy Boyz vs. The Dudley Boyz vs. Edge & Christian and their iconic TLC match should have their wing in the Hall of Fame. The risks all six superstars took for the adoration of the crowd could have ended all of their illustrious careers. In the words of Vince McMahon, It's such good shit!
Jeff Hardy Earns The Undertaker's Respect
On the July 1st, 2002 episode of Monday Night Raw, Hardy delivered the performance of a lifetime nearly winning the WWE Undisputed Championship from The Undertaker in an incredible ladder match. The young up-and-comer was faced with his greatest task yet, challenging for the most prestigious title in sports entertainment. Hardy showed that without a shadow of a doubt he deserved to be in the main event scene, but came within minutes of defeating Taker. At the time of the match, Hardy was still finding his footing as a singles competitor and earned the respect of the champion and legend.
Swanton Bomb From The Heavens
When I think of the daredevil Jeff Hardy, I can't help but think of this one crazy-as-hell stunt. At WWE One Night Stand 2008, Hardy faced off against the juggernaut Umaga in a falls count anywhere match. This match was so insane as both superstars fought into the parking lot. Hardy is one of the craziest and bravest superstars, hit a Swanton Bomb off a damn stage truck onto Umaga. It's one of the wildest things you'll ever see.
Hardy Wins The WWE Championship 
In 2008, Hardy finally made his way to the main event title picture alongside partner Triple H. HHH was Hardy's mentor in some sort of way which led to the daredevil achieving his lifelong dream of becoming WWE champion. At the 2008 Armageddon pay-per-view, Hardy would face HHH and longtime rival Edge in a triple-threat match for the title. In what was a great match between all three superstars, Hardy delivered a Swanton Bomb to Edge to win the illustrious championship.
Straight Edge Problems For Hardy
The following year, Hardy found himself in the way of young-up-and-comer CM Punk who is looking to make an example out of him. Punk had won the Money in the Bank briefcase for the second year in a row and took advantage of Hardy to win the world title. What started as mutual respect between both superstars changed drastically, when Punk started throwing jabs at Hardy for his drug and substance abuse real-life issues. Punk would form his infamous stable known as the Straight Edge Society. This is a very underrated feud and you should go back and watch it in its entirety. The promos are gold.
The Hardy Boyz Return To WWE
Both Matt and Jeff Hardy found success in multiple other wrestling promotions including Ring of Honor, and TNA during their time away from WWE. Both brothers were struggling with their vices and made poor life choices but straightened up their act over the years. In 2017, the Hardy Boyz would face longtime rivals The Young Bucks in ROH. The following night the adored tag team would make their incredible return to WWE at WrestleMania 33. Matt and Jeff would be named the final team in the Fatal 4-way ladder match for the Raw Tag Team Championships. The pop these two received was insane and very much deserved. They would go on to win the match and win the titles to capitalize on their momentum.
Jeffery Nero Hardy Makes AEW Debut
From 2017-to 2022 Jeff Hardy would find himself pigeonholed in the mid-card title picture. He would have feuds with a plethora of superstars including Samoa Joe, and Randy Orton. Orton and Hardy had a nasty Hell in a Cell match back in 2018. Earlier this year, Hardy was seen running around after the 24/7 Championship, which was disappointing to see. After being genuinely unhappy in WWE, Hardy would make his AEW debut on the March 9th episode of AEW Dynamite. Hardy would come to the aid of his brother and longtime partner.
This week news broke that Hardy had been arrested for multiple charges including a DUI. While it's easy to beat a man while he's down, how about we uplift and try to encourage him to get the help he needs.
As a longtime wrestling fan, I have the utmost respect for Hardy and wish him the best of luck in his battle with addiction.