Tiffany's Dynamite Takes: There's No Crying in Wrestling!
It is week 2 of AEW Dyanmite and though Baseball's post season could cause an issue, nothing can stop the Elites!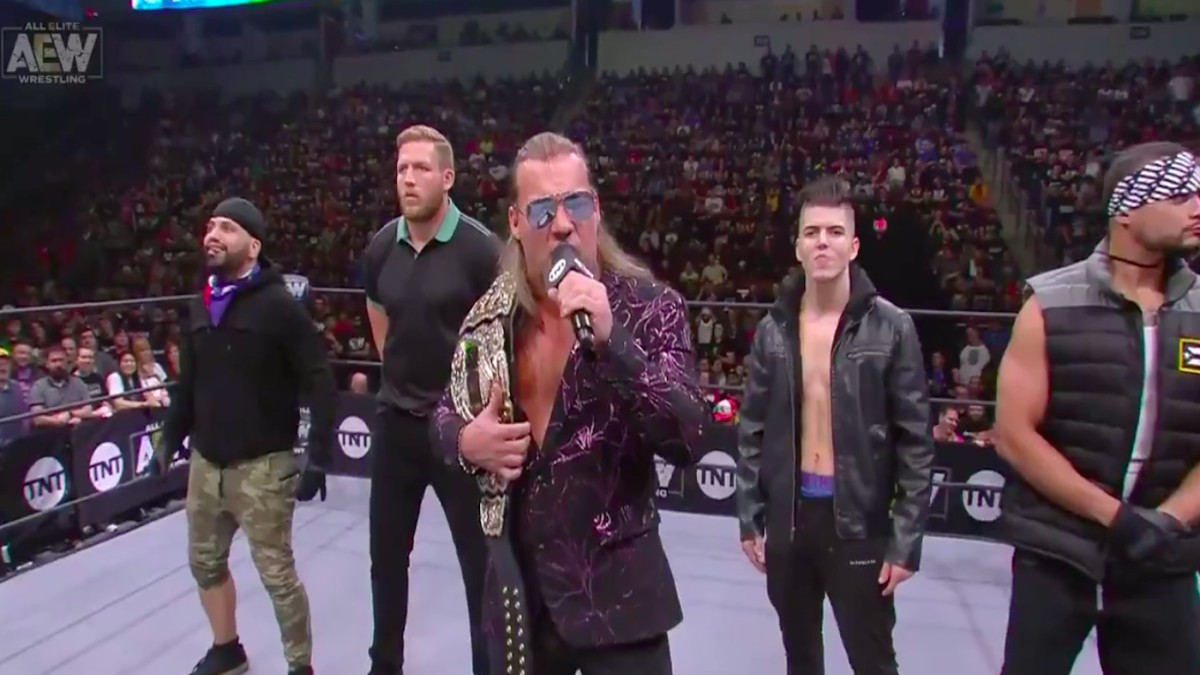 It is week 2 of AEW Dyanmite and though Baseball's post season could cause an issue, nothing can stop the Elites!
AEW Tag Team Championship Tournament Round 1 – Young Bucks vs Private Party
I like the Bucks' Titan (Giant, Olympian?) Tron. At least their shirt is better than the ones Nick was making Matt wear.
This match was a tag team clinic. I'm going to admit to still not being totally up on the Bucks' body of work, or Private Party's for that matter, they definitely showed how great tag team wrestling can be. I like that the Bucks weren't above playing dirty to get an advantage, though both teams are INCREDIBLY over. I'm not surprised the Bucks were eliminated, I am surprised that the Bucks didn't go completely apeshit on them about it because they looked upset enough. They also didn't turn on each other, which was as surprising. We'll see what happens down the road, but that was an upset.
Alpha Club
Okay, I'm not sure these guys are calling themselves Alpha Club, but we'll call them that for fun. Love the little dig at NXT as 'next'. Jericho is a mic master and that hasn't been hurt by his age. I like Jericho recruiting vets and up and comers for his team. LOVED the nod to Eddie Guerrero on his birthday. Interesting that they aren't hyping Jack Hager's WWE time, though the audience chanting his old slogan makes me ill. Inner Circle as a faction name is dumb, so Alpha Club it is.
I find it interesting that though Alpha Club are CLEARLY heels, they've got the crowd behind them against the Elites.
#1 Contender's Match – Jimmy Havoc vs Darby Allin
This is one of those moments where if you'd told me that the first AEW Dynamite #1 Contender's Match would be these two, I would've laughed. I have a feeling Jon Moxley's forced absence at All Out due to MRSA was the root of this, but I'm glad they're sticking to the 'Wins and Losses count' line.
This match was brutal and nasty fro the start. Neither of these guys is known for being cautious in the ring so it was pretty much balls out from the start. That coffin drop of Allin's is fucking scary, but it netted him a title shot in Philadelphia. The home of ECW and Combat Zone Wrestling is going to LOVE this! Congrats, Darby!
Riho and Britt Baker vs Emi Sakura and Bea Priestley
So, this was Riho's first match since winning the belt last week, though her first title defense is next week. The addition of Britt Baker and Bea Priestly confirms to me that they will at least be a major undercard feud for the Women's Division, if not the next big title feud.
I will admit that the match was a bit of a mess, but I would point out that most of these women are not used to performing for a large, or any, TV crowd, especially one accustomed to WWE's style of TV wrestling, so I'm going to cut them a lot of slack. However, the wrestling was pretty good. Baker getting the win and NOT Riho tells me that she is slated to be the star of the division. Sakura's reaction to losing was interesting, so was Priestly picking a fight after she didn't help save her partner. Aubrey Edwards continues to be the badass of the referees.
Best Friends Promo
I'm still not sure about the Best Friends, but I cannot stand Orange Cassidy.
Shawn Spears with Tully Blanchard vs Jon Moxley
After all the talking and potshot taking, it is time for Shawn Spears to face Jon Moxley. PAC being there was puzzling. Jon Moxley still got the biggest pop of the night, except for Jericho. However, I like his NJPW music. Moxley breaking out some new moves and stuff he picked up in Japan is always fun. Tully Blanchard running from Mox like he was legit scared is sublime.
Overall, this match was much better than I expected it to be, and I'm a SUPREME Mox fangirl, but Spears also got time to shine instead of just being Mox's chew toy. Mox got the win, which makes me VERY happy and got to show why he's that damn good. Omega showing up wasn't a surprise. Omega thinking a barbwire broom was scary is. I cannot wait for Full Gear! PAC was not necessary for that. Go pick your own fight. Love Mox having honor telling PAC to mind his own beeswax before leaving Omega looking like a chump.
Dustin Rhodes and Hangman Page vs Chris Jericho and Sammy Guevara with Jake Hagar
It's the Elites vs Alpha Club (I refuse to say Inner Circle because it's a dumb name).
To be honest, the most surprising part about this match was how well both teams worked together. Dustin Rhodes and Page worked seamlessly together, while Guevarra definitely showed why he was chosen for Jericho's faction. I'm not surprised Hager got involved, that's probably his job for right now, but Page taking it to him and driving him to the back was surprising. Also, love Dustin taking the pin and protecting the young talent.
Cody coming in with the lights trick was cool. I hate that suit on him, but the effect was cool. I really thought MJF was going to turn…but not tonight. He will though, we all know he will. He's a professional leech, he'll turn once it looks like Alpha Club is going to win. Looks like the Bucks and LAX will be the big tag team feud, titles or not. Allin reminding us that Jericho still has to face him next week was nice. Philly is going to be insane.
Young Bucks' Post-Match
I like that they didn't make excuses for what happened and want to improve by watching the tape back. Also, LOVED Nick saying he was heading home because he was missing his son's birthday, but Matt saying 'No' because of last week. Lovely storytelling.
That's it for Tiffany's Dyanmite Takes! Tune in Friday for SmackDown.
King's WrestleMania Rewind: Charlotte Flair vs. Asuka from WrestleMania 34
Chris king is back with one of the most underrated matches in WrestleMania history–Charlotte Flair vs. Asuka!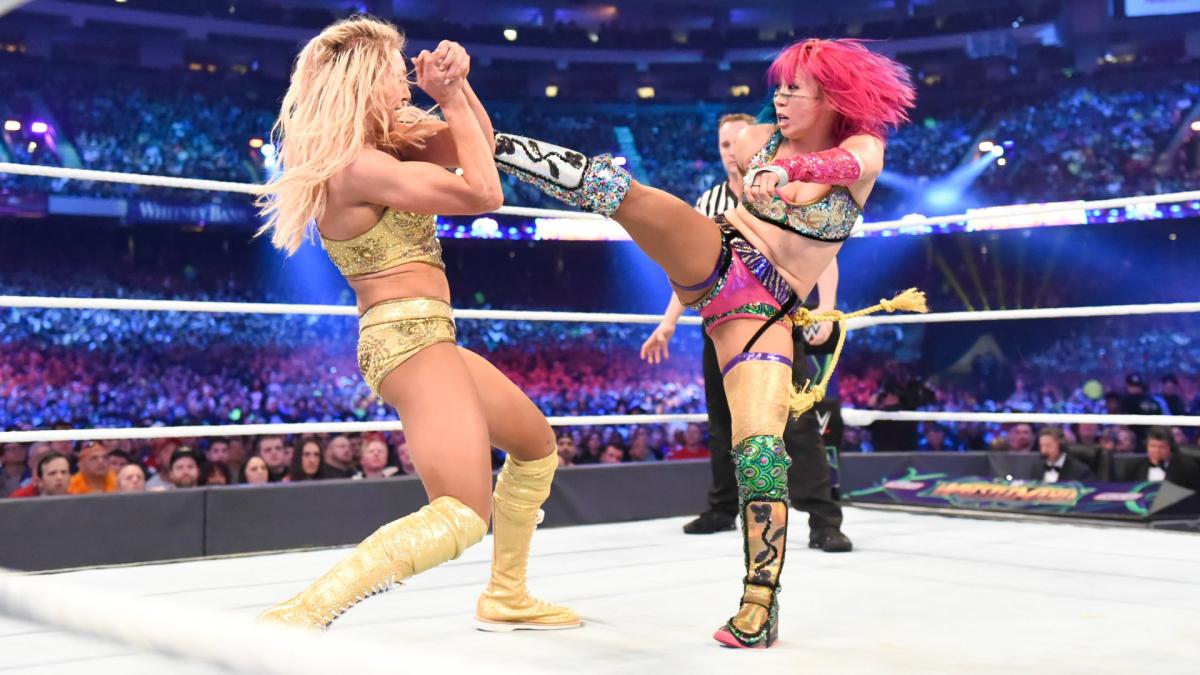 Chris king is back with one of the most underrated matches in WrestleMania history–Charlotte Flair vs. Asuka!
We look back at Charlotte Flair vs. Asuka at WWE WrestleMania 34. 'The Empress of Tomorrow' put her unprecedented and historic undefeated streak of 914 days on the line against 'The Queen's' SmackDown Women's Championship.
For years, this was considered a dream match while Asuka dominated the roster in NXT, while Flair won numerous championships on the main roster on both Raw and SmackDown. The Empress made her long-awaited debut on the September 11th episode of Raw and began to tear through the competition.
Asuka outlasted all twenty-nine other women in the historic first-ever Women's Royal Rumble match to challenge for the title of her choosing. At Fastlane, she made her choice.
The WWE Universe was so excited for this match myself included. Both superstars delivered a fantastic performance on the Grandest Stage of Them All executing counter after counter. Asuka showed off some nasty-looking kicks to her opponent, and Flair hit a thunderous Spanish Fly off the top rope. Flair was seconds away from defeat at the hands of The Empress but she locked in Figure Eight and Asuka was forced to tap out.
I can't even begin to explain how shocked I was at this outcome, as nearly everyone expected The Empress to continue her undefeated streak and walk away with the women's title. This controversial decision was the downfall of Asuka's momentum. She would ultimately win the SmackDown Women's Championship at the 2018 TLC pay-per-view in the triple-threat ladder match.
Fast forward to this year when Asuka has recently returned with her Japanese-inspired persona Kana. Kana is dangerous and ruthless and is heading into a championship with Bianca Belair at WrestleMania 39. The Empress has regained all her momentum and is highly favored to walk away with the Raw Women's Championship. Let's hope that Asuka and Belair can tear the house down and deliver an A+ grade match both women are fully capable of.
King: Dominik Mysterio Needs To Do This At WrestleMania
Chris King is here with what WWE should do with Dominik Mysterio at WrestleMania in his long-awaited match against his father Rey Mysterio Jr.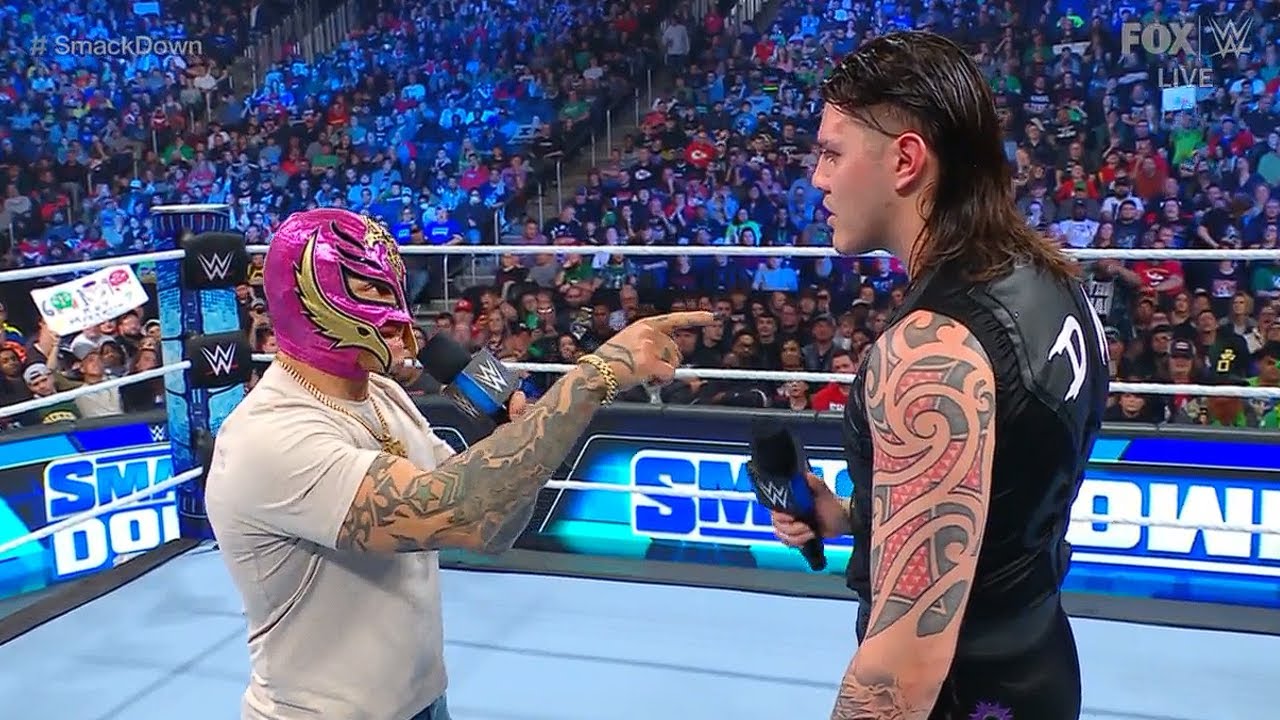 Chris King is here with what WWE should do with Dominik Mysterio at WrestleMania in his long-awaited match against his father Rey Mysterio Jr. 
On this week's episode of Friday Night SmackDown, Rey Mysterio finally snapped and beat some sense into his disrespectful punk-ass kid Dominik. The member of the Judgement Day came out to push his father again for a match on the Grandest Stage of Them All, this time with his mother and sister at ringside. The ungrateful punk told his mom to "Shut Up," as a father even I wanted to jump through the screen and whoop his ass.
Back in October of last year, Mysterio made the emotional decision to possibly quit the company but, instead, Triple H persuaded the Lucha libre superstar to move over to SmackDown to avoid his son. This came after Dominik shockingly turned on his father at Clash at the Castle. Mysterio did everything he could to refuse his despicable son's challenge for Mania but, a man can only be pushed so far. Mysterio will be inducted into the 2023 WWE Hall of Fame and I expect Dominik to embarrass his father during his speech to further this personal feud.
Yes, the WWE Universe hates Dominik and wants to see him get the ever-loving crap kicked out of him but, this feud is missing a special ingredient to capitalize on the biggest heat possible. Throughout this feud, Dominik has made mention of the legendary Eddie Guerrero on several occasions going back to the "iconic" 2005 feud.
I know WWE might not want to go this route but, Dominik MUST come out to Eddie Guerrero's theme at Mania. The disrespectful punk needs to come out in a lowrider to garner nuclear heat. It doesn't matter if The Judgement Day comes out and causes interference for Dominik to get the win, all that matters is that both superstars get the biggest payoff of this nearly year-long feud. Just imagine the Roman Reigns heat after he defeated The Undertaker and multiply that by ten. Dominik portrays the perfect heel and he truly is the missing ingredient that The Judgement Day needed to grow and evolve into a top faction.