Tiffany's SmackDown Takes: Hello, FOX!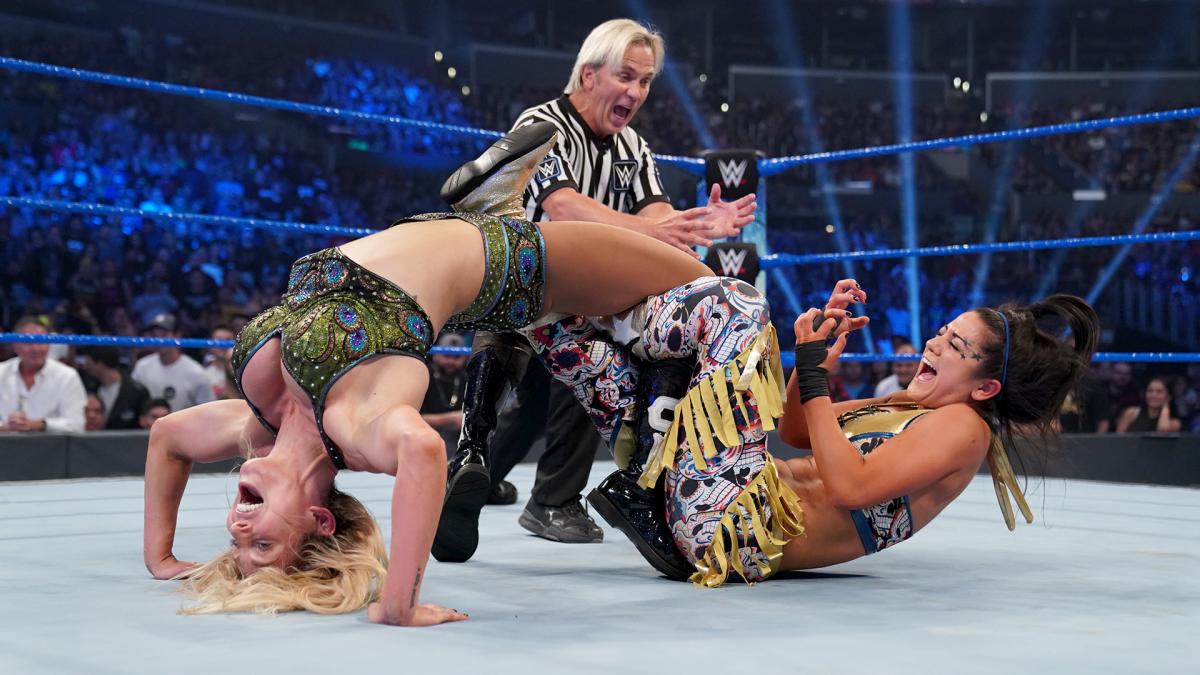 Friday Night SmackDown makes its OFFICIAL debut on FOX! Will the superstars of WWE be able to handle the pressure? Tiffany has Takes!
McMahons: I'm not surprised Vince and Stephanie kicked off the 20th anniversary of SmackDown. They kicked off the first episode.
Women's Division
Loved the Becky Lynch/Baron Corbin/Rock segment. Rock respected The Man and dissed the King. Becky showed just why WWE was smart to back her because she more than held her own with The Rock.
The tag match between the Four Horsewomen was fantastic, but too short! It was nice to see Charlotte and Becky teaming up again, but that match should've been longer. I also wish we'd gotten more build for Charlotte and Becky teaming up again, like they did for Seth Rollins and Dean Ambrose back in 2017. Like, don't just have them work seamlessly together, show something of a rebuilding process, even if they're never friends again.
Not happy about Carmella losing the 24/7 championship. Hopefully, she'll toast Marshmallow Man later.
Never mind. Carmella is a 2x 48/7 CHAMPION!
Roman Reigns vs Erick Rowan
This match was to build up for the big tag match on Sunday, but I'm not sure why the Lumberjacks were needed, they were more in the way than anything else.
Of course, Luke Harper HAD to show up, which was the signal to brawl and poor Ali became a lawn dart. We also got a flying Samoan. Ultimately, Reigns would get the win, with some help from Daniel Bryan, but things are not roses and daisies between these two, even on a handshake, which I don't trust.
Seth Rollins vs Nakamura
I would rather have had Ali get another shot at Shinsuke Nakamura, but I'm guessing Nakamura might be headed for RAW and this is a test match to see how he and Seth could work together.
The match was REALLY good. Rollins and Nakamura have a similar in-ring style, that actually meshed really well. If this was Nakamura's tryout for RAW's title picture, I think he passed. Unfortunately, the Fiend struck and cost Rollins the match, which was disappointing. I should also point out that they've never had the Fiend attack the likes of Hogan, Flair, or Rock. I think Seth WILL retain on Sunday, but how Wyatt loses will be the real test.
Kevin Owens vs Shane McMahon
So, after months and years of bickering and actual fights, it's come down to this – Kevin Owens vs Shane McMahon, ladder match. Owens loses, he's out of a job, I guess Shane will lose his job if Owens wins.
This is a match I REALLY wish had been on PPV instead of crammed onto broadcast TV because I think it could've gone a little longer and they could've done more. Though, nothing was going to top that spot through the ladder. Ouch.
All that said, it was a REALLY good match. Both Shane and KO have ladder match experience, and the seemingly real heat was magnificent. In the end, the somewhat rightteous man would triumph, as Owens hit a NAST powerbomb on Shane through the ladder and collect his briefcase. Even  better, Owens would get to say the immortal words, 'You're FIRED!' to Shane McMahon with a Stunner for good measure. Goodbye, Shane O Mac.
Final Thought
Was this show better than RAW, NXT, or Dynamite? It was better than RAW, but it wasn't better than NXT or Dynamite, in my opinion. This was a pretty lackluster show in terms of storybuilding and all the heavily hyped matches were really short. I know WWE wanted to go big with their big FOX debut, but I think they should've worked more on the matches and stories than the bells and whistles.
That's it for Tiffany's SmackDown Takes! Tune in Sunday for Hell in a Cell coverage.