Tiffany's SmackDown Takes: It's Drafty in Here
The Wild Card rule is no more, the Draft is back! Where will the WWE Superstars end up for the next six months or so? Let's check it out.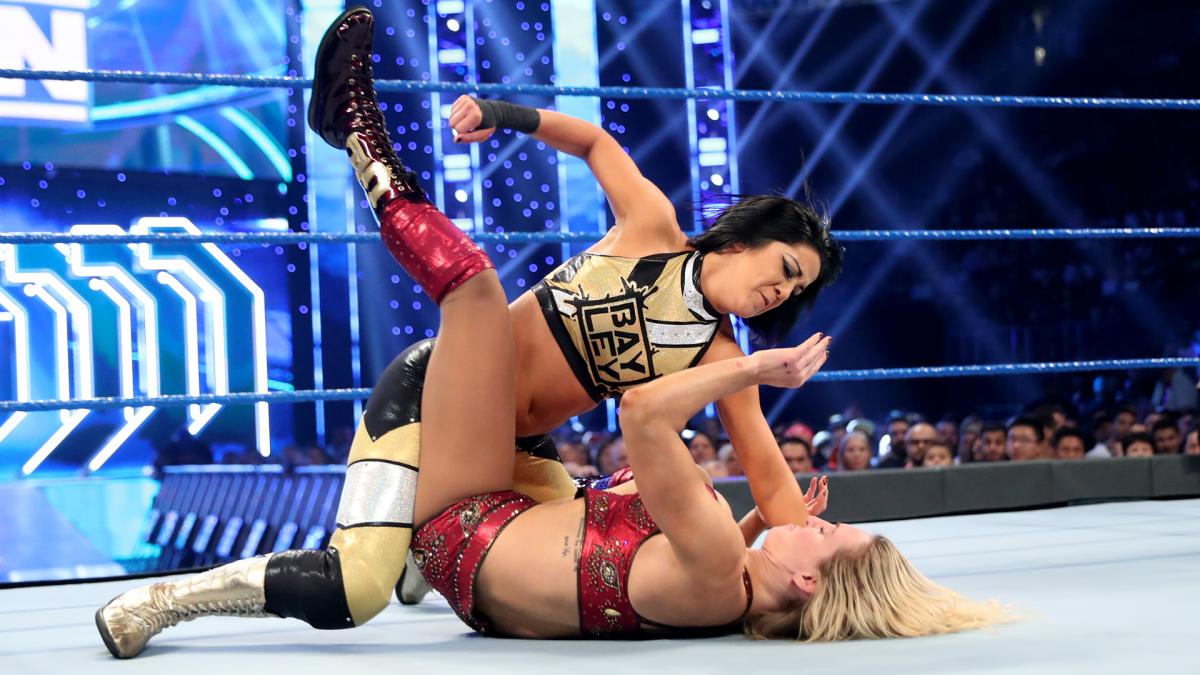 The Wild Card rule is no more, the Draft is back! Where will the WWE Superstars end up for the next six months or so? Let's check it out.
Seth Rollins vs Roman Reigns – Winner's Show Gets First Draft Pick
I'll be honest, this was the match that convinced me to watch SmackDown and not Ancient Aliens this week. Reigns and Rollins haven't had THAT many one on one matches, so the prospect of watching two thirds of the Shield going at it was intriguing.
I loved the fist bump at the start. The match was really good. Reigns and Rollins know each other so well, it really makes their matches fun to watch. Seth played the little brother trying to up his big brother to perfection, while Roman played the older brother who may have underestimated his little brother's desire to win. Unfortunately, though WWE has yet to really address HIAC directly, the Fiend attacked Rollins, but got Reigns DQ'd, I'm assuming, so RAW got the first pick.
Charlotte vs Bayley – SmackDown Women's Championship Match 
What the fuck happened to Bayley? She's cut off her hair, goodbye ponytail, no headband, and she just destroyed the tubes. Bayley has officially turned heel and she did it in grand style.
Okay, that match was SOO cool! Dark!Bayley has definitely absorbed all the lessons Sasha taught her. Bayley regaining the match marks the second time she's beaten Charlotte shortly after Charlotte regained her title. I was stunned by Bayley's comments after her win, but she has fully embraced the Dark Side and with her AND Sasha Banks on SmackDown, that Women's Division is in a lot of trouble. I'm going to bet that Charlotte will go back to RAW and feud with Becky for awhile since we didn't get enough of that last year.
Draft
RAW Picks: Becky Lynch, The OC, Drew McIntyre, Randy Orton, Ricochet, Bobby Lashley, Alexa Bliss, Kevin Owens, Natalya, Viking Raiders, Nikki Cross, Street Profits
SmackDown Picks: Roman Reigns, Bray Wyatt, Sasha Banks, Braun Strowman, Lacey Evans, The Revival, Lucha House Party, Heavy Machinery
NFL/Fox Guys: I get what WWE was going for with this. The NFL on FOX is a huge money maker for their new channel, but it was clear that none of these guys had to faintest idea what they were talking about and the people they cited were guys that had been super hot in the pre-cable days: Dusty Rhodes, Ric Flair, Hulk Hogan, Bruno Sammartino.
Also, the War Room stuff was just silly. The acting literally looked like someone was telling them to act happy or act sad. Again, I get what they were going for, but let's not pretend that most of the 'Real' sports guys on Fox or USA have any clue what the fuck they're talking about.
Kevin Owens vs Shane McMahon
We encountered a bit of a mystery this week in this storyline. Even though Kevin Owens beat Shane McMahon last week to retain his job, someone moved Kevin Owens' profile to WWE's Alumni Page, indicating that he's no longer in WWE. However, it was revealed that Owens was being drafted to RAW, clearing the way for Shane to return to SmackDown.
That's it for Tiffany's SmackDown Takes! Tune in Monday for RAW!