What Does Braun Strowman Gain From Facing Tyson Fury at WWE 'Crown Jewel?'
With Braun Strowman headed for a showdown with Tyson Fury at WWE Crown Jewel, Tom Clark asks a big question regarding the match: what's in it for The Monster Among Men?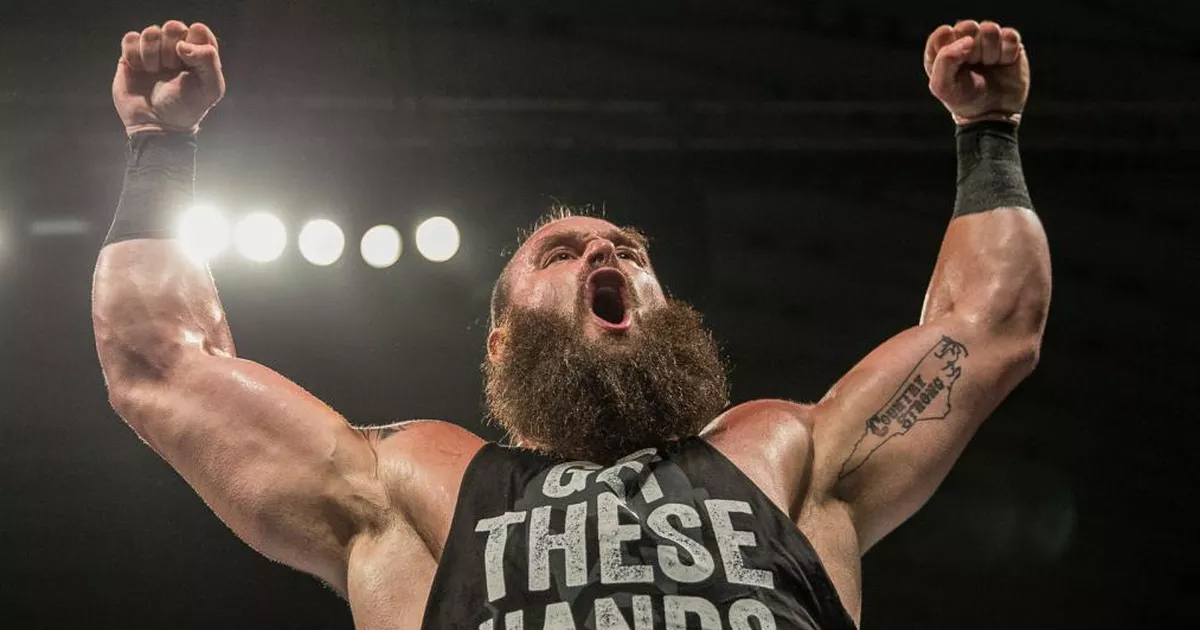 With Braun Strowman headed for a showdown with Tyson Fury at WWE Crown Jewel, Tom Clark asks a big question regarding the match: what's in it for The Monster Among Men?
Braun Strowman will face heavyweight boxing champion Tyson Fury at WWE Crown Jewel on October 31, in Riyadh, Saudi Arabia. The announcement was made four days after a brawl between the two men broke out on Monday Night Raw.
While WWE fans likely did not see all of this coming, it's a match that actually makes sense on many levels. Fury wants to try his hand at professional wrestling and for a star of his stature, WWE was the ideal choice. Strowman is one of the biggest and most intimidating guys in WWE right now, so it's only logical that he be the man to face off with Fury. But what will this match do for The Monster Among Men?
That question has been asked on more than one occasion in regard to Strowman. From the moment he was added to the main roster, Braun appeared to be a talent of untapped potential. He was a mountain of a man, possessing freakish strength and uncanny athleticism.
Simply put, a man of Braun Strowman's size shouldn't have been able to bounce around the ring the way he did. While he was uncoordinated in the beginning, he came into his own over time and now he's extremely comfortable in his own skin.
Strowman proved that he not only belongs in a WWE ring, he also proved that he could get the job done. Braun got over with the fans, who admittedly took time to warm up to him. But once they did, they held on tight as he tore through Monday Night Raw.
Braun was custom made to be a WWE Superstar and that's been apparent from the beginning. He has become an important cog in the WWE machine and the company uses him on a regular basis. However, they're not using him the way many fans believed they would.
Therein lays the issue with Braun Strowman, as there are two sides to The Monster Among Men. One side is the punishing powerhouse, the beastly brute who rampages straight though every heel who stands in his way. This is the monster that the fans know and love.
But the other side is the man that WWE knows. That Braun Strowman is a solid performer who is still paying his dues and learning his craft along the way. He was taught by Kane and The Big Show, both of whom helped him become a successful big man in Vince McMahon's company. While both sides seem to be very similar, the fact is that WWE definitely sees a difference. 
The unstoppable juggernaut is a fun guy to watch. He wreaks havoc every time he's on TV and he has fun doing it. Mayhem follows him wherever he goes and in a record-breaking wildly popular action movie, he's a featured star. But he's not the lead star.
Braun is a spoiler and that's exactly how WWE has booked him. For all of his talent, intensity and feats of strength, Strowman is still not the top attraction. Braun is the guy that other monsters like Brock Lesnar face and ultimately beat in the end.
Strowman is either the roadblock on the way to the world title, or he's the man coming up short in his bid to win the world title. In both cases, Braun is the bridesmaid and not the bride. No matter how well he does or how many times he delivers, he's still not trusted with the gold.
Critics would say that Braun simply doesn't deserve the top title. He may have improved his game over the past few years, but he's just not the right man to reign over WWE. He's perhaps right where he should be and this could very well be as high as he goes in the company. 
But WWE continues to push Strowman at every turn. Just when it seems that he has fallen out of favor, he's right back in title contention once again. It seems that WWE loves him for what he is, but they'e not sold on who he is. But will that change after Crown Jewel?
Yes, Strowman is a big guy and throwing hands with Tyson Fury in the ring should make for an entertaining match. But to book Braun in this match on a worldwide stage in Tyson's first professional wrestling match ever? That move alone suggests that there is a tremendous amount of faith in Strowman after all.
The problem is that WWE has a bad habit of teasing fans with Braun and that could be exactly what's happening here. Maybe Fury will come in, beat Braun up, get the win, collect a paycheck and be on his way. Strowman would be left staring up at the lights and right back where he was before on Raw.
Or maybe Strowman comes into Crown Jewel, beats up Fury, either wins or goes to a no decision and walks out bigger than before. Perhaps this is one more test for Strowman to prove he has what it takes to perform and deliver on the main event level. If that's the case, then Strowman's WWE future could be entirely different once Crown Jewel comes to an end.
Otherwise, Braun resumes his role as the underachieving big man. He's come a long way in a short amount of time and there was a time when fans would surely have supported him as champion. Whether or not WWE has wasted too many opportunities with him is unknown. Whether or not Braun could actually handle the responsibility in the first place, remains to be seen. It could be that WWE fans will never know.