Will Cody Rhodes Suffer a Betrayal vs. Chris Jericho at AEW 'Full Gear?'
Chris Jericho will defend the AEW World Championship against Cody Rhodes at Full Gear on Saturday, November 9. The hype for the match has ramped up since Dynamite's premiere on the TNT Network. Tom Clark continues the story!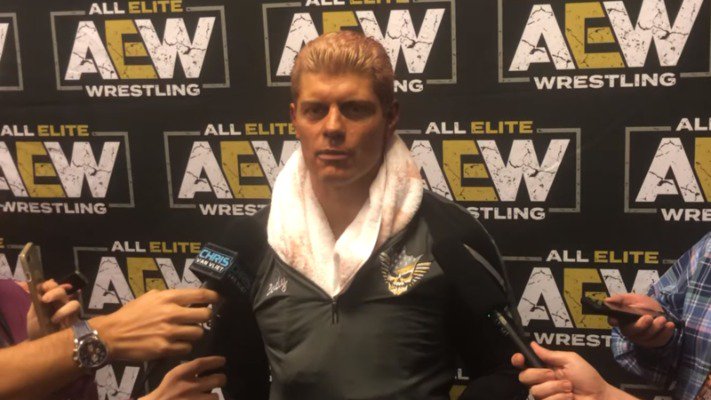 Chris Jericho will defend the AEW World Championship against Cody Rhodes at Full Gear on Saturday, November 9. The hype for the match has ramped up since Dynamite's premiere on the TNT Network.
That hype has seen both men come to blows in the middle of the ring, as tensions are indeed running high. Jericho has surrounded himself with a ring of protection with The Inner Circle of Jake Hager, Sammy Guevara, Santana and Ortiz, who been nearly impossible for Rhodes and his allies to overcome. But is one of those allies going to betray Cody on November 9?
It's the same story that pro wrestling fans have seen for years, but this one has a bit of a twist. Cody is not the champion heading into Full Gear, so a betrayal would not cause him to be dethroned. In that scenario, the traitor would then join, or at least partner with, Jericho and his cohorts.
Instead, the move would immediately push The American Nightmare to the back of the line in terms of title contention. He may be a top star in AEW but in storyline terms, he's putting himself right into the mix with every other talent on the roster. That was apparent when he claimed that if Sammy Guevara beat him on Dynamite, then Cody would not be challenging Jericho at Full Gear.
The war between The Inner Circle and Rhodes' army is only just beginning, but it's clear that if Cody is going to defeat Chris, then he will have to defeat everyone else in the process. The only way for him tot do that is to get a major assist from his friends, one of whom could quite possibly leave him for dead.
The first man that immediately comes to the forefront in any talk of betrayal is Maxwell Jacob Friedman. MJF has been a friend to Cody over the past year, but the friendship was born out of necessity on Friedman's part. MJF wants to get ahead in AEW and fo him, the best way to do that is by gaining the boss's trust.
That's exactly what MJF has done, as Cody fully embraced him into the Nightmare Family. Rhodes's character has admitted that MJF is not the most trustworthy person in the company, but that hasn't prevented the two from forming a bond. But while MJF is on his best behavior when Rhodes is watching, fans are seeing something very different when Cody's back is turned.
MJF doesn't like anyone and only cares about himself, which he shows every time he's around anyone that Cody calls a friend. To make matters worse, MJF makes no attempt to hide his disdain for the world at large. In fact, he's overtly obvious about it to the point that it's become comical.
But that's not to suggest that MJF is a joke. He's extremely entertaining, he stays true to who he is and he's always in character. MJF is arguably the best heel in the industry today. But he's not exactly the best heel in AEW—at least not anymore.
The fact is that the AEW faithful have turned MJF babyface. They were already cheering him because of how good he is on the mic. They only booed him because they were playing along with him and having a blast the entire time. But when MJF saved Cody from The Inner Circle on the October 9 edition of Dynamite, he fully accepted the new protagonist role that has been thrust upon him. MJF is now one of the most popular babyfaces in AEW, whether he likes it or not.
Of course this will be a factor moving forward for Friedman, especially at Full Gear. The crowd has fully accepted him as a hero, which typically means a swerve is on the horizon. At the very moment when Cody Rhodes needs him, MJF will not be there and The American Nightmare will ultimately lose the match.
But then there's the matter of the sheer contempt MJF has for the audience. He hates everyone, that much is certain. However he has indeed been so obvious about it that maybe it's too transparent to be believed. It's so obvious that if MJF does betray Cody at Full Gear, then it will not be that much of a surprise. In fact, it will likely not be surprising at all. So if not MJF, then who?
What about Hangman Page? While he's not exactly been Rhodes' sidekick like MJF, Page is one of The Elite and that means he's a friend in Cody's own inner circle. A betrayal from him at the zero hour of the title match would be huge moment for the Hangman, who could perhaps use a shot of adrenaline after failing to defeat Jericho at All Out. It doesn't meant that Page would need to join Jericho in the end, but it would surely be a great twist on the situation.
The same cold be said of a betrayal from The Young Bucks. Matt and Nick Jackson are perhaps closer to Cody than anybody, so an attack from them would cut deeper than it would coming from anyone else. But if that "anyone else" is Dustin Rhodes, then the entire situation changes.
The Rhodes brothers have already battled and reconciled, which means that the likelihood of another war between them is probably miniscule. But it's definitely a route that AEW could take, if the two men wanted to clash once again. Then there's Kenny Omega, who could be the man to throw Cody to the wolves at Full Gear. Omega's AEW career has not been the smashing success that many predicted it would be, so maybe he will take his frustrations out on Cody.
But if there is a Judas in Cody's midst, it's most likely MJF. A betrayal at Full Gear would mean that MJF is ready to prove his worth as a main event caliber star in the company and he wouldn't need The Inner Circle to get him there. He and Rhodes could very well have the feud of the year as 2019 comes to a close.
Cody's character has an uphill battle at Full Gear. Chris Jericho has four guys watching his back and all four are focused on helping him retain his AEW World Championship. Cody has backup as well however, so the feud between both sides may very well continue well past November 9. Whether or not Cody can trust everyone in his backup however, remains to be seen.