Andrew's AEW Full Gear Ratings & Analysis: 11/9/2019
AEW's first PPV during their television era! Does Cody make good on his stipulation and come out new AEW Champion?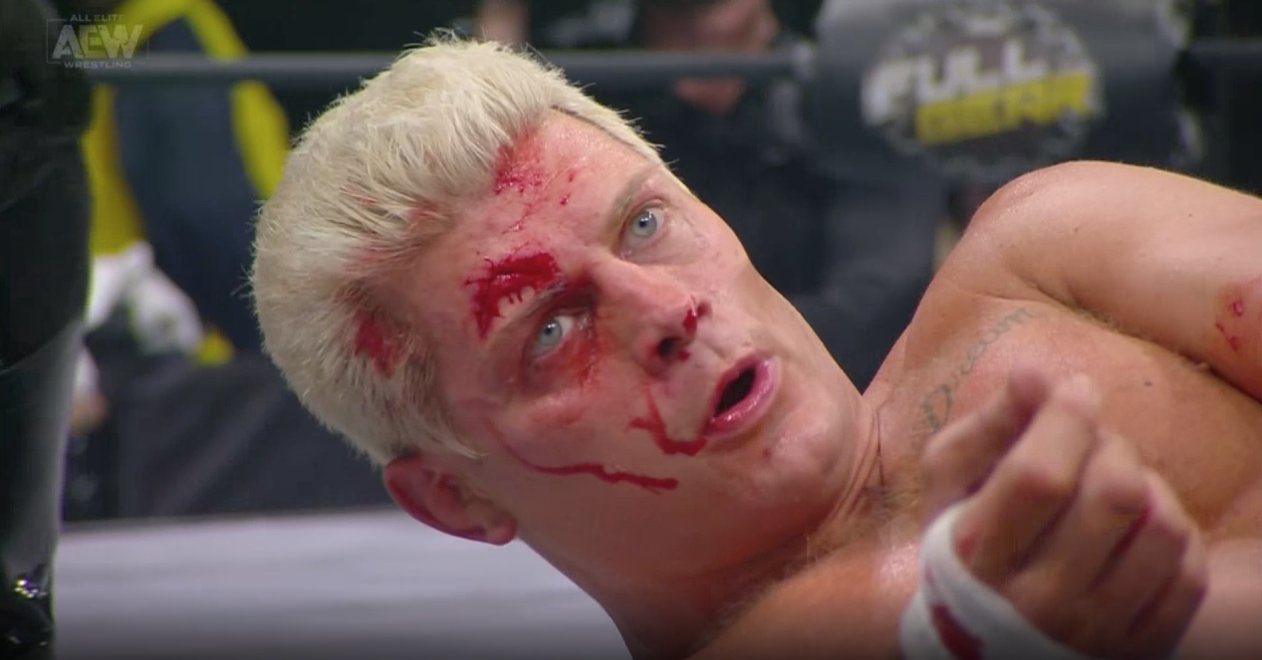 AEW's first PPV during their television era! Does Cody make good on his stipulation and come out new AEW Champion?
There's honestly only two matches that have my interest on this show.
First being Cody and Jericho, because it's been built the best and the second match is Riho versus Emi Sakura. The latter mainly because I want to see Riho have a good singles match. If her trainer can't get a good match, then we can change the threat level from orange to red pinata.
Let's get to the show!
Ratings:
Buy-In: Bea Priestley vs Britt Baker: Baker wins via Lock Jaw @11:35 – * 1/2
The Young Bucks vs Santana & Ortiz: Santana & Ortiz via Street Sweeper @21:00 – *** 3/4
PAC vs Hangman Page: Page wins via Deadeye @18:30 – *** 1/2
Shawn Spears vs Joey Janela: Spears wins via Death Valley Driver @11:45 – *** 
AEW Tag Team Championship Triple Threat: Private Party vs Lucha Bros vs SCU (c): SCU retains via SCU L8R @13:00 – ***
AEW Women's Championship: Emi Sakura vs Riho (c): Riho retains via Satellite Double Leg Cradle @13:20 – *** 1/4
AEW World Championship: Chris Jericho (c) vs Cody Rhodes: Jericho retains via MJF throwing in the towel @29:35 – ****
Lights Out Match: Jon Moxley vs Kenny Omega: Moxley wins via Paradigm Shift @38:45 – *** 3/4
Analysis:
-31 minutes of a video package start off the whole Buy-In on YouTube. Most of it was available on the channel throughout the week, so that feels like a very cheap way to start off your kickoff show. And another 4 minutes of backstory for Bea Priestley and Britt Baker.
Buy-In: Bea Priestley vs Britt Baker – Sloppy opening exchange, and these two never had any chemistry. Every move and transition was slow, overly telegraphed, and just looked bad. Aside from a few high impact/high intensity moments, this match was basic and sloppy. This Women's Division needs a lot of help.
-Awesome Kong and Brandi come down afterwards to lay out Bea Priestley. Kong pulls out a Karambit Knife and they use it to take a lock of Bea's hair…like a trophy. Okay this is odd, but admittedly, intriguing. 
The Young Bucks vs Santana & Ortiz – A little bit of posturing, but eventually business picks up and we get a pretty solid match. Nick sells the injury this match, selling his left knee/ankle, which makes it hard for him to pull off certain tandem moves. Ortiz gets across his persona of being the crazy one who looks like he has a house to paint after the match (he's wearing overalls, come on now). Pretty good back and forth, the referee being out of position and waving off certain tags is either meta for everyone complaining about the bad referee work during tag matches, or maybe they read the rule book recently. Either way, not a bad match, a few missteps and an awkward exchange where Nick has a whole 20 second attack and combination with the bad leg, and doesn't sell it til after he's cut off. But nit picks aside, pretty solid match for their first time together in AEW.
-Afterwards Sammy Guevara comes down and the Inner Circle members start working over the Bucks more. But the Rock 'n' Roll Express put a stop to that. Matt Jackson and Robert Gibson slingshot in Ricky Morton, so he hits a Canadian Destroyer on Santana. Big pop, lots of "You still got it", cool moment. 
PAC vs Hangman Page – This match starts hot, as it should, since both men don't have much love for one another. PAC flung Page into the barricade and you saw the red bruise across his back for the rest of the match. PAC also hit a Brainbuster into a chair, Page just got the tar kicked out of him. Page did have a great spot where he swept the legs out from under PAC on the top rope, and it just looked serious. We saw a lot of back and forth, and both men actually acted like it was a fight. Really good stuff here. Plus Page picking up the win after blocking PAC's attempt at a low blow, was a little surprising.
Shawn Spears vs Joey Janela – We've come to the first match in the history of wrestling where I'm rooting for Shawn Spears. Janela is someone I don't personally care for, but this was a solid match. Aside from the odd cuts to the cameras on the corners (stupid), we got some nice action. Spears tied up Janela's hair in the turnbuckle at some point, but Tully Blanchard proved to be invaluable. He distracted the referee at the right points, and even assisted Spears with a Piledriver on the outside, ala Brain Busters. Good match, surprisingly decent work from Janela.
AEW Tag Team Championship Triple Threat: Private Party vs Lucha Bros vs SCU (c) – Holy messy cheeseburgers Batman. This was a slopfest early on. Partially missed spots, mistimed spots and generally bad psychology. It started to piece itself back together once Private Party got tagged in and we got more of the Lucha Bros heeling it up and trying to cut the face teams down. As is expected, there were a few dives and spotty moments. Thankfully, the match overcame the shoddy opening to become an alright match. But this was really disappointing for who was involved.
-Pentagon and Fenix were enraged with the loss so they tried to take out Kazarian the same way they took out Daniels. Lights go out, a Pentagon clone is in the ring. STO, Angel's Wings and we see it's Christopher Daniels! SCU stand tall. 
AEW Women's Championship: Emi Sakura vs Riho (c) – Leave it to the senpai and kohai to put on the best singles match in the AEW Women's Division to date. Emi was very emotional in the beginning of the match, but it ended up being a tough match. Stiff strikes, decent chemistry and fun selling that comes with knowing the style. Sakura had a fun variation of the Romero Special where she rolled Riho around in it, without breaking the submission. There were a few slight stops and starts or extra beats between moves, but all things considered it was a fun match and the familiarity was evident.
AEW World Championship: Chris Jericho (c) vs Cody Rhodes – Le Champion comes out with Jake Hager, and Cody comes out with MJF. We see Jericho interact with the judges and embrace his AEW gimmick. Cody fights from underneath most of the match, gets in a few good shots, but then we get the scary part where Cody misses a Dive onto the ramp, and doesn't brace himself correctly, so he cuts himself open above the eye. The color and hard way cut adds more realism and intrigue, also, thankfully, the match didn't end there. Cody fought hard, but Jericho had a counter for most of what Cody threw at him. Walls of Jericho, Cody fights out, so Jericho slaps on a very deep Liontamer, and MJF throws in the towel. Much like most of Cody's matches this year, it put on a pretty good match even if the workrate wasn't what many like from AEW.
-After the match Jericho walks off cocky to go celebrate and MJF is in the ring pleading with Cody. Cody seems torn, but eventually forgives him, but MJF does the old low blow. So the obvious moment of MJF showing his true colors happens here, and it's just soo contrived. They could've made this clever, but instead it's just typical crap. 
Lights Out Match: Jon Moxley vs Kenny Omega – We got what we expected, but idiotically, in a company where wins and losses matter…you have a high profile match that doesn't matter. We got broken glass, tables filled with mouse traps, a barbwire trampoline, V Trigger through a spotlight and it ends with Moxley hitting a Paradigm Shift on the exposed boards of the ring. We also saw that Kenny and Mox are fans of Kishin Liger, since they went for the Spike spot, but into a turnbuckle pad instead of a table. The worst spot was the barbwire trampoline or whatever that was, because too damn many people had to help them out of it. Match went long, with a lot of time between spots and searching for weapons. So the match had some brutality and got across the grudge match vibe, but I'm taking points off since it doesn't count towards win/loss record. Moxley going over is the right call, just Unsanctioned is stupid.
Overall Score: 7.25/10
The in-ring work was solid in every match except the Buy In match. However, the story telling is still iffy at best, the MJF aspect is too damn obvious for a company that wants to "be different" and I'm going to remain annoyed at putting two of your biggest draws in effectively, an exhibition match because it was worthless.
Also I suppose I'm a little concerned with how the singles rankings are going. AEW released their own Top 5, PAC was 2 and Page was 3. With Page's win and Cody's loss, does that mean Page gets another shot at Jericho? Hopefully not, since I'd like to see him build up a little more before getting thrown back at the title.
All things considered, I wasn't excited for this show since Dynamite has bored me to death last few weeks…but this wasn't bad at all. Solid work from beginning to end. Some matches fell a little short, but nothing on the main card was unwatchable.