Andrew's Impact Wrestling Ratings & Analysis: 11/19/2019
This IMPACT! has the 6 person gauntlet match! Who will become number 1 contender?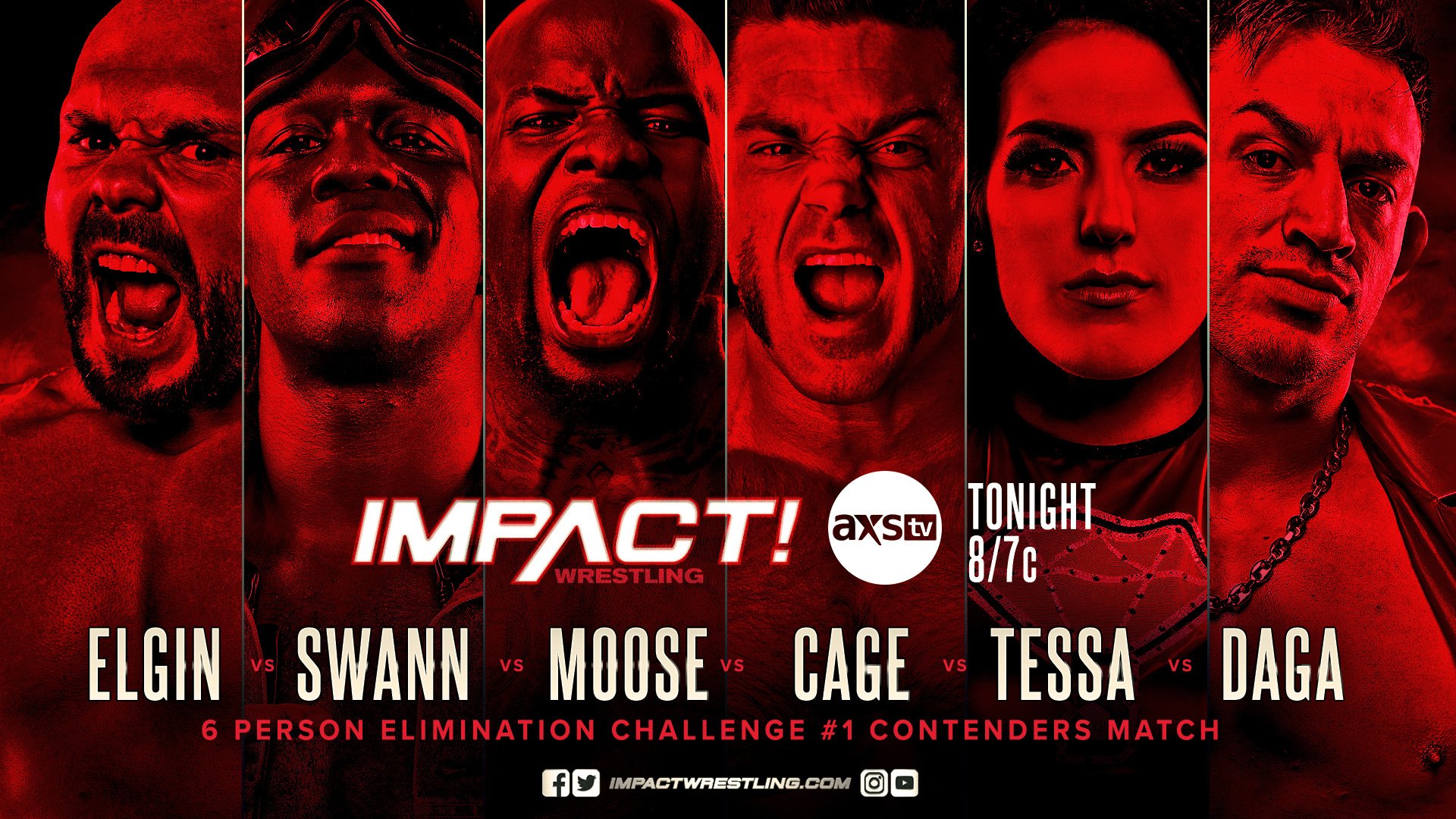 This IMPACT! has the 6 person gauntlet match! Who will become number 1 contender?
Now even though there are other things going on this episode, most people's attention is one place and one place only.
#1 Contender Gauntlet Match
How will Tessa fair against five proven commodities? Who pulls number 1? Who is the Ironman or Ironwoman?
Well before we find that out, let's get an update on RVD's status tonight!
.@TherealRVD was scheduled to return to IMPACT tonight but we received this message from him. #IMPACTonAXSTV pic.twitter.com/ntL0OJNmQM

— IMPACT (@IMPACTWRESTLING) November 20, 2019
Ratings:
The Rascalz (Dez & Wentz) vs Reno Scum vs Desi Hit Squad vs The Deaners: Rascalz win via Hot Fire Flame – ***
John E. Bravo & Taya Valkyrie vs Jordynne Grace: Grace wins via Vader Bomb – * 1/2
Johnny Swinger vs Buck Gunderson: Swinger wins via Swinger Neckbreaker – N/A
#1 Contender Elimination Match: Moose vs Micheal Elgin vs Rich Swann vs Daga vs Brian Cage vs Tessa Blanchard: Tessa wins via Code Red – **** 1/2
Analysis:
The Rascalz (Dez & Wentz) vs Reno Scum vs Desi Hit Squad vs The Deaners – We have a four team match for what is most likely positioning in the tag team division, but we know what to expect here. This match was paced out well, Reno Scum got early offense on the Rascalz, most notable Pity City, then the Deaners got some time to shine, even the Desi Hit Squad didn't look awful. But we have car crash dives on the outside, and eventually the Rascalz take advantage of teams slowly getting back into the ring. Double Superkick followed by Hot Fire Flame means things are looking up for the Rascalz.
– Fight afterwards with Reno Scum attacking the Rascalz, Trey tries for the save, but then Ace Austin lays out Trey. Trey's mom is still in the crowd and will continue to be a point of interest for Ace.
John E. Bravo & Taya Valkyrie vs Jordynne Grace – So this match wasn't intended to be serious, especially with Bravo involved. Bravo got beat on, Taya wouldn't tag in and Jordynne made an example of him. So it was entertaining from a comedic aspect cause Bravo is such a dweeb, but it wasn't really a match.
-Desi Hit Squad get berated by Gama and take their frustrations out on Fallah Bahh who's just sitting backstage eating his salad.
A power struggle has emerged between @WeAreRosemary and Father James Mitchell over @realsuyung. #IMPACTonAXSTV pic.twitter.com/xBojR66kZr

— IMPACT (@IMPACTWRESTLING) November 20, 2019
ImpactPlus Flashback Moment: Cody vs Eddie Edwards, TNA World Championship, IMPACT! 10/20/2016
.@TheTreyMiguel's mom has entered the treehouse! #IMPACTonAXSTV @DezmondXavier @zachary_wentz pic.twitter.com/tutQPyZ2aq

— IMPACT (@IMPACTWRESTLING) November 20, 2019
Johnny Swinger vs Buck Gunderson – It's a squash match…no one cares. Swinger is amusing since he's the throwback wrestler even before their Throwback Show.
-Ken Shamrock comes out to give Swinger the receipt for shitting in his favorite bag last week. 
#1 Contender Elimination Match: Moose vs Micheal Elgin vs Rich Swann vs Daga vs Brian Cage vs Tessa Blanchard – Now this was a long match since it was gauntlet style, but damn was this good. Daga and Moose started things off, and Daga more than held his own against an established talent. Moose caught him with a timely Go to Hell and then the Spear gave him the first win. Rich Swann was the next to come out, and this was a great back and forth match. Swann showed off his agility and manged to win with a Crucifix Rollup that he even added a Jacknife bridge for complete pinfall. Michael Elgin comes out next and this goes a decent amount of time. Swann got busted open, and Elgin hit a plethora of power moves. The finish became a little obvious since the referee kept getting in Elgin's way, so he got frustrated and started throwing the referee around. So Elgin gets disqualified, but Elgin hits the Elgin Bomb for the visible 3 count and to make a point. Cage comes out taking initial pity on Swann's condition, but Swann fires back with some strikes and we get a much more competitive match than Cage expected. Cage of course wins with Weapon X, but Swann did get some good time in there and hit a few Lethal Injections and 450 Splashes, so Cage was a little worn down. Tessa coming out last gave Brian a similar reaction where he didn't really take it super seriously, but Tessa reminded him about how good their Wrestle Circus match was last year. The final leg went through 2 commercial breaks, but was still great stuff. The fact the Cage kicked out of the Buzzsaw DDT and Magnum, meant Tessa needed to pull off something new, and Cage looked to finish things with Weapon X again, but Tessa flipped it into a Code Red, and TESSA IS NUMBER 1 CONTENDER!
Overall: 7.75/10
So much like when Raw and SmackDown had gauntlet matches, it felt very much like a 1 match show. There was a little more to enjoy, like the Suzie story, RVD being an ass, Johnny Swinger getting some comeuppance and Taya proving her diva champion stigma well. But if this gauntlet fell flat, the show would've been a tough sell.
Everything about the gauntlet made sense, Moose got a decent win and lost to a rollup, which isn't really clean. Elgin got himself disqualified so he doesn't look weak by taking a direct loss. Cage had some damage on him before facing Tessa, and she still barely pulled off the victory. So Swann and Tessa come out of this looking fantastic, and no one's stock drops at all.
This was just a great cap to a decent show. Plus with next week's throwback episode, this was an awesome way to end canon with great stuff.
Andrew's IMPACT Results & Match Ratings: 2.2.2023
Impact has a new number one contender, a few new signings and setting up for No Surrender. Lets see what happens tonight!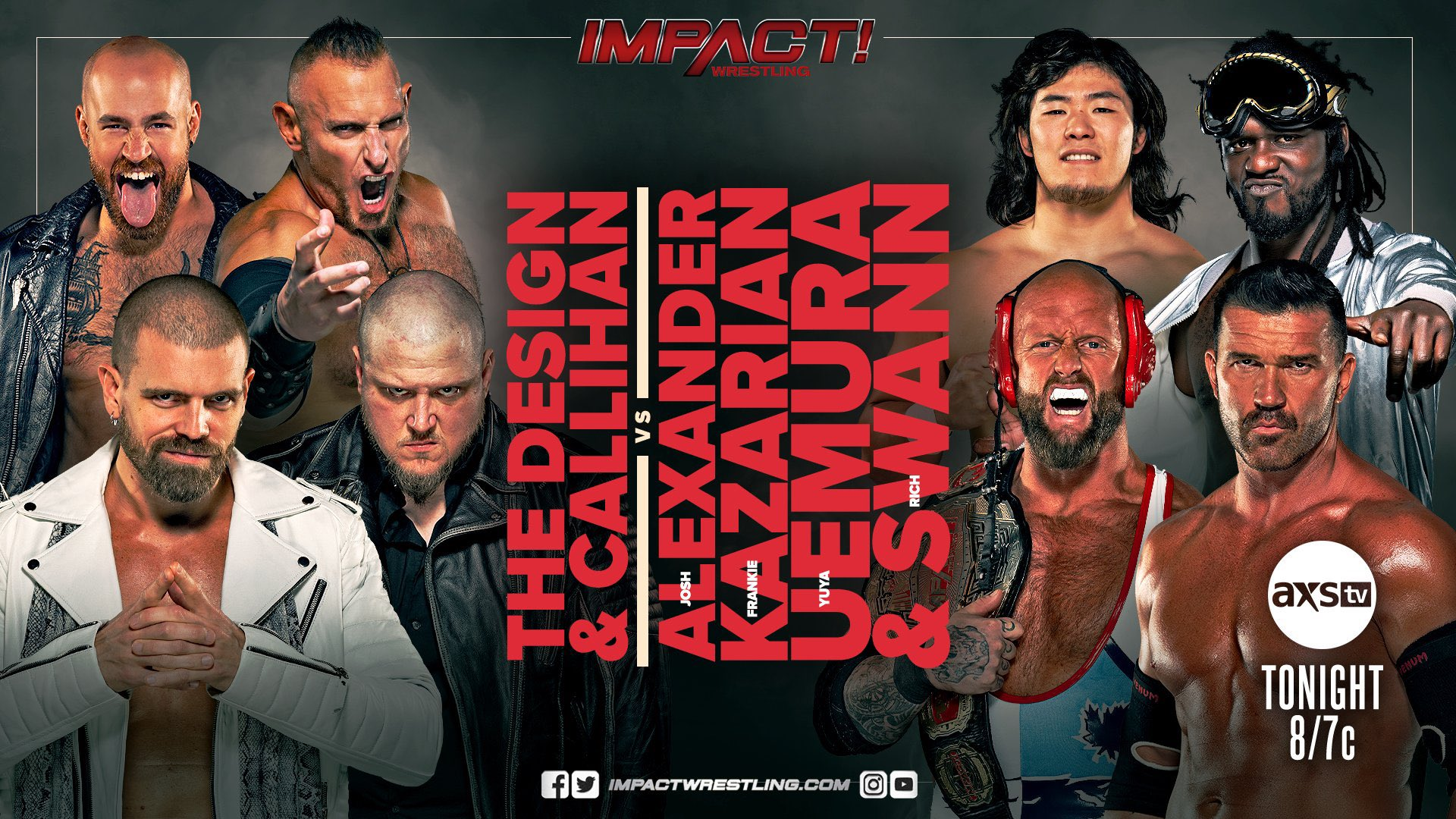 We're coming off of Rich Swann becoming the number one contender, Joe Hendry creating another banger of a parody song and Bully Ray…being more like Bitchy Ray.
Also lets not overlook the fact that Dirty Dango officially signed with IMPACT as well. Which may not be huge, but with the current addition of Santino Marella, Dango being involved in storylines for the foreseeable; there could be some good comedy in store.
There we go, a bunch of stuff got set in motion; but we could always see some interesting wrinkles or just straight forward boredom. Only one way to find out! BUT FIRST! Raven is getting The Flock back together…maybe?
.@milanmiracle got some advice from @theraveneffect on #IMPACTonAXSTV! Was that REESE!?#IMPACTonAXSTV pic.twitter.com/hXuvGak7T2

— IMPACT (@IMPACTWRESTLING) February 3, 2023
Ratings:
Bullet Club (Ace & Bey) vs Kevin Knight & Kushida: Ace & Bey win via 1-2-Sweet – ***
Gisele Shaw w/Jai Vidal vs Savannah Evans: Gisele wins via Denouement – ** 1/4
Crazzy Steve w/ Black Taurus vs Sheldon Jean: Steve wins via King Kill 33 – N/A
Johnny Swinger w/Zicky Dice vs Kenny King: Kenny wins via Royal Flush – N/A
The Design (Kon, Deaner, Angels & Callihan) vs Josh Alexander, Frankie Kazarian, Yuya Uemura & Rich Swann: Callihan wins via Cactus Driver '97 – ** 1/2
Results:
Bullet Club (Ace & Bey) vs Kevin Knight & Kushida
As much as I like Ace & Bey, a part of me would like MCMG versus Kushida and his new partner.
Early on its just counters, posing to the crowd and getting themselves over until Bey manages to sweep the leg, slingshot over the top rope for a stomp and take over a little. Knight manages to avoid a corner move, one legged Springboard Body Press, Jumping Frog Splash, and then a quick tag to Kushida. Some tandem moves from Kushida and Knight as Knight continues to mix it up with Bey.
Ace distracts Knight before the Springboard and Bey meets him in midair with a Dropkick and gets Ace in for some tandem offense and then Ace starts setting the pace. Double Arm Wringer into a tandem Back Rake. Then they wrestle Knight to the ground and keep him down for another Back Rake. Ace continues to set the pace and keep Knight mostly on the receiving end, until Knight rolls out of a lift, Ricky to Robert roll, Kushida gets the hot tag and starts clearing the ring. Bey tries Art of Finesse, Kushida catches him in a Flying Armbar but Bey turns it into a Cradle to get Kushida to break.
Electric Chair from Kushida, but before Knight can hit his Dropkick, Ace slides in and catches Knight on his back. Chicken Fight before Kushida and Knight finally hit their Tandem move but Ace makes the save. Ace wipes out Kushida, Knight forces Ace out, tries to go for a Plancha, but Bey was crotched on the top rope. As Knight tries to Plancha, Bey hits a Cutter out of nowhere on the apron. Ace sees the opening, 1-2-Sweet for the win!
.@CodyDeaner is showing @TheSamiCallihan mercy! Sami has a shot a redemption TONIGHT! @Alan_V_Angels @Big_Kon1 #IMPACTonAXSTV pic.twitter.com/oQRjxOOZm3

— IMPACT (@IMPACTWRESTLING) February 3, 2023
Steph De Lander video package…that's a pretty decent grab for IMPACT.
Gisele Shaw w/Jai Vidal vs Savannah Evans
Gisele faces off with Savannah and slaps her in the face a few times and refuses to back down. Savannah of course fires back, but when Gisele gets violent is when she's at her best. After a big toss, Gisele powders, confers with Jai and the commercial kicks in. When we get back, Gisele has the advantage. But Savannah takes the short arm pull in, Side Slam for effect and distance.
Now they start trading strikes, that Savannah wins that war. A few short Lariats, Samoan Drop, and Gisele is reeling. Retreats to the corner, tries to stop Savannah with the Back Elbow, but eats a Spinebuster when she tries to continue. Fisherman's Suplex Hold from Savannah for 2, Full Nelson Slam attempt, but Jai hits the apron and tries to seduce the referee as a distraction. Gisele hits the Denouement (Knee Strike) for the win.
The crowd is actively booing Gisele, but she powers through for her promo. It wasn't great, but I'll give her some credit for pushing through. 
.@KennyKingPb2 ONLY wants to hear about K…I….N….G! @swinger_johnny @ZickyDice #IMPACTonAXSTV pic.twitter.com/cuIuq70jbz

— IMPACT (@IMPACTWRESTLING) February 3, 2023
Crazzy Steve w/ Black Taurus vs Sheldon Jean
Sheldon Jean continues the arrogance, though he's a nobody enhancement talent. It would be nice if some of these enhancement talent wrestlers didn't all have that same arrogant persona. We all know Steve is going to win, this is just a storytelling tool to probably add to the Trey Miguel stuff.
Steve is entertaining, but this match is more predictable than most things. He hits King Kill 33, but apparently it's called Belladonna's Kiss now. Trey jumps Taurus, tries to spray paint Steve, but Steve bites him and spray paints himself causing Trey to powder out of confusion/fear.
Bully comes out to complain as has been his thing the last few weeks. But thankfully Mickie returns the favor from last week and interrupts Bully. Verbal jabs, Bully Ray insults Mickie, Mickie slaps him, Bully slams her and calls in the Good Hands to get the tables. Tommy Dreamer makes a save with a kendo stick. Good Hands vs Mickie & Tommy next week. 
.@Kelly_WP and @RealTaylorWilde have a date with the Death Dollz!@thetayavalkyrie @WeAreRosemary @FearHavok #IMPACTonAXSTV pic.twitter.com/qQnDLvMSy2

— IMPACT (@IMPACTWRESTLING) February 3, 2023
Oh good, this is exactly what I wanted from a few weeks ago! Kelly and Taylor will be a great team.
Johnny Swinger w/Zicky Dice vs Kenny King
Some goofy posturing and general Swinger antics. Eddy Gordo kick into Royal Flush, and Kenny gets the obvious win.
Bully has a segment in the back with Masha, and it seems like he's a little smitten while he was trying to just manipulate her emotions to pick up the pieces after or during the tag match next week. 
Cardona and Myers try to make their own diss track song…and it was awful. It was supposed to be bad, and yes, it achieved that. It was like Miz and Morrison, without comedic talent.
The Design (Kon, Deaner, Angels & Callihan) vs Josh Alexander, Frankie Kazarian, Yuya Uemura & Rich Swann
Deaner barks at Callihan to start against Swann, then commands him to tag out, and a multi-man match is always a little bit of everyone gets moments. So its just odd that the heel team will be dictated by Deaner to a degree. Uemura comes in second and he reminds me so much of a young Tanahashi its crazy. Deaner calls for the tag and squares off against Josh now.
An attempted jumping in the corner, but Josh gets space and it turns into all 8 men in at once. Josh goes right after Kon and tries to assert his dominance on the "power" of The Design. After the commercial, Uemura gets rocked but Kaz saves him with a blind tag and hits some of his classic moves on Angels and Callihan. Swann comes in but Deaner and Kon manage to ground Swann and put the momentum back in the hands on The Design.
Some stupid spots take away a little from the match while Swann is getting worked over. Swann slaps his leg when he eats a Dropkick from Angels, then tries to Leapfrog Deaner and jump to his corner, Deaner grabs him away but it just looks silly and like it was never going to work to begin with. Its the optime of doing too much and hurting the match. Josh eventually gets a hot tag, tags a square off with Kon, throws him around and King Kong Knee drops Kon. Ankle Lock gives the near fall but Kon kicks off, Uemura tags himself in, Callihan gets the tag, is about to finish off Uemura; but Deaner stops the Thumbs Up – so Josh breaks up the offense and we get all 8 men pulls off high impact moves.
Cactus Driver attempt, Uemura hits the Enzuigiri to stun Callihan. Goes to the top, Deaner trips Uemura, Cactus Driver '97 wins the match.
Overall Score: 5/10
This was a weird episode. The only match worth watching was the opening tag match, the rest were predictable, boring or just had dumb spots in them. Backstage segments however, those were pretty great. The problem though, is they built off of either inside jokes, old WCW knowledge or not shutting off cringe immediately.
So while I loved the Raven & Reese segment, Kelly & Taylor, and found some amusement in the Cardona stuff…its really subjective and not exactly friendly to an uninitiated viewer. We got an episode that catered to already existing fans, which isn't how to grow a brand.
Even though I enjoyed things for the most part, this was a lame episode from the perspective of retaining new eyes.
Andrew's IMPACT Results & Match Ratings: 1.26.2023
This episode is gonna be a real dice roll. A shaky card means that the segments really need to make up for the lack of engagement on paper. Does it get there?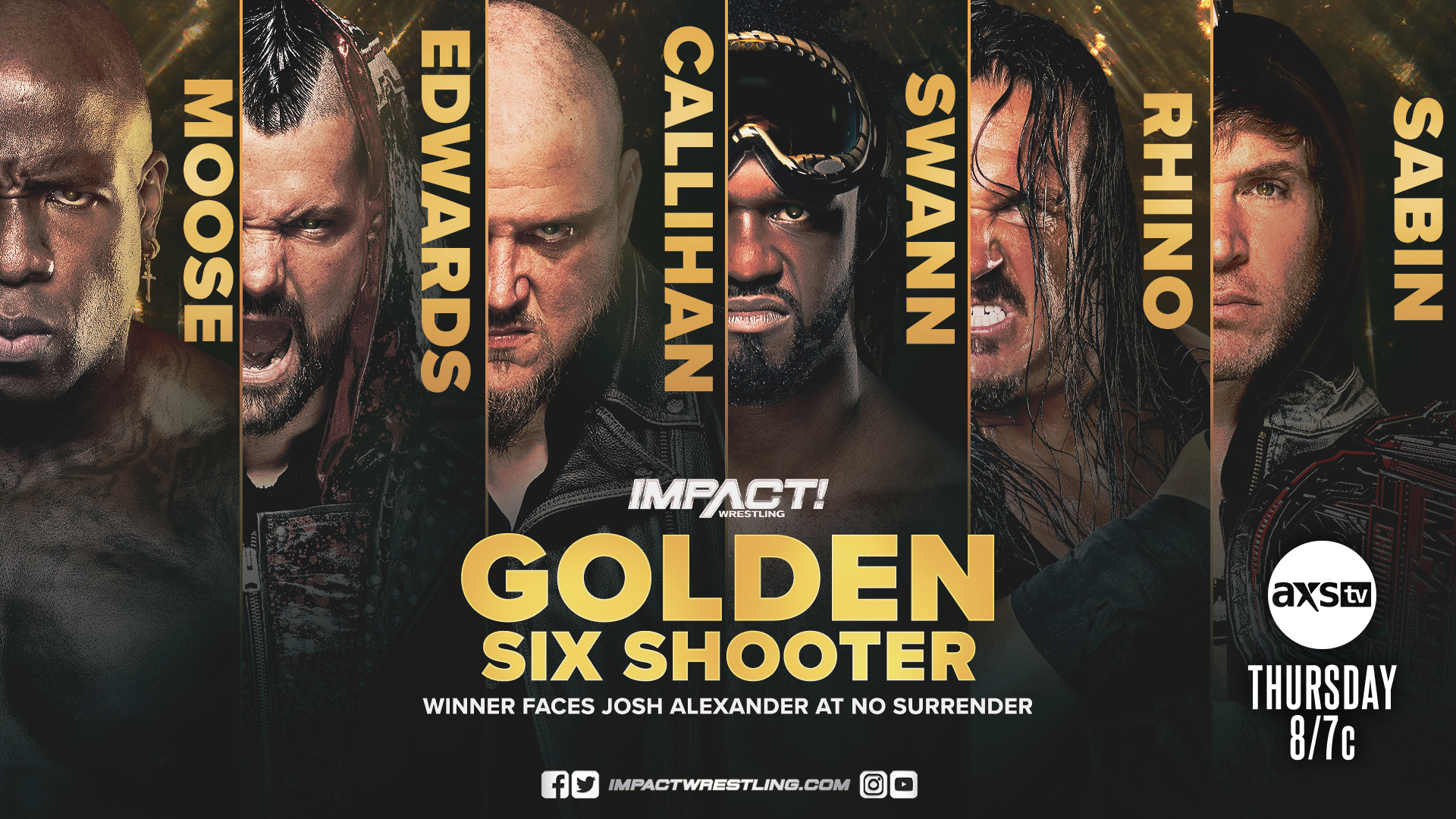 I have no real clue what to make of this episode. With a throw away X Division Championship match and most likely a Knockouts Tag to just perpetuate the Gisele is a shitty human concept, I don't see a lot of hope for this episode outside of the main event.
Every now and then there's a head scratching klunker from IMPACT because they get too wrapped up in their gimmicks and sometimes they all coalesce in the same episode. Hopefully we can salvage some entertainment in the first like 90 minutes as to not be struggle bussing to the final match.
At least the teaser for Gisele's partner seems to have potential.
.@TheJaiVidal seems to be a HUGE fan of the "legendary" partner @milanmiracle has chosen for @GiseleShaw08. #IMPACTonAXSTV pic.twitter.com/dwI27cZk4b

— IMPACT (@IMPACTWRESTLING) January 27, 2023
Ratings:
X Division Championship: Trey Miguel (c) vs Mike Jackson: Trey retains via Lightning Spiral – *
The Good Hands vs KUSHIDA & Kevin Knight: Kushida wins via Hoverboard Lock – **
Knockouts Tag Team Championship: Death Dollz (Taya Valkyrie & JesSICKa w/ Rosemary) (c) vs Gisele Shaw & Tara w/Jai Vidal: Death Dollz retain via Assisted Sickishi Driver – **
Major Players (Brian Myers & Matt Cardona) vs Bullet Club (Ace & Bey): Ace wins via Prawn Hold – ** 1/4
Jonathan Gresham vs Sheldon Jean: Gresham wins via Sliding D – *
Golden 6 Shooter Elimination: Rhino vs Moose vs Chris Sabin vs Callihan vs Rich Swann vs Eddie Edwards: Rich Swann wins via 450 Splash – *** 1/4
Results:
X Division Championship: Trey Miguel (c) vs Mike Jackson
Mike Jackson gets a few moments of Running Shoulder Tackles to knock down Trey since Trey is taking the challenge lightly. A near fall into some shoving and feigning an apology. Jackson is still a moron in his old age and takes the handshake bait to get snuck in the jaw.
Jackson does the straps down, back elbows, swinging Neckbreaker and then goes for some kind of punch combination and gets countered. Its very hard to care about this match since who's really going to put a title on a 76 year old man. Mike Jackson does the Oldest School, Prayer Walk…whatever you want to call it – before Trey pulls him down and starts kicking him around. Jacky Bryant Kick, into Lightning Spiral…and who cares.
After the match Trey looks under the ring for his spray paint, finds Crazzy Steve already tagged up and taunting Trey. Black Taurus comes out when Trey tries to powder, and I guess Decay isn't done with Trey yet. 
The playing field is stacked with the bodies of challengers that @SteveMaclin has already beaten. #IMPACTonAXSTV @Walking_Weapon pic.twitter.com/RHjbL1YPWG

— IMPACT (@IMPACTWRESTLING) January 27, 2023
The Good Hands vs KUSHIDA & Kevin Knight
Skyler starts off for the Good Hands, Knight technically starts but very quick tags. Tandem Arm Wringers and strikes until Skyler manages to powder, get chased and find a way to tag out and start working over Kushida. Hotch pulls off a Chaos Theory German Suplex, so I'm a fan of him now…and they do the tandem cover as Skyler hits the Jacknife cover for 2.
Kushida manages to get some space, tag out and Knight comes in with a hot tag and starts flying around. Some quick work, Cartwheel Dropkick from Kushida. Electric Chair/Dropkick combo as Knight wipes out Hotch and Kushida sinks in the Hoverboard Lock on Skyler.
Knockouts Tag Team Championship: Death Dollz (Taya Valkyrie & JesSICKa w/ Rosemary) (c) vs Gisele Shaw & Tara w/Jai Vidal
Tara comes out and JesSICKa starts bowing, Tara is emotional, Taya looks a little awe struck and actually respectfully shakes hands. Death Dollz are playing the perfect babyface role early on.
It looks like Taya and Tara are going to start, but before they touch, Gisele tags her out like a good heel should. Taya and JesSICKa are both mad they don't get to wrestle with Tara, so there moves have a little more oomph. Tara keeps holding her hand out for a tag but Gisele is ignoring her and actually says no when Tara tries to ask for the tag.
Tara is trying to be a good sport but Gisele's ego has her refuse to tag in Tara multiple times. Gisele disrespects Tara by using her old taunt and hitting the Spider Web only for 2. She plays to the crowd asking if they want Tara and then disrespects Tara. Tara walks in to argue while the Death Dollz are…eating popcorn. This is wonderful. Gisele slaps Tara and tries to talk more shit, Tara snaps and Widow's Peak…the Dollz throw their popcorn and look shocked. Assisted Sickishi Driver and the Dollz retain with an assist to a fed up Tara.
It seems there's a lot more @Kelly_WP in the future of @RealTaylorWilde. #IMPACTonAXSTV pic.twitter.com/7MsoqLswzg

— IMPACT (@IMPACTWRESTLING) January 27, 2023
Major Players (Brian Myers & Matt Cardona) vs Bullet Club (Ace & Bey)
Bey gets the best of Cardona early, tags in Ace and we see some solid tandem work with sweeps, kicks, Double Sentons, a lot of fluid Junior style movement. The Majors manage to catch Ace watching both of them, Myers pulls him face first into a rope and then they start working over Ace.
Ace finally rocks Cardona after eating offense for a few minutes, Bey takes the hot tag, cleans house, does a little homage to Shinsuke Nakamura before hitting Cardona with a Jumping Uppercut in the corner. Bey is rolling until Myers scoops Ace off the apron; which distracts Bey, so Cardona catches him with a Lariat and shifts the momentum. Reboot into a Guillotine Leg Drop for 2. Bey manages to defend, Ace tags, hits a rolling Headscissors, they try to set up a 1-2-Sweet but Bey is rocked so he's slow to the spot. Cardona blocks, a little back and forth before Ace rocks Cardona with a Triangle Kick. Bey turns it into a Victory Roll, but Bey isn't legal, so Ace tries to pull things apart and quickly figure out a Prawn Hold of sorts to get a sloppy victory.
Jonathan Gresham vs Sheldon Jean
Still surprised Gresham lost to Eddie, but I guess more enhancement matches are how to get right.
As much as Hannifan is trying to go over Sheldon's resume, no one is buying it. He's enhancement talent who's acting cocky but getting relatively worked over. Gresham shows Sheldon what a chainsaw does to a tree, hyperextends his tree, Sliding D to the back of the head…Gresham wins.
Golden 6 Shooter Elimination: Rhino vs Moose vs Chris Sabin vs Callihan vs Rich Swann vs Eddie Edwards
Early tie ups, turn into Moose and Rhino standing off, then Sabin and Rhino…and we just get a little bit of revolving door of square offs. Definitely a little silly to try and go through the play by play here since it's just different pair offs and a handful of high spots. Callihan gets set up for a Gore but Moose takes the shot to hit Rhino with Lights Out before the Gore. Callihan wipes out Moose and pins Rhino, to eliminate him first.
Moose stacks Swann and Sabin on the top corner, Okada Dropkick hits both, Eddie attacks Moose, Sabin takes advantage of the distraction for a Tornado DDT, but only 2. Sabin keeps the momentum against Eddie and Callihan before we get more interesting spots from everyone taking out 2 people. Swann looks to take out Callihan but Eddie crotches Swann, Gamengiri, Backpack…nope, Swann slips it, face kick, Sabin tries something but Eddie with the Inside Out Side Slam, Powerbombs Swann into Sabin for 2. Eddie looks to Tiger Driver Sabin but no, counter backslide, rope run, Pop Up Flapjack, Tiger Driver finally hits…but only 2. Eddie lines up Boston Knee Party but PCO's music hits and PCO is pointing at Eddie through the sea of security. Distract Eddie eats a Yakuza Kick from Sabin, Head and Arm Cradle to eliminate Eddie Edwards.
Moose clocks Sabin, a few big strikes and an Uranage for 2. Moose is trying to put Sabin away quickly. Corner charge, Sabin moves, Flying Enzuigiri, Tornado…nope…Lights Out, Chris Sabin is eliminated. Callihan, Swann and Moose are now all in and just trading strikes and headbutts. Back and forth, Callihan throws Swann into the ropes, Lethal Injection…but Callihan powders. Moose kicks out Swann's leg and starts trying to work over the leg. Great limb work…damn Moose even breaks out a Dragon Screw and then starts just punching the right knee relentlessly. Moose locks in some Stump Puller variation to continue the torture. Moose gets a little cocky, keeps trying to lift on the leg but Swann tucks, rolls and hits the Victory Roll to eliminate Moose.
The Design walks out to tell Callihan to take out Swann as the last step. Callihan goes for a Stretch Muffler on the good leg, Rich counters with a Cradle variation for 2. Swann then starts rocking Callihan with Vader Hammers, Swann tries to fire, kick to the gut, Powerbomb into an Ankle Lock on the back leg. Thumbs Up, Thumbs…kicked in the face. Rich keeps throwing kicks, finally drops Callihan, 450 Splash to eliminate Callihan.
Overall Score: 6/10
Only one decent wrestling match, but a few high points through the show. Death Dollz eating popcorn as Tara snaps to the disrespect, Tasha and Savannah finally breaking up, Maclin with a solid point in his promo and of course Hendry's new song. Major Players will always be Edge's Bitches to me as well Joe.
Aside from that, the show was a little slow and with predictable matches, the little moments had to really hit to keep some of the entertainment investment. Mike Jackson may be an amusing story, but it was totally worthless. Zero suspension of disbelief.
Not a terrible episode, but not a super strong one either. If you've been following IMPACT for a while, the show was better than a purely uninitiated perspective.