Andrew's Impact Wrestling Ratings & Analysis: 11/5/2019
After the AXS premiere we have a new Impact Champion! Let's all celebrate with Sami Callihan!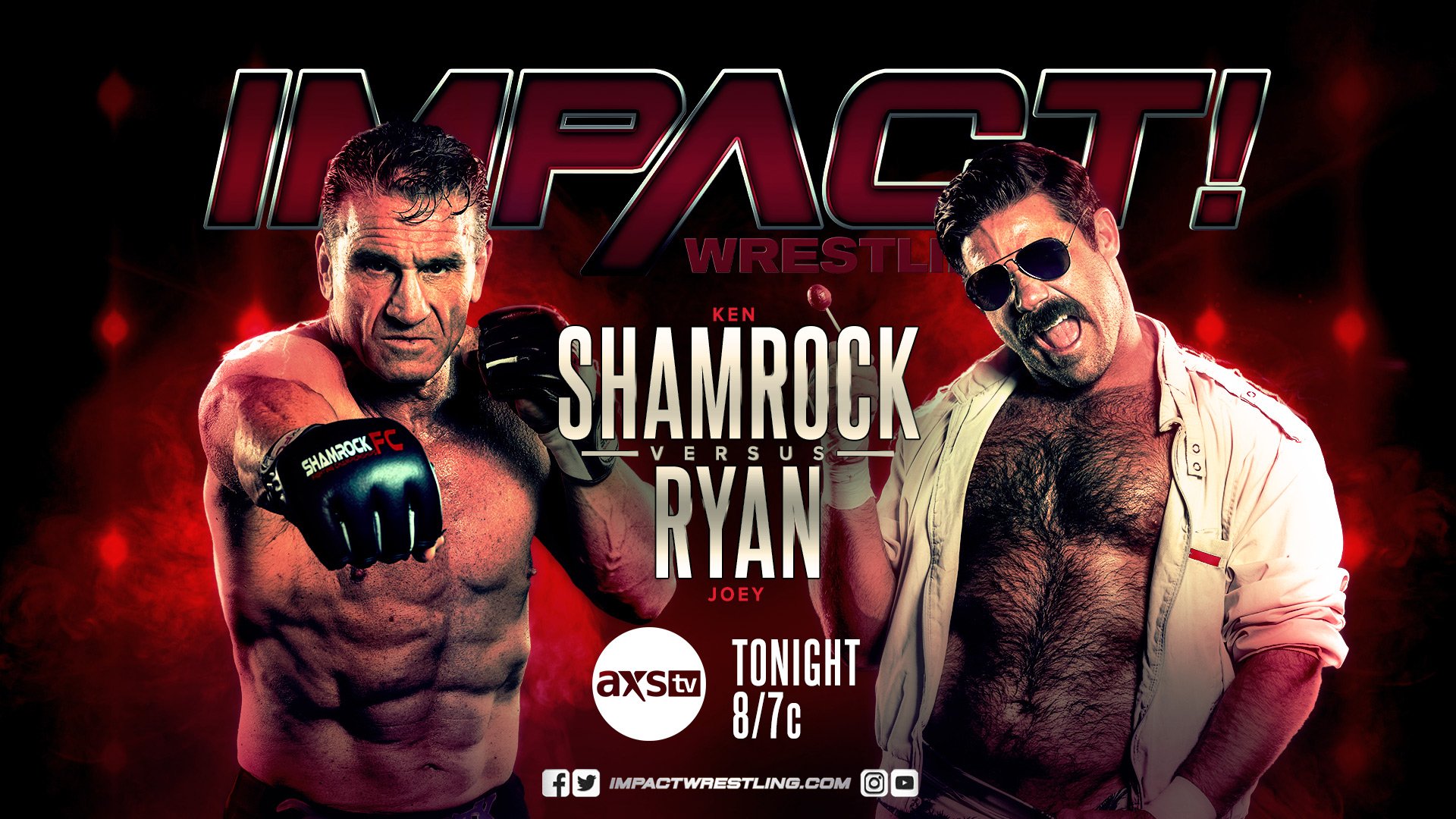 After the AXS premiere we have a new Impact Champion! Let's all celebrate with Sami Callihan!
Now that Sami finally has a World Championship; what kind of world do we have to look forward to?
Will Josh Alexander have any words for Marufuji after the loss last week?
Ehh, never mind, all we care about is The Draw! Even Baby Jarvis knows it's time for some cake!
.@TheSamiCallihan and oVe have absolutely no respect for @THETOMMYDREAMER. #IMPACTonAXSTV @TheDaveCrist @TheJakeCrist @FultonWorld pic.twitter.com/ys5Fa3LFfd

— IMPACT (@IMPACTWRESTLING) November 6, 2019
Ratings:
Moose vs Willie Mack: Moose wins via Spear – ** 1/2
Michael Elgin vs Fallah Bahh: Elgin wins via Crossface – *** 1/4
Ken Shamrock vs Joey Ryan: Shamrock wins via Ankle Lock – *
Madison Rayne vs Taya Valkyrie (c): Valkyrie wins via Road to Valhalla – ***
Bhupinder Singh w/Desi Hit Squad vs Petey Williams: Petey wins via Sharpshooter – * 1/2.
Impromptu Extreme Rules Match: Daga, Tessa Blanchard, Rich Swann & Tommy Dreamer vs oVe: Rich wins via Roll Up – ***
Analysis:
Moose vs Willie Mack – Not a bad opening match. Moose had some great heel moments and both men brought a decent bit of aggression and athleticism. It's also nice to see Moose get a fairly clean win over someone known to be a damn good wrestler. Aside from the weird slow sell on the dive to the outside, not a lot to nit pick in this. Decent match, helps Moose look legit and the crowd seemed mostly entertained.
-FINALLY! Alisha obviously doesn't watch the product back after tapings, but it's about time she stumbled onto a way to end this cringey story.
It would seem @The_Ace_Austin has finally been caught in the act by @MrsAIPAlisha. #IMPACTonAXSTV pic.twitter.com/moAMSmarzI

— IMPACT (@IMPACTWRESTLING) November 6, 2019
Michael Elgin vs Fallah Bahh – Fallah is on a bit of a rebuild since he's lost some weight and starting a friendship with TJP. So going into this match, Elgin was the obvious winner, but this match did a good job at making Fallah look good. Fallah fought out of Elgin Bomb attempts, fired up out of a Death Valley Driver and just looked to have a real shot, numerous times in the match. For as dominate as he's been, Elgin did sell the challenge, and this was really a good match. Elgin even pulls out the Crossface for the victory.
-Alisha tells Ace to skip dinner and come straight to her room. Most likely setting up Eddie to jump Ace, but let's all act surprised when the douchebag gets what's coming to him.
-The North cut a promo telling Marufuji that something must've gotten lost in translation. But open challenges from them, mean tag team challenge. So they tell Marufuji to get a teammate and next week will be a Tag Team Championship match. Marufuji and Eddie Edwards time!
Ken Shamrock vs Joey Ryan – So Shamrock comes out in sneakers and Basketball shorts, definitely not taking this seriously. He half asses the match, embarrassing Joey because he thinks he can't wrestle. Joey does catch him with a Dropkick, which gets Shamrock's respect, so he offers a handshake, and gets forced to grab the dong. Shamrock gets dick flipped, but fires up off that, hits 2 lariats and an Ankle Lock, then we're done. Not much of a match, a little amusing, but I guess there's a Ryan/Shamrock privates joke there somewhere. Hmm…20 years later and he's still Saving Ryan's Privates? Meh…I'll work on it.
Madison Rayne vs Taya Valkyrie (c) – Honestly, much of the enjoyment was Callis and Mathews with their back and forth on commentary. They continue to not acknowledge that Josh and Madison are married, so the comments are hilarious. The match was very competitive, where Madison showed a lot of clever moments. Rolling through the first attempt at Road to Valhalla, managing to put herself into positions where you believed she could win the match, just generally good stuff. Bravo throwing the stuffed Pomeranian into the ring (commentary calls it Hennigan, so I appreciate the wink) to break up a pinfall. That creates the opening Taya needs to win the match. Good match, just enough interference to make sense and not feel over done.
What a time to be…alive? @realsuyung has no memory of the prior wars she's had with @WeAreRosemary. #IMPACTonAXSTV pic.twitter.com/AAswQeuUdR

— IMPACT (@IMPACTWRESTLING) November 6, 2019
Bhupinder Singh w/Desi Hit Squad vs Petey Williams – This was a throw away match, where the only slightly redeeming thing was they debuted Cameron Adamson, a referee with no legs. Bhupinder tried to beat down the referee after his loss, but Petey and Cameron turned the tables. The referee pulled off a few cool things, and it was a feel good moment.
-So we get the payoff of Alisha turning the tables, Eddie shows up, Alisha wants to beat Ace with Kenny and then a make out session with his wife begins. But he has to grab Kenny. So…three way?
In the immortal words of Admiral Ackbar, it's a trap!

Nothing can come between @TheEddieEdwards and @MrsAIPAlisha, not even @The_Ace_Austin. #IMPACTonAXSTV pic.twitter.com/iYxbbkxeT2

— IMPACT (@IMPACTWRESTLING) November 6, 2019
Impromptu Extreme Rules Match: Daga, Tessa Blanchard, Rich Swann & Tommy Dreamer vs oVe – Sami and the rest of the crew went to the ring to celebrate and be asshats. Dreamer comes out for a very mediocre "fans are the real draw" promo, which was gladly saved by the challenge. Granted, numbering off the difference in team was a little too similar to the AEW segment with Inner Circle and Cody's crew, but hey, it got us where we needed to go.
Decent brawl which saw logical splits, with Tessa interacting mainly with Jake and Sami. Tommy had a few nice moments with the Bionic Elbow and a DDT on a chair. Madman looked like a beast, Sami nearly managed to salvage his celebration, but the bad blood with him and Rich Swann boiled over nicely. Culminating in Rich getting the Roll Up win and most likely a title shot if Sami defends successfully against Cage during Turning Point.
Overall Score: 6.5/10
A show that was driven a bit more by the sports entertainment than the in-ring action. We got a few decent matches, but nothing to really be shocked by. However, Alisha finally figuring it out and furthering the Suzie stuff was quite amusing. I also really like the fact that they are placing another person between the Tessa/Sami payoff.
So definitely a pretty good show, but it could be boring depending on what drives your wrestling interest.
Andrew's IMPACT Turning Point Results & Match Ratings: 11.20.2021
IMPACT wrestling Turning Point gets a late start, but we've got 5 title matches! The main event is a Full Metal Mayhem (TLC) match for the World Championship! Does Moose retain in his first defense?
IMPACT wrestling Turning Point gets a late start, but we've got 5 title matches! The main event is a Full Metal Mayhem (TLC) match for the World Championship! Does Moose retain in his first defense?
You know we've got quite a number of title matches, but I'm honestly starting off salty that this show is starting at 10pm eastern. Yes yes, first world problems because most PPVs start at like 2am in the UK, I know, I know. But it just sets things off on the wrong foot.
Let's just get to the card and see if anything really gets shaken up as we get close to the end of the year!
Ratings:
Ace Austin vs Chris Sabin: Sabin wins via Cradle Shock – ***
Violent By Design (Eric Young & Joe Doering) vs Heath & Rhino: VBD win via Casey Jones Mask – ** ¼
VSK w/Zicky Dice vs Rich Swann w/Willie Mack: Swann wins via Phoenix Splash – ** ¾
Massive Cassidy vs Matt Cardona: Cassidy wins via Moose's Lights Out – ***
Knockouts World Tag Team Title: The IInspiration (c) vs Decay: IInspiration retain via Feet on Ropes Cradle – *
X Division Championship: Trey Miguel (c) vs Steve Maclin vs Laredo Kid: Trey retains via Meteora – ***
Knockouts Championship: Mickie James (c) vs Mercedes Martinez: Mickie retains via Mick DDT – *** ¼
World Tag Team Championship: The Good Brothers (c) vs Bullet Club (Hikuleo & Chris Bey w/ELP): Good Brothers retains via Rope Trip – **
Full Metal Mayhem: Impact World Championship: Moose (c) vs Eddie Edwards: Moose retains via Lights Out – ****
Results:
Ace Austin vs Chris Sabin
The early going is very much Ace trying to get in Sabin's head while they both go for counters and slip outs before Sabin gets the best of Ace with a Rolling Arm Drag, which Ace powders, Fulton makes sure Ace can't get dove on but Sabin just hits the Soccer Ball Kick from the apron to Ace's chest.
Sabin keeps the pressure up after the kick, but Ace eventually turns the tide with a middle rope Flatliner, Which is a little more impress since he missed his footing and did it basically on one leg. The match becomes more competitive with Sabin coming back after absorbing a few attacks and really rocking Ace. Ace eats multiple strikes, Powerbombs and Sabin even tries for Cradle Shock but it's blocked. A stereo spot happens where both hit Enzuigiris laying both men out for a little. Sabin charges, Ace starts utilizing his speed and athleticism to dodge and land kicks from different angles.
Ace hits a few Fold set up moves, but tries a pinfall before the Fold. He even hits a Springboard Triangle Fame-Asser, but Sabin kicks out at two. Ace goes back to the ropes, Sabin counters with a Superplex and tries to put some offense together. But once Sabin goes back to the ropes, Fulton makes his presence felt and Ace takes advantage. Lucky for Sabin he blocks Ace's attack and wipes out Fulton.
Fulton doesn't stay down, throws in the "I Beat Chris Sabin" shirt, while the referee is distracted, Fulton grabs Sabin to get clotheslined by the ropes. Ace puts the shirt on, tries to go for a big punctuation mark, but Chris counters, Cradle Shock, and Sabin wins!
Violent By Design (Eric Young & Joe Doering) vs Heath & Rhino
Rhino and Doering start off, it's fairly even, but Rhino's early intensity gives him an advantage. Heath comes in and keeps on top of Doering, so we get a brief view of Doering in distress…but then Deaner picks the ankle. After a small pause, the referee throws out Deaner to cheers from the crowd, but Doering has recovered and takes Heath's head off once he turns to face his opponent after the throw out.
Eric Young finally comes in, and they beat on Heath. Young seemingly wants nothing to do with Rhino, maybe not out of fear but more out of disinterest. The disrespect is real, and VBD do a great job at keeping Heath isolated even during small openings. But finally, Doering misses his Reverse Elbow, EY tries to stop Heath from tagging out but Heath kicks him off and Rhino gets the hot tag. EY tries one more attempt at mind games, Rhino cleans house. Heath misses in the corner and posts himself, so when Rhino almost has things handled, Eric Young hits Rhino with the Casey Jones mask and picks up the win for VBD.
VSK w/Zicky Dice vs Rich Swann w/Willie Mack
This was a match built off of Brian Myers just being a dweeb and avoiding conflict. But the fun thing here is that Rich Swann was VSK's first opponent a few months ago during this Learning Tree story. That match lastest maybe 4 minutes. So we see a lot of growth from their first match.
VSK fights back, lands a few high impact moves and actually puts Rich on the back foot. Some thanks can be given to Zicky Dice's interference, but it's still fairly competitive. VSK's closest nearfall came from when Rich was getting back in the ring, a Hanging Codebreaker or something looked cool. After that though, Rich ran circles around the kid. Rolling Thunders, Lethal Injection, Five Star Frog Splash and then Phoenix Splash ends things, giving Rich the win.
Massive Cassidy vs Matt Cardona
Cassidy throws his power advantage around for the first few moves before Cardona finally finds a few ways to use Dropkicks, Enzuigiris and Wrecking Ball Dropkicks to shake up the big man. Cassidy powders and grabs Cardona through the ropes, pulls him out, and just bounces his skull off the floor and the steps. Punctuates it all after getting back in the ring and hitting a Running Big Boot into Cardona's head spilling him back out through the ropes.
Cardona beats the 10 count and gets mugged. A brief chance with a Missile Dropkick, but Cassidy keeps beating on Cardona. Every time Cardona gets a move or two in, Cassidy just counters and tosses Cardona into the lights. Cardona moves though, and Casisdy crashes into the corner, eats a Reboot and gets sent out. That was enough time to regroup, as Cassidy uses the ring as a weapon and then lands a Chokeslam right onto the apron before rushes him into the ring and getting a near fall.
Radio Silence first attempt, misses and then Cassidy slams Cardona into the referee. Cardona hits Radio Silence for the visible pinfall, but no referee. As Cardona goes to check on the referee, Moose hits the ring, Lights Out on Cardona, and then Cassidy gets the pinfall thanks to Moose.
Knockouts World Tag Team Title: The IInspiration (c) vs Decay
Decay attack as soon as the bell rings, and it takes the IInspiration a little bit of time to get some offense, but when they do, it's not bad. Great tandem spots from the Aussies, including a kind of cool Double Footstomp to Rosemary's previous injured arm.
This definitely wasn't a believable match when Havok is twice the size of all the other competitors, but The IInspiration found shortcuts and retained with assisted feet on the ropes pinfall. So the match won't win any awards, but hopefully it gets them away from Decay. IInspirations personality and charm kept this match moving, because Rosemary and Havok just haven't been good wrestlers most of this year. Rosemary ain't what she used to be since the knee surgery.
X Division Championship: Trey Miguel (c) vs Steve Maclin vs Laredo Kid
Well this goes the normal way Triple Threats do, everyone does stuff early, then it gets boiled down to moments of 1v1. Maclin cuts off Trey at multiple times with grounded counters to aerial attempts, and then when Laredo gets time with Trey it's more of a Lucha/Cruiserweight style we expect.
Laredo kits gets a nearfall after hitting a Poison Rana on Maclin, then the Laredo Fly on Trey. Laredo kid really starts taking over the match after being dismissed early on as the odd man out. Laredo starts focusing on Maclin, 450 into knees, Mayhem for All on Laredo Kid, Trey hits the Diving Meteora and then goes for the Double Pin. Maclin gets his shoulder up at 2, but Laredo doesn't so the referee keeps counting even though technically that should be contact to break up a pinfall. Trey retains but is mad he didn't break Maclin's "Un-pinned and Un-submitted" streak.
Knockouts Championship: Mickie James (c) vs Mercedes Martinez
This match had a really quick pace to it. Mickie hit a few Split Kicks, a few fast strikes and then Mercedes came back nicely and it was a lot of trading blows. Mercedes had a really big chance after the Spider German Suplex sent Mickie crashing.
Mercedes goes for what appears to be a Surfboard/Romero Stretch, Mickie blocks, tries a few times for the Mick DDT, after a few blocks she finally hits it and retains!
Deonna runs in immediately, beats down Mickie and enacts her rematch clause for Hard to Kill.
World Tag Team Championship: The Good Brothers (c) vs Bullet Club (Hikuleo & Chris Bey w/ELP)
Chris Bey and Karl Anderson start off, and Bey really starts off with more speed than Karl can handle. Leap Frogs, Drop Toe Holds, quick moves and some solid showboating give Bullet Club an early advantage. But Bey takes it too far when he comes back in, Gallows gets brought in and Bey finds a way out pretty quickly. Hikuleo puts the boots to Gallows real quick, Bey wants back in and then he gets rag dolled.
After Hikuleo hits a Running Power Slam, Bey looks to end things in style. He goes to the middle rope for either an Art of Finesse or maybe a Lionsault and gets tripped up in the ropes. Bey crashes, and the Good Brother take advantage for 3 and steal the win.
Josh Alexander hits the ring to air some frustrations, discuss that he'll watch the main event and then Jonah's tron and music play, he hits the ring and starts dismantling Josh. I personally don't care about fka Bronson Reed, but we'll see if anything comes from this. They definitely gave him the monster entrance treatment though.
Full Metal Mayhem: Impact World Championship: Moose (c) vs Eddie Edwards
Match starts with a flurry of Forearms, into Chops and they are both just taking it to one another. It feels very much like a puroresu match. A contest of toughness, and then more high impact moves start slowing down the speed but keeps the aggression going. Moose charges at Eddie, Eddie Backdrops him over the ropes and through a table that wasn't in the camera shot. So the surprise of the table being there was kinda cool.
Eddie uses a trash can next, they go in the ring then Eddie dumps Moose back out. Eddie tries the Dive, but Moose catches his with a cookie sheet. But it only stalls Eddie and he goes for the Dive again. Eddie lights up Moose with a few cookie sheets, Eddie charges and Moose catches him, Powerbomb onto the ramp. Moose starts throwing Eddie around a little until Eddie catches Moose and Death Valley Driver's him into the apron.
The shots are very back and forth, one eats the apron, and then the other pays it back. I mean Moose Apron Powerbombs Eddie before Powerbombing him through a table, so they really are doing a great job at matching one another with the weapons. Double tables, double apron, multiple cookie sheets and this has been rough.
Moose tries to Powerbomb Eddie through the ladders, but Eddie blocks and drops a Senton through Moose and the ladder. Then they climb up and Eddie hits the Tiger Driver from the ladder. Eddie grabs a chain, wraps it around his knee like he did against Cassidy for the Boston Knee Party. Moose blocks, then drops Eddie, goes for Lights Out, but Eddie blocks and controls Moose down as he peppers in knee strikes with the chain. One more Knee Party attempt, Moose catches him, Powerbombs him into the Ladder and Eddie bounces off the ladder and hits a short Knee Party. Moose kicks out, they both powder exhausted, grab kendo sticks and we get a samurai duel!
Kendo sticks for everyone, when they both fall down Massive Cassidy comes out, Big Boot then he holds Eddie for the Lights Out and Brian Hebner is reluctant to count. And due to the stall, Matt Cardona comes out to pull Hebner out of the ring. Moose is irate, Eddie regains his composure, hits a Kobashi Style DDT when Moose turns, for a near fall!
Moose is still down and Eddie goes to get a pair of scissors, cuts the chords holding the apron and tarp down and he's exposing the wood under the mat. Eddie is taking a long time exposing the ring, so it's hard to believe this will work out well for Eddie. They struggle, Eddie goes for the Tiger Driver, Moose blocks, Moose goes for the Uranage, Eddie blocks. Moose catches Eddie, hits the Uranage on the exposed wood, then we get Lights Out to retain!
Overall Score: 6/10
Let me lead with saying, NO MORE 10 PM Eastern start times! It's nearly 1 am and I don't really want to be typing. So I'm taking points off for an awful start time and frankly a mediocre show that just had a really entertaining main event.
The thing I liked the most, was how they kept a thread moving in the show itself without needing the previous weeks of TV to make it make sense. Moose helping W. Morrissey become number one contender shows he may be an asshole, but he's good to his word. Morrissey coming out in the main to repay the favor continues the "honor amongst thieves" concept. Cardona sticking his nose in because he got screwed earlier is also logical. Also Maclin getting his moral victory of still not officially eating a fall was a good way to keep stories moving.
But really the rest of the matches felt a little rushed or lame. Mickie and Mercedes I feel was less than 10 minutes. IInspiration and Decay was hard to watch, though IInspiration tried to make it at least entertaining. VBD was just a stock filler match to keep the feud going and The Good Brothers won in such a lame fashion it killed the rhythm the match had going.
So either way, the main event was great and the opening match was pretty fun. But the rest was pretty damn forgettable. Made me stay up past midnight for this? Pfft…poor form Impact, poor form.
Andrew's IMPACT Results & Match Ratings: 11.18.2021
Turning Point is this Saturday! Minoru Suzuki vs Josh Alexander is tonight! Could be something special. Check it out!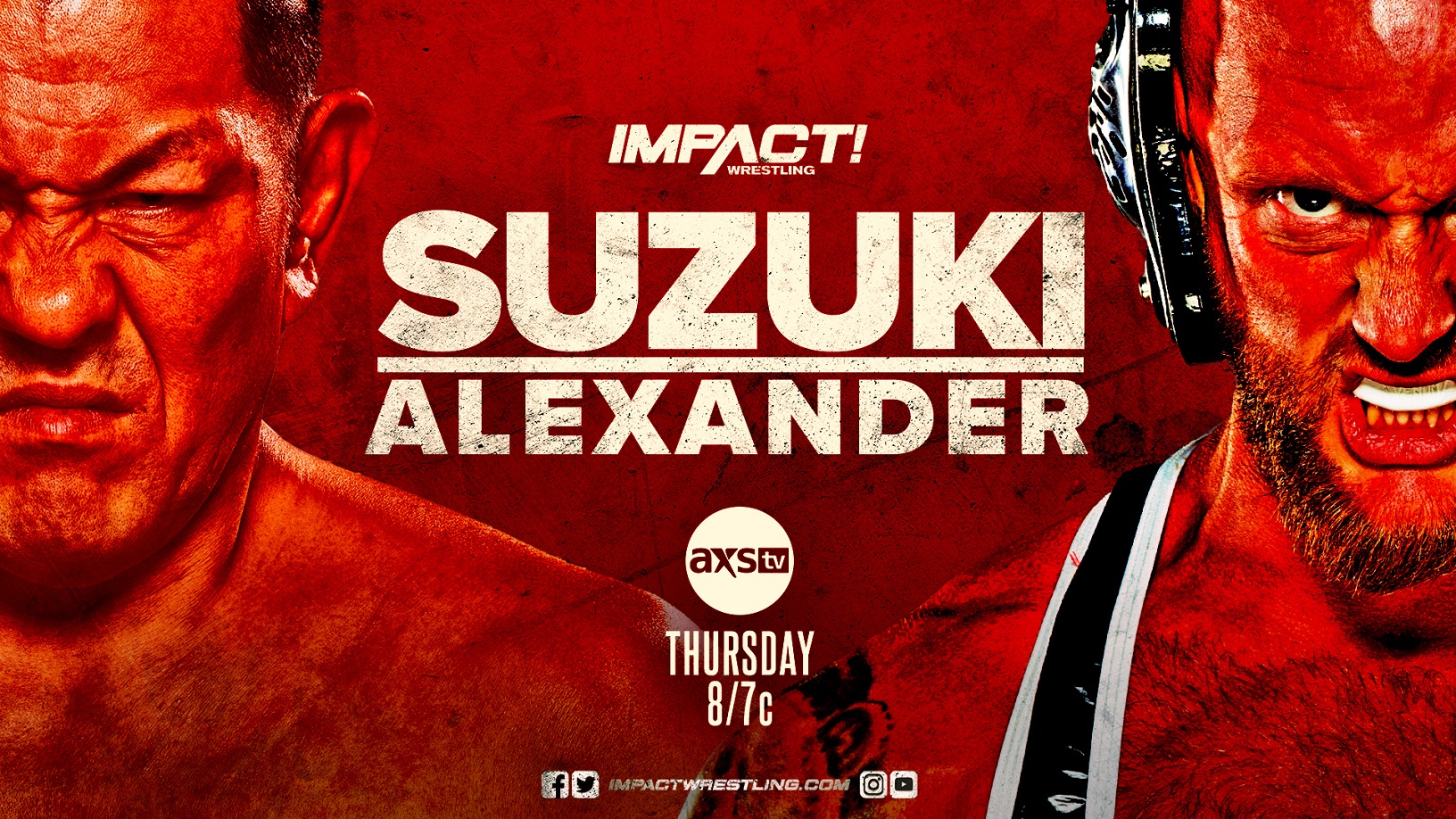 Turning Point is this Saturday! Minoru Suzuki vs Josh Alexander is tonight! Could be something special. Check it out!
The only real selling point to tonight is a possible brutal wrestling classic between Minoru Suzuki and Josh Alexander. I expect anyone that watches tonight will be mostly watching for the main event, and that's perfectly acceptable.
Here's to hoping the rest of the show is at least tolerable!
.@DeonnaPurrazzo spoke to @MeanGiaMiller for the first time since losing the Knockouts World Championship at #BoundForGlory in a tense interview. #IMPACTonAXSTV @DramaKingMatt pic.twitter.com/kcW2dTI2tK

— IMPACT (@IMPACTWRESTLING) November 19, 2021
Ratings:
Steve Maclin vs Laredo Kid: Maclin wins via Mayhem for All – ** ½
The IInspiration vs The Undead Bridesmaids: IInspiration wins via Powerbomb/Neckbreaker Combo – N/A
Hikuleo w/Chris Bey & ELP vs Doc Gallows w/Karl Anerson: Gallows wins via Double ChokeBomb – ***
Johnny Swinger, Hernandez & Fallah Bahh vs The Kiss Demon, Black Taurus & Crazzy Steve: Demon wins via Submission – It Was Fun
Minoru Suzuki vs Josh Alexander: Alexander wins via C4 Spike – *** ½
Results:
Steve Maclin vs Laredo Kid
Maclin starts with the heavy handed strikes and a few precision dives that look more impactful than the average Cruiserweight. Laredo tries to stay quick, but Maclin catches him. It's not until Maclin misfires on his Crosshairs corner Spear that Laredo finally starts putting things together. Laredo strings a few moves together until he misses a Moonsault and Maclin connects with a Karl Anderson-esque Shogun Kick.
They start going for some rope run spots and Laredo gets some momentum but a Handspring Cartwheel DDT doesn't really transition well, and Maclin responds with a big Lariat to lay both out for a second. Poison Rana by Laredo for a near fall. Laredo goes to the Top Turnbuckle, Maclin cuts him off, holds onto the Psycho Driver set up and Mayhem for All gives Maclin the win and the entrance into the X Division championship match at Turning Point.
.@SuperChrisSabin demanded an answer from @The_Ace_Austin about his #TurningPoint challenge. #IMPACTonAXSTV @FultonWorld pic.twitter.com/eTryfSpy5U

— IMPACT (@IMPACTWRESTLING) November 19, 2021
The IInspiration vs The Undead Bridesmaids
Oh was there a match we were supposed to discuss? The Undead ones scared the IInspiration a little, there were a few comedy spots, but the Bridesmaids are jobbers…we all know this. It was slightly entertaining but I also zoned out for some of it.
Decay comes down to the ring after, surround The IInspiration and the Aussie duo are in the middle of the ring cowering. No strikes are thrown, but IInspiration shows really good fear and gets the Decay presence over really well. It works for what they were going for.
ImpactPlus Flashback Moment Victory Road 2020, Reno Scum vs Heath & Rhino
Chelsea gets a recap of becoming Number 1 contender for the Digital Media Championship and Matt Cardona is there basically saying he's got next, but Massive Cassidy seems to not like that. So we might be seeing Cardona vs Cassidy at Turning Point.
.@TheMooseNation narrowly avoids DISASTER from the top of a ladder at the hands of @TheEddieEdwards! #IMPACTonAXSTV pic.twitter.com/kG8IDu0yoa

— IMPACT (@IMPACTWRESTLING) November 19, 2021
After the brawl, Scott finds Moose in the back, says you want to never leave well enough alone, the championship will be Full Metal Mayhem at Turning Point.
Hikuleo w/Chris Bey & ELP vs Doc Gallows w/Karl Anerson
We see Gallows start quick and power trades aplenty. Quick dueling lariats, and right when Hikuleo starts getting the worse of the exchange ELP and Bey hop up on the ring and Hikuleo hits a Low Blow. It's only good for a near fall, but then he starts toying with Gallows and Gallows fires up a little.
Hikuleo gets the best of Gallows in the corner, Chris Bey gets in a cheap shot and Bullet Club seems to be in pretty solid control right now. Also it's weird to see Gallows playing the underneath babyface role. Two Big Boots from Gallows rock Leo, then a Pump Kick followed by a Superkick leads Gallows to finally having the advantage in the match. A few near falls and some flashy offense make Gallows look pretty in control.
Hikuleo blocks the Double ChokeBomb, Gallows hits the ropes, Power Slam from Leo for a near fall. Gallows rakes Leo's eyes, hits the Double ChokeBomb, and gets the win. Decent big man match.
Johnny Swinger, Hernandez & Fallah Bahh vs The Kiss Demon, Black Taurus & Crazzy Steve
Swinger and Taurus start off, and Swinger gets a red bandana from Hernandez, so we get a little Toreador action before Taurus stops messing around. Taurus and Steve use some tandem offense before Hernandez can get in. Hernandez manhandles Steve, Bahh comes in and messes around before Swinger gets back in and Steve mounts a comeback.
Steve tags in The Demon, so now we get Demon versus Swinger. Demon submits Swinger with some half-assed looking Sleeper or something. It works for Swinger being a goof, but it was a bad spot. If the entire match wasn't just gimmicky comedy, that would've been extremely bad.
Minoru Suzuki vs Josh Alexander
We see a few quick transitions from both men. Suzuki takes Josh down, goes for a Rear Naked Choke, but Josh gets out of it, grabs the Ankle, but Suzuki rolls out. Suzuki does stumble a little on his way up giving a small nod to the effectiveness of the Ankle Lock.
Josh has the momentum early and Suzuki is on the back foot. Alexander hits his Diving Low Crossbody through the ropes and Suzuki turns to the Suzuki-Gun style. He uses the guardrail, a chair, beats up a stage hand and now he's working Alexander over on the ramp. Suzuki charges and hits a Yakuza Kick that sends Josh flying down the ramp.
Suzuki bounces Josh's head off the apron, then takes him back into the ring. Suzuki goes for a few corner attacks, but Josh manages to catch Suzuki a few times until Suzuki adjusts his attack and gets the best of things. After a PK, Suzuki goads Josh, fires him up and we get the trading chops spot that is famous in Puroresu. They move to forearm exchanges and Josh keeps getting the worst of it.
Josh tries to fire out of things, Suzuki runs the ropes with him, takes the back and locks in the Sleeper Hold. Josh tries to fight it but Suzuki has most of it, until he transitions to the Gotch Style Piledriver, but Josh fights through that. Josh gets a couple moments of offense, only a near fall, Ankle Lock attempt but Suzuki gets out of it and they go for more mat wrestling where Suzuki tries for the Rear Naked but Josh counters again.
Both roll through countering C4 Spikes and Sleepers, finally Josh counters, hits a stiff Forearm, and then the C4 Spike puts away Suzuki.
Wrestle House 2 – NEXT WEEK! #IMPACTonAXSTV @WeAreRosemary @JohnEBravo1st @MadisonRayne @swinger_johnny @kalebKonley @SuperMexCTM @steveofcrazzy @FearHavok pic.twitter.com/2zZnvK6h8S

— IMPACT (@IMPACTWRESTLING) November 19, 2021
Overall Score: 5.75/10
Not gonna lie, a rather pedestrian episode for a Go Home to Turning Point. I gave the show an extra quarter of a point purely for the return of Wrestle House. I know some people thought it was dumb, but it was just the right amount of campy cornball carny dumb crap that I can get behind.
As for the rest of the show, matches just felt really short and kinda boring. I realize that Maclin vs Laredo needed to leave meat on the bone for Turning Point, but that moved through the spots so quickly and ended just as abruptly that calling it average was generous. Hell, even the main event was underwhelming. Yes I'm more accustomed to the amazing matches Suzuki has had, so the fact this was…alright, just struck me as a little lackluster. Plus having a squash and comedy match on the same show card is a little too redundant in the category of  Stuff that doesn't really matter – so maybe spread out the worthless stuff a little more than the final show before a bigger event.
Still it wasn't terrible, the storyline movement was fun at times and The IInspiration may not inspire anyone with their wrestling, but their acting and comedy is good stuff.