Chris's Takes Of NXT 11/06/19
Tonight's NXT we will witness Damian Priest vs. Pete Dunne but will superstars from Raw or Friday Night SmackDown TakeOver Full Sail Arena? Let's find out!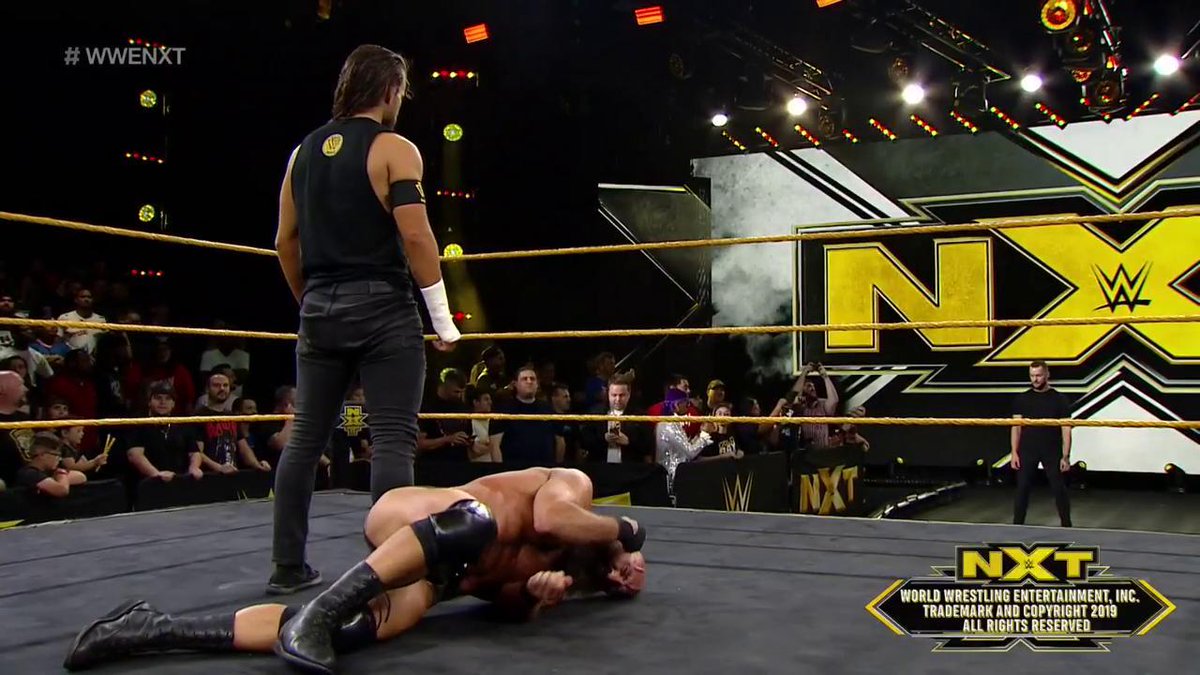 Tonight's NXT we will witness Damian Priest vs. Pete Dunne but will superstars from Raw or Friday Night SmackDown TakeOver Full Sail Arena? Let's find out!
The OC. Invades Full Sail Arena
We go live as we see video footage of The OC, laying waste to The Undisputed Era outside the arena. Moments later, AJ Styles, Luke Gallows, and Karl Anderson match down to the ring. Styles says for years he's heard all about NXT well after UE attempted to invade Raw last night, they've decided to return the favor.
"Welcome to the main roster."

You heard him, O.C.

💛🖤💛🖤💛🖤💛🖤💛🖤💛🖤#WWENXT @NXTCiampa pic.twitter.com/nsDU79JsNL

— WWE NXT (@WWENXT) November 7, 2019
Wait just a minute boys… Daddy's home as "The Greatest Sports Entertainer Of All Time" Tommaso Ciampa interrupted. The former NXT Champion traded barbs with the leader welcoming them to the "real" main roster. Styles says "Are we supposed to be afraid of you?" Nope, but Matt Riddle and Keith Lee and Ciampa are ready to kick their asses in the main event tonight!!!
Opinion: Words cannot describe how awesome this was! For years, it's only been a fantasy from both the WWE and the NXT Universe for AJ Styles and The Good Brothers to come down to Full Sail well tonight it became a reality. Styles is one of the best talkers on the mic and for him and Tommaso Ciampa to trade barbs that was incredible.
A HUGE main event will take place now and I am going to love every minute of it! There is one question though, did The OC., come alone or did some other superstars from Raw come too?
Damian Priest vs. Pete Dunne
Will "The Archer of Infamy" continue to play games with "The Bruiserweight" or will Priest leave with his fingers dislocated?
The match started red-hot as both competitors attempted their finishers but we're unsuccessful. After their first encounter Priest and Dunne have done their homework. The match continued with the young up-and-comer punishing the inaugural NXT UK Champion with a Falcon Arrow for a near-fall. Dunne missed a moonsault on the outside and Priest chokeslammed him on the apron.
😰😰😰😰😰😰😰😰@ArcherOfInfamy @PeteDunneYxB #WWENXT pic.twitter.com/60Q3gBuRAf

— WWE NXT (@WWENXT) November 7, 2019
The Bruiserweight caught his opponent off the top rope with a stiff right hand. Priest flew to the skies with a stunning Senton wiping out Dunne. Both competitors made their way back into the ring and engaged in a slugfest that knocked both men out. Priest went for another Chokeslam but Dunne countered into a high kick. Priest delivered a thunderous Crucifix Bomb for another near-fall. The Archer of Infamy had no choice but to tap-out when The Bruiserweight pulled his fingers back.
After the match, Killian Dain blindsided Dune blasting him in the corner. Priest appeared to make the save but just pummeled Dunne. "The Beast of Belfast" obliterated anyone in his path and delivered a Cannonball to The Archer of Infamy!
.@KillianDain makes his presence felt and absolutely FLATTENS @PeteDunneYxB and @ArcherOfInfamy on #WWENXT! pic.twitter.com/uLOqM7qgFZ

— WWE (@WWE) November 7, 2019
Opinion: This was a hard-hitting match with some explosive offense from both competitors. Dunne made Priest look like an absolute monster here. The Archer of Infamy is nobody to sleep on and continues to showcase his raw aggression more and more each week. The Bruiserweight finally getting the tap-out victory was the right move here as he didn't get pinned clean so he didn't lose any momentum in my book. Dunne will now have his work cut out for him against The Beast of Belfast. Where Priest goes from here is uncertain but make no mistake his name will go down in the history books.
Backstage Dakota Kai is warming up for her match against the NXT Women's Champion Shayna Baszler tonight when Cathy Kelly arrived. Kai said that she was afraid of Baszler but she's not now and she'll prove it tonight!
Taynara vs. Santana Garrett
This was Garrett's NXT tv debut and wow did she make an impact. She took the fight to the Brazilian specialist with a huge arsenal of submissions and near-falls. Taynara answered back with a nasty-looking overhead belly-to-belly suplex.
Garrett who was dressed as a superhero mounted a comeback as you would see in a movie delivering high-octane offense. She missed a springboard moonsault and Taynara answered back with a vicious Brazilian kick to the head for the victory.
Opinion: I'm shocked that Taynara picked up the win here especially in Garrett's debut match. The WWE Universe was on fire for Garrett as she beat Taynara in her own game of submissions. She definitely impressed me and I am hoping she can showcase more offense in her future contests. The Brazilian specialist hasn't had much momentum in her run in NXT perhaps, this win will help her ascend to the top of the women's division.
ITS OFFICIAL!!!
‼️‼️‼️‼️‼️‼️‼️‼️‼️‼️‼️‼️‼️‼️‼️‼️‼️@NXTCiampa, @SuperKingOfBros, & @RealKeithLee vs. @AJStylesOrg, @KarlAndersonWWE, & @LukeGallowsWWE

TONIGHT on #WWENXT!

‼️‼️‼️‼️‼️‼️‼️‼️‼️‼️‼️‼️‼️‼️‼️‼️‼️ pic.twitter.com/98QI0XINjx

— WWE (@WWE) November 7, 2019
A small vignette aired hyping "The Premier Athlete" Tony Nese to the NXT Universe ahead of his Cruiserweight match tonight.
Backstage we saw "The Queen of Spades" warming up with Marina Shafir and Jessamyn Duke for her match up next. Another vignette aired this time it was for the Lucha Libre superstar Angel Garza.
Dakota Kai vs. Shayna Baszler
The match started with the always-overconfident NXT Women's Champion bullying Kai into the corner but things are different since their last encounter as "The Captain of Team Kick" is no longer afraid of Baszler. Kai even faked-out the champ with her signature running kick but stopped, playing mind games with The Queen of Spades. Baszler finally went on the offense after she slammed Kai into the ring post.
Instead of targeting the arm as the Women's Champion did in their past, The Queen of Spades viciously stomped her rival's right knee as we headed to commercial. Baszler continued the onslaught until The Captain of Team Kick delivered a series of clotheslines and kicks to her rival.
"War is when the young and stupid are tricked by the old and bitter to fight each other." #ForgottenSons #wwenxt @WWENXT @WWE @USA_Network

— Steve Cutler (@SteveCutlerWWE) November 7, 2019
The Women's Champion executed a thunderous gutwrench suplex from the top-rope as both women fell to a heap. After a fantastic slugfest and more hard-hitting offense, The Submission Magician locked in the Kirafuda Clutch for the tap-out victory.
After the match, Shafir and Duke engaged in a two-on-one beatdown to Kai. It appeared that Rhea Ripley, Candice LeRae, and Tegan Nox were making the save until they were ambushed by Io Shirai and Bianca Belair. The HBIC Mia Yim with a kendo stick in hand came out blasting anyone in her path.
SHE'S THAT #HBIC!!!!@MiaYim just CLEANED UP this brawl! #WWENXT pic.twitter.com/KAOiAc4oV0

— WWE (@WWE) November 7, 2019
Opinion: Kai even in defeat looked completely unstoppable contrary to any other time she's come face-to-face with Baszler. She brought the fight to the NXT Women's Champion tonight in a hard-hitting affair and I don't think Baszler was prepared for that.
The Submission Magician has truly grown as an in-ring performer, she was incredible in selling for her long-time rival and she deserves serious props for that. The brawl between all the women was great to see. The question remains though, who will be the final members of both teams heading into the first-ever Women's WarGames Match?
Backstage Ciampa is being interviewed by Cathy Kelly ahead of their colossal six-man tag match. The Greatest Sports Entertainer Of All Time said that they left the door wide open for The OC! This main event might be the biggest in NXT history!
A vignette aired about Isaiah "Swerve" Scott declaring that Swerve is confidence.
Tony Nese vs. Angel Garza: Winner gets a Cruiserweight Championship Title Shot Next Week
Can The Premier Athlete bounce back to the top with a big victory tonight?
Both competitors started off in a battle of oneupsmanship over some fantastic counters and mat skills. The match continued as both amazing high-flyers delivered high-octane action that wowed the NXT Universe. Nese did his signature arm flex pose and Garza attempted to do his pose stripping down but was shut down. A slap fest ensued that looked very nasty with both competitors risking it all for a title shot.
Garza sent Nese to the outside but remained on the apron but the Lucha Libre superstar hit a wrecking ball dropkick to knock him down. Garza then delivered a picture-perfect moonsault wiping out his opponent on the outside.
High risk: Always.
Pants: Optional.@AngelGarzaWwe #WWENXT pic.twitter.com/zQpyxbvQWf

— WWE NXT (@WWENXT) November 7, 2019
The Premier Athlete went back on offense with his unique arsenal of maneuvers including a tornado DDT on the floor. Nese took the young up-and-comer down with a stiff right hand and delivered a stunning 450 Splash for a near-fall. The Premier Athlete may have six abs but the Lucha Libre superstar clipped his wings with The WingClipper for the 1.2.3!
After the match, the NXT Cruiserweight Champion Lio Rush came out to shake his number-one contender's hand but all he received was a HUGE slap to the face!
From 😇➡👿 real quick.@itsLioRush defends the NXT #CruiserweightTitle against @AngelGarzaWwe next week on #WWENXT! pic.twitter.com/tIneQqF5E1

— WWE NXT (@WWENXT) November 7, 2019
Opinion: What a match! From start to finish this one was crazy with both high-flyers giving it their all for a Cruiserweight Championship title shot next week. Nese went toe-to-toe with one of the hottest rising stars in NXT today but came up short again.  How can The Premier Athlete get back on a winning streak after consecutive losses?
Garza delivered a terrific performance tonight hitting the former Cruiserweight Champion with everything in his arsenal. The Lucha Libre superstar is a sight to behold and he's only twenty-seven years old. The right man won this match since Nese has already had his time with the title but it was a flop so it was short-lived.
Backstage Cathy Kelly caught up with Rhea Ripley and the rest of her team. She inquired on who will be the final member of her team? The Australian picked Mia Yim and told Kai that she was sorry she just didn't make the cut.
Isaiah "Swerve" Scott vs. Dominic Dijakovic
The match started with both competitors jockeying for position as Swerve targeted the big man's arm and utilized a unique dancing counter followed by copying Dijakovic 's "Feast Your Eyes" taunt. The big man responded throwing Swerve around like a rag toy.
The POWER of @DijakovicWWE!!!! #WWENXT pic.twitter.com/2V8C0oQGNJ

— WWE NXT (@WWENXT) November 7, 2019
Dijakovic slowed the pace down methodical dissecting the young up-and-comer. Swerve avoided some hard-hitting offense with a German suplex. He followed it up with a hard stuff knee in the corner and a stunning tornado DDT for a long near-fall.
Dijakovic went for Feast Your Eyes but Swerve magnificently countered it for a 2.9 count. Towards the end of the match, the big man grabbed his opponent by the chin pulling him up but Swerve got the best of him sending him to the outside. The amazing young up-and-comer delivered a thunderous double-stomp on the apron. After a series of vicious lariats from Dijokovac and terrific kicks from Swerve, the big man finished his opponent off with Feast Your Eyes for the hard-fought victory!
#FeastYourEyes on THIS.@DijakovicWWE wins the war against @swerveconfident on #WWENXT! pic.twitter.com/IbjmnCAQqy

— WWE NXT (@WWENXT) November 7, 2019
Opinion: Swerve delivered one hell of a performance tonight going toe-to-toe with Dijakovic . He may young but damn he can mix it with the biggest and brightest superstars. His counters and reversals were insane, his execution of maneuvers was crisp and spot on. He continues to prove why he's one of the hottest rising stars on the black and gold brand. I thought for a second he was going to get the victory when he countered Feast Your Eyes!
Dijakovic the former NCAA football All-American is fascinating to watch as well. His brute strength is scary and the way he hurls his opponents around like a sack of potatoes makes you cringe. His lariats look brutal and he flies around the ring like a Cruiserweight. Dijakovic is making his way to the top of the food chain one impressive victory at a time.
A HUGE match announced for next week…Shut up and take my money!!!
Stakes so high, we needed to bring out the ladders.@shirai_io vs. @MiaYim, NEXT WEEK on #WWENXT! pic.twitter.com/mnmmzqBukw

— WWE NXT (@WWENXT) November 7, 2019
Main Event:  The OC., vs. Tommaso Ciampa, Keith Lee, and Matt Riddle
The OC. is out first followed by Riddle, Lee, and Ciampa. A huge brawl ensued with everyone fighting all over the ring until the official gains control. The match started with Styles and Ciampa beating the hell out of each other.
Allow us to formally introduce @FullSail to @AJStylesOrg:#WWENXT pic.twitter.com/LZlJqdMa4G

— WWE (@WWE) November 7, 2019
Ciampa countered but the United States Champion caught him with a stunning dropkick. Back in the ring, Ciampa delivered Willow's Bell for a long near-fall. Ciampa makes the tag to Lee and in comes Gallows. The two behemoths charged towards each other with shoulder tackles but no one went down. Lee utilized his quick speed to counter and deliver a thunderous pounce that sent Gallows on the outside.
All three members of the OC., isolated Ciampa with quick tags and even cutting off an attempt to get to Riddle or Lee. Finally, after a stiff knee Ciampa tags in Riddle who explodes like a missile blasting anyone that moves with wicked kicks and Brotons.
Full-on chaos erupts as all three members of both teams brawl outside the ring. Lee inadvertently struck the official when he delivered a ferocious pounce to Styles. Ciampa came back in and set up for the Fairytale Ending but Finn Balor's music distracted him. "The Prince" shocked the NXT Universe as he executed a vicious DDT on the ramp to "The Original Bro."
Styles threw up the two-sweet gesture and Balor threw up the guns gesture.
WHAT IS HAPPENING?!?!?!?!?@AJStylesOrg @FinnBalor #WWENXT pic.twitter.com/HY6x5hgBt9

— WWE (@WWE) November 7, 2019
The NXT Champion emerged out of nowhere to deliver a massive Superkick to Styles and The Last Shot to Ciampa. The show ended with Balor and the leader of UE smiling at each other.
Opinion: There is a ton to unpack here. In my opinion, this was one of the greatest main events in NXT history and it absolutely lived up to the hype. The OC. and Ciampa, Lee, and Riddle went to war for brand supremacy. It was a perfect mixture of high-octane action and methodical dissection from the Raw superstars. Riddle continues to showcase why he's in the same main event level as Cole, Ciampa, and Johnny Gargano. The next step in the rise of The Original Bro should be winning the tag team titles with his buddy Lee.
Lee is a freak he should not be able to execute the insane maneuvers that he continues to. He has the agility of a Cruiserweight that allows him to fly all over the ring and his massive pounces are a sight to behold. Styles and company felt completely at home inside Full Sail. I'm waiting to hear their response to the amazing NXT Universe. It's a different atmosphere than the WWE Universe.
The ending was spectacular as we've seen in the past, NXT leaves you anxiously waiting to tune into the next week. It's something that the WWE creative writing team should take note of. Balor wait I'm sorry…Prince Devitt continues to shock everyone with his slow-paced heel turn. Nobody knows what to expect next from the former Raw superstar. Is he aligning with The UE? Or is he in cahoots with The OC? It's the small little things that speak volumes and NXT always does it best!
Summary: Another terrific episode with some great hard-hitting matches while adding layers to the developments heading into Survivor Series. Two of my favorites were Swerve vs. Dijakovic and Kai vs. Baszler I felt like those superstars told an incredible story between the ropes.
Right now, the best way to end all of WWE programming is chaotic and pandemonium leaving the audience craving more. Something that makes NXT special is how they set everything up for you to tune in next week to see what happens next. AEW definitely has its hands full this week, and that's putting it lightly!
AJ's Thoughts: Five Potential Returns
With Trips in charge and already starting to bring back some people that didn't work in Vince's picture, AJ got an idea. Who else could we see on the horizon radar?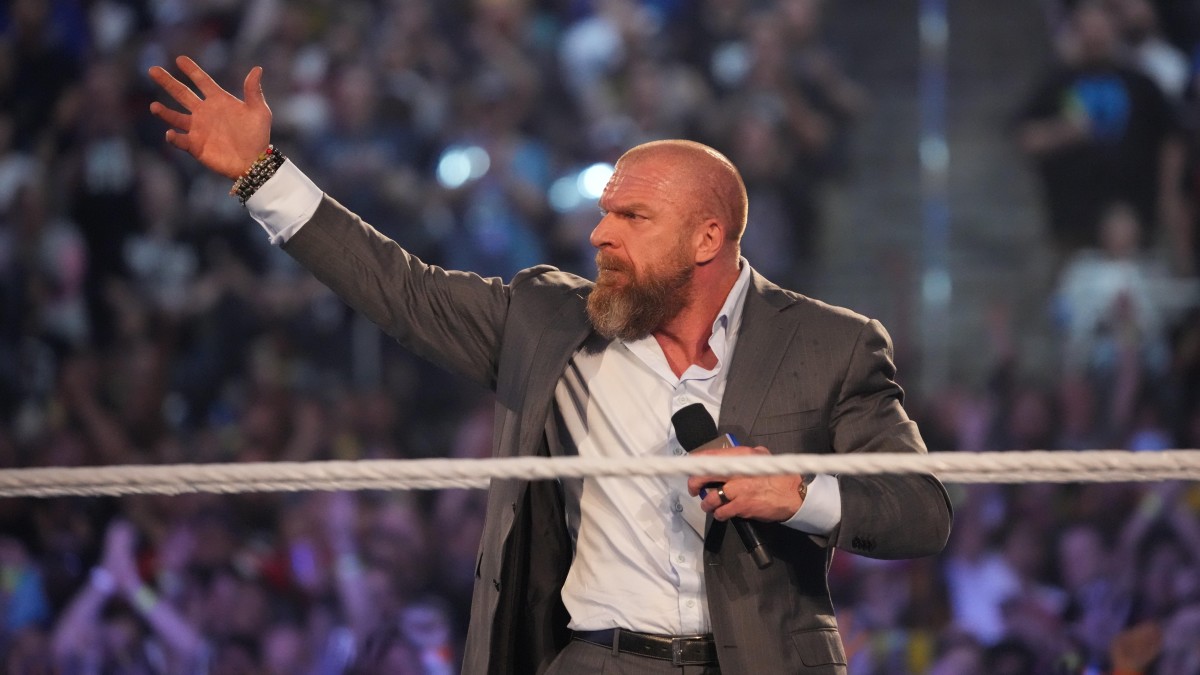 With Trips in charge and already starting to bring back some people that didn't work in Vince's picture, AJ got an idea. Who else could we see on the horizon radar?
With everything going on with WWE, the one thing we have all been hyped about are all of these returns. Dakota Kai made her return at SummerSlam alongside Io and Bayley and now on last SmackDown, Karrion Kross and Scarlett made their returns in a big way against Drew McIntyre and showed the Hourglass to The Bloodline.
With all of that, there have been things in the pipeline saying Triple H's foot isn't off the pedal so these are 5 returns from either NXT, main roster or even Try-Outs that I would love to see happen with the new regime.
1. Johnny Gargano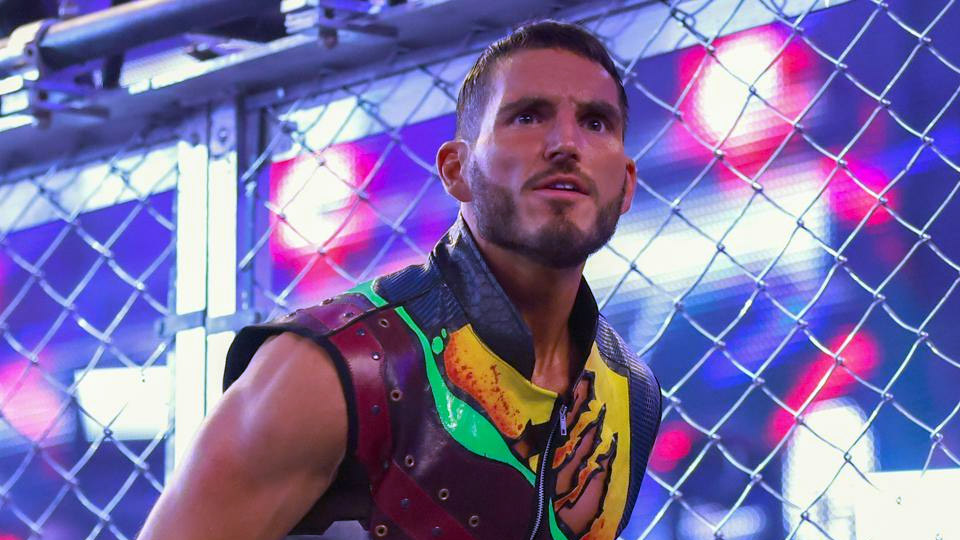 Now this is a name that people have been saying, "Maybe Impact or MLW" but, what about a return? Gargano didn't renew his contract, most likely to be with his family which is a valid and amazing reason, will never disrespect that. If he were to return, there would be a handful of great reasons. Maybe a singles run with the Intercontinental or United States but with Ciampa getting limelight in the main roster from RAW, what if we get a tag team reunion?
WWE is hurting for Tag Teams and what better than to scare off The Bloodline, loosen  the stranglehold of championships with some Do It Yourself action. DIY reunion could be amazing, especially with newer faces showing up to get championship aspirations like Kross and Ciampa. Want to break the hierarchy? Do It Yourself.
2. James Storm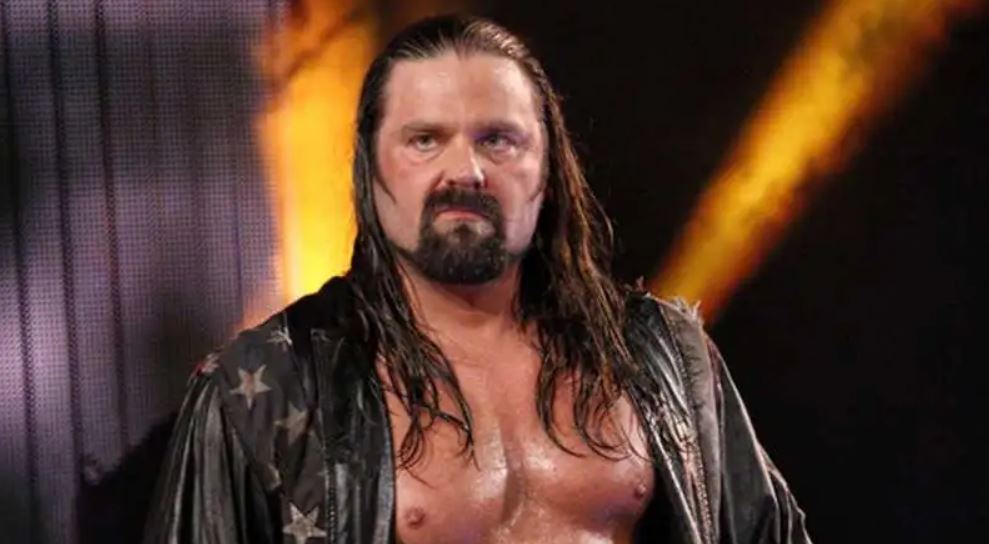 This one is a little bit weird and off. On one hand, who doesn't love the Tennessee Cowboy, Jimmy James Storm? On the other, he is 45 and getting some nagging injuries as of late. So why would I say Triple H should bring James Storm back and give him something for the main roster? One of the things I said for Gargano, we have a lack of something and The Usos might need to watch two things in the rearview.
Watch your Money and your Alcohol.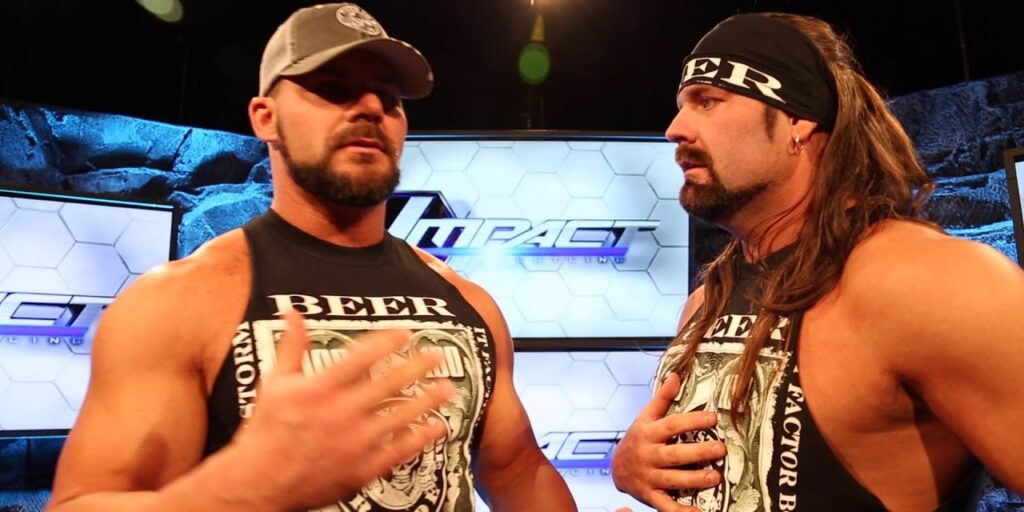 Beer Money showing up in WWE would be amazing in my personal opinion. The Bloodline jump Roode, someone in a hoodie or jacket comes up and jumps them to even the fight and as soon as one Uso remained in the ring, the figure goes down and the old stomping goes off and we hear "BEER…" and Roode looks around and gets hyped up and shouts, "…MONEY!"
3. Big Cass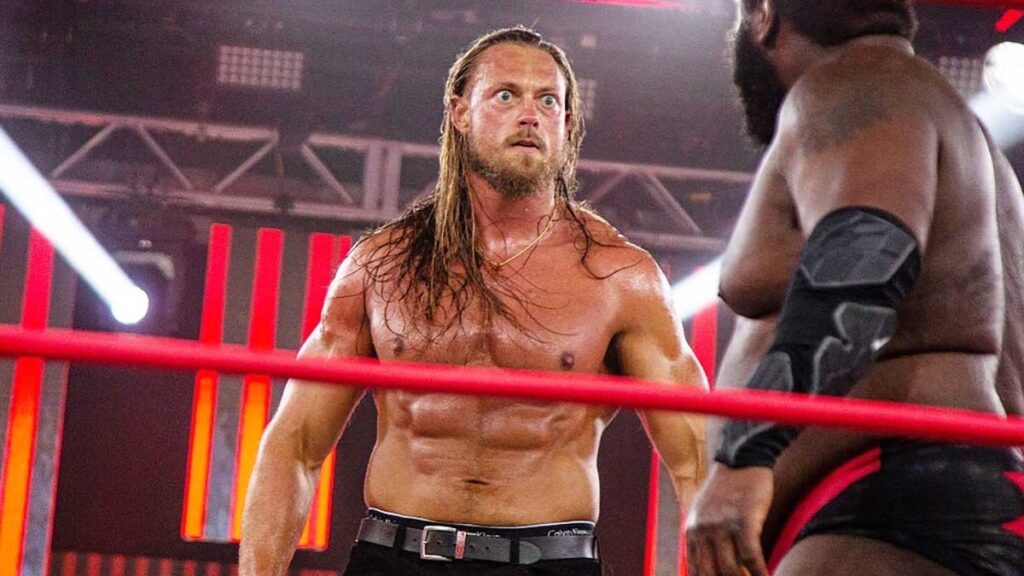 Since his departure from WWE, he has done something I have said since they split him off from Enzo. Take him through the Kevin Nash School of How To Big Man. ROH and Impact are great examples that he actually cleaned up and worked on what he has to do to be good in the ring. He can work the microphone, he can work the ring so we got a new big boy to take on the WWE once again.
Now I could have said Enzo and Cass to rejoin but, I'm sure the antics of Enzo will get Cass in deep water along with the fact that I already made two tag team predictions, we don't need another. Cass brings a lot to the table and was kind of unproven in WWE because he was just the big enforcer to the more charismatic Enzo. Give this man about six months in the ring and you have your next MASSIVE problem in the IC or US Championship scene or even more.
4. Bronson Reed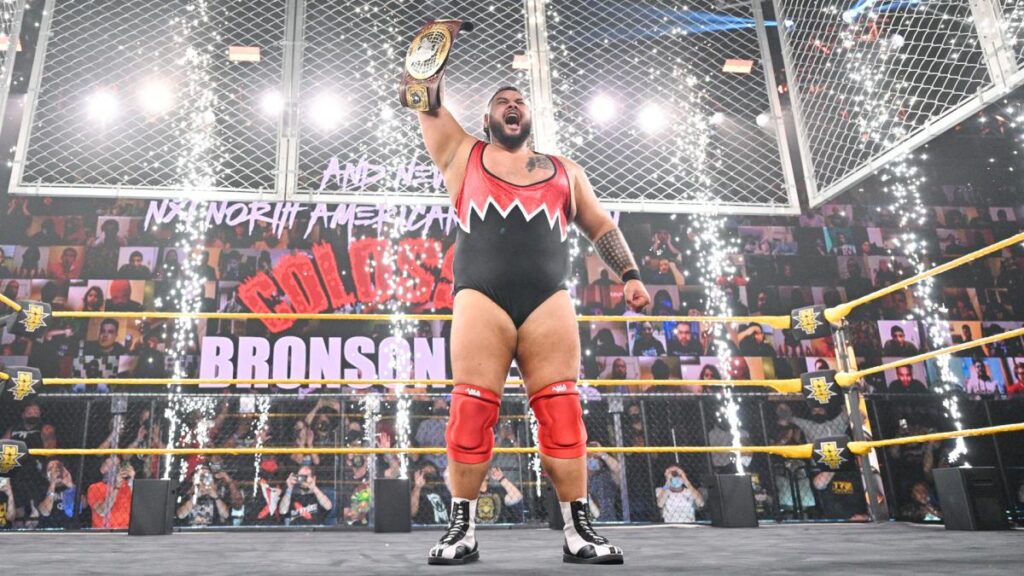 The big man from down under is a former NXT North American Champion. He looked to have a good push going with that championship but he got release. If you wonder where he went… he actually made a pit stop in Impact Wrestling as JONAH with the most fire theme song in recent history I swear… I will link the theme song and Trips… please. Get rights to this theme song. I will be a bigger Bronson Reed fan.
Bronson to me is the weird man in all of this but, I think with Triple H involved, he could get something going for him with a good singles champion run or a big threat to go through like a gatekeeper of sorts. Big boy with a great amount of athleticism? Can't really hate on that considering the last time we saw athletic bigger people were Keith Lee and… what was that one guy? Sherman Tank with a Ferrari Engine…?
5. Bray Wyatt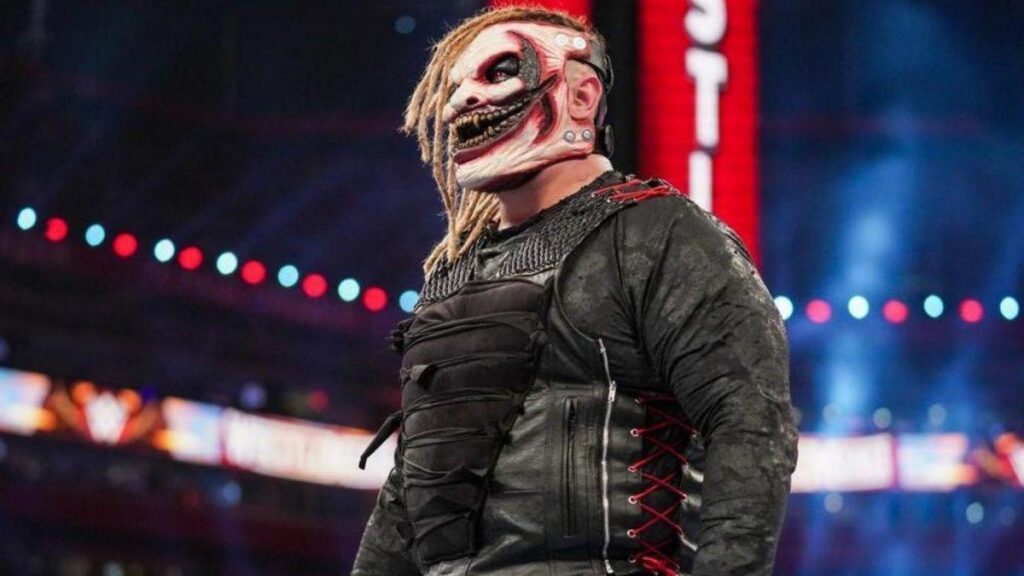 And the last one is the obvious one in all of this. Yes… we have Judgment Day as the somewhat supernatural dark group but we know the true successor of the supernatural and that is "The Eater of Worlds", "The Fiend" Bray Wyatt. This time around, I don't think we will get the Jekyl and Hyde, Mister Rogers gimmick. I believe this time around we get full darkness and mayhem. We get the darkness and the theory of reverting back to your prime.
To make a refresher… Miz went back to being the cocky narcissist after fighting The Fiend. Finn turned back to the Prince and much more. With guys like Edge returning, maybe we see the return of the Heel Ultimate Opportunist, maybe a Fiend fight with AJ Styles to get the TN-AJ perhaps. Possibilities are endless and with a great mind like Wyatt for character and execution, I think Hunter will pick up the phone and Let Him In.
– There are clearly others that I could say, or maybe even didn't think about, but hey, that's the Chairshot way of Always Using Your Head. Those are just five returns that could happen and hopefully you read this before RAW or SmackDown and who knows if I get any of these right, maybe I missed an obvious one or maybe we get a giant signing that nobody thought possible. Let me and all of Chairshot know!
King's Greatest Hits Of Jeff Hardy
As he battles his demons, Chris King looks at some more positive moments in Jeff Hardy's career!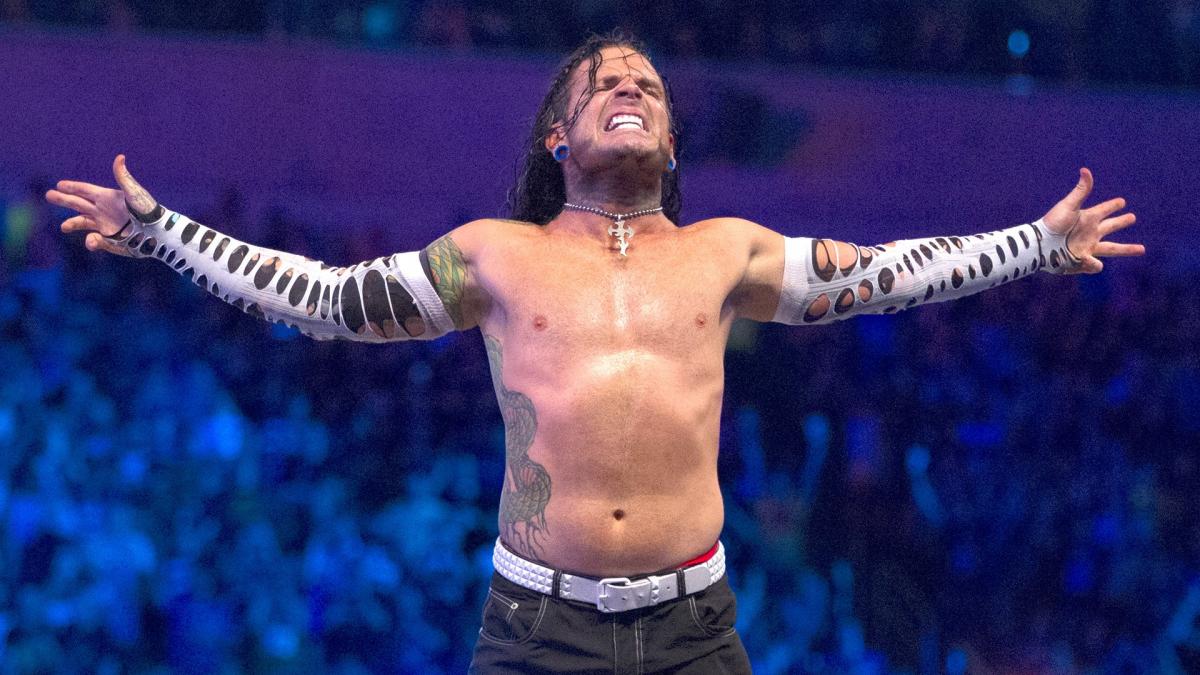 I'm sure by now you've heard the disturbing news that former WWE superstar and recent AEW signee Jeff Hardy, was arrested again for multiple charges including a DUI.  Hardy has had a hard and tragic road of recovery throughout the years in multiple wrestling promotions.
Not too long ago, Hardy walked out on WWE after they were rumored to have offered the former world champion to go to treatment for his substance abuse issues. Hardy refused and said that he was better but, as we saw the demons are still lurking and got the best of him again.
I have seen some nasty comments and even some distasteful memes about the AEW superstar and felt compelled to go against the grain. Instead of kicking a man when he's down, I'm going to put together a greatest hits for the "Charismatic Enigma."
Jeff Hardy & The TLC Match
Everyone can say that Shawn Michaels and Razor Ramon helped innovate the iconic ladder match and you are right, but Jeff Hardy and his death-defying stunts changed the concept of the match forever. The Hardy Boyz vs. The Dudley Boyz vs. Edge & Christian and their iconic TLC match should have their wing in the Hall of Fame. The risks all six superstars took for the adoration of the crowd could have ended all of their illustrious careers. In the words of Vince McMahon, It's such good shit!
Jeff Hardy Earns The Undertaker's Respect
On the July 1st, 2002 episode of Monday Night Raw, Hardy delivered the performance of a lifetime nearly winning the WWE Undisputed Championship from The Undertaker in an incredible ladder match. The young up-and-comer was faced with his greatest task yet, challenging for the most prestigious title in sports entertainment. Hardy showed that without a shadow of a doubt he deserved to be in the main event scene, but came within minutes of defeating Taker. At the time of the match, Hardy was still finding his footing as a singles competitor and earned the respect of the champion and legend.
Swanton Bomb From The Heavens
When I think of the daredevil Jeff Hardy, I can't help but think of this one crazy-as-hell stunt. At WWE One Night Stand 2008, Hardy faced off against the juggernaut Umaga in a falls count anywhere match. This match was so insane as both superstars fought into the parking lot. Hardy is one of the craziest and bravest superstars, hit a Swanton Bomb off a damn stage truck onto Umaga. It's one of the wildest things you'll ever see.
Hardy Wins The WWE Championship 
In 2008, Hardy finally made his way to the main event title picture alongside partner Triple H. HHH was Hardy's mentor in some sort of way which led to the daredevil achieving his lifelong dream of becoming WWE champion. At the 2008 Armageddon pay-per-view, Hardy would face HHH and longtime rival Edge in a triple-threat match for the title. In what was a great match between all three superstars, Hardy delivered a Swanton Bomb to Edge to win the illustrious championship.
Straight Edge Problems For Hardy
The following year, Hardy found himself in the way of young-up-and-comer CM Punk who is looking to make an example out of him. Punk had won the Money in the Bank briefcase for the second year in a row and took advantage of Hardy to win the world title. What started as mutual respect between both superstars changed drastically, when Punk started throwing jabs at Hardy for his drug and substance abuse real-life issues. Punk would form his infamous stable known as the Straight Edge Society. This is a very underrated feud and you should go back and watch it in its entirety. The promos are gold.
The Hardy Boyz Return To WWE
Both Matt and Jeff Hardy found success in multiple other wrestling promotions including Ring of Honor, and TNA during their time away from WWE. Both brothers were struggling with their vices and made poor life choices but straightened up their act over the years. In 2017, the Hardy Boyz would face longtime rivals The Young Bucks in ROH. The following night the adored tag team would make their incredible return to WWE at WrestleMania 33. Matt and Jeff would be named the final team in the Fatal 4-way ladder match for the Raw Tag Team Championships. The pop these two received was insane and very much deserved. They would go on to win the match and win the titles to capitalize on their momentum.
Jeffery Nero Hardy Makes AEW Debut
From 2017-to 2022 Jeff Hardy would find himself pigeonholed in the mid-card title picture. He would have feuds with a plethora of superstars including Samoa Joe, and Randy Orton. Orton and Hardy had a nasty Hell in a Cell match back in 2018. Earlier this year, Hardy was seen running around after the 24/7 Championship, which was disappointing to see. After being genuinely unhappy in WWE, Hardy would make his AEW debut on the March 9th episode of AEW Dynamite. Hardy would come to the aid of his brother and longtime partner.
This week news broke that Hardy had been arrested for multiple charges including a DUI. While it's easy to beat a man while he's down, how about we uplift and try to encourage him to get the help he needs.
As a longtime wrestling fan, I have the utmost respect for Hardy and wish him the best of luck in his battle with addiction.