Cook: Which Sesame Street Characters Would Be Good Wrestlers?
To celebrate the 50 year anniversary of Sesame Street, Steve Cook ponders which characters could deliver in the ring!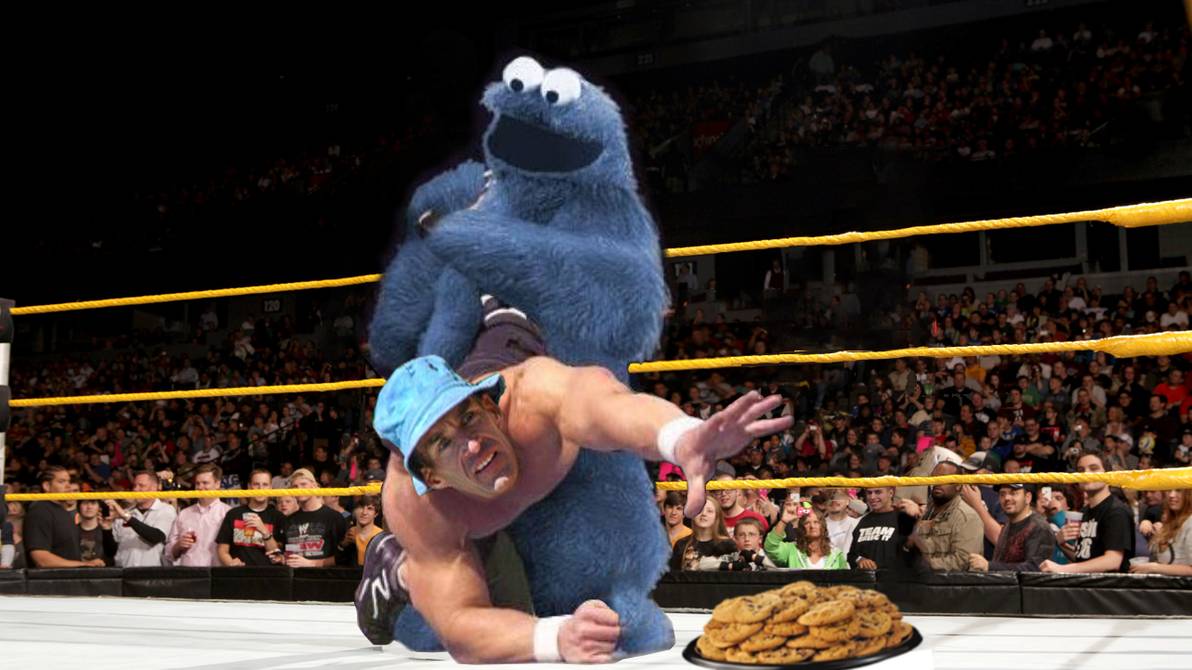 To celebrate the 50 year anniversary of Sesame Street, Steve Cook ponders which characters could deliver in the ring!
November 10, 1969 saw the debut of what would become one of America's favorite television shows. Sesame Street was one of the first shows that appealed to children while managing to keep adults engaged as well. Five decades later and the show is still going strong, providing education & entertainment to kids across the globe.
If you're like me, you've wondered over the years how characters from other television shows would fare in the wrestling ring. Back in the years when I collected action figures, I would include non-wrestling figures in my action figure federation. My Anthony Munoz Starting Lineup figure, Shredder, Bebop & Rocksteady were regulars in the ring, along with other randoms.
I didn't have any Sesame Street figures, so Big Bird never got to challenge for the WWF Championship. However, it's a crossover that I can't help but think about. Which Sesame Street characters would do well in the world of wrestling? Let's break down some of the contenders…
Bert & Ernie
Strengths: You'd be hard pressed to find a tag team made up of non-siblings that know each other better. If Bert's in trouble, Ernie comes to the rescue, and vice versa.
Weaknesses: Bert looks more like the type to get beat up than the type to beat people up. Meanwhile, Ernie is easily distracted and spends more time in the bathtub than the weight room.
Elmo
Today Elmo got to see the sweater of one of Elmo's favorite people. Elmo loves you Mr. Rogers ❤ pic.twitter.com/XLo3yHuTWl

— Elmo (@elmo) June 14, 2019
Strengths: Incredibly popular. Cute as a button.
Weaknesses: He's three & a half years old, which is probably too young to start a wrestling career. Also, he's very ticklish, which would make working matches with him difficult.
Count von Count
Two thousand six hundred twenty one!

— Count von Count (@CountVonCount) November 8, 2019
Strengths: Smartest of the Sesame Street characters. Being a vampire has certain advantages. His ten punches in the corner would be tremendously over. Very popular with the female audience.
Weaknesses: He's a little obsessed with the whole counting thing. One can imagine him getting wrapped up in counting the turnbuckles or ring ropes, leaving him prone to attack from an opponent. He'd be constantly complaining about the referee's count.
Mr. Snuffleupagus
Strengths: Deceptively sneaky. Managed to hide from everybody on Sesame Street except Big Bird for years. Very large. Has a quiet kind of charisma about him.
Weaknesses: Could you imagine trying to work a pro wrestling match with a quadruped? Pretty much any traditional wrestling spot except the Junkyard Dog headbutts would become incredibly awkward & hard to pull off. Snuffy would even have problems with traditional big man moves like the chokeslam. And forget having him piledrive or powerbomb anybody.
Oscar the Grouch
trash https://t.co/UZOcbM7ypl

— Oscar the Grouch (@OscarTheGrouch) April 12, 2019
Strengths: Of all the Sesame Street characters, Oscar's the most likely to have extensive fighting experience. He does a lot of trash talking. Could work either face or heel, as people tend to identify with grouches.
Weaknesses: Rarely leaves his trash can. Could you trust him to show up for a booking? If he shows up he'll probably complain about whatever you have him doing. Especially if he's losing. One would think that the garbage can would make a good weapon, but since it doubles as his house I doubt he would use it.
Cookie Monster
We no have Monday blues because we have @MeCookieMonster. pic.twitter.com/WaGn9vftbC

— Chicago Cubs (@Cubs) July 29, 2019
Strengths: Great verbal skills. Would have multiple catchphrases the fans could sing along with. Good size, crazed demeanor would make him threatening to any opponent.
Weaknesses: Training regimen would be problematic. Eating cookies all day every day wouldn't help with Cookie's stamina in the ring. Would probably blow up early on in a match and need to be carried to the finish.
Big Bird
Just thinking about where I can find a birdseed milkshake in Kansas City… @VisitKC @nelson_atkins #ThisIsMyStreet pic.twitter.com/O6Ox74YwnU

— Big Bird (@BigBird) July 13, 2019
Strengths: Really tall. Has a large beak. Two keys to success in professional wrestling. Likeable bird that you just want to root for no matter who he's going against.
Weaknesses: Has Big Bird ever been mean to anybody? Can you imagine him trying to work as a heel? Of course not! He'd have to be a babyface, which kind of limits the way you can book him. It's also fair to wonder if Big Bird fighting somebody would be believable.
So who do I think would be best? Probably Cookie Monster, if you could find a way to control his diet. The Count would be pretty good. I think Big Bird & Oscar would be most successful feuding with each other. Beyond them, I think Sesame Street characters are better off doing what they're doing.