Does NXT Need A Clean Sweep At Survivor Series??
Gou Oussema makes his Chairshot debut with a special look at NXT and Survivor Series. Does the black and gold express need a clean sweep?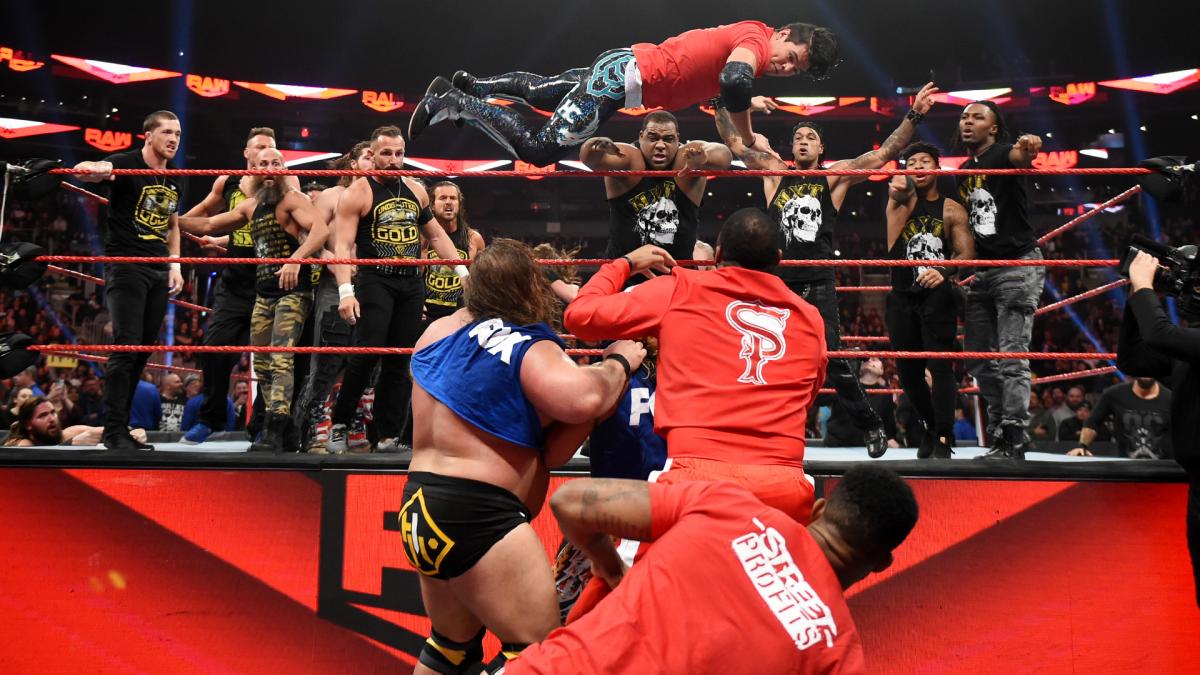 Gou Oussema makes his Chairshot debut with a special look at NXT and Survivor Series. Does the black and gold express need a clean sweep?
Probably this image above doesn't highlight NXT as this article is supposed to, but that is what WWE pushed themselves to through a combination of indifference and mild booking for what is UNDISPUTEDLY (see what i did there?) the hottest brand in the company. The "Invasion" angle has been a hit and miss so far, with the first shot during the post-Crown Jewel episode of Smackdown being a perfect example. Adam Cole defeated Daniel Bryan clean on that show for god' sake, yet two weeks later NXT feels like HHH's pet house from which he can choose which ones to be in his convoy.
This mediocrity in booking such story, combined with the usual "Bullocks" (to quote Becky Lynch) of "Brand Supremacy", does not make for enticing viewing for neither RAW or Smackdown. This storyline is quickly approaching the original ECW/WCW invasion levels, which is to say that NXT does not feel like a menacing force calling the shots, but more like another brand caught in this "Brand Warfare". With that said, can a clean sweep for the "Golden standard" of sports entertainment be beneficial for their momentum in their head-to-head war against AEW?
Let's call it like it is, NXT would not have been here if AEW wasn't founded. This is the matter of the fact, as it would certainly remained a one-hour sprint on the network instead of its current status on USA. The TV move for that brand perhaps put a lot of weight on its roster, and certainly on its higher-ups including HHH and Shawn Michaels to deliver not only a great show, but one that can draw good numbers too. For the best part, they were successful at first, pulling more than a million viewer on their first one hour broadcast on USA network.
Then, Dynamite came around, and nothing was the same. For 8 weeks running as of this time, they have been outdrawn by AEW, though not necessarily in the show quality. Now that we are closely reaching Survivor Series, NXT needs as much momentum going in as they can build, particularly with a TakeOver the night before. For sure, the addition of the NXT guys to the November extravaganza is going to inject some needed prowess between the ropes, but it should be supported by the right booking from WWE.
In my opinion at least, this right booking is a clean sweep, a takeover (see what i did?). Yes, this might not happen, but i'm standing firm to my stance here. WWE can not treat this like the 2001 invasion and completely suck the air out of it, neither do their classic 50/50 booking and give NXT some insignificant wins or worse, ones with horrid finishes. The best and most efficient solution is to give them the lottery, let them run roughshod through the main roster and score the ultimate victory. This decision, if happening, will be successful on so many levels; give NXT the boost they need to increase its importance as a true brand, turn viewers in to watch and invest in the product, and of course, put over the roster of incredible talent that NXT has.
The matches are guaranteed to be awesome anyway (I mean there is Strong vs Nakamura vs AJ Styles on the card!!), but NXT being victorious in all of those matches will cement them and the PPV in the annals of pro wrestling greatness. For that to work though, the booking should be all in (yes it's what you think it is) on them, which means no screwy finishes or too much shenanigans, WWE should just let them be the best brand on the night. We don't need to see the full line-up of Undisputed Era getting involved in each match where there is a member of them, which is stupid booking aside from being an overkill.
Team NXT (both men and women) shouldn't be represented as underdogs or inexperienced guys against the main-roster veterans, but rather as a menacing force that the main-roster underestimated. In addition, three of the NXT championships will be involved in this cross-brand war, and they should be treated as royalty. Let Shayna Bazsler choke the life out of Bayley, or even Becky, have Roderick Strong outsmart AJ and Nakamura in the ring instead of relying of his faction's numbers game. It is necessary to consider that NXT has a show the night before when doing this, with most of the wrestlers involved on Sunday lacing the boots on Saturday, and for some even being in a War Games match, which means that the booking should not cause the double duty pulled by some to have a major effect on them as it could lead to injuries which are the biggest worry for HHH and co.
However, we are asking too much perhaps for WWE, who have an impressive (for the wrong reasons) record of being too stubborn to book the up and comers over the established stars. Though, we will keep our fingers crossed that NXT might walk out from Chicago being the victorious brand which will certainly get them some needed eyes on their show on Wednesday night.
In the end, this might get into the "Fantasy booking" territory as it might be unrealistic for some people, but the odd thing can be the righteous thing sometimes. Still, WWE might surprise us with a well-booked show that reminds us why we can't book wrestling in their place. Before I conclude, I have one thing to say: WWE, PLEASE KEEP TRIPLE H, SHANE MCMAHON, AND CM PUNK AWAY FROM THE SHOW! because I heard these bits of rumor mill work a lot these days.
This is only one man's opinion in the end, tell me yours in the comments below or reach out on Twitter @OGouesmiHellRaiser.