Does NXT Need A Clean Sweep At Survivor Series??
Gou Oussema makes his Chairshot debut with a special look at NXT and Survivor Series. Does the black and gold express need a clean sweep?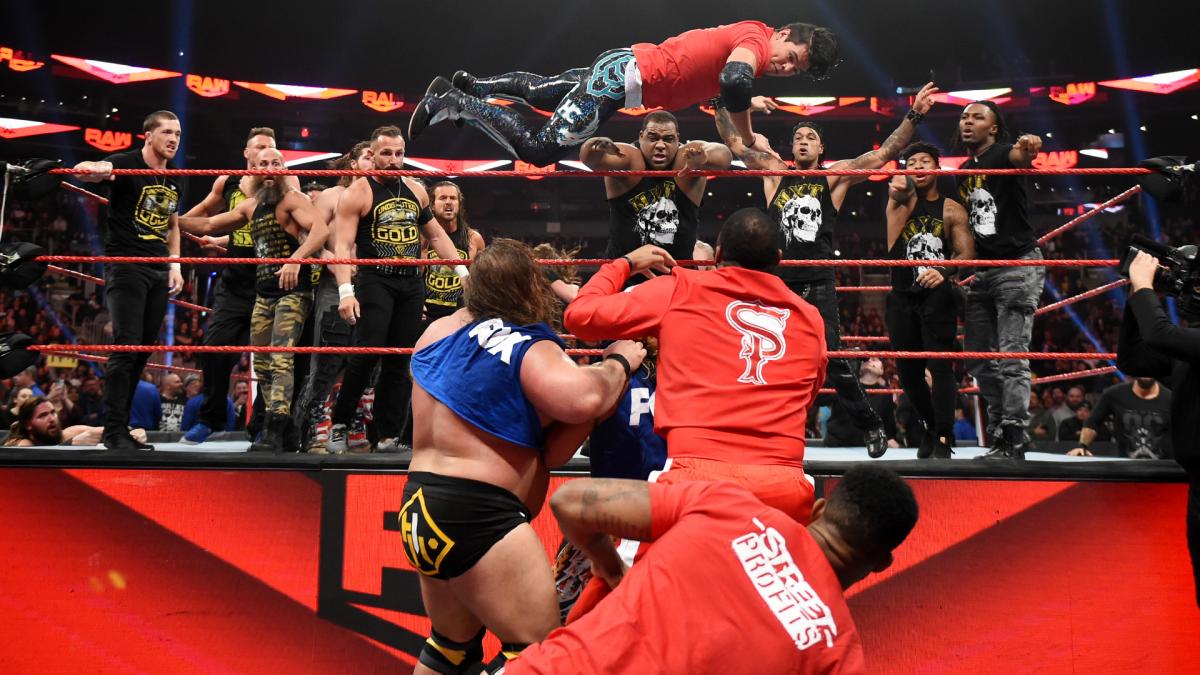 Gou Oussema makes his Chairshot debut with a special look at NXT and Survivor Series. Does the black and gold express need a clean sweep?
Probably this image above doesn't highlight NXT as this article is supposed to, but that is what WWE pushed themselves to through a combination of indifference and mild booking for what is UNDISPUTEDLY (see what i did there?) the hottest brand in the company. The "Invasion" angle has been a hit and miss so far, with the first shot during the post-Crown Jewel episode of Smackdown being a perfect example. Adam Cole defeated Daniel Bryan clean on that show for god' sake, yet two weeks later NXT feels like HHH's pet house from which he can choose which ones to be in his convoy.
This mediocrity in booking such story, combined with the usual "Bullocks" (to quote Becky Lynch) of "Brand Supremacy", does not make for enticing viewing for neither RAW or Smackdown. This storyline is quickly approaching the original ECW/WCW invasion levels, which is to say that NXT does not feel like a menacing force calling the shots, but more like another brand caught in this "Brand Warfare". With that said, can a clean sweep for the "Golden standard" of sports entertainment be beneficial for their momentum in their head-to-head war against AEW?
Let's call it like it is, NXT would not have been here if AEW wasn't founded. This is the matter of the fact, as it would certainly remained a one-hour sprint on the network instead of its current status on USA. The TV move for that brand perhaps put a lot of weight on its roster, and certainly on its higher-ups including HHH and Shawn Michaels to deliver not only a great show, but one that can draw good numbers too. For the best part, they were successful at first, pulling more than a million viewer on their first one hour broadcast on USA network.
Then, Dynamite came around, and nothing was the same. For 8 weeks running as of this time, they have been outdrawn by AEW, though not necessarily in the show quality. Now that we are closely reaching Survivor Series, NXT needs as much momentum going in as they can build, particularly with a TakeOver the night before. For sure, the addition of the NXT guys to the November extravaganza is going to inject some needed prowess between the ropes, but it should be supported by the right booking from WWE.
In my opinion at least, this right booking is a clean sweep, a takeover (see what i did?). Yes, this might not happen, but i'm standing firm to my stance here. WWE can not treat this like the 2001 invasion and completely suck the air out of it, neither do their classic 50/50 booking and give NXT some insignificant wins or worse, ones with horrid finishes. The best and most efficient solution is to give them the lottery, let them run roughshod through the main roster and score the ultimate victory. This decision, if happening, will be successful on so many levels; give NXT the boost they need to increase its importance as a true brand, turn viewers in to watch and invest in the product, and of course, put over the roster of incredible talent that NXT has.
The matches are guaranteed to be awesome anyway (I mean there is Strong vs Nakamura vs AJ Styles on the card!!), but NXT being victorious in all of those matches will cement them and the PPV in the annals of pro wrestling greatness. For that to work though, the booking should be all in (yes it's what you think it is) on them, which means no screwy finishes or too much shenanigans, WWE should just let them be the best brand on the night. We don't need to see the full line-up of Undisputed Era getting involved in each match where there is a member of them, which is stupid booking aside from being an overkill.
Team NXT (both men and women) shouldn't be represented as underdogs or inexperienced guys against the main-roster veterans, but rather as a menacing force that the main-roster underestimated. In addition, three of the NXT championships will be involved in this cross-brand war, and they should be treated as royalty. Let Shayna Bazsler choke the life out of Bayley, or even Becky, have Roderick Strong outsmart AJ and Nakamura in the ring instead of relying of his faction's numbers game. It is necessary to consider that NXT has a show the night before when doing this, with most of the wrestlers involved on Sunday lacing the boots on Saturday, and for some even being in a War Games match, which means that the booking should not cause the double duty pulled by some to have a major effect on them as it could lead to injuries which are the biggest worry for HHH and co.
However, we are asking too much perhaps for WWE, who have an impressive (for the wrong reasons) record of being too stubborn to book the up and comers over the established stars. Though, we will keep our fingers crossed that NXT might walk out from Chicago being the victorious brand which will certainly get them some needed eyes on their show on Wednesday night.
In the end, this might get into the "Fantasy booking" territory as it might be unrealistic for some people, but the odd thing can be the righteous thing sometimes. Still, WWE might surprise us with a well-booked show that reminds us why we can't book wrestling in their place. Before I conclude, I have one thing to say: WWE, PLEASE KEEP TRIPLE H, SHANE MCMAHON, AND CM PUNK AWAY FROM THE SHOW! because I heard these bits of rumor mill work a lot these days.
This is only one man's opinion in the end, tell me yours in the comments below or reach out on Twitter @OGouesmiHellRaiser.
King's WrestleMania Rewind: Charlotte Flair vs. Asuka from WrestleMania 34
Chris king is back with one of the most underrated matches in WrestleMania history–Charlotte Flair vs. Asuka!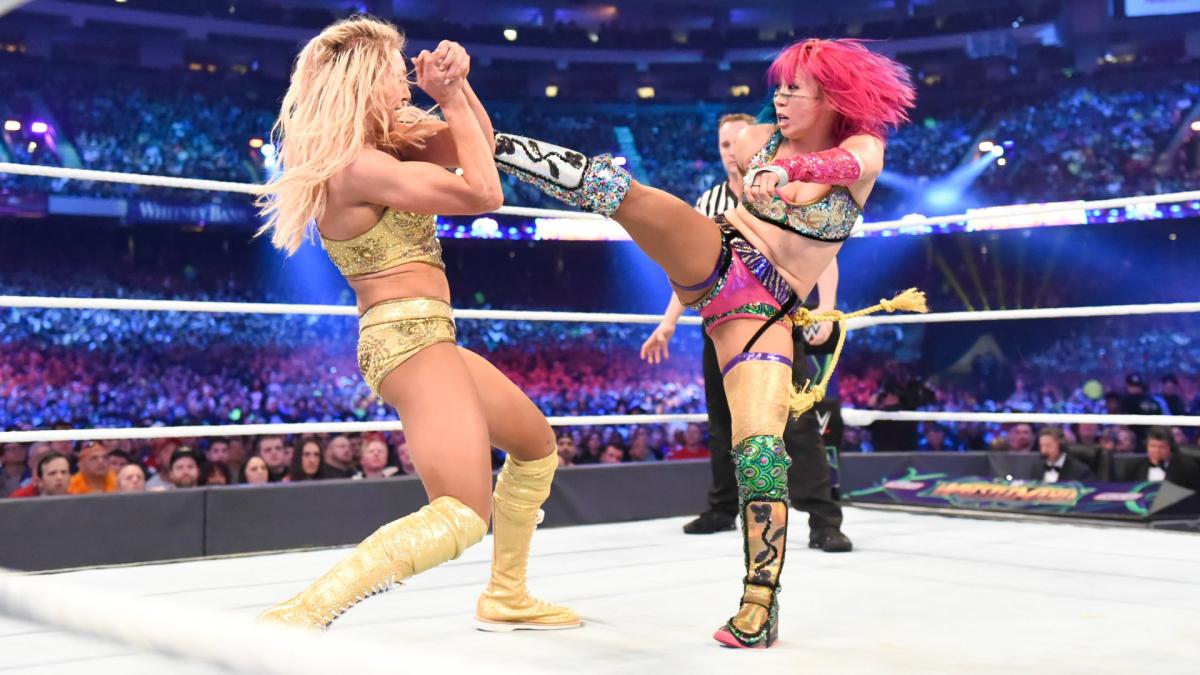 Chris king is back with one of the most underrated matches in WrestleMania history–Charlotte Flair vs. Asuka!
We look back at Charlotte Flair vs. Asuka at WWE WrestleMania 34. 'The Empress of Tomorrow' put her unprecedented and historic undefeated streak of 914 days on the line against 'The Queen's' SmackDown Women's Championship.
For years, this was considered a dream match while Asuka dominated the roster in NXT, while Flair won numerous championships on the main roster on both Raw and SmackDown. The Empress made her long-awaited debut on the September 11th episode of Raw and began to tear through the competition.
Asuka outlasted all twenty-nine other women in the historic first-ever Women's Royal Rumble match to challenge for the title of her choosing. At Fastlane, she made her choice.
The WWE Universe was so excited for this match myself included. Both superstars delivered a fantastic performance on the Grandest Stage of Them All executing counter after counter. Asuka showed off some nasty-looking kicks to her opponent, and Flair hit a thunderous Spanish Fly off the top rope. Flair was seconds away from defeat at the hands of The Empress but she locked in Figure Eight and Asuka was forced to tap out.
I can't even begin to explain how shocked I was at this outcome, as nearly everyone expected The Empress to continue her undefeated streak and walk away with the women's title. This controversial decision was the downfall of Asuka's momentum. She would ultimately win the SmackDown Women's Championship at the 2018 TLC pay-per-view in the triple-threat ladder match.
Fast forward to this year when Asuka has recently returned with her Japanese-inspired persona Kana. Kana is dangerous and ruthless and is heading into a championship with Bianca Belair at WrestleMania 39. The Empress has regained all her momentum and is highly favored to walk away with the Raw Women's Championship. Let's hope that Asuka and Belair can tear the house down and deliver an A+ grade match both women are fully capable of.
King: Dominik Mysterio Needs To Do This At WrestleMania
Chris King is here with what WWE should do with Dominik Mysterio at WrestleMania in his long-awaited match against his father Rey Mysterio Jr.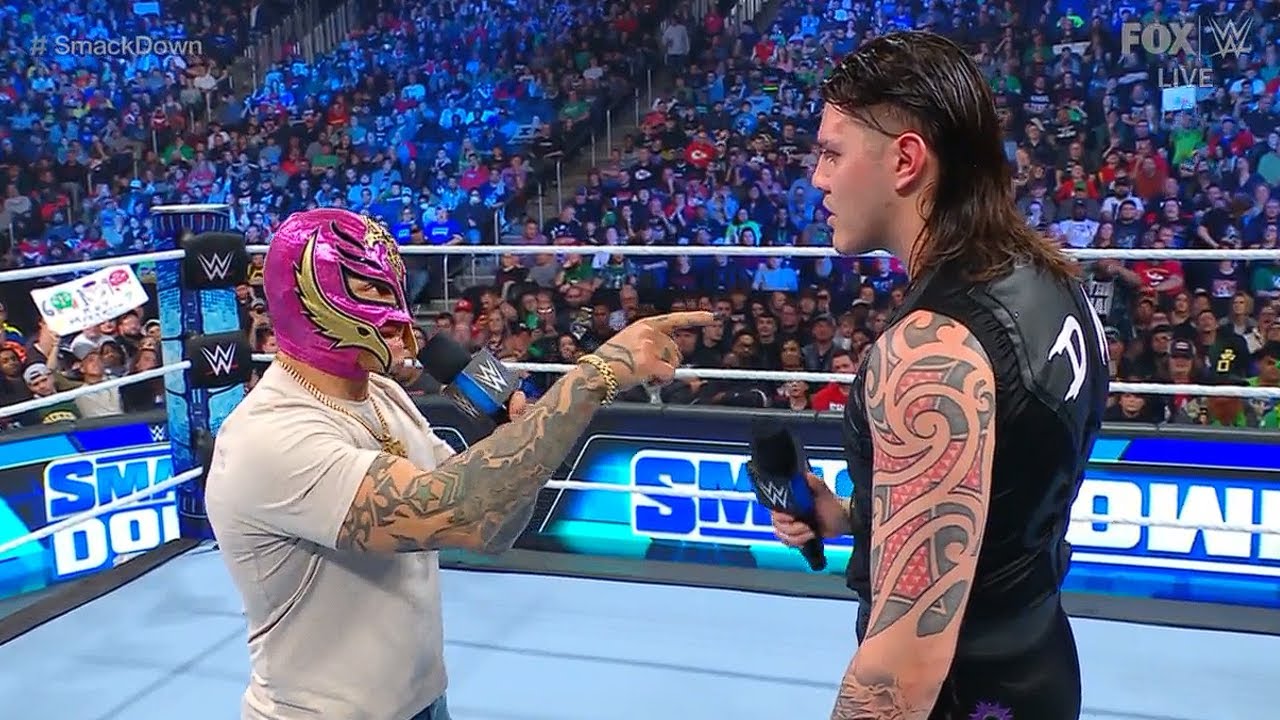 Chris King is here with what WWE should do with Dominik Mysterio at WrestleMania in his long-awaited match against his father Rey Mysterio Jr. 
On this week's episode of Friday Night SmackDown, Rey Mysterio finally snapped and beat some sense into his disrespectful punk-ass kid Dominik. The member of the Judgement Day came out to push his father again for a match on the Grandest Stage of Them All, this time with his mother and sister at ringside. The ungrateful punk told his mom to "Shut Up," as a father even I wanted to jump through the screen and whoop his ass.
Back in October of last year, Mysterio made the emotional decision to possibly quit the company but, instead, Triple H persuaded the Lucha libre superstar to move over to SmackDown to avoid his son. This came after Dominik shockingly turned on his father at Clash at the Castle. Mysterio did everything he could to refuse his despicable son's challenge for Mania but, a man can only be pushed so far. Mysterio will be inducted into the 2023 WWE Hall of Fame and I expect Dominik to embarrass his father during his speech to further this personal feud.
Yes, the WWE Universe hates Dominik and wants to see him get the ever-loving crap kicked out of him but, this feud is missing a special ingredient to capitalize on the biggest heat possible. Throughout this feud, Dominik has made mention of the legendary Eddie Guerrero on several occasions going back to the "iconic" 2005 feud.
I know WWE might not want to go this route but, Dominik MUST come out to Eddie Guerrero's theme at Mania. The disrespectful punk needs to come out in a lowrider to garner nuclear heat. It doesn't matter if The Judgement Day comes out and causes interference for Dominik to get the win, all that matters is that both superstars get the biggest payoff of this nearly year-long feud. Just imagine the Roman Reigns heat after he defeated The Undertaker and multiply that by ten. Dominik portrays the perfect heel and he truly is the missing ingredient that The Judgement Day needed to grow and evolve into a top faction.