King: Daniel Bryan & The Miz's Never Ending Rivalry
Chris King gives his insight on Daniel Bryan's heated promo on this week's episode of Friday Night SmackDown on MizTV.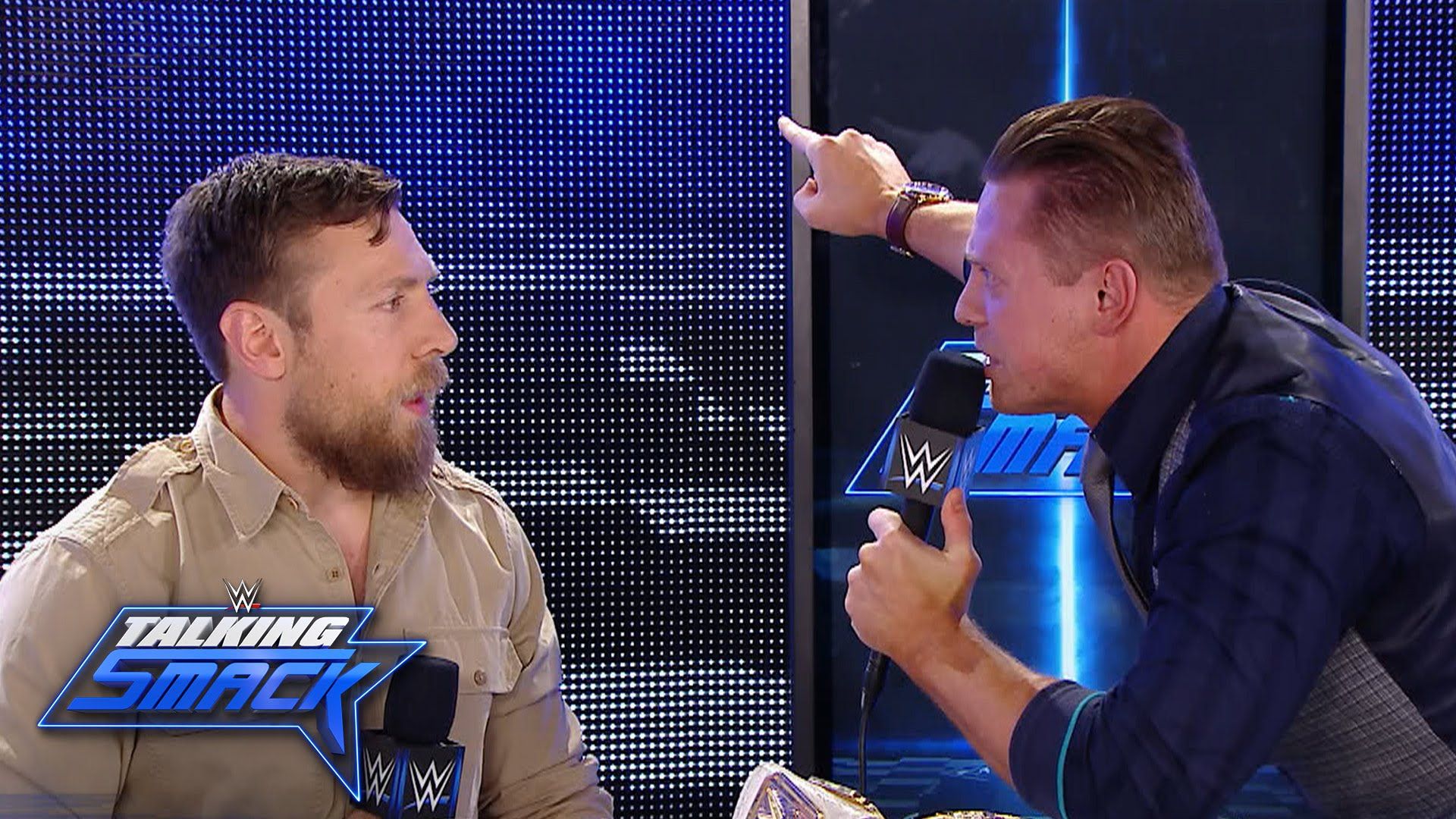 Chris King gives his insight on Daniel Bryan's heated promo on this week's episode of Friday Night SmackDown on MizTV.
Daniel Bryan did it again. He took a small segment that lasted roughly ten minutes and turned it into solid gold. On another edition of MizTV, The Miz was inquiring about his long-time rival's state of mind towards "The Fiend" Bray Wyatt's backstage attack last week.
So, why did The Fiend attack, Bryan? Because Wyatt is as mentally unstable as he is and he now is trying to end Bryan. Miz continued to ask Bryan which person does he want to be the leader of The Yes! Movement or The Planet's Savior? "The A-LISTER" was just doing his job trying to ask the hard questions until Bryan screamed at him to SHUT UP!! He then exclaimed that MIZTV SUCKS, ITS ALWAYS SUCKED!
The Yes! Man then proceeded to justify his questionable actions over the past year such as low-blowing AJ Styles to win the WWE Championship, turning on the WWE Universe, and aligning with the monstrous Rowan to wreak havoc on SmackDown Live. Bryan stated that his rival and the WWE Universe doesn't comprehend how much passion is needed to make those decisions.
What was so incredibly brilliant about this segment is even though The A-LISTER is now a babyface, WWE still played back to their highly-intense and personal feud that began all way back in 2010 on the original NXT television show. Bryan was the rookie and Miz was his WWE pro who would do everything possible to make his life hell. Bryan silenced his rival by taking his United States Championship from him at the Night of Champions 2010 pay-per-view.
Fast forward to 2016, where Bryan had retired from in-ring competition and donned the role of General Manager of SmackDown Live and Miz was then-WWE Intercontinental Champion. On an episode of Talking Smack, Miz lost it on Bryan when he stated that Miz wrestled like a coward. The A-LISTER then unleashed a hellacious promo in quite some time berating the former WWE World Heavyweight Champion about not wrestling anymore.
"Let me tell you about a coward. Let me tell you about a guy who tells his WWE fans, the people that he loves, that he will be back. He promises them, 'I promise you, I will be back in one year's time to claim this title.' But you didn't Daniel, did you? But I'm the coward?"
Both rivals would continue this heated on-screen tornado of a feud between the in-ring superstar and the GM throughout 2016. Two years later, the two long-time rivals would eventually clash in the middle of the squared circle. While their feud culminated at Super Show-Down with Bryan defeating Miz to challenge AJ Styles for the WWE Championship, this week's episode proved that there is still no love lost between the long-time rivals.
This great fifteen minutes of WWE programming culminated into the huge announcement that The Fiend Bray Wyatt will put his Universal Championship on the line against his archenemy The Yes! Man at this year's Survivor Series pay-per-view. WWE could have simply made this just another edition of MizTv but instead adding the animosity between Bryan and Miz elevated the significance of the segment as a whole.