King: Drew McIntyre vs. Rusev: Lightning In A Bottle
Chris King shares his thoughts on Drew McIntyre and Rusev's physical match from this week's episode of Raw and why WWE found lightening in a bottle.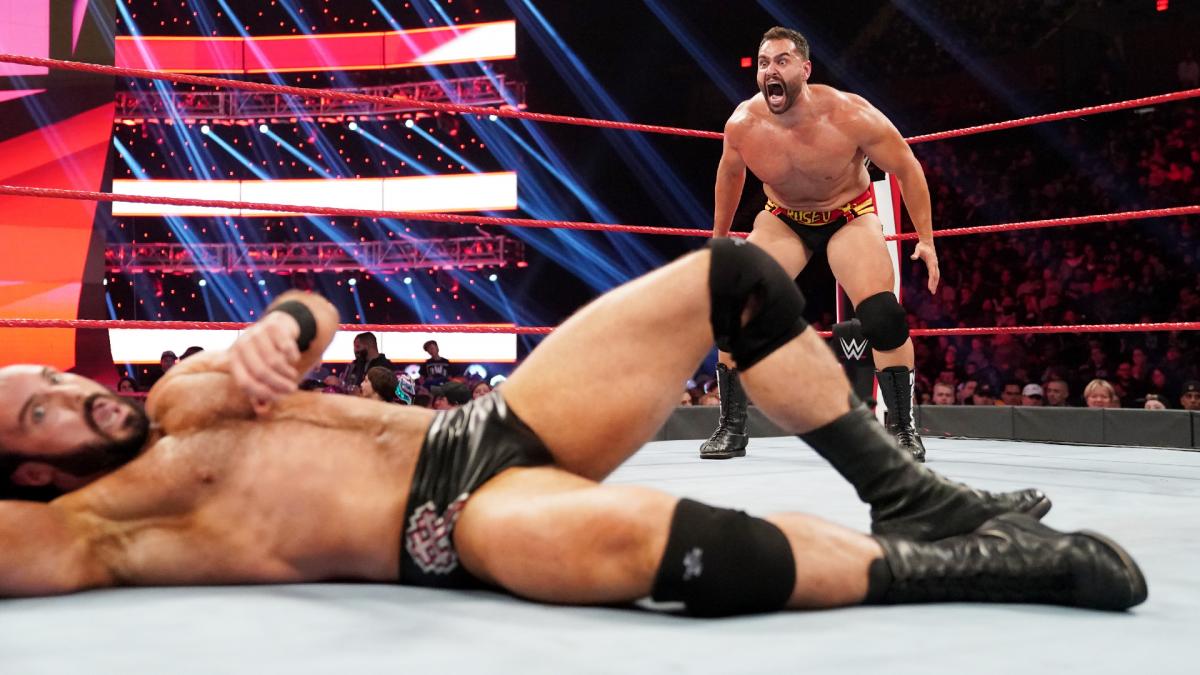 Chris King shares his thoughts on Drew McIntyre and Rusev's physical match from this week's episode of Raw and why WWE found lightening in a bottle. 
On this week's episode of Raw, "The Bulgarian Brute" Rusev marched down to the ring and demanded that he get Bobby Lashley tonight. He didn't get what he desired but what he did get was an incredible match with "The Scottish Psychopath" Drew McIntyre. It's shocking to me that both powerhouses have never met one-on-one before. Both competitors produced a great match in under ten minutes and told a good story.
A lot of that has to do with the fact that Rusev has been on SmackDown Live for the better part of two years and McIntrye has been on Raw. When the two faced off though, it wasn't a match it was a slugfest. After The Bulgarian Brute gets his hands on Lashley and they finish this ridiculous storyline, WWE would be wise to book Rusev and McIntrye in a program with both competitors looking to ascend to the main event level.
I don't think anyone anticipated that these two brutes would have such great in-ring chemistry but they certainly did. Below I will be breaking down their colossal fight from this week's Raw.
The match started and The Scottish Psychopath delivered a thunderous Glasgow headbutt followed by a relentless assault in the corner. Rusev answered back with a clothesline and stomping a mudhole into McIntrye. The Scottish Psychopath then delivered rapid-fire right hands to his opponent. The Bulgarian Brute caught McIntrye in mid-air and hit a fall-away slam.
As we returned from commercial, Rusev was on fire throwing bombs to his opponent. The Scottish Psychopath proceeded to call him a "bitch" and The Bulgarian Brute was enraged delivering back-to-back massive clotheslines. Rusev continued the onslaught with a stunning spinning wheel kick. McIntrye countered a Machka Kick and drove him back into the corner for more punishment.
Both competitors collided with a double-clothesline and then proceeded to get into a fantastic slugfest throwing rights and lefts. McIntrye got blasted with a vicious superkick that sent him crashing outside. Rusev began smacking his opponent's head right into the steel steps. That's when the match ended as Lashley hit Rusev with his crutch. With this whole love triangle angle not finished yet, it made perfect sense for WWE to book no conclusive winner to save a loss for both competitors.
It was very smart so that later down the road, Rusev and McIntrye can revisit this brief encounter and maybe there will even be a title on the line which will make their program much more exciting. Both Rusev and McIntrye are in a reset period in their careers after years of being underutilized by terrible creative decisions.
With the time they were allotted I felt Rusev vs. Drew McIntyre was a great match!