King: Survivor Series 2001 (Team Alliance vs. Team WWE)
Chris King is going back in time and highlighting some of the greatest Survivor Series five-on-five matches in WWE history, starting with The WCW/ECW Alliance vs. Team WWF!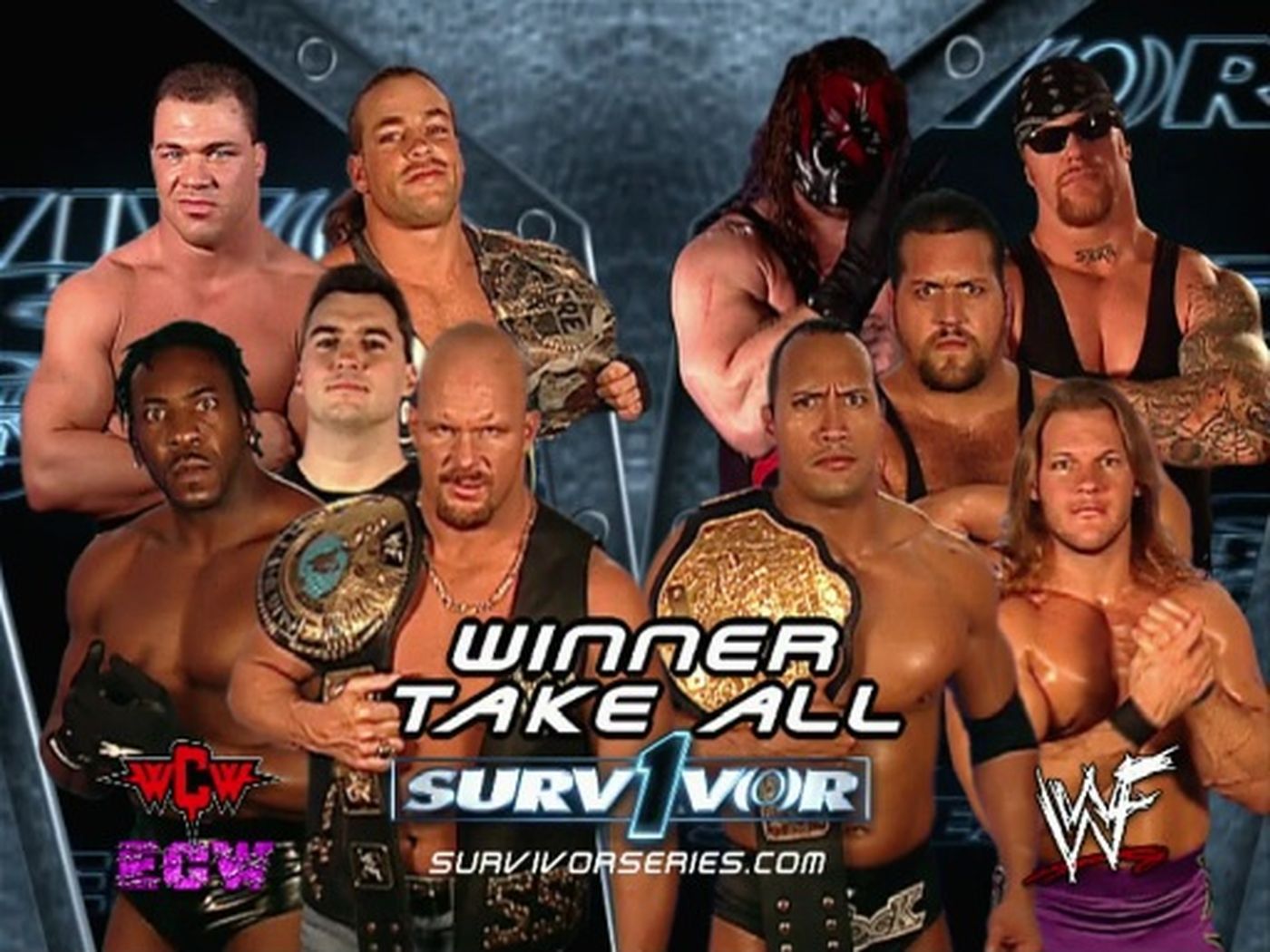 Chris King is going back in time and highlighting some of the greatest Survivor Series five-on-five matches in WWE history. This week is all about The WCW & ECW Invasion Angle and their highly dramatic Team WWE vs. Team Alliance Winners-Take-All Match.
On the March 26, 2001, episode of Raw, marked the end of the Monday Night Wars between their competition WCW. The Chairman of WWE Vince McMahon announced that for the first-time-ever Raw was airing live on the final episode of WCW Nitro. McMahon arrogantly told the WWE Universe that he would sign the contract but only after Ted Turner comes to WrestleMania X-Seven to hand-deliver it.
While McMahon continued to divulge on his brilliant plans after acquiring his competition and which superstars he was going to fire, his son Shane McMahon walked out onto Nitro and delivered some shocking news.
The Battle Lines Have Been Drawn
On the March 28, 2001, WCW strikes first when during a brawl between Steve Blackman and Perry Saturn WCW superstar Lance Storm ran out and delivered a Superkick to Saturn. Just as quickly as he appeared he exited the arena and jumped right into a limo with none other than Shane McMahon. For weeks, WCW superstars began appearing on WWE programming attacking WWE superstars from behind.
The latest development would take place at the King of the Ring pay-per-view when WCW Heavyweight Champion Booker T emerged out of nowhere and attacked the WWE Champion "Stone Cold" Steve Austin executing his Scissors Kick and a thunderous Sidewalk Slam through the announce table.
The following night on Raw, the war waged on in WWE home territory Madison Square Garden. Another WCW superstar appeared this time during a Hardcore Title match with 24/7 rules and stole a WWE title from Rhyno.
The Alliance Takes Over WWE
On the July 9, 2001, episode of Raw, another company emerged after closing its doors: ECW. During a highly-intense tag team match between WWE's Kane and Chris Jericho vs. WCW's Lance Storm and Mike Awesome, ECW Original Tommy Dreamer and Rob Van Dam jumped the railing and brutally attacked the WWE superstars. The WWE Universe was shocked when Storm and Awesome decided to join in on the attack.
Moments later, WWE troops The Dudley Boyz, Raven, Rhyno, Justin Credible and Tazz and all of WWE ran down to make the save. Just when it appeared to be over for the beatdown, the superstars in the ring all in unison turned towards Kane and Jericho.
"Feel it, feel this moment for the rest of your life!"-From Paul Heyman to JR
Backstage Shane is coercing his father that now more than ever they put their differences aside and create a WWE/WCW union to battle ECW in a colossal twenty-man main event. Reluctantly Vince obliged and told his son that whatever happens out there is his responsibility. The alliance was short-lived as the WWE superstars and WCW superstars collided and a massive brawl ensued.
The extremists made their way down to the ring to pick the bones and Shane urged his WCW stars to wait until his signal to enter the ring. When they did as both sides appeared to be about to throw down it turned out to be a huge hoax as ECW and WCW superstars began embracing and high-fiving each other.
A few weeks later at the historic Invasion pay-per-view, in a complete all-out war over dominance, The Alliance's (Booker T, Diamond Dallas Page, The Dudley Boyz and Rhyno) battled against WWE's best ( "Stone Cold" Steve Austin, The Undertaker, Kane, Chris Jericho, and Kurt Angle).
From start to finish this five-on-five match was so chaotic with superstars brawling all over the ring the official could not maintain control. WWE had everything firmly in place for the victory as Angle locked Booker T in the Ankle Lock.
Then one of the most shocking moments in WWE history occurred when Austin delivered a Stone Cold Stunner to Angle and dragging Booker T on top of his fellow WWE comadre to give The Alliance the win!
Their final climactic end to their rivalry would take place on November 18, 2001 at the 15th Annual Survivor Series where Team WWE (WCW Champion The Rock, Chris Jericho, The Undertaker, Kane, and Big Show) faced The Alliance (WWF Champion Stone Cold Steve Austin, Rob Van Dam, Kurt Angle, Booker T, and Shane McMahon) in a massive Five-on-Five Winners-Take-All Match. Whichever team lost would be put out of business.
As The Undertaker made his illustrious entrance riding to the ring on his motorcycle and Limp Bizkit blaring through the arena, JR said "This match is going to be a slobberknocker deluxe" and he was not wrong.
The biggest stories going into the match was that Jericho and The Rock have had personal issues and we're ready to tear each other apart even though they were on the same team. Vince McMahon also had been stating for weeks that there was a mole on The Alliance that would turn on them.
The match began quick and hot with long-time rivals The Rock and Austin going right at each other trading right hands in the corner. "The Texas Rattlesnake" took down "The People's Champion" with a Lou Thesz Press and The Rock returned the favor. Shane-O Mac interfered to break things up. Now Jericho and RVD entered the match for their respective teams. Lots of high-octane action and great reversals from "The Whole Dam Show."
The eliminations went as such: 
The Big Show was eliminated after an Angle Slam, Scissors Kick, and a Five Star Frog Splash.
Shane-OMac was eliminated after a thunderous Chokeslam from Kane, Tombstone Piledriver by Taker, and a Lionsault from Y2J.
"The Big Red Machine" was eliminated after a Five Star Frog Splash, a vicious kick from Booker T, and a flying high knee from RVD.
The Undertaker came in and cleaned house with a series of clotheslines and Snake Eyes. He delivered a Last Ride to Angle, and Austin hit a Stone Cold Stunner and pulled "The Olympic Gold Medalist" on top of Taker.
Booker T was eliminated after The Rock executed a DDT and Irish whipped him into Angle on the ring apron and rolled him up.
RVD was eliminated after Jericho executed a double underhook facebuster.
We're down to Jericho and The Rock vs. Angle and Austin for both teams. That's when things got chaotic as "The Texas Rattlesnake" began brawling with Rock on the outside of the ring while Angle and Jericho faced off inside.
After some great back-and-forth action, Y2J locked in Angle's signature Ankle Lock but "The Olympic Gold Medalist" escaped. Austin made the tag and grounded Jericho isolating him from The Rock. Both competitors collided with each other with a double clothesline.
Y2J finally made the tag to "The People's Champion" and delivered an overhead suplex followed by a Sharpshooter and Angle tapped out. Finally, Austin gets his comeuppance against Team WWE's Jericho and The Rock. After some great offense from Y2J, Austin blocked a Lionsault that connected with knees up. After a series of roll-ups and pinning combinations Jericho was eliminated by Austin.
Moments later, the WWE Universe was shocked when Y2J dropped his own teammate with a facebuster maneuver reminiscent to The Miz's Skull Crushing Finale. Austin then slithered his way over to cover his long-time rival for the easy win for Team Alliance but "The People's Champion" kicked out at 2.9 seconds.
An irate Undertaker came out to confront Jericho for his dastardly attack that almost cost the WWE their jobs.
"The Texas Rattlesnake" began beating the holy hell out of the man that he defeated at WrestleMania X-Seven by cheating. Austin was landing a series of right hands until The Rock answered back "Laying The Smackdown" on his candyass.
The vile Austin then flipped-off  WWE official Earl Hebner who pushed back. The action spilled to the outside as The Rock's leg hit the announce table. "The People's Champion" through his rival over the announce table and leaped over himself firing right hands.
Back in the ring, The Rock delivered knife edge chops to Austin. His rival locked in the Sharpshooter forcing The Rock to dig down deep to make it to the ropes. "The Texas Rattlesnake" grabbed his coveted WWE Title to use as a weapon but The Rock dodged and locked in a Sharpshooter of his own.
Austin barely made it to the ropes but his rival wasn't done and dragged him back to the middle of the ring for more punishment.
The two rivals made it to the ropes and Austin delivered a low-blow behind the official's back. "The Texas Rattlesnake" flipped his rival off and went for the Stunner but it was countered and The Rock delivered one of his own. An exhausted Rock made the cover but Austin kicked out at two. WCW official Nick Patrick pulled Hebner out of the ring and decked him.
In the ring, "The People's Champion" realized what happened and went for a Rock Bottom to Patrick but Austin blocked it and delivered a Rock Bottom of his own for a long near-fall. An irate Austin decked Patrick and pulled Hebner back into the ring. Austin went for another Stunner but The Rock reversed whipping him into Hebner again.
The end of the match saw "The Texas Rattlesnake" finally successfully executed a Stone Cold Stunner but there was no official so he pulled Hebner. OUT OF NOWHERE Kurt Angle came back down and blasted his teammate with the title which allowed The Rock to execute The Rock Bottom for the dramatic 1.2.3!!!!! Team WWE Wins and The Alliance Is Out Of Business!!!!
The reason why I chose this huge Survivor Series match is that it's one of my personal favorites that had a fantastic 4-5 month buildup. While there are some that claim that The Invasion Angle was not a success I disagree. It provided some captivating television and brought in some new superstars to the WWE. It's also important to note that eleven months later, Jericho went on to defeat both Austin and The Rock to become the first-ever Undisputed Champion in company history.  Stay tuned for next week's Survivor Series review!
NXT Minus 6: The Most Pointless Match Ever
There are some things Brad really enjoyed, and others that made no sense. Do you agree with his assessments?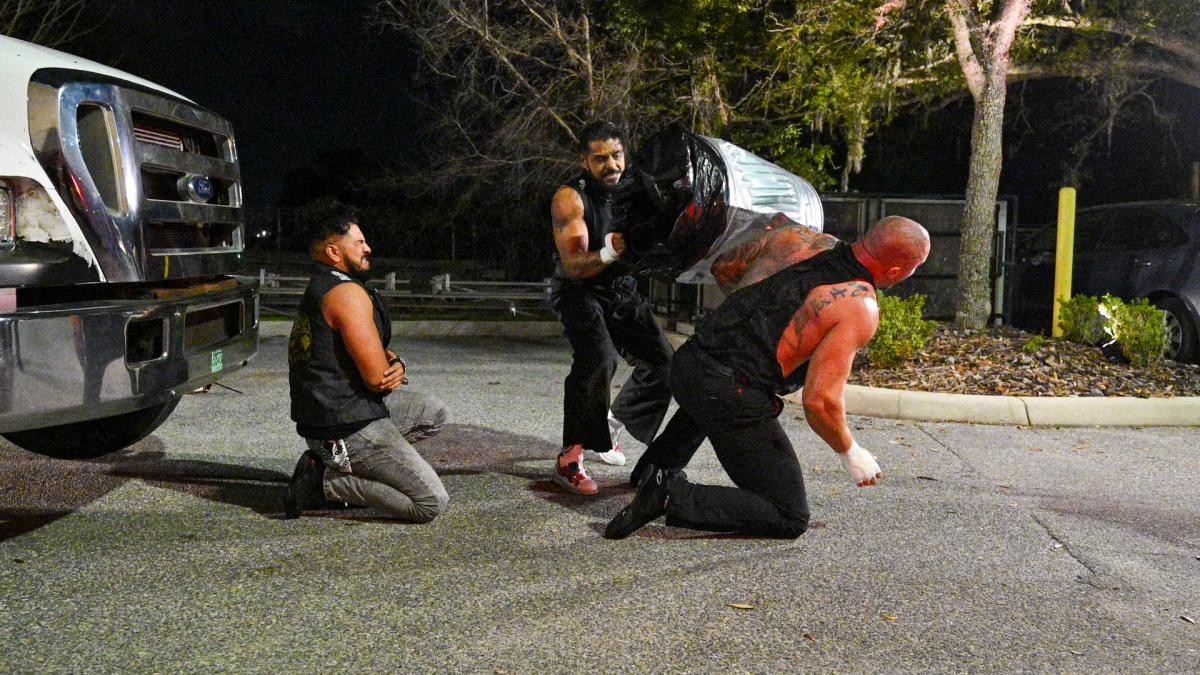 Not just pointless. It was Charles Barkley turrible. 
6. Dexter Lumis is in dire need of a makeover. Since his debut two years ago, the only thing that's changed is the possible addition of new arm tattoos. Great athlete. Deceptively agile. No depth to his character. He is the worst thing you can be in wrestling. Boring. 
5. Zack Gibson strikes again. Drake Maverick & Killian Dain are Shrek and Donkey. Savage! Gibson is on the mic what Wade Barrett needs to be. I like watching him wrestle. I love listening to him talk.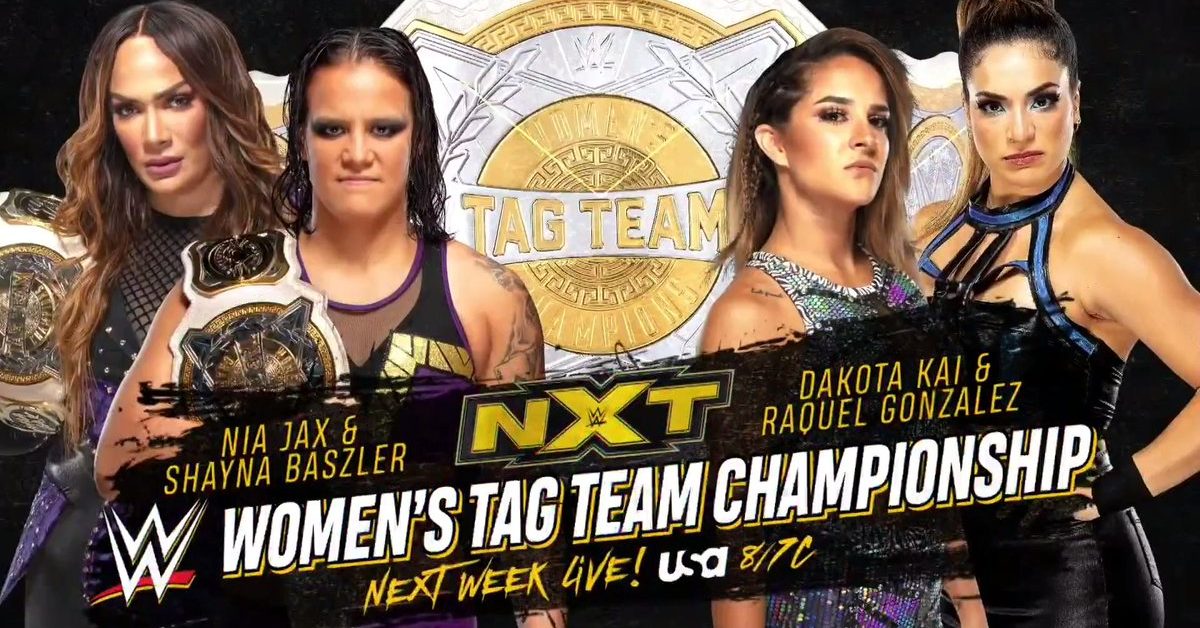 4. How good was it to hear Shayna Baszler's music again in NXT? I am cranked to 11 for the women's tag team title match. So many stories. Baszler and Dakota Kai have a long history. Raquel Gonzalez and Nia Jax, the two biggest, baddest bitches in WWE are out to prove who is the alpha bitch. Titles on the line. Baszler's homecoming. Kai's shot at validation. I'm smelling MOTY contender.
3. I am fully and deeply committed to the notion that Xia Li is the baddest person in the entire NXT locker room, male or female. Madame Li, I will never get on your bad side. If I accidentally cross that line, I will change my name and flee the unidentified state in which I currently reside. Un-Lished.  
2. That thing between Santa Claus Ice Cream Bar and Doomsday Saito was possibly the most pointless match ever. The feud was based on nothing. Why is a heavyweight going after a cruiserweight? Why do they continue to pretend Ice Cream Bar is a cruiser when he clearly isn't? How does Saito survive a 3-on-1 beat down to pop up fresh as a daisy and get the victory? It dragged on and on and on and on and on and on and on, clocking in at just under 92 hours. Let us never speak of this match again. No, it doesn't get a pic. 
1. This week's That's Why I Love Wrestling goes to…unidentified camera man! I'm on my couch, digging Leon Ruff's entrance. BTW, his music kicks all kinds of ass. Ruff is hanging on the ropes, loving life, when BAM! Kick to the head from Swerve Scott. I was genuinely surprised, never saw it coming, because the camera man was fully focused on Ruff, and so was I. Nice work, unidentified camera man.  
Cook's Top 5: Miz Moments
Cook brings the most must see Top 5 of the week! Is it obvious or a MIZtery?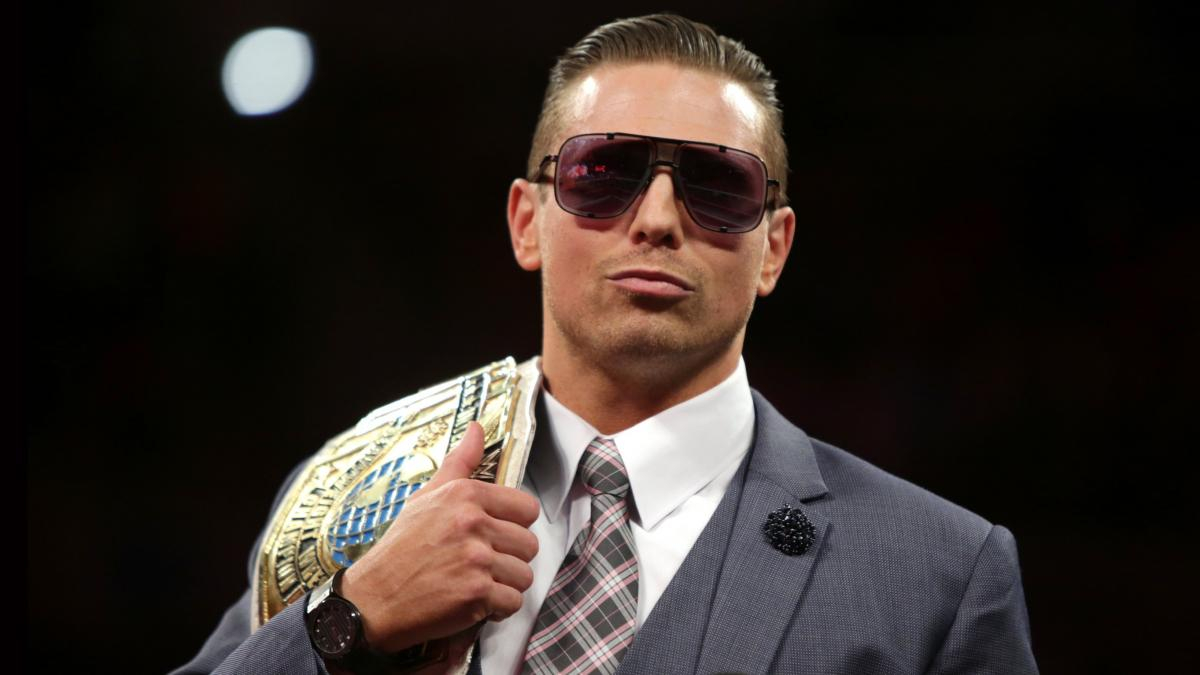 This week is all about our new WWE Champion, The Miz!
Let's be honest, Miz might not hold the Championship for too long. He's got a big match with Bobby Lashley next week. We wish him luck, and maybe something unlikely will happen resulting in Miz holding on to the title longer than anybody expects. Still, I feel the need to get this particular edition of the Top 5 out there as soon as possible.
Here are the Top 5 Miz Moments!
5. Main Eventing WrestleMania
The match itself…not so great. Miz was obviously the third most important person in the match. He also suffered a concussion. But the guy still main evented WrestleMania and beat John Cena, which is something that not too many other people can say. This will remain Miz's biggest WrestleMania match unless they get Bad Bunny to wrestle him this year.
4. A Ladder Match with Dolph Ziggler
Miz & Ziggler have quite a bit in common. Both hail from the Cleveland area. Both prefer to think of themselves as being from Hollywood. They're both egotistical characters that make up for what they might lack in size with ego. They've been in WWE forever with limited changes to their character, pretty much on the same level of the card. Naturally, they get along pretty well & have good chemistry.
2016 saw the best incarnation of their on-screen issues, with Miz & Ziggler trading the Intercontinental Championship back & forth. The Ladder Match ending the feud at TLC is considered by most to be Miz's best match. I don't have a ton of other options off the top of my head, so we'll go with that.
3. The First MITB Cash-In
You always remember your first. At this point in time, much like here in 2021, Miz wasn't seen as the most believable choice to be WWE Champion. However, the man had a briefcase, and, importantly, this was back before the briefcase gimmick was completely run into the ground. So when Miz ran down at the end of Raw to cash in on Randy Orton, it got a tremendous reaction.
People were either really happy or really angry. I was on the angry side of the spectrum, especially since I had a cold and was writing a news column during all of this. Man, I remember when the week or so a year I would a cold was the only time I really felt like crap.
What can I say, Miz has grown on me over the years.
2. Feuding with The King
A lot of old school wrestling fans found it hard to believe that The Miz had become WWE Champion when more deserving wrestlers from their childhood never had been. Heck, Jerry Lawler, a God of Memphis rasslin who piledrove Andy Kaufman into oblivion, had never even gotten a shot at that title, even though he'd worked for WWE for nearly twenty years. Seemed wrong to a lot of people, but nobody expected that wrong to be addressed.
Lawler was celebrating his sixty-first birthday the week after Miz defeated Randy Orton for the WWE Championship. One thing led to another, and Lawler got his very first WWE Championsgip opportunity. In a TLC match! They got the fans believing that Lawler could win the title…until that pesky Michael Cole kept Lawler from climbing further up the ladder.
It was nice to see the King get another important run on WWE television long after we thought it was possible. A large part of the reason it was possible? The Miz. He portrayed himself as just beatable enough that the title change could happen. Also held up his end of the bargin in the promos, which was never easy for Lawler's opponents.
I know everybody likes a title change, but this was the best work Miz did during his first WWE Championship reign by a wide margin.
Honorable Mention: Marrying Maryse
You knew I had to mention this, right?
1. Talking Smack to Daniel Bryan
I've always been a Daniel Bryan guy. Back when he was Miz's "rookie" on NXT, I thought the idea that Miz would have something to teach him was a bit outrageous. It was an interesting pairing though, and the Miz/Bryan relationship/rivalry has provided plenty of compelling moments over the years.
None moreso than the night where Miz did something that a lot of people didn't think was possible: make himself seem right & Daniel Bryan seem wrong. The way Miz defended himself in this tirade was pretty much impossible to argue with. Maybe Miz doesn't wrestle the way that hardcore wrestling fans would like, but he is pretty much the prototypical WWE Superstar of his era. He always works hard, is never hurt, and you don't have to worry about him embarrassing himself or the company.
This promo raised Miz's character to another level at the time, and definitely added some fuel to the fire for Bryan's eventual return. If you want to see one Miz promo that sums up who he is & was, this would be it.