King: Survivor Series 2003 (Team Austin vs. Team Bischoff)
Chris King traveled back to 2003 where Steve Austin and Eric Bischoff handpicked five top superstars to battle in a 5-on-5 Elimination Match where Stone Cold's career was on the line.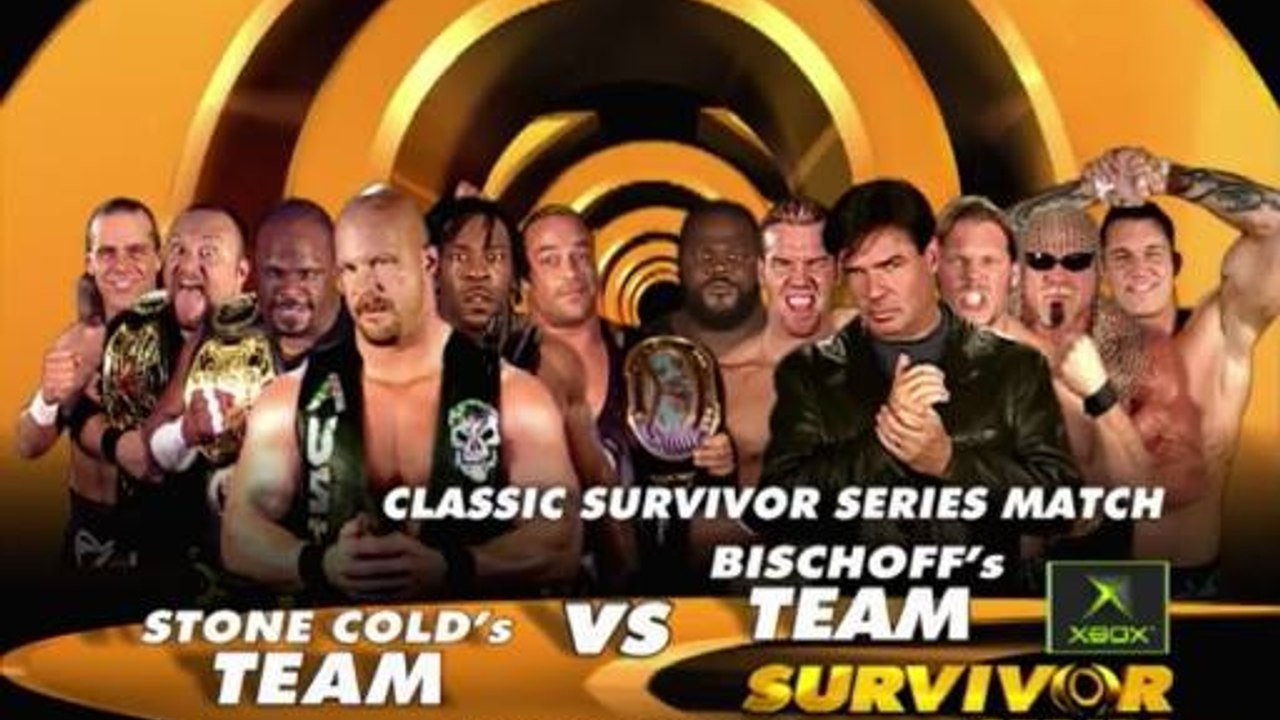 Chris King traveled back to 2003 where Steve Austin and Eric Bischoff handpicked five top superstars to battle in a 5-on-5 Elimination Match where Stone Cold's career was on the line.
This is an event that I hold dear to my heart because I was in attendance inside the American Airlines Center for Survivor Series 2003. It was a really cool experience to see this five-on-five match live pitting Team Austin (Shawn Michaels, Rob Van Dam, Booker T, and The Dudley Boyz) vs. Team Bischoff (Chris Jericho, Randy Orton, Christian, Mark Henry, and Scott Steiner).
On the July 15, 2002, episode of Raw, the Chairman of WWE Vince McMahon did the unthinkable when he hired his long-time opposition as the brand-new General Manager of Raw Eric Bischoff. The Monday Night Wars had finally commenced a year ago when McMahon defeated his competition WCW along with several of their top stars. "You keep your friends close and you keep your enemies closer," and that's exactly what McMahon did. The two embraced on the entrance ramp to seal the deal.
It didn't take long for Bischoff to go back to his egocentric ways forcing talent to do exactly as he said. On the following week, the egocentric boss forced "The Heartbreak Kid" Shawn Michaels to become Triple H's manager. Later that night, during a match between D-Lo Brown and Shawn Stasiak Bischoff gave them three minutes to entertain him. When that didn't happen, he sicced two monstrous Samoans on them named "Three Minute Warning" Rosey and Jamal.
After months of abusing power and taking over the show and sticking his nose where it doesn't belong, McMahon returned to deliver an announcement. Every GM has faced the same fight and Bischoff is no different if he didn't turn things around in thirty days YOU'RE FIRED!!! With the egocentric boss running on borrowed time, he decided to make a bold move by asking Austin to return back to Raw.
Stone Cold hasn't been seen on WWE programming since "he took his ball and went home," when he refused to put over Brock Lesnar in a King of the Ring Tournament qualifying match. McMahon returned a month later just as promised to ask the GM one question "did you hire back Stone Cold Steve Austin?" Bischoff said no, he had tried everything in his power. Then, McMahon uttered two words to the GM YOU'RE FIRED!!!!
Later that night, McMahon came out to announce the new General Manager but was stopped by Austin's long-time friend and commentator Jim Ross who declared that he just got off the phone with Austin and guaranteed he'll be at No Way Out.
McMahon then reinstated Ross (who was fired earlier by Bischoff) and the GM with one stipulation that he joined a certain club. Bischoff refused to kiss McMahon's ass so the Chairman made a blockbuster announcement that at No Way Out Bischoff would face the man he fired in WCW Stone Cold Steve Austin!
For weeks, the GM was wearing a black karate outfit and breaking boards with his foot claiming to be a black belt in karate. Every amount of training and Kung Fu wouldn't protect Bischoff from the ass-kicking he would receive from "The Texas Rattlesnake!" Austin whooped his ass all over Montreal Quebec, Canada and finally got his comeuppance over his former boss delivering three glass- shattering Stone Cold Stunners!!!!
A few months later, after Austin made his long-awaited return to Raw the two rivals faced each other again in a lumberjack match with all of the roster surrounding the ring and anyone who wouldn't comply would be fired. Once again, Bischoff got his ass handed to him by Austin and the WWE Universe loved every second of it.
At WrestleMania XIX, Stone Cold had his final match in WWE against his long-time nemesis The Rock who for the first-time-ever in his career defeated "The Texas Rattlesnake." A few weeks later, Bischoff would be given a rude awakening as then-CEO of WWE Linda McMahon informed him that going forward there will be a new Co-General Manager STONE COLD STEVE AUSTIN!
There was a condition that was added by Linda that Austin cannot put his hands on a superstar unless he's provoked. So, for months "The Texas Rattlesnake" would beg anyone to physically provoke him so that he could open up a can of whoop-ass. After several months of the co-general managers butting heads, Bischoff makes Austin a challenge that he could not refuse.
He proposed a 5-on-5 Survivor Series Traditional Elimination Match if Austin's team wins he can put his hands on anyone he pleases but if his team loses he's no longer the GM.
Let's fast forward to Survivor Series 2003 in Dallas, TX Austin's hometown it was Team Austin (Shawn Michaels, Rob Van Dam, Booker T, and The Dudley Boyz) vs. Team Bischoff (Chris Jericho, Randy Orton, Christian, Mark Henry, and Scott Steiner).
Bischoff and his team made their entrance to the ring followed by Austin and his team. The hometown crowd erupted when the glass shattered and "The Texas Rattlesnake" made his way down to the ring. Just as I did last week, I'll be listing the eliminations and I'll do a quick summary of the match as well.
Scott Steiner was eliminated after taking a 3D from The Dudley Boyz and a Bookend from Booker T.
Booker T was eliminated after a World's Largest Slam from Mark Henry.
Mark Henry was eliminated after crashing into the turnbuckle, and a 3D, and a Five-star Frog Splash.
RVD was eliminated after Jericho knocked him off the top rope and Orton hit an RKO.
Devon Dudley was eliminated after Jericho delivered a swinging facebuster.
Bubba Ray Dudley was eliminated after Christan hit an Unprettier.
We are down to Jericho, Christian, and Orton against "The Heartbreak Kid" Shawn Michaels. After a relentless attack, Michaels responds back with his signature moves and Orton inadvertently blasted the official. HBK hits a Superkick but Bischoff kicks him in the gut. Austin proceeded to beat the holy hell out of his rival and delivered a Stunner to Orton.
Michaels falls into the cover but Evolution's Batista hit a Batista Bomb and Orton made the cover 1.2.3!
After the match, Stone Cold came back out to one of the loudest pops I've ever heard to a very sympathetic hometown crowd. His departure was short-lived as Austin would return on the New Year's Eve episode of Raw announcing that he been rehired as Sheriff of Monday Night Raw. This run would continue all the way up to WrestleMania XX where Austin would be the special guest referee for Brock vs. Goldberg.
After Mania, the WWE Universe wouldn't see Austin until 2005 and his returns following that would be sporadic. The match was amazing to see live and the pop that Austin received blew the entire roof off. Stone Cold Steve Austin has provided us with some iconic moments throughout his career and he's one of my all-time favorite superstars in WWE history!