King: The Four Wild Cards For Survivor Series
Chris King shares his thoughts on the huge Triple-Threat Men's Survivor Series Traditional Elimination Match between Monday Night Raw, Friday Night SmackDown, and NXT, and the potential superstars that could defect and cost their respective team.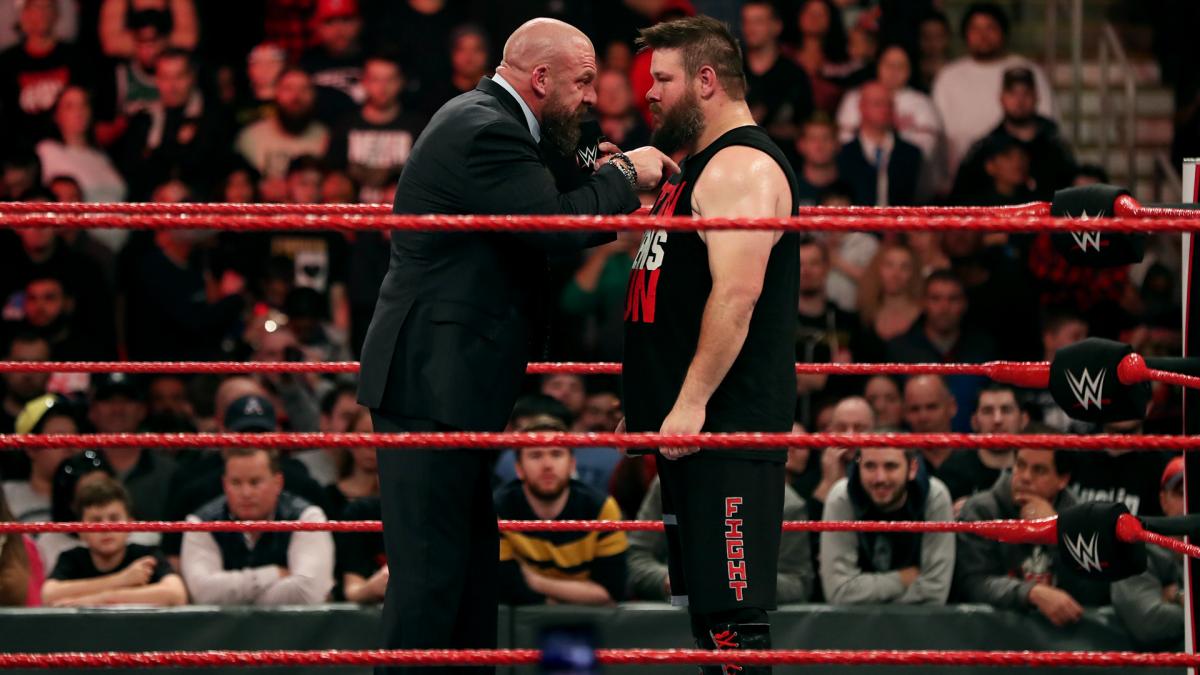 Chris King shares his thoughts on the huge Triple-Threat Men's Survivor Series Traditional Elimination Match between Monday Night Raw, Friday Night SmackDown, and NXT, and the potential superstars that could defect and cost their respective team.
Let's give credit where it's due, Triple H is a master of the mic and delivered another tremendous promo on Raw to "The Prizefighter" Kevin Owens coercing him into jumping ship. HHH gave the WWE Universe a history lesson of Owens' impact on NXT back in the day and how he helped put the black and gold brand on the map.
.@TripleH gives @FightOwensFight a HUGE offer to come back home to @WWENXT!#RAW pic.twitter.com/5gAX6dD0CR

— WWE (@WWE) November 19, 2019
This is second Raw superstar that "The Game" has tried to convince to join the black and gold brand first it was Seth Rollins and now Owens I wonder who's next?
It would be incredibly intriguing to see HHH try to coerce the Intercontinental Champion Shinsuke Nakamura or even Drew McIntyre to come back home. Out of the two, I feel Nakamura would greatly benefit from returning to NXT. WWE has booked him so poorly and mishandled his special character ever since he debuted in 2017.
Correct me if I'm wrong, but I believe the last time that there have been so many wild cards for team WWE was back in 2001 during the Invasion Angle. Where we saw the merger of WCW and ECW with Shane McMahon, Stephanie McMahon, and Paul Heyman joining forces to take down the WWE.
At the Invasion pay-per-view, then-WWE Champion "Stone Cold" Steve Austin defected to Team Invasion and cost WWE the five-on-five match.
Against popular opinion, I have loved this new and exciting element of NXT invading both Raw and SmackDown over the last few weeks. For years, the WWE Universe has only dreamed of what would happen if NXT clashed with WWE and to me it's been everything I've wanted and more.
We've received some stellar matches including the NXT Champion Adam Cole vs. Daniel Bryan and Rollins, and the incredible six-man tag between The OC., and Matt Riddle, Keith Lee, and Tomasso Ciampa.
Below I will be ranking the four dark horses with the most chances of turning on WWE to jump ship to on Sunday and briefly outlining their time in NXT.
4. Drew McIntrye
"The Scottish Psychopath" Drew McIntyre had a brief stint in NXT back in 2017. He was spotted at ringside at TakeOver Orlando and then wrestled his first match in WWE since his departure in 2014. McIntrye skyrocketed up to the main event where he defeated Bobby Roode at TakeOver Brooklyn III to capture the NXT Championship.
We have a NEW #NXTChampion in @DMcIntyreWWE…and a NEW TARGET for the arriving @AdamColePro in @WWENXT! #NXTTakeOver pic.twitter.com/9dDUGuAea6

— WWE (@WWE) August 20, 2017
A few months later, he would drop the title to Andrade Cien Almas at TakeOver WarGames. He was then sidelined with a bicep injury keeping him out of action for the remainder of the year.
The Scot made his re-debut on the Raw-After-Mania 34 alongside Dolph Ziggler and the duo wreaked havoc on Monday nights. It appeared big things were ahead for McIntrye but it hasn't worked out well him on WWE. The only title he's held on the main roster has been the Raw Tag Team Championships.
While he would benefit from a jump back to NXT, I think if WWE continues to push him as the badass he truly is perhaps McIntrye could be next in line to dethrone Brock Lesnar for the WWE Championship at WrestleMania 36. So, I don't see him turning on Team Raw
3. Shinsuke Nakamura
The Intercontinental Champion Shinsuke Nakamura could be the biggest wild card heading into Survivor Series, but since he's not on the men's traditional match I don't expect him to turn on Friday Night SmackDown.
"The King of Strong Style" played a major part in helping to elevate the black and gold brand during his year in NXT. Nakamura made his in-ring debut in impressive fashion stealing the whole show in a stellar match with Sami Zayn at TakeOver: Dallas.
After defeating Austin Aries and former NXT Champion Finn Balor, The King of Strong Style defeated Samoa Joe to capture the NXT Title at TakeOver: Brooklyn II. Their rivalry would continue all the way through January 2017 with the two trading victories.
Nakamura would lose the NXT Championship to the newcomer Bobby Roode. He would unsuccessfully challenge Roode at TakeOver: Orlando and would move on to the main roster.
To say that Nakamura has been criminally mistreated on the main roster would be a HUGE understatement. He made his debut on the SmackDown-After-Mania 33 and entered into a lackluster feud with Dolph Ziggler.
He would then compete in the 2017 Men's Money in the Bank Ladder Match and shared a very exciting angle with AJ Styles that ultimately set up the dream match for the ages. Nakamura also unsuccessfully challenged for the WWE Title at SummerSlam.
Nakamura won the 2018 Men's Royal Rumble to challenge Styles for the WWE Championship at WrestleMania 34 but was unsuccessful in his attempt. After the match, The King of Strong Style hit Styles with a heinous low-blow and turning heel. The two rivals would feud throughout the summer but Nakamura never captured the WWE title.
This year, he won the Intercontinental Championship and just recently paired up with Zayn as his mouthpiece. Nakamura along with Zayn and possibly even Cesaro would be tremendous additions to NXT. Unfortunately for The King of Strong Style, him jumping ship to the black and gold doesn't appear to be on the cards.
2. Seth Rollins
The former Universal Champion Seth Rollins would be the most to benefit from returning to NXT but unfortunately for him, it won't help him with his big mouth on social media. Which is honestly his biggest flaw currently along with his uninspiring babyface run on Raw. On a positive note,
Long before there was an NXT, WWE's developmental territory was Florida Championship Wrestling (FCW). In 2011, Rollins (formerly Tyler Black) signed with WWE and began battling Dean Ambrose
(formerly Jon Moxley) in some amazing ironman matches that are definitely worth checking out on YouTube. One year later, Rollins captured the FCW Championship until it was rebranded as the NXT Championship.
In July, then-NXT Commissioner and  WWE Hall of Famer Dusty Rhodes announced a "Gold Rush" Tournament where four superstars from NXT and four superstars from the main roster battled to become the inaugural NXT Champion. On the August 29th edition of NXT, Rollins defeated Jinder Mahal in the finals to win the NXT Championship.
https://www.wwe.com/videos/seth-rollins-vs-jinder-mahal-nxt-gold-rush-tournament-final-wwe-nxt-aug-29-2012-wwe-network
Rollins is arguably one of the greatest in-ring performers of this generation. His work ethic is reminiscent of John Cena's workhorse mentality working all year long and putting on stellar matches. Rollins has accomplished so many great things in his short WWE career such as being a Grand-slam Champion, being the first superstar to ever hold both the WWE World Heavyweight Championship and the United States Championship at the same time.
Rollins' time in The Shield and The Authority truly groomed him to be the top star in the company. Triple H's proposition to Rollins a few weeks ago was spot on. Claiming that every time that Rollins is at a crossroads HHH shows up and helps him win a title.
Rollins was red-hot earlier this year when he won the Royal Rumble to challenge Brock Lesnar at WrestleMania unfortunately after he slayed the beast and captured the Universal Title his popularity decreased dramatically. Perhaps, it was due to his incredibly boring feud with Baron Corbin or the horrendous storyline involving his real-life girlfriend the Raw Women's Champion "The Man" Becky Lynch.
To make matters worse, losing the Universal Championship back to Lesnar didn't do any favors for Rollins. I truly believed that after he slayed the beast for the second time at SummerSlam, the WWE Universe would start to get back on the bandwagon but it never happened.
I don't want to even get into the train wreck of a feud Rollins and "The Fiend" had over the Universal Championship but at that point, he was dead in the water. Rollins has a bad habit of running his mouth about top superstars in other companies such as Kenny Omega and Will Ospreay.
A heel turn is long overdue for him because he's trying way too hard to be a lovable babyface and it's not working. As much as I would love to see Rollins back on the black and gold brand, there's someone that better fits that bill.
1. Kevin Owens
In my opinion, "The Prizefighter" Kevin Owens made the biggest impact in NXT. Who could ever forget NXT TakeOver: R Evolution where The Prizefighter made his debut and savagely betrayed his best friend Sami Zayn and delivered a vicious Pop-up Powerbomb into the ring apron.
Owens portrayed such an amazing cold-hearted badass in his time with NXT. He was after one thing: The NXT Championship and it didn't matter who stood in his way. The vindictive and ruthless The Prizefighter kept his promise to the NXT Universe when he defeated Zayn two months to the day of his debut to capture the NXT Title.
Owens and Finn Balor's feud was fantastic if you've never seen their title match at The Beast in the East WWE Network Special in Tokyo then do yourself a favor and go watch it. Balor winning the NXT Championship in his first time back in Japan where he was made a star under the moniker of Prince Devitt, was truly a sight to see.
On the June 8, 2015, edition of Raw, Owens made his main roster debut when he sorta answered John Cena's United States Championship Open Challenge. The cold-hearted and vindictive The Prizefighter blindsided "The Face That Runs The Place" and delivered a thunderous Pop-up Powerbomb to Cena and stomped on the US Title while hoisting up his NXT Championship.
Owens and Balor's bitter rivalry culminated in a spectacular ladder match at TakeOver: Brooklyn and it would also mark Owens' final match in NXT before moving up to the main roster and continue his current feud with Cena. At the Elimination Chamber pay-per-view, Owens defeated Cena in his debut match.
Over the next four years, The Prizefighter has won the Intercontinental Championship and the Universal Championship. He's had some great feuds against the biggest and brightest superstars such as Dean Ambrose, Sami Zayn, Shane McMahon, and even the Le Champion himself Chris Jericho.
Owens is a unique type of character and WWE has tried really hard to figure him out and book him properly but it hasn't worked out. It appears every time WWE builds Owens up they somehow find a way to knock him back down.
A great example of this is after HHH singlehandedly handed the Universal Championship to him, the whole focus was placed on Owens' involvement with The Authority instead of his dominance. Unfortunately for The Prizefighter the entire angle was build to begin a four-year long story between Rollins and HHH.
It's a WHOLE NEW GAME!! @FightOwensFight is the NEW @WWE #UniversalChampion, thanks to COO @TripleH! #RAW pic.twitter.com/ubphGf6Fqx

— WWE (@WWE) August 30, 2016
I truly believe that HHH might actually be the only one that can make Owens a top star again. Right now, The Prizefighter is a babyface and I could easily see him immediately begin a feud with The Undisputed Era and challenge Adam Cole for the NXT Championship. Those matches would be insane and it would also elevate Owens once again in the main event title picture.
Another intriguing dynamic would be Owens vs. Balor except for this time "The Prince" is the heel. Owens returning to NXT could open up so many doors for his career, and The Prizefighter playing the antihero role would simply be amazing. If I had to put any money on the stars that could possibly cost their team and jump ship I would say, Rollins or Owens. What I do know for certain is that Survivor Series weekend is going to be so much fun but we still have NXT and Friday Night SmackDown to get through first!
King's WrestleMania Rewind: Stone Cold VS. Scott Hall (WrestleMania X8)
Chris King is back with another WrestleMania Rewind, looking at the NWO's Scott Hall battling Stone Cold Steve Austin at WWE WrestleMania X8 from Toronto!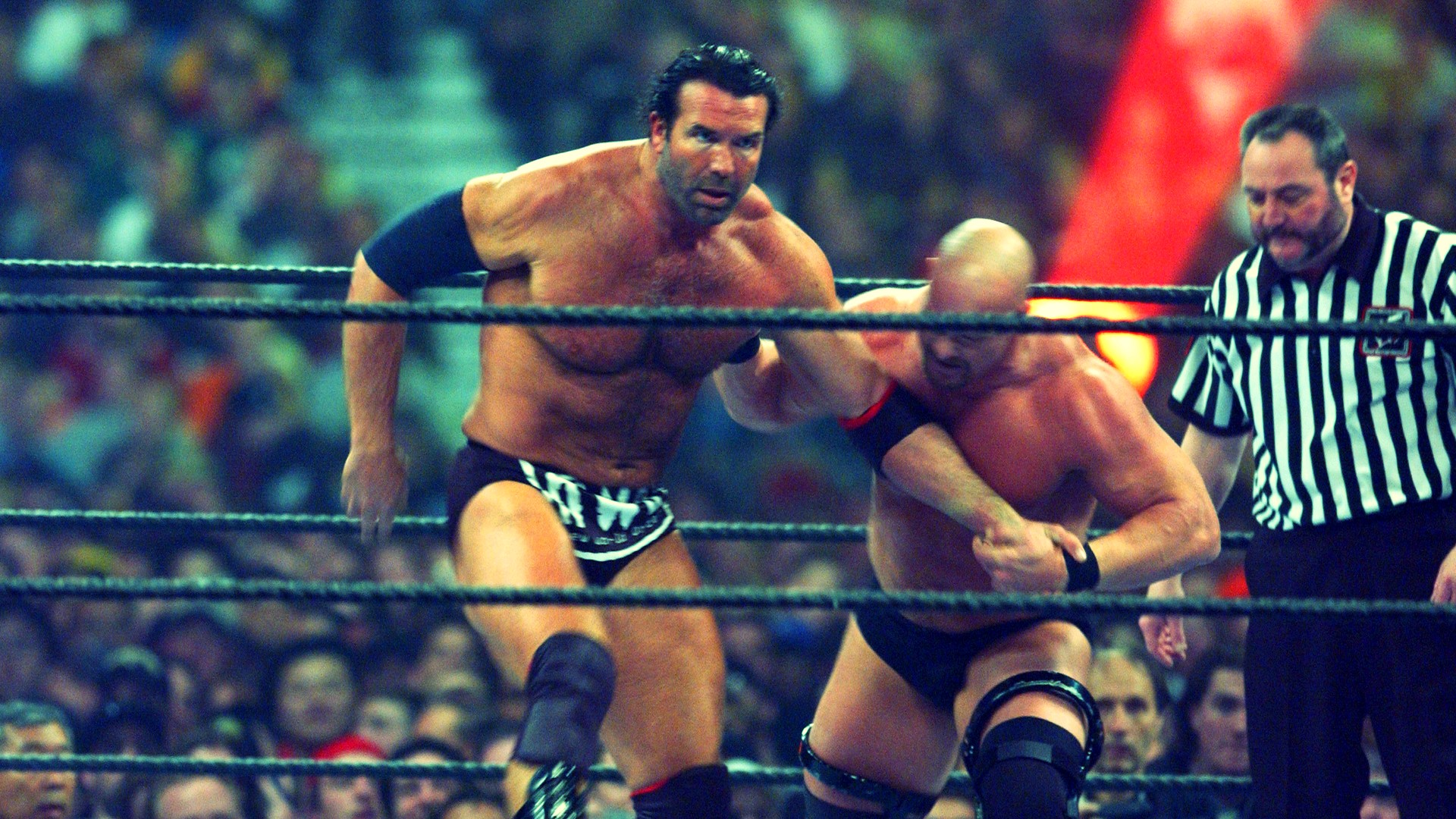 Chris King is back with another WrestleMania Rewind, looking at the NWO's Scott Hall battling Stone Cold Steve Austin at WWE WrestleMania X8 from Toronto!
Chris King is back this week with another edition of WrestleMania Rewind, where he is rewatching all the past Mania matches and feuds. This week you're in for a treat as we look back at 'Stone Cold' Steve Austin vs. Scott Hall at WrestleMania X8.
In late 2001, Vince McMahon bought out his competition WCW and acquired the rights to a plethora of talent including Booker T, Eddie Guerrero, Chris Benoit, and the iconic trio known as NWO. Hulk Hogan; Kevin Nash, and Scott Hall were hell raisers, and what better way to make a name for yourself than take out the two top superstars in the WWE The Rock, and Stone Cold?
The NWO cost Austin his chance at becoming the Undisputed Champion at No Way Out during his match with Chris Jericho. Adding insult to injury, the NWO spray-painted 'The Texas Rattlesnake' with their brand logo just like they did in WCW. As you can imagine, Austin was pissed and out for revenge against the group and primarily Scott Hall.
Hall would challenge Stone Cold to a match at WrestleMania 18. Both superstars beat the living hell out of each other leading up to this highly-anticipated match for who runs the WWE.
The glass broke and Stone Cold made his iconic entrance, and black and white NWO covered Halls' entrance alongside Kevin Nash. With the odds stacked against 'The Toughest S.O.B' could Austin or NWO prove their dominance? Sadly the NWO  broke up that very night when Hulk Hogan came to the aid of his adversary The Rock after their 'iconic' dream match. Stone Cold would ensure the victory with the Stunner. Hall would perform an Oscar-worthy sell over the finisher.
What a time to be a wrestling fan in the 2000s when nothing was impossible for WWE. Who would've thought WCW would go out of business and Hogan would make his long-awaited return to WWE?
King's WrestleMania Rewind: Seth Rollins vs. Kevin Owens (WWE WrestleMania 36)
Chris King takes a look at the most underrated WWE WrestleMania matches, and starts off with Seth Rollins battling Kevin Owens at WrestleMania 36!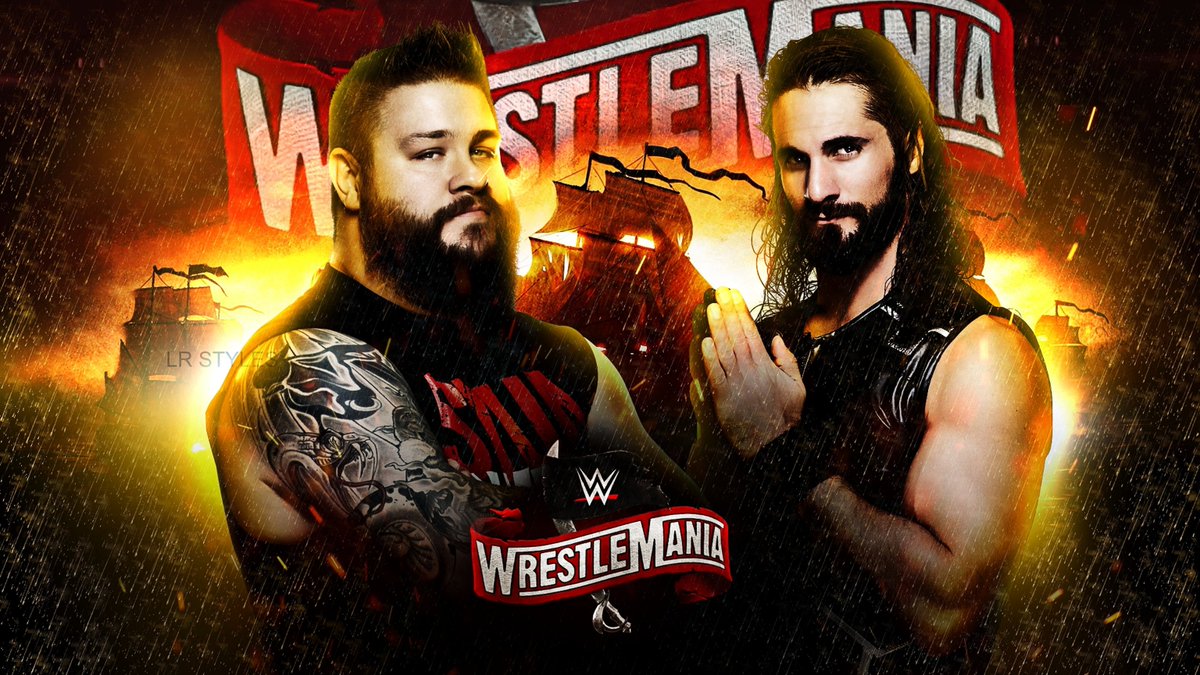 Chris King takes a look at the most underrated WWE WrestleMania matches, and starts off with Seth Rollins battling Kevin Owens in the WWE Performance Center at WrestleMania 36!
Chris King is starting a new series heading into WrestleMania season dubbed WrestleMania Rewind. Each week he'll be going back and sharing his insight over underrated matches at the Show of Shows. First up, is Kevin Owens vs. "The Monday Night Messiah" Seth Rollins at WrestleMania 36.
At the 2019 edition of Survivor Series, Rollins sacrificed himself during the men's traditional match allowing SmackDown to ultimately gain the victory. The following night the self-proclaimed Messiah, berated the whole roster but KO was not having any part of it. Owens quickly became a huge barrier in Rollins' cause for the greater good. The Authors of Pain attacked Owens with Rollins' character in question.
Owens finally had enough of his rival's mind games and torment and challenged Rollins to a match on the Grandest Stage Of Them All. Rollins mockingly accepted his challenge and the match was made official for night one of WrestleMania. Owens came out of the gate beating the holy hell out of the Monday Night Messiah trying to achieve his long-awaited moment at Mania but, Rollins tried to steal a disqualification victory by using the ring bell.
Owens hellbent on revenge provoked Rollins into turning their encounter into a no-disqualification contest where the fight could be taken all over the empty arena. The highlight of the match, was when KO used the WrestleMania sign to deliver a thunderous senton bomb through the announce table. Owens would secure the victory with a Stunner in an incredible match. Despite having no crowd during the pandemic era, both KO and Rollins put on an intense performance under the brightest lights.
In my personal opinion, this was a great feud that helped both superstars in their transformation as compelling characters for years to come.