King: Two Changes For 205 Live In 2020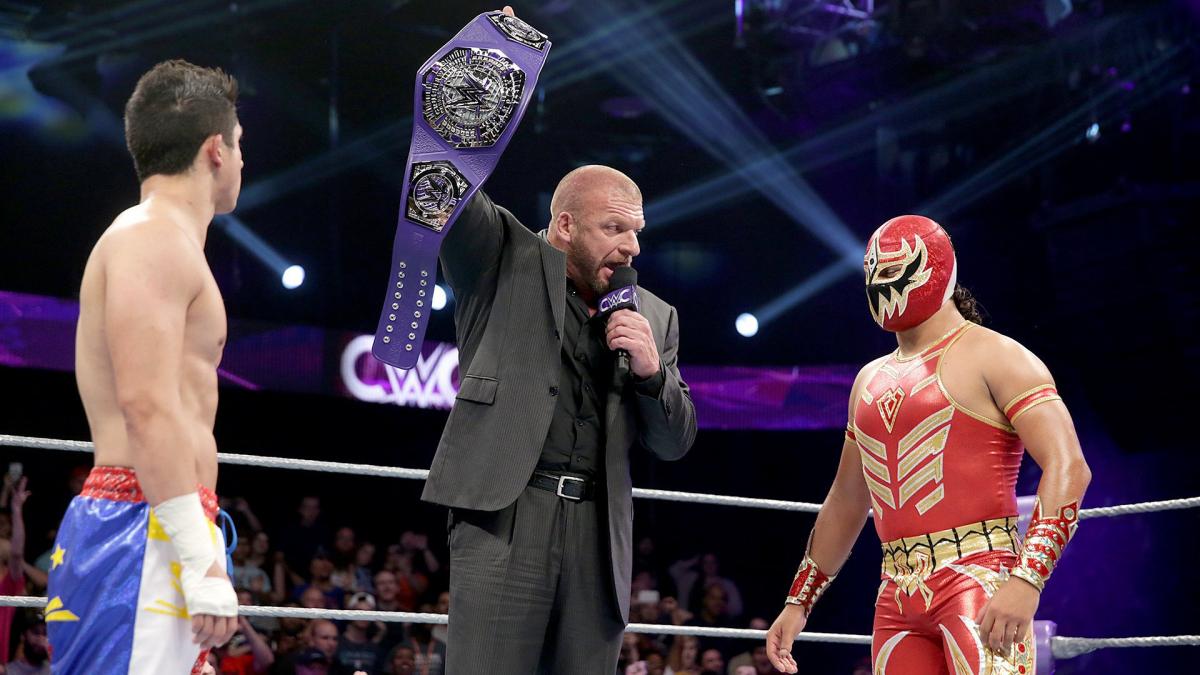 Chris King shares his thoughts on the current status of the NXT Cruiserweight Division and what he thinks WWE should do next year! 
Right now is an exciting time to be a pro wrestling fan with an unlimited amount of content that will keep you satisfied. The captain of the cruiserweight division currently is none other than "The Man Of The Hour" Lio Rush the NXT Cruiserweight Champion.
We're only one week away from Survivor Series weekend including TakeOver WarGames. It does appear that Rush's ongoing feud with Angel Garza will culminate with a match next weekend. But after that who's next? I feel it's time for two things to happen. The first is WWE should announce a multi-brand NXT Cruiserweight Championship Tournament. The second is they should move the show to Full Sail Arena permanently. There's only one man that can make this a reality: The COO of WWE Triple H.
All of the credit of 205 Live being around goes to Triple H. When he took over the sinking ship in 2018, there were major problems such as Enzo Amore then-WWE Cruiserweight Champion was arrested and the top heel of the brand Neville quit. With not many options, HHH decided to make two best for business decisions. The first being announcing a General Manager of 205 Live Drake Maverick and the announcement of the Cruiserweight Championship Tournament.
It was a great decision to go back to the basics of what made the cruiserweight division stand out in the first place and that was the amazing Cruiserweight Classic Tournament. The WWE Universe myself included latched onto the amazing high-flyers with every round. Superstars of all over the world battled for the right to be called the inaugural WWE Cruiserweight Champion.
.@MaskaraManik is the KING of the Cruiserweights — The CHAMPION of the @WWE_CWC!! Congratulations #TJP! pic.twitter.com/RZBu2W1aRq

— WWE CWC (@WWE_CWC) September 15, 2016
Reminiscent to 2016, the WWE Universe bared witness to fantastic weekly competition and they loved every minute of it. The finals took place on the WrestleMania 34 Kick-off Show where Cedric Alexander clashed with Mustafa Ali in an incredible five-star match which Alexander walked out as the new Cruiserweight Champion. Since then we've had a total of three new champions Buddy Murphy, Drew Gulak, and now The Man Of The Hour.
With NXT, NXT UK, Raw, and Friday Night SmackDown battling for brand supremacy I can't think of anything better than to have a massive thirty-man cross-brand tournament to determine the new number-one contender for the NXT Cruiserweight Championship. There are so many superstars on each roster currently that would be perfect fits such as Jordan Devlin, Isaiah "Swerve" Scott, Apollo Crews, Shorty G, Daniel Bryan, and a plethora of others. During the Cruiserweight Classic, Bryan had retired from in-ring competition and so he did commentary perhaps he could be included in the next one.
Also, had a blast commentating with @mauroranallo… Thanks for carrying me thru this thing! You're the best! #cwc pic.twitter.com/pPrVGWGpz7

— Daniel Bryan (@WWEDanielBryan) September 15, 2016
The tournament would provide a huge platform for superstars to shine and showcase their incredible talents in high-octane action-packed matches. It would also be something new and fresh and give the WWE Universe something to be excited to see. Which brings me to the second change. Now more than ever, 205 Live needs to transition back to Full Sail Arena. This was the birthplace of the Cruiserweight Classic.
On the November 4th edition, the amazing high-flyers returned to NXT territory and the crowd participation was through the roof. The NXT Universe was red-hot for the action and within twenty minutes the WWE Universe began chanting "This Is Awesome!" Granted, there were two exciting matches that night including Mansoor vs. "The" Brian Kendrick, and Rush vs. Raul Mendoza.
The Cruiserweight Classic/divison kicked off in Full Sail. Looking forward to going back. @WWENXT @WWE205Live https://t.co/yXClwVVv7m

— Daivari Dinero (@AriyaDaivariWWE) November 4, 2019
Currently, on most episodes of 205 Live aired as the post-SmackDown show, in my opinion, the crowd is completely dead for nearly half of it. Of course, the crowd reaction is primarily based upon what matches are on the card and the performance of the superstars. So, if you're going to put on a crappy match nobody's going to want to see it.
It appears that the only two cruiserweights that WWE Universe is passionate for Swerve and Rush. Everyone else can go out and produce a great match but it won't matter because they're not interested.
VICTORY for @itsLioRush.

He'll see @AngelGarzaWwe THIS WEDNESDAY on @WWENXT! #205Live pic.twitter.com/imJWhPBUPE

— 205 Live (@WWE205Live) November 9, 2019
So, how do we fix this? I believe if HHH decided to move the show to air inside Full Sail Arena the ratings would definitely increase. Maybe not all at once but it would eventually happen.
I watch 205 Live every week, I typically do a recap of the matches and quite frankly most of the time it's a breeze of fresh air.
I've seen dozens of fast-paced high-octane matches that the only dream of seeing on other WWE programming that has me at the edge of my seat. I understand that 205 Live has a deal right now to air after SmackDown and I'm not expecting this change to happen anytime soon but it should.
If not the venue change, then WWE definitely needs to capitalize on putting together a tournament to determine a new number-one contender for the NXT Cruiserweight Championship. That's just what I think should happen. I feel that the tournament would be a unique and special way to add more depth to the cruiserweight division that it desperately needs right now.