King's Takes For NXT Takeover War Games III
Chris King shares his takeaways from another mind-blowing NXT TakeOver War Games.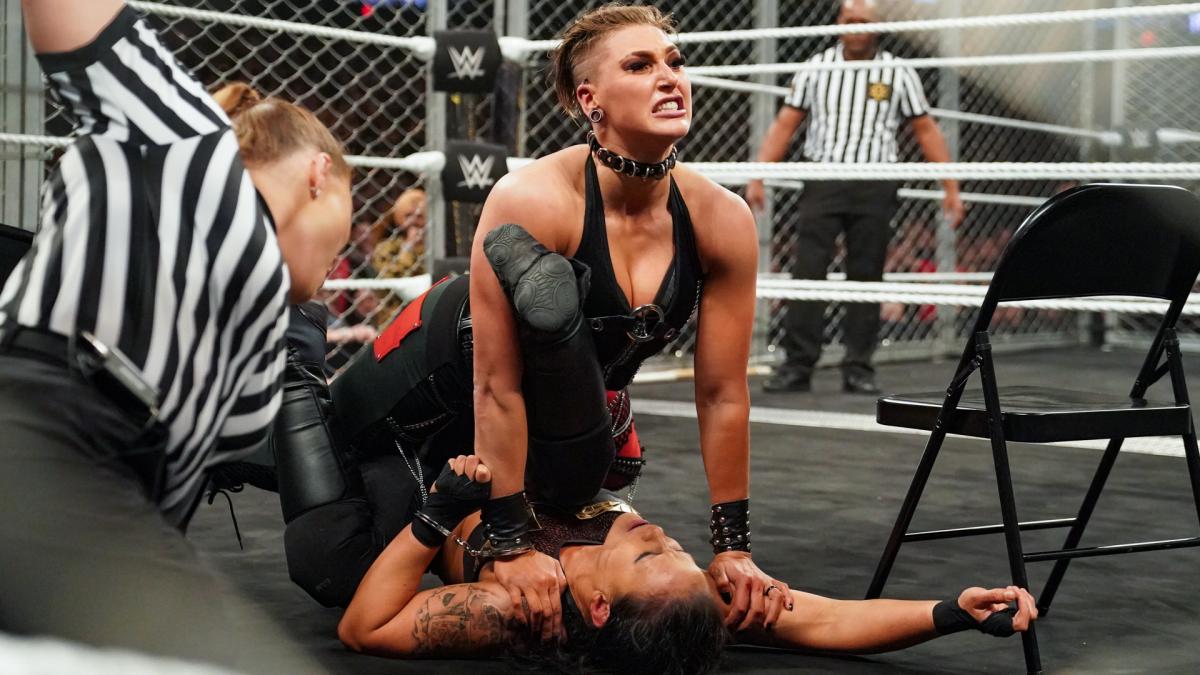 Chris King shares his takeaways from another mind-blowing NXT TakeOver War Games.
Welcome to…War Games! NXT returned to the Windy City to deliver another superb TakeOver event. For the first-time-ever, we had huge Women's War Games Match along with the men's, a fantastic triple-threat match with the winner facing Adam Cole at Survivor Series the following night, and so much more. Mauro Ranallo, Nigel McGuinness, and Beth Phoenix called the action from ringside.
Kickoff Match: Isaiah "Swerve" Scott vs. Angel Garza
Another thrilling match between young up-and-coming superstars who were looking to prove why they are indeed the future of NXT. A ton of innovated maneuvers between both gifted athletes.
Garza tried to take advantage of a referee distraction to kick Swerve low but it was blocked. The ending came after a House Call was issued for a long near-fall. Garza caught Swerve with The WingClipper for the victory.
Opinion: I was a bit disappointed that they went with this match instead of a rematch between Garza and Lio Rush for the NXT Cruiserweight Championship. These two incredible athletes put on a hell of a match with the time they were given and the right person won. A great opener to start the night off red-hot.
War Games: Rhea Ripley, Candice LeRae, Tegan Nox, and Dakota Kai vs. NXT Women's Champion Shayna Baszler, Bianca Belair, Io Shirai, and NXT UK Women's Champion Kay Lee Ray
The First-ever Women's War Games Match opens this amazing night of nonstop action. The first two entries for their respective teams are Candice LaRae and Io Shirai and both rivals beat the hell out of each other and the NXT Universe enjoyed every minute of it.
LaRae attempted a suicide dive into the second ring but it was blocked. The Genius Of The Sky hit a nasty-looking double knee against the cage in between both rings. She also ran the ropes to deliver a picture-perfect missile dropkick.
The next to enter is The EST of NXT who is just manhandling LaRae. Bianca Belair hit a series of sit-down powerbombs and the final one she threw her rival right into the steel cage. Now Rhea Ripley entered the match after restocking furniture. Ripley hits a flapjack on top of a trash can.
The next to enter was Kay Lee Ray who pulls out some more chairs and then teased grabbing a table.  The heels gathered together in the corner to form a Tower of Doom for Belair to hit a MASSIVE Powerbomb on LaRae.
The next to enter was supposed to Dakota Kai but instead, she kicked the living shit out of Tegan Nox in the shark cage. The Captain of Team Kick completely snapped slamming the cage door on her best friend's recently surgically repaired leg.
The Queen of Spades was laughing hysterically after what just transpired while walking down to the ring. The commentary team announced that because of Kai's heinous actions this match has officially begun.
Holy hell I don't even know what I just witnessed. This match was as brutal as you could possibly get. All six women proved that they can bring out the best just like the men can in a highly dangerous environment.
LaRae continues to harness her craft and gets insanely better after every match. She hit an Avalanche Poison Rana to Belair. Shirai hit a stunning Moonsault from the top of the cage.
Ripley got trapped in the Kirifuda Clutch and utilized handcuffing the champion to her hand to break free. Ripley delivered a series of stiff knees followed by hitting the Riptide through stacked up chairs for the amazing victory.
📸🤘 @RheaRipley_WWE @CandiceLeRae went to War 🔥#WarGames #NXTWarGames #NXTTakeOver pic.twitter.com/x0kOBI1HJo

— Kim (@kimberlasskick) November 24, 2019
Opinion: What a match! All seven women put their bodies on the line in a huge massacre. They delivered a fantastic match and a huge turn that I had been predicting for weeks now. Kai turned on her best friend Nox in explosive fashion. They also set up Ripley vs. Baszler perfectly for the next few months.
Pete Dunne vs. Killian Dain vs. Damian Priest
Winner challenges NXT Champion Adam Cole at Survivor Series
This was an incredible match with all three competitors giving all their blood, sweat, and tears to challenge Adam Cole tomorrow night for the NXT Championship. You would think there would be temporary alliances formed in this match but there wasn't.
Dunne, Dain, and Priest delivered a hard-hitting affair with counter for counters and vicious strikes. The Beast of Belfast hit a nasty-looking Michinoku Driver on Priest on top of Dunne. In the end, though, the former long-reigning United Kingdom Champion secured the victory and one step closer to becoming the new NXT Champion.
Opinion: Another tremendous match that offered some hard-hitting offense and some great counters. Dunne and Priest have great in-ring chemistry and they continue to impress with every battle.
Dain was there to bring chaos and death-defying maneuvers that bring out a level of excitement. Since Dunne returned to Full Sail he's been booked as a major star and he will make the most out of a spectacular NXT Championship match tomorrow night.
Finn Balor vs. Matt Riddle
Right from the start, these rivals were ready to beat the holy hell out of each other. The Original Bro delivered nasty strikes to the former Universal Champion. The Prince kept his opponent grounded with submissions showcasing a more vindictive and cold-hearted persona.
Riddle took Balor down with some massive clotheslines and a Bro-Ton for a near-fall. Balor attempted to deliver the Coup de Grace but to no avail. The Original Bro answered back with a Bro-To-Sleep instead of going for the pin he hit a senton off the top rope crashing into knees. Balor secured his first victory in NXT  in four years with a nasty-looking 1916 DDT.
The Prince is back …. home. #WeAreNXT #NXTTakeOver https://t.co/27MNfAgWSR

— Triple H (@TripleH) November 24, 2019
Opinion: Riddle and Balor can fight any day of the week and I'll pay money to watch it. They have insane in-ring chemistry and both competitors can deliver some nasty strikes in wicked form. I never doubted that The Prince would win this match but I did appreciate all the false finishes.
War Games: Tommaso Ciampa, Keith Lee, Dominik Dijakovic, and Kevin Owens vs. The Undisputed Era (NXT Champion Adam Cole, NXT North American Champion Roderick Strong, and NXT Tag Team Champions Bobby Fish & Kyle O'Reilly)
The first two competitors to enter for their respective teams are Tommaso Ciampa and Roderick Strong. The action was rapid-fire with Ciampa drilling Strong with a series of lariats. The North American Champion delivered a nasty-looking double knees/gutbuster combo. The next to enter was Kyle O'Reilly who came right at the former NXT Champion with heavy strikes grounding and pounding away at Ciampa. The numbers game was on full display as UE continued their dominance.
The next to enter was Dominik Dijokovac who delivered a series of stiff kicks to O'Reilly and Strong. The big man overpowered both heels and literally suplexed Strong halfway across the ring on top of O'Reilly. Dijokovac laid waste to the members of UE tossing them both into the unforgiving steel cage. The next to enter was Bobby Fish who immediately targeted Ciampa with vicious strikes and kicks. He unloaded on Dijokovac with the same lightening-fast combo moves chopping the big man down.
The Tag Team Champions delivered High/Low to Dijokovac as Strong hit a Tiger Driver/Backbreaker combo to Ciampa. All three members of UE delivered consecutive hard strikes to a defenseless Ciampa. Next to enter was Keith Lee who bulldozed through all of the heels with massive shoulder tackles followed by a jaw-dropping crossbody. After a wrong move, the heels regained control isolating the babyfaces.
The next to enter was the NXT Champion Adam Cole who pulled out at least five tables much to the appreciation of the Chicago crowd. Ciampa blasted Cole through a table set up at ringside. After the babyfaces backed UE into the second ring the war was on! A melee ensued between all seven competitors.
The fourth and final member of Team Ciampa was none other than The Prizefighter Kevin Owens donned in his old-school NXT gear. He marched down to the ring laying waste to the heels as the NXT Universe erupted in a "Holy Shit" chant!
The heels once again regained control of the match punishing all of the members of Team Ciampa. Lee hit an incredible top rope crossbody wiping out all three members of UE. O'Reilly hit a flying knee to the big man and locked in the Achilles tendon submission. Dijokovac hit a stunning springboard moonsault to break up the pinfall. Ciampa hit The Fairytale Ending and Owens hit a Senton Splash. Strong hit Lee with an Avalanche Olympic Slam.
Owens and Cole fought between the two rings. Owens went for his former signature maneuver the package piledriver but Cole reversed. The NXT Champion tried for a Panama Sunrise on the steel partition but Owens blocked it. Cole reversed a back body drop to finally land the Panama Sunrise.
Ciampa mounted a comeback and delivered wicked knee strikes to all the members of UE after delivering Project Ciampa.
The ending of the match was absolutely insane, as Dijokovac chokeslammed Strong through a table, Owens hit a Frog Splash on O'Reilly through another table, and Lee delivered a thunderous Powerbomb. Ciampa and Cole were perched on top of the cage and Ciampa delivered a super air raid crashing through two tables to pick up the victory.
Something very poetic about this.

Snuka was to Foley, what Foley was to an entire generation (myself included). https://t.co/cZpLKauVQ9

— BLACKHEART (@NXTCiampa) November 26, 2019
Opinion: Over the past month, The Undisputed Era has been running roughshod over all of WWE. This was their third WarGames match and all four members utilized the numbers game to perfection. Isolating their opponents and delivering rapid-fire strikes is what everyone expected from the dangerous tandem.
Having Owens as the mystery partner was awesome, him appearing as the old-school badass heel the NXT Universe loves was even better. Owens flew all over the ring delivering some great moments that we will never forget. In my opinion, the big story coming out of this match is just how far Ciampa was willing to go to defeat Cole. Daddy has now gone to war and lived to tell about it, and now Ciampa must set his sights back on reclaiming Goldie.
Summary: NXT always puts on great TakeOvers and this one was no different. It's always just the right amount of matches on the card to tell an intriguing story. The biggest talking points will be Kai vs. Nox, Dunne vs. Cole, Ciampa vs. Cole, and when will Johnny Gargano make his return for revenge against Balor?