King's Takes From NXT UK 11/07/19
Who's Kingdom is it really, and what will Gallus have to say to IMPERIUM? Also two former NXT UK Tag Team Champions clash as Flash Morgan Webster and Mark Andrews battle The Grizzled Young Veterans.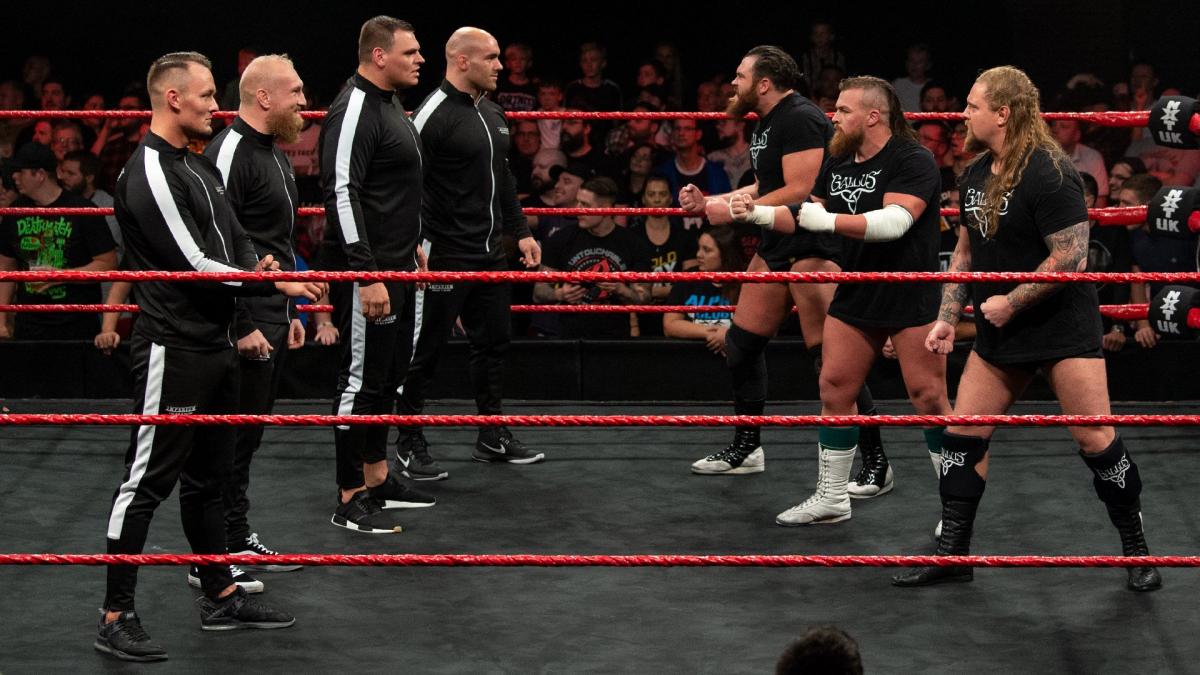 Who's Kingdom is it really, and what will Gallus have to say to IMPERIUM? Also two former NXT UK Tag Team Champions clash as Flash Morgan Webster and Mark Andrews battle The Grizzled Young Veterans. 
Joe Coffey vs. Tyson T Bone
The match started with both brawlers jockeying for position and throwing bombs. T Bone and Coffey are engaging a full-on slugfest and a combination of stiff knee strikes. T Bone blasted his opponent with a flying clothesline. The leader of Gallus hit a thunderous belly-to-belly suplex to gain more momentum. He continued the attack with hard Irish whips into the corner and a Pendulum Backbreaker for a near-fall.
We can't believe the strength of @Joe_Coffey right now! #NXTUK pic.twitter.com/uK2Wg1QUHi

— NXT UK (@NXTUK) November 7, 2019
Coffey applied a wristlock and the big man got back to his feet. An arm drag brings T Bone back to the mat so his opponent can apply more pressure to the arm. Coffey attempts an armbar but T Bone delivers nasty-looking headbutts to escape his grips. T Bone executed a t-bone suplex (how ironic) for a near-fall of his own. Coffey drives his opponent back into the corner and lands a massive crossbody followed by All the Best for the Bells for the win.
Opinion: Tyson T Bone definitely impressed me with how well he fared against Joe Coffey. It's not every day that you see a match quickly disintegrate into a full-blown slugfest. Once both competitors started throwing lefts and rights I knew this was going to be a war. Coffey picking up the victory made sense since it appears Gallus and IMPERIUM are on a collision course.
Killer Kelly vs. Isla Dawn
As soon as the bell rang, Kelly charged towards Dawn but missed a kick and the "modern-day witch" took her down with a series of arm drags and a suplex. Dawn wrenched on the arm and applied a hammerlock into a Single Leg Boston Crab forcing Kelly to make it to the ropes. Dawn leveled her opponent with a dropkick for a near-fall.
The official separation gave Kelly an opening to strike with a vicious pump kick to gain some momentum. "The Killer" began pounding away at her opponent as she waiting until the official's count of four to end the brutal attack. Both competitors made it to the ropes and Kelly delivered rapid-fire stiff kicks to Dawn and a clothesline. The modern-day witch rolls through Kelly to escape a debilitating chin lock.
Dawn attempted Saito Suplex but it was countered and a pump kick. Dawn hit the Saito Suplex and got a 2.8. Kelly blasted her opponent with a stiff kick to the face followed by a hesitation dropkick in the corner. Kelly attempted the Voldemort but it was blocked and Dawn hit Call of the Quarters for the victory.
.@IslaDawn was able to put away @Kelly_WP! #NXTUK pic.twitter.com/Dlo53oOXP3

— NXT UK (@NXTUK) November 7, 2019
Opinion: Killer Kelly is scary everything from her menacing entrance to her vicious strikes all-the-while smiling deviously is dangerous. I think this was my second time watching her perform and she definitely is a force to be reckoned with. Isla Dawn has an ominous presence about her you know there's something unique and special about her. She's also someone I'm not too familiar with. She is a great submission specialist and she proved to me tonight that she should not be taken lightly.
"The Wrestling Genius" Kassius Ohno delivered a dangerous message to the "Big Strong Boi" Tyler Bate ahead of their highly-intense match next week.
NEXT WEEK: @KassiusOhno and @Tyler_Bate CLASH! #NXTUK pic.twitter.com/djwX07OwnW

— WWE Network (@WWENetwork) November 7, 2019
Xia Brookside will finally get a one-on-one match with the NXT Women's Champion Kay Lee Ray next week!
NEXT WEEK: @XiaBrooksideWWE goes up against @Kay_Lee_Ray! #NXTUK pic.twitter.com/ZLSIWfbNQf

— WWE Network (@WWENetwork) November 7, 2019
Main Event: Flash Morgan Webster and Mark Andrews vs. The Grizzled Young Veterans
Flash Morgan Webster and Zack Gibson started the match with a waist lock and a slam by "Liverpool's Number 1." Webster used the ropes to hit a bulldog into a headlock. Gibson caught Webster in a second attempt at the bulldog which allowed him to make the tag to James Drake.
A nasty kick from Drake but Webster used a surprise roll-up to make it to Mark Andrews. The babyfaces keep the momentum for the majority of the match until The Grizzled Young Veterans found an opening.
Towards the end of the match, Gallus came out to get a closer look at their potential challengers. IMPERIUM wasn't far behind them. Both groups squared off in the middle of the ring. Ilja Dragunov came down and pulled a huge swerve on the quartet as he joined forces with Gallus. A HUGE brawl ensued to end the show!
FACTION WARFARE!!!@UNBESIEGBAR_ZAR has chosen his side, and that side is with #GALLUS! #NXTUK pic.twitter.com/eDM9cg9bNQ

— WWE (@WWE) November 7, 2019
Opinion: Both tag teams were on fire tonight willing to do whatever it takes to get one step closer to regaining the NXT UK Tag Team Championships. There's nothing better than to watch two brawlers mix it up with some incredible high-flyers. The match ending in a no contest saved both teams from having to take a loss which is smart booking. Perhaps, this leads into a triple-threat-match for the tag titles soon.
Last but certainly not least, the huge brawl between Gallus and IMPERIUM was simply amazing. Dragunov's involvement was brilliant storytelling from him standing side-by-side with IMPERIUM and then turning on them was fantastic. The look of shock on Wolfe's face made the moment feel special. I just hope we get to see this HUGE match on next week's episode!