Mitchell's WWE Backstage Report! (11/12/19)
Adam Cole, BAYBAY!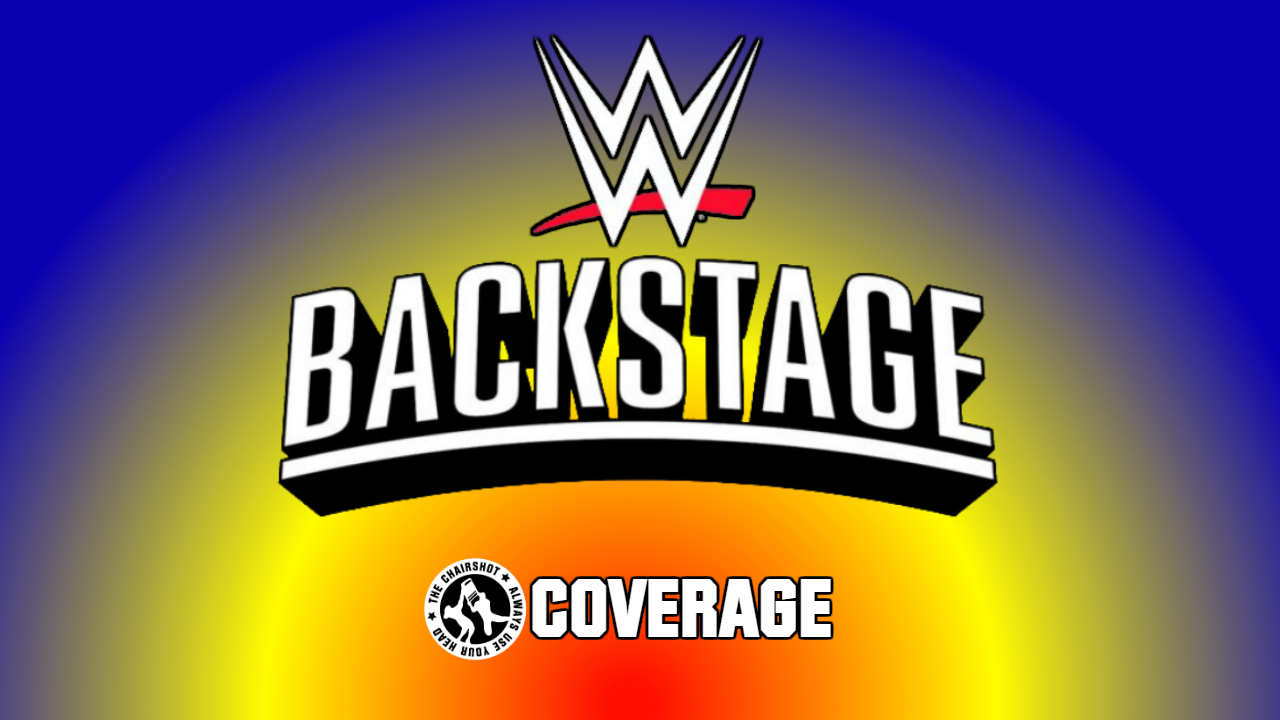 Bang bang! Foley's Backstage!
The Hardcore Legend stops by the show, and with things heating up between all three brands, the NXT Champion goes Backstage to speak with Booker T and Renee Young!
Renee Young runs down the schedule!
The man of many faces, Mick Foley, talks The Fiend. The panel will try to figure out the love triangle that would make even "your soap opera loving mother blush." And of course, the NXT Champion, ADAM COLE BAYBAY will be in the building! And with that, WWE Backstage begins!
The panel is missing Captain Charisma!
Booker T, Renee and Paige are here, but in place of Christian is… SAMOA JOE! The Samoan Submission Machine is the sharp dressed man right now as he steps into the "ring" to join the panel. Renee welcomes Joe but wants an update on that hand. It's day-by-day but going well, so maybe a few more weeks and he'll be back. The main roster has missed him. Booker feels Joe should've milked his estimation, say something like "six months" before he returns. Joe thought about it, but calls are still coming.
To run down the week, battle lines have been drawn! A highlight reel shows how not just NXT but NXT UK invaded! The New Day are lucky seven-time W, W, E Tag Team Champions while The Fiend targets Daniel Bryan! And Raw withstood the takeover thanks to Kevin Owens and the Street Profits backing up the Architect. Lana swerved Rusev into thinking they were having a baby, and lastly, The OC fell to the combination of The Viper, the Real-Life Superhero and Ultimo Ninja.
But what stood out over these last seven days?
Booker says it was the obvious thing: NXT taking over! Invading SmackDown and Raw again, using Imperium to do it! Walter's reputation preceded him for Booker, and that alone told Booker a lot. The match against Rollins showed him even more, it's like a bigger, stronger William Regal. He has that killer instinct. Paige also likes the potential of Imperium, but it was also them coming in to give us a look at new talent! This is great! Booker also points out Keith Lee from the week before. Samoa Joe knows big guys like them, "blue chip big men" are hard to come by, and those two guys are the future. But on top of all that, Randy Orton stood out. The mind games are on point. His RKO teases were also great, this is what you should see. And then the rub Orton gives by siding with Ricochet and Carrillo in that match, that was also big.
Does anyone have better timing than Orton? The answer is no. He doesn't even have to say anything, just the look on his face does it. Orton is that man.
The Ravishing Russian Love Triangle is polarizing, to say the least.
The UK let the baby mama know how they felt about all of this when she gave her excuses to why she hates Rusev. And she didn't even let Lashley in on the swerve! But Renee can't help but love "smut" stories. Paige is not. She loves Lana, but she has to bring up a certain tweet. Lana whined about being left at home to cook and clean while Rusev cheated on her (still unfounded accusations). But Paige wants Lana to be real, she doesn't do any of that. Given how polarizing this is just on the panel, does a story like this damage the Women's (R)Evolution that's going on at the same time? Does that not undo some of the work?
Booker says that while the Attitude Era was great, "if you don't change with the times, the times will pass you by." It may not even be that this story is bad, just that it is out of place that the WWE Universe does not want in 2019. This is about putting on a show, giving the crowd what they want, and this ain't it. Joe agrees, nostalgia is powerful, but Joe is wondering who comes out this looking good. He can't see any of them looking good. Booker brings up a tweet that basically said, "If you stop this right now, we'll forget it ever happened." Very true! But at the same time, fans want edgy Attitude Era stuff, but this was that, too!
Renee goes back to Mick Foley's promise that the third hour would be edgier, better, but that lasted what? A week? Where can we get the right bits of what we want? Booker again references the times. If he still had his mustache and flat top, who knows where we'd be. But whether you love or hate this love triangle, it seems far from over. The same goes for Backstage, as we go to break!
Mick Foley goes Backstage!
Foley was feeling great coming in here, until he saw his profile photo. It was his red-and-black plaid sports coat with the grey turtleneck underneath. If he knew that was going to be his photo, he would've had the tie-dye like he has now. But fashion aside, Foley has been all around the world on his Nice Day Tour, for his book, "Have a Nice Day!" The tour continues, so get ready Ohio!
But to business, Foley is a man of many personas, and so he has some perspective on Bray Wyatt transforming into The Fiend. To be successful long term, a wrestler has to tweak his image just before fans start thinking it needs to be tweaked. Bray did that, and has made this unforgettable and unique new self. Foley locks in on The Fiend when he's on screen. Booker is also impressed by this transformation. How hard is that for Foley to have been all those characters? As long as he had time to prepare a mindset, he could do it. But Bray is able to do it in the blink of an eye through Firefly Fun House. So what is it like to try that new persona out live? There will be moments when you get in the zone, you have no doubt you're going to leave an impression. Then there are moments when you're not at all confident. Foley knows both of those, and he knew fans knew, too.
Renee wants to talk how Foley and Booker met. Booker remembers it being an overseas tour to Germany, and Foley was taking on Vader. Booker watched from behind the curtain as Foley does his move, stuck in the ropes, and his ear popped off! But like a professional, Foley finished and got to the back. Booker, still a young man back then, he could not believe Foley was unfazed by his ear bleeding so badly. Someone had Foley's ear in his hand and brought it over, too! Foley looks back at the man and just said, "Bang bang!" Booker was flabbergasted, and it will be something he remembers forever. Foley wants Renee to remember this: he had the presence of mind and commitment of character to get a catchphrase in, in front of the boys.
So what happened to the ear…? Foley was able to say in German, "Please don't forget to bring my ear in the plastic bag." Losing an ear is a crazy level of pain, but Foley saw the glass half full. Losing a body part like that, not really a bad thing.
But up next, not only is there Adam Cole, baybay, but the new student for Promo School is FLUFFY, Gabriel Iglesias!
This Date in History!
Let's all say happy birthday to The Man! That is to say, November 12th is the day Becky Lynch went from Straight Lasskicker to the face of a movement! SmackDown invaded Raw on the road to Survivor Series 2018, and Becky lit up the wrestling world!
Renee talks with Gabriel Iglesias!
A long time fan of the WWE and pro-wrestling in general, the man called Fluffy is excited to be here. He went with the WWE to Tribute to the Troops, but it is almost time for Promo School! Renee gives Fluffy a pop quiz on his WWE fan power.
What made Fluffy a fan? He was a fan since 1987, WrestleMania III. That's legit. Favorite match? Undertaker VS HBK, WrestleMania 25, he was there! Then favorite superstar? Stone Cold Steve Austin, "and that's the bottom line." Okay then, favorite finisher? Rock Bottom.
Renee runs down the rules for Fluffy. There are judges, all very strong critics, and he will receive a grade, aka anywhere from an F to an A. Is he ready? He hopes so! Fluffy fires up, it's time to go to class!
Promo School is now in session!
Booker T, Mick Foley, Paige and Adam Cole are the panel of judges, but it's time for them to see what Fluffy's got. What is his wrestling name? Gabe. Well then, Gabe, here's some quick do's and don'ts. Mick loves that Gabe took what is seen as a weakness and made it into a strength. But when it comes to the promo, play up those strengths and let us know why Fluffy is a force. Cole wants to believe the promo, that Gabriel believes his promo and means it. Paige says there need to be a target. Not the judges, no. Here comes Samoa Joe! And without further ado, Gabe starts off!
"There are 365 days in a year. 52 weeks in a year. And then there's the day you met me." Samoa Joe claims to be one of the best. Yet, second only to Sting, Joe took the longest to come to the WWE, and for good reason. Joe is a waste of time. Joe is only the most terrifying man in the world to IHOP. Gabe sees butter. A face only a mother could love. But today, Gabe's Joe's daddy. Tonight is the night Joe faces the man. Not Fluffy, but Gabe. Joe better be ready. Booker and Paige love it! Shucky ducky quack quack! Joe even felt that. Booker says B+ for bringing the smoke! Foley says that while Fluffy may not stand a chance, Gabe does. He gives an A-! Cole feels the same way. Considering this stare down, that intensity and belief, B+ at least. Paige says a big fat B. The ending was not quite there, but Foley says Gabe's body language is the continuation!
But here comes Joe's rebuttal! Make him bow down! Joe quickly says that was something. It makes Joe think of a Samoan limerick of sorts. "There once was a Fluffly Boi named Gabe. Who showed up to WWE Backstage, and had jokes to say. But one great tactical error was made. For the Fluffly Boi drew far too near. With my arm around your shoulder, and that sweat coming down your brow, tell me, Fluffy Boi. Tell me one of your jokes now." Gabe says Joe smells like spam. Well Joe thinks Gabe is like John Cena to his core. Because with that wack promo, we don't want to see you no more. That was fire! Fluffy wipes the sweat and has to give respect back. Foley wants to see Joe VS Gabe! But there's still so much more to come, stay tuned.
It's an NXT Champions Summit!
With the inaugural NXT Women's Champion, the first-ever two-time NXT Champion, and THE NXT Champion all in the studio, Renee couldn't help but sit with them and their belts. She feels "like a dork" being without gold. Do they have trophy cases at home to keep those in? Not yet. Joe has his sons parade the belt around for him. Cole has had a wild week, and it starts with that sudden call to get from Orlando to Buffalo. In fact, it was a text message, 2:15 PM local time, and then it was just a scramble. Paige and Joe know that just from being on Raw and SmackDown for a bit. But then, Cole didn't even have an address. That came later, and he had only an hour to get somewhere an hour away. Still more rushing, him and a dozen or so, HBK too, they changed on the plane! Paige wants to know that story.
It was just chaos for a debut on SmackDown, everyone had to prepare different. The ladies were getting their make-up on in the back, which Paige and Renee can attest to being difficult as it is. Cole is in a cubbyhole to put on his boots, and that is also hard. And then of course, he ends up in a match with Daniel Bryan, for the first time, for the NXT Championship, in the main event. It wasn't even just about his first SmackDown, it was about a dream match with Daniel Bryan. He only had an hour to prepare, and yet it was a "damn near perfect match" to Renee. The chemistry was great, and Cole wouldn't change a thing about that night. That's what made it special, being last minute and chaotic. Paige also gives it up for how great that match was, because Cole is talented in his own right, and Cole agrees.
Joe notes that when it comes to Bryan, when a match comes up, "Please let me go an hour with Adam Cole." That is a very Bryan thing. He wants to use up the spotlight and time to do everything he wants, that's his pitch. Renee stirs the pot by asking which match felt better to Cole: him and Bryan or him and Rollins? OOF! They're both special for different reasons. But all things considered, the madness of the day gives the edge to Bryan, "that one's crazy extra special" for Cole. Fair enough. Renee wasn't up for commentary and yet she loved that match.
But thinking about it, it has been wild these last couple of weeks, but only because the plane home from Saudi Arabia and Crown Jewel didn't leave on time. It is tough to say whether or not the takeover happens the same way, but Cole's inclined to say no. All things considered, this was probably not the plan, certainly not then. And yet the excitement helped. Paige was also surprised being called in. She was "fired" and got green mist in her face. What more could be done?
But there's a big question that must be asked.
Of the three, who has made the biggest impact in NXT? Renee throws it to Mick and Book! Mick says Girl Interrupted was a good movie, that is Paige's reign. She had to let her title go just because she was called up and won a different title. While Adam Cole still has a ways to go, Foley feels Paige did the most for the Women's Division. Of course, Samoa Joe was great, too. Very impressive, had the title twice. They all want him to choose already, so he goes with Joe. Booker agrees Joe is great, but working back in 2008, Booker always felt Joe was better than that place. But to Paige, youngest champion ever yet she already had a lifetime of experience. Adam Cole was at the indies, hadn't gotten the call, but Book knew it was coming. So in the end, Booker says Cole! Paige feels snubbed! She's going to hunt them boys down! But they didn't say anything mean!
The Nature Boy talks Lawrence Taylor.
Ric Flair is a good friend of LT's, and knows how great of a football player he was. The New York Giants' "crazed dog" was fierce but had fun.  "He made every football team redesign their entire offensive scheme." A once-in-a-lifetime talent that gets to relax in retirement. Flair and Taylor are certainly among the greats, make sure to check out who the 100 greatest football players are on the NFL's official website.
The Satin Sheet is back!
Ryan Stain returns to WWE Backstage with some injury updates. Johnny Gargano has been out since Finn Balor attacked, and we thought we were getting that match. But Gargano cannot make Survivor Series weekend with a neck injury. That's a shame for a WarGames grudge match over the heart and soul of NXT, but don't count that match out just yet.
Meanwhile, it is contract season as the WWE confirms two superstars re-upped! The Miz is staying with an undisclosed multi-year extension, no surprise given he is highly featured and has the Miz & Mrs reality show. Then the other signing took some digging, so don't attack him for this. Paige is upset, that explains all the people in her office! Yes, Paige has renewed her contract, which means she's sticking around Backstage, too. Paige wanted to announce it herself, but yes, she's still here. Backstage is stuck with her, and that's how Renee likes it.
Time for a Hot Tag!
Renee is ready for Survivor Series going Triple Threat now! But as with all Pay-Per-Views, we need to know…
Which is the show stealer?
Samoa Joe says the Women's Champions, of course. Becky Lynch, Bayley and Shayna Baszler, all three in their prime but the star being born is the Queen of Spades. The WWE Universe will learn exactly who she is.
But who will Fade to Black?
Aleister sent an ultimatum to a certain someone, who does Paige think should pick, a fight, with Aleister? She loves how dark and creepy and badass Aleister is, so he needs someone equally dark and badass, so why not Samoa Joe? One of the best, and also creepy enough to get up in the other person's face and go after their families, it'd be awesome if Joe went to the Neverlands. Wait, Netherlands. Neverland is Peter Pan. Paige is really riled up, she has had a chaotic day of her own.
But who is doing best Heel Work?
Booker T says it is a no brainer. Going old school like him, Heels know what their jobs are: to get heat! And that's KING Baron Corbin! Corbin doesn't care, he lets the fans boo him because he and his opponents will give us what we want in the ring! Well we still need to see who is Heel on Backstage. Look out, Book, Renee might turn on you.
BREAKING NEWS!
With the Survivor Series 5v5v5 match coming, SmackDown has named their team! The Big Dog AND King Corbin are on the same team, alongside Mustafa Ali, "Shorty G" Chad Gable, and BRAUN! But can Roman and Corbin put their differences aside? What does the panel think?
Booker says the vote is still out on Shorty G. Until Gable does something big, Book is on the fence. Paige doesn't care, she's just 100% SmackDown, still! Joe says there is no cohesion, it's all thrown together. They're all great talents, but working together remains to be seen.
And in Twitter news…
Nia Jax tweets out a photoshop of herself as "Cactus Jax." Is there a long lost Foley out there somewhere, Dude Love? Foley has no words.
And that's a wrap!
But being part of the WWE family, and WWE being all about history, there needs to be some history made here tonight. The panel agrees with Renee, but what is the history being made? CULT OF PERSONALITY PLAYS!! And HE is here! C! M! PUNK!! "It's as simple as this: just when they think they've got the answers, I change the culture." The Best in the World returns to the WWE via Backstage!
---
My Thoughts:
This was probably one of the best things all week, and certainly the best episode of Backstage so far. We got so many more guests than I expected, and I loved seeing Fluffy Gabriel Iglesias. I'm a big fan of his, and it's great he's a big fan of wrestling, and he did a great Promo School with Samoa Joe. The show as a whole is still zigzagging over the line between real and kayfabe but I suppose that's the whole point of Backstage. It actually worked fine given they had to discuss the Lana-Lashley-Rusev story. Instead of choosing a side between Lana and Rusev, they chose whether or not they liked this story. And I totally get Booker T's argument that it isn't even whether or not this is a good story (which it still isn't) but just not what the audience wants. Booker subtly hinted that Vince needs to get with the times, which he is two decades behind on. As I said for Raw, we need that blow-off to happen and get this over with so we can eventually forget it.
Loved hearing Foley talk about his own career, as well as giving some props to The Fiend. That ear story is crazy. We also got good sports stuff with Flair talking Lawrence Taylor, the Hot Tags were good but again an example of turning kayfabe on then off. I figured the WWE would use NXT and SmackDown to help make announcements, why didn't I see Backstage doing it? This is literally what this show should be for! And it was good to hear it from here that we, sadly, won't get Gargano VS Balor just yet. The SmackDown team for the 5v5v5 seemed both natural yet not. Much like Ricochet and Orton, Corbin and Roman will have to work together for the greater good, but you just wait for Corbin to turn on Roman. Strowman is in another of these Survivor Series Elimination Tag Matches, he's probably going to take one of those laps to bulldoze no less than half a dozen superstars between Raw and NXT.
And last but not at all the least, CM PUNK ON BACKSTAGE! WOO! It was said he auditioned, but now he's here! Christian was probably out for that same reason, I definitely feel like he's being replaced by Punk. Booker's too good, Renee is the host, and Paige just signed back up and there are fans that still love her. So Book, Renee, Punk and Paige are more than likely the true panel for Backstage and that sounds pretty great to me.