Mitchell's WWE Backstage Report! (11/12/19)
Adam Cole, BAYBAY!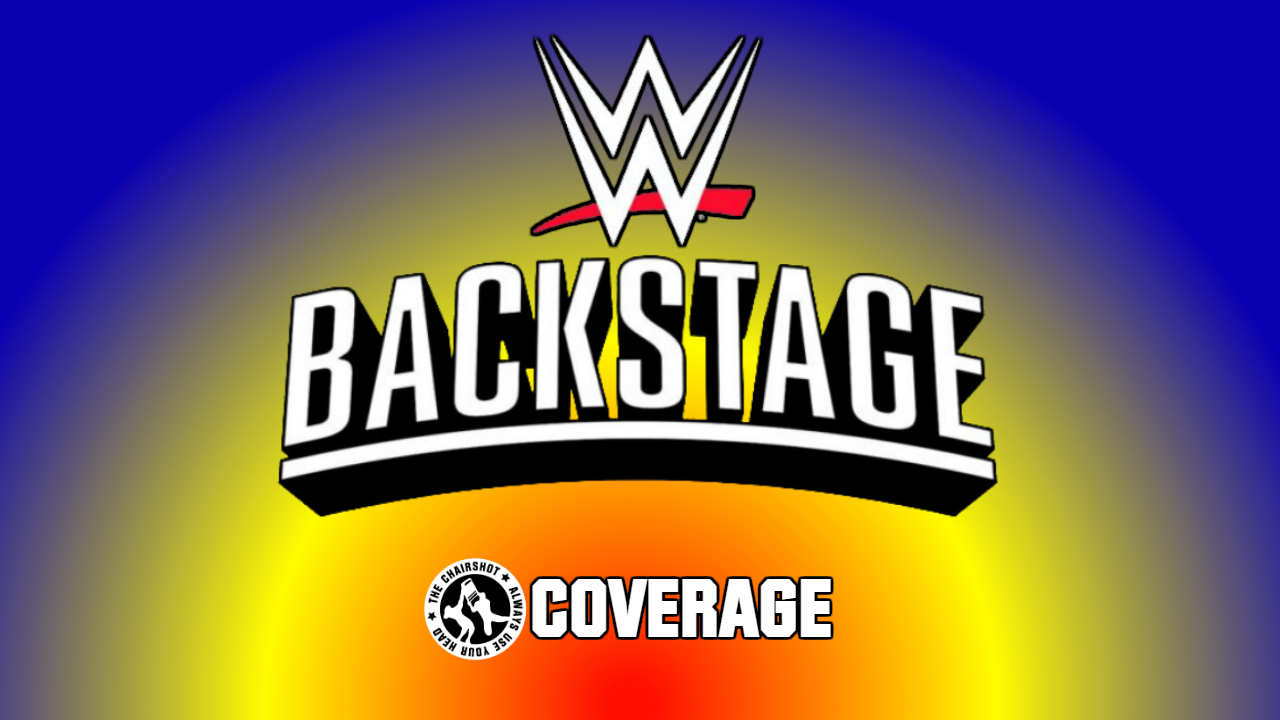 Bang bang! Foley's Backstage!
The Hardcore Legend stops by the show, and with things heating up between all three brands, the NXT Champion goes Backstage to speak with Booker T and Renee Young!
Renee Young runs down the schedule!
The man of many faces, Mick Foley, talks The Fiend. The panel will try to figure out the love triangle that would make even "your soap opera loving mother blush." And of course, the NXT Champion, ADAM COLE BAYBAY will be in the building! And with that, WWE Backstage begins!
The panel is missing Captain Charisma!
Booker T, Renee and Paige are here, but in place of Christian is… SAMOA JOE! The Samoan Submission Machine is the sharp dressed man right now as he steps into the "ring" to join the panel. Renee welcomes Joe but wants an update on that hand. It's day-by-day but going well, so maybe a few more weeks and he'll be back. The main roster has missed him. Booker feels Joe should've milked his estimation, say something like "six months" before he returns. Joe thought about it, but calls are still coming.
To run down the week, battle lines have been drawn! A highlight reel shows how not just NXT but NXT UK invaded! The New Day are lucky seven-time W, W, E Tag Team Champions while The Fiend targets Daniel Bryan! And Raw withstood the takeover thanks to Kevin Owens and the Street Profits backing up the Architect. Lana swerved Rusev into thinking they were having a baby, and lastly, The OC fell to the combination of The Viper, the Real-Life Superhero and Ultimo Ninja.
But what stood out over these last seven days?
Booker says it was the obvious thing: NXT taking over! Invading SmackDown and Raw again, using Imperium to do it! Walter's reputation preceded him for Booker, and that alone told Booker a lot. The match against Rollins showed him even more, it's like a bigger, stronger William Regal. He has that killer instinct. Paige also likes the potential of Imperium, but it was also them coming in to give us a look at new talent! This is great! Booker also points out Keith Lee from the week before. Samoa Joe knows big guys like them, "blue chip big men" are hard to come by, and those two guys are the future. But on top of all that, Randy Orton stood out. The mind games are on point. His RKO teases were also great, this is what you should see. And then the rub Orton gives by siding with Ricochet and Carrillo in that match, that was also big.
Does anyone have better timing than Orton? The answer is no. He doesn't even have to say anything, just the look on his face does it. Orton is that man.
The Ravishing Russian Love Triangle is polarizing, to say the least.
The UK let the baby mama know how they felt about all of this when she gave her excuses to why she hates Rusev. And she didn't even let Lashley in on the swerve! But Renee can't help but love "smut" stories. Paige is not. She loves Lana, but she has to bring up a certain tweet. Lana whined about being left at home to cook and clean while Rusev cheated on her (still unfounded accusations). But Paige wants Lana to be real, she doesn't do any of that. Given how polarizing this is just on the panel, does a story like this damage the Women's (R)Evolution that's going on at the same time? Does that not undo some of the work?
Booker says that while the Attitude Era was great, "if you don't change with the times, the times will pass you by." It may not even be that this story is bad, just that it is out of place that the WWE Universe does not want in 2019. This is about putting on a show, giving the crowd what they want, and this ain't it. Joe agrees, nostalgia is powerful, but Joe is wondering who comes out this looking good. He can't see any of them looking good. Booker brings up a tweet that basically said, "If you stop this right now, we'll forget it ever happened." Very true! But at the same time, fans want edgy Attitude Era stuff, but this was that, too!
Renee goes back to Mick Foley's promise that the third hour would be edgier, better, but that lasted what? A week? Where can we get the right bits of what we want? Booker again references the times. If he still had his mustache and flat top, who knows where we'd be. But whether you love or hate this love triangle, it seems far from over. The same goes for Backstage, as we go to break!
Mick Foley goes Backstage!
Foley was feeling great coming in here, until he saw his profile photo. It was his red-and-black plaid sports coat with the grey turtleneck underneath. If he knew that was going to be his photo, he would've had the tie-dye like he has now. But fashion aside, Foley has been all around the world on his Nice Day Tour, for his book, "Have a Nice Day!" The tour continues, so get ready Ohio!
But to business, Foley is a man of many personas, and so he has some perspective on Bray Wyatt transforming into The Fiend. To be successful long term, a wrestler has to tweak his image just before fans start thinking it needs to be tweaked. Bray did that, and has made this unforgettable and unique new self. Foley locks in on The Fiend when he's on screen. Booker is also impressed by this transformation. How hard is that for Foley to have been all those characters? As long as he had time to prepare a mindset, he could do it. But Bray is able to do it in the blink of an eye through Firefly Fun House. So what is it like to try that new persona out live? There will be moments when you get in the zone, you have no doubt you're going to leave an impression. Then there are moments when you're not at all confident. Foley knows both of those, and he knew fans knew, too.
Renee wants to talk how Foley and Booker met. Booker remembers it being an overseas tour to Germany, and Foley was taking on Vader. Booker watched from behind the curtain as Foley does his move, stuck in the ropes, and his ear popped off! But like a professional, Foley finished and got to the back. Booker, still a young man back then, he could not believe Foley was unfazed by his ear bleeding so badly. Someone had Foley's ear in his hand and brought it over, too! Foley looks back at the man and just said, "Bang bang!" Booker was flabbergasted, and it will be something he remembers forever. Foley wants Renee to remember this: he had the presence of mind and commitment of character to get a catchphrase in, in front of the boys.
So what happened to the ear…? Foley was able to say in German, "Please don't forget to bring my ear in the plastic bag." Losing an ear is a crazy level of pain, but Foley saw the glass half full. Losing a body part like that, not really a bad thing.
But up next, not only is there Adam Cole, baybay, but the new student for Promo School is FLUFFY, Gabriel Iglesias!
This Date in History!
Let's all say happy birthday to The Man! That is to say, November 12th is the day Becky Lynch went from Straight Lasskicker to the face of a movement! SmackDown invaded Raw on the road to Survivor Series 2018, and Becky lit up the wrestling world!
Renee talks with Gabriel Iglesias!
A long time fan of the WWE and pro-wrestling in general, the man called Fluffy is excited to be here. He went with the WWE to Tribute to the Troops, but it is almost time for Promo School! Renee gives Fluffy a pop quiz on his WWE fan power.
What made Fluffy a fan? He was a fan since 1987, WrestleMania III. That's legit. Favorite match? Undertaker VS HBK, WrestleMania 25, he was there! Then favorite superstar? Stone Cold Steve Austin, "and that's the bottom line." Okay then, favorite finisher? Rock Bottom.
Renee runs down the rules for Fluffy. There are judges, all very strong critics, and he will receive a grade, aka anywhere from an F to an A. Is he ready? He hopes so! Fluffy fires up, it's time to go to class!
Promo School is now in session!
Booker T, Mick Foley, Paige and Adam Cole are the panel of judges, but it's time for them to see what Fluffy's got. What is his wrestling name? Gabe. Well then, Gabe, here's some quick do's and don'ts. Mick loves that Gabe took what is seen as a weakness and made it into a strength. But when it comes to the promo, play up those strengths and let us know why Fluffy is a force. Cole wants to believe the promo, that Gabriel believes his promo and means it. Paige says there need to be a target. Not the judges, no. Here comes Samoa Joe! And without further ado, Gabe starts off!
"There are 365 days in a year. 52 weeks in a year. And then there's the day you met me." Samoa Joe claims to be one of the best. Yet, second only to Sting, Joe took the longest to come to the WWE, and for good reason. Joe is a waste of time. Joe is only the most terrifying man in the world to IHOP. Gabe sees butter. A face only a mother could love. But today, Gabe's Joe's daddy. Tonight is the night Joe faces the man. Not Fluffy, but Gabe. Joe better be ready. Booker and Paige love it! Shucky ducky quack quack! Joe even felt that. Booker says B+ for bringing the smoke! Foley says that while Fluffy may not stand a chance, Gabe does. He gives an A-! Cole feels the same way. Considering this stare down, that intensity and belief, B+ at least. Paige says a big fat B. The ending was not quite there, but Foley says Gabe's body language is the continuation!
But here comes Joe's rebuttal! Make him bow down! Joe quickly says that was something. It makes Joe think of a Samoan limerick of sorts. "There once was a Fluffly Boi named Gabe. Who showed up to WWE Backstage, and had jokes to say. But one great tactical error was made. For the Fluffly Boi drew far too near. With my arm around your shoulder, and that sweat coming down your brow, tell me, Fluffy Boi. Tell me one of your jokes now." Gabe says Joe smells like spam. Well Joe thinks Gabe is like John Cena to his core. Because with that wack promo, we don't want to see you no more. That was fire! Fluffy wipes the sweat and has to give respect back. Foley wants to see Joe VS Gabe! But there's still so much more to come, stay tuned.
It's an NXT Champions Summit!
With the inaugural NXT Women's Champion, the first-ever two-time NXT Champion, and THE NXT Champion all in the studio, Renee couldn't help but sit with them and their belts. She feels "like a dork" being without gold. Do they have trophy cases at home to keep those in? Not yet. Joe has his sons parade the belt around for him. Cole has had a wild week, and it starts with that sudden call to get from Orlando to Buffalo. In fact, it was a text message, 2:15 PM local time, and then it was just a scramble. Paige and Joe know that just from being on Raw and SmackDown for a bit. But then, Cole didn't even have an address. That came later, and he had only an hour to get somewhere an hour away. Still more rushing, him and a dozen or so, HBK too, they changed on the plane! Paige wants to know that story.
It was just chaos for a debut on SmackDown, everyone had to prepare different. The ladies were getting their make-up on in the back, which Paige and Renee can attest to being difficult as it is. Cole is in a cubbyhole to put on his boots, and that is also hard. And then of course, he ends up in a match with Daniel Bryan, for the first time, for the NXT Championship, in the main event. It wasn't even just about his first SmackDown, it was about a dream match with Daniel Bryan. He only had an hour to prepare, and yet it was a "damn near perfect match" to Renee. The chemistry was great, and Cole wouldn't change a thing about that night. That's what made it special, being last minute and chaotic. Paige also gives it up for how great that match was, because Cole is talented in his own right, and Cole agrees.
Joe notes that when it comes to Bryan, when a match comes up, "Please let me go an hour with Adam Cole." That is a very Bryan thing. He wants to use up the spotlight and time to do everything he wants, that's his pitch. Renee stirs the pot by asking which match felt better to Cole: him and Bryan or him and Rollins? OOF! They're both special for different reasons. But all things considered, the madness of the day gives the edge to Bryan, "that one's crazy extra special" for Cole. Fair enough. Renee wasn't up for commentary and yet she loved that match.
But thinking about it, it has been wild these last couple of weeks, but only because the plane home from Saudi Arabia and Crown Jewel didn't leave on time. It is tough to say whether or not the takeover happens the same way, but Cole's inclined to say no. All things considered, this was probably not the plan, certainly not then. And yet the excitement helped. Paige was also surprised being called in. She was "fired" and got green mist in her face. What more could be done?
But there's a big question that must be asked.
Of the three, who has made the biggest impact in NXT? Renee throws it to Mick and Book! Mick says Girl Interrupted was a good movie, that is Paige's reign. She had to let her title go just because she was called up and won a different title. While Adam Cole still has a ways to go, Foley feels Paige did the most for the Women's Division. Of course, Samoa Joe was great, too. Very impressive, had the title twice. They all want him to choose already, so he goes with Joe. Booker agrees Joe is great, but working back in 2008, Booker always felt Joe was better than that place. But to Paige, youngest champion ever yet she already had a lifetime of experience. Adam Cole was at the indies, hadn't gotten the call, but Book knew it was coming. So in the end, Booker says Cole! Paige feels snubbed! She's going to hunt them boys down! But they didn't say anything mean!
The Nature Boy talks Lawrence Taylor.
Ric Flair is a good friend of LT's, and knows how great of a football player he was. The New York Giants' "crazed dog" was fierce but had fun.  "He made every football team redesign their entire offensive scheme." A once-in-a-lifetime talent that gets to relax in retirement. Flair and Taylor are certainly among the greats, make sure to check out who the 100 greatest football players are on the NFL's official website.
The Satin Sheet is back!
Ryan Stain returns to WWE Backstage with some injury updates. Johnny Gargano has been out since Finn Balor attacked, and we thought we were getting that match. But Gargano cannot make Survivor Series weekend with a neck injury. That's a shame for a WarGames grudge match over the heart and soul of NXT, but don't count that match out just yet.
Meanwhile, it is contract season as the WWE confirms two superstars re-upped! The Miz is staying with an undisclosed multi-year extension, no surprise given he is highly featured and has the Miz & Mrs reality show. Then the other signing took some digging, so don't attack him for this. Paige is upset, that explains all the people in her office! Yes, Paige has renewed her contract, which means she's sticking around Backstage, too. Paige wanted to announce it herself, but yes, she's still here. Backstage is stuck with her, and that's how Renee likes it.
Time for a Hot Tag!
Renee is ready for Survivor Series going Triple Threat now! But as with all Pay-Per-Views, we need to know…
Which is the show stealer?
Samoa Joe says the Women's Champions, of course. Becky Lynch, Bayley and Shayna Baszler, all three in their prime but the star being born is the Queen of Spades. The WWE Universe will learn exactly who she is.
But who will Fade to Black?
Aleister sent an ultimatum to a certain someone, who does Paige think should pick, a fight, with Aleister? She loves how dark and creepy and badass Aleister is, so he needs someone equally dark and badass, so why not Samoa Joe? One of the best, and also creepy enough to get up in the other person's face and go after their families, it'd be awesome if Joe went to the Neverlands. Wait, Netherlands. Neverland is Peter Pan. Paige is really riled up, she has had a chaotic day of her own.
But who is doing best Heel Work?
Booker T says it is a no brainer. Going old school like him, Heels know what their jobs are: to get heat! And that's KING Baron Corbin! Corbin doesn't care, he lets the fans boo him because he and his opponents will give us what we want in the ring! Well we still need to see who is Heel on Backstage. Look out, Book, Renee might turn on you.
BREAKING NEWS!
With the Survivor Series 5v5v5 match coming, SmackDown has named their team! The Big Dog AND King Corbin are on the same team, alongside Mustafa Ali, "Shorty G" Chad Gable, and BRAUN! But can Roman and Corbin put their differences aside? What does the panel think?
Booker says the vote is still out on Shorty G. Until Gable does something big, Book is on the fence. Paige doesn't care, she's just 100% SmackDown, still! Joe says there is no cohesion, it's all thrown together. They're all great talents, but working together remains to be seen.
And in Twitter news…
Nia Jax tweets out a photoshop of herself as "Cactus Jax." Is there a long lost Foley out there somewhere, Dude Love? Foley has no words.
And that's a wrap!
But being part of the WWE family, and WWE being all about history, there needs to be some history made here tonight. The panel agrees with Renee, but what is the history being made? CULT OF PERSONALITY PLAYS!! And HE is here! C! M! PUNK!! "It's as simple as this: just when they think they've got the answers, I change the culture." The Best in the World returns to the WWE via Backstage!
---
My Thoughts:
This was probably one of the best things all week, and certainly the best episode of Backstage so far. We got so many more guests than I expected, and I loved seeing Fluffy Gabriel Iglesias. I'm a big fan of his, and it's great he's a big fan of wrestling, and he did a great Promo School with Samoa Joe. The show as a whole is still zigzagging over the line between real and kayfabe but I suppose that's the whole point of Backstage. It actually worked fine given they had to discuss the Lana-Lashley-Rusev story. Instead of choosing a side between Lana and Rusev, they chose whether or not they liked this story. And I totally get Booker T's argument that it isn't even whether or not this is a good story (which it still isn't) but just not what the audience wants. Booker subtly hinted that Vince needs to get with the times, which he is two decades behind on. As I said for Raw, we need that blow-off to happen and get this over with so we can eventually forget it.
Loved hearing Foley talk about his own career, as well as giving some props to The Fiend. That ear story is crazy. We also got good sports stuff with Flair talking Lawrence Taylor, the Hot Tags were good but again an example of turning kayfabe on then off. I figured the WWE would use NXT and SmackDown to help make announcements, why didn't I see Backstage doing it? This is literally what this show should be for! And it was good to hear it from here that we, sadly, won't get Gargano VS Balor just yet. The SmackDown team for the 5v5v5 seemed both natural yet not. Much like Ricochet and Orton, Corbin and Roman will have to work together for the greater good, but you just wait for Corbin to turn on Roman. Strowman is in another of these Survivor Series Elimination Tag Matches, he's probably going to take one of those laps to bulldoze no less than half a dozen superstars between Raw and NXT.
And last but not at all the least, CM PUNK ON BACKSTAGE! WOO! It was said he auditioned, but now he's here! Christian was probably out for that same reason, I definitely feel like he's being replaced by Punk. Booker's too good, Renee is the host, and Paige just signed back up and there are fans that still love her. So Book, Renee, Punk and Paige are more than likely the true panel for Backstage and that sounds pretty great to me.
Mitchell's Talking Smack Report! (4/10/21)
A WrestleMania edition Talking Smack!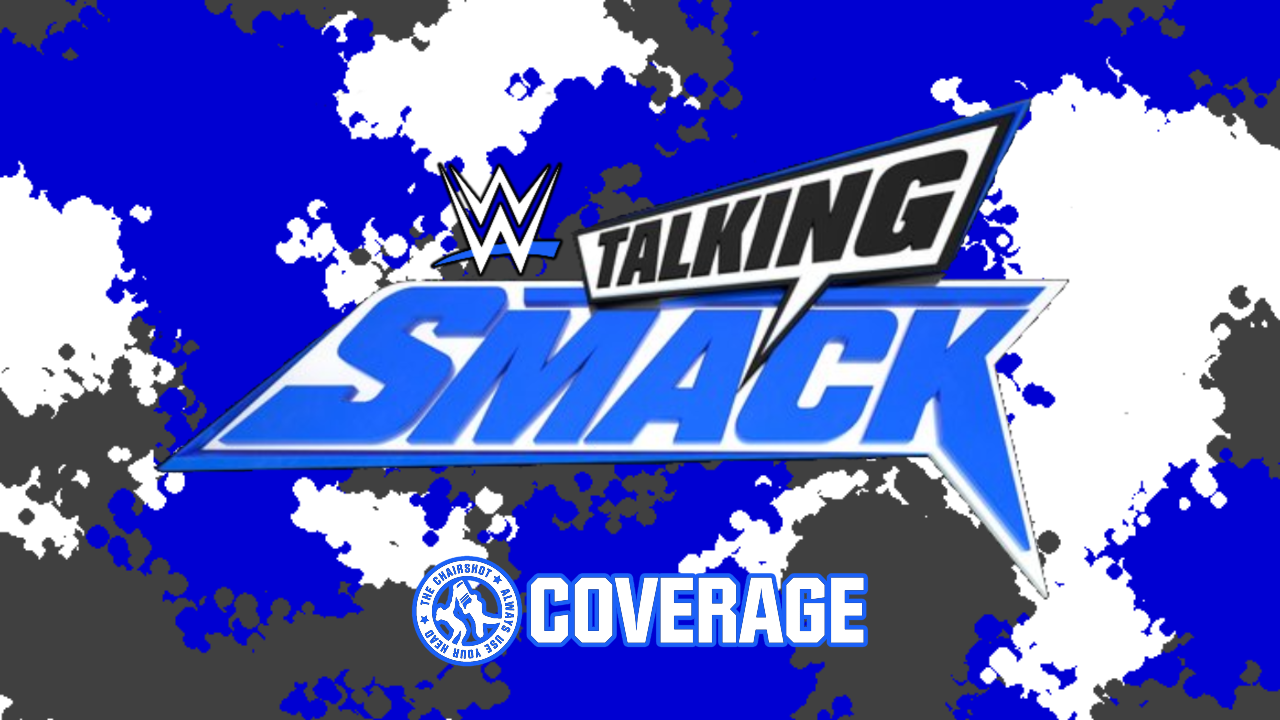 The Grandest Talking Smack of Them All!
Just hours before WrestleMania 37 starts its two night adventure, we have one last round of Talking Smack, and it's RATED R with EDGE!
Kayla Braxton welcomes us back to the show!
It is the morning of WrestleMania 37, night one! Kayla's so excited, and before we talk about tomorrow night's Universal Championship Triple Threat, what are Paul Heyman's thoughts about Jey Uso winning the Andre the Giant Memorial Battle Royal? Heyman is extremely proud of #MainEventJeyUso, "the rightful winner." Jey is a giant of talent and he proved it by winning the most prestigious annual battle royal that happens on WrestleMania Weekend. True, and yes, it is Mania Weekend. Kayla knows the real focus is on night two and the Triple Threat match, Roman Reigns VS Edge VS Daniel Bryan.
And after last night, where is Roman's head at? Is he at his most confident? Is he worried after hearing from Edge and Bryan? Heyman seems confused by her line of questioning. He will say this, little disrespect as possible. Heyman is ready for Edge, but let's get to it! The Rated R Superstar is tonight's guest! Kayla says the cohost doesn't get to do that, only she, the main host, gets to do that. Plus, Edge isn't the first guest, he'll be here later on. For now, we go to commercial.
Talking Smack returns, and Heyman speaks to us.
"It's WrestleMania Weekend. I get a little carried away sometimes. My apologies." Kayla makes a snide remark about the "sometimes." But Heyman tries again. "Ladies and gentlemen, the Rated R Superstar, EDGE!" No! He's not here yet! Maybe they should mute Heyman just in case. Kayla wants Heyman to relax, we've got a weekend of action to get to. Let's talk tonight, WrestleMania Night One's Women's Tag Team Turmoil! Friday was extremely heated, but what does Heyman think? The Riott Squad, Mandy Rose & Dana Brooke, Tamina & Natalya, Billie Kay & Carmella, Naomi & Lana.
Heyman says you could choose anyone from this match, where they all want to be Women's Tag Team Champions. Do any of THEM think Daniel Bryan legitimately tapped out Roman Reigns? Can we please talk about their match, not Roman's? Heyman rants on, but Kayla says people are very excited for Tag Team Turmoil. Look at the chaos from last night! The winners of tonight's match face Nia Jax & Shayna Baszler tomorrow night for the titles! Heyman says Kayla made a great point! Thank you, Kayla, he is now HOOKED. But with that out of the way, the RATED R SUPERSTAR-
NO. Kayla will make a deal with him. She'll bring out Edge if he talks about one other match. They shake hands, and she brings up Cesaro VS Seth Rollins! Rollins' return brought up issues and Cesaro was the one that voiced it. How would Heyman handle someone like Cesaro? Someone who, in Rollins' opinion, disrespected him and his "positive" message. What would Heyman do if he were in Rollins' shoes?
Heyman isn't in Rollins' shoes. He's in Heyman shoes, as the Special Counsel to the Reigns-ing, Defending, Undisputed, Uncontroverted WWE Universal Heavyweight Champion, THE main event of WrestleMania, Roman Reigns, who will defend his title in a Triple Threat against both Edge and Daniel Bryan, where Roman has to beat either Edge or Bryan, but doesn't have to lose to lose the title. And Heyman is supposed to talk about the King of Swing, Cesaro, and the Visionary, Rollins? They shook on it. Who will win? Can he at least say that?
The winner will be the winner. And that winner might be in line for a match with the Universal Heavyweight Champion, the winner of THE main event of WrestleMania, Roman Reigns. Kayla says it is up to her when Edge shows up. If Heyman won't cooperate, they can drag this out all episode. Aw, is Heyman being a bad boy? Will Kayla spank him for misbehaving? Kayla wonders what else there is to talk about. Kayla is going to move things along, and Heyman is sarcastic about putting viewers first for once. They WILL have the Rated R Superstar on Talking Smack, after the break.
Talking Smack returns and this is the moment we've been waiting for.
Kayla welcomes to Talking Smack, the Rated R Superstar, one third of the main event of WrestleMania, EDGE! Edge walks right up and takes his seat, and he says hi to Kayla. Edge looks at Heyman, Heyman sits up and looks at Edge. Heyman smirks, and congratulates Edge. He offers a handshake, Edge takes it, and Heyman says he means it. This is Edge's dream. THE main event of WrestleMania. Of course, Edge had this dream in 2020 when he shocked everyone and returned in the Royal Rumble. But who took him out of that dream? Roman Reigns. Roman eliminated Edge from the Rumble, stopped his dream dead in its track.
But to Edge's massive credit, he spent another year working towards the dream again. And this year, with all the odds against him, Edge started the Royal Rumble, outlasted 29 other hungry participants, and his dream prevailed. Here he is, when no one ever thought he would be. WrestleMania Weekend, THE main event. Heyman offers his respect and admiration to a degree that no words can convey. Edge smiles and says "Paul E," living dangerously out here. For weeks, Heyman has talked such an immense pile of crap about Edge, but Edge gets it. Edge is here, so it's a different story. Edge appreciates that. Roman cuts Heyman's checks as his hype man. Heyman's gotta feed his kids, and Roman is the meal ticket as "Head of the Table."
But does Heyman know what Edge does to tables? Edge is the godfather of the TLC match. He puts people through tables and obliterates them. Heyman is talking about Christians but Heyman is Jewish and Edge is Agnostic so what the hell was that about? And then he said Edge would crap his pants out of fear? But Edge can look past all of that because oddly, these two have a lot in common and a lot of people wouldn't realize that. Edge and Heyman didn't have a path carved for them, open to them into the industry. No, Edge and Heyman are of the same cloth. They fought to get into this industry.
Heyman faked his credentials! He snuck into Madison Square Garden so he could pick the brains "of the grand wizard, Captain Lou Albano," and took some of the best wrestling photos in the history of this industry! Edge went to Maple Leaf Gardens, stood at the back door and waited for Demolition, Tito Santana, George "The Animal" Steele, just so he could brush up against their greatness and understand what it took to get this, his dream! Then Edge would sneak in and ask to set up chairs, just to get that close to the ring and touch the canvas and feel it! So he could feel the ropes! Any indie show that came to town, Edge set the ring up and the chairs, just to give himself two minutes in there. Just so he could feel what it was like. Edge knows Heyman understands that!
And Heyman of all people knows what Edge is about. Heyman was one of the first to give Edge a chance. Heyman knows what Edge can do "when the governor has taken off." The SmackDown Six happened because Heyman had faith in Edge! Heyman knew Edge could have a match with Eddie Guerrero that lives on today in people's minds! That Edge could team with Rey Mysterio and set the world on fire with possibly the greatest tag team match of all time! Heyman agrees, that is true. Edge then asks Heyman, that knowing all of this, and having such an understanding, does Heyman truly feel like Edge should have fear in him? That Roman tells Heyman the truth?
Roman came out and talked about holding it down for 30 weeks. Edge has been holding it down for 30 YEARS! Those were taken away from him for nine, and he fought with every ounce of his being, of his soul, to get back here! Edge cools off to say he appreciates Heyman, and he understands what Heyman is doing. But Edge is never, ever going to agree with him. Heyman deep down doesn't, either. Edge sets his mic down to let that sink in, and we go to break.
Talking Smack returns, and Edge is still at the table.
Heyman pats Edge on the shoulder, and says Edge's theme song has this line, "You think you know me?" Heyman does know Edge. Heyman knows he knows Edge. Heyman knows nothing is going to stop Edge, and that is what scares Heyman. That's why now that we're here at WrestleMania Weekend, Heyman might crap his pants. Heyman's father taught him the story of the carrot and the stick. You dangle the carrot in front of the horse because that's what it wants. That is the lure. Nine years, 364 days ago, Edge was forced into retirement. "My GOD, no one can write this story!" Ten years to the DAY, Edge main events WrestleMania in a Universal Championship match, the spiritual successor to the title he never lost.
And if Edge wanted to go public and show the world all the messages he received that very night, how many of his contemporaries wrote to him, "I'm so sorry. Oh my God, this is a tragedy! How awful this is! How terrible this is! I'm sorry, I wish this wasn't happening to you." How many? Not Heyman. Heyman can't help but chuckle when he thinks back, because he wrote, "Great promo, kid. First day of your miraculous comeback to live out your dreams." And Heyman didn't hear from Edge for about two days and thought he upset Edge. Edge finally wrote back, "Paul, my dream is to main event WrestleMania. And I will live out my dream, I promise you."
Heyman does know Edge. Heyman knew nothing would ever stop Edge from living that dream. Not a fused neck, not a number of surgeries, not the advice of doctors, not even his wife's pleas to stay out of the ring. Heyman knew nothing could stop Edge from living out his dream. "You know what happens tomorrow night? You live out your dream. You do. And the best part of it is, everyone gets to share that moment with you. Because in front of a LIVE crowd, you will stand in the ring, in the main event of WrestleMania, and the ring announcer will say, 'Ladies and gentlemen, one of the contenders. In this corner, the winner of the 2021 Royal Rumble, Edge!'"
And what happens next? Ding ding ding, because Edge has lived his dream. He made it to the main event, but reality will BITCH SLAP him across the face, because in another of those corners, it isn't the carrot. That is when the horse realizes the carrot is soured. Across the ring is the stick, ROMAN REIGNS. Roman is the reality that Edge will witness when he wakes up from his dream. Here's the problem: Heyman does know Edge. And Heyman knows that if there is a breath left in Edge's body, nothing will stop him from becoming Universal Champion tomorrow night.
But Heyman also knows Roman Reigns, and what being Tribal Chief means to him, and what being Head of the Table means to him, and what being the End All Be All means to him, and what being WWE Universal Champion means to him. Heyman knows that if Roman has to take that last breath from Edge's body, that's what he'll do. Heyman knows it'll be a massacre. It'll be a beating so bad, Edge needs to understand what Roman is capable of. Roman's in his prime, at his best, and that he is merciless! It's to the point to where when Edge gets home and tells his children what it means to go for their dreams, and then hugs them tight, he won't be able to feel it! Roman will take that from Edge! That is how bad it'll be.
Heyman does know Edge, and likes him, respects him, admires him, and wishes his children aspired to be like him and live out their dreams at all costs. But the price Edge is going to pay to live a dream, Heyman says that is not worth it. Heyman gives Edge a hug, and says, "I am so sorry for what Roman Reigns will do to you tomorrow night. I'm sorry." Heyman pats Edge on the back and says he is sorry it has to end this way for Edge. Heyman wishes he could stop this, but he can't. There's no counsel Heyman can offer Roman that will stop him from doing what he has to do to stop Edge. Heyman takes a deep breath and sits down, but Edge gets his mic back.
Edge pats Heyman on the back and head, and is forehead to forehead as he says, "Paul. I once crawled over to make the cover in a match while my arm was turning gray and smoking and bubbling from second degree burns, with barbed wire punctures in my stomach, and thumbtacks lodged into every part of my body, AFTER diving face first into a flaming table, just to mark my territory and to show that I belong in the main event of WrestleMania. I did all of that just to show that I deserve to be in the main event of WrestleMania. So what do you think I will do, and what depths do you think I will find, when I am in the main event of WrestleMania?"
Thanks for the warning, Edge appreciates it, but Heyman knows what Edge is capable of because he sees it in Heyman's eyes and smells it coming off of him. Edge is not normal, Heyman, and you know that. See you tomorrow, see your Tribal Chief and Bryan, and Edge will take back what is HIS. Edge backs away to storm off the set. Heyman is stunned silent, and Kayla has no idea what to say. Will there be no words come THE main event of WrestleMania Weekend?
---
My Thoughts:
WOW, this was an awesome episode. Only one guest in Edge, but both he and Heyman just put on a masterclass of promos. It does help that there's a lot of history here but the passion was great, too. Heyman was great with how impatient he was, and how he kept trying to redirect to the Triple Threat, and then both he and Edge had even great emotional looks as they went through their interaction. I just knew Heyman was going to turn things from putting Edge over to burying him as he put Roman over.
They did forget Bryan is in the mix, but something makes me think that's the point. This was "meant" to be Roman VS Edge, they still see it as such, Bryan could still be the fall guy so there's a winner without weakening Roman or Edge. Bryan can respond just by firing off first and tearing into both guys early in the match. But Edge bringing up that insane Hardcore match with Mick Foley, and a Triple Threat being No Disqualifications by default, I almost hope things escalate to where tables, chairs, and whatever else shows up and adds to this match, as it is the biggest match and it'd fit how big they've been hyping it up.
Mitchell's Raw Talk Resport! (4/5/21)
Raw Talk, GET THESE HANDS!!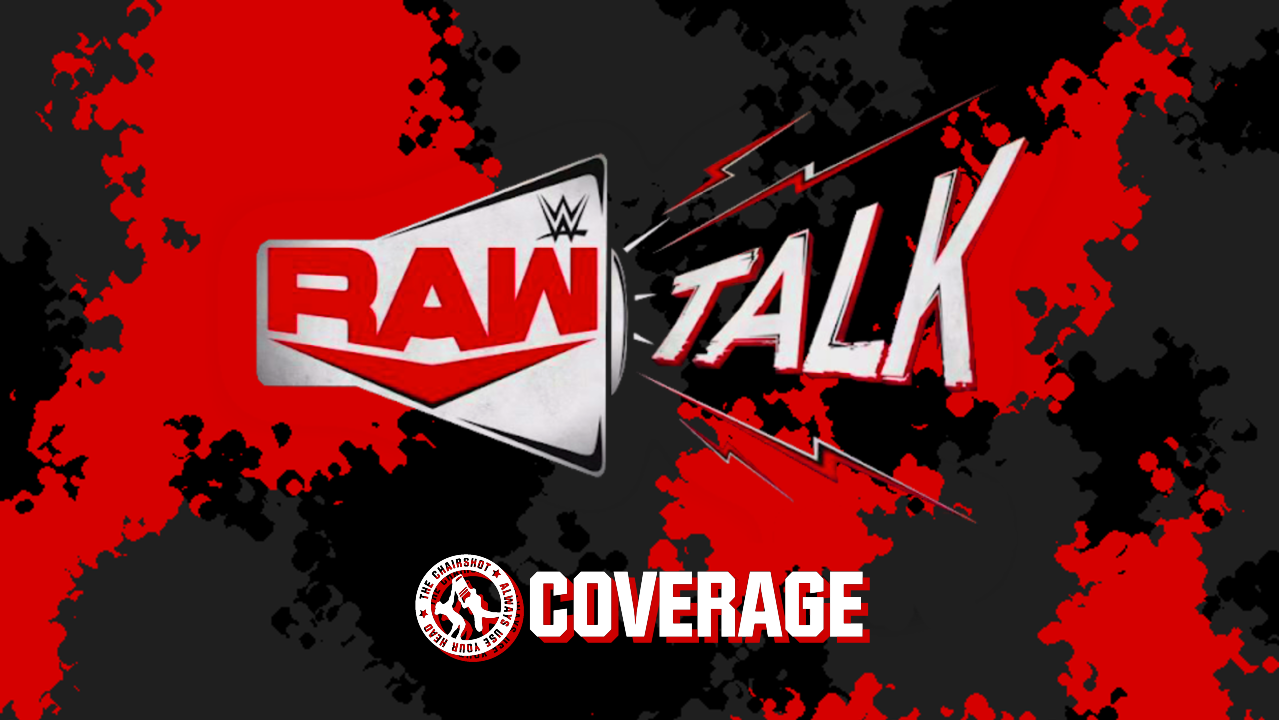 It's a WrestleMania Week edition of Raw Talk!
Before everything that happens at WrestleMania, Drew McIntyre, Braun Strowman and the WWE Women's Tag Team Champions sit down for some Raw Talk!
Kevin Patrick welcomes us back to the show!
He and Xavier Woods are excited to be discussing the last Monday Night Raw before WrestleMania, and Woods starts with good news: he got another win over the PHENOMENAL AJ Styles! And now, all that's left is for Woods and Kofi Kingston to defeat Styles & Omos at WrestleMania to retain the W, W, E, World, Tag, Team, CHAMPIONSHIPS~! Kevin says he's making it sound too easy. Well no fight is ever easy, but if you don't go with confidence, you're bound to lose. A life lesson right there.
Kevin asks if Woods saw Bad Bunny and Damian Priest in the ring. That was wild. Footage replays and Woods says that he's gotten two "sneaky pins" on Styles in a month. Woods is certain that is how and why he and Kofi will win. Then they got into the "crowd" of the ThunderDome screens to feel that energy. We'll get that again this year, since fans are back. Kevin asks if he and Kofi are being a bit too certain accepting the match, but Woods says no one does tag team better than them as the eleven time tag team champions! They accepted because who haven't they beat? The New Day beats you, you break up or get drafted elsewhere. So Woods & Kofi were chomping at the bit for fresh competition. Omos & Styles better have registered so we can have this match. And Woods likes to show that you don't need to have everything to be a great sports entertainer.
Woods says if you're not nervous before you compete in the ring, especially on a stage like WrestleMania, and especially now that fans are back, then you're not trying. Of course there are butterflies, but the New Day have been here before. Omos hasn't. Then what is having fans back going to be like? Clearly Woods is buzzing. He can't wait. Wrestling is built upon the energy of the fans. You pace your breathing off the breathing of the crowd, the energy flows through everyone and you become one in a philosophical way. It was weird to not have fans. The ThunderDome is great, the closest thing to having fans. But having fans there, that will be the sweetest feeling.
Kevin brings it back to Bad Bunny. Woods talks with such great amount of respect. The respect of Bunny, Priest, Miz and Morrison, it's nasty. A $3.6 MILLION Bugatti got defaced! WHAT?! Woods can't believe it! That's so bad. For Woods, if he had a $3.6 MILLION anything, and you mess it up, you're done! Woods would end you. But Bunny says he has respect, so now he is going to knock someone's teeth out. And as a tag match, Priest is there with Bunny, this could go either way. The Archer of Infamy long-shotting Miz & Morrison to Bunny's music is going to be awesome.
And then, all we saw with Lashley and McIntyre tonight, talk about whetting the appetite for Saturday. Those two standing tall, Lashley's challenge to take out McIntyre didn't go well. Kevin called MVP out a bit on it but MVP said it wasn't cowardly, it was business. Corbin tried to cash in but no go. Woods says that's how it is with McIntyre, he overcomes insurmountable odds. But Lashley, this new immovable force, but now he has to put up or shut up. No Hurt Business, no one put a dent in McIntyre, this is final boss stuff. Can McIntyre overcome a man as dominant as Lashley?
We've seen this power from Lashley, but not on this level. Lashley is in a different zone as champion, and will be in that zone at Mania. Woods can't be sure McIntyre can handle it. But Lashley is just spot on! Well we can ask McIntyre as one of tonight's guests! The Scottish Warrior, the Monster Among Men and the WWE Women's Tag Team Champions, all after a quick break!
BRAAAUN~ Strowman joins Raw Talk!
The Monster Among Men is here, Kevin says he disposed of Elias and Ryker, and the steel cage awaits. This has played out just as Braun has wanted, right? Absolutely. Shane's thrown speedbumps at Braun, even back in November. Shane was the reason Braun got suspended for headbutting Adam Pearce, and then has dangled false opportunities over his head. Shane is just a bully. Braun's dealt with that, he talked about that earlier. When Braun locks the cage and is in there with Shane, it's not just Braun he's in there with. Shane's in there with the millions upon millions who get verbally abused for no reason. Braun didn't deserve anything Shane's done.
Maybe it's because Braun's a hard worker and deep down, Shane knows he's lived a "posh" life and has a chip on his shoulder. Maybe Shane's hollow inside. IT could be why he's targeted Braun over this stuff. But Braun will do as he said, slam Shane down in the middle of the ring, and not just for his satisfaction but for everyone out there that knows you can overcome your limitations. It's okay to be different. Braun's been different his whole life, wanting to be normal, until he realized he never will be normal and shouldn't have to be. He embraced what he was given, and after that, well we've seen what he's done. "When you believe in yourself, other people believe in you, as well."
Millions of fans support Braun and live, breathe and feel with Braun. The pain, the heartache. Braun is doing this for them, the ones told they're not good enough. Braun will show the world that you can overcome the bullies and the fears in your life, and wake up that they're on this Earth for a reason. This world wants you here, so leave your footprint on it. Woods says he noticed this transformation. He saw Braun when he debuted, he's fought for different things over his career. So now, he's fighting for people and their hardships, that is a different Braun.
Woods remembers destruction for the sake of destruction Braun, or for a title. But now Braun is focused on fighting for a group of people. Does Braun feel that change? How important is this to him? Is this new motivation the secret? Braun says it is. It is the outreach from his fans around the world, as well as his friends and family who have seen what he's gone through. Braun is so big he's breaking his chair. But Braun "isn't supposed to be here." In 2015, Braun ruptured discs, those cut his nerves, and he couldn't fee his left leg. He needed emergency surgery, but the amazing medical staff here in the WWE, better than any other group anywhere, they got him to the NUMBER ONE neurosurgeon.
An hour after the surgery, Braun got up and he was walking around just fine. There was a 45% chance it wasn't going to work, and he still only has about 80% usage of his left leg, but knowing what he's gone through, knowing that his family has had similar situations. His aunt is a paraplegic but got the high school team to their first state championships, and these last 35 years, in a wheelchair, has taught students to be that much better. Braun's own mother was almost killed in a car accident. Braun's seen hard times people go through just to live their lives, and that is what has made Braun the man he is today. Braun's own mind made him think he wasn't going to amount to anything, but he had those pillars to lean on.
When his family could've given up in the harsher times they're going through, he had to keep going. He got into the best shape in his entire life, and is inspiring more people to change their eating habits, get in shape. Braun has so many messages from people's personal transformations. All of you give him the energy to go out there and break his body, miss moments in life, from weddings to funerals to birthdays, for YOU! If he can do it, anyone can do it!
Kevin wants to talk tactics real quick. This is still a steel cage, and Shane is brave and experience. Why a steel cage? For weeks and weeks, Braun's tried to #GetTheseHands on Shane, but he was always out of reach. Braun is sick of chasing him down, so now the door closes and there's nowhere to run or hide. Shane is stuck inside one of the most devastating structures in the WWE, and with the Monster Among Men. Woods is pumped up! "Two men enters! One man SURVIVES!!" Woods wants Braun to tear Shane up! Kevin wishes Braun luck, and Braun hopes Shane sleeps well because he'll see him soon. Kevin isn't sure he'll sleep well, but that steel cage match happens this Saturday.
Nia Jax, Shayna Baszler & Reginald join Raw Talk!
The WWE Women's Tag Team Champions and Nia's "boo" are here, and Kevin is sure they're all buzzing for WrestleMania. Nia says they are, because they handled Asuka & Rhea Ripley. Well, with a little help from the self-destruction of that team. Well, debatable, because they were probably going to win anyway. Nia is offended by "the new guy" Patrick. DO you know how long they've been champions? Probably the longest reigning Women's Tag Team Champions ever, across all brands! Respect to New Day, of course. But respect from Kevin, please!
Woods brings up that there will be a Tag Team Turmoil, with a lot of teams in it, but the champs are fully confident they'll rip the heads off of whoever. Is there a certain pair they'd rather face over the others? Or is it all equal? Well what does Shayna do best? She breaks people and brings their limbs home. Everyone in that Turmoil has the same limbs that work the same way. As far as Shayna's concerned, it doesn't matter. Nia is on the same page. There is a team that they have their eyes on from SmackDown. Natty & Tamina might've jumped Shayna while Nia wasn't looking, but- Shayna says Nia was actually- No, shush.
Natty & Tamina have looked strong and fierce, when no one's looking, but Tamina is also blood. Nia will not forget that Tamina is fierce, just like Natty, and is one of the veterans. Isn't she like the #BOAT? Shayna doesn't pay attention so she has no idea. Well out of all those teams… The Riott Squad? The longest partnered team there, and they gave Nia & Shayna good matches. Naomi & Lana? How many times will they keep getting up? Team TikTok right there, that's all they do now. Triple T, TTT. Kevin doesn't know what TikTok is. That might be a good thing, but shush, Patrick. And then Mandy & Dana. All teams have their little slice of whatever it is, but in the end, Nia & Shayna will walk in and walk out champs. Maybe flip out, a la Reggie. He's not Nia's tag partner, Shayna is!
Woods asks if Reggie will be there. Shayna doesn't want to talk about him. He has nothing to do with this. Does he at least have wine picked out? Nia is intrigued. Just for Nia, yes. Oh, in French, even. Woods only knows omelette du fromage. Kevin asks Shayna in a singles capacity, Rhea walks in and just asks Asuka for a match for the title. What about Shayna? Yeah, Shayna's been asking that, too! Everyone saw that Shayna can just easily kick Asuka's teeth out. She feels disrespected? Absolutely! But to be fair, if it had been Shayna who stepped up to Asuka, Asuka would NOT have accepted because she knows what'll happen. Rhea's the unknown here, it's fine. It's the safer bet for Asuka. Shayna put Asuka out for how long? A bit. But Asuka beat Shayna back. Shayna says that doesn't count.
Nia says that whenever THE Shayna Baszler is ready to go for the Raw Women's Championship, she'll go right to the source and challenge them, whoever it is, and then beat them. Shayna hopes Kevin has better questions than this. Woods asks one. When these two first became a team, it was like butting heads. Now there's this chemistry. Why do they think this has happened? Are they getting used to each other? Or are they agreeing that no one can stop them in the tag division? What is this friendship built on?
Nia agrees they did clash before, but they're similar that they know how dangerous they can be, and that they want gold. Once they realized that being together benefitted them more than being against each other, that brought them together as a team. And then Reggie is helping. Shayna says Reginald has nothing to do it. But it was quid pro quo. They may not like each other, but they decided to get the titles, and they have, so it worked out. Do they like each other then? They get along. Reggie confirms. They'll surely get along on Sunday, right? Nia still wasn't there when Shayna got jumped.
Ugh, get over it! They're gonna walk in as champs, walk out as champs, and that's the end of this because Kevin has crap questions! Nia storms off, Reggie follows, and Shayna says Kevin needs to work on his questions. Woods wishes them good luck at Mania as one tag team champ to another. And after the break, the Scottish Warrior will be here!
Drew McIntyre joins Raw Talk!
Kevin and Woods are excited to have McIntyre here, and Woods wants to say first, he isn't sure if he's ever seen McIntyre with a shirt on. What is this? It looks great! McIntyre says it does feel odd to be fully clothed. But he enjoys this shirt so much, thanks WWE Shop, and he models it. It is a soccer, or rather football, jersey style shirt, with "McIntyre 321" on the back. Y'know, football? As in you hit the ball with your feet. Not "egg chase" or whatever America does. Well what about Rugby?
Kevin is pleased to see McIntyre in good spirits after Raw. Corbin stepped up, tried to take up Lashley on his offer by taking McIntyre out, but McIntyre took care of him. The path is clear and McIntyre can win back the world title. Starting with Corbin, McIntyre says if he's checking his jaw, that's because an elbow from Corbin really messed up the inside of his mouth. Maybe people have forgotten, but not too long ago, McIntyre, Corbin and Lashley were rolling together and took out all sorts, like Braun. McIntyre knows Corbin well, and he's not the kind to be messed with. You can make jokes, and there are a lot, but Corbin is big, bad and does whatever it takes. That was a physical match this close to Mania. McIntyre had to be on his game, and the Claymore always wins.
Woods adds to that by saying one of the biggest matches in McIntyre's career, he again goes into Mania to fight for that title. Last year was Brock Lesnar, that must've felt incredible to climb that mountain. Now he has another mountain to climb in Lashley, a man who had three extra people at his disposal to help him in this endeavor but got rid of two because he's that bad. Tried to get the rest of the locker room to get McIntyre but that didn't work, either. McIntyre is at the final boss, and Woods asks if he has what it takes to win. McIntyre thinks, and says, "Yes, 100%." Mania last year, that was the ultimate test in Brock Lesnar, "an absolute animal." McIntyre took that opportunity to show he could beat absolutely anyone and be the top star. That was validation.
This entire year, main-eventing PPV after PPV, big matches, WWE Championship matches from Extreme Rules to Hell in a Cell, growing his confidence. McIntyre kept his eye on everything else. While McIntyre did all that, Lashley was doing the same, rising up. Lashley thought he was being clever, going under the radar, but McIntyre knew it was only a matter of time. Lashley attacked after the Elimination Chamber match, set Miz up to take the title from McIntyre, all so Lashley could take the title from Miz. McIntyre knew the logic behind that, Lashley knows he's badass but can take Miz. Work smarter, not harder.
Lashley could get hurt facing McIntyre, so he let someone else try to take him out for him. If someone had taken McIntyre out, at least get him to 20% and injured, then Lashley could take McIntyre down that much faster and get paid the same. Didn't work out, and now McIntyre is going into Mania at 100% against a 100% Lashley. This is a throwback match as two "elite heavyweights" go around, not just holding onto each other but throwing down and moving around. This will be entertaining and physical as hell. But it'll be the same as tonight, BOOM! Claymore to the face, McIntyre again WWE Champion.
Kevin wants to pretend no one is watching and asks if McIntyre has any potential advantages. McIntyre says that has to be a joke, everyone's watching Raw Talk! True. But talking about laying into each other, what does McIntyre see in Lashley that he'll go after? MVP is in Lashley' sear. Every time McIntyre taunts Lashley, MVP is there to keep Lashley calm. Lashley is a fighter, a warrior, has the experience. Last week, McIntyre dared Lashley to go after him, offered a free shot, and Lashley wanted to. There are few people, if any, with the combination Lashley has except for McIntyre. And this isn't new, this isn't the first-time-ever. They've fought before, they've paralleled each other, in and out of the company in other big matches.
But now, in this time, they're both firing on all cylinders, they've both reached the top, and they're both in the main event for the WWE Championship. It'll be one hell of a match, but again, McIntyre got his moment last year and it wasn't what he expected with no fans around. But 25 thousand will sound like 400 thousand at Raymond James. Woods asks about those travels, fighting in and out of the WWE and now he's here. What does it mean for McIntyre to go through that journey and see someone across the way with that parallel? And then to meet that person on the Grandest Stage of Them All, for the greatest prize of them all, what does that feel like? "It's indescribable."
McIntyre's talked a lot about Lashley and everything else, the cheap tactics and all that. But McIntyre's seen that journey, has supported Lashley for a long time, and just wishes Lashley didn't take the route he take to the finish line, but nonetheless, this is really cool. Two guys who have put in the work, inside and out of the ring, seeing each other in the gym, working on the mic, they know who they are now, it's cool. To see where Lashley is, to know where McIntyre is, it's time to show the world that they are the top of the game. Kevin is ready to see this on Saturday! Save your money on Godzilla VS King Kong, you're getting that right here at WrestleMania!
Kevin thanks McIntyre for his time, Woods wishes him luck, and McIntyre hopes to see everyone at Mania! And with that, Raw Talk ends and hopes to see you on the episode after Mania!
---
My Thoughts:
A very good episode, a bit longer than normal because this is the WrestleMania go-home edition of Raw Talk, so it clocked in at 34 minutes. Braun had good passion but he also got a bit fumbly like he did on tonight's Raw. I do like that the banner he is waving going into Mania is about persevering through hard times, especially physically. Braun continues to be this rare breed that Vince should be all in for making anything and everything to get fans onboard, but Vince just keeps missing the mark every time. But this promo here should be all the more reason Braun wins over Shane at Mania.
Nia & Shayna had good stuff, and I do like that they're both reluctant to admit they've got good chemistry and banter and all this other stuff that's very "buddy movie," where at first they clash but they learn to respect the other and work together. Who knows if they stop being that with WrestleMania, but I do like that Nia praised Natty & Tamina for stepping up. Maybe we get Nia & Shayna VS Natty & Tamina, maybe we get the Riott Squad again, but I feel like one of the SmackDown teams really need to get these titles to freshen things up.
McIntyre also had a great segment, naturally, and it was great for him to reference continuity where yes, he, Corbin and Lashley were these three giants who for whatever reason were teaming together over and over. That never went anywhere, but it shows the familiarity of McIntyre with both those guys and why he respects them enough not to take them lightly. McIntyre VS Lashley is perhaps an example of a lot of great story they could've been using, but Vince just again missed the mark because he doesn't get it or thinks fans won't get it or something. This could've been a build that fit the history and the hype but has so far not. The match will still deliver, though, I'm sure of that.