Mitchell's WWE Backstage Report! (11/19/19)
CM PUNK! CM PUNK!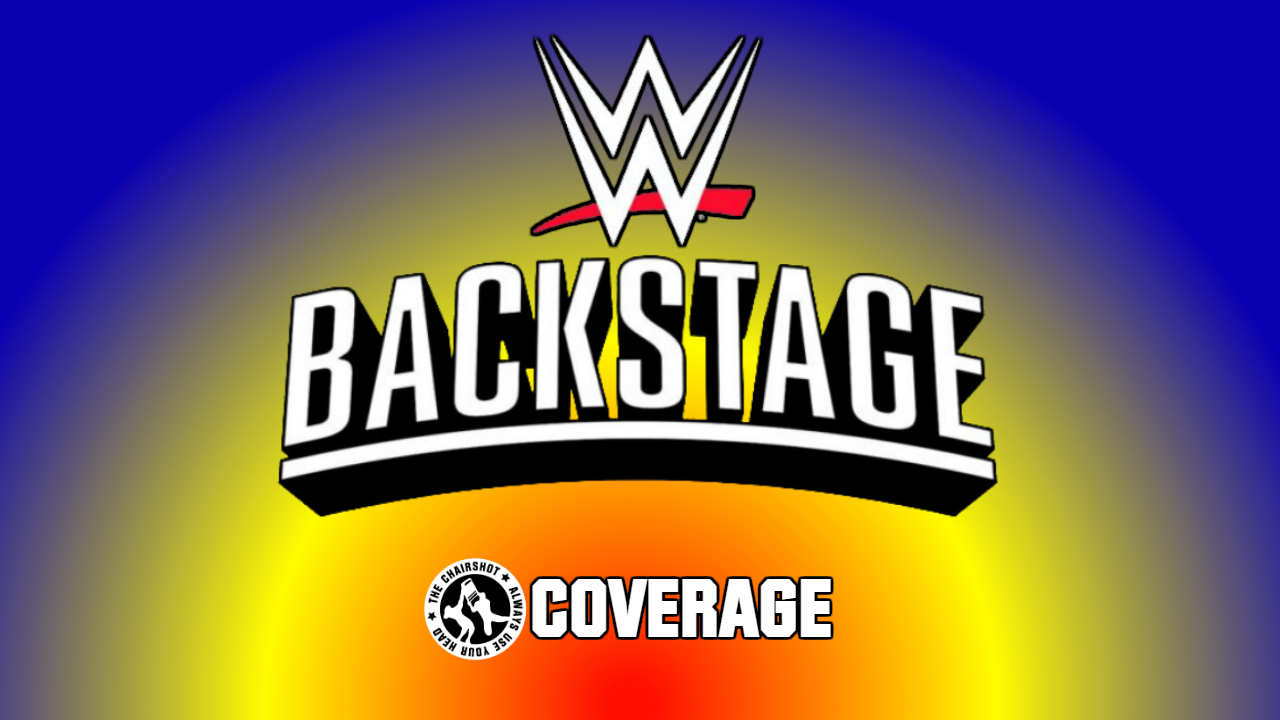 Look in my eyes~ What do you see~?
He's baaack~! Once Best in the World, CM PUNK, is part of WWE Backstage! Renee Young will sit down with her newest co-host to get some answers!
Renee Young runs down the schedule!
This is "one hell of a show!" Perhaps the most polarizing WCW Heavyweight Champion, David Arquette, goes to Promo School tonight! Survivor Series hype is at an all time high and the panel will tell us what should happen Sunday. And of course, CM Punk is the biggest part of the show! The zeros have been added to that check, it's in his account, and now Punk will tell us everything about his return! Get ready to go Backstage!
Ember Moon joins the panel!
The War Goddess joins Renee, Booker T and Paige, because sadly, she has a torn Achilles… She is out for an unknown amount of time as far as the ring, but she'll be here to talk wrestling in the mean time! But that means Ember can talk about the triple threat brand rivalry that's heating up!
Just the highlights!
Shorty G and Mustafa Ali keep their Survivor Series spots while the takeover and invasion continues! The Undisputed Era hits hard on SmackDown, as does the NXT Women's Division. Daniel Bryan and Bray Wyatt say "YES! YES!" to a Universal Championship match! SmackDown finally took a shot at Raw while Becky Lynch took a shot and knocked a security guard OUT. Triple H says "they" don't care about Kevin Owens, but Kevin didn't care to join up NXT. And in the end, all three brands brawled it out to end Raw, with HHH saying "the door's wide open" this Wednesday!
But the biggest takeaways?
Booker says it was Kevin Owens getting himself on track. The Prizefighter is one to watch, no matter what he's doing, and is top five in the WWE already. Ember says it was "NXT! NXT!" She still loves her original brand, and knows they've still got a lot left to do with two hours tomorrow night and WarGames even before Survivor Series. She wants to see if NXT can do three things in a row. Booker doesn't like cage matches. Paige says Samoa Joe was big on commentary for Raw. That Backstage elbow rub! Joe shines no matter what he does, so hearing him on commentary is wonderful. Paige says Backstage should take full credit for that.
But what are NXT's chances at Survivor Series?
Paige joins Ember in saying this is a big deal right now. Raw and SmackDown are the big leagues but NXT is going to show they're on par, if not better. Ember says there were even higher stakes, but this is the first time out for a triple threat Survivor Series. All the winners of the 15-superstar matches should be given a scramble for the Royal Rumble's 30th spot, or even just a title match. Booker brings up the brass ring. For one of those teams to have a chance would be great. But the point is, the panel is all in on it!
Backstage shares backstage footage of CM Punk's arrival!
CM Punk didn't think he was going to break the internet. He was going to break the world! And when his music hit, that's exactly what he did! No one could keep their cool! YouTube's WrestleTalk, Jayjay Bulldog, Wrestling Daze, and even Booker T on his Reality of Wrestling, "the internet pretty much blew up." The rebellious Voice of the Voiceless certainly does have everyone's attention now!
Renee Young introduces CM Punk!
It's clobberin' time~! But also interview time. CM Punk sits with Renee and first thing's first, what brought CM Punk back? How long does he have? The show is an hour so he could use the rest of it. CM Punk feels what brought him back was that this job sprang up and was offered to him. He thought about it, didn't refuse it outright, so he gave it a try. It just snowballed into this. So after six years, the time is right? "Wrestling and what I'm doing now are two completely different things." Punk confirms he has not worked with or talked with or even engaged with anyone directly from WWE. He is with Fox and that is the reality of it. Now he gets to criticize the product, that's what he's always done, and that's what made him popular. There is no filter, that's how it's always been, and now he can do this to find his way in the business again.
"There's a lot of stuff that's broken," and what it all needs is someone without the burden of punishment so that he can tell it like it is. Voice of the Voiceless is a bit corny but it's what it is. No one from WWE can suspend or fire him, jobbed out, be sent out yet told he's not needed, none of that! "If it's good, great. I'll probably pat you on the back. If it's bad, you'll probably be mad at me." Renee likes that, and knows that's what fans want from him! We all have him back, and that's what matters.
But to run through what happened last week, the timeline of getting to that debut, what was that like? CM Punk hated it when "the office" would "work the boys." Those moments where someone showed up and no one else was told, such as when The Nexus got the jump on CM Punk and Luke Gallows. But then, as Backstage backstage footage shows us, CM Punk had to be very sneaky about walking into FS1 studios. Even he isn't sure what he was doing skulking around like that. But then the moment came, he got nervous, but he knew that was the right thing to do. The butterflies in his stomach meant he's not dead inside.
And again, more footage of Punk from that night, he admitted the nerves were compounded by the fans clambering for his return. Renee finally saw Punk looking nervous. But everyone gets nervous, even the masters. And Punk doesn't want to sound arrogant but he felt he mastered a lot of what pro-wrestling is, was at the top of the game, but getting nervous now is a good sign. So far so good for just the first half of the show.
But how many people knew CM Punk would be here?
His inner circle is very small. He realized pretty quick that those work friends that were just because of work fell away quickly. Obviously AJ Lee, his wife, knew. And of course Renee was told. So maybe a dozen people at most. Renee admits she was super excited for that moment, too. Punk does note that Paige's reaction was probably the best. Joe was playing it all cool, stifling the reaction pretty quick. But Renee and Paige were the best. And when the adrenaline went away, Punk still felt great. The relief of his entering, just not tripping over himself. He was tempted to Shock Master that, just because he could. But this feeling is because Punk can pick and choose what he does, and can avoid the jerks.
Did the phone blow up like crazy?
Not really. Good ol' JR did, but that's not that odd. He and Jim Ross still talk. The inner circle is small, so no he didn't have a bunch of calls to field.
The elephant in the room: Is CM Punk wrestling again?
Survivor Series is in his town, Chicago. Plus, Royal Rumble is only around the corner. Fans love the element of surprise, but CM Punk knows that no matter what he says, someone is going to be upset. Punk has said before, he's with Fox, hasn't contacted WWE. It is not an active pursuit or interest, but he's also 41 years old. Punk knows to never say never, but it is a bridge that will need to be built over a long time given certain hurdles. Renee can feel the internet moving already. "So you're telling me there's a chance?" Don't do that, Renee. But it's her job! Punk just knows fans will chant his name at shows again. Yeah, like that stopped with him leaving, wah wah.
But after six years, watching the product now, what does Punk think?
It's the same as when he left, in that wrestling could be so much more. But there is a reason everyone falls in love with pro-wrestling. Right now, stuff is still overproduced, micromanaged and the best characters, the ones fans genuinely love and support, are the ones that figure it out themselves and not the ones being told by the people in the back who've never really done a single thing, "never drew money, brother." There is still a lot wrong but plenty of bright spots.
And what bright spots does he mean?
Punk likes Women's Wrestling, just not this forced (R)Evolution. Let women wrestlers be women wrestlers and you'll see exactly why they're kickass talent that belong. Don't label everything with a hashtag. And perhaps selfishly, Punk likes NXT, he sees a lot of himself in that brand, being an indie guy and WWE developmental. Those characters are the "less tainted," the shiny new toys, and Punk can talk more about that the more he's part of this show. There's just a lot to talk about and not enough time in one night! Renee thanks Punk for this time, and assures him he'll be more involved later. He'll be cutting a promo as he teaches our special guest a lesson in Promo School!
It's time for Promo School!
David Arquette is back a la DDP, "BANG!" What is going through the mind of the new indie darling? He's pumped to be here! He's a huge wrestling fan, especially a CM Punk fan! The world's going crazy! The panel likes the energy. And Arquette is no stranger, but there are rules. The grade goes from F to A, obviously, but Arquette hopes they have low expectations. The panel gives advice: Punk knows Arquette is an accomplished actor and wrestler, Punk won't "taint" him with too much this or that, "you do you." Ember says keep that energy he came in with, and maybe use some references to his movies. Paige says that remember your target, and this week it's Booker T!
Booker has his WCW World Championship, referencing those days. Arquette throws off the jacket! Booker gets what that was, they'll talk later. Arquette starts, and is surprised Booker only has one belt. He should have five, right? But maybe that one should go to Arquette, since he was champion before him. He's been in all the Screams, and will make Booker scream, too. Or perhaps, his wife? But Book, the whole Arquette family is in the business. His sister won an Oscar, and she didn't have to carry David as much as Stevie Ray carried Book. What does the T stand for? "Totally should've given up after WCW!" Arquette does has to apologize for that one.
But with all this excitement, and CM Punk maybe possibly going back to wrestling, maybe fans will chant Arquette's name whenever they see something they don't like. Arquette may have had a terrible career, but it was better than Punk's MMA career! Again, Arquette feels he has to apologize. That takes guts, Arquette is happy to have him back, and that interview on Vanity Fair was "inspiring." We all love wrestling, and Booker T, while you're not supposed to say this in a promo, "but I love you." Well, not bad, it was rather pleasant.
The grades are in!
Renee says, D+! Ouch. But it was going to be a B, because Arquette went on too long. He didn't see the light to say stop. Punk might hurt Arquette more. He's vowing to be the hardest judge ever, F-! That weird apologizing did it. Just go with the insults, man. Good material but Arquette could've railroaded him. That was more battle rap than promo, but still commit. Arquette does admit, being a smaller guy, he was inspired by Punk, and Daniel Bryan, and Hornswoggle. Ember's giving Arquette a C-. No movie references, a bit rambling, but good enough digs. Paige is being nice, surprisingly, a full C! She does love Arquette's acting, but the promo was a bit random. But now, Booker T gets to give it all back!
Arquette is already stinging before Booker starts. Booker says Arquette rolling up here like it's 1980, like he's the Jackson 5. Arquette is now Tito! Tito never got the girl, like Arquette. Ready to Rumble? Scream? Eight Legged Freaks? All good, but 20 years later and he's done nothing but straight to DVD! April 26, 2000, Arquette was in WCW, challenging for the title against DDP! How did that go? Arquette became the champ, walked backstage and walked into Booker T. How many times did Booker win the title? Not once. They stare down, Booker wants to whoop some ass, but he held back. Arquette holds up the title next night and says the others deserve the title. That was Arquette's true character. Booker has to give it back, he loves Arquette, too. It was thanks to Arquette that Booker found the fire to become even a one-time world champ.
Renee thinks they got soft. What is happening to Promo School? But Booker continues to give props. The love fest ends as we have to go to break, but there's still a lot left to do!
Deontay Wilder, in the WWE?
After seeing what rival, Tyson Fury, did, Wilder was on Inside PBC Boxing to say that he could see himself doing a flying elbow drop. Wilder has the character and charisma for that environment, he wouldn't turn down an offer. But until then, will Wilder win against Ortiz in their world heavyweight championship rematch?
Time to Pay It Off!
It is time to hear CM Punk's thoughts on everything WWE is setting up for this week on Survivor Series Weekend!
King Corbin's dog jokes, yay or nay?
Punk thinks the less said, the better. It makes Punk reconsider doing this show. Oof. Did anyone really like what Baron Corbin was saying and doing towards Roman Reigns? Corbin is a newer guy to Punk, so this was not a good first impression. Paige's opinion is that it's thumbs down.
Who should shine the brightest at Survivor Series?
Booker heard Corbin calling Mustafa Ali a weak link for Team SmackDown, but Booker likes Ali. Ali has so much talent in and out of the ring and will surely shine in that elimination match. And for the Women's Champions, Paige goes with Bad Bad Bayley. Paige is Team SmackDown, for one, but also, how much more powerful can Shayna Baszler and Becky Lynch get? They're both so strong, Bayley going bad needs the rub. And in another David VS Goliath, Mysterio VS Lesnar is now NO HOLDS BARRED! Punks is sure fans will be happy here. "When pro-wrestling is great, it's great." This is going to be great. A motivated Lesnar is amazing, Mysterio is always great, and we could get a story that only the medium of pro-wrestling can give us. The Chicago crowd will elevate that, this is a diamond in the rough for the world title.
The Universal Championship is feeling blue!
Bray Wyatt changed the title's color, and invited Daniel Bryan to "come play." Bryan isn't up for playing with puppets, but he'll fight for the title. Are we getting that match? "YES! YES!" But how will it go? Booker says the best pure Heel is Baron Corbin, but Bray is doing great to be a great foil to Daniel Bryan. Those two can go all night long, Booker knows they'll rise to the occasion. Punk isn't so sure about the blue belt, though. Paige can't believe he's stirring the pot. Quick shout out from Living Colour to Punk, given their song is his song.
This Date in History!
Seven years ago was when CM Punk hit a full year of being WWE Champion on the way to his historic 434 day reign. That is still the sixth longest in the history of the WWE. That is just one reason why the wrestling world exploding having him back. Fans couldn't believe it, and even WWE superstars had to tweet their excitement. Dream matches galore, because the world of wrestling NEEDS him!
Specifically among the superstars was of course, the newest self-professed Best in the World, Seth Rollins with a simple, "FIGHT ME CM PUNK." And when CM Punk talked about getting caught up on what he missed, Rollins dared Punk to have that match and get caught right up in a hurry.
What does Punk feel Rollins needs?
Punk wants to keep his journalistic integrity. This isn't about shooting angles or working the crowd. But Punk will say what Rollins needs to do is: stop tweeting; realize that sometimes, it's better to be viewed as a fool than open your mouth and remove all doubt. But then looking at what "those Shield guys" have done in the 5 years without Punk, they've all done great things. Yeah, which one is Renee's favorite? She goes with the safe answer of all three.
But specifically, the rises to the top of the WWE. Roman's rise versus Rollins', how does Punk see each of them? It is a tough job, "over-saturation" is a key phrase. Being in that spotlight, it is hard to stay fresh for the fans. Both are top guys, which wears on them and fans.
CM Punk and the Mrs. know what that is like to be on top while together. How does Punk feel that is for Rollins and Becky? That is super hard, but being on the road together does help. Any constructive criticism? Delete Twitter for a bit.
Time for Social Media SmackDown!
Well first some social media love, fans continue to be happy to have him back. But others just… aren't. And wait a minute, Tom Arnold?! "I <3 CM Punk, too. He weights like a buck-fifty now. I could probably take him. Night blindness and all." Where is this coming from? Tom Arnold who married Rosanne? What seventh level of hell did Punk end up in that Tom Arnold is mocking him? Rollins tweeting doesn't compare to this! Punk didn't want this! Arnold should've asked for this, either! If Punk wanted crap from him, he'd scrape Tom Arnold's tongue! Tom Arnold has a tattoo of Rosanne on his chest that he then covered up with a tattoo of Stephen King! And that is from the man with ramen for a tattoo! Arnold loses the Stupidest Tattoo Contest, just like losing a promo contest!
Weighing in at 150, 200, it doesn't matter, Tom Arnold would lose to Punk bowling. Take that LA Dodgers hat and get out before Punk throws him out! Go start your relevancy somewhere else, Seth! Er, Tom! DOUBLE BURN~! Booker likes to think throwing in Seth is about getting in the ring. No, just a Freudian Slip. And the swear jar begins. No, the contract says Punk can do what he wants and that includes light profanity! But that's the end of that, get ready for more Punk Backstage!
---
My Thoughts:
A real fun episode right here! Punk getting to go after booking decisions, share his side of everything, talking smack back to Tom Arnold, and as is always true in pro-wrestling, never saying never. I appreciate everything Punk had to say about everything he talked about, and if nothing else, someone is going to come out and say it on FS1 that things like Corbin's dog mascot and I would hope the Lana-Lashley-Rusev Love Triangle are just awful. Arquette was pretty solid, too, and the panel is right, if he just went all in on his insults, it would've been legit. If Backstage was floundering in the ratings, I would think this episode just salvaged it all.