Mitchell's WWE Backstage Report! (11/26/19)
Triple H gives another exclusive interview!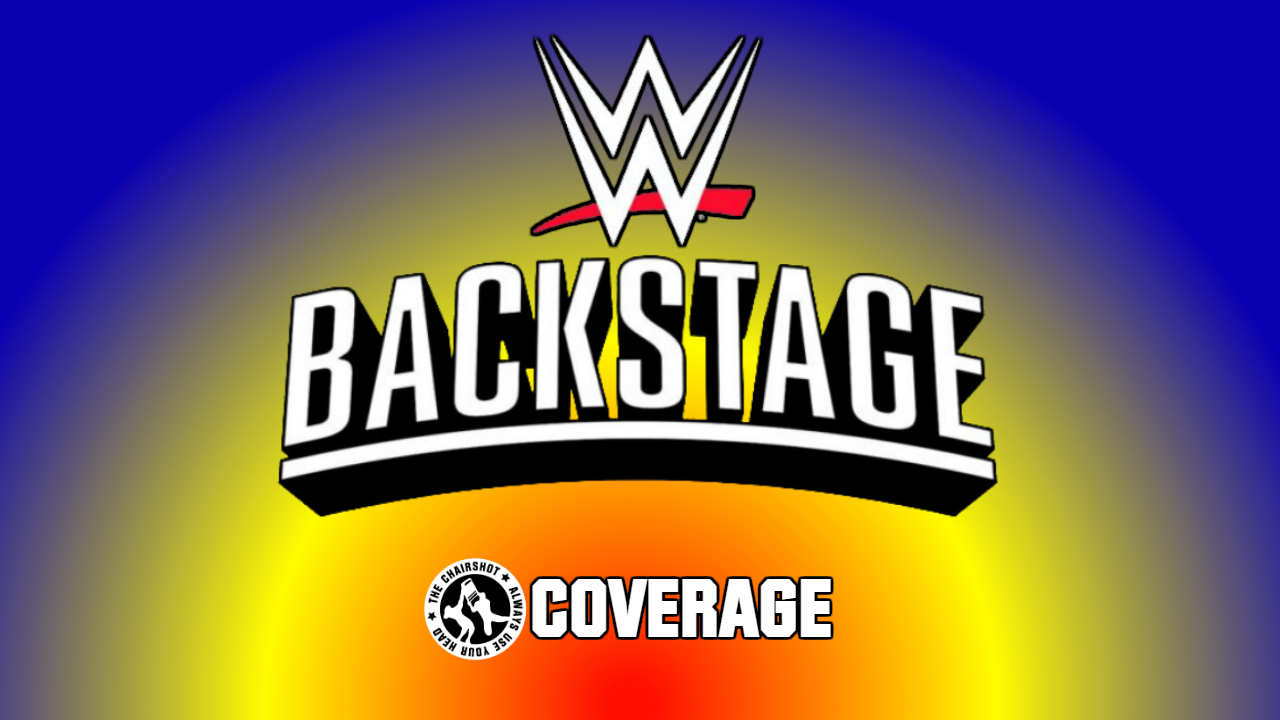 It's all about The Game, and how you play it!
After perhaps the biggest week and the biggest four-day weekend in WWE History, Triple H speaks on NXT standing tall over Raw and SmackDown!
Renee Young runs down the schedule!
After a whirlwind week for the WWE, they need to cover this! "Seth Freakin' Rollins" is freakin' back! Triple H talks NXT's breakout month, and Stone Cold talking to Taker was a huge hit! That and more as Paige, Christian and Samoa Joe join Renee and Booker for another week of Backstage!
Just the Highlights!
Survivor Series went Triple Threat for the first time ever, adding NXT to the mix, but that wasn't all! The Fiend brutalized and beat down Daniel Bryan. The Beast survived a double 619 and double splashes to keep his world title. The NXT Championship was on a WWE PPV for the first time in an epic, and Adam Cole BAYBAY still reigns. The rest of the Undisputed Era did what they could but it would be Roderick Strong holding it down against AJ Styles and Shinsuke Nakamura. The NXT Women got the better of Raw and SmackDown, as did their champion, Shayna Baszler! But Becky Lynch would have the last laugh as she dropped The Man's Leg on Baszler through a table!
The Raw Aftermath was raw in itself, as Seth Rollins would call out and talk down to everyone on the roster. He claims it's from a good place, but he only ended up on the receiving end of a STUNNER! Rusev got arrested, Rey reigns after all, but the Authors of Pain took Kevin Owens out for Rollins. What a week!
But is Seth's turn and new direction exciting?
Paige has been harsh but she's loving seeing this Seth back again. Rollins was on fire from start to finish and Paige wants to see what's next. Booker talked about getting down and dirty. Making fans happy is one thing, but fans can be fickle. What Rollins is doing now, being who he is no matter what, that's great to him, too. It may not be a new Rollins, it may be an old Rollins, but it's a good Rollins. Joe agrees, this is the best possible Rollins. This is what will allow Rollins to express his feelings, and it is exciting. Rollins will be more genuine now. Christian doesn't want to be like the rest, but he does agree, they can all benefit from being who they are. Rollins was trying to be what he thought people wanted him to be. This is what Rollins needs to be, and that's great.
Renee knows Rollins is a great wrestler, this is going to be star-making. Booker says Rollins' stories should be a novel, he's that good. Rollins is only getting better from here, and the AoP can be his buffer, like Booker said before, too. AoP stepping up is great, hopefully they run with it. Joe says that there is just so much great talent, it is hard to squeeze everyone in, even on a three hour show. But Akam and Rezar are hungry, talented, and have just been waiting to do this. To the chagrin of fans and the other superstars, the AoP getting behind Seth is huge, and just the tip of the iceberg. Renee also wants to bring up Kevin becoming the top good guy now. Christian says Kevin is fearless when he speaks, which helps him connect. That chip on Kevin's shoulder and his want to be in the mix is going to only make this better.
Booker knows Kevin was seen as "Least Likely to Succeed" but Kevin carved his own path outside of the WWE. Fans love Kevin, he is great on a mic, great in a ring. If Booker was building a team, he'd go to Kevin every time.
Rey Mysterio reigns once again!
Joe is not surprised that Mysterio is United States Champion again. Mysterio is one of the most popular talents in WWE of all time, and whenever Mysterio holds gold, it is compelling stuff fans can get behind. Add in his son, Dominic, and it just gets better. And speaking of Dominic, his part in Survivor Series, that gave Paige chills. A double 619 to double splash! Family wrestling together is special. Or it can be awkward. But this was the Mysterio Family, it's a great moment! Christian says Mysterio is truly a living legend. Everyone in the WWE would love to have a match with Mysterio, and now we can get those dream matches! Booker knows the biggest winner in this is Dominic, getting to break in and follow his father like this. Then Lesnar, his newest run, he's doing something admittedly amazing. D1 NCAA champion, UFC champion, but now the ultimate WWE superstar! He's been on a run against big names, he's "poifect!"
A quick tangent: Who Wore it Better?
Christian had a suit and turtleneck, Gronk had a suit and turtleneck. Who looked better? Fans are currently TIED! Renee gives her vote to Christian, and the others marvel in the parallels. Who leads this fashion race by the end of the show?
Triple H talks to Renee and Joe!
The COO and the man behind NXT has had an exciting month with NXT. NXT winning Survivor Series is huge, but the build was incredible. Four wins out of seven, but the moment NXT walked into SmackDown on that Friday after Crown Jewel, Adam Cole beating Daniel Bryan, that was just the beginning of "the most monumental months" ever. NXT injected excitement into the other shows and added a new layer. NXT is now equivalent to Raw and SmackDown, it is the true third brand. Joe brings up Cole and Rhea Ripley, what was the concern for their stamina and health? Everyone on NXT had that put on them, stepping into something out of nowhere, and you don't know until it happens. It isn't about place on the card, it's just about the individuals. They literally couldn't name Survivor Series teams because of WarGames! But everyone delivered above and beyond, Cole is the NXT Iron-Man while Rhea is the Iron-Woman.
Are there going to be regular mixing-it-up moments?
Coming out of Survivor Series, the first time, HHH says it will be business as usual for now. Raw and SmackDown will do their stories, as will NXT. Everyone has proven themselves, but those times when all three collide, that will be even more special.
Keith Lee was truly impressive!
He stood toe-to-toe with Seth Rollins and Roman Reigns, getting the props from the Big Dog. Lee is definitely a once-in-a-lifetime talent, doing almost anything, even at that super heavyweight frame. Coming out of WarGames to still have a performance like that at Survivor Series, earning all that respect, that was special. It doesn't matter how you look at it, for Roman to look Lee in the eye and give him the fist bump, that was big.
What of Dakota Kai's turn?
It went great! HHH and Joe both know there is always something special to keep something a secret and then have it happen. Someone always acts like they know, but then it happens and it was shocking, "you could feel it." When you can genuinely surprise fans, and Dakota's sudden snap, the moment reaches a new level. Those moments are rare in this business, and HHH is thrilled for Dakota to have this moment and opportunity. There are big things in store for NXT, and HHH has been loving WWE Backstage. What more big things happen as the Winter rolls on?
Backstage presents: Wrestling with Your Feelings, with Rachel Bonnetta.
Seth Rollins visited the resident psychiatrist of FS1 before, now it's the NXT Champion's turn. Adam Cole walks into Rachel's audience, and she has notes that he is "quick to anger." Where does his anger issues come from? From being the most underappreciated person on the planet! He's the best, everyone knows it! Say it! She does not. There is a volume they use in this room, so please match it. Cole is the NXT Champion "of the world." It's so cool to walk around the best brand in the WWE and being the "the king of it."
Rachel asks if Adam Cole ever considered changing his name to be more intimidating. He reminds her of her tax man, so actually, he's already pretty menacing since people hate paying taxes. The name can stay. Cole says he has the "sweetest name on the planet." Being Jeff Jones BAYBAY wouldn't be as cool. Actually it isn't so bad, he'd be the new Double J. Colonel Sanders BAYBAY would be dumb, though. No, she'd be okay with it. But anyway, Adam Cole BAYBAY is scary enough.
Rachel wants Cole to look at himself in the mirror. He looks at himself all the time. No, the metaphor. Nevermind. Their time is up. Cole wants to try and figure her out. No, these sessions are for her to figure him out… Well they'll get there some day. She has a lunch break, so if he could just go… Right, okay. But Cole vows to figure her out! Volume…!
The panel talks NXT's MVPs!
Joe says Adam Cole was the MVP. He went through WarGames and through tables, then still puts on "arguably one of the best matches with Pete Dunne." Cole shined in the spotlight, baybay. Booker goes with Baszler. She may be down in NXT- Whoa, Book. We don't say "down" in NXT anymore, they're not below Raw or SmackDown. Right, sorry, over in NXT. She works hard, dominates NXT and then dominates Raw and SmackDown, she should've been in the spotlight sooner. Booker also wants to talk how the internet loves Shayna 2-Time!
Paige changes things up, and goes with Rhea Ripley. Her look, her moves, her attitude and her promos, everything is amazing for such a young superstar. And wouldn't you know, one of Rhea's inspirations is Paige's new boyfriend, Ronnie Radke. Paige loves that, too, because they have the same "don't give a damn" attitude. Christian takes his turn and goes with Keith Lee! The Limitless One had a great performance at WarGames and can't say much more than what HHH says. Lee is something new and Christian wants more. Lee beat Rollins and went toe-to-toe with Roman! A loss sometimes does more for you than a win. He got Roman's respect, and he is now a "Su-Per-Star!"
One year ago, The Queen met The Baddest.
When Becky Lynch couldn't face Rowdy Ronda Rousey, Charlotte Flair was put in her place. Ronda came in at Royal Rumble 2018, and Charlotte just immediately dreamed of having a WrestleMania match with her. With only a few days notice, Charlotte had to prepare for the Baddest Woman on the Planet, to prove who really was the baddest. These two badasses went tooth and nail, strike for strike and grapple for grapple, and both women brought out the other's best. Charlotte knew Ronda was the baddest, but showed that Charlotte herself is the baddest. The DQ finish was shocking, and so was splintering that kendo stick. The chair vice to the head was also insane, but Ronda got up and proved she was certainly the toughest woman on the planet. Charlotte's turn into the Mad Queen was great, too, and there are still goosebumps from that moment.
The panel talks about that moment.
Two tailor-made athletes, and Charlotte just "oozes" superstar. From FCW to NXT to Raw and SmackDown, Charlotte was always a star. Ronda transitioning from UFC to WWE was also incredible. Paige has been in the ring with Charlotte, she knows what it's like to bring out the best. And that was back when Charlotte was still finding herself, so seeing her blossom into The Queen is incredible in its own right. Joe adds that you can't find two greater pure athletes. A bar was set by that match. Christian agrees with Paige, Ronda stepped into the wrestling world because she is a fan. Ronda committed and became an even bigger woman in fight sports.
What does it feel like to find that chemistry?
Is it that electric? The three wrestlers hesitate a moment, but Joe does say that is exactly what happens. The timing is natural, the sync is even more natural. Timing can't be taught, sometimes it's just there. Christian was surprised by Kurt Angle in his first match, he was a natural. Ronda is a natural, and that is why she did so well. They miss Ronda, and she's welcome to come by Backstage anytime!
Booker has LaVar Arrington!
The three-time Pro Bowler is ready to go to class. But what made him a pro-wrestling fan? Booker did! LaVar wanted to be Booker T. He had the dreads, the muscles, and the same spirit as Booker. Now obviously LaVar went to football, but he still felt the same. LaVar had been to Raw in 2000, was just drafted, got to meet The Rock and other greats that night. Quick quiz: best promo guy in NFL? Deion Sanders. Booker is great, but Primetime is up there. Class is in session after the break!
TLC is coming!
And a clever sitcom commercial advertising what will literally be the last WWE PPV of this decade! Who climbs to new heights to end 2019?
Promo School is in session!
Renee, Booker, Christian and Paige are the judges, and LaVar Arrington heads on stage. He already looks great and embraces the applause. Is he nervous? Nervous? What's that? Alright then. LaVar will give his promo, do it how he wants, and will get grades from F- to A+. Quick advice from the panel! Christian likes the look, too, but he wants LaVar to get to the point. Rambling is worse than anything. Paige says the worse thing is no energy. LaVar has energy, he needs to bring it. Booker says LaVar needs to focus on his target, and that is SAMOA JOE!
Joe walks up to LaVar, and LaVar begins. "Here ye, here ye." That's what they say when the king comes out to play! LaVar knows Joe's style and his cadence. It's all stolen from Book! Booker thinks Joe wins, but LaVar critiques Joe's "rhymes and bars." Here's a rhyme for Joe! "Roses are red, violets are blue. Wherever you see me, I will dawg you!" That's all you get, Joe!
The grades are in!
Booker goes with a C-. LaVar was on track, knew where he was going, but then went off track somehow. LaVar got to that point, it just didn't seem right. When you see it, that's one thing. But when you feel it, that's a different thing. Renee gives a C+! She likes LaVar, but she wanted viciousness and personal attacks. Make your target cry! Christian sighs, but still gives a B. Number two overall pick stays in the top ten, but like Booker said, just went off track. But LaVar circling Joe, that was good, real menacing. You should nail Joe on his look, looking like a substitute teacher. Joe admits he'll never has a fine a turtleneck as Christian did. Paige goes with a B-, the circling wasn't as good to her, and never turn your back to your opponent. Booker says Paige and Christian are being too soft.
But now Joe gives his response! As Joe looks at LaVar, he sees a multi-time pro-bowler, a man who dominated the NFL and walked away on his terms. LaVar is a man who has been broken, beaten, got back up and pressed forward. LaVar is a man blessed with being unbreakable, but that gift is a curse. Joe is not a career LaVar can walk away from. Joe is a man who LaVar is trapped in the ring with. And before Joe beats him down and puts him to sleep, LaVar's drawers are gonna match his sweater (brown). That's a great punchline using the visual. Joe then mocks LaVar for ever thinking he knew Joe's style. LaVar tries to say that was weak, but the panel loves it all.
Fox NFL Thanksgiving Day is coming!
And after the three Thanksgiving Day games are done, The Monster Among Men, Braun Strowman, will be live to present the Most Outstanding Player a special golden WWE Championship belt.
Backstage looks at Thanksgivings Past.
1990, Survivor Series, was perhaps the most memorable and bizarre Thanksgivings in WWE History, with the debut of the GOBBLEDY GOOKER!
Paige quickly rubs a little salt in the wound for Renee, she got her #TrampStamp removed! How dare she shame Renee for bettering herself! 16-year-old Renee didn't know what she was doing. But Real Talk Wrestling throws some shade on Christian's turtleneck game, "NO ONE could beat The Rock!" In the end, Christian beats Gronk 87-13!
The Broken Skull Sessions premiered!
And to start the new podcast off big, Stone Cold Steve Austin had The Undertaker as his guest! The Texas Rattlesnake helped Taker walk down memory lane as they watched footage of Booker T talk some smack. To see this for yourself, go to the WWE Network and find it on demand. Them all wanting him to do the "Taker-rooni," that went on for like an hour.
The panel tries custom -aroonis.
Christian's would be the Peep-a-rooni, but he also gives them the Blue Steel! Then, he spins! And blows a kiss. Good B Boy pose. Will there be a Joe-a-rooni? Joe does the pose, then… Backstage goes off the air! Fox, what have you done?!
---
My Thoughts:
A really great episode, and Backstage is just getting better. Sadly, no CM Punk, but I'm sure he'll be back. Perhaps they just didn't want him and HHH in the same mix given their history. But what we got was great with Joe and Christian both being on the panel for five instead of four. The show as a whole is doing better not being so glaringly back and forth between what is kayfabe and what is shoot. HHH's interview was pretty indicative of that, where they could talk about NXT in both terms since it is on par with Raw and SmackDown, if not better, in both kayfabe and reality. I liked the skit with Bonnetta and Cole, they've both got good comedy chops, and I'm wondering if they'll ever bring back anyone that's already been a "patient" of hers. A second session with Cole or Rollins would be great.
I liked the TLC commercial being an 80's to 90's style sitcom. They should've done a bit more with that, but still really good. LaVar did pretty good in Promo School, I definitely agree he was a C to B range. Needed more connectivity and theme rather than cleverness. Speaking of connectivity, I like that WWE is getting even more into the awarding of title belts to sports teams now that they're involved with the very sports-connected Fox. If nothing else, it gives a WWE/wrestling fan a reason to watch football on Thanksgiving, assuming they weren't already. Too bad FS1 had to cut away to a SmackDown encore instead of showing us the Joe-a-rooni.