NOAH WEEKLY NEWSLETTER VOL.58 ~ 20TH NOVEMBER 2019
After a small hiatus because she took a trip to Japan; Hisame is back with all the NOAH updates!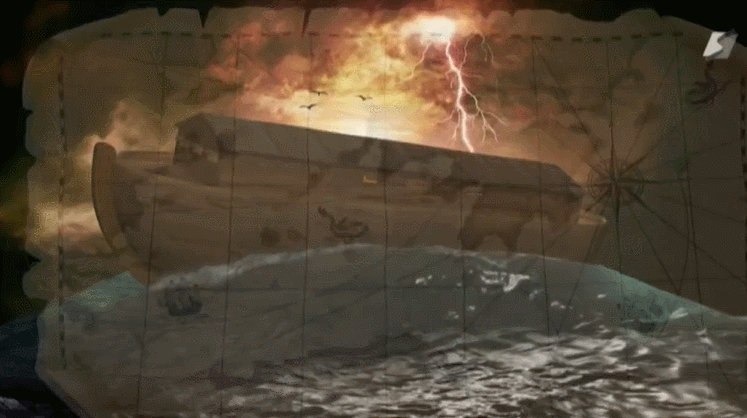 After a small hiatus because she took a trip to Japan; Hisame is back with all the NOAH updates!
I am sorry that there has been almost a months gap between the last two newsletters, as I have since been and gone to Japan. I thought it would be better to write a summary when I returned, especially after NOAH's big Sumo Hall show. I thought it would be best when I returned to tackle the mammoth task of working through my NOAH backlog, (and sleeping off my jetlag), before I wrote it so I had pretty much the complete picture.
NOAH the BEST (SUMO HALL, 2ND NOVEMBER 2019)
The atmosphere at the start of the event when the crowd were filing in and milling around, could be described as somewhat tense, especially compared to the Big Japan event. For NOAH it cannot be stated just how important this night was to everybody, both fans and wrestlers alike. This was the second time in many years that they had run a stadium, and they had all put everything into it.
It had to work.
If I have one regret about this show, then it was the due to the fact that I was jetlagged, had two hours sleep after a long flight and standing in a queue for three hours (thanks to the people coming to Japan for the Rugby, who like me had gone to get their JR Rail Pass sorted out), I completely forgot to put the zoom lens on the camera (and I couldn't even work it out), even though I was sitting second row and had a good view. I also did not put the new sim in my phone, so I couldn't live tweet…but maybe on that night, that was for the best.
I am going to discuss the highlights of the evening here, as well as the big matches.
Kenta Kobashi appeared to open the show, he also came out in the interval, and during the main event to officially retire the old GHC Heavyweight belt (I will get to that), but he for some reason decided that he was only going to use the ladder into the ring provided by the ring attendants one, all the other times he preferred to haul himself into the ring like the old days by climbing on the apron. Lets just say that Kobashi is not as agile as he used to be, and he came dangerously close to falling off a couple of times.
Traditional NOAH ran what fans called "old man matches" during the Golden Era of stadiums, and in Misawa's day they featured old veterans, and rookies. There were no rookies in this match, but there were four old vets, plus the referee, Mighty Inoue. Mighty Inoue came from NOAH as part of the exodus from All Japan, always acutely aware of how hard it was for older athletes to make a living after they could no longer wrestle, Mitsuharu Misawa took care of him as there was a problem with his pension being paid. Inoue refereed the comedy match between Akitoshi Saito & Masao Inoue vs Tamon Honda and Mitsuo Momota. Inoue (usually the one who gets bullied in NOAH, in various ways), decided he was going to pick on Momota. Momota said that the audience saw it as an old man getting roughed up by a younger one. The most comical moments were when Mighty looked into the crowd and shook his head at Inoue's antics (which involved eye raking), and when Momota pinned Inoue, and Saito stepped on him while he was still on the floor.
The crowd cheered loudly to see NOAH born Eddie Edwards (and the former GHC Heavyweight Champion) back home. In the backstage interview, Atsushi Kotoge said he was "very happy" in English to be teaming with Edwards and Chris Ridgeway. After tonight, however, Kotoge was going to have other more serious things on his mind (or what is left of it).
Kazuyuki Fujita and Shuhei Taniguchi finished their rivalry, the match went only seven brutal minutes, with the kicks that Fujita gave to Taniguchi's head echoing around the arena, before the referee stopped the bout as Fujita applied a sleeper hold. Bust open, Taniguchi was going to use this to his advantage.
Daisuke Harada & Tadasuke faced off with Kotaro Suzuki & Yoshinari Ogawa for the GHC Junior Heavyweight Tag titles in an electric match. So many near falls both from sides, and Tadasuke in particular fighting to the bitter end, and refusing to give up. In the end, Tadasuke took the win over Kotaro Suzuki with the Outcast after 10 minutes 58 seconds, and the tag belts came back to RATELS. Daisuke Harada strapped Tadasuke's first NOAH championship on him, and it was hard to say who looked happier, Tadasuke or Harada for Tadasuke. Harada's comment was "this is Tadasuke's belt, try and take it assholes".
HAYATA & YO-HEY clashed in the next match for the GHC Junior Heavyweight championship. There was never any ill feeling between them, but tonight they were both all business, and they put on a stellar match (which has made my 2019 MOTY List). Most memorable was the repeated Headaches that YO-HEY took, at one point knocking him outside of the ring until the count almost ran out. HAYATA prevailed after fourteen minutes and eleven seconds to retain the title.
Stinger appeared towards the end of the match, but rather than cause trouble with RATELS (or cause any of them to turn on them), they had come to let Tadasuke & Harada know that they would be coming for the belts again. So while Tadasuke and Harada squared up to them, HAYATA'S concern was in helping YO-HEY up.
RATELS quickly returned to normal. After joining the great sea of people exiting Sumo Hall at the end of the evening, I glanced over at the merchandise stands. One thing I remember (other than Go Shiozaki's floating head), was RATELS with YO-HEY standing in front of HAYATA, and HAYATA pinning himself against the back wall.
THE TOUGH (Yoshiki Inamura & Masa Kitamiya) faced AXIZ (Go Shiozaki and Katsuhiko Nakajima) for the GHC Heavyweight tag titles. Kitamiya very much put over his young protegee by spending a lot of time outside of the ring, and letting Inamura battle the much more experienced AXIZ, and on a couple of occasions (like the massive heave to Nakajima, throwing him into the corner after charging at him), he came very very close to winning the gold for THE TOUGH. Sadly, despite his best efforts it was not to be so, but significantly it wasn't Inamura who was pinned, but Kitamiya following the Vertical Spike from Nakajima.
Naomichi Marufuji (who had special body art done for the match, and did not appear thankfully as anything approaching Tokyo Sports "The Great Maru" or in his former mecha phase), faced The Great Muta for both the first time in his career and in the NOAH ring. This match went a long way to lighten the tension after what had been, and what was to come, with Great Muta unfamiliar with objects not commonly found in the underworld such as fire extinguishers (which Marufuji sprayed him with), and television cameras (which he shoved a cameraman down to get), doing what Marufuji had told him not to, which was to make him bleed. By far the most spectacular moment of this match was when Muta spat fire. I just remember hearing a clicking sound, and seeing flames erupt from his mouth. Marufuji ended the match a mixture of red, green and smudged into an ashy look after his body paint was smeared.
NOAH's new belt, inaugurated by Riki Choshu, the GHC National, was fought for between Takashi Sugiura and Michael Elgin, with Riki Choshu handing the belt to Sugiura, the victor with the Olympic Slam after 21 minutes and 35 seconds.
The GHC National (a belt created really for the veterans to fight over leaving the younger roster to chase the GHC HEAVYWEIGHT, and gaijin and those outside the company to challenge for), has been said to be openweight, which means that the NOAH Juniors (and those elsewhere) can also challenge.
Kenoh and Kaito Kiyomiya reached the latest pinnacle of their volatile love-hate relationship, with Kenoh swinging mercurially between his concern for, hatred and jealousy of Kiyomiya (who he refused to believe was no longer the innocent teenager who looked up to him) and Kiyomiya's wavering admiration for Kenoh making him who he is, his frustration with Kenoh's clucking over him, and his final admittance that they hate each other.
Kenta Kobashi, in an emotional moment, retired the old GHC Heavyweight belt. All I remember about the moment is the fact that the arena suddenly seemed so quiet as an emotional Kobashi took the belt, and looked down at it, you could see the memories rushing to his eyes as he looked tearful; the memories of Misawa, the memories of his own championship reign, the memories of NOAH's summertime, Differ, his beloved but now absent KENTA, the creation of the belt, it would have been impossible to name just one memory. Kobashi hurriedly exited the ring holding the belt to him, and sat down quickly. If Misawa was anywhere that night, it would have been next to him.
While not receiving good reviews from those who watched the broadcast, no one at Sumo Hall that evening had anything bad to say about the main event and title match that evening. Kenoh was determined to save Kiyomiya from something Kiyomiya did not believe he needed saving from, and Kiyomiya was determined that he would once again defeat Kenoh, and prove to him and everyone else just how much he had grown. The match went 31 minutes and 10 seconds, but it seemed to go by in a flash, and ended with Kiyomiya getting the win with the Tiger Suplex hold. Kenoh slunk away to lick his wounds, as Kiyomiya stood with the new belt in a NOAH ring as the champion of a promotion that had just taken a major step up.
To Osaka and beyond
NOAH aside, comparing Osaka to Tokyo is like watching the beginning of "Animal House", when after walking through the pristine Faber College, Bluto opens the door to the Delta Tau Chi house…
The show in Osaka on the 9th had a completely different atmosphere. The wrestlers were more visible and more accessible, and the ambiance was far more relaxed. You could also tell how much of a morale boost that Sumo Hall had given both the fans and the roster.
Junta Miyawaki scored a singles win over Kinya Okada. Miyawaki might not have gotten his first win over a seniors in a single, but people were full of praise for him, especially as he has started adding new techniques into his repertoire, and is taking kick lessons with Katsuhiko Nakajima. There also seems to be a small rivalry budding between himself and Okada.
STINGER & RATELS faced off in a typically chaotic match (Osaka after all is the spiritual home of RATELS, even if one of them is native, two of them live there, and all four of them speak Osaka dialect when together), which ended with Atsushi Kotoge getting the win over Daisuke Harada, and three title challenges made.
First of all, Kotaro Suzuki challenged with Atsushi Kotoge for the GHC Junior Tag Titles (Yoshinari Ogawa is currently working through a shoulder injury, and Suzuki does not feel he is up to another title challenge or title run currently), Daisuke Harada told them that they could have the match, but, he had a challenge of his own, namely that Kotoge let him challenge him for the IPW Junior Heavyweight.
STINGER were not done, and Chris Ridgeway challenged HAYATA for the GHC Junior. HAYATA'S response was "You….next".
KUMAXIZ (so called when they team with Hitoshi Kumano) teamed with Shuhei Taniguchi against The Sugiura Army (Takashi Sugiura, Kazuyuki Fujita, Hideki Suzuki and Hajime Ohara). Poor Ohara got the worst of this match when Nakajima sent him flying to the mat after kicking him in the head, and as I said earlier, Taniguchi used the wound given to him by Fujita at Sumo Hall by Sugiura busting it open and blood running down his face making him look as if an eye socket had come out. Taniguchi made the new GHC National Champion tap out, and afterwards challenged him for the belt. Sugiura had to grudgingly admit that this was Taniguchi awake.
On the side of the GHC Heavyweight Tag champions, Katsuhiko Nakajima took the opportunity to sarcastically introduce himself and Go Shiozaki to Fujita. Fujita didn't take well to it and attacked him. Afterwards, he and Suzuki stole the tag belts. However, at the time of writing there has been no official challenge.
The main event was Kenoh and Kiyomiya on opposing teams, with Kiyomiya holding the belt in Kenoh's face, but Kenoh had a very different target in mind other than his usual two obsessions of Marufuji and Kiyomiya (although naturally Kiyomiya did get sworn at), when after the match he got on the microphone and started growling at Kiyoshi Tamura. I am unsure of the exact comment Tamura made, but I know enough that a lot of NOAH fans are angry at his assertion that NOAH's wrestling is not interesting (or something to that degree), and Kenoh in particular has taken exception to it. He was calling Tamura out, finishing with "if you have a problem, come to the ring.".
Before I move on to NOAH after Osaka, afterwards fans had gathered in the lobby to catch the wrestlers as they left, when there was a loud crashing noise coming from the lift, and Naomichi Marufuji and Mohammed Yone (plus two heavy wheeled suitcases),practically fell out of a too small space. Mohammed Yone said "Masao Inoue!", which made everyone laugh, as Inoue is the spirit invoked whenever anything comedic happens.
Due to a mixture of travelling back from Japan, jetlag, a backlog, returning to work, I resumed writing event reports from 13th November onwards. NOAH had held a show on the 11th (the day I flew back) in Hiroshima where HAYATA (a native of the city) was defeated in front of friends (and highly photogenic family) by Chris Ridgeway. Things carried on much the same way between the two teams in the run up to the big Korakuen Hall event.
In Aizu Wakamatsu, Naomichi Marufuji attempted to shake hands with Kenoh. Kenoh naturally glared, swore and went to kick him away. Marufuji says that he feels neglected since Kenoh started venting his anger at Kiyoshi Tamura.
Korakuen Hall
(Event was livestreamed via NOAH's official YouTube channel, click here for full show)

After defeating 50 Funky Powers, Akitoshi Saito called a press conference backstage, and announced to the journalists that he would be bringing back something of the ferocity of the unit he was in once, which he announced was called "The Anti Wrestlers Alliance" (the name is misleading, it doesn't mean that they are "anti-wrestler", it basically means that they will be another dissident group, but different to Kongoh).
Despite Saito's seriousness, there have already been two comedy elements. The first intentionally came from Saito himself when he announced that since Masao Inoue's piggy bank was overflowing with change, he would be funding the new group. The second came from Naomichi Marufuji, who asked that since this group was such rebels, did it mean that they would liberally help themselves to both the water and the medipacks left backstage and purchased by the company?
YO-HEY, HAYATA & Tadasuke took on Chris Ridgeway, Yoshinari Ogawa and Kotaro Suzuki, with a massive brawl breaking out (or rather several brawls breaking out) afterwards, when HAYATA got the sneak pin on Chris Ridgeway, and Ridgeway going berserk and trapping him in an armbar. YO-HEY & Ogawa had to take charge (helped by the referee) in separating both HAYATA and Ridgeway,  and then Tadasuke and Kotaro, although they themselves got into a fight with each other.  In the end YO-HEY managed to calm down HAYATA and Tadasuke, and get them backstage. Telling them to calm down and talking about flammable drinks from Okinawa and children's Mah-Jong games did no good, as both Tadasuke and HAYATA gave him the slip and raced off.
It is rare for HAYATA to become so irate, normally he doesn't react, and it is really YO-HEY who can get under his skin, although not to this level. Even Kotaro Suzuki (skilled in causing trouble) was a little intimidated by him, so much so he even turned up to a match signing, and it is a hallmark STINGER tactic that they claim they have better things to do, and so often don't.
Ridgeway, however, seems to have the knack in winding RATELS up, not only is HAYATA unusually ruffled, but when fighting with Daisuke Harada over the IPW Junior Heavyweight, Harada started speaking in Osaka dialect in promos, which is a sure sign he is really annoyed.
After a match where Yoshiki Inamura threw his opponents around like they weighed nothing, Kenoh ignored Marufuji, Kiyomiya was demonstrated to have grown further in confidence since Sumo Hall, and Hi69 got the brunt of Kongoh, Kenoh once again verbally attacked Kiyoshi Tamura, asking the fans if they wanted to hear the UWF theme in NOAH.
Kenoh's mood has not been improved by Tamura's only comment, which is "No Comment".
The title match between Daisuke Harada and Atsushi Kotoge for the IPW Junior Heavyweight championship could have been ruined by the fact that sadly IPW had announced the night before that in 2020 the promotion will no longer be holding live events, and that their heavyweight title will be defended one last time in December. They haven't announced what will become of the IPW Junior Heavyweight or the six man to decide the number one contender for the title either, and so while Kotoge and Harada were fighting over what could turn out to be nothing, this match was saved by the emotion and drama behind it of the two former friends and tag partners. Kotoge, sad over the loss of their friendship, Harada unforgiving about Kotoge ditching himself, the juniors and the titles for the hated heavyweights, and the lingering hatred between Stinger and RATELS all served to overshadow the issues surrounding the belt. In a true showcase of the NOAH juniors, the Osaka boys put on a match of the year, with the ending going viral as Daisuke Harada used an Avalanche Katayama German Suplex for the win. Empty title or not, challenged for or not, RATELS now hold all the junior belts in NOAH.
In the main event, Shuhei Taniguchi was not going to wait to get in the ring with Takashi Sugiura, and attacked him as soon as the bell rang, outside the ring, leaving both AXIZ and the others in The Sugiura Army watching. When they did get in the ring together, vicious elbows and headbutts flew between them, with Taniguchi using the kicks to the head he had been given by Fujita. Taniguchi got the win with the diving body press after 23 minutes and 13 seconds. Addressing the crowd afterwards with blood running down his face, he promised to make big flowers bloom in Niigata. Although this phrase is not well understood in English, (and does not point to horticulture), basically it means, Taniguchi is awake.
CURRENT CHAMPIONS & SCHEDULED TITLE MATCHES
NEWS

AXIZ ANNIVERSARY
Go Shiozaki and Katsuhiko Nakajima celebrate their 15th anniversary in wrestling in November\December. Katsuhiko Nakajima debuted on the 5th January 2004, with Go Shiozaki making his in late July. Rather than have their own produce show, they have elected to have a series of matches, which will culminate when they face each other on December 3rd at Korakuen Hall. The other matches they have arranged to mark their debut are tag matches, and usually feature Hitoshi Kumano.
NOAH'S 20TH ANNIVERSARY
Despite all the odds, the ups and the downs, the bad times, the good times, the worse times, death, scandal, walk out, money issues, Pro Wrestling NOAH has survived to celebrate its 20th anniversary next year. A huge landmark year for NOAH, they will hold big events leading up to the big day in August.

PRODUCE SHOW NEWS

RATELS "SHOWTIME"
RATELS will hold their second produce at ShinKiba 1st Ring on the 24th November. NOAH knew that the RATELS produce was the one that they would have no problems with, but sadly the card is nowhere as interesting as it was last time, although it does have some quirks as a tug of war between RATELS & STINGER, and then an elimination match between them for the main event.
Kotaro Suzuki, however, has hinted that STINGER may not even turn up!

KONGOH "DIAMOND"
At the time of writing, Kongo have announced only one match for their produce, which will be Yoshiki Inamura vs Daisuke Sekimoto in a singles match. The event has also been sold out, which means that Kenoh will not be leaving the company, and Kongoh will not have to disband.
Kenoh has announced that PETA from The Garlic Boys (who do his theme music) will be performing it live. Naomichi Marufuji said that he wishes he bought a ticket, Kenoh told him firmly that he wasn't getting in, and to next time, make sure he bought one in time.

SUGIURA ARMY "ALL DOGS GATHER! BARK AT KORAKUEN"
Hajime Ohara is another person celebrating a fifteen year debut in 2019, and therefore a special match has been arranged for the produce, which will be NOAH's last event of the year. Ohara will team with Shiro Koshinaka, and teacher Ultimo Dragon (who was last in NOAH in 2003 in the Differ Cup), to take on NOSAWA and NOSAWA'S friends, MAZADA and FUJITA.

THIS WEEK IN NOAH
Friday 22nd November: Hitoshi Kumano (28)
Sunday 24th November: RATELS "Showtime"
Tuesday 26th November: Niigata City Gymnasium event
Friday 29th November: Minoru Tanaka (47)
Picture credits: GIFS (Noah GHC), all other pictures are mine. 
Mitchell's WWE WrestleMania 37 Results & Report! (4/11/21)
Who wins THE WrestleMania main event?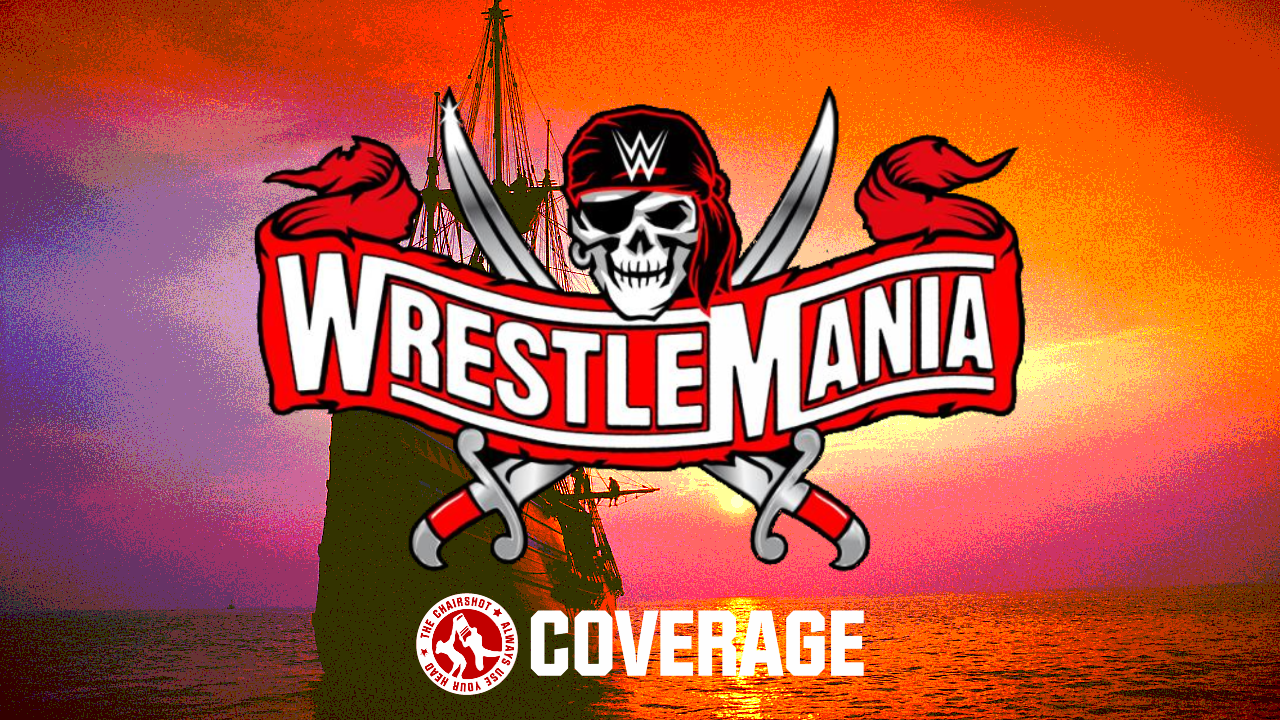 WrestleMania 37's two night adventure reaches its conclusion!
After an epic first night, how can WrestleMania 37 possibly get any greater? Perhaps with Daniel Bryan VS Edge VS Roman Reigns for the Universal title! Will the Head of the Table still be at the helm of the WWE?
OFFICIAL RESULTS
Randy Orton VS The Fiend w/ Alexa Bliss; Orton wins.
WWE Women's Tag Team Championships: Nia Jax & Shayna Baszler w/ Reginald VS Natalya & Tamina; Jax & Baszler win and retain the titles.
Kevin Owens VS Sami Zayn; wins.
WWE United States Championship: Matt Riddle VS Sheamus; wins and
WWE Intercontinental Championship Nigerian Drum Fight: Big E VS Apollo Crews; wins and
Raw Women's Championship: Asuka VS Rhea Ripley; wins and
WWE Universal Championship Triple Threat: Roman Reigns w/ Paul Heyman VS Edge VS Daniel Bryan; wins and
PLAY BY PLAY
It's the WrestleMania 37 Night Two Kickoff Show!
Join Kayla Braxton, Booker T, Jerry "The King" Lawler, JBL and Peter Rosenberg for yet another round of discussing, analyzing and predicting the action tonight!
Sonya Deville joins the panel again!
Does anyone really understand the implications of the Nigerian Drum Fight? It might just be Apollo Crews who understands. His power and his culture are going to define what happens tonight. Booker asks, "What do I look like? Chopped liver?" Well okay, he would know, yes. Booker says this goes back a long time ago, the Zulu nation and the Mandingo. This will play out in front of the world so the world needs to understand, and Booker says Apollo will make you understand. Sonya wishes she'd heard more about this. But Jerry wants to know why it's drums. Booker asks, "What do you do to a drum?" You beat it. Exactly!
Rosenberg says the bottom line is, Apollo is in control. Big E may be on the kick of being in his hometown- JBL asks why Rosenberg's hands are everywhere. But the point is, Apollo knows what this is about because this is his match. Booker says this will be a great night for everyone back home. JBL and Jerry can't say anything without getting canceled, so they will agree with him.
Ashlyn Craft sings America the Beautiful!
We've waited patiently for this moment.
"Finally…!" The biggest event in LIVE entertainment is BACK! Back with the spectacle, the excitement and the pageantry! WrestleMania is #BackInBusiness! And tonight, WWE sets sail on the high seas with epic epicness bigger than the history of history! Wait, what? Did he just say all that? That's what was written. Okay, mate, let's get this cold open done right. We pick up where we left off just last year. Our heroes are obnoxiously heroic as they battle for the ultimate prize: immortality. But no more tall tales, let's get real, as the kids say. Tonight, we witness the global event that spans decades, created unforgettable moments, and has the memories we will remember forever.
But let us tip our caps to you, the fans, who made this possible. You over there, and them up there, and even those at home who "can't not watch." We raise the sails as fate still awaits. The course was corrected, the wind cannot be stopped, and the quest continues! Now how's that? Impressive. But where's the big finish? That's cold open 101. Good point. Pyro montage! "Welcome back… to WrestleMania!"
The WrestleMania cohosts are back!
Titus O'Neil and Hulk Hogan return to kick off Night Two of WrestleMania 37, but this time they're Captain Titus and the Hollywood Privateer! "I dunno about you, Hulk, but I think we look damn good tonight." Well, T-man, it's a little hot, too. But either way, AHOY MATIES! Yo ho, brothers, and welcome to Mania Sunday! Last night was incredible, but tonight will be no different! Seven matches, and FIVE are for gold! That means they need to batten down the hatches. No room for scurvy dogs or scallywags! Whoa, don't be calling the people that. Hogan's not gonna walk the plank, is he? No, Titus will take care of that. The first match is a tale of terror, dark than the depths of Davey Jones' Locker! YARRGH!
Randy Orton VS The Fiend w/ Alexa Bliss!
The Viper thought he'd finished this at TLC, but some evil never dies. And now, this horror movie in real-life opens the Showcase of the Immortals! Lil' Miss Twisted Bliss is still by his side, but will Orton finally #LetHimIn?
As he makes is entrance through a mysterious tunnel, The Fiend… has been restored! Alexa makes her way out first, with spooky face paint on to clash with her Punky Brewster outfit. She frolics along, and has a GIANT jack-in-the-box?! Alexa winds the handle and Orton already has an idea what's coming. All around the mulberry bush, the Fiend chased the Viper~. And out rises The Fiend's new form! Orton isn't sure what to make of this, and The Fiend suddenly LEAPS into the ring to CLOTHESLINE Orton down! The bell rings, Fiend SPLASHES in the corner, reels Orton in and hits an URENAGE! Fiend sits Orton up for a NECK SNAP! "YOWIEEEE WOWIEEE~!"
Orton writhes as he clutches his neck and Fiend goes to a corner. Fans fire up as The Fiend spider-walks! Orton gets up, Fiend copies him as he takes aim! Orton flounders up, but he avoids a punt kick! Fiend pursues, Orton kicks low and gives him a back suplex to the desk! But Fiend clamps on with the CLAW! Orton grabs at the ring, gets in, and the ring count is still climbing! Orton gets free but Fiend gets in, only for Orton to kick low. Orton gets Fiend through ropes, for a DRAPING DDT! But Fiend springs right back up! Fiend blocks the RKO, but Orton throws him into his own jack-in-the-box! Fiend flounders, Orton gets Fiend through ropes again and KICKS him!
Orton wrenches the arm, KICKS again, and drags Fiend into ANOTHER DRAPING DDT! Orton looms over Fiend and stomps a hand! Fiend barely flinches, so Orton stomps the other hand! Orton throws hands and clubbing forearms but Fiend just gets up! Orton kicks low, runs, but into a LARIAT! Fiend and fans fire up, things speed up, Fiend BODY CHECKS Orton! Fiend rains down forearms over and over! Fiend gets up to run and drop a back senton, but Orton dodges it! Orton throws Fiend out but Fiend gets right back on the apron. Orton kicks him between ropes, gives away more kicks, then drags Fiend back in, for a THIRD DRAPING DDT!
Orton paces as Fiend slowly stirs. Orton hears the voices and wants Fiend to get up now. Fiend rises, but still no RKO, because Fiend has the MANDIBLE CLAW! Fiend smothers Orton, Orton starts to fade but he grabs at Fiend. Fiend brings Orton up, gives him a kiss good night, and the FLAMES erupt as Alexa is now in a new form! She has a tiara of barbed wire and there's black ink pouring out. Wait, this distracts the Fiend?! ORTON HITS AN RKO!! Cover, Orton wins!!
Winner: Randy Orton, by pinfall
What is going on with Alexa?! Did she mean to ruin tonight for The Fiend?! Either way, the Viper slithers away before he has to worry about this any longer. Is Orton finally done being haunted by these ghouls? Fiend looks up at Alexa, but the lights start to go out again. And when the lights return, Fiend and Alexa are gone. Just what is happening inside the Firefly Fun House?
DING DONG~! Hello!
Bayley asks Titus and Hogan what happened to them texting her back. She says hello to Eric Bischoff, she's a big fan of his podcast, and says if he ever feels like being on a real show, he can be on hers. Well he's more of a book guy, not into TV. But that match of Sasha VS Bianca, the SmackDown Women's Champion on his podcast would be awesome! Yeah, yeah, flavor of the month. But they're not a role model like Bayley! Bayley is the longest reigning women's champion, has her own talk show, and is on both nights of Mania! Bischoff brings up Hogan's new boat, and they decide to go see the boat. Titus wants to ride a boat… Sorry, Bayley, Hall of Famer stuff.
WWE Women's Tag Team Championships: Nia Jax & Shayna Baszler w/ Reginald VS Natalya & Tamina!
The Tag Team Turmoil is over, but now the real battle begins! Will the Irresistible Force & Queen of Spades still be standing after battling the Daughter of Superfly & Queen of Harts?
The introductions are made, the belts are raised, and the battle of alpha females begins!
The teams sort out and Shayna and Natty start. They circle, tie up, Natty headlocks and hits a takeover, but Shayna headscissors. Natty kips free but Shayna smirks as the two reset. They tie up again, Shayna headlocks to hit the takeover, but Natty gets up to power out. Shayna runs Natty over, dusts off her hands, then runs. Natty drops, hurdles, but Shayna blocks a hip toss to get a headlock, only for Natty to trip her up! Shayna scrambles to avoid the Sharpshooter, and tags to Nia. Nia and Natty stare down, fans duel, and they tie up. Nia shoves Natty down and says, "I don't want you." She's calling out Tamina! Tamina reaches out, and Natty tags her in!
Fans fire up as Tamina and Nia stare down. Nia pie faces, headbutts and talks trash but Tamina HEADBUTTS back! It's a battle of headbutts! Tamina fires off haymakers but Nia denies the scoop! Nia runs but Tamina fires off forearms! Tag to Natty, Nia ROCKS her and Tamina! Nia runs, Shayna tags in, Natty & Tamina DOUBLE BACK DROP Nia! Shayna BOOTS Natty, Tamina ROCKS Shayna back! Natty is up, she and Tamina DOUBLE GOURD BUSTER Shayna onto Nia! Fans fire up as Natty gets the legs again and steps through, but Shayna cradle counters, TWO! Natty waistlocks and GERMAN SUPLEXES! Natty drags Shayna up to stomp her down, then tags Tamina.
Natty keeps Shayna from her corner and feeds her to Tamina's clothesline! Tag back to Natty, Natty gets the hand-off to trip Shayna, and catapult her into a SUPERKICK! Cover, TWO! Natty keeps on Shayna with forearms, then scoops Shayna, only for Shayna to slip out and fire off a strike fest, topping it off with a KNEE! Natty and Shayna are both down, Nia YANKS Tamina off the apron! Tamina fires off on Nia, but Nia scoops her to SLAM her! Natty is shocked, Shayna KNEES her down in a corner! Shayna snapmares to a cover, TWO! Shayna goes after a leg and bends it! Natty endures, kicks with her free leg but Shayna throws a forearm. Shayna pulls on the leg and twists the ankle!
Natty kicks at Shayna more, Shayna turns Natty over and has the foot stuck, to STOMP IT!! Tag to Nia, and Nia looms over Natty as she clutches the foot. Nia soaks up the heat, and drags Natty to drop a leg on the leg! Nia has a standing toehold and Natty endures. Natty fires off haymakers, but Nia stomps the leg! Cover, TWO! Nia is annoyed but she drags Natty up. Natty fights back, Nia CLOBBERS her! Tag to Shayna, Nia has Natty in a STRETCH MUFFLER! Shayna KNEES Natty while she's upside-down! Cover, TWO! Shayna taunts Natty as Tamina is still down. Shayna SMASHES Natty's knee into the mat, then pushes Natty around.
Shayna drags Natty up, Nia tags in, and Shayna feeds Natty to a scoop and SLAM! Natty gets to her corner, Nia soaks up heat and runs in, but Natty POSTS her! Natty catches her breath, runs at Nia and throws clothesline after clothesline, then the DISCUS! Cover, TWO!! Nia still has a lot of power but Natty rallies the fans! Natty drags Nia up but Nia headbutts her! Nia reels Natty in, gets her up, and hits the ONE HAND SLAM! Cover, Tamina breaks it?! Tamina is back in this and Shayna is furious! Nia crawls over to tag Shayna in, but fans fire up for Natty as she tags Tamina in! Tamina rallies on Shayna with elbows, then dodges to CLOBBER Shayna!
Shayna blocks a punch to fire off kicks, but she kicks into a DRAGON SCREW! Tamina runs but gets buckles. Shayna blocks Tamina's boot, twists the ankle, but Tamina BOOTS her down! Nia storms over but Tamina DECKS her! Shayna gets around, wants the Kirafuda but Tamina blocks it to SAMOAN DROP! Cover, TWO!! Tamina grows frustrated but she drags Shayna to a drop zone. Fans rally as Tamina goes to a corner! Tamina climbs up, but Shayna KICKS her first! Tag to Nia, and Nia storms over to get up top! Nia fireman's carries but Natty saves Tamina! Shayna gets in but Natty CLOBBERS her! But Nia adjusts, DOUBLE CROSSBODY!! Double cover, TWO!!
Natty and Tamina survive but now Nia clutches a leg. That was a rough landing for everyone but Nia manages to get up. Nia sees Tamina is still down, fans rally for Tamina and Nia gets annoyed. Nia brings Tamina up, but Tamina scoops Nia!! Tamina SLAMS NIA!! Cover, TWO!!! Tamina drags herself to a corner, and fans fire up again as Tamina climbs! Tamina aims, SUPERFLY!! BUT SHE FLOPS! Nia moves and Tamina is down again! Nia and Tamina both crawl for their corners as fans rally again. Hot tag to Natty! Natty runs and swipes at Shayna, but Nia gets Natty for a fireman's carry! Shayna tags in, Natty slips off and DECKS Shayna!
Natty basement dropkicks Nia, and she's after Nia's legs! But Shayna's the legal one! Natty doesn't know that as she works to get the turn! SHARPSHOOTER, but Nia isn't legal!! Shayna gets in to get the KIRAFUDA!!! Shayna drags Natty down, Natty endures but she's OUT! The champs win!!
Winners: Nia Jax & Shayna Baszler, by submission (still WWE Women's Tag Team Champions)
So close and yet so far for Tamina & Natty! Does this mean no team can stop the Irresistible Force & Queen of Spades?
Kevin Owens VS Sami Zayn!
Two men who have known each other for two DECADES, ranging everywhere from friends to rivals to bitter enemies, finally have their moment together on the Grandest Stage of Them All! But given the Great Liberator's ludicrous behavior as of late, the Prizefighter promises to beat some sense into him! Will Kevin snap Sami out of it? Or is Sami too far gone?
AJ's WrestleMania 37 Night One Results & Review 4/10/21
AJ continues with the WWE coverage this Mania week! Night 1 of WrestleMania may have been rain delayed; but did that dampen the excitement?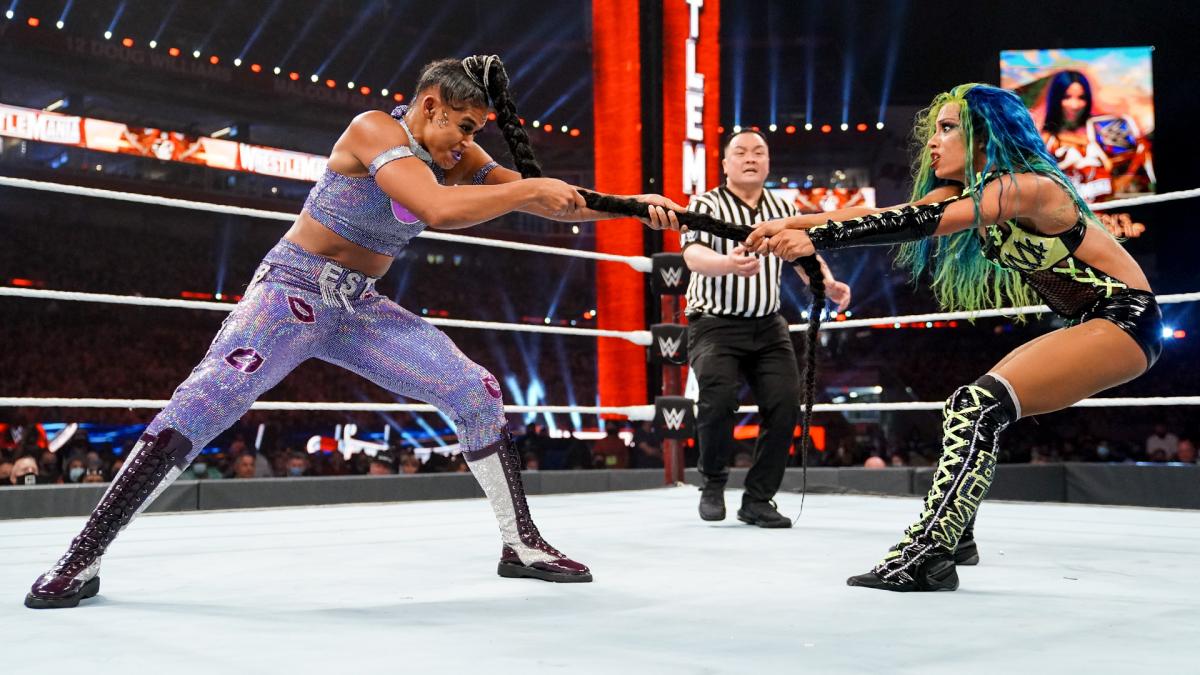 Ladies and Gentlemen, boys and girls. Children of all ages… WrestleMania is finally upon us once again and this time we are for real going to have it at my champion Tampa Bay Buccaneers stadium, Raymond James  and we get fans involved! We will hear the cheers, the boos and of course the ugly in the whole the but it's still the grandest stage of them all. We have some decent matches for night one that will take place, sadly a thunder storm but if we know Vince McMahon, that's not going to stop him.
Welcome to the Thirty-Seventh installment of WrestleMania!!!!!!!!
Results:
Drew McIntryre vs Bobby Lashley(c) for the WWE Championship:  Bobby Lashley wins via Hurt Lock – ****  – TITLE DEFENSE!!!!!
Tag Team Turmoil: Naomi & Lana vs Carmella & Billie Kay vs The Riott Squad vs Dana Brooke & Mandy Rose vs Tamina & Natalya: Tamina wins by last Elimination the Riott Squad – ** ½
Seth Rollins vs Cesaro: Cesaro wins via Gotch Neutralizer – *** ¼
AJ Styles & Omos vs The New Day(c) for the WWE Raw Tag Team Championships:  Omos wins via Two-Handed Chokeslam – *** – TITLE CHANGE!!!
Steel Cage: Braun Strowman vs Shane McMahon: Braun Strowman wins via Running Powerslam – ** ¼
Bad Bunny & Damien Priest vs Miz & John Morrison: Bad Bunny wins via Electric Chair Crossbody combination – *** ¼
Bianca Belair vs Sasha Banks(c) for the WWE SmackDown Wom0n's Championship: Bianca Belair wins via KOD – **** – TITLE CHANGE!!!
Review:
Drew McIntyre vs Bobby Lashley
Both men try to get a strength advantage with a Collar & Elbow tie up before breaking it and going to holds now and still getting even ground. Now both men get some fighting in the corner going, delivering punches and strikes until they go to the outside where Lashley takes control and ragdolls McIntyre into the barricades before tossing Drew back in. Lashley keeps the onslaught on Drew and gets a quick pin attempt for a one and continues to get the beat down on the former champ. Lashley gets a lot of steam going as he goes to do another shoulder tackle into the corner, only to miss and Drew targets the arm of Bobby. Momentum shifting into Drew's favor as Drew getting things going for him, suplexes and strikes galore as he goes for the Future Shock DDT. Lashley puts Drew into the corner to get separation but Drew catches the strike attempt and catches lashley into Northern Lights Suplex for a nearfall.
Bobby gets a reversal into a slam, a near fall and both men get some signature moves in. Drew hits the Glasgow Kiss and Bobby hits back with a one handed Spinebuster. After another near fall, Drew gets caught in a Hurt Lock but gets out of it quickly as they both go to the corner. Drew getting the swing this time and lands a good ol' Alabama Slamma for a near fall of his own before trying to set up a sky-high superplex to the champion. Lashley fights off the attempt as Drew gets a Kimora Lock in to weaken the arm, Lashley fights him off again, catching Drew into a Tree of Woe but Drew sits up to launch Bobby in a Belly- To Belly. Lashley hits another one armed Spinebuster until Drew kips up and tells him to bring it, delivering a trifecta of Future Shock DDTs for a two count.
Drew in shock but goes to the corner, doing the countdown to the Claymore but Lashley rolls out of the ring. Drew tapping into a little bit of Undertaker and does a Tope Con Hilo to take MVP and Bobby out and takes Lashley back to the ring, setting up for something in from the top. Lashley catches the challenger and goes to apply another Hurt Lock but Drew runs out of the way to stun Lashley. As Lashley goes to do another Spinebuster, Drew rolls it into a Kimura Lock, perfectly on before Lashley inches slowly to the ropes to kick out. Lashley now, getting his aggression out, taking it to McIntyre in the corner until Drew gets separation, going for another Claymore until MVP distracts the former champion and misses the Claymore for Lashley to get the Hurt Lock in. Drew looked impressive to break out but Lashley didn't break when Drew pushed off the corner and passes out from the pressure.
Tag Team Turmoil
Naomi & Lana vs Carmella & Billie Kay to start off the gauntlet style matchup as Naomi and Lana take the early advantage against Carmella. Carmella gets a tag onto Billie Kay but the advantage is still Lana and Naomi. When all four get in for chaos, Billie Kay goes for a roll up and beat Naomi and Lana for the next team to come out…
Riott Squad come out and take it to Billie early on but Carmella gets a tag and starts a beat down against Liv Morgan. Ruby breaks up the pin attempt but as Billie goes for the same pin attempt, the ref catches it and the Riott Squad get a tag and the advantage as Billie Kay gets brutalized, pinned and Carmella starts to beat up Liv before the next team come in…
Dana and Mandy come out and Ruby fights the two alone from the beat down as the fresher team gets things going and Liv barely gets a break of a pin attempt as Mandy and Dana work Ruby's neck now. As Mandy cuts the ring off from Ruby, Ruby starts to fight out of the corner and gets Liv into the match now as they start the beat down of Mandy Rose. As the Riott Squad lose the advantage, Rose and Brooke get some damage with a superplex and Swanton combination but Liv gets a reversal on Dana and get the pinfall.
Natalya and Tamina are the last two to get in the match up and start the powerhouse assault on the Riott Squad. The two getting the best of the most tenured tag team in the whole match up as Liv tries to break out of their grasp. Ruby gets the tag and hit the codebreaker/senton combination to Tamina only for a two though and Tamina gets the advantage back, gets the tag to Natalya and they hit a Hart Attack. Natalya looks to get the Sharpshooter but changes her mind and tags Tamina in for the Superfly Splash to get the Day Two Tag Team Championship opportunity.
Seth Rollins vs Cesaro-
Cesaro goes quick into the offense with an Uppercut and goes for the Swing early but Seth rushes out and panics with Cesaro getting more and more of a beat down. Cesaro getting a good amount of offense going as Seth starts to target Cesaro's arm and starts to pick things up after with his Superplex/Falcon Arrow combo after getting distance. Seth getting cocky again as he tries to take it to Cesaro but the Swiss Cyborg gets his strikes in again, taking down Seth with Uppercuts and goes for the swing again constantly, first time gets countered into a cradle, second time Seth gets to the ropes but the third time is the charm for nine rotations of the Swing and Sharpshooter. Seth breaks out of the hold and moves out of another Uppercut attempt from the corner, hurting Cesaro's arm again as Rollins gets his high offense in, knees, Slingblades and a 360 Splash but nothing keeps Cesaro down. Seth tries for a ripcord knee but Cesaro changes it into a Neutralizer and a two count. Rollins crawls to the ropes and gets his legs grabbed again for yet ANOTHER Swing but flips out of it, into a Pedigree but fails to get the victory again.
Rollins gets his speech in about being God as he hits Cesaro in time to set up the Curb Stomp. Rollins gets caught into a Uppercut (second best Stomp counter) and takes Rollins spinning, first with a no handed Airplane Spin, Giant Swing and finishes it with a Neutralizer.
(Now get my Red and Pewter out of my sight on Rollins. They are winners unlike you tonight, Seth.)
New Day vs AJ Styles and Omos-
We… are getting Omos to start off against Kofi…? Oh no. New Day goaded AJ to start.
Kofi and AJ using their speed to go off and do some of their big moves or attempt them as AJ thinks he gets an advantage but Kofi gets it, with a slam and near fall, teasing AJ after a beat down as the champs get frequent tags, even getting a Unicorn Stampede off before Xavier holds AJ down for a bit. They keep teasing Omos to tag in but to no avail, New Day beating AJ down more. Kofi goes to tease AJ to get to tag AJ but tags Woods in to cut him off from tagging Omos. After a flurry from AJ to separate from Woods, Kofi tags himself in and fights AJ from tagging the big man in until AJ separates himself from the two and realizes, "I can tag the big man…? I CAN TAG THE BIG MAN!"
Omos comes in and Xavier can't knock Omos down as Kofi tries to tag in and chop down the big man as The New Day… well to quote the remake of The Longest Yard… they shit themselves. Omos dismantles and smashes The New Day in the ring. Omos basically is breaking them apart as AJ flings over Omos for a Phenomenal Forearm and Omos two handed Chokeslams Kofi down for the win… Jesus Christ. They made him look like a billion dollars in the ring tonight.
Braun Strowman vs Shane McMahon-
As Braun comes in second, Elias and Ryker goes and beats Strowman down with chairs before the bell and Shane tells them to bring Braun in for it to start.
Shane grabs one of the chairs and beats Braun down with the chair over and over, going for a quick win and escaping but Braun, limping, stops Shane and taking more strikes from Shane for a good amount, limping and weakened as Shane breaks sheet metal from the top of the cage to continue the beat down and near fall. Braun now taking the fight to Shane as he stops Shane from escaping and tossing Shane into the cage walls over and over as Shane gets Braun's hands now before getting squashed between the cage walls. Braun gets the full advantage in the match until his legs give out from earlier and Shane slides out, doing a swinging DDT and setting Braun up to go from Florida all the way to Cali with the Coast to Coast for a second near fall. Ryker and Elias climb the outside to get Shane out but Strowman runs into the cage to loosen all three of them. More offense goes on before Shane gets away and climbs out almost until he pisses off Braun and… gets caught, pulling the cage apart and dragging Shane back in. Braun getting a bright idea as he props Shane up on the cage, going up himself before Braun launches Shane off the cage and climbs back in, stumbling and standing up for himself and everyone who was bullied that's watching before hitting a Running Powerslam for the win.
We get a small break for the cage to be taken down to honor the inductees to the 2020 Hall of Fame, Shatner, Liger, JBL, The Bella Twins, The British Bulldog, Titus O'Neal with the Warrior Award and the New World Order, Waltman, Hall, Nash and Hogan.
Bad Bunny & Damien Priest vs Miz & John Morrison-
Priest and Miz start it off and Miz goes to the corner and goads Bunny to come in and tags in as they walk around a little bit and Miz being an ass saying he can get the first shot as Bad Bunny pops Miz down. Bunny actually goes for a waist lock as Miz swings wild, Bunny ducks and gets another jab in before Miz gets pissed off and both of them trade blows in the corner of the ring before Miz gets the advantage, taking Bad Bunny into one corner and gets cocky a little before getting countered and Bunny flings Miz down with an arm drag. Miz rolls out and gets caught INTO A LA MAGISTAL AND A NEAR FALL! Miz had to get cheap after a a short pep talk with Morrison as Bad Bunny showing he's better than Enzo with the rope spot. Bunny gets the advantage again as he slides under the ropes and does a well done Tilt-A-Whirl Head Scissor on Miz before tagging Morrison and getting some control in the match for M&M.
Miz gets back in and taunts Damien Priest by putting Bad Bunny in a headlock, inches away from Priest until Bunny gets some fight in him, dropping Morrison from the apron and almost getting to Priest, countering Miz's stop with a Sunset Flip but getting beaten down after the pin attempt. Miz and Morrison take it to Bunny on the outside a bit. Morrison gets tagged in and taunts Booker T with a Spinarooni (A perfect one at that) as the tag to Miz gets in and Priest tries to get the crowd amped up. Miz cheap shots Priest and takes the ref's attention away as M&M just keep embarrassing Bad Bunny with kicks in the corner. Miz gets cocky again and goes for his signature clothesline in the corner but Bunny stops him, dropping Morrison's attack from the apron and hits a Tornado DDT onto Miz as he finally tags Damien Priest.
Damien goes to both men with his speed and strength, suplexing Miz into Morrison and hitting a chokeslam into a nearfall as all four men now get in the ring. Stereo Falcon Arrows, Damien Priest getting his step up Tope Con Hilo and Bunny with a crossbody. Priest gets Miz into the ring and Miz counters it into a Skull Crushing Finale into a pinfall. Bad Bunny goes to break it up and almost gets a tag in before Morrison pulls Bunny down. Bad Bunny having none of it from Morrison, hits a God Damn Destroyer as Priest props Miz up, gets the tag and lands a crossbody on the Miz for the win.
(Okay… Bad Bunny actually impressed me. Showed he cared. I give him props for that. I really do.)
Bianca Belair vs Sasha Banks-
Both women size each other up for Collar & Elbows and Sasha shoves Bianca down, getting the trash talk started before Bianca kips up and shows a good amount of her –est's, being Strong, Quick, Fast against Sasha as Sasha gets annoyed and gets caught by Bianca, rolling her out of the ring as Bianca goes to the outside. After some fighting on the apron, Sasha goes for a good suicide dive attempt but Bianca catches her and carries her to the ring as the match gets back to the ring. Bianca gets her usually offense going but Sasha actually grabs the hair of Bianca during the cartwheel and takes control this time around, getting her edge back and weakening the challenger. Sasha takes her to the corner and goes for the double knee attempt from the apron before Bianca catches her and drops her on her shoulder as they both go to the outside. Bianca's hair gets caught by Sasha and Bianca takes control on the outside before the ref gets to 8 and both come back in. Bianca showed off her strength this time after a cradle attempt and does an impressive amount of time on a stalling suplex. Sasha keeps using Bianca's hair to try to stop her after the Suplex but Bianca uses her hair as a ripcord effect into a clothesline. Sasha gets beat down from a Standing Shooting Star and getting propped into the corner as Belair goes for a 450 attempt from the top rope and Sasha counters, getting the momentum change momentarily.
Bianca catches some of Sasha's high speed offense and does powerbomb pinfalls as Sasha kicks out of the first two, reversing the third with an X-Factor and taking control back with a Tornado DDt for another near fall. Banks now goes to the top for a Frog Splash. Sasha gets her anger and ruthlessness to wrap Bianca's hair around her opponent into a Bank Statement and somehow, Bianca powers through and gets to the ropes before Sasha starts stopping on Bianca's face after the break. Banks keeps going with the trash talking but Bianca shoves her into the corner post with some Shoulder Tackles and sets her up for a Superplex. Sasha fights her off and attempts a cartwheel kick before Sasha grabs the feet into a Tree of Woe position to land a Meteora. Sasha misses the first one, goes to a knee strike from the Tree as Bianca sits up so Sasha lands knees first into the turnbuckle and eats a 450 Splash for a near fall. Sasha tries to get control again after but gets whipped in the midsection with Bianca's hair and after a fight to swing around, Bianca grabs Sasha up and lands the Kiss Of Death to win her first Women's Championship in WWE.
Overall Score: 8/10
Well not too bad for the first fan attended event for WWE… barring NXT of course. Bad Bunny showed he can actually care about wrestling, wasn't expecting a Canadian Destroyer… or I guess Puerto Rican Destroyer. Cesaro gets his moment, Bianca gets her moment. AJ Styles is now a Grand Slam Champion and every match except for the Tag Team Turmoil thing was pretty solid. I actually can't wait for night two of Mania. Did it match Stand and Deliver Night One? No. That is still the best match of the week so far but they brought a good amount of fire this night and held a candle to Night Two all things considered. Well we have one more day for me to do Mania Week writing so let's see if Night two can live up to Night One.
Just… people stop wearing my Bucs colors and lose in the process. Seriously. Disappointed me tonight Seth and New Day.