Tiffany's AEW Dynamite Takes: Take Me Home, Country Roads
The Elites descend onto the Queen City, Charlotte, North Carolina! Will Flair Country welcome the havoc of the Elites?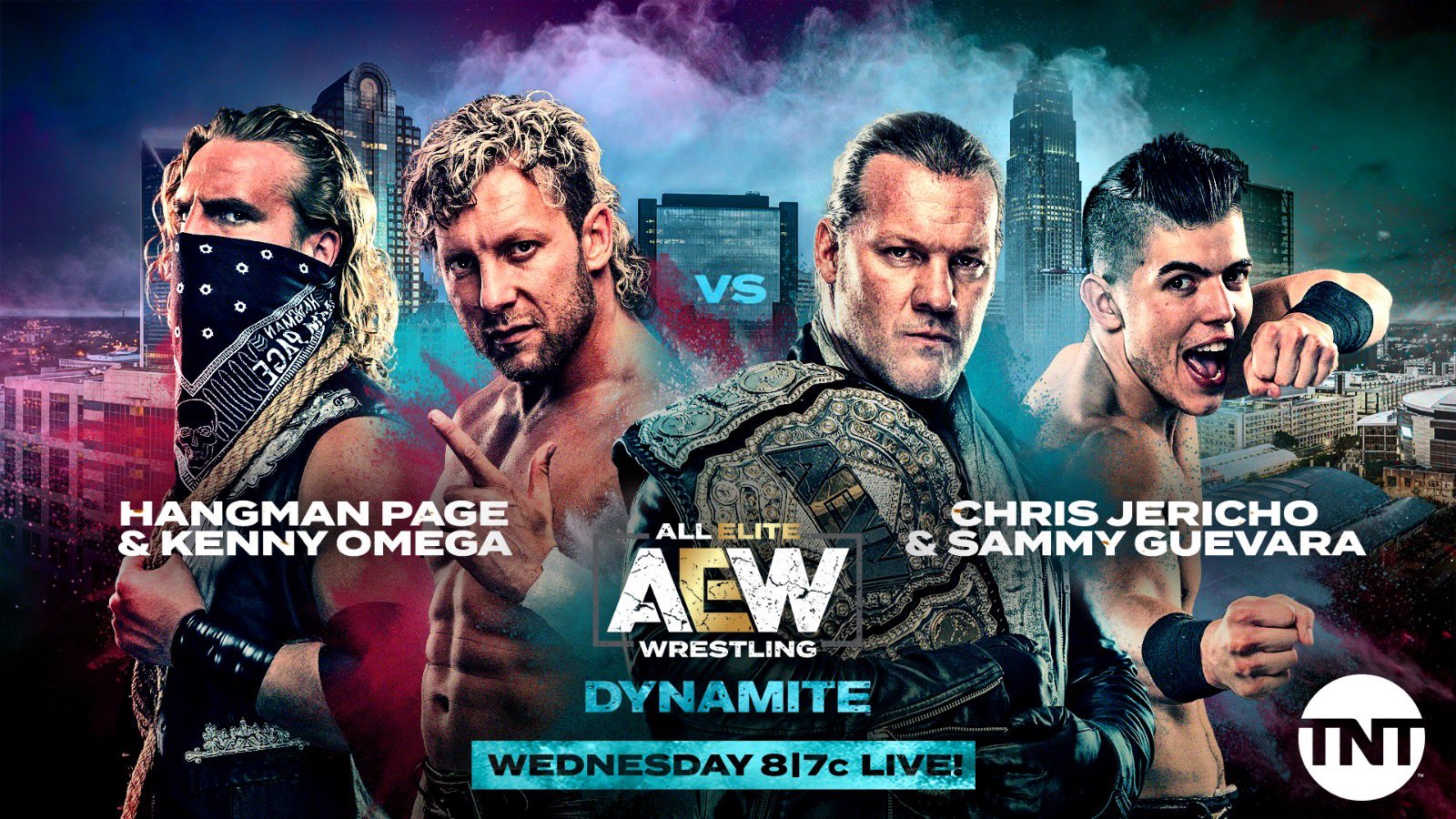 The Elites descend onto the Queen City, Charlotte, North Carolina! Will Flair Country welcome the havoc of the Elites?
PAC vs Trent?
I'm not sure what brought this match on, but I'm not going to argue about it either. Trent was actually part of FCW before and right after FCW became the revamped NXT, and PAC was an NXT Champion as Adrian Neville.
The match was really good. I'm not sure there's much else to say, especially with it being a random match up. Seeing Orange Cassidy get knocked the fuck out was pure entertainment. I will say that I think there was a flub because Trent didn't kick out that I saw, but I'm guessing he was supposed to and the ref went for it.
I'm going to guess Trent was just chum for the PAC shark but PAC's promo was REALLY good. I don't remember hearing Neville talk all that much in WWE, and that's disappointing.
Cody
I like Cody cutting the BS about Jericho bringing in people because the people he brought in were people Cody was looking for.  Love the tribute to the old timers…and to Dream. Hearing that Dream was still over in Charlotte makes me very happy.
I'm not surprised Cody put his career on the line in the title match, I kind of figured that's what the announcement was. I loved him calling out Jericho, I love Carny Succubus. Put that on at t-shirt.
I'm going to admit something: I used to dislike Cody. I always wrote him off as an average talent riding his daddy and brother's coattails, but watching him outside of WWE and in AEW, I'm surprised by how much I like him. I loved this promo and I want him to win.
Dark Order vs Private Party  – Winner gets a Tag Team Championship Match at Full Gear
SCU has become more obnoxious, if possible, if only because of Frankie Kazarian. I'm not sure if the Tag Championship match is going to be a one-on-one or a triple threat. It SOUNDED like it was going to be a Triple Threat, but it's a little unclear.
I don't get The Dark Order. I just don't, so I didn't really care about this match. It was good, but I can't say I was overwhelmingly wowed by it. Private Party won and it's looking liek we're getting a triple threat on Saturday.
Chris Jericho
Who the fuck worries about calories when they're drinking champagne, or alcohol in general?
I love Jericho's answer to Cody's first vignette about their title match and satirizing it. Loved the appearance by Virgil/Vince and the church lady.
Jamie Hayter and Emi Sakura vs Shanna and Riho
This match turned out better than I thought it would. Sakura and Riho worked REALLY well together.
There's been a lot of criticism about AEW's women's division, and a lot of their talent needs work, but these four showed how good it can be if given time and support by AEW management. I'm a little surprised Riho got pinned, but there were rumors that Riho vs Sakura is going to be on Full Gear.
Brandi Rhodes
Another great promo from Brandi. No, Brandi isn't the greatest wrestler in the world, but she can cut a hell of a promo and bringing Awesome Kong back is genius.
Shawn Spears vs Brandon Cutler
Loved hearing that pop for Tully Blanchard. Charlotte hasn't forgotten him. Rest of the match was 'eh'. I like Cutler, but he's not a standout talent. The match was really just to further the feud with Janela, which I won't argue with, and keeps Janela a babyface after he attacked Jimmy Havoc on AEW Dark.
Jon Moxley vs Kenny Omega Promo
I like that Omega calls BS on Mox being upset about the unsanctioned match. Shows how little he truly knows about Mox. I'm almost afraid this match can't live up to the hype, they've built it up so much. Mox in a hospital bed, hooked up to IVs is disturbing.  I do love the clips of his old, hardcore, days. Oh, Kenny, you have NO clue what you just got yourself into. You DON"T want to see that darkness. Ask Seth Rollins what happens when you see Jon's darkside.
Kenny Omega and Hangman Adam Page vs Chris Jericho and Sammy Guevara
To be honest, I wasn't into this match as much as I wanted to be. It was a really good match, but I was just 'eh'. The real show was the aftermath with all hell breaking lose between the Elite, Inner Circle, and Moxley.
Normally, I'd say Cody standing tall meant he was going to lose on Saturday, since that's WWE's MO, but I'm not sure. I LOVED Mox showing up, but I'm a little curious to see what his relationship to Inner Circle is since he distracted Cody. Oh, never mind, P n P jumped Mox AND Omega just for the fuck of it, which brought out the Bucks. It was chaos and I loved it. Omega and Moxley alternating between fighting each other and fighting Inner Circle, which is hilarious!
Full Gear Card:
AEW World Heavyweight Championship Match – Chris Jericho vs Cody. If Cody loses, he will no longer challenge for the AEW Heavyweight Championship
Unsanctioned Match – Kenny Omega vs Jon Moxley
Triple Threat AEW Tag Team Championship Match – SCU vs Lucha Brothers vs Private Party
AEW Women's Championship Match – Riho vs Emi Sakura
Hangman Adam Page vs PAC
Britt Baker vs Bea Priestley
Shawn Spears vs Joey Janela
That's it for Tiffany's Dynamite Takes! Tune in Saturday for Full Gear coverage!