Unprotected: WWE Survivor Series…A Tainted NXT Win?
Gouesmi Oussema gives his honest opinion about Survivor Series and NXT's overall win at WWE Survivor Series against RAW and Smackdown.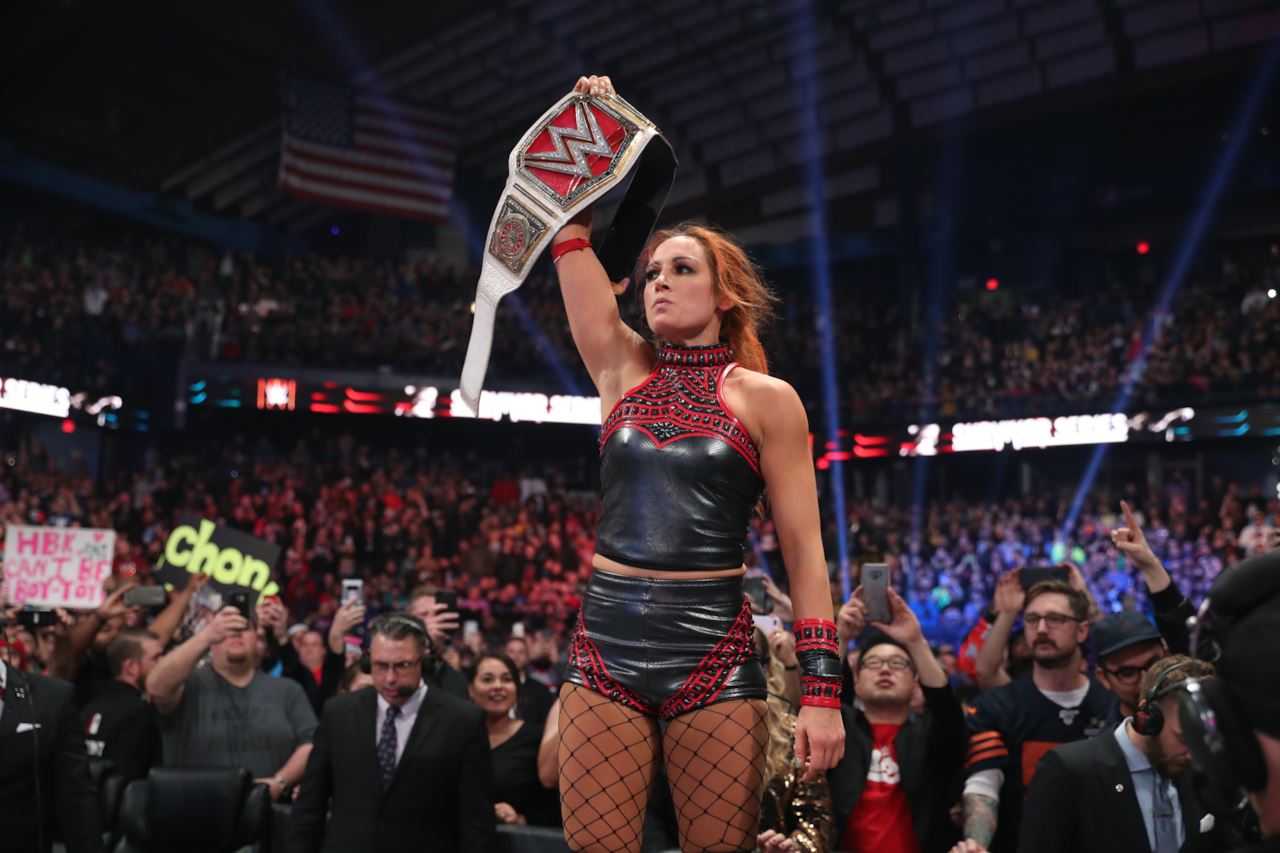 Gouesmi Oussema gives his honest opinion about Survivor Series and NXT's overall win at WWE Survivor Series against RAW and Smackdown.
How you can end a show where you are supposed to highlight NXT as a new and competitive brand?! … By having RAW women's champion Becky Lynch stand tall at the end. Good Stuff!!
Well, she didn't win the main-event which was, judging by fans' reaction online, an average match. However, she still was the last women standing to close the show. To clarify, the Women's triple threat being the main-event is not a wrong decision, but the booking of such match was slightly outlined to make Becky Lynch as not involved as possible. Shayna Bazsler should have choked Becky not Bayley, particularly if WWE wants to build seeds for a singles match between them at WrestleMania 36.
That was a sample of a show that was very good on in-ring action, yet somehow partially-nonsensical. The PPV was a breeze to go through, compared to other shows, and it has some incredible matches peppered throughout. However, it was hampered by a number of details that, for a critical viewer like your writer here, might damage the viewing experience.
NXT women's team winning was a great choice to start the show on a high, yet its booking makes almost zero sense. Io Shirai and Candice LeRae were (presumably) injured mid-match, only to make it back near the end while Rhea Rhipley (the last member of Team NXT), and Sasha Banks were the last two (and actually had a terrific final sequence), which poses the question: was this an intended tactic from NXT to be two women down??. Also, we had the usual "Protect Charlotte Flair" trope through Asuka hitting her with the mist. Overall, NXT winning was deserved as a concept, but they were booked almost too heelish that you would want them to lose on any other day.
The Men's elimination match was a really good sprint of a match as far as action, yet its structure also makes little sense. WALTER (yes! that chopper guy), got eliminated first (What??) by a single Claymore kick. Tomasso Ciampa got eliminated by the loathed Jesus of Wrestling Seth Rollins (Why??). Matt Riddle got eliminated by Baron Corbin (Come on!!). By the way, Nobody cares about Damien Priest here so why should we??. Keith Lee, was the only person who was made to look like anything near a megastar, eliminating SETH ROLLINS, and having a titanic showdown with Roman Reigns who put him over in defeat by offering the fist bump of respect.
Roderick Strong's win over Nakamura and Styles as well was affected by two factors: First, the lifeless nature of the crowd after a very energetic Women's 5 on 5 on 5 match. Second, the match itself being slower than usual which doesn't help when you have a crowd that was (and would be) burned out throughout the night. Elsewhere, Undisputed Era lost to the Viking Raiders on the kickoff show in a good match.
Now let's shift gears to that main-event again. Its biggest problem was the anticipated Ronda Rousey, which didn't happen by the way, damaging the pacing as well as crowd interest in the match. Not only that, but the three ladies were wrestling way slower than any of them actually is. In turn, this pace made the match clunky and disjointed at points, with Becky Lynch not getting much time to interact with Bazsler despite the build to the match nearly excluding Bayley in favor of them both. To reiterate again, Shayna should have tapped or choked Becky to win, considering the potential for feuds in the future. Instead, we got Shayna tapping Bayley, yet instantly usurped by Becky while celebrating which almost concludes the story before starting it. Sure, it will pop again later, but for the night that was ill-thought.
Overall, NXT may have won the night and "conquered" the other brands. However, this victory falls flat on a closer look. Certainly, I (and a lot of fans I guess) got some nice dream mini matches/combos during the inter-brand 5 v 5 v 5 matches (particularly the women), yet not so much for the booking or storyline development. Survivor Series 2019 in general might be a case study either in nonsensical booking transcended by great wrestling or awesome wrestling damaged by "bulls*it" booking. Either way it goes, It won't matter at all in 24 hours time.
This is one man's opinion after all, tell me yours in the comments or reach out on Twitter @Austin316Tn. Till Next Time Guys!!