Andrew's Impact Wrestling Ratings & Analysis: 12/10/2019
We crown a number one contender for the tag titles tonight on IMPACT! Let's see what else goes down!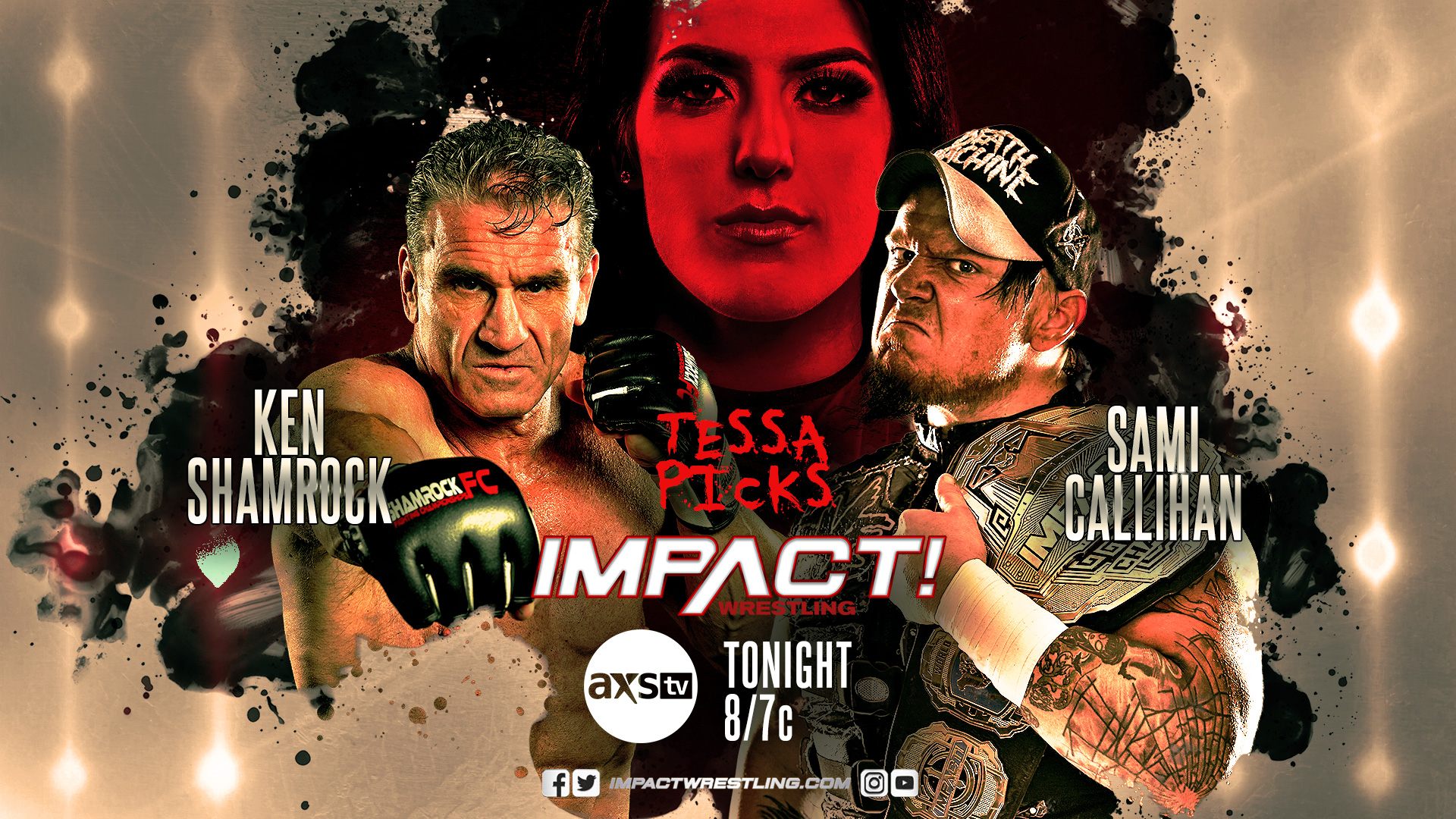 We crown a number one contender for the tag titles tonight on IMPACT! Let's see what else goes down!
Aside from the tag team match, we saw last week that Tessa and Sami have both handpicked someone for the other to face.
Sami picked Fulton, because well…wouldn't you? He's a 6'8″ psychopath. Most people don't stand a chance against him.
Tessa picked Ken Shamrock. World's Most Dangerous Man, even though he's 55, is still shredded and looks like a beast.
Now let's get ready for the show by listening to what Sami has to say:
"I'm either going to knock Ken out or I'm going to break his ankle because that's I do. I hurt people." @TheSamiCallihan is prepared for @ShamrockKen tonight. #IMPACTonAXSTV pic.twitter.com/wEDtCGjcsE

— IMPACT (@IMPACTWRESTLING) December 11, 2019
Ratings:
Old School Rules: RVD vs Rhino w/Special Referee Tommy Dreamer: RVD wins via 5 Star Frog Splash – ** 3/4
Moose vs Acey Romero: Moose wins via Spear – ***
Raj Singh w/Rohit Raju & Gama Singh vs Fallah Bahh: Fallah wins via BAHHnzai Drop – * 1/2
Tag Team Open: Dave & Jake Crist vs Reno Scum vs Dez & Wentz vs Willie Mack & Rich Swann: Swann via Victory Roll – *** 1/4
Tessa Blanchard vs Madman Fulton: Tessa wins via DQ – N/A
Sami Callihan vs Ken Shamrock: Calliahn wins via Ankle Lock – **
Analysis:
Old School Rules: RVD vs Rhino w/Special Referee Tommy Dreamer – Old school rules is just another way to harken back to ECW, and this…paled in comparison to a lot of ECW throwback matches. They played a few of the hits with Katie Forbes acting as curby eye candy and even a distraction for Tommy Dreamer towards the end of the match. The Gores looked a little weak and the steps were slow. It was okay, but cements the concept of they need to stop doing these.
Moose vs Acey Romero – This was a hell of a heavyweight slugfest. Acey held his own very well, and it wasn't until Moose drove him into the post on the outside, that Moose took some momentum away. Big Go to Hell off the top rope gave Moose a nearfall, but Acey responded with a Pounce that sent Moose flying. Moose got busted open, and Acey was about to squash him in the corner, Moose moves and hits the Spear for a pinfall. Very close match, and being Acey's first singles match on IMPACT! he looked like a force to be reckoned with.
Is there only so long Father James Mitchell can keep @realsuyung away from her past…and @WeAreRosemary? #IMPACTonAXSTV pic.twitter.com/n2Vz7EqTcr

— IMPACT (@IMPACTWRESTLING) December 11, 2019
Raj Singh w/Rohit Raju & Gama Singh vs Fallah Bahh –  Raj and Rohit keep trying to prove themselves to Gama, and after picking on Fallah, they look to make an example of him. Sufficed to say, Raj isn't a real challenge for Fallah. Raj does show some decent power Suplexing Fallah, but no one had faith in him winning. The finish did show the return of TJP, so there's a good angle for him to come back. Match was nothing special, but Fallah is a lovable babyface, so it's always nice when he gets a little bit of momentum.
Right before the commercial we get Joey Ryan being summoned to Wrestler's Court
Dee Lorian "D'Lo" Brown has been called to testify. #IMPACTonAXSTV @dlobrown75 pic.twitter.com/mngKye3kVN

— IMPACT (@IMPACTWRESTLING) December 11, 2019
"They say I couldn't hack it back in their day. I go back and watch those old tapes and all I see are guys in bad gear, taking themselves way too seriously and throwing really, really goofy looking punches." @JoeyRyanOnline mounted a stirring defense in Wrestler's Court. pic.twitter.com/c2CcEc9Yax

— IMPACT (@IMPACTWRESTLING) December 11, 2019
Tag Team Open: Dave & Jake Crist vs Reno Scum vs Dez & Wentz vs Willie Mack & Rich Swann – All eight competitors are legal at all times, so Tornado rules allow for some crazy happenings. After a few quick dives to the outside, Mack and Swann start to get a little bit of an advantage, but after a Corkscrew Plancha, Willie's knee gives out and he needs to be taken to the back. Most of the doctor forcing Willie to the back was during the commercial break, so by the time we return, we return to action. Each team had great moments and showed why they are competent tag teams. Luster Crucifix Bombed Rich into Dave Crist while he was hanging in a Tree of Woe, The Rascalz hit Hot Fire Flame, but Jake Crist broke up the pin. It looked like the Crists were going for All Seeing Eye, but Rich rolled Dave into a Victory Roll while Jake missed off the top rope, and picked up the pinfall. So now we wait and see if Willie will be healthy enough to go, or if there will be drama.
Taya interview in the back, discussing her now Triple Threat at Hard to Kill.
ImpactPlus Flashback Moment: ODB vs Brooke Tessmacher vs Gail Kim, Knockouts Championship. Bound for Glory, October 20,2013
Brian Cage interview that looks to be setting up for a possible RVD and Cage feud:
We all had that one roommate.#IMPACTonAXSTV pic.twitter.com/cxJvcBUJJI

— AXS TV Wrestling (@AXSTVWrestling) December 11, 2019
Tessa Blanchard vs Madman Fulton – This is one of those matches that give fuel to the people who think this storyline is ridiculous. But much like how you'd book a small man against a monster, this gave Tessa a few hope spots using Fulton's momentum and height against him…but the Crists come out for the DQ. So it was hard to believe Tessa could win straight up, but thankfully, oVe are heels that swarm for the fun of it. Ken Shamrock comes out to make the save, and sets up for the main event.
Sami Callihan vs Ken Shamrock – Early on Shamrock was showing his legitimate side when he shrugged off everything Sami tried. But in true Callihan form, he spat on Shamrock and kept antagonizing him, even though he wasn't really accomplishing anything. Callihan did pull off a Death Valley Driver, but Shamrock kicked out and if it weren't for Sami pulling the referee into the corner when Shamrock came in for the splash, Sami was outclassed. Madman Fulton came in while the ref was down, hit his End of Days, and Sami slapped on an Ankle Lock, so when the referee came back to consciousness, he saw Shamrock was out and in the Ankle Lock.
Afterwards Fulton continues to beat on Shamrock and tosses him from the ring to the outside. Sami has to beg Fulton to stop and push him backwards. Is Sami losing control of the monster? 
Overall Score: 5.5/10
I think I accept a little more sports entertainment in my wrestling than many other people, but this episode felt like it overdid it a bit. Wrestler's Court was funny, from inside jokes, winks to former Impact characters and just a good mix of meta humour and easy to follow jokes. RVD just unabashedly being a prick is a nice way to keep him fresh and definitely a good way to make people boo a rather beloved wrestler.
Aside from those though, the rest of the show felt like it was still in first gear. Acey had a good IMPACT! debut, the tag match was entertaining and sets up for possible drama with Mack and Swann, but the payoff is still down the line. And the final two matches ending with shenanigans, just leaves a weird taste in the mouth, and it's hard to really see past a middling last half hour.
Not a bad show, but very average. Since Impact has been on such an upswing this year, whenever even an average show happens, it tends to feel a little worse since expectations are set fairly high. They can't all be winners, but at least this wasn't an unmitigated disaster.
Andrew's IMPACT x NJPW Multiverse United Results & Match Ratings: 3.30.2023
Late start times, card changes and special opponents! WrestleMania weekend blesses wrestling with some weird stuff. Multiverse United NJPWxIMPACT!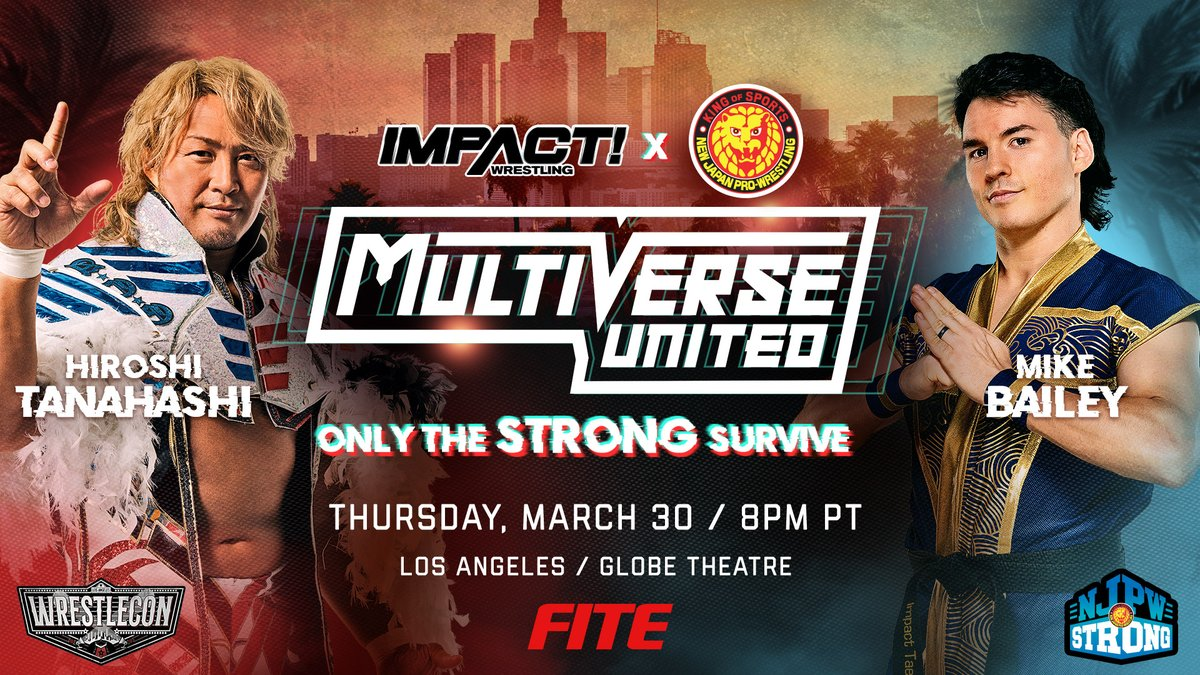 So the IMPACT! episode was just the pre-show plus some talking and never televised matches, thus not really worth discussing. I really don't love the show starting at 11pm est on a Thursday, but yeah I know, 'first world problems' OR 'now you know how EU feels'. I never said it was worse, I don't want you to put it in perspective, I just wanted to complain.
Either way, I'm not really invested in most of these matches except KENTA vs Suzuki and Tanahashi vs Bailey. I can only hope some of these matches add to a few stories since injuries  mixed up a lot of IMPACTs plans; and of course I hope a few of them are good enough to justify being up so late.
Now let's just get to the show!
.@JodyThreat is on her way to @IMPACTWRESTLING!#IMPACTonAXSTV pic.twitter.com/G4jiL6d7ek

— IMPACT (@IMPACTWRESTLING) March 31, 2023
Ratings:
X Division Championship: 6 Man Scramble: Rich Swann vs Trey Miguel (c) vs Kevin Knight vs Frankie Kazarian vs Clark Connors vs Rocky Romero: Trey retains via Pinfall – *
8 Man Tag: Eddie Edwards, Tom Lawlor, JR Kratos & Joe Hendry vs Callihan, Fred Rosser, Alex Coughlin & PCO: PCO wins via PCO-Sault – ** 1/2
Jeff Cobb vs Moose: Cobb wins via Tour of the Islands  – *** 1/4
Knockouts #1 Contender 4 Way: Gisele Shaw vs Deonna Purrazzo vs Masha Slamovich vs Miyu Yamashita: Deonna wins via Queen's Gambit – ***
IMPACT Tag Team Championships: Bullet Club (Ace & Bey) (c) vs Motor City Machine Guns vs Aussie Open vs TMDK: Bullet Club retain via ABC 1-2-Sweet – *** 1/2
Lio Rush vs Kushida: Kushida wins via Hoverboard Lock – *** 3/4
NJPW Strong Open Weight Championship: KENTA (c) vs Minoru Suzuki: KENTA retains via Cradle w/Feet on Ropes – *** 1/4
Hiroshi Tanahashi vs Speedball Mike Bailey: Tanahashi wins via High Fly Flow – ****
Results:
X Division Championship: 6 Man Scramble: Rich Swann vs Trey Miguel (c) vs Kevin Knight vs Frankie Kazarian vs Clark Connors vs Rocky Romero
Trey kicks things off by just verbally berating everyone, so they dog pile on the dipshit. Then we get a Human Centipede of Headlocks, which is a little dumb but it was the opening goofball spot; and then we get the stupid simultaneous 5 way Dropkick, ugh. After the leg pick, Trey comes in, drops everyone, gets cocky and then gets dropped. Rocky Lariats Kaz out of the ring and then Knight and Swann double team Connors.
We're just going through a few greatest hits spots. Each guy is going to get moments of doing something cool, then there's a pinfall scramble on Kaz after Knight catches him mid Leg Drop. This definitely is just spots and a little comedy, so its a weird combination of a Japanese Rumble and stupid Indy show. Oh look a Tower of Doom spot, I'm so shocked, no one has ever done that before *glances at Indy Garbage Multi-Man Bingo Card* – Yeah that's a Bingo.
Oh Forever Lariats start Rocky's time in charge but its cut short by Connors just Spearing everyone into tomorrow. Knight tries to dodge the Spear and keep Connors in the corner, but when he tries to jump up and pluck him off the perch, Connors hits an Avalanche Spear. Trey runs in, pushes Connors out of the ring and steals the pinfall.
Shit match, spots for spots sake, at least the finish was a little clever.
8 Man Tag: Eddie Edwards, Tom Lawlor, JR Kratos & Joe Hendry vs Callihan, Fred Rosser, Alex Coughlin & PCO
Well these teams make no damn sense. So it should be interesting who eats the pin (I'm assuming Coughlin), and if this goes anywhere. 
Callihan and Eddie start off, no baseball bats in sight, but they start with a Hockey Fight. Callihan with a T-Bone Suplex, tags in PCO and Eddie retreats and tags in Lawlor. Lawlor wants Rosser though, and PCO obliges. Rosser drops Lawlor early, but Lawlor gets the advantage and tags in Hendry. Tags are quick, Rosser does some moronic short hammers that Hendry absorbs and just looks stupid as hell. Coughlin gets tagged in, tries to fight Hendry with power, fails and Kratos comes in.
Kratos is winning early until Kratos tries a Corner Splash, and Coughlin literally catches him and then a Overhead Belly to Belly, flinging Kratos across the ring. Alex tags in PCO and now we get a monster fight. PCO hits the Avalanche Frankensteiner and then the match breaks down. Everybody in, throwing hands and Callihan/Lawlor decide to stick in the ring. Car crash spots with Planchas, Suplexes onto the apron, PCO tosses Eddie over, wants to Dive, but Kratos cuts him off with a Pounce. Kratos looks outside, decides to fly himself. PCO comes back to life, PCO Sault onto the pile of people on the outside.
Somehow we boil back down to PCO and Kratos, who were actually the legal wrestlers. Rosser and Eddie decide to pick up the pace a bit in the ring. A weird corner combination and successive Hip Attacks into a Northern Lights Suplex Hold for 2. Rosser tries for a submission, Shining Wizard from Lawlor to break it up, Coughling comes in and suplexes both of men at the same time. Hendry is in, scoops Rosser and Coughlin, stacked up Sack of Shit, but then Callihan pops in, throwing hands but the Lawlor team gets the best of things for now.
JR Kratos gets tagged in, looks to try and put away Rosser but Rosser gets out of it and tags in PCO. Stare down of the big boys and then strike exchange. Scorpion Death Drop from PCO, into PCO-Sault and that's the match!
Jeff Cobb vs Moose
All I will say is, my boots.
They go for the classic big guy thing of Shoulder Tackle trades, then he Leap Frog's Cobb, and connects with the Okada Dropkick. Cobb does take Moose off his feet, and Moose powders. He gets back in, they tie up and then start trading chops in the corner until Cobb finally cuts off Moose with a Dropkick of his own, following up with the Gachimuchi Sault for 2.
Cobb mocks Moose as he's face down and Cobb does the Moose chant while standing on him like a surf board. Moose reverses the offense, throws him into the corner follows with a Dropkick and then a Hesitation Dropkick. Moose charges, Cobb gets the foot up, climbs the ropes, GO TO HELL – for 2. Moose sets up for Lights Out, Cobb dodges and Moose goes shoulder first into the turnbuckle.
Climbing the corner, Cobb collects Moose and goes for the Outside-In Avalanche Vertical Suplex. After a 2 count, they both are slow to get up and throw stumbling and haggard punches. Moose tries to punctuate things with the Rolling Forearm, Cobb sneaks him tries for his own Rolling Elbow but Moose catches him. They mirror one another's offense, Lariats, Kip Ups and then a big crash in the middle that sends both falling out of opposite sides of the ring.
Once they get in, they both start throwing hands again. Cobb tries to scoop him up, Moose slips it, pushes him into the corner, goes up top. Cobb pushes him back, Moose leaps to the top and finally pays back the Superplex from earlier. Moose tries for Lights Out, Cobb moves but Moose stops himself this time. Cobb tries to hit the ropes, Moose with the Pump Kick, into the Escalera Backflip for 2, as Cobb rolls through and lifts up Moose from the mat. Moose is getting manhandled a bit but manages to slip away at first, Rolling Forearm…but he's caught by Cobb and Cobb turns it into a Tour of the Islands for 3!
Knockouts #1 Contender 4 Way: Gisele Shaw vs Deonna Purrazzo vs Masha Slamovich vs Miyu Yamashita
The crowd cheers on Masha, Miyu and Deonna, but Boos Gisele.
Gisele powders before the tie up, Masha gets thrown out at first and then its Deonna and Miyu. They actually shake hands and there's some respect. Miyu tries the power with the Shoulder Tackles but Deonna doesn't budge. Miyu gets frustrated, throws a kick, Deonna ducks and takes Miyu off her feet. Gisele picks the leg on Deonna and drops her to have a little bit of a kick battle with Miyu. Miyu gets the best of that, Deonna hits them both with a Baseball Slide, Masha with a middle rope Crossbody. Gisele climbs the corner and a Corkscrew Splash into the pile on the outside.
As Gisele is trying to work over Deonna in the ring, Masha comes out of nowhere with a Waterwheel Kick to drop Gisele. Deonna turns the tide with a Headscissors and Moonsault from Deonna. Miyu tries the Mochizuki Triangle Kick but Masha ducks. So Miyu starts running between all three just looking for something to connect. Big kicks from all four women end up dropping all of them at some point. All four women do different rope run cut off spots.
Deonna hits another Headscissors and looks for the Fujiwara on Masha. Masha rolls to try and turn it into a pinfall but over rotates. So the lack of needing to break the pin threw off Miyu and Deonna's timing. So the Triangle Kick spot is a little weird looking. Gisele drops Miyu, Masha hits an Avalanche Russian Destroyer on Gisele but Deonna goes after Masha.
Skull Kick from Miyu, Denouement from Gisele, Powerbomb into Queen's Gambit, Deonna wins!
Sloppy towards the end, but generally decent and entertaining with logical spots. 
IMPACT Tag Team Championships: Bullet Club (Ace & Bey) (c) vs Motor City Machine Guns vs Aussie Open vs TMDK
Shane Haste and Alex Shelley start off the match. Haste feigns a lock up and tries a quick kick, as Tito sneak attacks, so the Guns and TMDK start exchanging. Aussies try to get cute but MCMG deposits them with TMDK. Bullet Club try a cut off but MCMG dump them on the other side. Quick Dive on the stacked side as MCMG try for Skull and Bones on Shane, but he gets out of it, Tito also makes sure to help out a bit, Shane hits a huge corner Cannonball as he tags in Tito. Tito Slingshot Senton and Shelley is getting worked over.
Quirky offense from Shane is weird but effective. He tags in Tito, who looks like he's gonna do an avalanche move but hops down and just punches Alex. Tito drops Sabin, goes to the top, misses his Splash as Alex looks around, sees no Sabin but Chris Bey offers his hand and Alex begrudgingly takes it. Fluid offense from Bey, Code Red really gives him momentum until Aussies blind tag Tito and start clearing the ring. Fletcher does the pass off Stalling Suplex to Davis after the tag and a cocky tag from Davis is only 2. Bey is trying to fight through the tandem work from Aussie Open, manages to tag in Ace and he opens with the Triangle Kick that Fletcher ducks but he connects with Davis. Ace with his okey doke on the apron as he dodges all of TMDK, ABC 1-2-Sweet attempt but Sabin breaks with a tag. MCMG with some classic tandem offense on Aussie Open. 5 Hole Dive from the Guns, then Bey with a Tope con Hilo after a blind tag. Davis stops the tandem attempt by just Avalanche Powerbombing them both, Pendulum on Bey for 2.
Corealis attempt, but Ace stops it, signature spam time! High Speed Dirt from MCMG, Davis stops the tandem attempt with a Double Lariat, Bullet Club also tries but Davis won't be stopped. Shane Haste makes a valiant effort but it looks like Haste is about to get finished until Tito sends Fletcher flying off the tope rope. Tito tries to take out Bullet Club but ABC 1-2-Sweet retains!
Lio Rush vs Kushida
I mean, Kushida can't lose this when he's got a title shot at Rebellion. No one wants to see Lio Rush make the title match a Triple Threat.
Kushida goes to the ground doing the Inoki taunt. Kushida wants to try and neutralize the high flying stuff. Lio plays a little keep away and then slides through Kushida's legs and does the Full Guard Inoki kind of smarmy taunt. Back and forth, Tanaka Punch from Kushida but Lio with a Matrix dodge and they keep exchanging strikes. Lio tries to keep things quick but the Handspring Heel Kick sends Rush to the floor, little Liger style Muscle Pose and Rotate before Lio turns things around a little once Kushida follows him to the outside.
Rush is trying to stay under the bottom rope but Kushida isn't really giving much space. He continues to step on and twist the different arms and the referee is letting it play a little. Kushida twists both Rush's wrists and then tried to turn it into a Cradle before Kushida drops down basically with a Figure Four on the arms. Kushida is putting huge and almost vicious focus on the arms. What happen to our happy little Time Splitter?
Lio connects with Kushida, tries to hit the ropes with a Handspring but Kushida just PKs either his face or one of the arms, just simple, violent and effective. Rush starts just using his body as a weapon and throws himself into Kushida to try and find some space. Rush tries to go to the top, Kushida meets him, hunts for the Hoverboard but Rush fights him off twice. Frog Splash but Kushida moves, Rolling Elbow from Kushida, responded by a Pele Kick, they start swinging and as they're falling to their knees big swings clock both at the same time.
Kushida starts absorbing Lio's attacks, as he sells the arm damage, Rush goes for a Naciente, but Kushida stop the momentum and goes for the Hoverboard. Lio gets out of it, Back to the Future attempt countered into a Cradle for 2. A few strike attempts, swings and missed, Lio connects with a kick. Goes to try and collect Kushida but he finally hits Back to the Future…for 2! Arm Breaker, PK to the arm attempt, but Lio moves, Poison Rana, Springboard Low Rope Stunner (a little sloppy) but still gets a 2. Lio goes for a Frog Splash, Kushida catches him coming down and sinks in the Hoverboard Lock for the win!
I'm not a fan of Lio, but that was much better than I expected. 
NJPW Strong Open Weight Championship: KENTA (c) vs Minoru Suzuki
KENTA toys with Suzuki a little early, not really committing fully to a lock up, rubs his head and then retreats into the ropes pretending to stretch. Suzuki finally gets frustrated with the rope break play and kicks KENTA in the ass, literally. Hanging Arm Bar from Suzuki as he has to break because its illegal, and then Suzuki starts exploring the outside of the ring with KENTA's face. KENTA turns around the Whip, and then rolls Suzuki in for a second to break the count as he then pulls him back out to throw strikes.
Strikes, Eye Rakes, just rough tactics from both men. KENTA stomps down on Suzuki as he starts coming back in, turns his back on Suzuki and Suzuki kicks him. KENTA paintbrushes him a few times disrespectfully, as Suzuki starts staring him down. Eye Gouge, Rude Awakening, and now PK's to his back and Suzuki is just getting agitated. Suzuki stands up, and KENTA tells him to hit him. So they trade a little and then the Eye attacks continue, which is great story since KENTA is annoyed when Suzuki went after his face a few weeks ago. So its turnabout being fair play…to a degree.
Snap Mare from KENTA, stomps to the face, KENTA lowers the knee pad, feigns the Knee Drop but stops and wipes his boots on Suzuki's face. Again, pissing off Suzuki. KENTA connects with about a dozen kicks as Suzuki rises and gets more annoyed. Punishes KENTA in the corner with big Elbows, chokes him a little with the boot, Knee Lift, Irish Whip, Yakuza Kick into Snap Mare and a PK of his own. Suzuki went for short Hamstring Kicks to drop KENTA and sink in a Heel Hook. KENTA rolls to the ropes and gets the submission break.
Murder Grandpa is now in control, not quite Garvin Stomps but KENTA is being stepped on. Jawbreaker from KENTA into an old school Jake Roberts style DDT. Avalanche Lariat for 2. KENTA speeds up a little and Figure Four! Suzuki gets to the ropes, KENTA tries to German Suplex, but Suzuki blocks. *looks at watch* OH it's Fighting Spirit O'Clock. Suzuki wins the strike exchange, takes a little bit to take in the crowd reaction, as they now trade Big Boots. KENTA cuts off Suzuki's Boot with his own, hits a second one and Suzuki retreats to the corner. Busaiku Knee in the corner, Hesitation Dropkick, Double Footstomp…for 2! KENTA calls for Go 2 Sleep, Suzuki fights out causing KENTA to crumble down and Suzuki sinks into a Sleeper Hold. Rope runs, end around, Sleeper almost, and again, but KENTA throws the referee, Low Blow on Suzuki, Cradle with feet on the ropes for the win!
Hiroshi Tanahashi vs Speedball Mike Bailey
Tanahashi has an amazing ability to help create matches around his limitations; he also does well in clash of styles matches. This could be surprisingly really good. 
Bailey offers the handshake, Tanahashi is suspect at first but eventually concedes to do it and its clean from both of them. Tana starts with the Top Wristlock, Bailey does the back and forth rolls, takes down Tana and manages to wrestle him into the corner. Tana turns things around in the corner, Bailey tries to look for a clean break but Tanahashi takes a small liberty with a body shot. Tanahashi then sends him into the corner and hits his Twisting Crossbody nicely. Bailey with his Naomi Kicks (if you will), punctuated with an Enzuigiri to send Tanahashi to the outside. Bailey stays on top of the living legend, a few strikes and a Running Kick as he sends Tanahashi back in.
After missing a High Risk move, Tanahashi slides in with a Low Dropkick, and he starts working on Bailey's left leg. Stomps, Punches, playing air guitar on Bailey's leg and then going back to working on the knee. Bailey tries to fight back from the corner but Tana responds with a big ole bitch slap. Bailey gets a head of steam, drops Tanahashi, Sole Butt, Sweep, Standing Shooting Star Press for 2. Bailey fights through the left leg pain to try a Buzzsaw Kick, but misses as Tanahashi comes off the ropes with the Flying Forearm. Big shots, Scoop Slam, Avalanche Senton for 2. High Fly – no – Bailey cuts him off, Gamengiri and pulls Tana down. Bailey tries to charge at him while he's on the apron, but Tanahashi catches his foot, Dragon Screw through the ropes and the same when he tries to reenter the ring.
Bailey jumps over the Baseball Slide and spring right into the HUUGE Asai Moonsault which barely misses the guardrail and catches enough of  Tanahashi as we get to 19 with the 20 count. Crawling up into the kneeling position, Forearm Strikes ensue. A few kicks from Bailey, then Tana catches him and wants to Dragon Screw, but Bailey twists into a Double Leg Cradle but Tana kicks out. Standing Double Knees into a heavily hampered well sold Buzzsaw Kick…again only 2.
Tornado Alley…but Tanahashi charges and counters with a Slingblade! Tana goes to the top for High Fly Flow but Bailey pops up as fast as he can so Tana waits. They start fighting on the top turnbuckle, Tana clocks him and Bailey's upper half drops to the mat, but he starts pulling himself up before Tana can do anything. Avalanche Frankensteiner, a few powered through Side Kicks, Torando Alley connects! Ultima Weapon – MISSES! Knees into canvas, Bailey has no knees left at this point. Tanahashi charges with the clothesline, Backslide counter, 2.9 – Cradle attempt but Twist and Shout triplicate counters. Sling Blade off the ropes, High Fly Flow attempt again, connects for 3!
Overall Score: 7.25/10
Well aside from the X Division pancake flipping marathon of trash; the card was pretty solid. Yes the outcomes were basically "LOL NJPW wins" (I swear if anyone tries to say Deonna was a win, don't be dumb. Miyu is from TJP, which is owned by CyberFight the people that own NOAH and DDT, so NJPW had no stakes in that) – but at least the last half of the show pretty much delivered. Much like a Japanese card, the less interesting matches got out of the way early. I would've loved to see Miyu in the Rebellion title match, but between any AEW commitments she may still have and TJP, maybe she just couldn't do an extended run with IMPACT.
Kushida starting to develop and edge is nice given who he'll be facing in 2 weeks, KENTA and Suzuki probably still has fuel for Strong episodes, Bailey got a dream match and Ace & Bey are standing to put a stamp on their title reign. So all in all, for a little crossover event, they did fairly well adding a few wrinkles into matches and storylines, as well as, potentially setting up new ones. Like the first one to come to mind for me is: What are they going to do with Moose? Arrogance has been his gimmick for the last 4 or 5 years, but he keeps choking in big opportunities. So is he gonna spiral out but stay heel; or are they trying to break down his arrogance for a potential face run?
So, not a bad show with at the very least, Tanahashi vs Bailey being the match to watch.
Andrew's IMPACT Sacrifice Results & Match Ratings: 3.24.2023
Well damn, 24 hours changes everything! Josh is injured and has to vacate the World title! Mickie is also injured but she's making her announcement during the show. How does IMPACT salvage their two main title pictures at Sacrifice?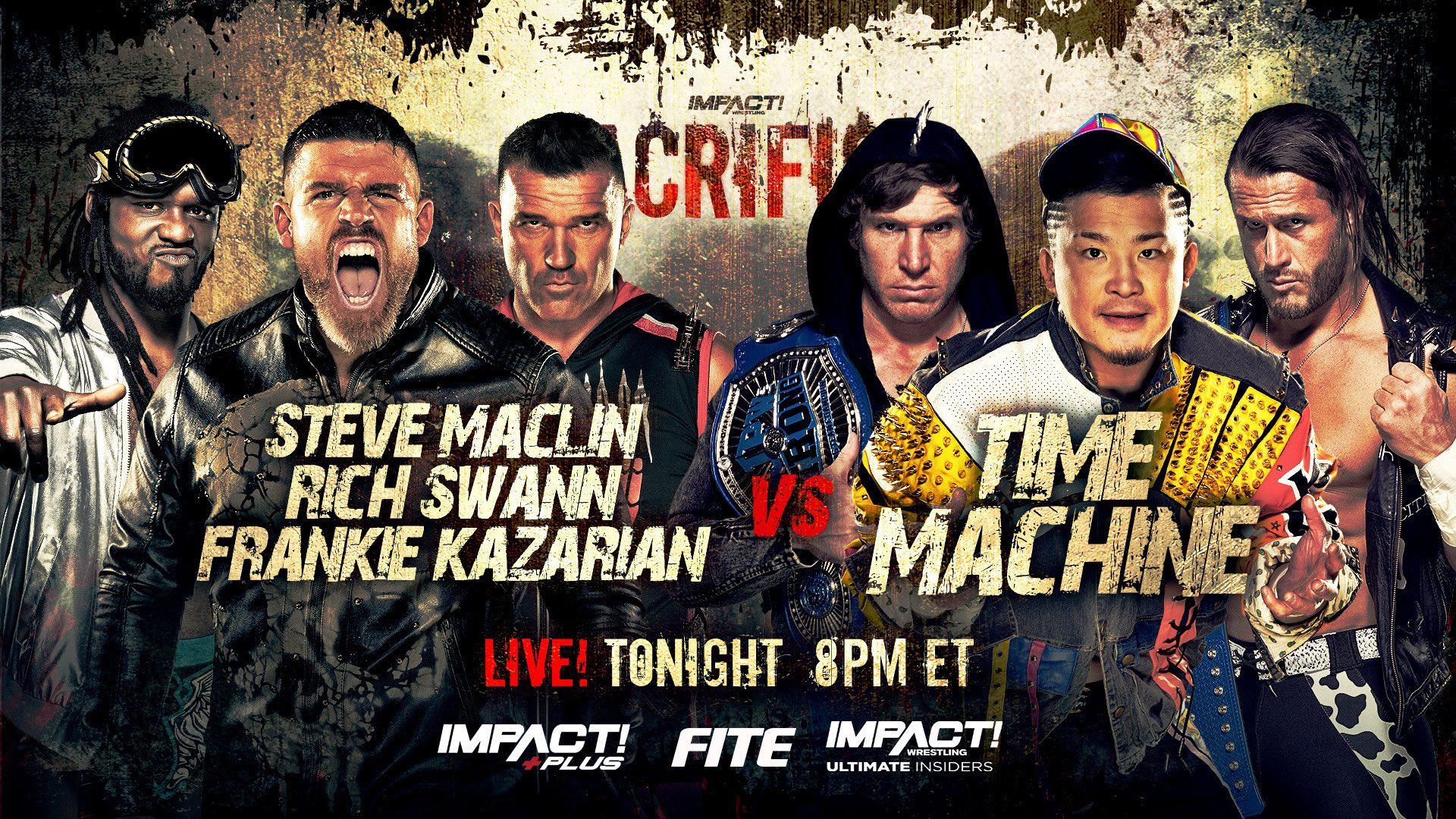 Well hot damn, a lot of news popped up in less than 24 hours. So Josh Alexander tore his triceps; so he has to vacate the World Title and he's being replaced by Steve Maclin in the 6 man match. Mickie James apparently also has an injury, but they are going to turn it into a segment on the show instead of a straight up vacating.
Now from a story perspective this sucks since I loved the Maclin/Alexander segment last night. That's just me being selfish since I wanted to see that build and Maclin get the big win he deserves. Now he'll be facing Kushida for the vacated title at Rebellion, and even if Maclin wins it will feel a little flat. Here's to hoping that when Josh returns from injury they can find a way to bridge the time lost and keep the story going eventually.
.@MeanGiaMiller caught up with @FrankieKazarian and #RichSwann to talk about @Walking_Weapon's unfortunate injury and @SteveMaclin replacing him as their partner TONIGHT at #Sacrifice! #CountdownToSacrifice pic.twitter.com/jdnqk6BLN9

— IMPACT (@IMPACTWRESTLING) March 24, 2023
Ratings:
Speedball Mike Bailey vs Jonathan Gresham: Bailey wins via Reverse Figure Four – *** 3/4
Digital Media Championship: Joe Hendry (c) vs Brian Myers: Hendry retains via Standing Ovation – ***
Gisele Shaw w/Jai Vidal & Savannah Evans vs Deonna Purrazzo: Deonna wins via Venus de Milo – *** 1/4
Kenny King w/Eddie Edwards vs PCO: PCO wins via Straight Right Chair Punch – *** 1/4
X Division Championship: Lince Dorado vs Trey Miguel (c): Trey retains via Cradle – *
IMPACT Tag Team Titles: TMDK (Shane Haste & Bad Dude Tito) vs Bullet Club (Ace Austin & Chris Bey) (c): Bullet Club retains via ABC 1-2-Sweet – ****
Busted Open Match: Bully Ray vs Tommy Dreamer: Bully wins – ** 1/2
Time Machine (Kushida, Chris Sabin & Alex Shelley) vs Rich Swann, Frankie Kazarian & Steve Maclin: Kushida wins via Hoverboard Lock – ****
Results:
Speedball Mike Bailey vs Jonathan Gresham
With the injuries in the main event, I could definitely see one, or both of these guys; fast tracked into the title scene after Rebellion. And I don't think anyone would really be mad at that.
A quick tit for tat start, no one really gets any advantage. Just a few quick counters and takeover attempts. They both pause to take in chants from the crowd and then lock up again. Collar and Elbow tie up, they don't release and both roll one another under the rope and out of the ring. There is an early moment where while he's against the ropes he pokes Speedball in the eye and then apologizes. So things go back to a technical face vs face, but it could be a precursor.
Technical catch wrestling continues. Wrestling one another down, trying to get positions for small submission picks or limb attacks, but nothing is sticking yet. Gresham does manage to an Indian Deathlock, and then a Reverse Figure Four that Gresham conveniently can't untangle so the referee has to do it and Bailey is pissed. Gresham tries to explain it, but Bailey lights him up, Gresham falls out of the ring, Golden Triangle Moonsault and now the aggression is starting to pick up. Hamstring Kicks and Chops from Bailey, but Gresham baits the attack and trips up Bailey before attacking the left knee with a grin on his face. Bailey is grounded for a while and Gresham keeps trying to twist off his leg. Eventually some Up Kicks break the submission attempt but Gresham wrestles him down again into a Bow and Arrow Trailer Hitch kind of move. Since Bailey has Tanahashi next week, Gresham must be trying to make Bailey's knees equal. Good Guy Gresham.
Bailey starts stringing some offense together, but a few Low Dropkicks ruins Bailey's base and causes him to face plant and the offense is going nowhere. Gresham even goes for the pinfall by trying to hyper extend the leg he's been working on. Strikes continue to trade, Gresham tries to shoot the half but Bailey kicks off, Hamstring Kick again, Gresham Kips Up but clutches the leg a little, a chance for Speedball but Gresham cradles him to the ground and locks in a Figure Four. Speedball eventually rolls to the apron, Gresham tries to continue the stretching but Bailey kicks him into the post, sweeps the leg and Moonsault Double Knees right on Gresham's head; Bailey went full Billy Kidman with his offense.
Bailey and Gresham continue to jockey for position on the outside, it looks like it might be a double count out. Gresham gets in at 9, Bailey gets in right at the 10 and the referee allows the match to continue. Some quick offense, Tornado Kicks to the corner, Ultima Weapon misses, Gresham goes for the Figure Four again but Speedball reverses it and Gresham taps pretty quick.
Backstage segment with Brian Myers, Moose joins and says he'll help him beat Hendry – but then Santino shows up! He tells Moose he's dumb and just stooged himself out, so he's banning him from ringside. Who would've thunk it, the comedy character brings the logic. 
Digital Media Championship: Joe Hendry (c) vs Brian Myers
Myers powders after a few early bumps and then Hendry follows him. Hendry is definitely not fighting with "champion's advantage", as is the way for babyfaces. Myers tries to fight back on the floor but a Scoop Slam leaves Myers on the receiving end. Hendry has to roll in to reset the 10 count and Myers catches him.
A few quick attacks, Roster Cut attempt but Hendry gets the goozle on. Standing Ovation attempt but Myers slips it, Chop Block, and continues to hammer down on Hendry. Myers with a Falcon Arrow and a bunch of slightly arrogant offense until he goes for the Crossbody, gets caught again, Sack of Shit, and Hendry is back on the offensive. Pop Up Power – no, slips and a Running Spear from Myers for a 2 count. Myers hits the top rope but Hendry cuts him off, Myers pushes him off, launches and Hendry hits the RKO mid move! Throws Myers into the ropes, Standing Ovation, and Hendry retains!
So Mickie addresses her injury, it seems she broke a rib during the tag match. They are allowing Mickie to hold on to the title until Rebellion. Either she defends it in a 3 way versus Jordynne and the winner of the 4 Way at the Multiverse United show or Jordynne will face the winner of the 4 Way for the vacated title. 
Gisele Shaw w/Jai Vidal & Savannah Evans vs Deonna Purrazzo
Deonna starts off angry, Gisele is getting rocked early, they go through a few rope running counter cradles and slides but its just early counter wrestling. Gisele manages to surprise Deonna going for an Armbar, but Deonna counters it, tries the Venus de Milo but Shaw powders. Deonna hits the Baseball Slide, starts beating on Gisele but she slides back in to distract the referee while Savannah clocks Deonna.
Triplicate European Uppercuts from Gisele keep her very comfortably in control. Another distraction to the ref and Savannah swings and connects with Deonna again. Deonna tries to fight from the corner, Gisele grabs Deonna's feet drapes her across the ropes and drops both knees on Deonna. Gisele drives her knee into Deonna's shoulder blades and goes for the Chin Lock. Deonna tries to power out, Gisele stifles it a little, but Deonna catches her with a Twisting Neckbreaker. Slow start to the strike exchange but it slowly picks up, Deonna with a beautiful spot of a no look Back Kick right to Gisele's stomach, Running Knee Lift into the Russian Leg Sweep for 2. Deonna Pump Kick, Gisele Superkick, Deonna bounces off the ropes, Flatliner into Koji Clutch, but Gisele slides back a little to turn it into a pinfall to break the submission.
Both women have wrist control and just swing at each other. Deonna gets the best, one big swing but Gisele ducks it, catches Deonna in Shock and Awe (Backbreaker into Flatliner). Denouement attempt, Deonna grabs at the arm for the Fujiwara attempt but Gisele fights it off. Venus de Milo gets locked in and Deonna holds it a little longer to make a point.
Savannah attacks Deonna afterwards, but Tasha Steelz music hits. Tasha tries to play nice like she's here to help Savannah, then cheap shots her, fights off Jai with a Tornado DDT kicking off of Savannah. Okurr on Jai and Tasha cleans house and babyfaces herself. 
Kenny King w/Eddie Edwards vs PCO
Kenny comes out in an Honor No More shirt, which is a nice way to play into the story. 
Eddie tries to get PCO's attention and then Kenny attacks him right as the bell rings. PCO turns things around shortly, Eddie keeps trying to find angles to give Kenny ambush spots but PCO keeps fighting back. PCO stalks Eddie on the outside and Kenny hits a beautiful Tornillo, then a Scoop Slam as he mocks the whole Frankenstein gimmick. PCO rolls in and Kenny John Woo's him into the corner and starts Bootwashing his face to talk smack. PCO fires, goozle and just throws Kenny out of the ring.
PCO kicks Kenny from getting back in the ring, looks to do his Senton but "short circuits". So PCO does a Senton to the wrong side of the ring, crashing but popping right back up, and it apparently helped correct the issue. So Senton onto Kenny, throws him back in, Kenny tries the Eddy Gordo kick but PCO just barrels over him.  PCO drapes Kenny in the corner, Codebreaker, into the back of the head Guillotine Leg Drop and now PCO pulls him to the apron.
Here we go, Deanimator attempt – but Eddie cuts him off, PCO kicks him back into the cameras, Kenny gets up and an Iconoclasm bouncing off the apron of the ring! Kenny throws him into the steps, rolls in, things he's all but won…yet PCO beats the 10 count. "He's Not Human" chant starts, Frog Splash from Kenny and PCO kicks out and fires at 2. Eddie throws a Kendo stick in the ring to distract the referee from Kenny using a chair. Kenny hits PCO once, PCO shakes it off and has a gameplan. So he actually helps keep the referee distracted to bait in Kenny for another chairshot attempt, but PCO just punches through the chair and knocks out Kenny.
Maclin, Kaz and Rich have a backstage segment. It perfectly shows the story beats of Maclin being annoyed that he put in all this prep and recon on Josh just for the opponent to be flipped. Typical tumultuous team members vibe, but Maclin gets his story beats across beautifully.
Can #RichSwann and @FrankieKazarian trust @SteveMaclin? #Sacrifice pic.twitter.com/TcEZ79IWkC

— IMPACT (@IMPACTWRESTLING) March 25, 2023
X Division Championship: Lince Dorado vs Trey Miguel (c)
Okay Lince comes out in a bathrobe with some cringe ass "Lucha Lit" gimmick. I…hate it. This is probably the first time ever that I want Trey to win. Cause Dorado is cringe as hell. In a game of them both sucking, I'll pick the style of trash that I can tolerate more…which is Trey. 
Lucha counter wrestling with flips over trips and that stupid ass Mirrored Dropkick Spot. I also don't love the Lince doing the cat mannerisms, but Puma King and a few others have done that…so I guess its more tolerated in Lucha. This whole match has been a little paint by numbers boring Lucha where the moves are done just to pop the crowd but not to actually accomplish anything.
Diving whatever moves they accomplish nothing. Its really hard for me to care about flippy trash matches. Lince hits 2 of the 3 step Moonsaults, but Trey of course no sells and dodges the third, Tiger Wall Kick, but Trey stumbles a little for the Enzuigiri, Trey also hits a sloppy Outside In Tiger Feint…its just sloppy spots for spots sake. I would probably be more entertained if I had Runescape fired up on a different tab. This is just a waste of space, much like both "wrestlers".
Lince hits a Avalanche Frankensteiner, into a Shooting Star Press but Trey powders. Lince tries that bounce off the corner with his legs spot, but its sloppy. Another sloppy Tiger Feint from Trey, Slingshot Sunset Bomb for 2. These are just stupid moves for stupid sake. Lince tries to cut off Trey from a rope run with a Big Boot but mostly misses, makes the whole cut off exchange look stupid. Trey with a flash cradle during the cut offs for pinfall. Eww…this was garbage.
IMPACT Tag Team Titles: TMDK (Shane Haste & Bad Dude Tito) vs Bullet Club (Ace Austin & Chris Bey) (c)
It is nice to see a variation of TMDK back together. I also enjoyed Tito called Ace and Bey the "Mini Bullet Club" since they're the juniors heavyweights.
 Tito and Bey start off, Bey is trying to show off his speed, Tito gets across the power though. Tito kinda looks like a young Scott Steiner, and he literally tosses Bey back into his corner. Ace tags in, tries to do something but Tito is just too strong. Haste gets tagged in for some flashy yet effective offense. Ace finds something with the Triangle Victory Roll, Bey blind tag, cheap shot on Tito, Russian Leg Sweep + Low Sweep combination into some Click Click Boom. So Bullet Club is showing very nice Junior style synergy. Haste is very loud and animated, so he's a great one to have eating the offense. Especially when they do their Back Rake goof spot.
Haste finally maneuvers things to tag Tito in, and Haste hands off Ace to Tito and Tito hits a Standing Blue Thunder Bomb. Tree of Woe, Bey tries to come in to break up the spot but the referee is distract, Tito steps up and stands on the groin, nice homage to Petey Williams. We are in Canada. Announce team almost sets up too much meme fodder, and then Rehwoldt steers into it. Rehwoldt said Bey was trying to rush into to get Tito off…paused for a second, which you know Hannifan gave him a look. So then they just pivot to everyone in TMDK being like Australian Sex Pistols. Very clever misdirection.
The match is fun, Bey gets the hot tag, clocks everyone, Haste tries a Lariat, Bey ducks that, flies onto Tito on the outside, comes back in, Tornado Fameasser for 2. Bullet Club goes for a Torture Rack/Triangle Kick combo, but Haste gets out of it. Tito gets tagged in and he start to look like Steve Williams with the Doctor Bomb for 2. Tito hits a big battering ram Dive on Bey to clear him out. Haste Falcon Arrow, Tito Froggy Splash, but Bey breaks it up.
Tito starts getting ping ponged between the two Juniors, Torture Rack/Triangle Kick combination, for 1-2-3? – no Haste comes in the referee says it was in time to stop the 3 count. Tito charges and a beautifully times Superkick + Spinning Back Heel Kick on Tito. He's dazed, ABC 1-2-Sweet! Bullet Club retain!
Busted Open Match: Bully Ray vs Tommy Dreamer
This is a First Blood Match for anyone who doesn't know, and Dreamer comes out with an ECW Championship Belt. 
Chair duel to start things, ECW replica belt to the face of Bully Ray. Dreamer grabs a soda from a fan, Muta mist on Bully, tries to shove the can into his skull for early blood but no. Bully crotches Dreamer on the guardrail and then picks a fight with Darren McCarty who's in the crowd. Darren McCarty was the enforcer for the Detroit Red Wings, so its very old school letting the ex sports guy play. Bully also has a great spot where he pulls out a step ladder, then asks the referee to hold it, does the Jimmy Snuka pose and goes for a Splash and misses. Bully gets to rile up AEW and WWF fans all in one spot. Good old school heat. Corny, but good.
Dreamer gets a bag of tacks, Bully fights off the Piledriver, gets the cheese grater but Dreamer hits the Bionic Elbow as a counter. Cheese grater with Dreamer, Dreamer charges, Bully pulls the referee in the corner, so ref bump. Dreamer eventually makes contact with the cheese grater, but there's no referee and Bully has his back to the  camera, so it slow rolls the result nicely. Good Hands hit the ring, on with a towel to see if he can blot the bleeding before the ref comes to.
Bully hits Tommy with pocket tacks instead of pocket sand. Tries to drive Dreamer's face into the tacks and then Elbow it further down but Dreamer moves. Dreamer grabs the grater again, Bully tries to beg off, screams he's sorry and now tries to guilt Tommy with his family is going to see this. Dreamer actually stops and then Bully hits him in the balls. Bully busts open Tommy with the tacks, the Good Hands slide in Tommy as the referee comes to, so the referee only sees Dreamer bleeding. Its a solid old school Hardcore match but it was definitely a little too plodding and corny.
Yuya Uemura tries to make the save, then Darren McCarty jumps the railing. This really has turned into ECW, Bully gets a mic, asks him if he really wants to fight and tells security to let him go. LOL – a literal Hockey Fight. McCarty gets the best of things, Good Hands mug him from behind. Triple Powerbomb McCarty through the table. 
Scott D'Amore's music hits! Scott starts stripping like he's Ric Flair. Bully calls down Scott, but Scott has backup. He calls Rino, Heath, Gresham, Baily and Joe Hendry.  Good Hands try to attack Scott…Scott stops him…and HITS A CANADIAN DESTROYER! Can this lead to a Lethal Lockdown match? Team D'Amore versus Team Bully? Give me that…give me some Lethal Lockdown now! 
Time Machine (Kushida, Chris Sabin & Alex Shelley) vs Rich Swann, Frankie Kazarian & Steve Maclin
Shelley and Swann start off, and its just a bit of chain wrestling. They both have Hammerlocks, Headlocks, and just twist around to try and find an angle. Shelley speeds things up a little, Shoulder Tackle, rope run, Swann goes down and Shelley puts on the brakes to sink in a quick STF but Rich grabs the rope. Kaz and Sabin tag in and we get some Battle of the Futures nostalgia.
Back and forth, Up and Over, Sabin with the Arm Drag into the Top Wristlock. Kaz fights through, a little more quick counters and fun stalemate spots as they are all having fun with each other. Kushida tags in and points to Maclin. Kaz slaps Maclin's chest and we all know Maclin isn't a fun loving babyface like Kaz and Swann, so the tone should start to change. Kushida starts by starting Grounded ala Inoki vs Ali, then manages to trip up Maclin and keep the mat wrestling going, but Maclin finally gets back to hit feet and can finally use his size and power to  his advantage. Shelley blind tag, Time Splitters PK to the Arm combo.
Shelley keeps on the arm that got kicks with the Arm Wringer and then a few quick shots to the damaged arm. Kaz makes the blind tag after Maclin uses the middle rope into Shelley's throat. Kaz and Rich with a little Hip Toss tandem stuff for a near fall on Shelley. But the tone of Rich and Kaz is definitely much different. Shelley fights his way out of the enemy corner, Time Machine triple team, Single Leg Crab, Camel Clutch, Sliding Dropkick from Sabin onto Rich. Kaz is trying to police too much of Maclin's motion, typical team that doesn't get along stuff. Rich driven into Kaz in the corner, triple Dropkicks from all of Time Machine.
Kushida tags in, stares down Maclin and then Maclin picks up and throws Rich to Time Machine because you can tell he's frustrated getting policed with all of his moves. MCMG hold Rich, Kushida hits the Baseball Slide on the restrained wrestler and Kushida does the little Liger spin around pose/taunt and stares down Maclin. Shelley starts with the joint manipulation, and Swann is just getting torn apart. Swann in the Tree of Woe, Sliding Dropkick to Swann's face, and then the Triple Baseball Slide. Sabin tags in with the Octopus Hold on Rich which he rolls into a pinfall, but Rich kicks out. You hear Maclin say "All you have to do is tag me bitch" – which proves that Maclin is trying to be a team player in his own way.
Rich fights out of the triple team, and chooses to tag in Kaz. Kaz hot tag, exchanges with Sabin which turns into the Guillotine Leg Drop through the ropes, Kaz is taking out everyone right now. Two Springboard Leg Drops…and now a third as all of the Time Machine offense is stopped. Sabin blind tag though gives Time Machine some momentum. Rich tries to come in, gets rocked, Maclin charges, Sabin grabs him and Tornado DDT sends Maclin to powder. Missile Dropkick/Flatliner on Kaz for 2.
Cradle Shock counter, rolling tag to Rich. Avalanche Headscissors, Rich goes to the top rope, Maclin tags himself in, but Time Machine gets rolling. Dragon Screw from Kushida with the Mutoh pose afterwards. Maclin and Shelley are legal, and going back and forth. Double Arm Breaker from Shelley after Kaz tries to get involved. Maclin gets some offense back in, Caught in the Crosshairs form Maclin, Maclin tags in Kaz, Kaz tags Rich, tandem attacks, Cutter form Rich into a 450…1-2-Kushida Kicks out! Swann goes for Phoenix Splash but misses. Flying Armbar from Kushida, triple Submission spot, but Maclin gets out of his and breaks Kushida's submission. Maclin stares down Time Machine, hits the ropes and gets eaten alive by tandem attacks.
Time Machine goes for a Double Shiranui Tower, but it gets broken up. Outatime lands on Kaz. Sliced Bread lands on Swann. Tanaka Punch blocked, Maclin eats Shell Shock, Sabin gives Kushida a rolling start to throw him onto Maclin like a Spider Monkey and sink in the Hoverboard Lock. Maclin taps relatively quick, which is strategic to not risk injury.
Overall Score: 7/10
Talk about a show that no one knew what the hell to expect! Josh vacating the belt means that things had to change with fairly short notice. Mickie's implications of either a Triple threat or she'll hand over the belt to the winner if she's not cleared is something you don't see too often. But when it comes down to the card, the show was relatively good. Trey & Lince was hot garbage, and Busted Open was what we all kind of expected. Was it a bit more entertaining with some of the ECW nods? Sure. But it was just a spectacle and honestly Scott D'Amore hitting the Canadian Destroyer made that all worth it.
OH CANADA! @ScottDAmore CANADIAN DESTROYERS @TheJasonHotch and Windsor EXPLODES! #Sacrifice pic.twitter.com/iqqpiH0tMZ

— IMPACT (@IMPACTWRESTLING) March 25, 2023
The tag and six man matches were the best stuff on the card, and sets the stage decently well for storylines into Rebellion. I'm not joking though, if we don't get Team D'Amore vs Team Bully in a Lethal Lockdown…the salt will pour. Don't let the Canadian Destroyer spot be for naught! Oh – and put the damn belt on Maclin!