Andrew's WWE TLC Ratings & Analysis: 12/15/2019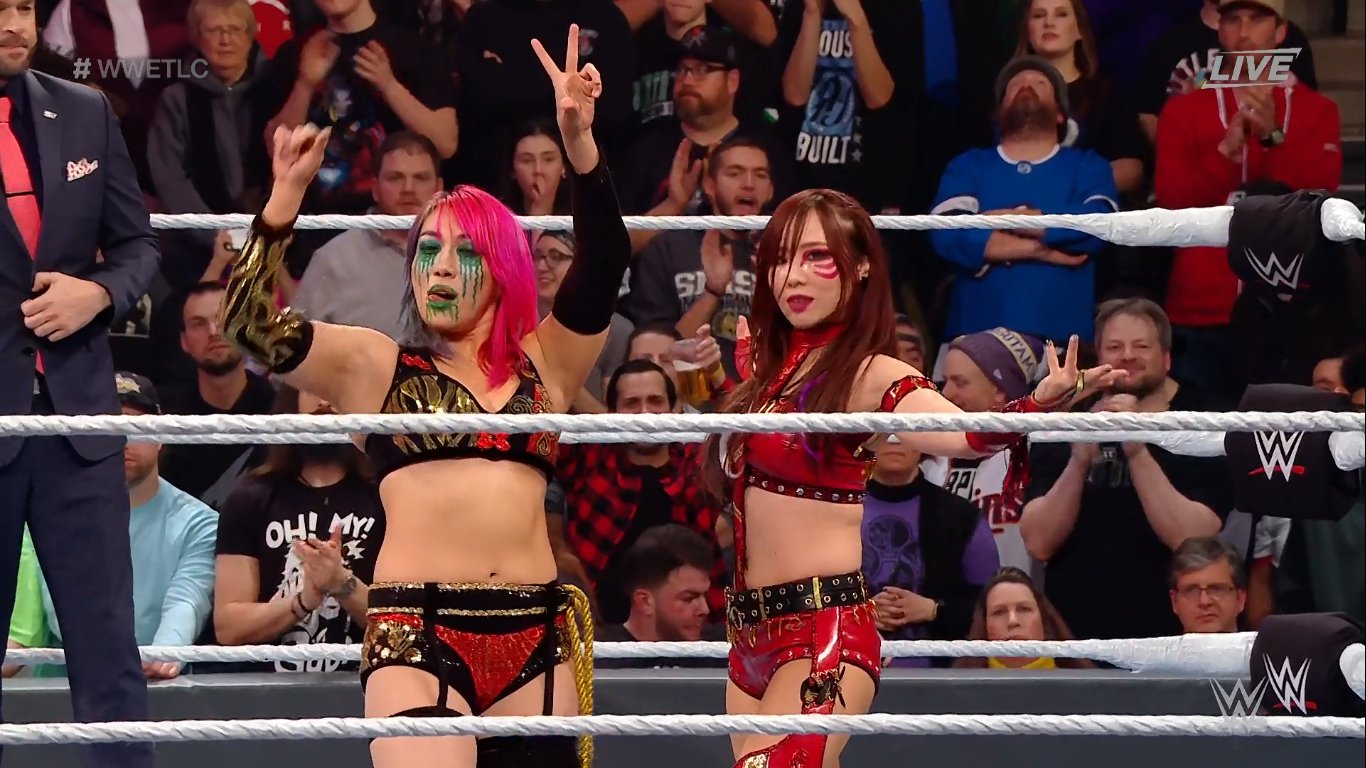 TLC is the final Pay-per-View of the year and decade. Do we get an unexpected classic?
Now, full disclosure, I had no interest in the show what so ever.
As much as I enjoyed the build for the Kabuki Warriors match, the show did nothing to really grab me.
Hopefully it changes my opinion, or this will be a rough few hours.
Ratings:
Andrade Almas w/ Zelina Vega vs Humberto Carrillo: Carrillo wins via Moonsault @12:45 – *** 1/2
SmackDown Tag Team Championship Ladder Match: The New Day (Kofi Kingston & Big E) (c) vs The Revival: New Day retains @19:20 – *** 1/2
Aleister Black vs Buddy Murphy: Black wins via Black Mass @13:45 – ****
Raw Tag Team Championship Open Challenge: The Viking Raiders (c) vs The O.C.: Double Count Out @8:30 – ***
TLC Match: Roman Reigns vs King Corbin: Corbin wins via End of Days @22:20 – **3/4
Bray Wyatt vs The Miz: Wyatt wins via Sister Abigail @6:40 – **
Tables Match: Bobby Lashley w/Lana vs Rusev: Lashley wins @13:30 – *
TLC Women's Tag Team Championship Match: Kabuki Warriors (c) vs Charlotte Flair & Becky Lynch: Kabuki Warriors retain @26:00 – **** 1/4
Analysis:
Andrade Almas w/ Zelina Vega vs Humberto Carrillo – A rematch from Raw, where we saw a miscommunication between Andrade and Zelina give Humberto the opening to win. This match started off strong for Andrade, since he wanted to prove that Humberto got luck, but Humberto showed a lot of resilience. A Corkscrew Plancha, Springboard Enzuigiri and an Avalanche Reverse Frankensteiner were Humberto's keys to winning this match. There was a small miscue between Zelina and Andrade, but Andrade mostly got beaten clean. Everything seems to be pointing to Zelina and Andrade breaking apart after these two embarrassing losses, but I guess we'll see where that goes. Hard hitting with some interesting spots, had a lot of lucha libre flavor, definitely a good match to start everything with.
SmackDown Tag Team Championship Ladder Match: The New Day (Kofi Kingston & Big E) (c) vs The Revival – We've seen New Day put on great matches with some weaponry, so it should be interesting to see if The Revival can figure out how to upset the champions. This was definite;y a spectacle of a match. Kofi slams himself into the ladder The Revival are holding, for…reasons? Big E hits his Suicide Spear, The Revival hit Power and Glory through a ladder and a Ladder Machine! But sadly, being tornado rules, The Revival lose any advantage they may have had in their own minds as tag team specialists. A bit of the match felt clunky, especially some of the ladder use. Like when Big E sets up 2 ladders and then has to get a third one. If you've got enough time to pretend you got an Erector Set for Christmas, you have enough time to climb a damn ladder and win the match. Not a bad match, but none of the spots punctuated like the Hell in a Cell against The Usos.
Aleister Black vs Buddy Murphy – Black's been looking for competition and Murphy was a bit bored, so he came and knocked. Murphy takes a fearless approach, which most people haven't done with Black, and this was one hell of a back and forth. Looks like Black got his nose broken at one point, but the match just kept up with hard fast strikes, and both men wanted to leave an impression on one another. Murphy had a late flourish with his Cheeky Nandos, Sitout Powerbomb, V-Trigger, Kamigoye and Brainbuster all in fairly close succession. Both men charge, we set a few dodges, but Murphy gets caught with the Black Mass amidst trying to out maneuver Aleister. Great match, that showed Murphy as a legit competitor just like his match with Reigns earlier in the year.
Raw Tag Team Championship Open Challenge: The Viking Raiders (c) vs The O.C. – Ya know, as soon as I saw some dorks at ring side eating KFC, I figured this match was going to be where things start declining. As a match, it was fine, nothing special, just basic and decent. However, the fact that we get all four men brawling on the outside, and the referee is counting…we get a Double Countout. Yes I understand sometimes stories need to get dragged out, but No Contests and Double Countouts are always disappointing. Then Anderson gets put through the KFC table. There's a topical joke there somewhere, but I don't want to have to resign from the NWA, so I'll just say the match was alright.
TLC Match: Roman Reigns vs King Corbin – We saw a decent start to the match with the security guards throwing themselves at Roman, and Roman destroying them and then parading Corbin through the crowd. Corbin played up his role where he tried to keep some distance, and only really had offense when it was opportunistic. Roman gets the upperhand, does nearly a full lap around the ring to gain momentum to Spear Corbin through the barricade, but Ziggler appears with a Superkick. It's at this point that you start to feel the match went a little too long and it was extremely overbooked, especially when 6 more security guards come down and The Revival interfere on behalf of Corbin. Ziggler pulls the Sabu and throws the chair at Roman, Revival hit a Shatter Machine and Corbin hits End on Days. The match was alright before the cluster towards the end, and even if it was overbooked, it works for the story that Corbin seems to be creating a personal court and Roman is trying to restore some kind of order to the idiocy. Alright match, just long and overbooked in the finish.
Bray Wyatt vs The Miz – This match wasn't supposed to be a "wrestling" match per say. We got to see an evolution in The Miz, Bray coming out, not in The Fiend persona was new for all of us, and watching Mr. Rogers slowly shift was a new concept. The Fiend coming onto the Tron and seemingly speaking to Bray to get the mallet and finish Miz, brought back Daniel Bryan, in his non-goat face killer look. Yes Movement back in full effect, and Daniel looks like PC Tunney again! So the match was hard to get through, but the greater storytelling aspect made it a good moment towards the end of 2019. Again, whoever The Fiend interacts with, they revert back to an older persona. He's lack a living Lake of Rejuvenation.
Tables Match: Bobby Lashley w/Lana vs Rusev – I'm aware this was a fairly popular angle, but it's not for me. So this match was a chore to try and watch, the pace was fairly slow, Lana not going through a table disappointed me a little and the fact the first table didn't break with the Spear was indicative of how lame this angle was. Hopefully it's dead and buried now. I have no clue where Rusev goes from this point though, unless he takes a few weeks off and then just wins the Royal Rumble looking like a beast.
TLC Women's Tag Team Championship Match: Kabuki Warriors (c) vs Charlotte Flair & Becky Lynch – This match definitely pulled main event weight. Charlotte and Becky came out hot, since they were pissed the Kabuki Warriors were beating them up. The level of aggression was great and the fact they looked like they had the easy win, until Kairi pulled a trick out of her tricky fox demon persona. I'm not sure if the first chair bouncing off and hitting her was a botch, but they all rolled with it geniusly. Kairi was just distracting them from winning, until they got sick of her and wanted to beat her up, and the fire extinguisher spot was pure gold. Asuka and Kairi deciding to tie Becky to a ladder was really clever, and Samoa Joe selling it like 'Kairi using her sailing background to assist in her knot knowledge…' added a layer to things. Asuka and Kairi were adorable since their whole angle in this was just to stir the pot and mess with the two franchise players. I also really liked how the rope came into play for the finish. The match was clever, the story was told well from both sides and Kabuki Warriors are better as the champions. Just a great match.
We are not worthy of Kairi Sane. #WWETLC pic.twitter.com/eJUrsHm4Q0

— Chris Toplack (@christoplack) December 16, 2019
Overall Score: 7.25/10
As I said, I wasn't excited for this show, but I was pleasantly surprised. It started off pretty hot, lulled, and then I really enjoyed the finish. Bray's match may have disappointed or taken the air out of the crowd a little, but the Daniel Bryan moment is what WWE butters their bread with. WWE is all about moments, and that was a great moment.
Yes, the brawl at the end did undercut the main event a little, but let's be honest, as soon as we heard Lawler say, "They're still fighting in the back", we could've gotten picture in picture with a cut to a brawl over the main event. So all things considered, it didn't step on things too much.
I should know by now that the B level shows really tend to over perform the last few years with WWE. So this was a pretty good show, and I'm not mad at the last few hours.