Andrew's WWE TLC Ratings & Analysis: 12/15/2019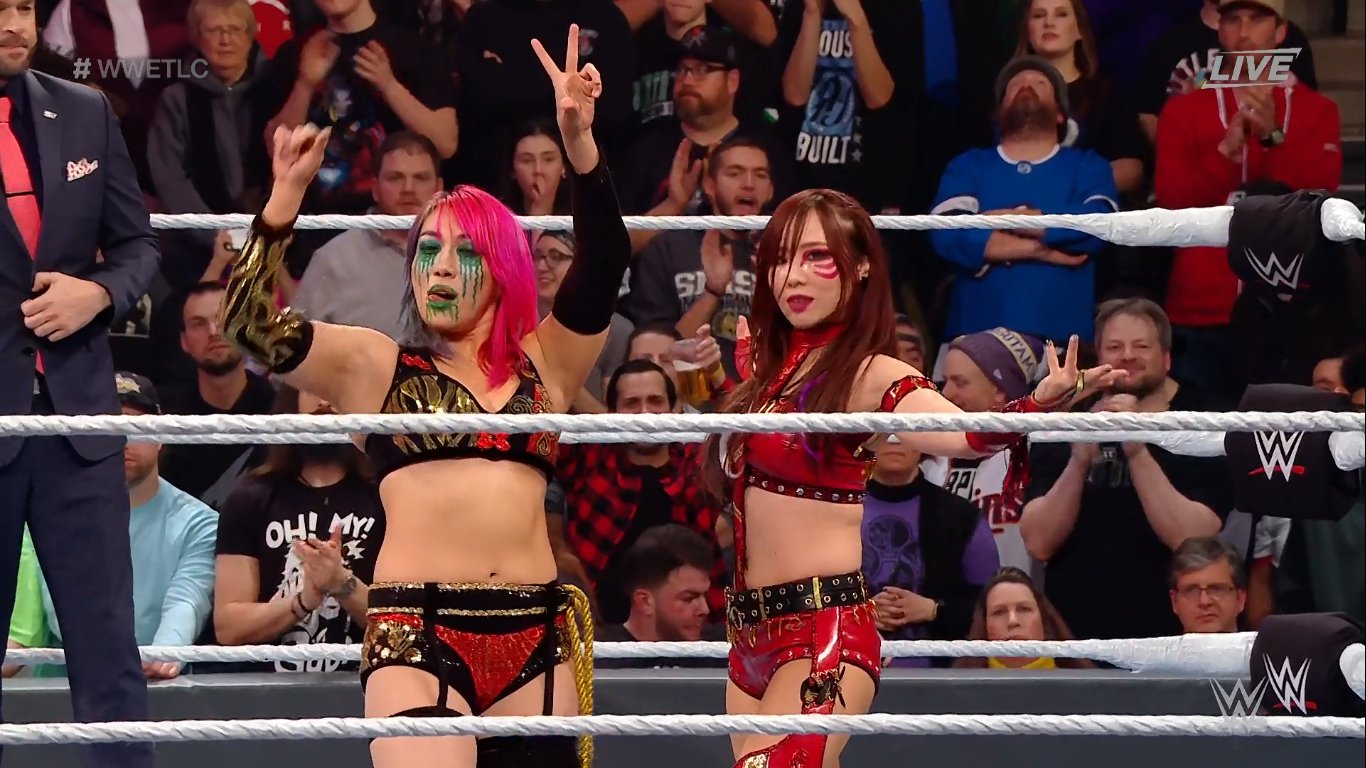 TLC is the final Pay-per-View of the year and decade. Do we get an unexpected classic?
Now, full disclosure, I had no interest in the show what so ever.
As much as I enjoyed the build for the Kabuki Warriors match, the show did nothing to really grab me.
Hopefully it changes my opinion, or this will be a rough few hours.
Ratings:
Andrade Almas w/ Zelina Vega vs Humberto Carrillo: Carrillo wins via Moonsault @12:45 – *** 1/2
SmackDown Tag Team Championship Ladder Match: The New Day (Kofi Kingston & Big E) (c) vs The Revival: New Day retains @19:20 – *** 1/2
Aleister Black vs Buddy Murphy: Black wins via Black Mass @13:45 – ****
Raw Tag Team Championship Open Challenge: The Viking Raiders (c) vs The O.C.: Double Count Out @8:30 – ***
TLC Match: Roman Reigns vs King Corbin: Corbin wins via End of Days @22:20 – **3/4
Bray Wyatt vs The Miz: Wyatt wins via Sister Abigail @6:40 – **
Tables Match: Bobby Lashley w/Lana vs Rusev: Lashley wins @13:30 – *
TLC Women's Tag Team Championship Match: Kabuki Warriors (c) vs Charlotte Flair & Becky Lynch: Kabuki Warriors retain @26:00 – **** 1/4
Analysis:
Andrade Almas w/ Zelina Vega vs Humberto Carrillo – A rematch from Raw, where we saw a miscommunication between Andrade and Zelina give Humberto the opening to win. This match started off strong for Andrade, since he wanted to prove that Humberto got luck, but Humberto showed a lot of resilience. A Corkscrew Plancha, Springboard Enzuigiri and an Avalanche Reverse Frankensteiner were Humberto's keys to winning this match. There was a small miscue between Zelina and Andrade, but Andrade mostly got beaten clean. Everything seems to be pointing to Zelina and Andrade breaking apart after these two embarrassing losses, but I guess we'll see where that goes. Hard hitting with some interesting spots, had a lot of lucha libre flavor, definitely a good match to start everything with.
SmackDown Tag Team Championship Ladder Match: The New Day (Kofi Kingston & Big E) (c) vs The Revival – We've seen New Day put on great matches with some weaponry, so it should be interesting to see if The Revival can figure out how to upset the champions. This was definite;y a spectacle of a match. Kofi slams himself into the ladder The Revival are holding, for…reasons? Big E hits his Suicide Spear, The Revival hit Power and Glory through a ladder and a Ladder Machine! But sadly, being tornado rules, The Revival lose any advantage they may have had in their own minds as tag team specialists. A bit of the match felt clunky, especially some of the ladder use. Like when Big E sets up 2 ladders and then has to get a third one. If you've got enough time to pretend you got an Erector Set for Christmas, you have enough time to climb a damn ladder and win the match. Not a bad match, but none of the spots punctuated like the Hell in a Cell against The Usos.
Aleister Black vs Buddy Murphy – Black's been looking for competition and Murphy was a bit bored, so he came and knocked. Murphy takes a fearless approach, which most people haven't done with Black, and this was one hell of a back and forth. Looks like Black got his nose broken at one point, but the match just kept up with hard fast strikes, and both men wanted to leave an impression on one another. Murphy had a late flourish with his Cheeky Nandos, Sitout Powerbomb, V-Trigger, Kamigoye and Brainbuster all in fairly close succession. Both men charge, we set a few dodges, but Murphy gets caught with the Black Mass amidst trying to out maneuver Aleister. Great match, that showed Murphy as a legit competitor just like his match with Reigns earlier in the year.
Raw Tag Team Championship Open Challenge: The Viking Raiders (c) vs The O.C. – Ya know, as soon as I saw some dorks at ring side eating KFC, I figured this match was going to be where things start declining. As a match, it was fine, nothing special, just basic and decent. However, the fact that we get all four men brawling on the outside, and the referee is counting…we get a Double Countout. Yes I understand sometimes stories need to get dragged out, but No Contests and Double Countouts are always disappointing. Then Anderson gets put through the KFC table. There's a topical joke there somewhere, but I don't want to have to resign from the NWA, so I'll just say the match was alright.
TLC Match: Roman Reigns vs King Corbin – We saw a decent start to the match with the security guards throwing themselves at Roman, and Roman destroying them and then parading Corbin through the crowd. Corbin played up his role where he tried to keep some distance, and only really had offense when it was opportunistic. Roman gets the upperhand, does nearly a full lap around the ring to gain momentum to Spear Corbin through the barricade, but Ziggler appears with a Superkick. It's at this point that you start to feel the match went a little too long and it was extremely overbooked, especially when 6 more security guards come down and The Revival interfere on behalf of Corbin. Ziggler pulls the Sabu and throws the chair at Roman, Revival hit a Shatter Machine and Corbin hits End on Days. The match was alright before the cluster towards the end, and even if it was overbooked, it works for the story that Corbin seems to be creating a personal court and Roman is trying to restore some kind of order to the idiocy. Alright match, just long and overbooked in the finish.
Bray Wyatt vs The Miz – This match wasn't supposed to be a "wrestling" match per say. We got to see an evolution in The Miz, Bray coming out, not in The Fiend persona was new for all of us, and watching Mr. Rogers slowly shift was a new concept. The Fiend coming onto the Tron and seemingly speaking to Bray to get the mallet and finish Miz, brought back Daniel Bryan, in his non-goat face killer look. Yes Movement back in full effect, and Daniel looks like PC Tunney again! So the match was hard to get through, but the greater storytelling aspect made it a good moment towards the end of 2019. Again, whoever The Fiend interacts with, they revert back to an older persona. He's lack a living Lake of Rejuvenation.
Tables Match: Bobby Lashley w/Lana vs Rusev – I'm aware this was a fairly popular angle, but it's not for me. So this match was a chore to try and watch, the pace was fairly slow, Lana not going through a table disappointed me a little and the fact the first table didn't break with the Spear was indicative of how lame this angle was. Hopefully it's dead and buried now. I have no clue where Rusev goes from this point though, unless he takes a few weeks off and then just wins the Royal Rumble looking like a beast.
TLC Women's Tag Team Championship Match: Kabuki Warriors (c) vs Charlotte Flair & Becky Lynch – This match definitely pulled main event weight. Charlotte and Becky came out hot, since they were pissed the Kabuki Warriors were beating them up. The level of aggression was great and the fact they looked like they had the easy win, until Kairi pulled a trick out of her tricky fox demon persona. I'm not sure if the first chair bouncing off and hitting her was a botch, but they all rolled with it geniusly. Kairi was just distracting them from winning, until they got sick of her and wanted to beat her up, and the fire extinguisher spot was pure gold. Asuka and Kairi deciding to tie Becky to a ladder was really clever, and Samoa Joe selling it like 'Kairi using her sailing background to assist in her knot knowledge…' added a layer to things. Asuka and Kairi were adorable since their whole angle in this was just to stir the pot and mess with the two franchise players. I also really liked how the rope came into play for the finish. The match was clever, the story was told well from both sides and Kabuki Warriors are better as the champions. Just a great match.
We are not worthy of Kairi Sane. #WWETLC pic.twitter.com/eJUrsHm4Q0

— Chris Toplack (@christoplack) December 16, 2019
Overall Score: 7.25/10
As I said, I wasn't excited for this show, but I was pleasantly surprised. It started off pretty hot, lulled, and then I really enjoyed the finish. Bray's match may have disappointed or taken the air out of the crowd a little, but the Daniel Bryan moment is what WWE butters their bread with. WWE is all about moments, and that was a great moment.
Yes, the brawl at the end did undercut the main event a little, but let's be honest, as soon as we heard Lawler say, "They're still fighting in the back", we could've gotten picture in picture with a cut to a brawl over the main event. So all things considered, it didn't step on things too much.
I should know by now that the B level shows really tend to over perform the last few years with WWE. So this was a pretty good show, and I'm not mad at the last few hours.
WWE 24/7 Championship Results & Report! (4/19/21)
Is this the Night Panther's redemption?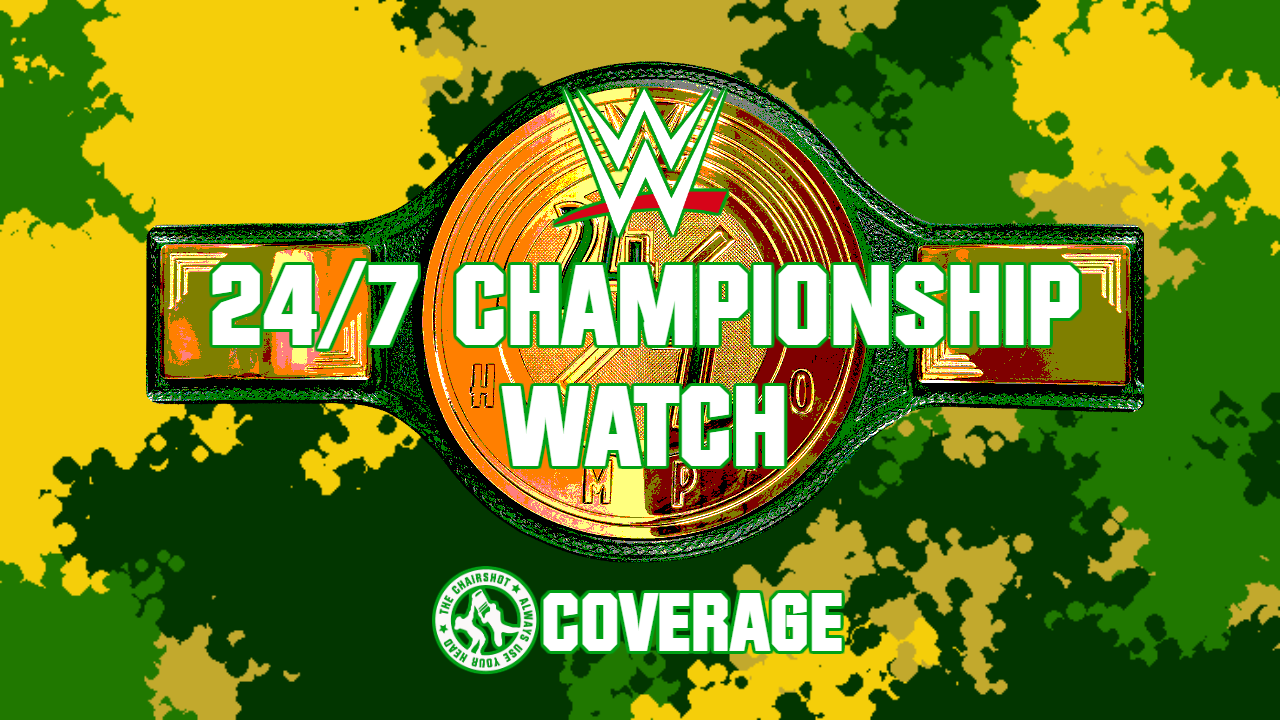 Is there still a chance for Joseph Average?
Is Joseph Average NOT The Night Panther? Can he still be WWE 24/7 Champion even if he isn't? We find out in this title story's epilogue!
OFFICIAL RESULTS
WWE 24/7 Championship Frankfurt Fake-Out: Akira Tozawa wins and becomes the new WWE 24/7 Champion.
WWE 24/7 Championship Hotdog Havoc: Joseph "The Night Panther" wins and becomes the new WWE 24/7 Champion.
WWE 24/7 Championship Hotdog Deception: R-Truth wins and becomes the new WWE 24/7 Champion.
PLAY BY PLAY
Akira Tozawa is on his phone.
He looks at the pics of him and Joseph Average hanging out. Ninja Ref (who isn't Drew Gulak this time, guess they recast him) tries to console Tozawa but he isn't having it. And Joseph himself is moping while he stocks the shelves with Old Spice Night Panther. There's a sad ballad accompanying the montage of flashbacks, from patty-cake to jamming on air guitars, to Night Panther defeating Gobbledy Gooker, and Tozawa even telling Joseph he's the Night Panther. Tozawa regrets taking away Joseph's black belt that went on forever. Joseph walks along, but he can't even smell the Old Spice Night Panther bar without remembering those times. He walks along, as does Tozawa, and Joseph drops the deodorant. They both pick it up and lock eyes!
Tozawa says Joseph looks good. And smells good, too. Joseph thanks him. What's new with Tozawa? Not much. Just doing ninja stuff. Well, it was good to see him. But Tozawa won't let Joseph go yet. Joseph isn't just the Old Spice sales rep. He IS the Night Panther. If he gives Tozawa another chance, the 24/7 Champ- Stop! Joseph sighs, and says, "You had me at 'not much.'" They both smile, and the team-up is back on!
R-Truth finds a hot dog stand and is excited to get him two to go. But it's Tozawa as the hot dog vendor! Truth doesn't want ninja dogs. But Night Panther sucker punches Truth down! Cover, but Tozawa pushes him away! Tozawa covers and Ninja Ref counts! Tozawa wins!!
Winner: Akira Tozawa, by pinfall (NEW WWE 24/7 Champion)
Joseph shouts, "NOOOOO~!" while Tozawa laughs and celebrates! But didn't Tozawa say Joseph was the Night Panther!? Tozawa lied! HAHAHA! Truth tells Joseph not to let Tozawa do him like that! "Roar, Night Panther, Roar!" RAAAWR! Joseph tells Tozawa he IS the Night Panther! Tozawa laughs at foolish Joseph, and calls upon his ninjas! But Truth and Night Panther fight side-by-side, complete with comic book style sound effects! BAM! POW! SCRATCH! "What's up!?" RIP! SMELLERIFIC STRIKE! SPICY EYE POKE! HOT DOG CART CRASH! The ninja grunts have been defeated and Tozawa is alone. And Night Panther CLAWS his back! Roll up, cover, Night Panther wins!!
Winner: Joseph "The Night Panther" Average, by pinfall (NEW WWE 24/7 Champion)
"I DID IIIT!" Night Panther wins and Truth says Joseph never needed Tozawa. Thanks, Truth. And sorry for training in an evil dojo and attacking you over and over for weeks. It's all good, dog. Truth and Joseph laugh together, and Truth gives him a dog. Then rolls him up! And Truth wins the title back!!
Winner: R-Truth, by pinfall (NEW WWE 24/7 Champion)
At least Joseph still smells good! Truth runs off, and Joseph Average has to learn not to be so trusting. He tells Truth he can run, but he can't hide from the NIGHT PANTHERRRR~!! RAAWRAR! And so, the saga continues! Will Truth have to watch his back, and his pits, for the next time the Night Panther pounces?
---
My Thoughts:
A hilarious "conclusion" to the story of the Night Panther and the 24/7 Championship, though I'm pretty sure we were told the last video was the finale. But anyway, I figured Tozawa was going to betray "Joseph Average," only to lose to him in the end. And I should've also figured R-Truth was going to get this title back and add another reign to his record. I think he's at 52 now. I hope Eric Bugenhagen gets to bring The Night Panther to television so that he and Truth can run around the ThunderDome for a second. Gotta make this stuff canon somehow, so have it crossover to Monday Night Raw's kayfabe.
AJ's WrestleMania 37 Night Two Results & Review 4/11/21
AJ finishes his trek through the WWE Mania week content with Night 2 of WrestleMania! How did it match up to night 1? Is Roman still your Tribal Chief?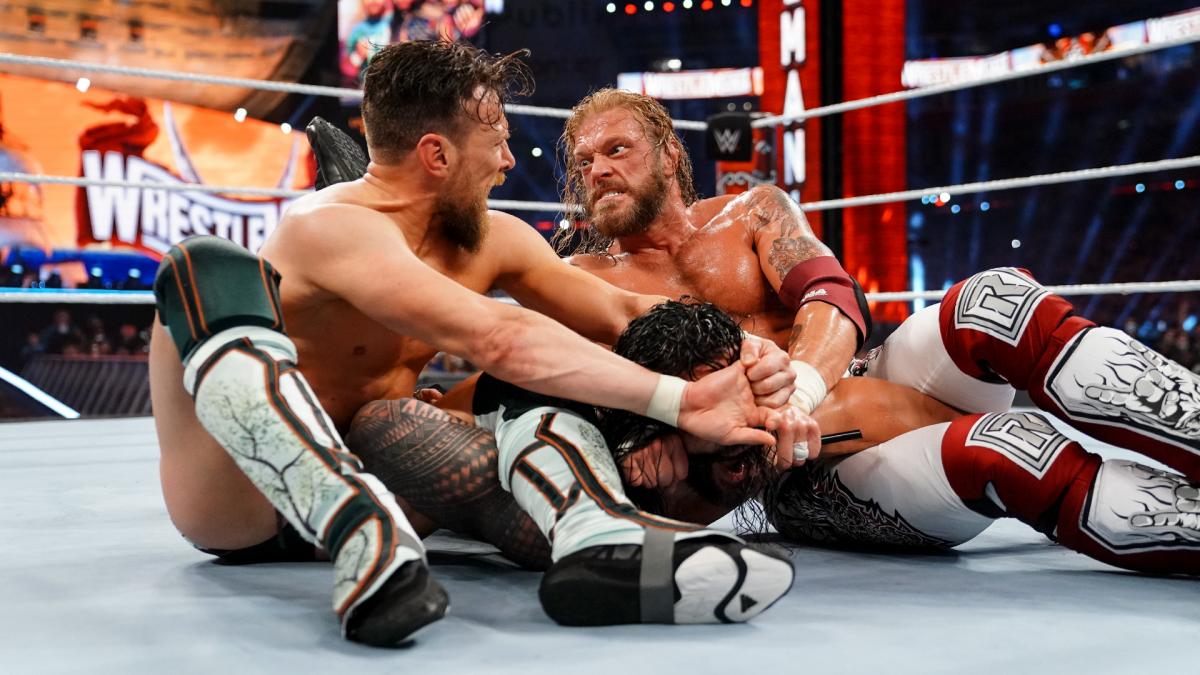 Well everybody… We did it. Fans are at Mania, this is the last day for me to type things out, my hand can be put on ice and we get some star-studded matches on the horizon. United States, Intercontinental, Women's Tag, Raw Women's Championship and the Universal Championship all coming together and let's start the show and see if the Chief stands tall at the end, the Movement returns with the gold or if we see opportunity rise up again where Edge left off ten years ago in the end.
Results:
The Fiend (w/ Alexa Bliss) vs Randy Orton – Randy Orton wins via RKO – **
Natalya & Tamina vs Shayna Bazler & Nia Jax (c) for the WWE Women's Tag Team Championships – Shayna Bazler wins via Kirafuda Clutch – ** ¾ – TITLE DEFENSE!!
Kevin Owens vs Sami Zayn (Logan Paul invited Ringside) – Kevin Owens wins via Stunner – *** ¼
Sheamus vs Matt Riddle(c) for the WWE United States Championship- Sheamus wins via Brogue Kick – *** – TITLE CHANGE!!!
Nigerian War Drum Match: Apollo Crews vs Big E(c) for the WWE Intercontinental Championship – Apollo Crews win via Pinfall – ** ¾ – TITLE CHANGE!!!
Rhea Ripley vs Asuka(c) for the WWE Raw Women's Championship – Rhea Ripley wins via Riptide – *** – TITLE CHANGE!!!
Daniel Bryan vs Edge Vs Roman Reigns (w/ Paul Heyman & Jey Uso) for the WWE Universal Championship – Roman Reigns wins via Con-Chair-To – **** – TITLE DEFENSE!!
Review:
The Fiend vs Randy Orton-
For the intro, Alexa Quinn… Wait. Harley Bliss… No, no. Alexa with face paint skips down and plays a giant jack in the box for the Fiend to appear and attacks Randy right away with a Lariat and brutally attacks Randy with his murderous attacks. Randy gets some separation slightly but Randy actually attacks but to no effect when he attacked The Fiend. Randy tries to get some fight in with the Hangman DDT as he rolls out of a Mandible but again, to no effect. He goes for a second after a failed RKO attempt as The Fiend is still somewhat down. Garvin Stomps did nothing to The Fiend as The Fiend gets some of his own offense going before Randy gets more separation, tossing The Fiend to the outside and goes for a third Hangman DDT when The Fiend pops back up. The Fiend is actually somewhat reeled as Orton coils for the RKO, only to get it countered into a Mandible and Sister Abigail attempt. Alexa pops up with the black tar showing on her face, pouring and distracting The Fiend only to get caught with an RKO and… RANDY WON?! Yowwy—Ah you get it.
Natalya & Tamina vs Shayna Bazler & Nia Jax-
Nattie and Bazler start the match up with a good amount of technical wrestling and holds to gain the upper hand. As Natalya gets the quick upper hand and almost gets the Sharpshooter in on Bazler before tagging Nia. Nia tells Natalya to get Tamina in and now we powerhouses into the match as they go back and forth with strikes to chop each other down. Natalya gets a tag in to take Nia Jax down but Bazler tags in quickly to distract the challengers until she gets caught in a double team. Nattie goes for another Sharpshooter attempt, gets it countered to a cradle but after the kick out, the challengers have been taking Shayna Bazler out. Shayna gets a burst of adrenaline and takes it to Natalya with a knee strike and Nia takes down Tamina on the outside to cut off the possible tag. Shayna now bends and twists Natalya's ankle to disarm the Sharpshooter. Nia now gets the tag in and goes after Natalya's legs too.
As Nia and Shayna take it to the lower body of Natalya they get the frequent tags in, making sure that Natalya is dismantled as Nia gets cocky and goes shoulder first into the turnbuckle and Natalya gets a quick burst of strikes while Tamina is still down. The attempt is in vain though as Nia gets the upper hand and goes for a spinebuster and a pinfall after before Tamina goes in to break it up and gets the hot tag after as Nia tags in Bazler. Tamina begins to beat down the champions, mainly Shayna, getting out of the Kirafuda Clutch with a Samoan Drop. Tamina gets the crowd doing but Shayna cuts off the Superfly Splash attempt and tags in Nia to go for a Superplex. Natalya pulls Tamina off the top of Nia's shoulders and takes down Shayna. Nia hits a double splash and gets into Tamina's face after the fact which comes back to bite her as Tamina slams her in the middle of the ring. She goes for a pin, only to get a two and maybe get a win again with the Superfly Splash but Nia rolls out of the way. The two get the tag made so Natalya and Shayna are the legal members. Natalya is so focused on Nia that she puts the Sharpshooter on Nia Jax that Shayna slides in and gets the Kirafuda on to get the win against Natalya.
Kevin Owens vs Sami Zayn-
Sami Zayn goes to run up to Kevin Owens to fight and gets a Pop-Up Powerbomb for his troubles before rolling out and almost getting an apron bomb until Sami scrambles back into the ring. Kevin Owens doing everything to keep Sami down and just end this quickly before Sami keeps rolling away and catches Owens this time with a Suplex on the apron to take KO out. The Ref starts counting all the way to eight before Owens rolls back into the ring and Sami Zayn starts getting some offense in, even landing a Mishinoku Driver onto KO for a near fall and props KO up on the top rope for a Superplex attempt as the two starts doing their native Hockey fighting on the top rope this time before Kevin gets the advantage, Sami falling and Owens getting a Splash down for another near fall. Kevin keeps his offense going for a heavy neckbreaker against KO's knee and attempt for a Package Piledriver until Zayn catches it and gets the Exploder in the corner and a trifecta of Brainbusters to get a nearfall.
As Kevin Owens gets in the corner, the two start trading hits to the face over and over again as both men try to get a new advantage. Sami gets Kevin in another superplex attempt but KO reverses it into his own as he gets steam going with two running lariats in the corner before Sami counters it into a Helluva Kick. Sami attempts another, gets caught with two Superkicks and then finally a Stunner to stun the conspiracy theories.
Aftermath: Logan comes in to console Sami, looks over at KO and says that was awesome until Sami Zayn gets shoved and gets a hissy fit. Logan Paul raises KO's hand as Kevin… channels his inner Stone Cold and stuns Logan Paul. That added a quarter point. Thank you, Kevin.
Sheamus vs Matt Riddle-
Sheamus takes it to Riddle early with the strength advantage early, even after Riddle getting a rapid strikes to the body. Riddle tries to get a form of offense going with a Sleeper but still getting overpowered, getting hit with the Irish Curse Backbreaker and other strikes. Riddle tries to get another form of separation and offense but after a hanging armbar in the ropes, Sheamus does the Ten Beats of the Bohdran and get a near fall. Sheamus goes to the top rope to maybe finished it quick but Riddle catches the Irishman and gets the momentum in his favor after a Spanish Fly, not letting the momentum go to waste with the quick strikes to the body and head of Sheamus, even doing a Jackhammer for a two. Riddle and Sheamus go with a back and forth for who can get ahead before Riddle gets stopped by a Brogue Kick for a nearfall and not letting up with an Alabama Slam for another two count.
They now go to the apron of the ring where Riddle gets the momentum this time, hitting an apron German Suplex and even taking Sheamus down, once of the outside of the ring and inside with a Floating Bro and getting holds onto Sheamus to keep the big man down but to no avail as he gets beaten down. Sheamus goes to the top and lands a White Noise onto Riddle and a double knee drop to get another two. Sheamus now goes to the corner and calls for the Brogue Kick, Riddle senses it and moves, going for a Final Flash Knee, tossed into the ropes to get something going with another springboard moonsault and gets a boot to the head from Sheamus to get the victory.
Apollo Crews vs Big E-
Both men rush outside of the ring to grab Kendo Sticks and beat each other with them as Big E gets the advantage with the striking match over and over as they take it to the outside. Big E tries to use a gong on the outside before Apollo gets a counter in, grabbing another Kendo and striking Big E more before getting thrown into the apron and speared through the ropes, going for a pin as he pushes Apollo back in and getting the steps. Big E taking too much time, meets the apron from Apollo hitting a Death valley Driver and getting a near fall in his efforts, getting the steps in the process. Apollo uses the steps again to drop on Big E from their first encounter to squish Big E's head in and Big E rolls out of the way and hits a Urinagi from the apron after he moves to the steps. Big E gets angry and gets a table in the ring to set up and getting Apollo back in. Again, taking too much time as Apollo gets a Kendo stick again and beats down Big E quickly to putting him on the table. Crews goes to do a splash but gets nothing but wood as Big E rolls out and hits the Big Ending. As it looks like Big E will get the win until Apollo Crews gets a little help from his new colossus to help him out, hitting a spike and a chokeslam to end Big E's big reign.
We get a small break before our next two matches with the 2021 Hallo of Fame this time with RVD, Molly Holly, The Great Khali, Eric Bischoff, Ozzy Osoburne, Warrior Recipient Rich Hering and "The Big Red Machine", "The Devil's Favorite Demon" Kane.
Rhea Ripley vs Asuka-
Asuka tries to get an early advantage with her agility but it's back and forth for a good amount of time until Asuka takes it to Rhea in the corner and to the outside but Rhea gets the power advantage shortly and begins to take it to Asuka surprisingly, making sure she says down and even smacks her to incite her. Beginning to do some short arm Lariats and Asuka gets a leg clutch attempt but Rhea is just too strong and powers out of the hold and into a pinfall attempt as she actually is… slowing Asuka and making her look tired in the match. Ripley starts to do shoulder thrusts to Asuka's back, weakening before setting her to the top rope. Asuka actually starts to fight back and get a split from Rhea's attacks and knocks her down with some flight and after a near fall, continues the typical Asuka offense, taking it to the challenger and gets Rhea reeled as Asuka goes to the ropes again. Rhea catches it this time as she kicks her off the ropes, going to the outside and apron as Rhea gets the advantage back with a facebreaker on the apron to Asuka. Asuka tries anything to get a break away from Rhea Ripley, even going as far as doing a DDT to the outside from the apron. Rhea gets back in from an eight by the ref and Asuka actually gets a lot of strikes in before Rhea takes control again momentarily  and both ladies attempt their submissions, only for each to break them. Asuka gets more of her submissions and attempts to finish it with her kicking combination but Rhea catches the last kick and lands the Riptide to get the shocking win.
Daniel Bryan vs Edge vs Roman Reigns-
Roman sucker punches Bryan early and Edge and roman trade for a bit. Daniel get in the middle of the fight and gets dumped to the outside as Jey Uso superkicks Daniel Bryan as Roman does the same thing to Edge and gets a superkick too. As the numbers for Roman are too much for the other two, they have to try to get a form of a split and Edge does it, taking out Jey Uso momentarily and takes it to Roman now, going back and forth from the apron and barricade before Edge turns to Jey Uso, grabbing the steel steps and delivers and DDT on the steps as medical staff help Jey out of the match. Daniel Bryan and Edge get into the ring now as they go back and forth in the ring. After Edge takes Daniel out for a moment, Roman comes back to fight Edge from the apron. Daniel Bryan slides through and takes down Roman from the apron to face off against Edge. Daniel gets a good amount of offense in and even tries to do a dive onto Roman but gets caught and takes Bryan out. Roman now gets a beat down on Edge for a good amount of time when a Superman Punch attempt gets caught in an Edgecution. Edge goes to set up the Spear but gets rocked by a Superman Punch. Roman now goes for a Spear but Edge gets out of it with a Sunset Flip pin for a two. Both men go to the ropes and hit each other with Spears before Daniel Bryan returns a minute after for diving headbutts but to no avail on a victory.
Daniel now setting up for his Yes Kicks and as always misses his kick as Roman pushes Daniel away as all men go to a corner. Edge gets hit by a Running Knee from DB and Roman wants to capitalize with a Superman Punch but Bryan catches him and finishes the Yes Kick combo and even puts Roman in the Labell Lock but Edge breaks the submission to save the match. Edge now is going to get locked in with the Labell Lock but Roman breaks that shortly after and just mollywhops Daniel Bryan before doing a powerbomb to Daniel Bryan, onto Edge. Roman kicks Daniel Bryan out of the ring, plotting his next move on the outside, the crowd pissing Roman off with a "Roman sucks" chant as he powerbombs Daniel Bryan through the announce table, praising his work and gets leveled by Edge's Spear.
Edge rolls Roman back in and grabs two chair, going to play a song for the Chief before Roman catches Edge's chair and they two fight. Edge pulls Roman into the rope and hit him in the neck as Edge puts the Crossface on Roman. Roman looks like he will tap but Daniel Bryan returns and grabs the hand before putting the Labell Lock on the other side as both men yell to let their holds go to go into headbutts after. (Kind of… fucking dumb if two guys with neck problems are just headbutting each other)
Daniel Bryan starts to taking it to Edge but Edge gets a counter and takes Daniel Bryan out with a spear and hitting one to Roman too. Edge goes for the pin and Bryan pulsl the ref out to stop the count and Edge is pissed off. He grabs the chairs again and puts them in the ring as Edge beats the hell out of them with the chairs before setting up Con-Chair-Tos for both men. Edge lands one of Daniel Bryan before Jey Uso comes back in and stops Edge. Edge gets angry to Uso and beats him down until Roman hits Edge with a spear and grabs the chairs under Edge and hits the Con-Chair-To onto Edge, stacks them together and pins both for a defense.
Overall Score: 7.5/10
And like that I retire…
…I kid. There are still final thoughts. The main event delivered to close the show, the matches for tonight were… good. It build up to it but the main thing of the night was the Main Event. It's actually showing that Roman is beginning to slip here. A lot of help is needed for him to retain but it still played out beautifully. Owens and Sami was great, the US Championship match was good. Apollo finally getting a reward for his actions is a great thing to see. The matches that fell flat for me were the opening two. I miracled into guessing Randy won but, we knew it was more of an OMG thing and not a "this is a wrestling match" kind of moment. We shall see how everything plays out later on in the week because we all know that the biggest shows for WWE are the Raw, SmackDown and I guess now NXT shows after WrestleMania.
And now I will retire…