Chris King's 5 Quick Hits For The Week
Chris King is back bringing us his quick hits for this week in WWE. With TLC right around the corner, what are the 5 most intriguing storylines in all of WWE?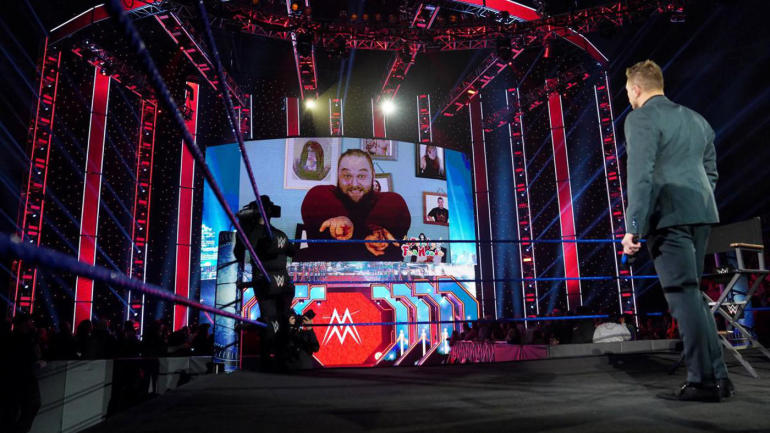 Chris King is back bringing us his quick hits for this week in WWE. With TLC right around the corner, what are the 5 most intriguing storylines in all of WWE?
Another crazy week in the world of WWE and all of pro wrestling–take a look at the big moments for Chris King!
5. The Culmination Of The Love Story
On this week's episode of Raw, WWE announced the latest development in the love triangle between Rusev/Lana/Bobby Lashley will take place next week: The Divorce! After weeks of ridiculous promo segments and cringe-worthy moments, the two exes will finally be splitting up on live TV.
We've witnessed over the past few weeks the brutality and plain hatred between Rusev and Lashley gradually increase and it all feels to be coming to a head at the upcoming TLC pay-per-view. A tables, ladders, and chairs match is very fitting for a fantastic conclusion for this story.
4. A Huge Fatal 4-Way For The NXT Championship?
On this week's episode of NXT due to the absolute chaos surrounding The Undisputed Era and Tomasso Ciampa, Keith Lee, and Finn Balor, GM William Regal announced a massive triple-threat-match pitting all three challengers against each other.
They will go to war to determine the next number-one contender for Adam Cole's NXT Title to challenge on the December 18th episode.
I highly doubt that this match is going to end with a conclusive winner, so I'm expecting UE to interfere and a fatal-four-way announced. All three competitors cannot afford a loss right now so what's the best way to handle this, keep Ciampa, Lee, and Balor looking strong with a disqualification.
3. A Triple-Threat-Match For The NXT UK Women's Championship?
.@tonistorm_ didn't come back to #NXTUK to make friends.

Might not be the 𝘸𝘪𝘴𝘦𝘴𝘵 decision tho… 😬😬 @viperpiperniven pic.twitter.com/TUvUOsXAMX

— WWE Universe (@WWEUniverse) December 5, 2019
On last week's episode of NXT UK, the former NXT UK Women's Champion Toni Storm emerged to gain some payback after getting humiliated by her former friend Kay Lee Ray at TakeOver: Cardiff. Piper Niven had just defeated Jinny and called out Ray declaring her intentions on coming after the Women's Title.
On this week's episode of NXT UK, Storm found her way back into the win column by defeating Killer Kelly. Afterward, she was attacked by Ray and Niven made the save. Both women demonstrated tension, both with a refusal of a handshake in the ring and backstage.
I feel like this leading to a triple-threat-match for the NXT Women's Championship at TakeOver: Blackpool II with Ray defending her title against both Niven and Storm. All three women will have a tremendous match and show once again that NXT's women's division is light-years ahead of any other company's.
2.  A Five Star Tag Team Classic For The SmackDown Tag Team Championships?
On this week's episode of Friday Night SmackDown, The Revival outlasted three other tag teams to become the new number-one contenders for The New Day's Tag Team Titles at TLC. At the Clash of Champions pay-per-view, Dash and Dawson defeated E and Woods to win claim the tag team titles in an incredible match.
Three weeks ago, the two tandems were on the cusp of creating magic again in a rematch until all four members of The Undisputed Era interfered causing a disqualification. I am so excited about this championship match one week from Sunday. Both incredible tag teams have the possibility to tell an incredible story and steal the entire pay-per-view.
1. Bray Wyatt Is An Absolute Genius
Have you ever given someone the keys to change their character and witnessed them actually make gold out of whatever they find? That's exactly what Wyatt has done over the past months and it's amazing to watch.
Even after the horrendous Hell in a Cell match when the WWE Universe shit on "The Fiend" and Seth Rollins's terrible story, Wyatt still managed to turn things around in his favor. Especially, after he targeted Daniel Bryan bringing their storied history full circle and successfully defending his Universal Championship at Survivor Series.
On this week's episode of Friday Night SmackDown, Wyatt made the biggest character development in my opinion, when he turned his attention to The Miz and his family. Wyatt interrupted The A-LISTER who was delivering a heartfelt promo over his long-time rival and enemy Bryan. Later in the show, Miz was assuring Maryse of their safety and was about to come home until he noticed a red-lighted room.
Wyatt had placed a photograph where he replaced himself for Miz and viciously attacked him delivering a Sister Abigail. Hearing Wyatt sing his own rendition of "Home for the Holidays" was creepy as hell but it was also glorious all at the same time. Now at TLC, Wyatt (not "The Fiend") will defend his Universal Championship against Miz.
The WWE Universe had been speculating for months if The Fiend would be the only one defending the title and now we have our answer. I cannot tell you how excited I am to see where this story is heading, and more importantly where Wyatt goes from here character-wise.
There you have it, folks, those are my quick hits for this week. It's crazy to think that next week is both Go-Home shows for Raw and SmackDown and yet we only have a few matches announced.