Cody Rhodes vs. MJF: Old School Wrestling Revenge Done Right
Cody Rhodes and MJF are on a collision course in AEW. The founder of the company is anxious to get his hands on the man who betrayed him at Full Gear and left him for dead in the middle of the ring.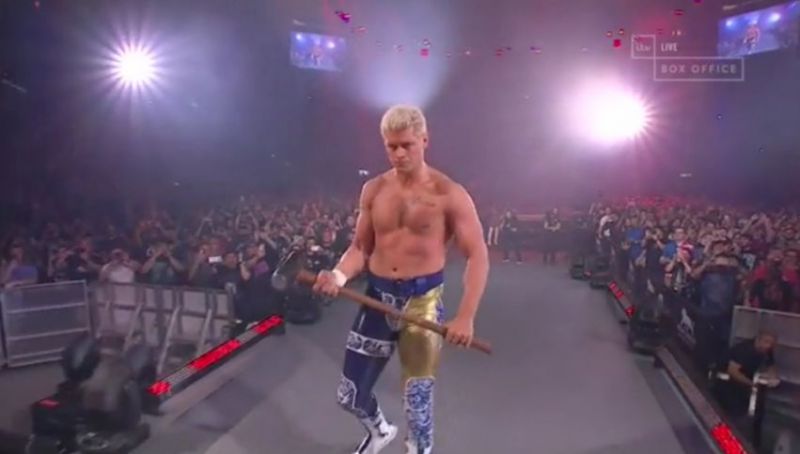 Cody Rhodes and MJF are on a collision course in AEW. The founder of the company is anxious to get his hands on the man who betrayed him at Full Gear and left him for dead in the middle of the ring. Cody has to settle a score and Maxwell Jacob Friedman must pay the price.
It's an old school pro wrestling storyline fitting of Cody's father, Dusty Rhodes. The legendary American Dream struggled through situations just like this during his storied career. Friends stabbed him in the back, brothers turned on him and he was the lone cowboy fighting for revenge. Now Cody is on a mission of redemption as well.
AEW fans knew that MJF was going to make the turn. It was the worst kept secret in the company, as everything that happened over the course of the past few months signaled a heel turn on Rhodes. 
Max was just too accommodating. He was also too smug about his allegiance to Cody. It was obvious that he was planning something and all it took was one big event for MJF to show his true colors.
Now that he has, it's off to the races in AEW. Cody has a new rival and MJF has a new direction. Finally, the man that's hailed as the most talented heel on the mic is getting chance to speak his mind. Friedman is flexing and he's impressing the world with his skills. Of course, fans knew he was capable of this and much more. Now they're getting the chance to appreciate his work.
MJF is extremely likable however, which means that he's constantly walking the line between love and hate. Fans know it's just a work and they see how good he is, so they cheer for him. But when he speaks, he spews venom at everyone around him, which makes the fans turn back on him.
In some ways, it's similar to Dusty's work with Ric Flair. The Nature Boy was incredibly hated for what he said much of the time, but the way he said it got him over. Fans couldn't help but love Ric because of what he brought to the mic and to the ring. He was well respected and it showed.
But MJF is still proving himself and he still has a long way to go. But this is where Cody comes in. Rhodes can work with Friedman and coach him up to the level that he needs to be for this storyline to work. After all, MJF cannot he cheered when he's working Cody.
Cody Rhodes is the quintessential babyface in AEW. He's smart, he's funny and he's kind. But he's also very intense, he's fiercely loyal and he's absolutely fearless. He is definitely his father's son. So when Cody squares off with MJF, there will be no question what role each man is playing. 
The addition of Wardlow is only going to help the situation. Many fans knew very little about the big man before he debuted in AEW. But now that he's there, he's the talk of the company. He's strong, he's focused and more importantly, he's on retainer. MJF has put a walking insurance policy by his side and it will now be difficult for anyone to touch Friedman.
This move also helps MJF, as Wardlow is undeniably a heel. He never plays by the rules and the fact that he's unknown to so many is a good thing. Fans don't have a reason to cheer for him and they probably won't get it any time soon. So MJF can rest easy on both fronts, as he is right where he needs to be in this angle.
Then there's the fact that this entire storyline is geared toward getting MJF over. Cody is the top star in AEW and he's also an Executive Vice President. His spot in the company is solidified and he's a mainstay. Rhodes was over long before AEW was ever announced. Cody doesn't need anyone's help to secure his position.
But the same can perhaps not be said of MJF. As entertaining as he is, Friedman is surrounded by larger than life personalities. Jon Moxley, Kenny Omega, The Lucha Bros, PAC and The Young Bucks all have massive charisma and personality. It would be hard for anyone to stand next to that and compete. But that's exactly what MJF will do now.
Friedman will come out of this feud much better than when he went in and that's the point. He's got the potential to become the top heel in AEW and keep that spot for a long time. Now he will get the chance to do just that against Cody Rhodes.
Cody will live to fight another day. He will get a measure of revenge on MJF and then he will move on to the next big drama. But in the meantime, Maxwell Jacob Friedman will become a made man. It's a spot that he's worked hard to get and it's one that he deserves. MJF is only just getting started in AEW, but it's clear that he's already living the dream. Now he will get the chance to really enjoy it.