Cook's Top 5: Backstage Officials
Steve Cook gives us his Top 5 Backstage Officials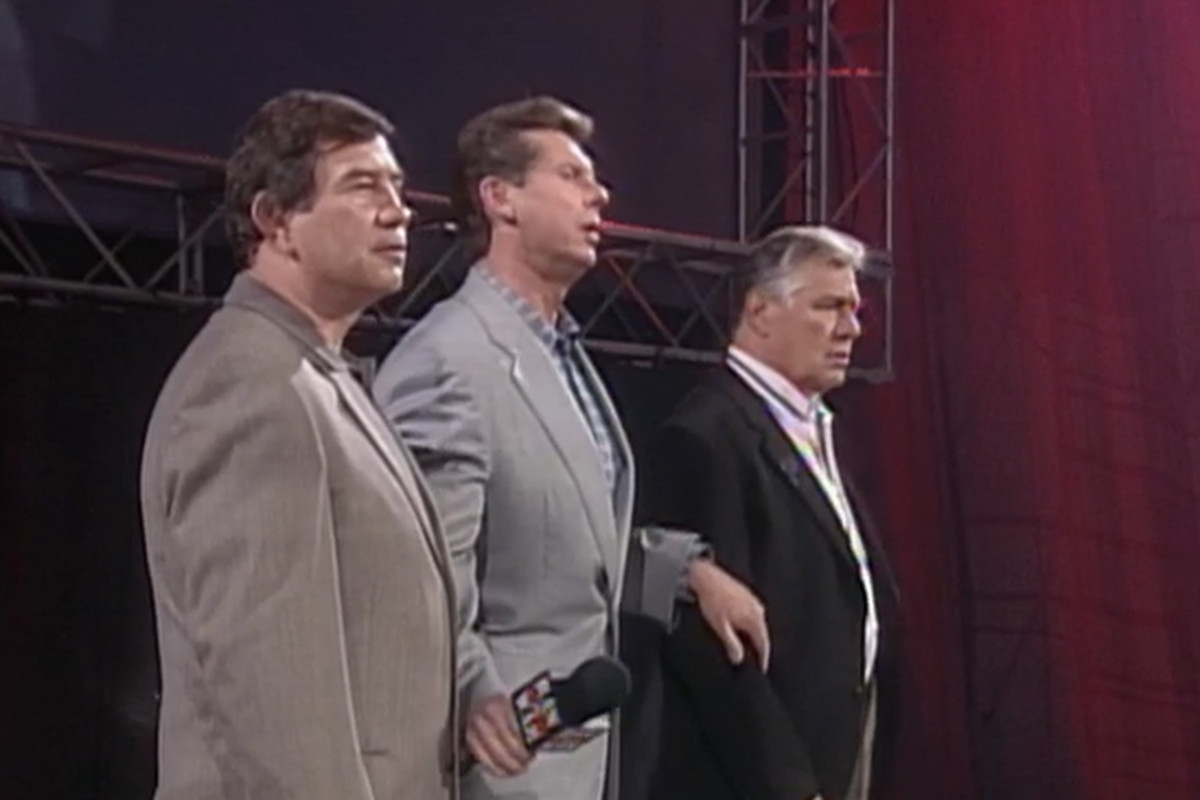 We learned this past week that Rene Goulet had passed away earlier in 2019. Now, I'm not going to sit here and tell you that I have a lot of fond memories of Rene's in-ring career. I'm not even sure I've seen any of his matches…I probably have, but it's nothing I remember.
How do I remember Rene Goulet? When I was a youngster watching this crazy wrestling stuff, Goulet was one of the people in suits that would come down to ringside when things were getting out of hand. Back in the days before indy wrestlers would show up by the busload to serve as security guards, it was left on the referees & the backstage officials to break things up. They were pretty much always older wrestlers that had retired from the in-ring wars and were still collecting paychecks to do things like break up fights, help injured wrestlers, and some backstage stuff.
Hey, I was a kid! I didn't know what else they did!
In honor of Rene Goulet, we look at the Top 5 Backstage Officials.
5. Tony Garea
Garea & Goulet were serving side by side for years and were good in their roles for one simple reason: they didn't overshadow the people they were breaking up. They had decent careers, but weren't icons of the business. So it was ok if they looked stupid sometimes, like when they were trying to get Ultimate Warrior out of a casket. Garea apparently still works as a producer/road agent for WWE all these years later, so good for him on that account.
4. Gerald Brisco
Gerald's brother Jack was an NWA World Champion and widely considered the more successful & better in-ring performer of the Briscos during their respective in-ring careers. However, I would wager that people of my generation remember Gerald better than Jack. Why? Jack retired from the WWF, went home, started a body shop & was never seen again on television. Gerald worked for WWE as a backstage official for the next two decades before serving as a talent scout during the 2010s. He was often right in the middle of the craziest moments on WWE television & PPV, including when he was escorting Shawn Michaels & Hunter Hearst Helmsley out of the arena after the infamous Montreal Screwjob. Gerald was a loyal foot soldier that didn't mind doing the dirty work, which usually involved breaking up out of control brawls.
3. Pat Patterson
Pat always had a way of standing out from the rest of the officials & random folks that would come down to the ring when things were out of hand. While most of them were wearing suits, Patterson was typically attired in a windbreaker/polo shirt combination. He was one of the officials that always got mentioned during these altercations, and Vince McMahon would get so offended when a wrestler like Bret Hart would strike him. No wonder Vince made him one of his official Stooges alongside the aforementioned Gerald Brisco in the late 1990s. Patterson also had a more important role backstage than his fellow officials, as he was Vince's right-hand man on the booking committee & had a hand in planning most of the major matches during the 1980s & 1990s.
2. Doug Dellinger
The Head of WCW Security! Dellinger was a police officer in Charlotte when he started working at Jim Crockett Promotions shows in the mid-1980s. He started working for Crockett & was kept around after Ted Turner bought the company in 1988. Dellinger appeared on nearly every episode of Monday Nitro either attempting to break up fights, escorting wrestlers out of the building, keeping wrestlers out of the building, or knocking on Goldberg's door prior to his match. Dellinger was one of few "backstage officials" to never actually compete in the ring. He was a civilian, by Gawd!
Honorable Mention: Arn Anderson
I don't think Arn really fit in the role of "dude breaking up fights". He had done way too much shady stuff in his career for longtime fans to buy him breaking up fights and helping babyfaces after they had been assaulted. However, the Undertaker beating the crap out of him was easily the most memorable beatdown of a backstage official. I don't remember Arn doing much of that type of work on TV after that, which was probably for the best for his own safety.
1. Fit Finlay
Finlay was a man that loved to fight during his time as an active competitor. He wasn't sneaky, he wasn't shady, he just threw fists & kicked butt. As a member of a wrestling family, he always took his profession seriously, and he brought that same dedication to his role as a backstage official. Behind the scenes, he was the first person in WWE to push & encourage the female wrestlers to be more than T & A. He trained the likes of Trish Stratus & Victoria and molded them into in-ring performers that didn't embarrass his business.
In front of the camera, Finlay has carried as much authority as any backstage official before or since he started in the role. When he comes out to break up a fight, you know it's getting broken up. He also apparently has booking power, as he was able to grant Becky Lynch's request to be inserted into the Royal Rumble match. Nobody really questioned it because it's believable that Finlay has that sort of authority. Wrestlers don't mess with him, but at the same time he doesn't take away from their heat. It's a fine line, and Finlay manages it better than anybody.