Cook's Top 5: WWE Apologies
Public apologies are a trope we've grown to expect. Cook goes over his Top 5 WWE apologies!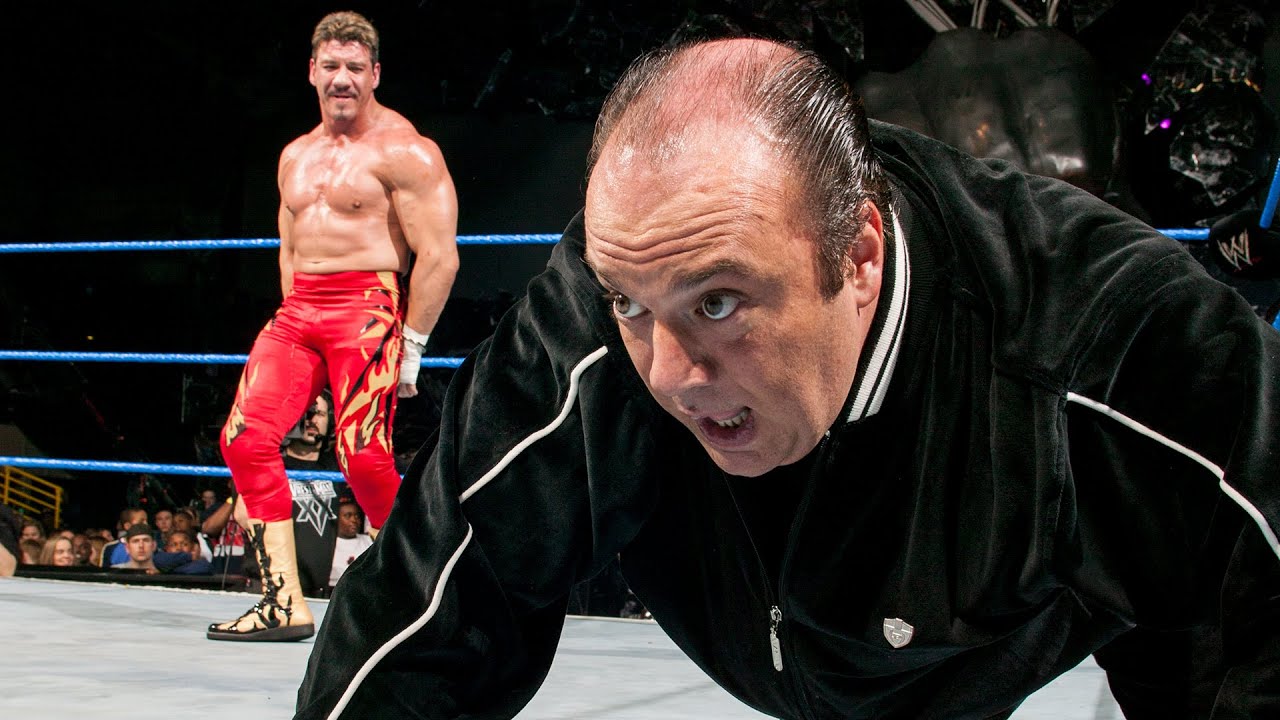 It feels like we spend a lot of our time apologizing these days, doesn't it?
Back in the day, apologies were typically reserved for bumbling husbands doing things that irritated their wives. Now, every time we say or do something that somebody finds offensive, we gotta say we're sorry. Even if we don't exactly mean it.
WWE is asked to apologize for things on a fairly regular basis. Whether it's a crappy storyline, a questionable business relationship, ripping off fans or whatever, WWE's social mentions are likely full of people asking for apologies. It's kind of WWE's own fault because they've featured apologies on television for decades now. Here are the Top 5 WWE Apologies.
5. Eddie Guerrero apologizes to Paul Heyman
SmackDown General Manager Paul Heyman took issues with some of the things Eddie Guerrero did as WWE Champion. Apparently there was something to do with Dawn Marie, but mostly Paul just didn't like the fact he had a champion with a troublesome past that had turned his life around. While making trouble for Paul Heyman in the process. While Heyman was good in the role of aggrieved bourgeoisie, Eddie made the segment instantly memorable with his exclamation of "I LIE!".
Also, I have to call BS on Heyman's assertion that Eddie was the first WWE Champion with a drug addiction problem.
4. Mankind apologizes to The Rock by presenting him his life
At WWF Unforgiven (heh) the night before, Mankind applied the Socko Claw to Rock during their six-pack match for the WWF Championship. Mankind felt bad about this later, and concocted an elaborate apology where he brought back people from Rock's past to renew aquaintances. "This is Your Life, Rock" still rates as one of the top five-rated segments in Monday Night Raw history, and at this point it's tough to imagine anything knocking it out of that lexicon.
This might rank higher on the list if Mankind had something better to apologize for. It was a six-pack match with every man for himself. The Rock got that. The Rock didn't need an apology, Raw needed ratings.
3. Charlotte Flair apologizes to her father
Charlotte had decided she didn't need Daddy Ric in her corner back in May of 2016. Once Ric re-emerged to congratulate Sasha Banks for defeating his daughter in their hometown for the Raw Women's Championship, Charlotte figured she needed to apologize to her father for casting him aside in the first place. Or not, as she ended up slapping Ric and yelling at him for picking Sasha over her. Sasha came down to get beat up while Ric Flair cried.
This segment, to me, is a clear sign of why Charlotte should always be a heel. She's just so good at it.
2. Shawn Michaels apologizes for costing Daniel Bryan the WWE Championship
Ol' HBK was placed in a pretty tough situation at Hell in a Cell 2013. He had trained Daniel Bryan in the art of professional wrestling, but his best friend Triple H wanted Randy Orton to be WWE Champion. As it turned out, the friend/friend relationship was more important to Michaels than the teacher/student relationship, and he screwed Bryan out of the victory. To Michaels' credit, he tried to apologize the next night. Bryan wasn't having any of it, Michaels got pissed, and ended up getting Yes Locked to the delight of the crowd.
This was the closest that Shawn Michaels came to being a heel in forever and a day, and it was pretty awesome. For a minute, we all hoped it might be leading to something between Bryan & Michaels. That didn't happen, but it did at least produce this segment.
1. Big Bossman apologizes after Big Show's father dies
Ah yes, the Big Bossman/Big Show storyline. So terrible that it was fantastic on every level. Bossman was at his absolute best as a scummy heel during this time period, and his wonderful sympathy card reading here was just another memorable instance.
"With the deepest regrets, and tears that are soaked,
I'm sorry to hear your dad finally croaked.
He lived a full life, on his own terms.
Soon he'll be buried, and eaten by worms.
But if I could have a son as stupid as you,
I'd have wished for cancer so I could die too.
So be brave, and be strong. Get your life on track.
Cause the old bastard's dead and he ain't never coming back!"
Come on, have you ever heard anything so heartfelt? Bossman was obviously sorry for the way he had treated Big Show and talked about his family in the past, and I think we all accepted his contrite apology here.