Cook's Top 5 WWE Stories of 2019 Revisited
Steve Cook takes a look back at his predicted Top 5 WWE Stories of 2019 from January–how did Cook fare?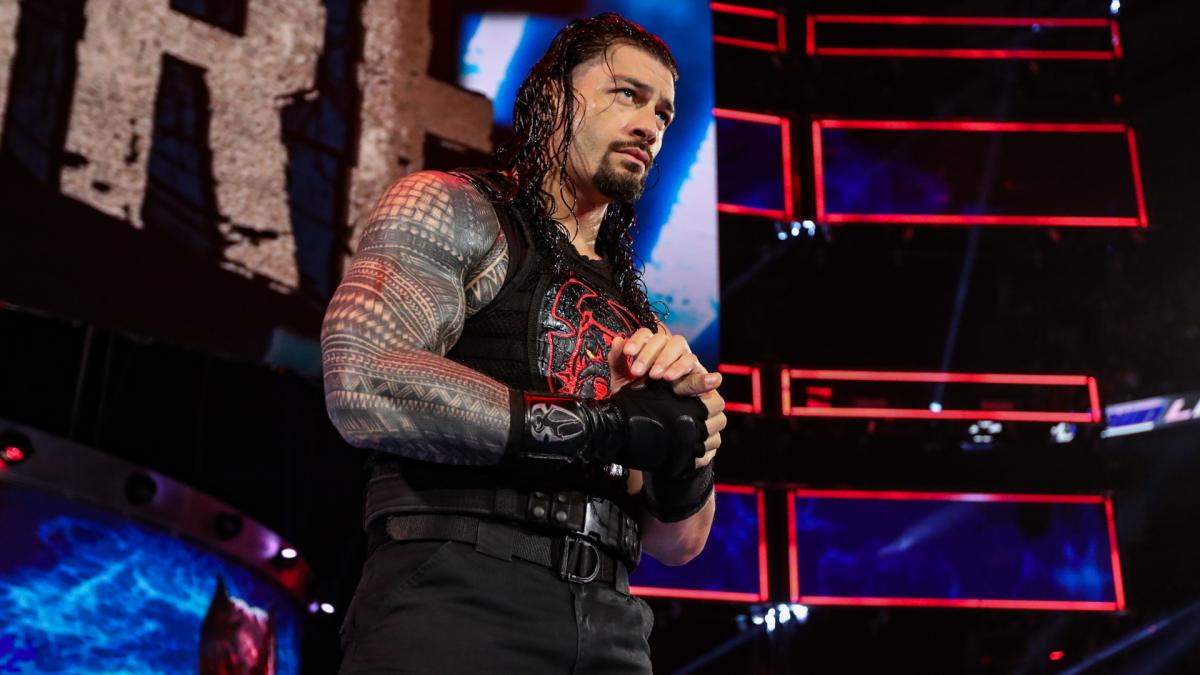 Steve Cook takes a look back at his predicted Top 5 WWE Stories of 2019 from January–how did Cook fare?
Heading into 2019, I thought it would be a good idea to take a guess at what the top wrestling stories of the year would be. It was a good idea for a column gimmick at the end of 2017, so I figured I'd do it again. Let's continue the tradition! As we're at the end of 2019, I figure now is a good time to take a look back & see if I was right, wrong or in the middle.
Today, we look at my Top 5 WWE Stories of 2019, originally published on January 8, 2019.
5. It's All About The Money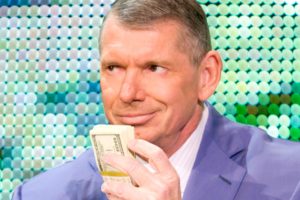 "I'm going to have a tough time not making the Top 5 Non-WWE Stories of 2019 all about All Elite Wrestling. It's really tempting. AEW's goal is to Change The World, and there's at least one way I see that happening. Wrestlers will see it in their pay envelopes.
In case you haven't noticed, WWE has been raking in all kinds of money lately. The billion dollar deal with Fox. The huge deal with USA. Not to mention the Saudi Arabia thing or the huge gate they'll get from WrestleMania. Even if ratings are down, live event gates are down or whatever, WWE's making more money than it ever has.
This should translate to the wrestlers making more money. It doesn't always work that way, especially more recently. It seems like wrestlers that have come up during this century have been too happy to be employed by WWE to make much of a ruckus. There haven't been many other places to go, so one can understand why talent might not demand much in the way of money, or in the way of things to do.
Now that somebody is out there making offers, and WWE is making tons & tons of money, wrestlers would be stupid not to ask for as much as possible. The amount being mentioned as part of that "fantastic offer" Kenny Omega has reportedly gotten might seem extreme, but is it really? If WWE is making tons & tons of money, why shouldn't the talent be getting the kind of money that Omega's been offered?
If they can't get it out of WWE, they might get it somewhere else."
What Happened: Kenny didn't take the "fantastic offer." However, as I expected, WWE has been emptying the pocket books to keep people around. Even if they don't plan on doing anything with the likes of Luke Gallows & Karl Anderson, or Mike & Maria Kanellis, or Dana Brooke, or *fill in the name of your favorite lower mid-card wrestler*, WWE's locking them up in order to keep AEW from obtaining talent that's been on television for years. They made the mistake of letting Jon Moxley go, and they're not doing that again.
4. WWE's Next Top Star…will there be one?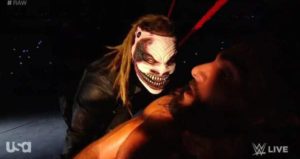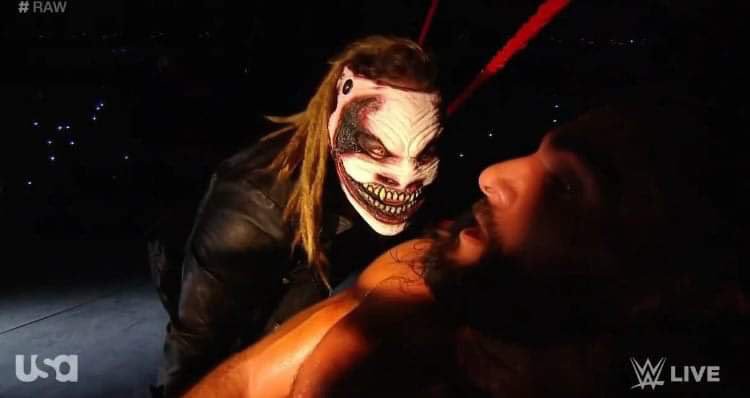 "One thing we've noticed ever since Roman Reigns' departure from WWE television to battle leukemia is the lack of a top star to take his place. The main guy dominating Raw camera time in the episodes after Roman's departure was Baron Corbin, which nobody outside of the Corbin family would argue is a good idea. To be fair, Braun Strowman also got knocked out of action around the same time, so we couldn't get over an hour of Braun talking & doing things to start a show.
People tell me that this is the most talented roster that WWE has ever had. But where's the next top star? When Chris Platt asked me who would challenge Brock Lesnar for the Universal Championship at WrestleMania during a recent podcast, I had no good answer. Some really want to believe it's Seth Rollins, and I'm not morally opposed to it. I just need to see some better efforts in major matches before I buy in. For a "workrate" guy, his non-Raw matches come up short more often than you'd expect. And it's not like he off-sets this flaw by being a great promo, as his next big money promo will be his first.
WWE needs to find the next Hulk Hogan, or the next Steve Austin, or the next John Cena. Or maybe the next Roman Reigns. As much as we like to say that the brand is the draw, there's always somebody on top that's a little bit bigger than the brand. Well, there isn't right now."
What Happened: They're trying. Seth Rollins got the big push this year and was featured at a high level more than anybody else on the roster. Becky Lynch frequently closed Raw out with dark matches and was in multiple main events though the year. Bray Wyatt, The Fiend & the Firefly Funhouse got a heavy push, as did Kofi Kingston. And there's no denying that King Baron Corbin has been featured a lot in 2019 even after complaints about his being featured in 2018. WWE is definitely looking for that next big star. Some of you may tell me they've found that person, but the jury's definitely out on that.
3. What Will The Women Do Next?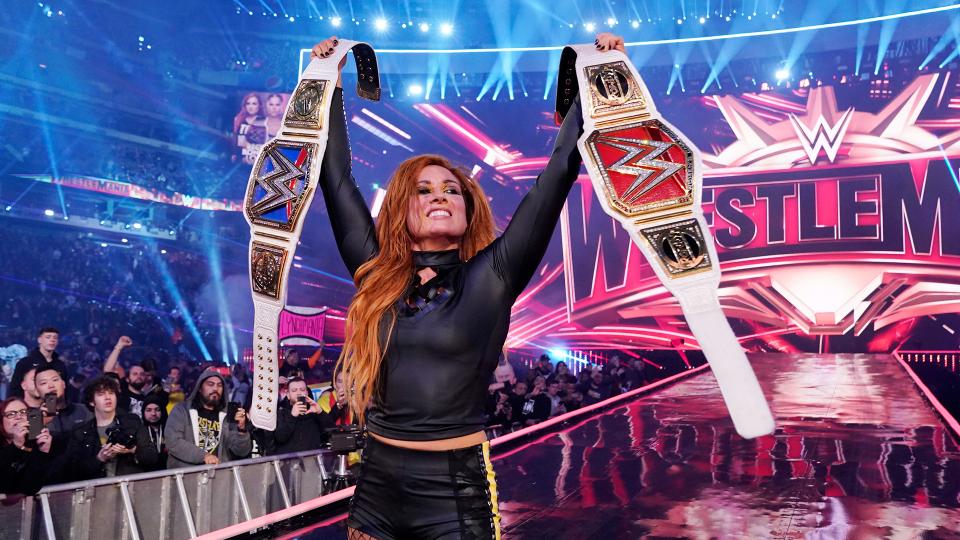 "2018 was the Year of the Woman in WWE. So many firsts that it's tough to keep track of them all. First Women's Royal Rumble. First Women's Elimination Chamber. First Last Woman Standing Match. First Women's TLC Match, which main evented the show because of the people involved, not because it was the First Women's TLC Match. First all-women's PPV/WWE Network event. Other stuff that I'm forgetting.
One has to wonder how they will follow this up in 2019. There aren't a lot of firsts left. First WrestleMania main event has generated a lot of discussion lately, as people say it's been promised to Charlotte Flair. She deserves it, so I'd have no issue with that. There's also the idea of the women getting their own show, which wouldn't be a first unless you ignore GLOW or WOW, but I would assume that WWE women's divisions could put together a better show than those feds. Well, except for the GLOW Netflix show, I'm not sure WWE can top that one.
There will at least be new Women's Tag Team Champions, and that should be very interesting to see play out."
What Happened: Women appeared in the main event of WrestleMania, Extreme Rules, Survivor Series & TLC. The Women's Tag Team Championship debuted. NXT had its first ever women's War Games match. Women got to wrestle in Saudi Arabia. I'm sure there are plenty of high points I'm forgetting. There wasn't a second Evolution event, and some of the booking over the year was questionable, but the Women's Evolution kept on trucking through 2019.
2. Roman Reigns' Future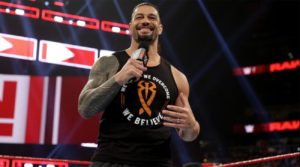 "This one goes without saying, right? Reigns is the one megastar WWE has made in the last few years. He's the one man among the current wrestlers that seems to have an effect on ratings & other metrics. As much as people online didn't like to admit it, the Big Dog was a Big Deal.
Roman Reigns was the top draw for the women & children throughout his time as a singles star, and it's not like the men were turning the TV off. A Roman Reigns Return would be huge box office, and would automatically be a more meaningful story than anything else coming out of WWE in 2019 or whenever it happens.
I think it happens this year. I have no reason to think this. It's a gut feeling. The only question I have is how long it'll take for the men to turn against him again. My guess is after he wins a championship in his first match back."
What Happened: Reigns came back at the end of February, much to the delight of everybody. Even those who dislike Roman missed having him around to complain about. His 2019 wasn't as eventful as previous years, but given that he's being featured on FOX's New Year's Eve show and there's rumors flying around about him winning the Royal Rumble, 2020 may be a big year for the Big Dog.
1. SmackDown's Move To FOX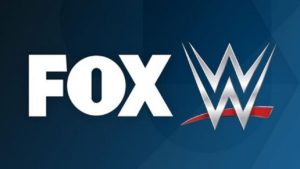 "October 2019 will bring massive changes to WWE as we know it. That's when SmackDown Live makes the move from Tuesdays on USA to Fridays on FOX. SmackDown started its run on network television with UPN, but FOX's status in 2019 & UPN's status in 1999 are two different things entirely. The money involved is also exponentially higher, as FOX is paying WWE over a billion dollars over a five-year period.
When you're paying somebody that kind of money, you want results. You want an A product. FOX doesn't want a B show, which is what WWE has treated SmackDown as for most of the time that's passed since the first brand split. They want something special. They want the big stars & the big matches.
WWE's used to putting everything big on Raw. The fans are used to Raw featuring the stuff WWE actually cares about, while SmackDown showcases the stuff that's probably more popular with hardcore fans than casual fans. There's going to be a shift towards the end of 2019. Greg's talked about how the shows could have different feels.
The situation surrounding SD's move to FOX & how WWE adjusts things heading into it will be the most interesting WWE story of 2019."
What Happened: Things haven't changed as much as I expected. Smackdown does have Roman Reigns now, and the talent is more evenly split between Raw & SmackDown than it was. The ratings are better on Fox than they were on USA. To be honest, I thought FOX would have more of an impact on WWE's presentation than it has. SmackDown felt a little different the first week or two, but seems to have settled into the typical WWE show with typical WWE production. The main effect FOX has had on WWE so far: bringing in CM Punk for some episodes of WWE Backstage. There was a time where Punk returning to WWE in any capacity would have been one of the biggest stories of the year. In 2019, it was a footnote.
Later this week, we'll look at what I thought would be the top 5 non-WWE stories of 2019!
King's WrestleMania Rewind: Charlotte Flair vs. Asuka from WrestleMania 34
Chris king is back with one of the most underrated matches in WrestleMania history–Charlotte Flair vs. Asuka!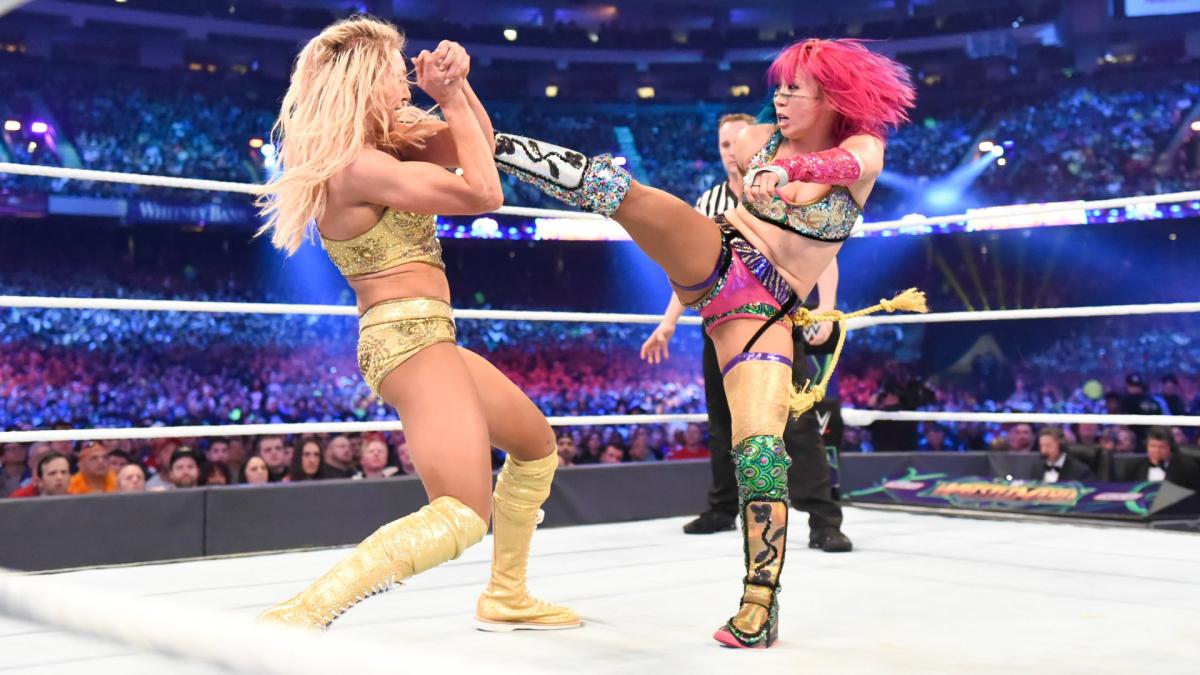 Chris king is back with one of the most underrated matches in WrestleMania history–Charlotte Flair vs. Asuka!
We look back at Charlotte Flair vs. Asuka at WWE WrestleMania 34. 'The Empress of Tomorrow' put her unprecedented and historic undefeated streak of 914 days on the line against 'The Queen's' SmackDown Women's Championship.
For years, this was considered a dream match while Asuka dominated the roster in NXT, while Flair won numerous championships on the main roster on both Raw and SmackDown. The Empress made her long-awaited debut on the September 11th episode of Raw and began to tear through the competition.
Asuka outlasted all twenty-nine other women in the historic first-ever Women's Royal Rumble match to challenge for the title of her choosing. At Fastlane, she made her choice.
The WWE Universe was so excited for this match myself included. Both superstars delivered a fantastic performance on the Grandest Stage of Them All executing counter after counter. Asuka showed off some nasty-looking kicks to her opponent, and Flair hit a thunderous Spanish Fly off the top rope. Flair was seconds away from defeat at the hands of The Empress but she locked in Figure Eight and Asuka was forced to tap out.
I can't even begin to explain how shocked I was at this outcome, as nearly everyone expected The Empress to continue her undefeated streak and walk away with the women's title. This controversial decision was the downfall of Asuka's momentum. She would ultimately win the SmackDown Women's Championship at the 2018 TLC pay-per-view in the triple-threat ladder match.
Fast forward to this year when Asuka has recently returned with her Japanese-inspired persona Kana. Kana is dangerous and ruthless and is heading into a championship with Bianca Belair at WrestleMania 39. The Empress has regained all her momentum and is highly favored to walk away with the Raw Women's Championship. Let's hope that Asuka and Belair can tear the house down and deliver an A+ grade match both women are fully capable of.
King: Dominik Mysterio Needs To Do This At WrestleMania
Chris King is here with what WWE should do with Dominik Mysterio at WrestleMania in his long-awaited match against his father Rey Mysterio Jr.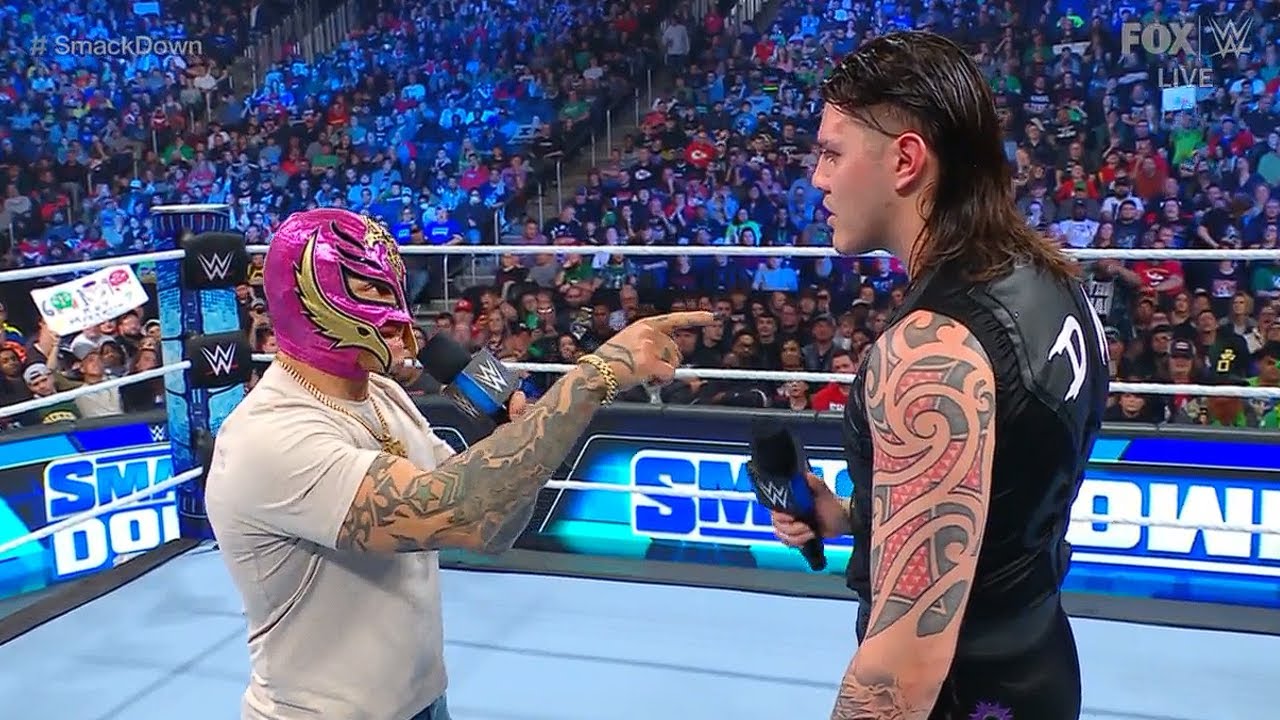 Chris King is here with what WWE should do with Dominik Mysterio at WrestleMania in his long-awaited match against his father Rey Mysterio Jr. 
On this week's episode of Friday Night SmackDown, Rey Mysterio finally snapped and beat some sense into his disrespectful punk-ass kid Dominik. The member of the Judgement Day came out to push his father again for a match on the Grandest Stage of Them All, this time with his mother and sister at ringside. The ungrateful punk told his mom to "Shut Up," as a father even I wanted to jump through the screen and whoop his ass.
Back in October of last year, Mysterio made the emotional decision to possibly quit the company but, instead, Triple H persuaded the Lucha libre superstar to move over to SmackDown to avoid his son. This came after Dominik shockingly turned on his father at Clash at the Castle. Mysterio did everything he could to refuse his despicable son's challenge for Mania but, a man can only be pushed so far. Mysterio will be inducted into the 2023 WWE Hall of Fame and I expect Dominik to embarrass his father during his speech to further this personal feud.
Yes, the WWE Universe hates Dominik and wants to see him get the ever-loving crap kicked out of him but, this feud is missing a special ingredient to capitalize on the biggest heat possible. Throughout this feud, Dominik has made mention of the legendary Eddie Guerrero on several occasions going back to the "iconic" 2005 feud.
I know WWE might not want to go this route but, Dominik MUST come out to Eddie Guerrero's theme at Mania. The disrespectful punk needs to come out in a lowrider to garner nuclear heat. It doesn't matter if The Judgement Day comes out and causes interference for Dominik to get the win, all that matters is that both superstars get the biggest payoff of this nearly year-long feud. Just imagine the Roman Reigns heat after he defeated The Undertaker and multiply that by ten. Dominik portrays the perfect heel and he truly is the missing ingredient that The Judgement Day needed to grow and evolve into a top faction.