Welcome back and I hope everyone had a great holiday yesterday.
It looks like we're down to the halfway point of our list and this is where things start getting more difficult to see who will be next on the list. If you're just joining us now, then go ahead and read the previous lists.
You all caught up? Good, let's continue our journey!
15. Kenny Omega vs. Hiroshi Tanahashi (Wrestle Kingdom 13 1/4/2019)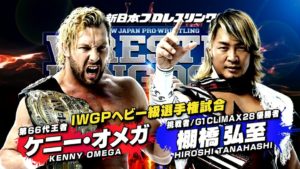 – Tradition vs Evolution, that was the story for this match and it was enough to sell it as a big match. These two had unfinished business in 2016 where they were supposed to have a Ladder Match but didn't happen due to Tanahashi getting injured. The two never fought each other in singles action again until this show right here, nearly three years later. Kenny has had a rather underwhelming reign as IWGP Heavyweight Champion except for his time in the G1 Climax due to all his title defenses being underwhelming.
While the fans were divided on how New Japan should be going forward with how Kenny trying to make things more western and some wanting to keep it as it is since they were fine without it. The match would finally happen and it was a great main event. Tanahashi has had a rough couple of years but he was able to step it up in 2018 despite all the injuries he's had. Tanahashi would shockingly win the match along with the IWGP Heavyweight Championship for the eighth time since people were expecting Kenny to retain, but it looked like that wasn't the case due to Kenny not signing a new contract. I think it worked out as a better story for Tanahashi winning but his reign didn't last long due to losing to Jay White a month later. Great match and worthy of a WK main event to show why he's still our ace. Go Ace!
14. Daniel Bryan vs. Kofi Kingston (WrestleMania 35 4/7/2019)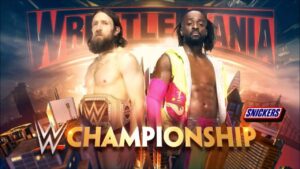 – One man's injury is another man's opportunity. Kofi was someone who wasn't supposed to be mixed in with the WWE Title picture but he finally had his chance after failing over ten years ago. The build-up to this story was nicely done and the ironic part was it being against Daniel Bryan who had a similar struggle five years ago with the B+ Player storyline leading into WrestleMania. Fans would start getting behind Kofi to push behind this Kofimania trend and they had no choice put to pull the trigger and keep the ball rolling.
He kept having minor setbacks from Elimination Chamber and losing matches to get his chances back but would finally get it after his New Day Brothers helped out to win a match, so Kofi can get his big WrestleMania match. The two would deliver their best match this year and the only match on 'main roster' to say it was a great match. It also helped that I was able to witness it in person and the atmosphere for it was something else. Kofi would finally win the big one after eleven years with the big payoff. Unfortunately, after he won the title there was little to impress with his matches being underwhelming except for his matches with Randy Orton. Despite the bad payoff, the build-up prior and the match itself was alone worth being on the list.
13. Suwama & Shuji Ishikawa vs. Jake Lee & Naoya Nomura (Real World Tag Team League 12/9/2019)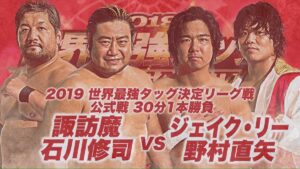 – All Japan Pro Wrestling delivered another successful Real World Tag Team League with some great matches but the final day would be one of their best matches of the year when The Violence Giant would fight Jake and Naoya in the finals of the tournament. Suwama and Shuji would show why they're the Tokyo Sports Tag Team of the Year three consecutive years in the row while Jake and Naoya have been making fantastic progress during the whole year.
A lot of close calls and during the final minutes of the match and it looked like Jake and Naoya would defeat them again but the Violence Giant would be able to win the match and the league itself. It had a lot of great tag team wrestling which is something you don't get to see too much of these days and kept it simple but very effective. If you never watched Violence Giant in action, you're missing out on one of the best tag teams in a long time.
12. Kazuchika Okada vs. SANADA (New Japan Cup 3/24/2019)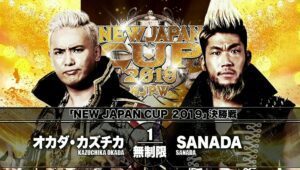 – This would not only be Okada's best match for the year, but also one of SANADA's best in his career. SANADA hasn't had luck in defeating Okada whenever they fought each other (except for G1), but he would keep on getting closer each time and this was one of those times that would kind of make you believe that he had a chance of winning. Despite SANADA losing again, he still put on an incredible effort that should be worth mentioning.
These two had about four battles and it is debatable to which one was the better match since they all have a good claim, except for maybe their final one at Kings of Pro Wrestling but there were still claims and to me, this one was the better match out of the four this year. All of them are worth watching and you really can't go wrong with either one as I also thought about adding their G1 Climax match instead where SANADA finally got his first win over him. All great matches and exciting chapters in their rivalry.
11. WALTER & Daisuke Sekimoto vs. Yuji Hino & Yuji Okabayashi (BJW Ryogokutan 11/4/2019)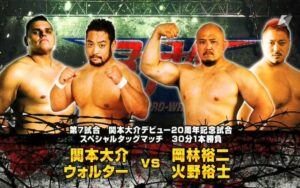 – If you had to describe a match that screams manly as fuck, this would be the match right here. NXT UK Champion, WALTER would make a surprise appearance to BJW during one of their biggest shows and teamed up with Daisuke to take on Yuji Hino and Yuji Okabayashi. What do you get when you have these four men fighting? Nothing but pure brutality and it was glorious in every regard.
These four men are great as being known as powerhouses and if you love their chops, you'll be getting plenty of them right here. It made me wish WALTER had singles matches with any one of them, especially against Yuji Hino. After the match was over, it would make you wanna have a 24 oz porterhouse steak with a side of a baked potato to go with it, it was that manly and rough. If you think BJW is just deathmatches, you're 100% wrong and matches like these will show you that they can be great at both types of matches.
That's it for our next five. I hope you've all enjoyed it and tomorrow, we'll be down to our final ten!